Are you looking for an easy breakfast recipe for kids? Try this tasty and kid-friendly eggs in a basket recipe and then check out or full list of cooking recipes for kids.
Cooking with kids is one of those things that can be incredibly rewarding and frustrating at the same time. Food does not get made as quickly and there are definitely more messes to clean up. But, your children want to help you. It's good for them to get their hands on the food they eat; to learn about how food is made, the ingredients, and kitchen safety. Plus, it's really fun. My kids love to get their hands on what I'm making and "help" me.
Sometimes, helping may mean I give them a few vegetables and a butter knife to practice cutting. It may mean I give them their own bowl and spoon with flour to mix. Other times, I let them get right in there with me and actually help prepare whatever it is I am making at that moment.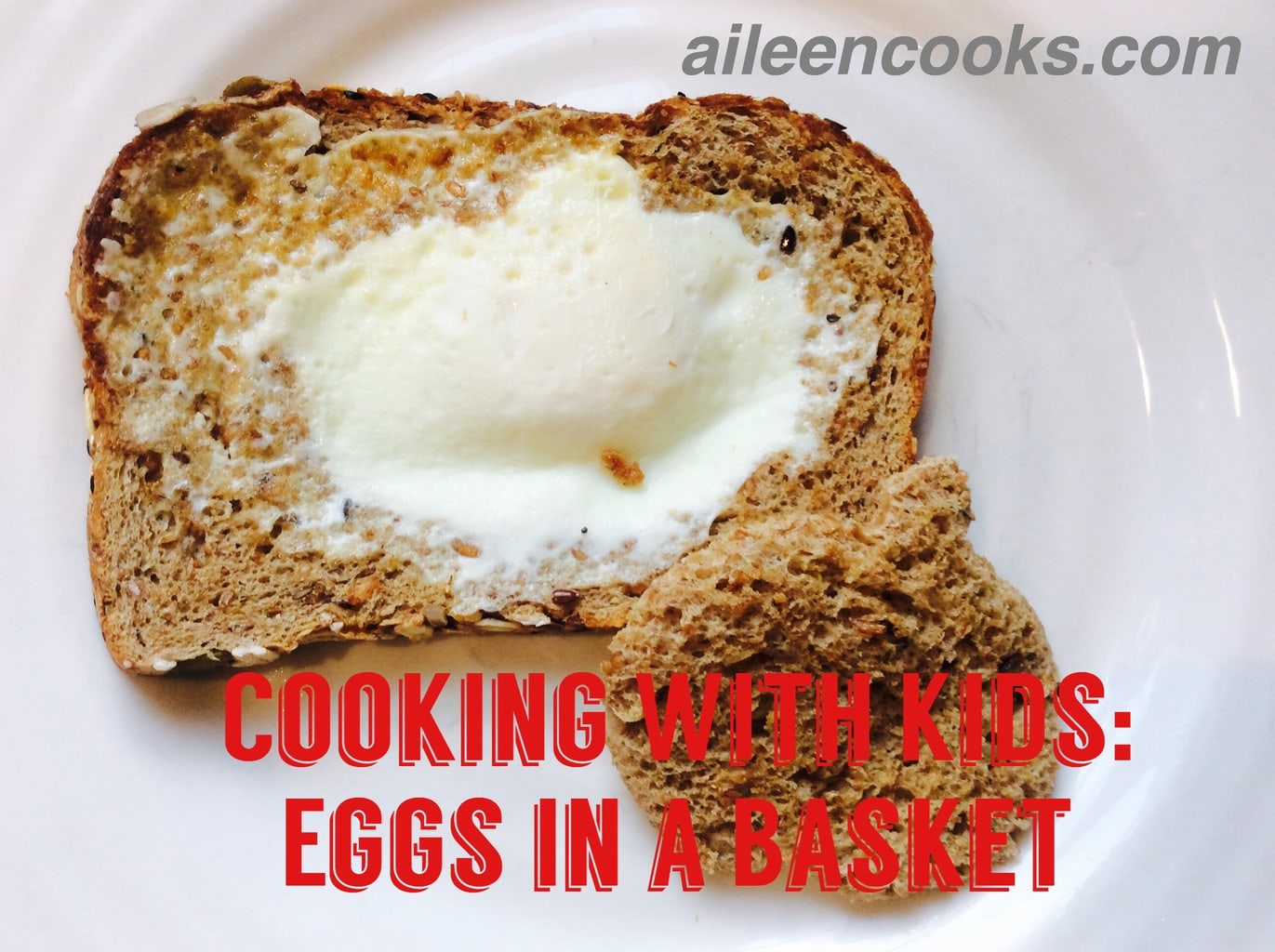 They key is to allow them to help you when you are already having a good day. You don't want to try this when your day is bumpy. It will end in tears, or at the least, a very frustrated teacher (you). Invite your children into the kitchen on a good day. When you are full of patience and everyone is (mostly) smiles. Then, remind yourself that it's going to take a little longer to get dinner on the table and there may be a spill or two. Don't forget to also invite your children to help clean up the spills. You would be surprised how eager they may be to help clean up, too.
Today, we are going to make eggs in a basket. This is a very simple breakfast dish we make at least a couple of times per week. If you ask my son what he wants for breakfast, a lot of the time, he will request this dish. He loves that he can help me and knows how it's made from start to finish.
How to make Eggs in a Basket
To start this dish, I recommend setting out all of your ingredients before inviting your kids into the kitchen. You will need: cookie cutters, bread, eggs, and butter. To cook the eggs in a basket, you will need either a griddle pan or a frying pan. Once you have everything ready, invite your kids into the kitchen and wash hands. Set up a safe area for them to access the food (we use step stools).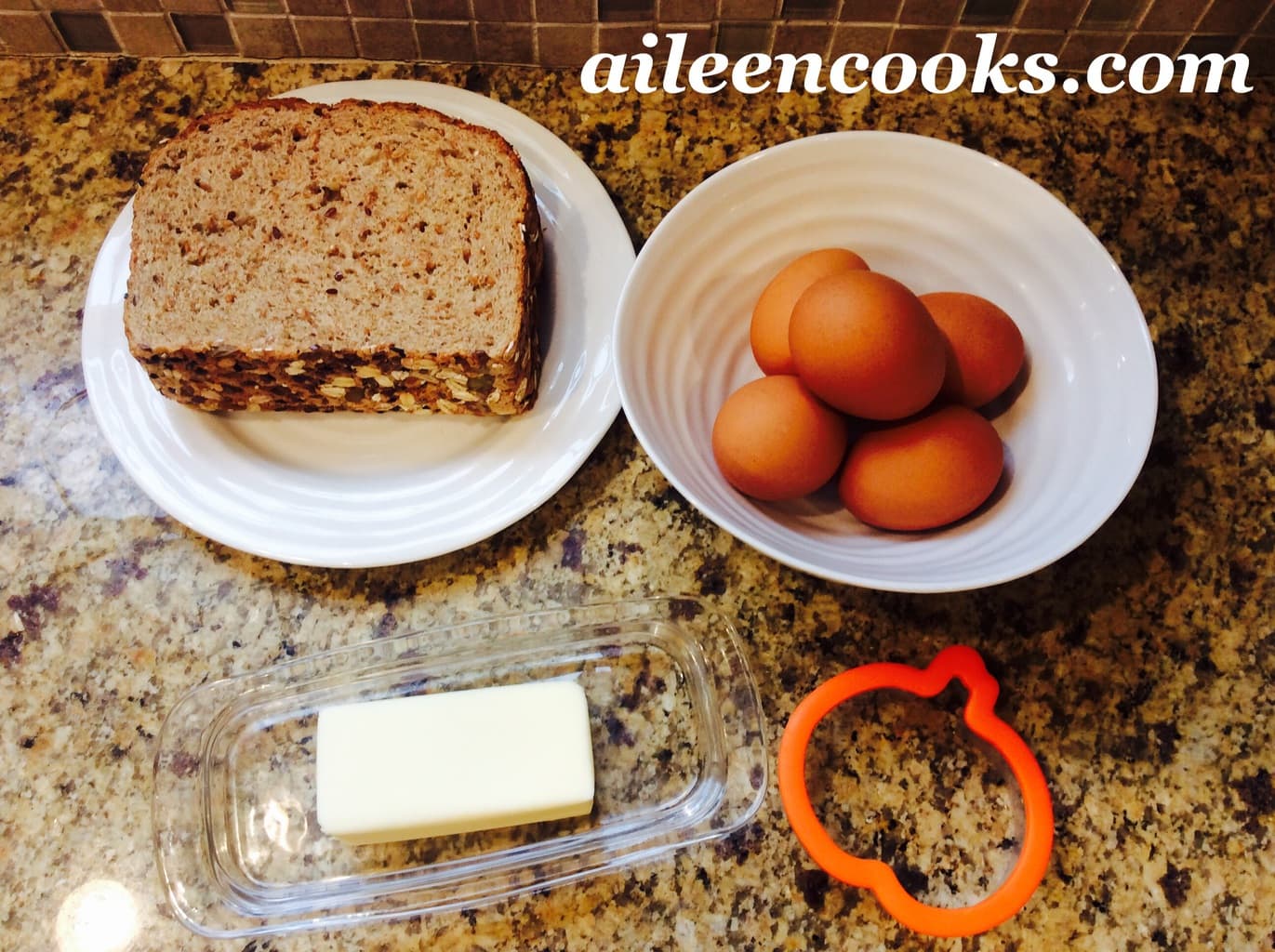 Start with the bread and cookie cutter. The only requirement for the cookie cutter is that it fit nicely inside the slice of bread. Have your children press the cookie cutter into the slice of bread until the cookie shape comes out cleanly from the slice of bread. They may need to wiggle it a bit – it does not have to be perfect. Continue to do this with the rest of the slices of bread.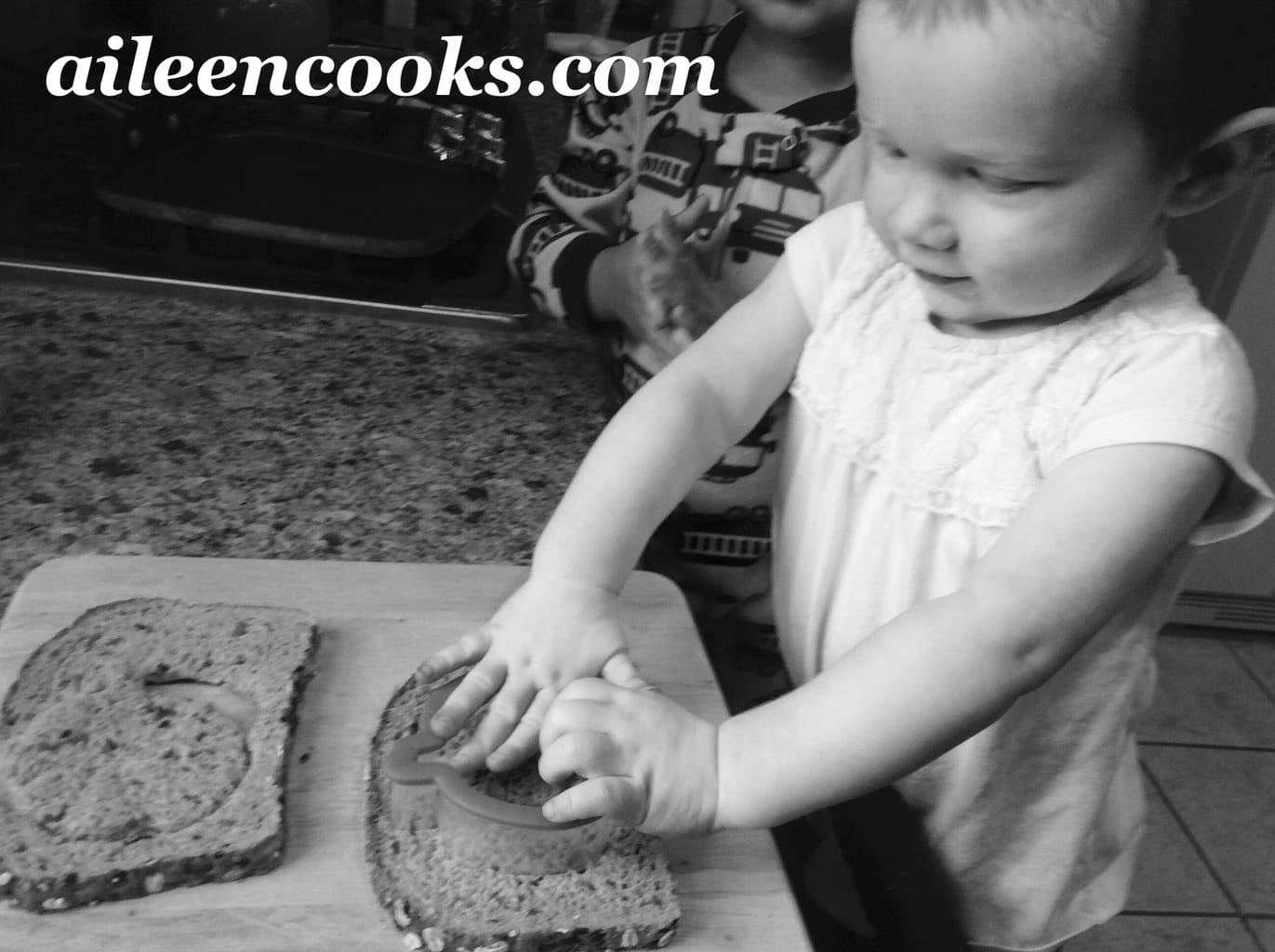 Next, heat your pan over medium heat and melt the butter. You can invite your child to cut the butter with a butter knife and help them slide it into the pan.
Now, place your bread and cutouts into the pan. This is something else you can invite your children to help with (use your best judgement) – explaining the heat of the pan and stove.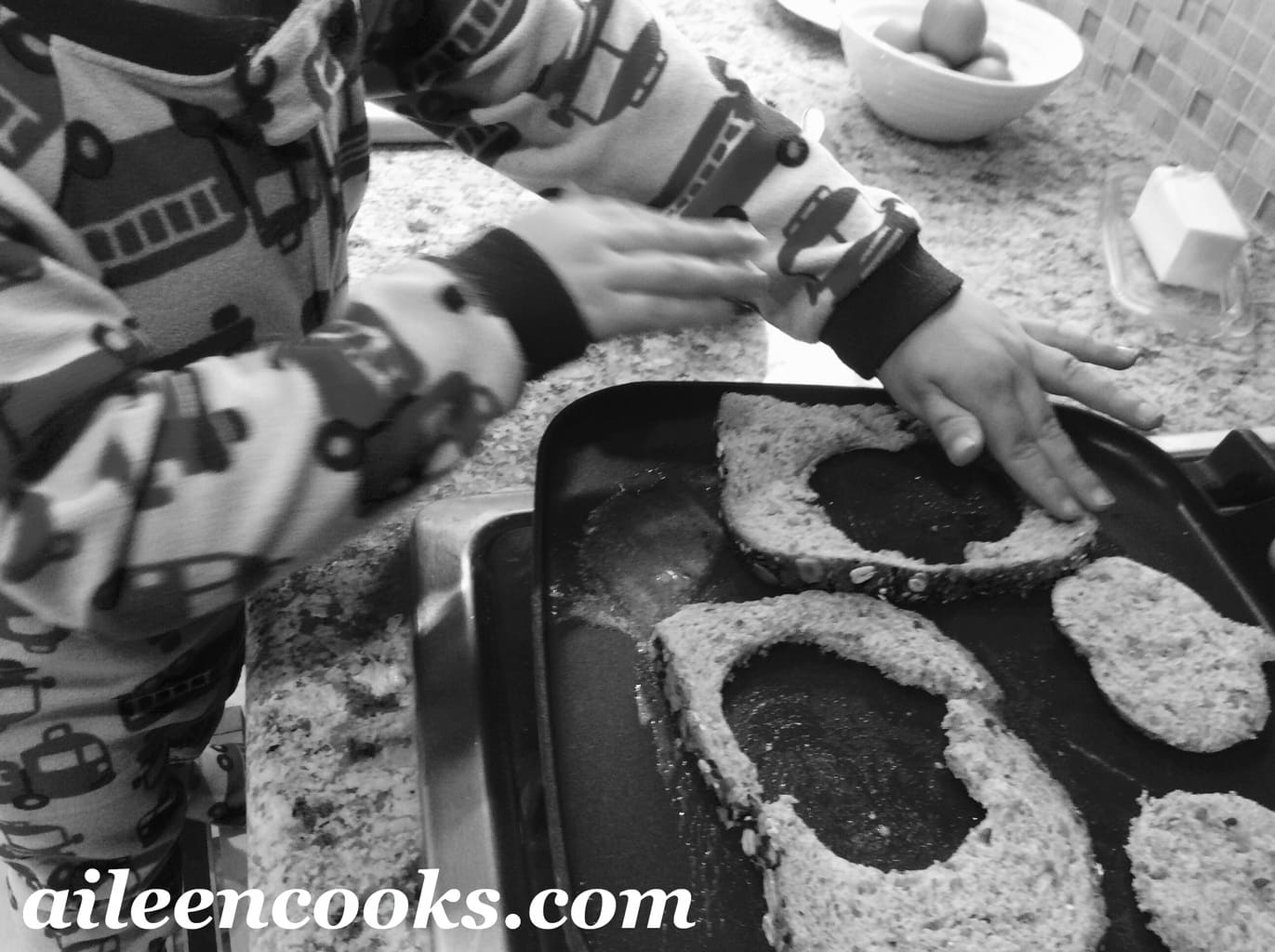 Then, crack your eggs into the middle of the bread (where the cutout was removed). One egg per slice of bread. If you are up for it, ask your child to help you. You may want to set up a separate bowl for them to practice breaking the egg into and then pouring the cracked egg into the bread. These are all things you can do with your child! If you aren't up to having them try, just explain what you are doing and let them watch. They learn a lot through observation.
Once the whites of the eggs begin to solidify, flip your bread (with egg inside) and cook on the other side. You will want to flip the cutouts, too. Have your child hold the spatula with you so they can get a feel for how you flip the egg and bread.
Allow the eggs to finish cooking and remove them from the pan (again, letting your child hold onto the spatula with you).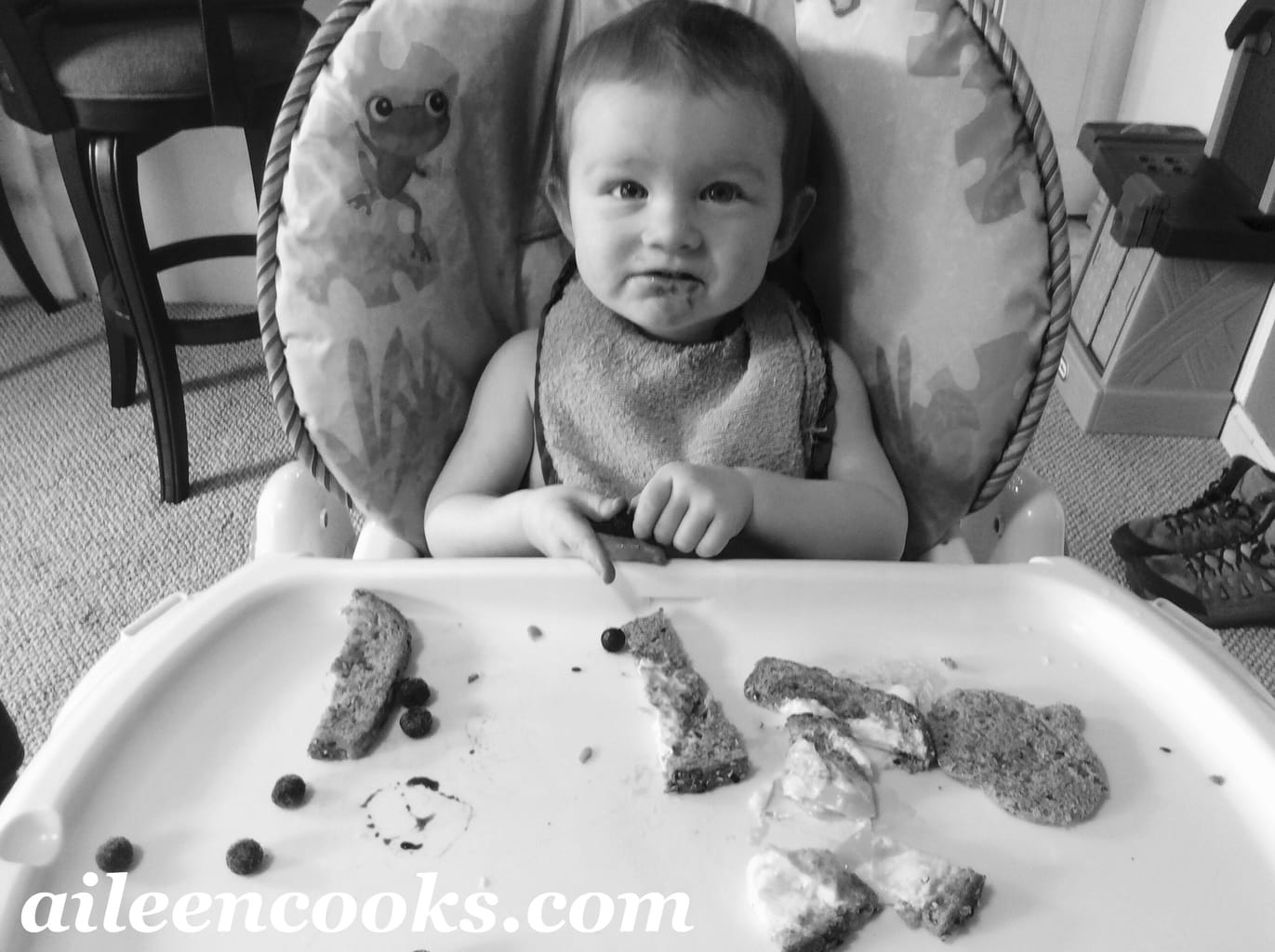 How kids can make eggs in a basket
Make bread cutouts with a cookie cutter
Cut butter and drop butter into the pan
Gently place bread into the heated pan
Crack eggs
Flip bread/eggs
Taste test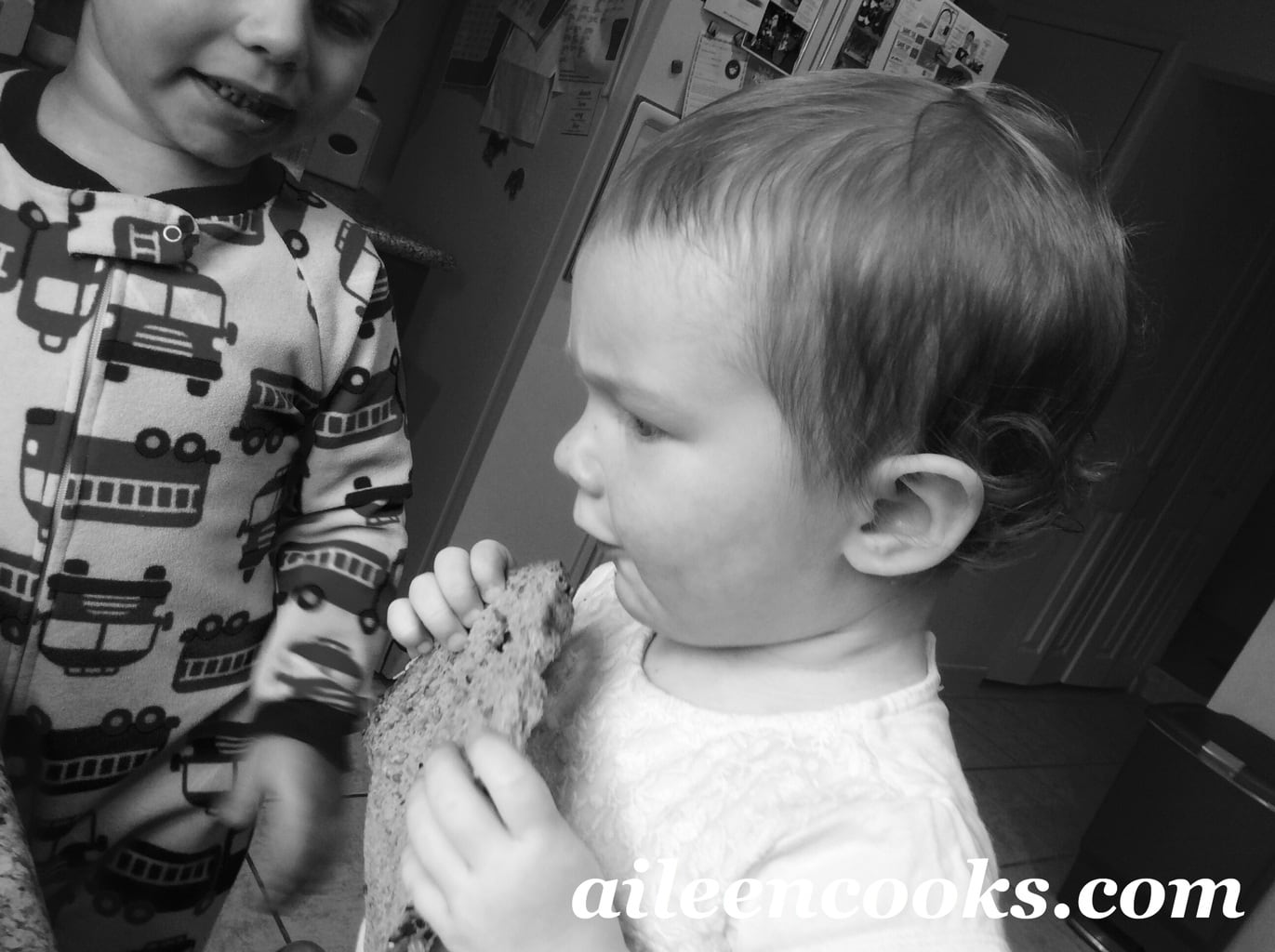 My children are ages 1 and 3. As you can see from the picture, my 1-year-old is right there with us making this dish. If your children are older, you may be able to teach them how to make eggs in a basket and let them do it on their own. Trust your judgement and trust your children. They want to help you and the time to start teaching them is now!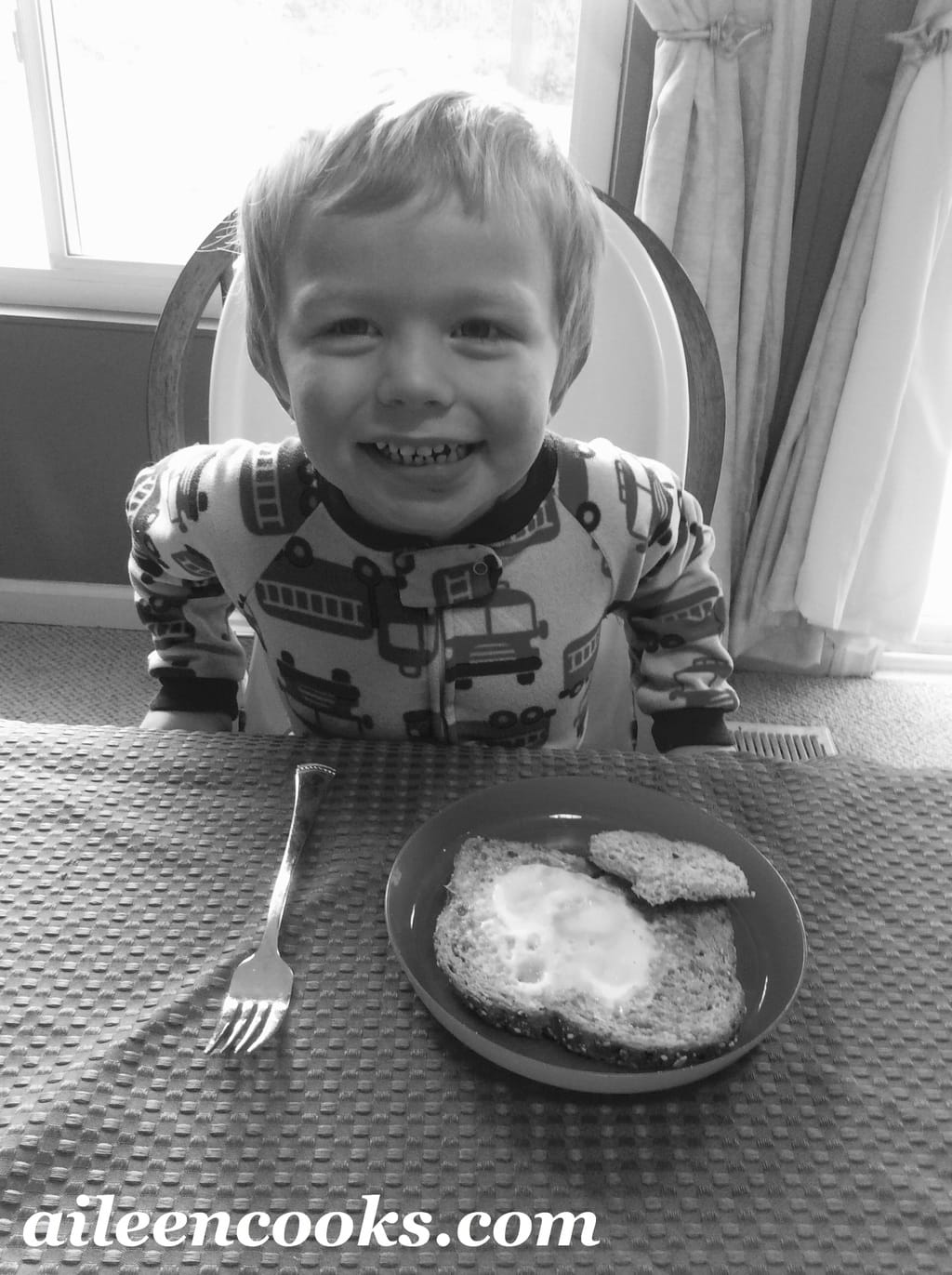 Here is your printable recipe.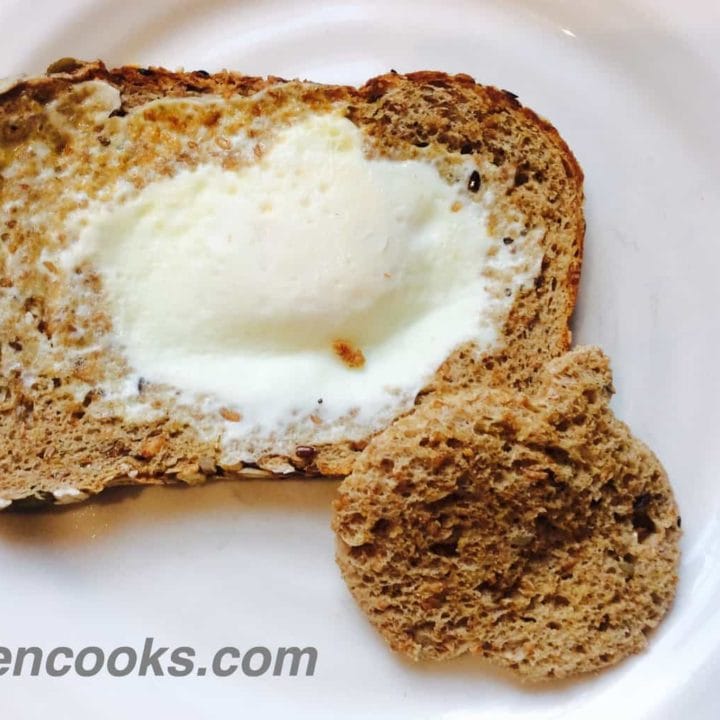 Cooking with Kids: Eggs in a Basket
Teach your kids the basics of breakfast making with this fun recipe for eggs in a basket. Bonus points for a fun cookie cutter!
Ingredients
4 slices sandwich bread
4 tsp butter
4 eggs
Instructions
Heat a large skillet or frying pan over medium heat.
Cut out the center of each slice of bread with a cookie cutter.
Melt butter in pan and place bread and cutouts into the pan. Work in batches, if necessary.
Crack 1 egg into the center of each slice of bread.
Once egg is partially cooked (the white will be white), flip the bread and egg along with the bread cutout.
Allow the eggs to complete cooking (about 2 minutes per side).
Finish cooking the remainder of bread and eggs.
Remove from heat and enjoy immediately.
Nutrition Information
Amount Per Serving
Calories

185
Thanks for stopping by!
OTHER POSTS IN THIS SERIES:
Cooking With Kids: Mini Cheese Pizzas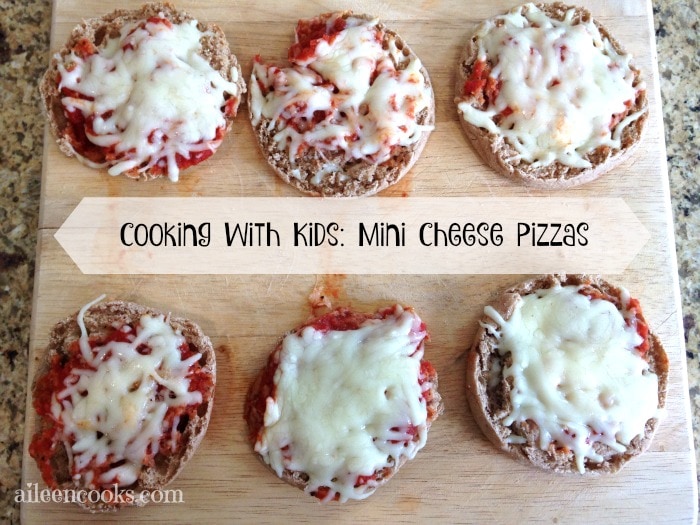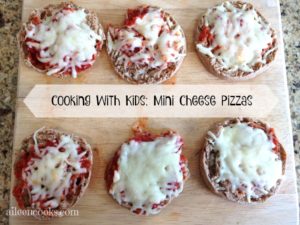 Cooking With Kids: White Chocolate Bark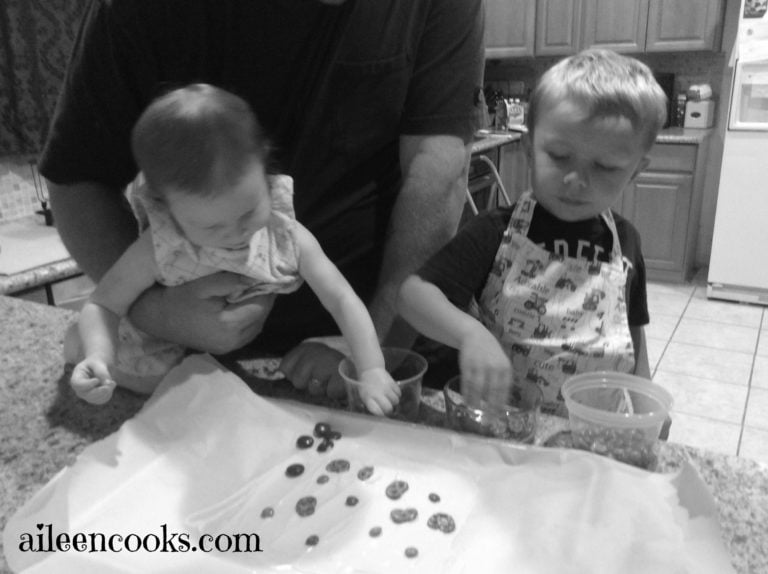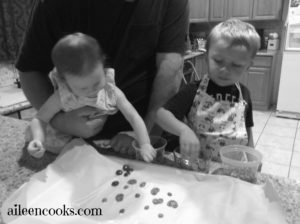 Cooking With Kids: Making Popcorn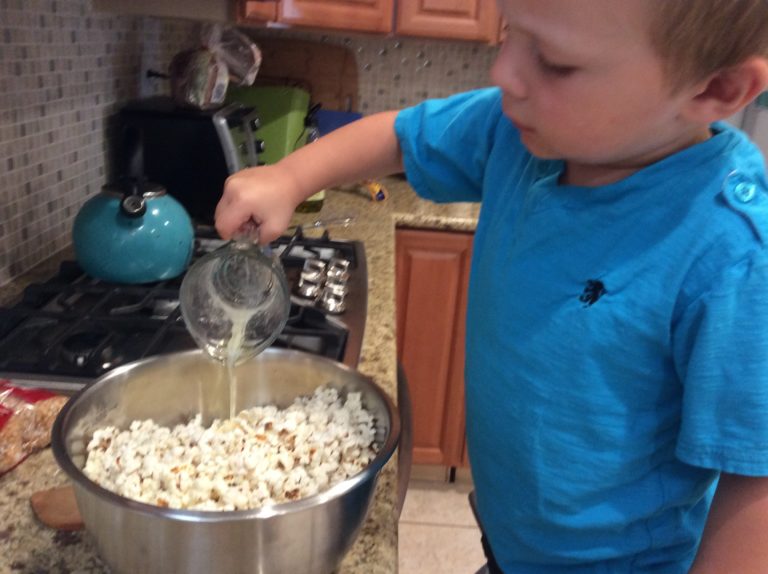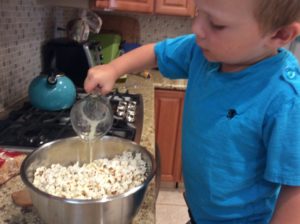 How to Cook With Your Kids (and Enjoy It)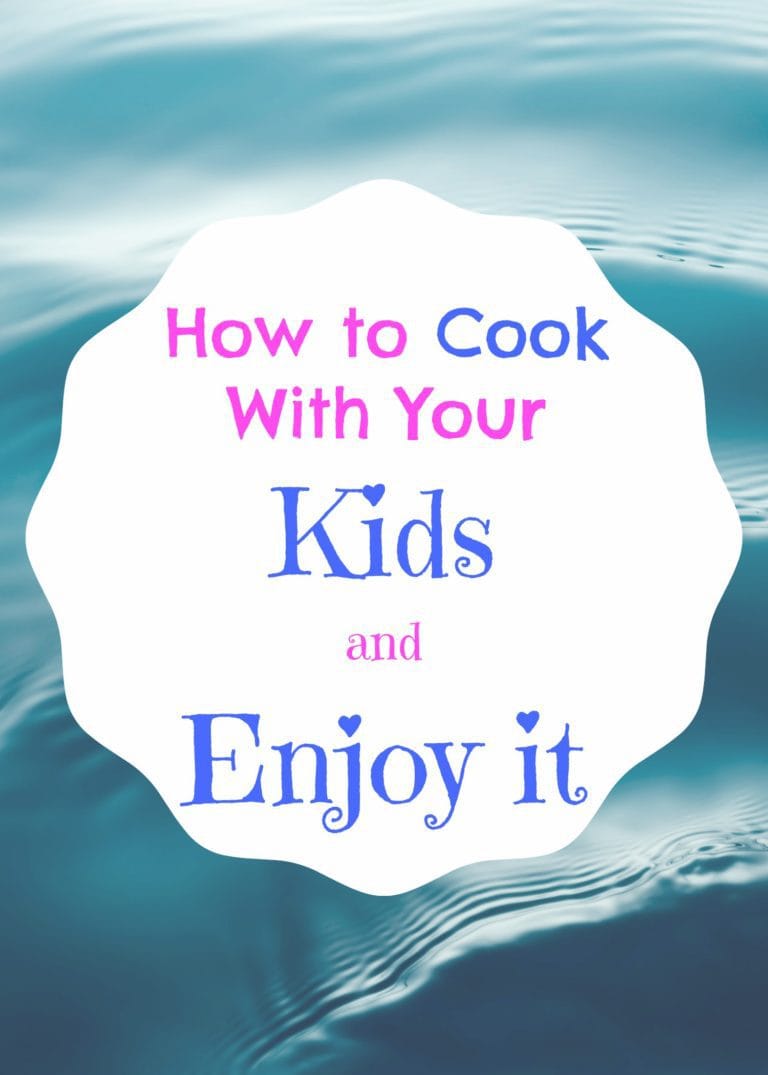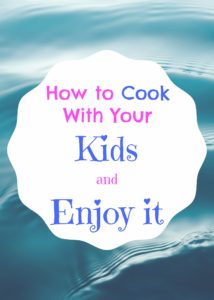 Eggs in a basket is such an easy recipe that kids can learn to make on their own. It's a great way to build their confidence!