Crispy Air Fryer Apple Chips: How to Dehydrate Apples in Air Fryer
Air fryer apple chips are the perfect healthy snack. They are even better when paired with our 3 ingredient peanut butter dip recipe!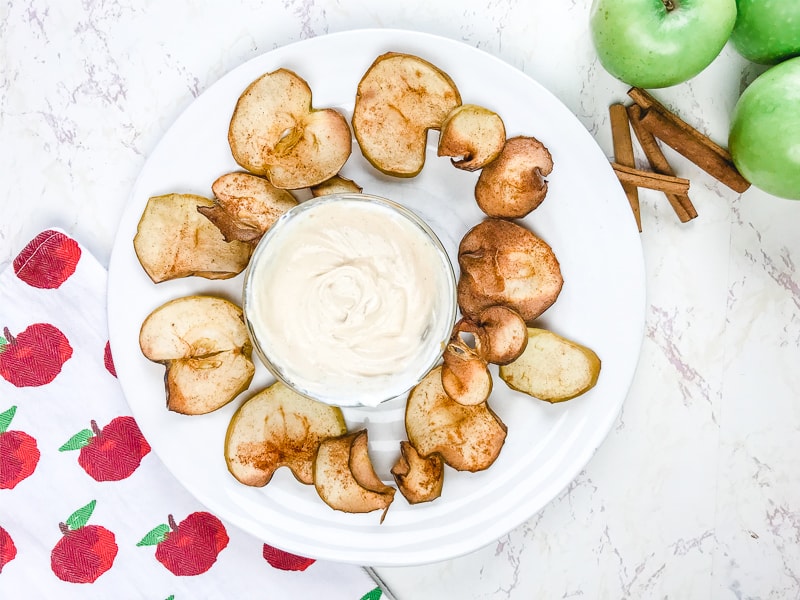 I love my air fryer for so many things. Frozen food, easy meals, but my favorite thing is making fresh fruits and vegetables taste amazing. I have shared recipes for air fryer Brussels sprouts and air fryer cauliflower, but I knew I wanted to experiment with air frying apples. I love apples in my instant pot, so I know I would love them in my air fryer.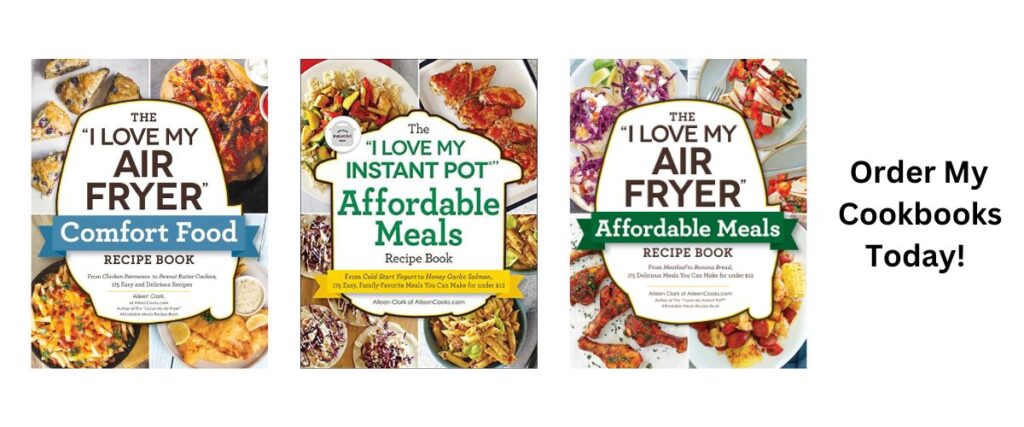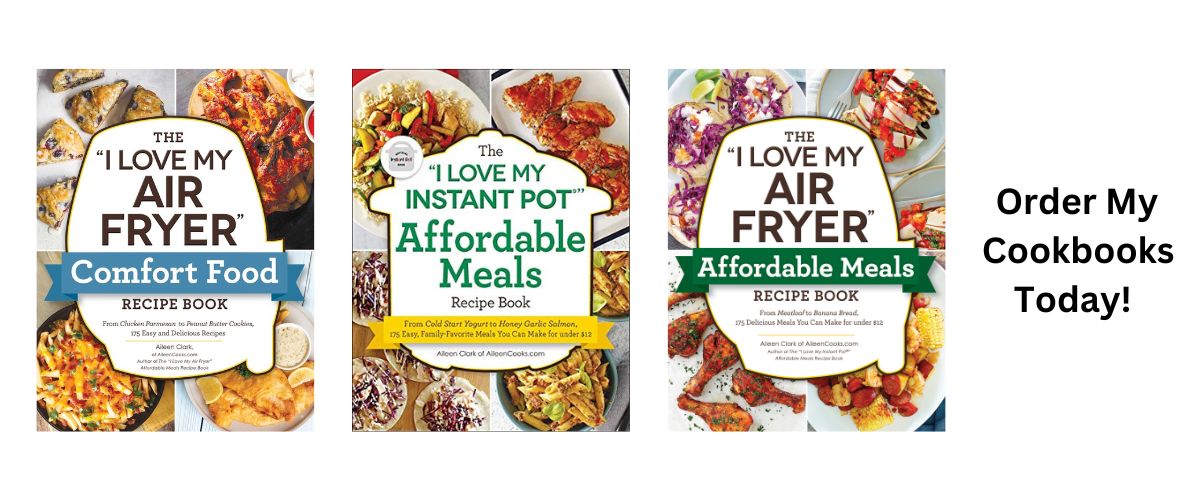 Apple chips in an air fryer
Oh boy, I sure do love these apple chips! They taste like an apple chip without the hours of dehydrating it takes to make a dried apple. They do get slightly crunchy around the edges, which makes it easy to dip into our peanut butter greek yogurt dip.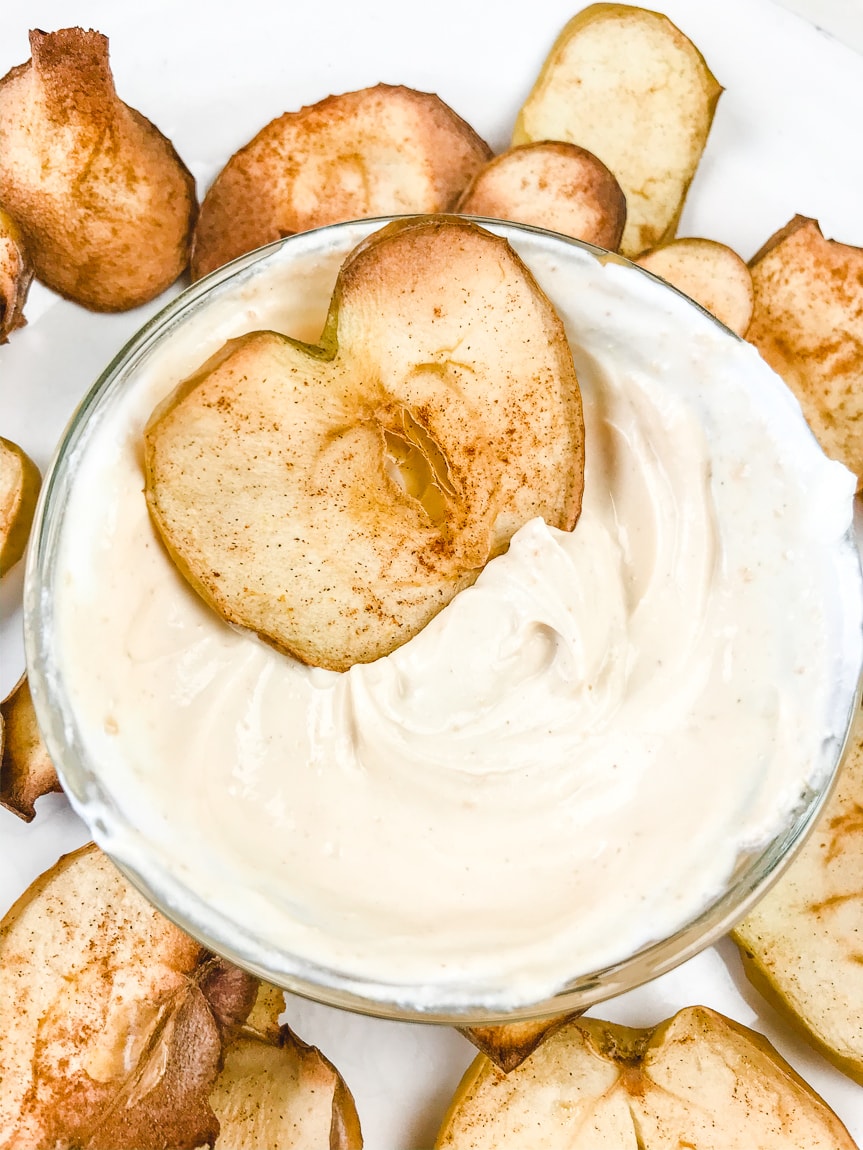 My favorite part is the apple chips only take two ingredients! It doesn't call for any oil or lemon juice. Just apple and cinnamon. And if you don't like cinnamon, you can just air fry the apples on their own!
I used a granny smith apple for this recipe, but you could totally air fry apple chips with any variety: gala, honeycrisp, golden delicious. Really, whatever you have on hand will work.
You may also like: Air Fryer Apple Hand Pies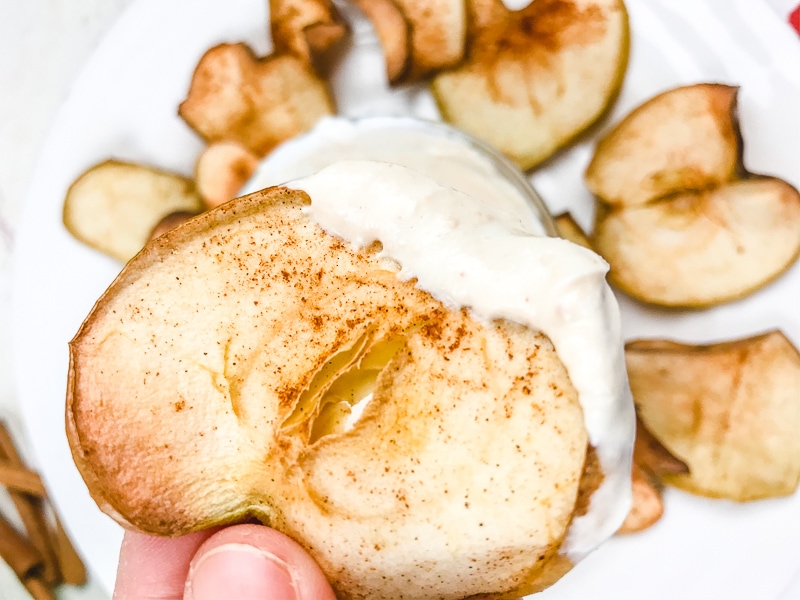 The trick to perfect air fryer apple chips
Well, two tricks, actually.
Super thin slices – I sliced this apple up by hand and made them as thin as I possibly could get them. If you have a mandoline (I don't) then this is the time to whip that baby out to make super-thin slices. Otherwise, a careful hand with a sharp knife will do.
Lots of shaking – This recipe calls for you to shake the apple chips ever 2-3 minutes. Don't skip this part! When you shake the apples, they may want to stack on top of each other and stick. Gently pull them apart and keep cooking. It will totally be worth it for this healthy snack.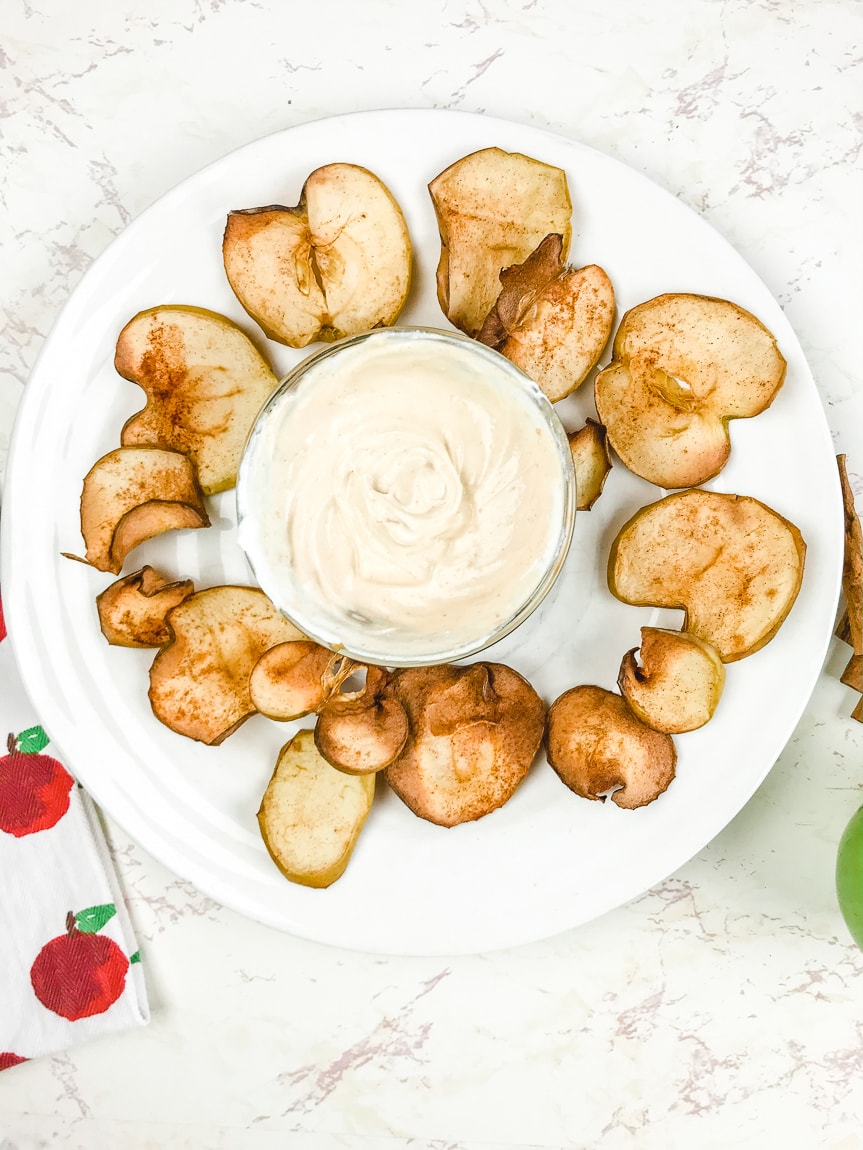 What to serve with air fryer apple chips?
Creamy peanut butter dip, of course! This dip is so easy to make. It is just plain greek yogurt, creamy peanut butter, and honey! You can also sub a vanilla yogurt for the plain greek yogurt.
We use natural peanut butter in this dip recipe but you can use a creamy JIF or similar, just omit the honey since it already has sugar added to the nut butter.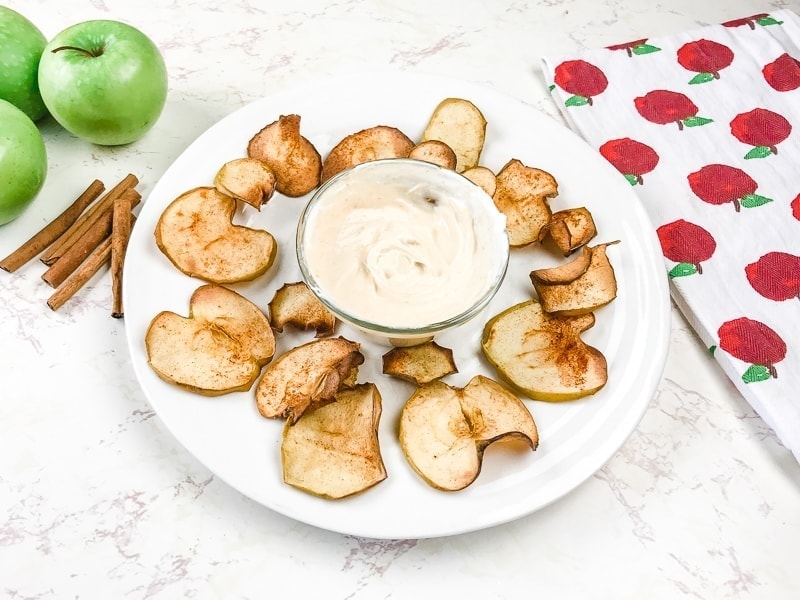 Air Fryer Apple Chips with Peanut Butter Dip
A healthy snack made in your air fryer paired with a tasty dip.
Additional Time
5
minutes
Ingredients
1

Granny Smith apple

Cinnamon to taste

1/4

cup

plain greek yogurt

1

tablespoon

creamy natural peanut butter

1

teaspoon

honey
Instructions
Slice apple as thin as possible. Use a mandoline if you have one.

Sprinkle apples generously with cinnamon.

Place apples in a single layer (a little overlap is okay) inside air fryer.

Set to 300 degrees for 16 minutes, shaking every 2-3 minutes.

Remove apples from air fryer and set them on a plate to continue to crisp.

Mix together yogurt, peanut butter, and honey.

Serve apples with peanut butter dip.

Store any uneaten apple chips in an air tight container at room temperature and leftover dip in the refrigerator.
Recipe Notes
Apple chips are done when they start to brown around the edges. If they stick together after shaking, seperate them before continuing to air fry.
Nutrition Facts
Air Fryer Apple Chips with Peanut Butter Dip
Amount Per Serving (1 /2 chips and dip)
Calories 112
Calories from Fat 36
% Daily Value*
Fat 4g6%
Cholesterol 1mg0%
Sodium 41mg2%
Carbohydrates 14g5%
Protein 5g10%
* Percent Daily Values are based on a 2000 calorie diet.
Save this recipe for later on Pinterest.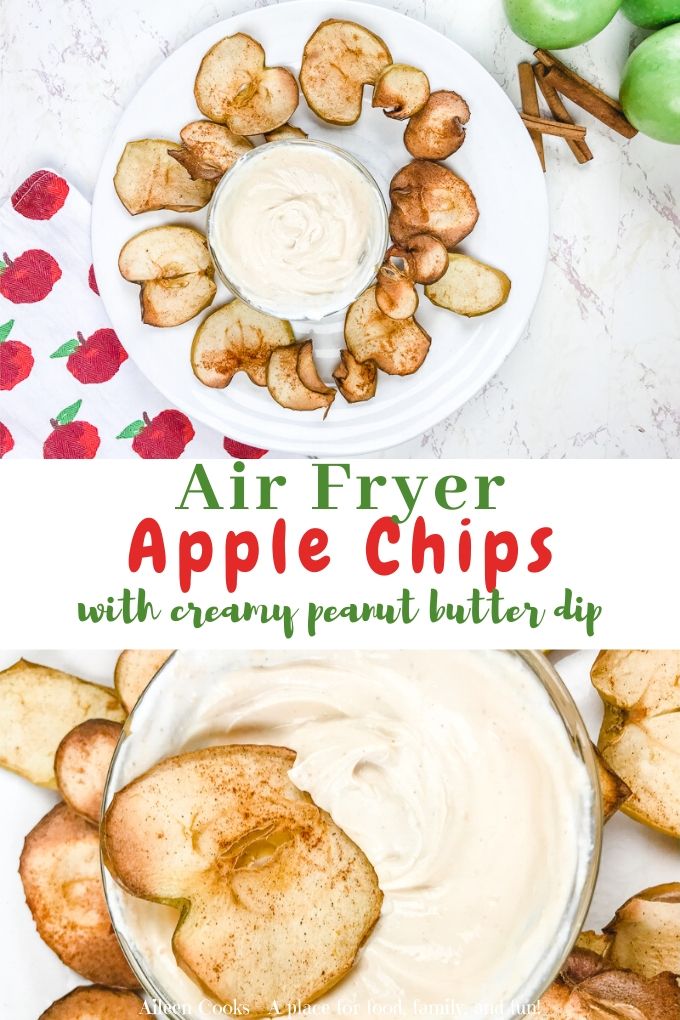 Did you try this recipe for air fryer apple chips? Let us know what you thought with a rating and comment. You can also tag us in your recipe creations on social media using @aileencooks.