How to Make Air Fryer Pickles
As an Amazon Associate I earn from qualifying purchases.
Whip up a batch of these easy air fryer pickles with a bonus recipe for tangy dipping sauce that is perfect for your homemade air fried pickles!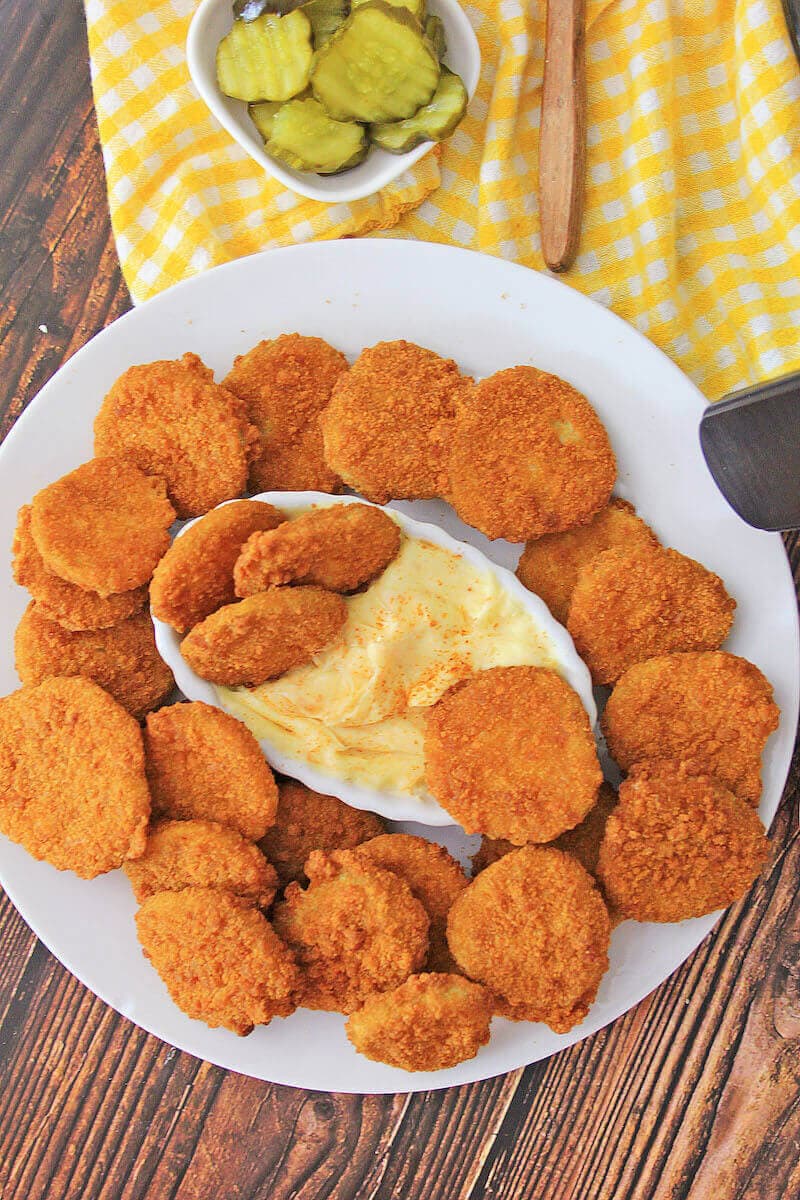 I love, love, love fried pickles. They are one of my favorite appetizers to order at Chili's and it was one of the top things on my list to make with my air fryer at home.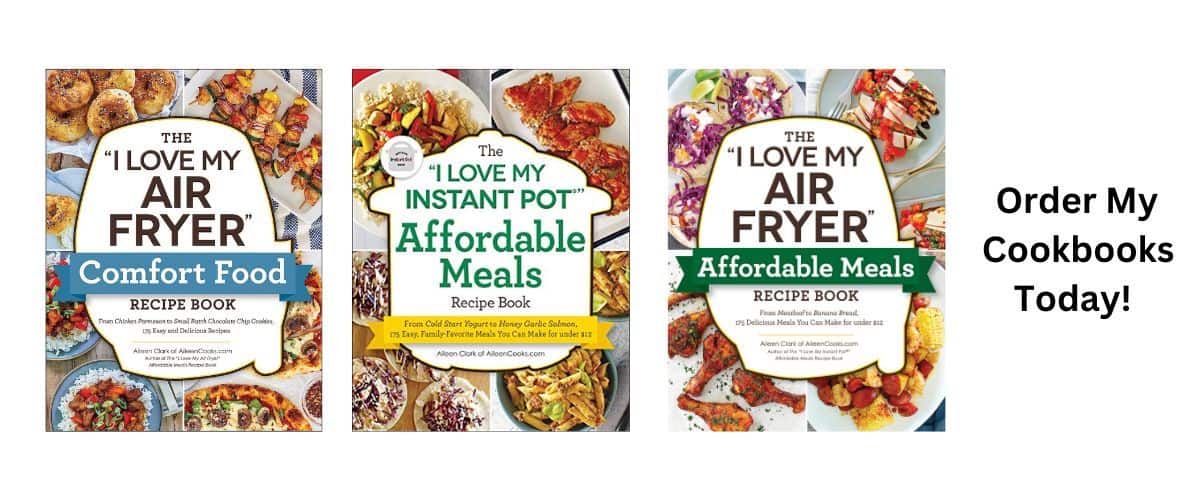 Other air fryer appetizer recipes we have shared are Air Fryer Ravioli, Air Fryer Crab Rangoon, Air Fryer Potato Skins, Air Fryer Mozzarella Sticks, and Air Fryer Apple Chips with Peanut Butter Dip.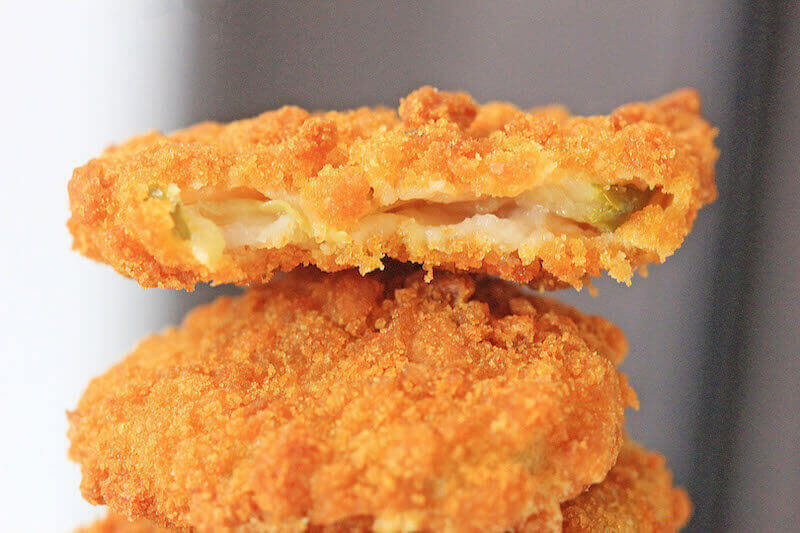 Air Fried Pickles FAQ
Do I need to dry off my pickles before air frying them?
No, there is no need to dry off your pickles before coating them in batter. The batter will stick just fine to your pickles and the pickles juice adds that extra delicious flavor.
What sauce goes with pickles?
We love a homemade tangy dipping sauce for pickles made of miracle whip, ketchup, tabasco, and spices.
Now, I know Miracle Whip is a hot topic. If you prefer Best Foods, please, use it! You are only going to like the flavor of the dipping sauce if you like the flavor of the ingredients.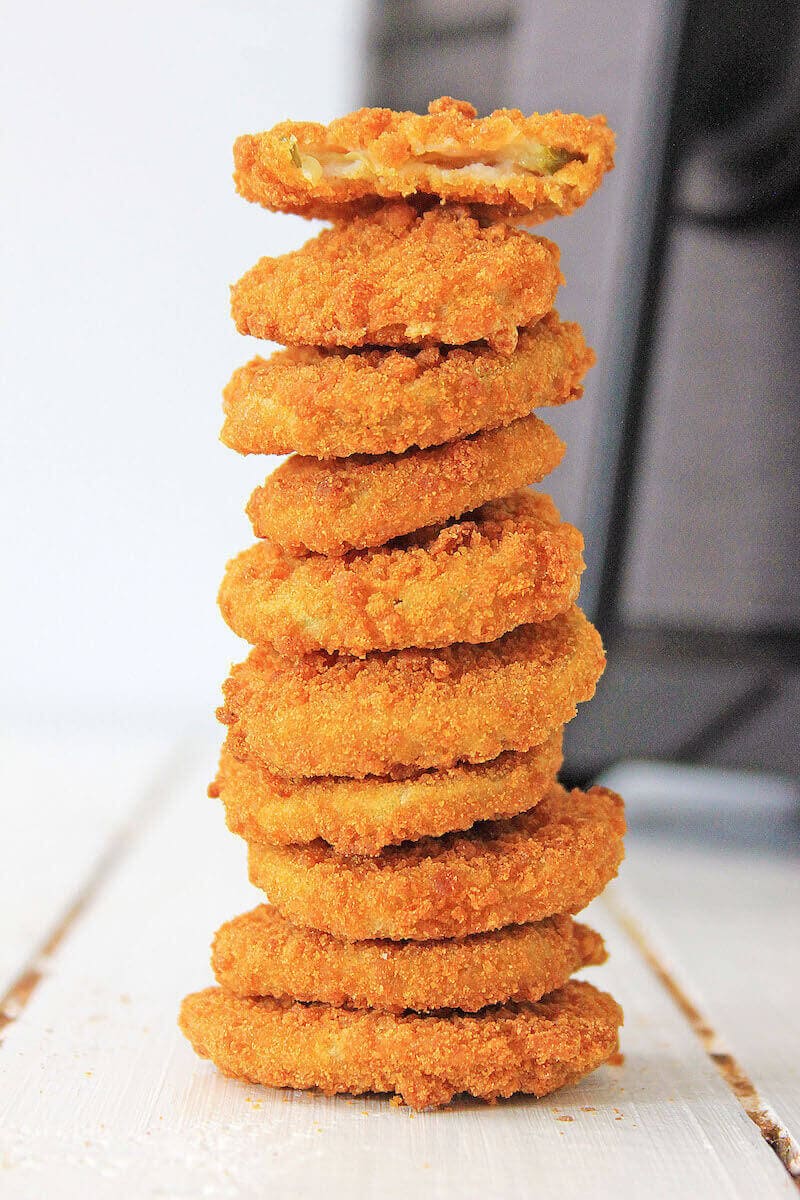 What kind of pickles do I need?
We used dill pickle chips in this recipe. Dill pickles are the way to go but spears may also be used.
Do I need to air fry my pickles in batches?
Yes. You will need to work in batches for this recipe. You do not want to layer your pickles on top of each other or they won't get crispy all the way around.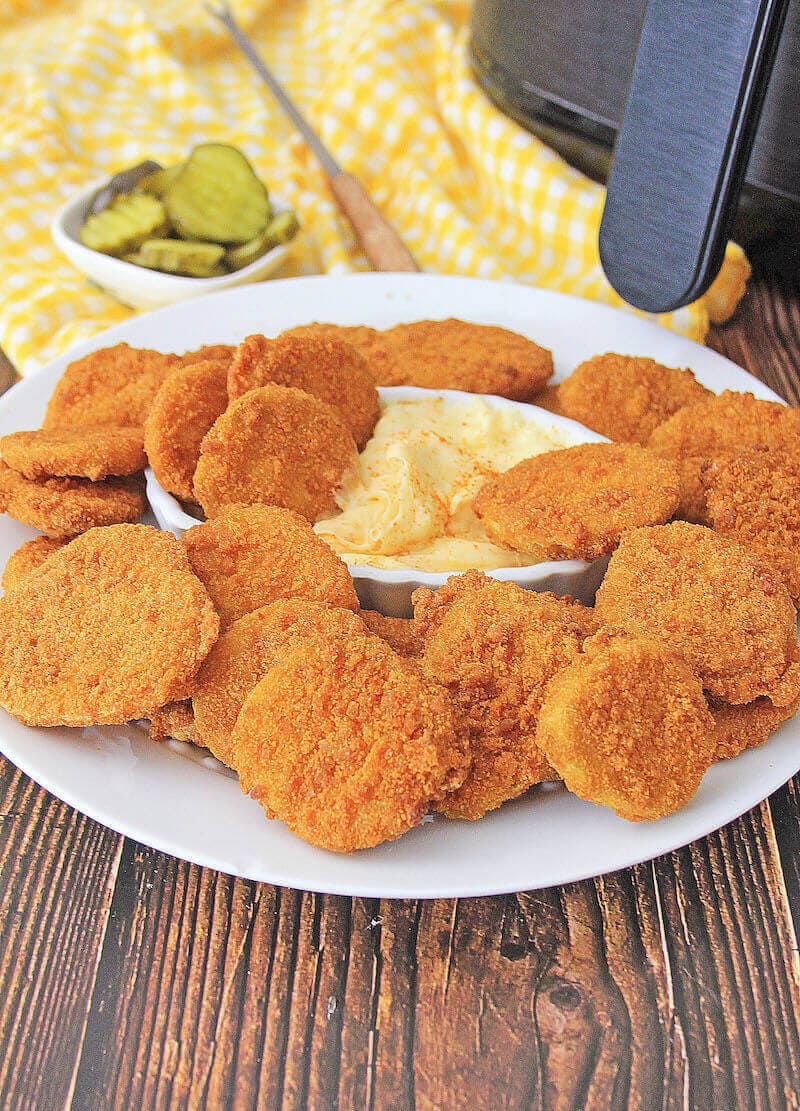 How do you make fried pickles from scratch?
We love this easy air fryer pickles recipe because it uses just 3 ingredients: dill pickle chips, extra crispy Shake 'N Bake, and olive oil spray.
Start by placing both package of shake 'n bake in a ziplock bag. Add the pickles (about 1/4 of the jar at a time) and shake until well coated.
Place the pickles in a single layer in the air fryer and spray with olive oil (we recommend this refillable olive oil spray bottle).
Cook until golden brown, about 9 minutes at 400ºF.
Serve and enjoy!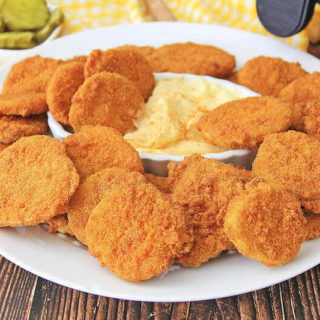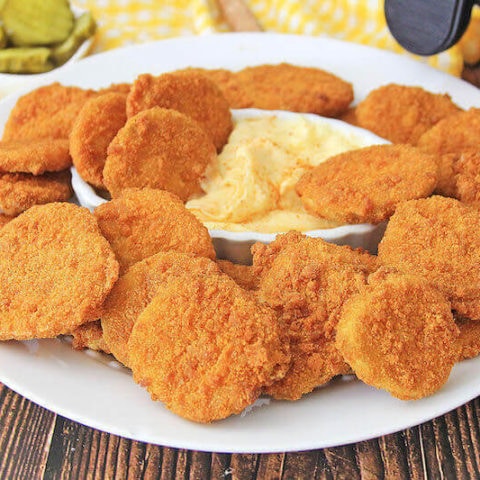 Air Fryer Pickles Recipe
If you love fried pickles then you are going to love this recipe for air fryer pickles that you can easially make at home. The tangy dipping suace makes them an extra tasty appetizer.
Ingredients
1

5-ounce package

Kraft Shake 'N Bake Extra Crispy Seasoned Coating Mix for Chicken & Pork

1

16-ounce jar

Dill pickle chips, drained

Olive Oil Spray
Dipping Sauce
1

cup

Miracle Whip

1/4

cup

ketchup

1

teaspoon

granulated sugar

1

teaspoon

lemon juice

1

teaspoon

garlic salt

1/4

teaspoon

dill

4

shakes Tabasco
Instructions
Empty both packages of

shake 'n bake

into a gallon-sized zip top bag.

Working in batches, place a few pickles inside the bag of shake 'n bake and shake the bag to coat the pickles.

Continue fillign the air fryer until the tray or basket is filled with pickles in one single layer, not overlapping.

Air fry at 400°F for 9 minutes.

Repeat with remaining pickles.

To make the sauce, whisk together the Miracle Whip, ketchup, sugar, lemon juice, garlic salt, dill, and Tobasco until fully combined.

Serve pickles warm with dipping sauce.
Notes
For a spicier dipping sauce, add more tobasco.
Air fryers very. Keep an eye on your pickles the first time you make them to ensure they don't overcook.
Refrigerate any leftovers, up to 3 days.
Nutrition
Serving:
1
/8 cup pickles
Calories:
439
kcal
Carbohydrates:
68
g
Protein:
14
g
Fat:
13
g
Saturated Fat:
6
g
Polyunsaturated Fat:
6
g
Cholesterol:
53
mg
Sodium:
870
mg
Fiber:
2
g
Sugar:
65
g
Save this recipe for later on Pinterest.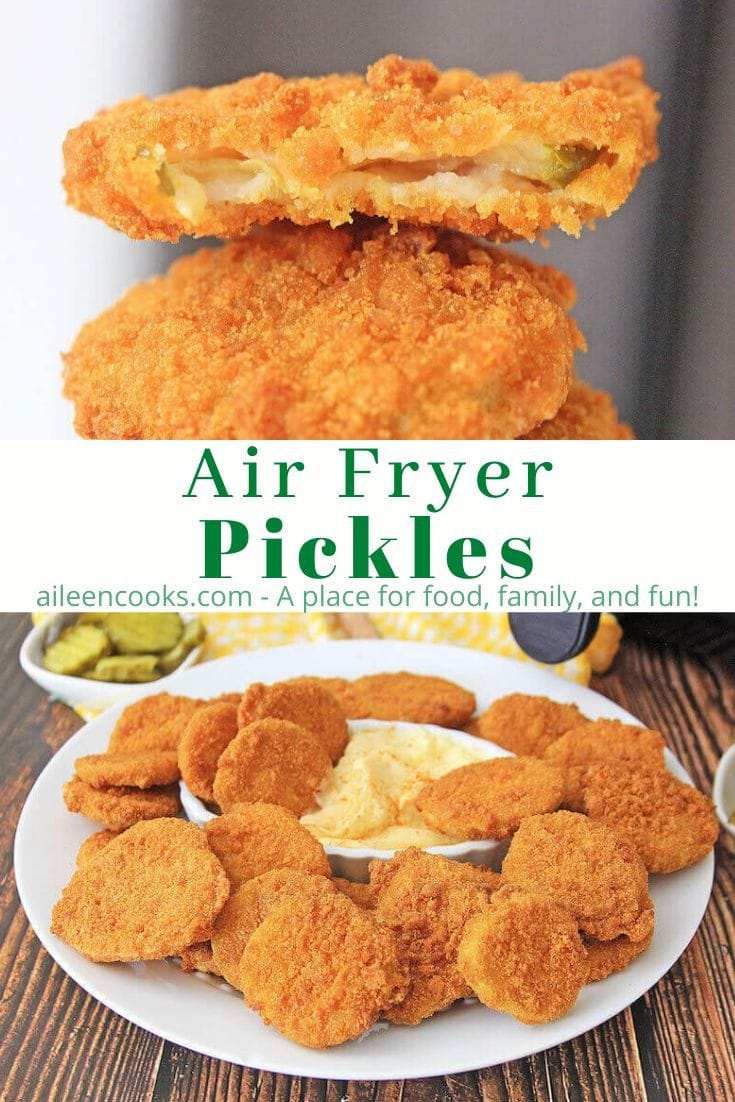 Did you try this recipe for air fryer pickles? Let us know what you thought with a rating and comment.