Homemade Air Fryer Mozzarella Sticks
As an Amazon Associate I earn from qualifying purchases.
Make your own crispy, gooey, and cheesy air fryer mozzarella sticks at home! You are going to love how easy it is to make homemade mozzarella sticks in your air fryer!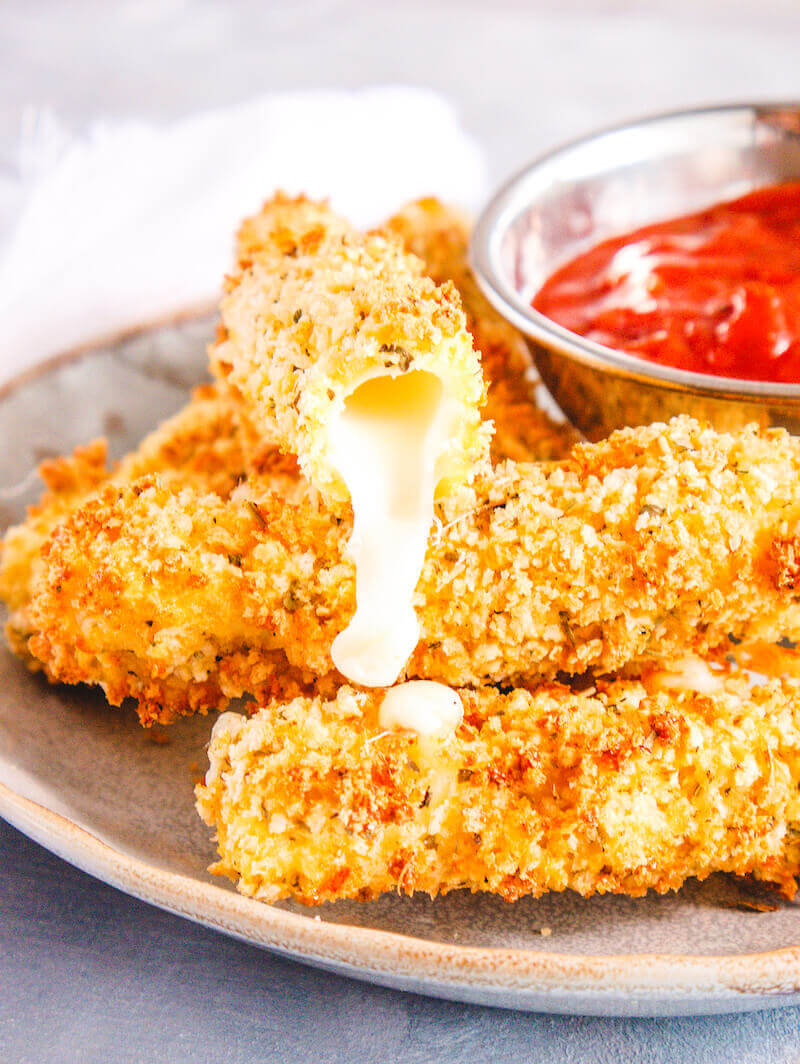 We turned one of our favorite appetizers and just made it healthier with the air fryer. This recipe is so easy and full of delicious flavor. It makes a great snack or appetizer for your next party!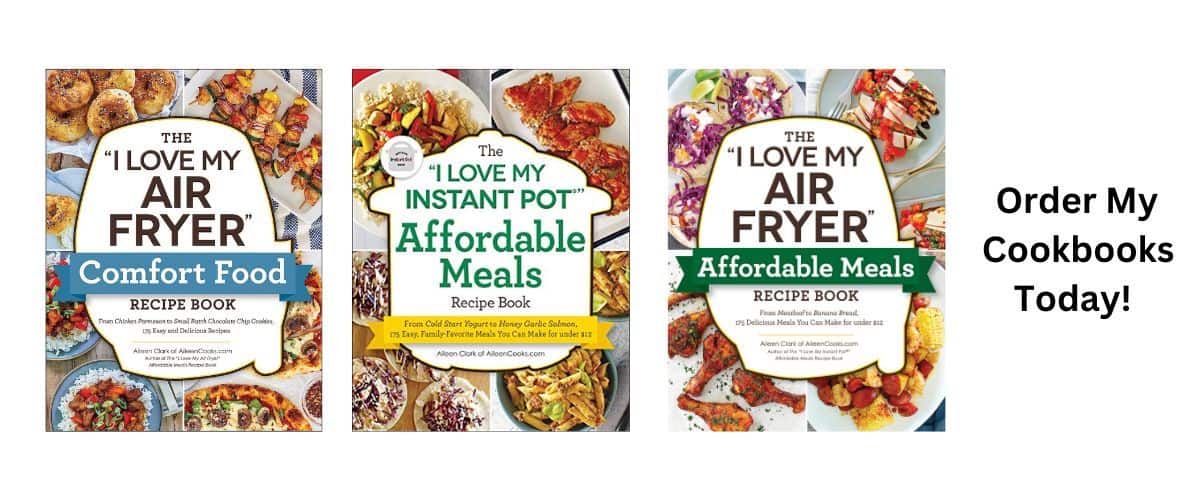 If you are looking for directions on how to air fry frozen mozzarella sticks, check out our recipe for Air Fryer Frozen Mozzarella Sticks. We have also shared recipes for Air Fryer Crab Rangoon, Air Fryer Apple Chips with Peanut Butter Dip, Air Fryer Lemon Pepper Chicken Wings Recipe, Air Fryer Frozen Pot Stickers, and Air Fryer Chicken Parmesan.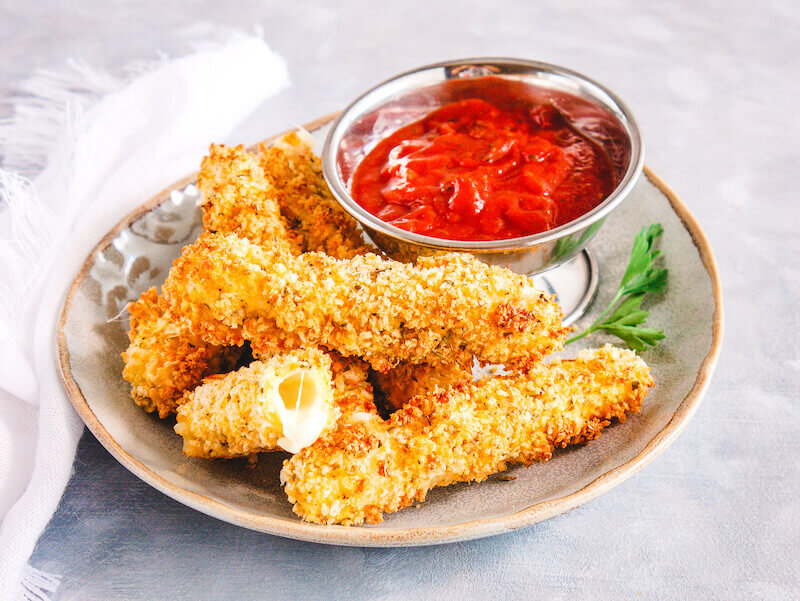 Tips for making homemade mozzarella sticks
Don't skip the freezing step! Freezing the cheese sticks before battering them and then chilling them again after coating in batter helps the batter really stick to the cheese sticks.
Double up on breading. We bread our mozzarella sticks twice – with 10 minutes of freezer time in between. This really makes a difference with the coating so your cheese stick is completed coated.
Cook the cheese sticks right before you are ready to serve them. They taste best fresh out of the air fryer.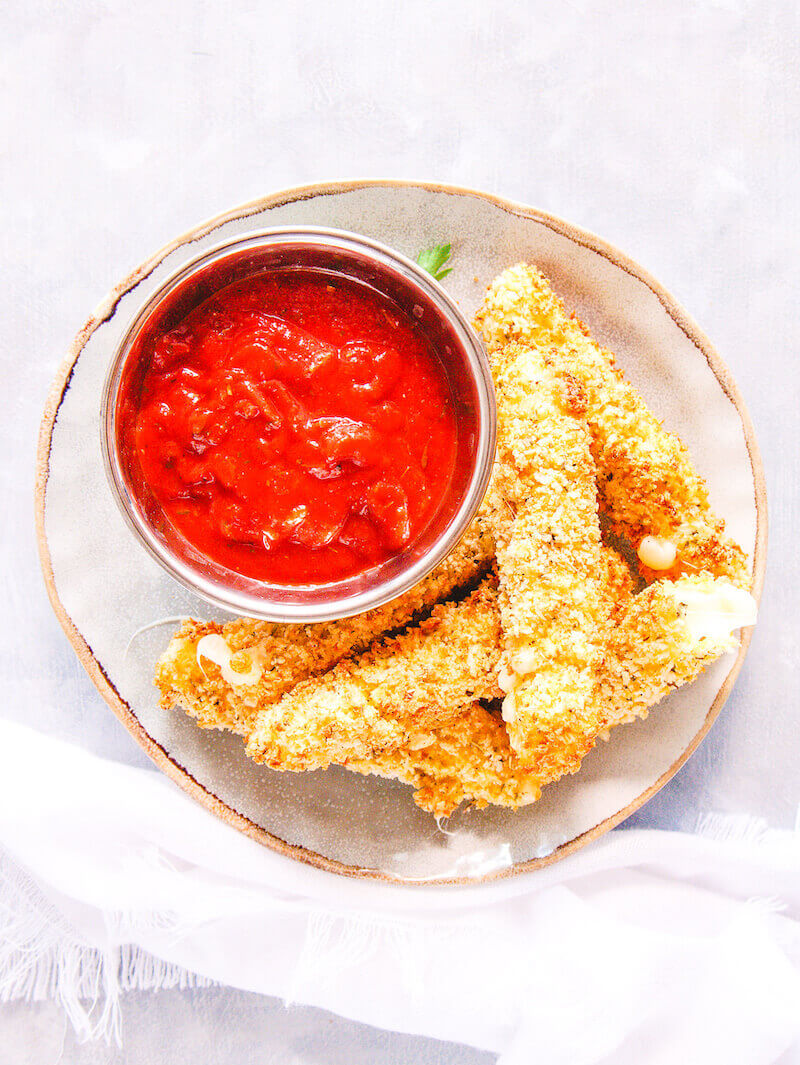 Air fryer mozzarella sticks FAQ
What air fryer was used?
We used a 5.8 quart basket-style air fryer. Any brand of air fryer can be used to make these mozzarella sticks.
Can I use an air fryer oven?
Yes. You can absolutely make these in your air fryer oven. In fact, you might be able to fit all 12 mozzarella sticks in your oven at the same time.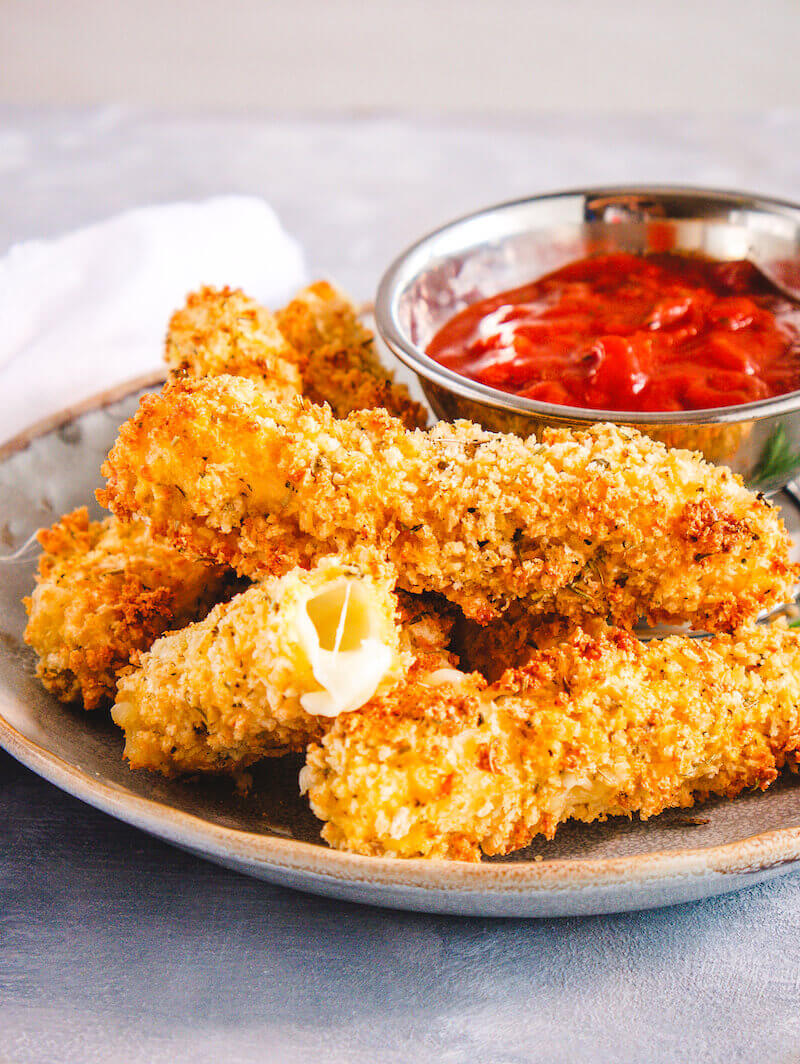 How long do you air fry frozen mozzarella sticks?
We air fryer our mozzarella sticks for 8 minutes without preheating the air fryer. However, all air fryers cook slightly different, so it's best to keep an eye on your mozzarella sticks, to make sure they don't overcook.
What goes with mozzarella sticks?
We love serving mozzarella sticks with a variety of appetizers, including Air Fryer Ravioli, Instant Pot Artichoke Dip, Pulled Pork Nachos, and Easy Black Bean and Corn Quesadillas.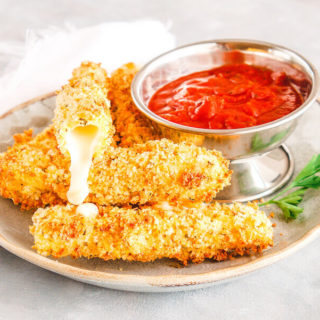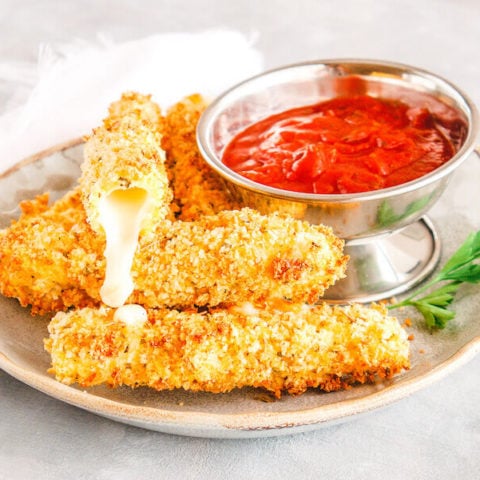 Air Fryer Mozzarella Sticks Recipe
Make your own crispy, gooey, and cheesy air fryer mozzarella sticks at home! You are going to love how easy it is to make homemade mozzarella sticks in your air fryer!
Ingredients
12

1-ounce mozzarella cheese sticks

1/4

cup

all-purpose flour

1 3/4

cups

panko breadcrumbs

1 1/2

tablespoons

unsalted Italian seasoning mix

3/4

teaspoon

salt

1/2

teaspoon

ground black pepper

2

large eggs

beaten

cooking oil spray
Instructions
Unwrap the cheesesticks and arrange on a cookie sheet, seperated so they are not touching. Freeze for a minimum of 3 hours.

Place three shallow bowls on the counter. Add flour to one bowl, eggs to one bowl, and breadcrumbs to the third bowl.

Add Italian seasoning, salt, and black pepper to bowl of breadcrumbs. Mix.

Line a baking sheet with aluminum foil and spray with cooking spray.

Roll each frozen mozzarella stick in the flour making sure to thoroughly coat it on all sides.

Then dip into the lightly beaten eggs, again making sure it's completely coated.

Next dredge in the seasoned breadcrumbs and making sure to fully coat the entire cheese stick.

Lay coated mozzarella stick on baking sheet and continue until all of the cheese sticks have been breaded.

Place the baking sheet of mozzarella sticks in the freezer for 10 minutes, do not discard breading ingredients.

Remove chilled mozzarella sticks from the freezer and dip in the remaining beaten eggs, then into the breadcrumbs.

Arrange the mozzarella sticks inside the basket of the air fryer. Continue until the mozzarella sticks are in an even layer in the basket. Do not overcrowd, you will need to work in batches.

Program the air fryer to 390°F and 8 minutes.

Flip the mozzarella sticks over after 5 minutes and cook an additional 2-3 minutes, until golden.

Remove the mozzarella sticks from the air fryer and place on a serving dish.

Continue air frying the remaining mozzarella sticks until all have been fried.

Serve with your favorite marinara sauce or any other dipping sauce of choice.

Notes
Leftovers can be restored in the refrigerator, up to 3 days.
Nutrition
Serving:
2
mozzarella sticks
Calories:
205
kcal
Carbohydrates:
27
g
Protein:
8
g
Fat:
7
g
Saturated Fat:
2
g
Polyunsaturated Fat:
4
g
Cholesterol:
66
mg
Sodium:
549
mg
Fiber:
2
g
Sugar:
2
g
Save this recipe for later on Pinterest.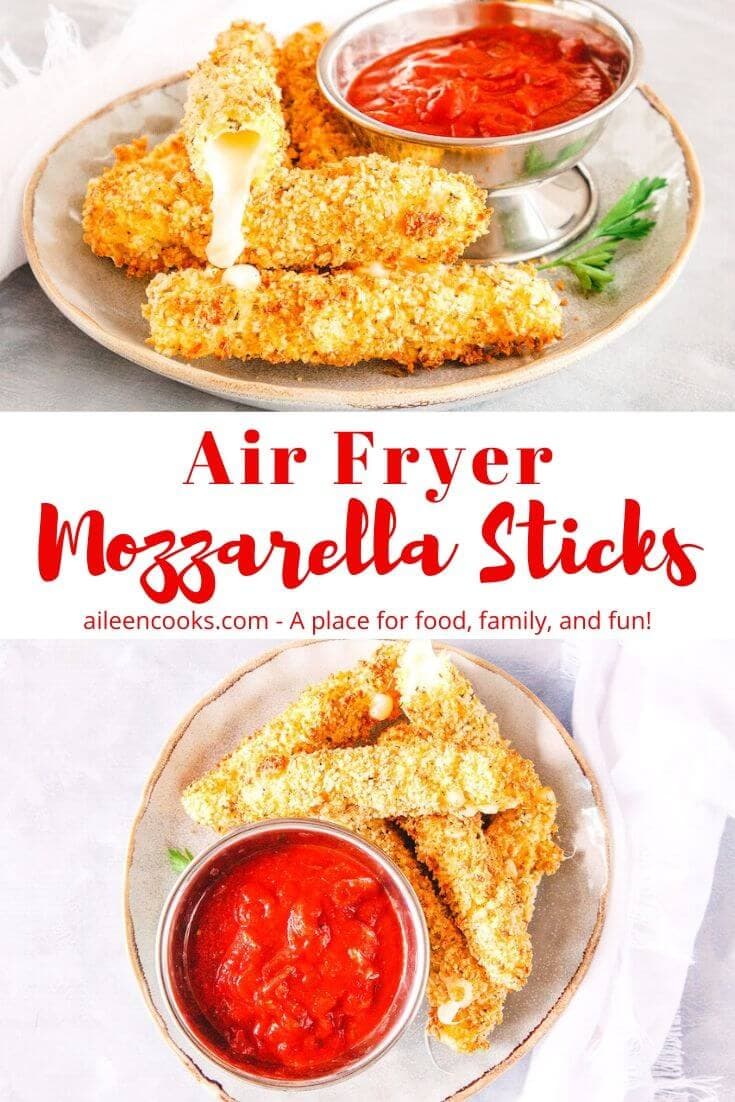 Did you try this recipe for air fryer mozzarella sticks? Let us know what you thought with a rating and review (the star ratings above).