Homemade Air Fryer Crab Rangoon
Air fryer crab rangoon are a tasty mixture of crab meat, cream cheese, and spices. It's all wrapped up in a yummy wonton wrapper and air fried to crispy perfection. You do not want to miss this air fryer appetizer!
This recipe is a sneak peek from my new cookbook! The 'I Love My Air Fryer' Affordable Meals Recipe Book is available now!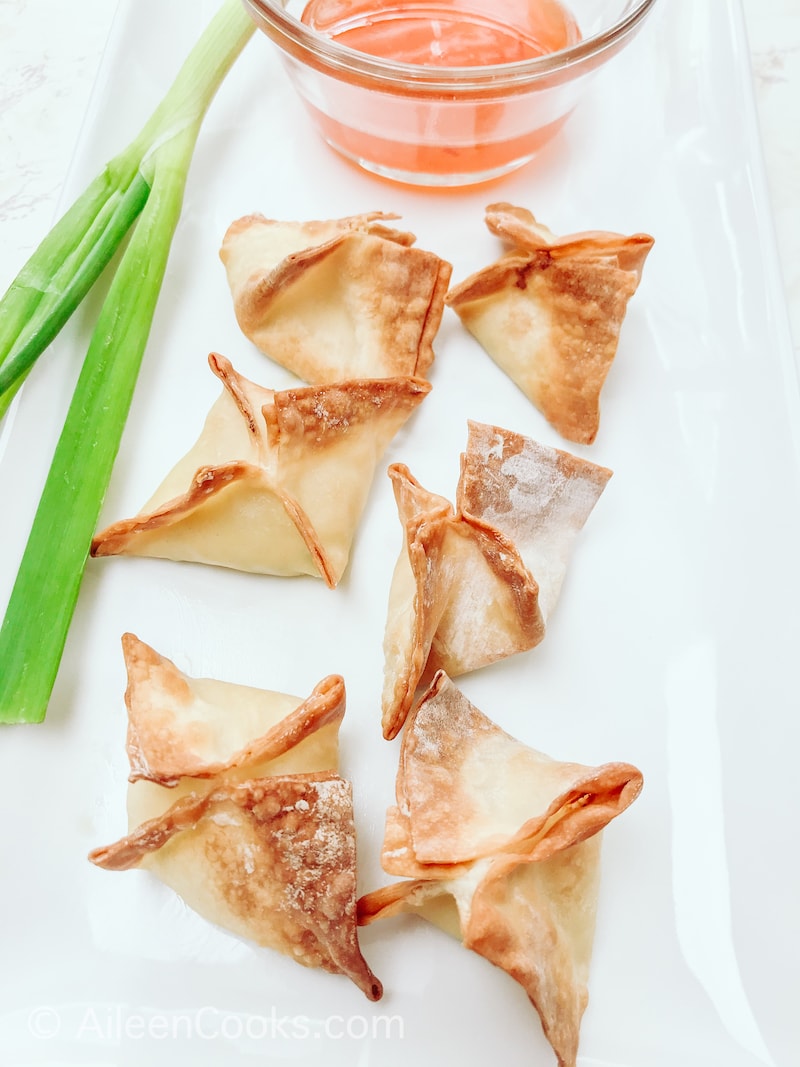 One of the ways the air fryer shines is with appetizers. Whether you're reheating frozen appetizers or making them from scratch – the air fryer makes them taste amazing! Some of our favorite appetizer recipes are Air Fryer Pickles with Tangy Dipping Sauce, Air Fryer Potato Skins, and Air Fryer Lemon Pepper Chicken Wings.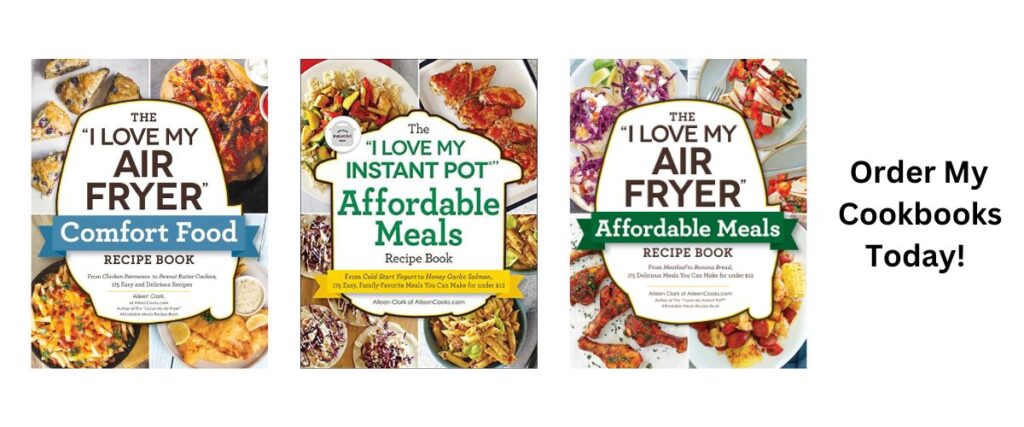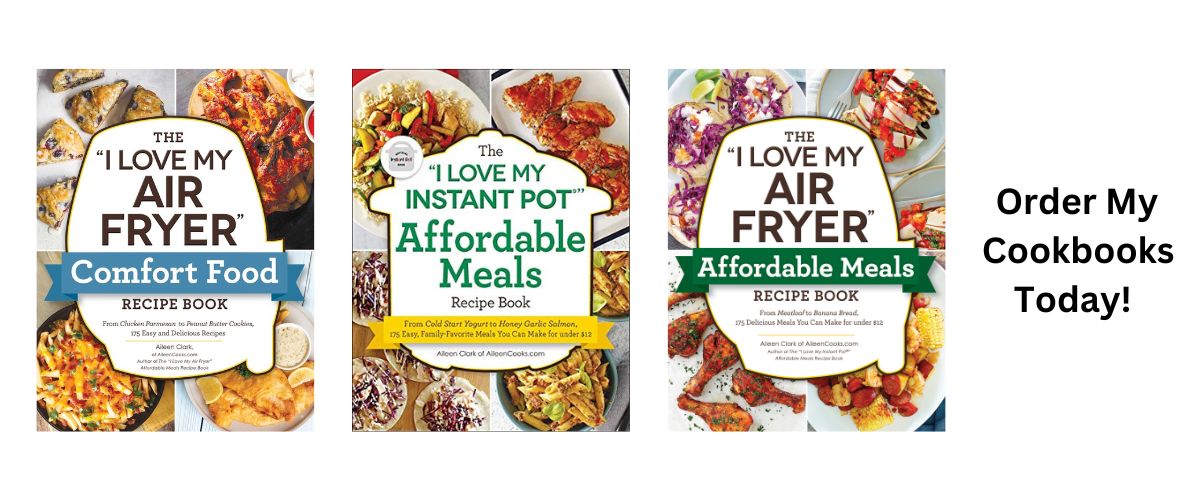 Making Crab Rangoon in an Air Fryer
I absolutely love crab rangoon. They taste amazing when deep fried but actually taste just as good in the air fryer. Really!
This recipe makes a big batch of crab rangoon and is very easy to follow. The most time consuming part is filling the wonton wrappers, but believe me – it is TOTALLY worth it!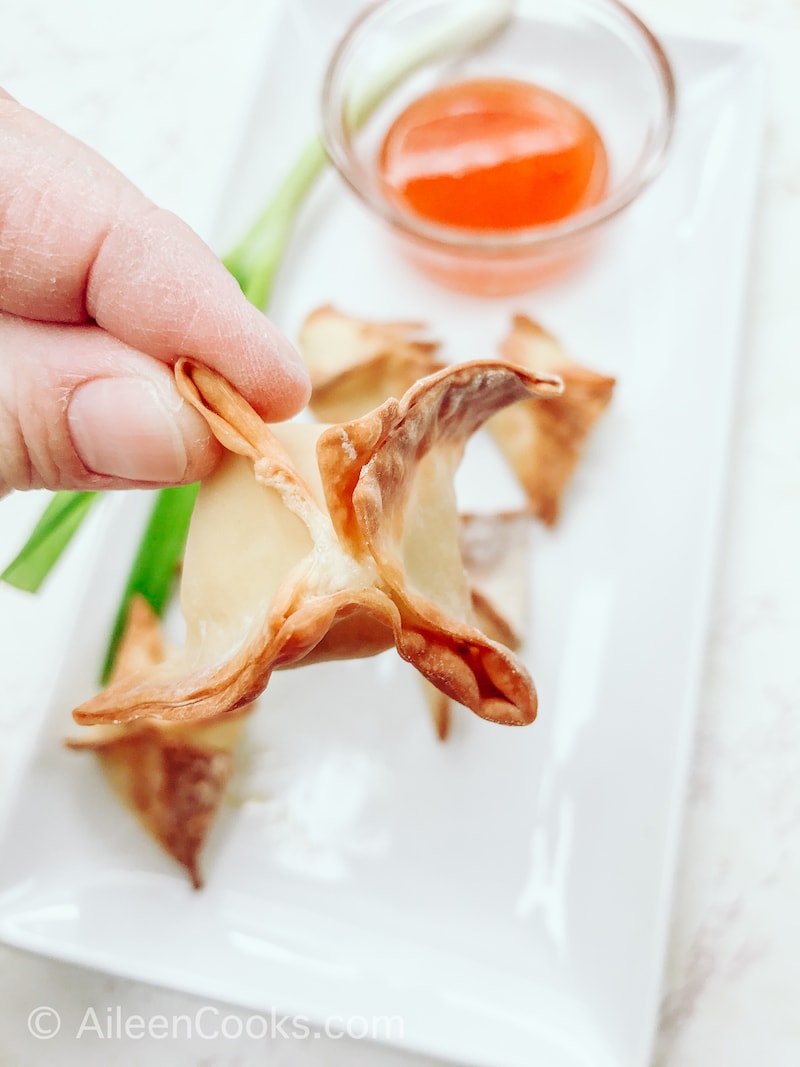 They come out perfectly crisp on the outside with warm and flavorful crab-cream cheese filling on the inside. You will not regret taking the time to make these tasty appetizers in your air fryer!
Which kind of air fryer to make crab rangoon?
I used my Cosori MAX XL to test out this recipe. However, any type of air fryer will work! Just keep in mind that all air fryers (just like ovens) cook slightly faster or slower. So, keep an eye on your crab Rangoons the first time you make them, so you can make sure they don't burn.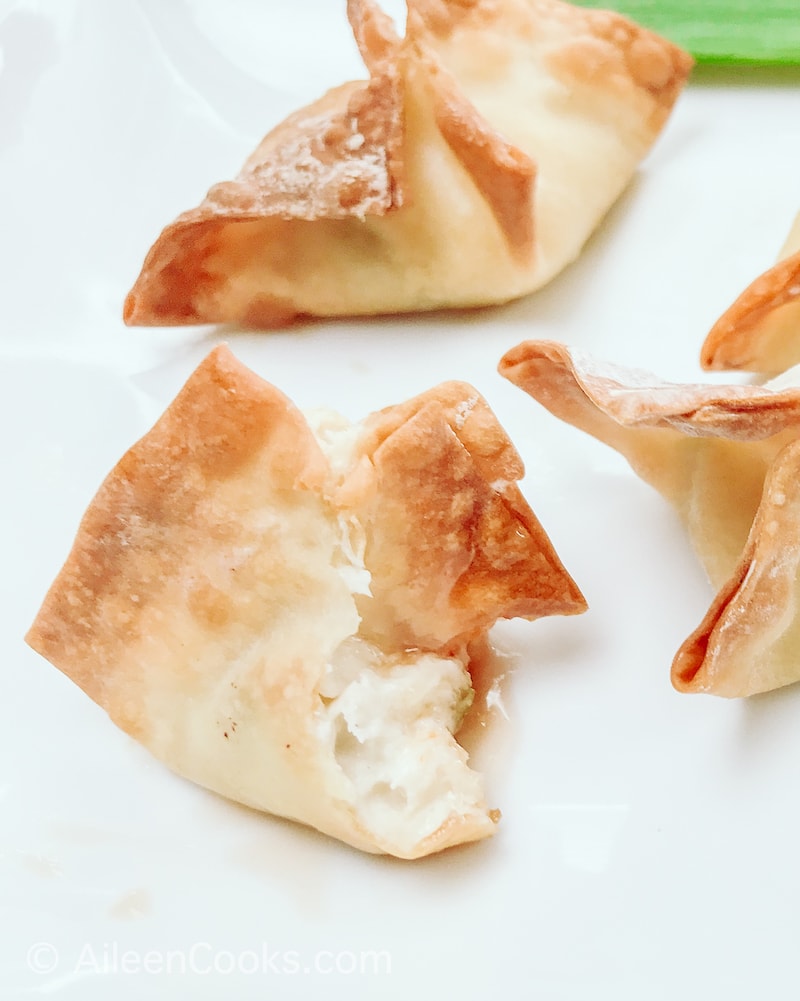 Dipping sauce for fried crab rangoon?
Okay, let's talk dipping sauces. I don't include a recipe for homemade dipping sauce with this recipe and here's why: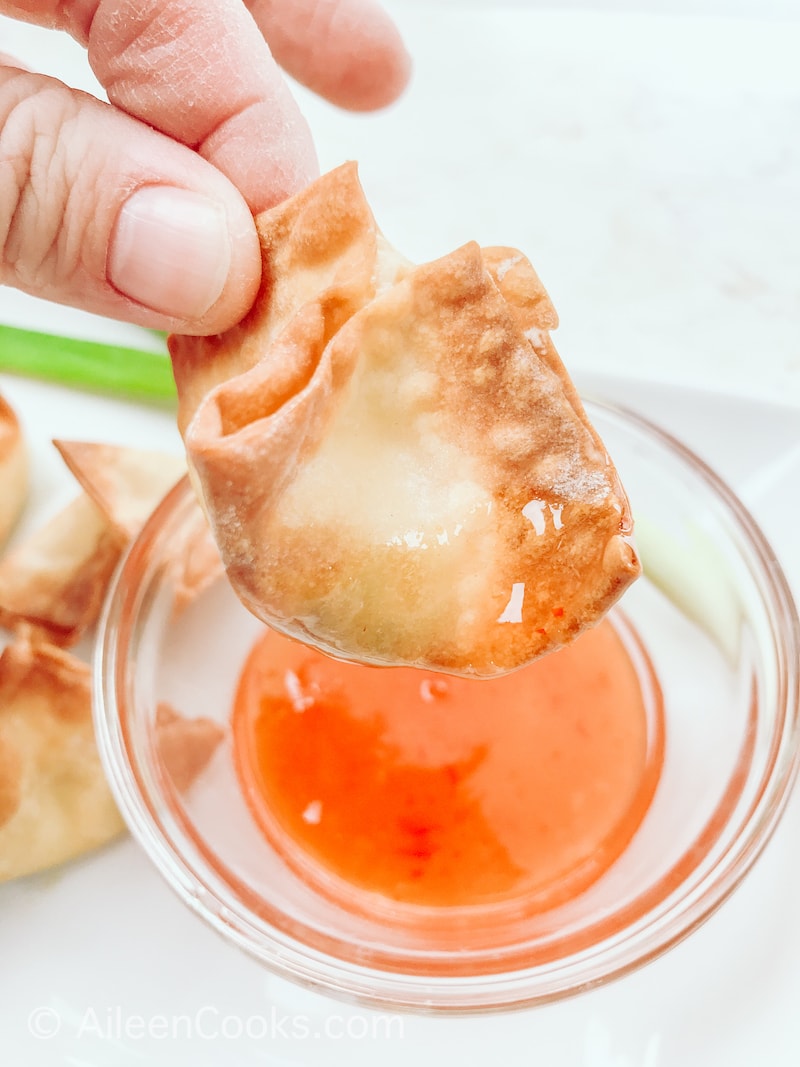 The best dipping sauce for crab rangoon is Mae Ploy sweet chili sauce. It's the perfect sweet and spicy dipping sauce that is just a bit sticky, so it doesn't slide right off of the fried wontons or make them soggy. That's my humble opinion, but I hope you will try it.
You can order it on Amazon or find it at most grocery stores.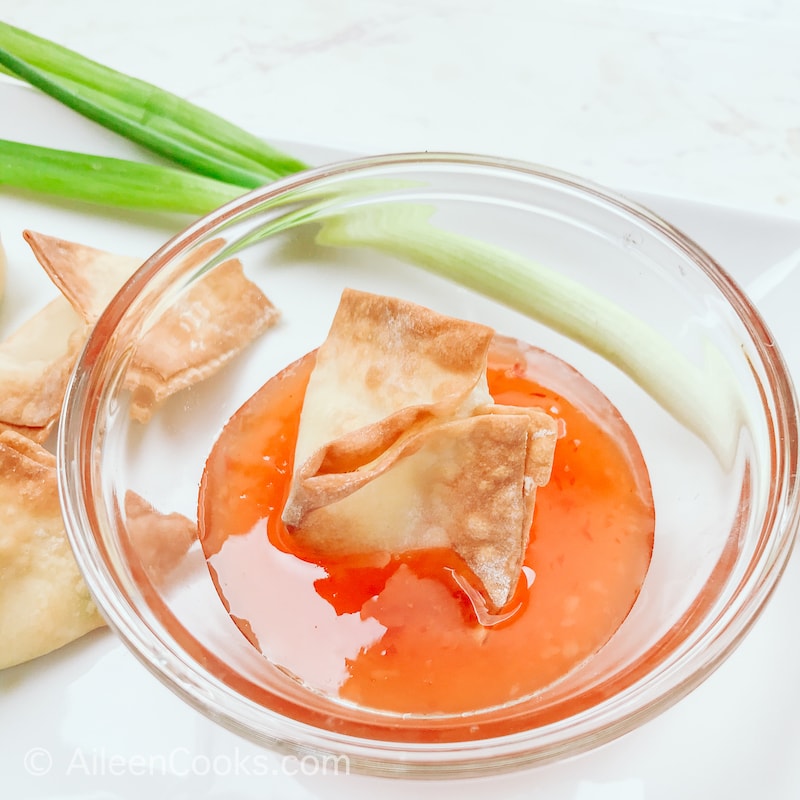 What kind of crab can I use?
In this recipe, we use canned crab. I like it because it's easy to work with and is affordable. It still tastes great – especially when mixed with cream cheese and spices.
Of course, if you have leftover crab, you can totally use that in place of the canned crab. Also, if you prefer, you can use imitation crab meat.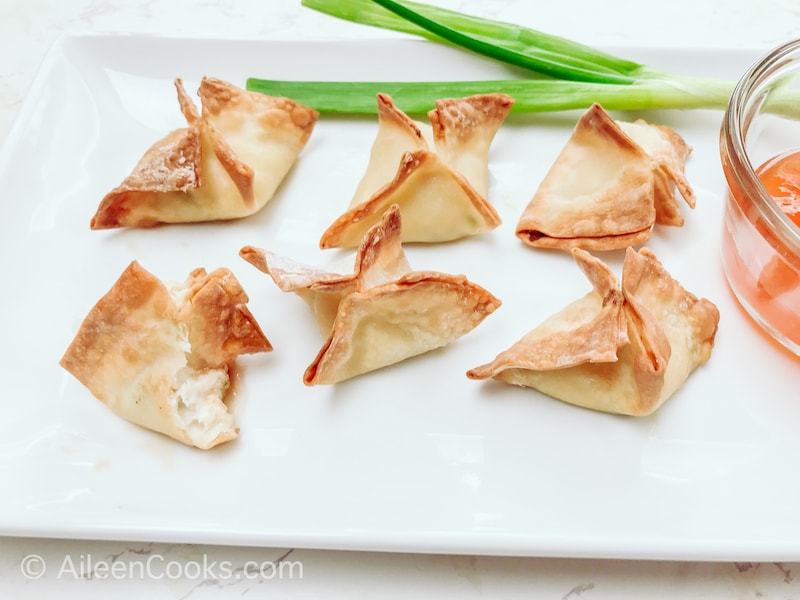 Cream cheese wontons
If you want to make regular cream cheese wontons – you can still use this recipe! Just skip the crab meat and you will have tasty cream cheese wonts ready to be enjoyed.
Can I freeze crab rangoon?
If you have been around Aileen Cooks for awhile, then you know I love to freeze stuff!
To freeze crab rangoon, prepare them to the step before air frying.
Line a cookie sheet with parchment paper and arrange the filled wontons in a single layer, spaced apart, so they aren't touching.
Freeze for 1 hour.
Then, transfer the frozen Rangoons into a freezer safe bag or container.
Label and freeze up to 3 months.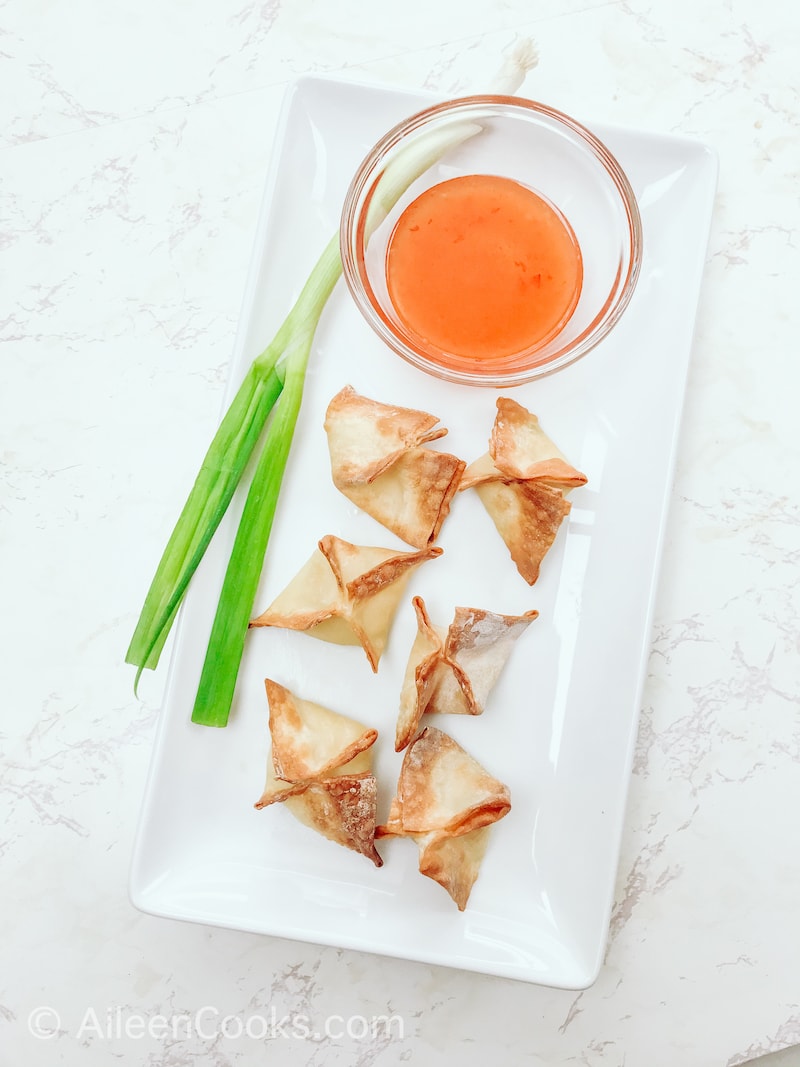 How to cook frozen crab rangoon?
Whether you are cooking frozen crab rangoon from this recipe, or bought some from the freezer section, the cook time is the same. Air fry frozen crab rangoon for 12 to 13 minutes at 350°F.
More air fryer appetizer recipes
If you're looking for more appetizers to make in your air fryer, make sure to order my cookbook The 'I Love My Air Fryer' Affordable Meals Recipe Book. You can also try these recipes I have already shared here on my website: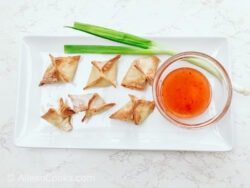 Air Fryer Crab Rangoon Recipe
Crab rangoon is a combination of crab meat, cream cheese, and green onions wrapped in a wonton wrapper and air fried to perfection.
Ingredients
1

6 ounce can crab meat, drained

4

ounces

cream cheese

softened

1

green onion

thinly sliced

1

teaspoon

Worcestershire sauce

1/4

teaspoon

garlic powder

16

wonton wrappers

1/2

cup

Thai sweet chili sauce
Instructions
Preheat air fryer to 350ºF.

In a medium bowl, combine crab meat, cream cheese, green onion, Worcestershire sauce, and garlic powder. Mix well.

Fill each wonton wrapper with 1 tablespoon filling.

Dip finger in warm water and brush around edges of wonton wrapper with finger to moisten edges.

Crimp edges with fingers to form a small purse shape.

Repeat with remixing ingredients.

Spray inside of air fryer with olive oil.

Arrange crab rangoon in a single layer inside air fryer, spaced 1/2 inch apart.

Spray tops of crab rangoon with olive oil.

Air fry for 10 minutes, until golden brown.

Serve with sweet chili sauce as dip.
Recipe Notes
Leftovers can be stored in the refrigerator for up to 3 days.
Nutrition Facts
Air Fryer Crab Rangoon Recipe
Amount Per Serving (2 crab Rangoons)
Calories 173
Calories from Fat 9
% Daily Value*
Fat 1g2%
Cholesterol 18mg6%
Sodium 100mg4%
Carbohydrates 37g12%
Protein 3g6%
* Percent Daily Values are based on a 2000 calorie diet.
Did you try this recipe for Air Fryer Crab Rangoon? Let us know what you thought with a rating and comment.
Save this for later on Pinterest!