These air fryer salmon cakes are a delicious and healthy quick-meal solution. Filled with tasty ingredients like green onions, parsley, soy sauce, and Worcestershire, these salmon cakes are jam-packed with flavor!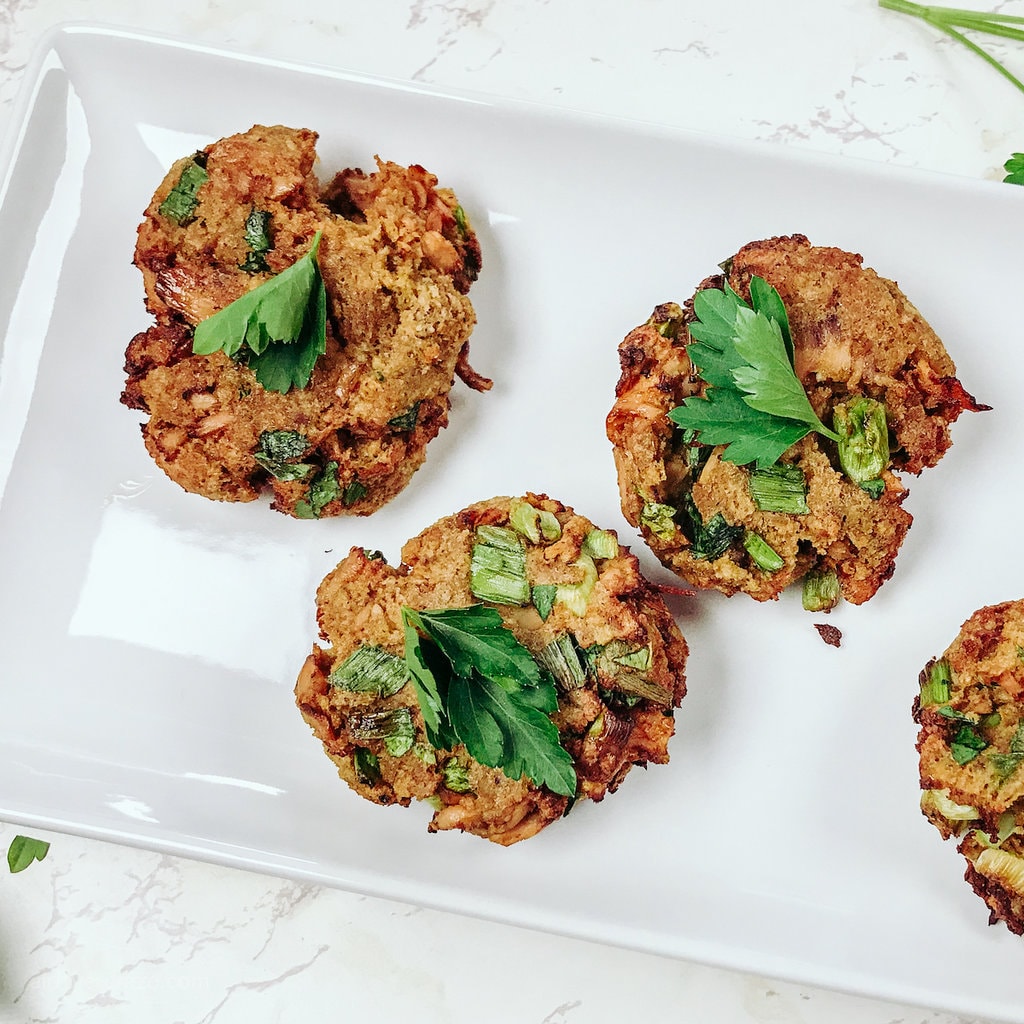 When it comes to air fryer recipes, my salmon cakes are one of my personal favorites. I love whipping them up for lunch, especially on days when I'm short on time (but still craving a good, warm meal).
Do You Love Air Fryer Recipes?
If you love air fryer recipes, then you've landed on the right website! Over the years, I've shared tons of air fryer meals, sides, and desserts. Here are some other ones that I think you'll like:
How to Roast Potatoes in the Air Fryer
Pretzel Crusted Air Fryer Chicken Strips
This recipe is also featured in my cookbook, The 'I Love My Air Fryer' Affordable Meals Recipe Book – available at Amazon and Barnes and Noble.
The Perfect Texture
When it comes to making salmon cakes, the trickiest part is getting the right texture and consistency. This is why I adore making mine in the air fryer! All thanks to my nifty air frying machine, my salmon cakes are always baked to a perfected crisp!
Traditional salmon cakes are normally deep fried, which means having to use tons of oil. However, with the magic of the air fryer, only a fraction of the oil is required – making them a much healthier alternative!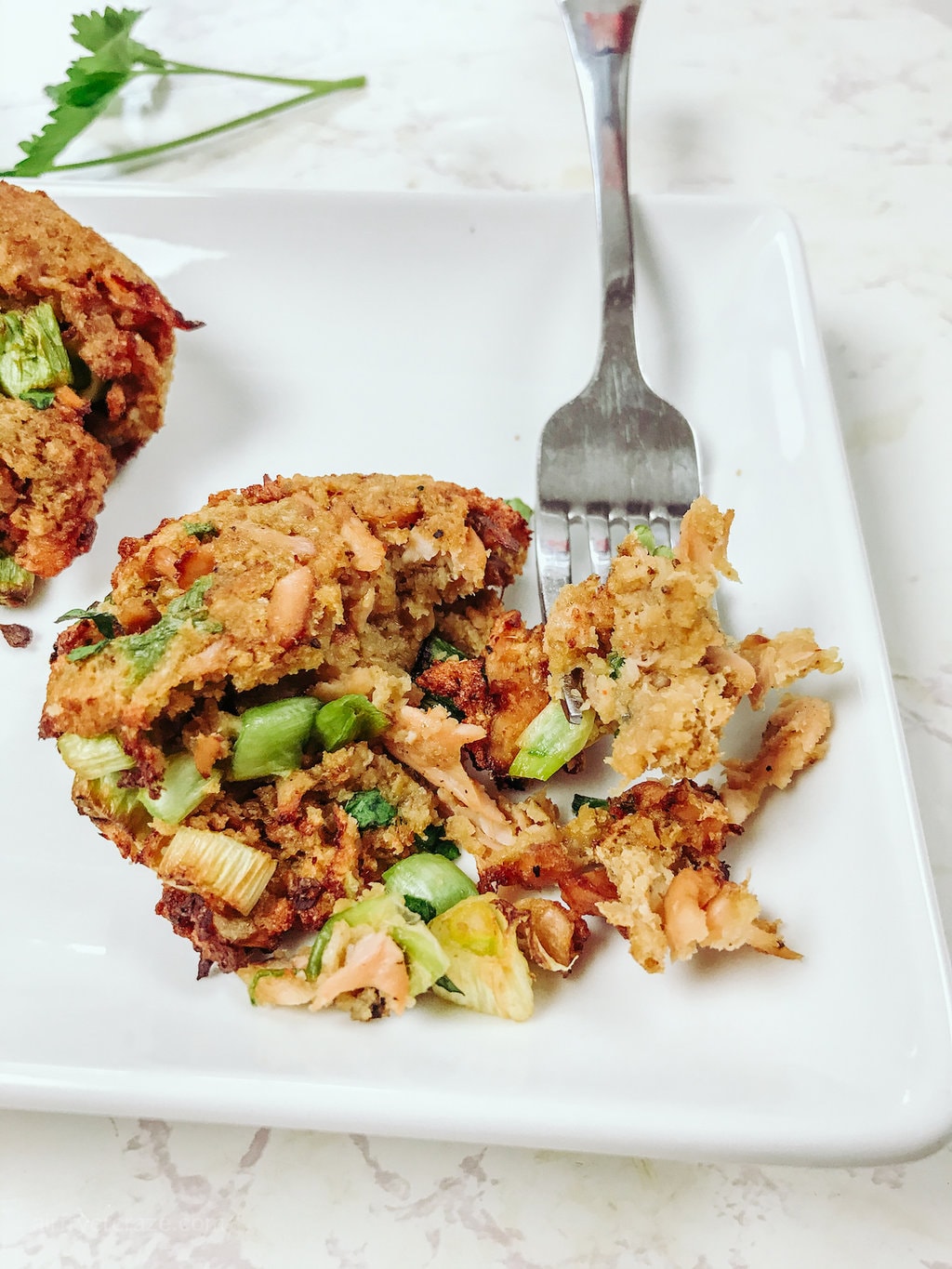 What ingredients Do I Need to Make Air Fryer Salmon Cakes?
Just below, I've listed all the ingredients you'll need to make your very own batch of air fryer salmon cakes:
Cooked salmon
Eggs
Panko breadcrumbs
Green onions
Parsley
Low-sodium soy sauce
Worcestershire
Salt
Garlic powder
Cayenne pepper
Celery seed
Keep on scrolling to get the full recipe card with the specific amounts, as well as my easy step-by-step instructions!
How Do I Prevent My Salmon Cakes From Sticking to My Air Fryer?
These days, most air fryers are adequately equipped with non-stick baskets. Of course, depending on the recipe, oil can make a huge difference in ensuring that your food doesn't stick to the bottom.
For my air fryer salmon cakes, be sure to spray and coat your basket with cooking oil. Once the patties are ready to go in for baking, spray the tops with cooking oil, too.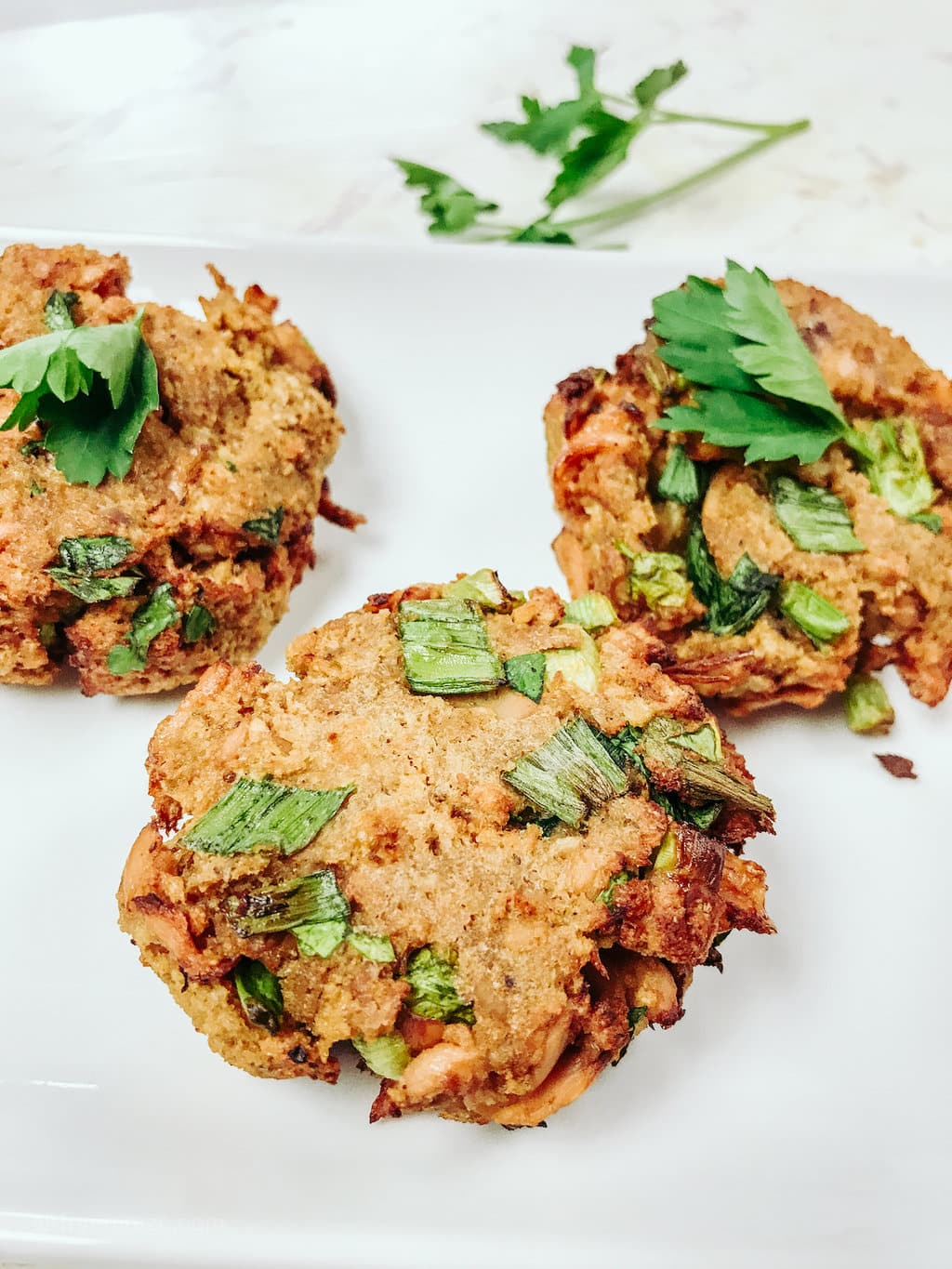 How Long Does it Take to Bake Air Fryer Salmon Cakes?
Lucky for you, this recipe doesn't take long to bake! My air fryer salmon cakes only require 7 minutes of baking time. Just be sure to flip them half-way through!
Give Them Space!
Don't forget that a vital part of air frying is to not overcrowd your food. Baking in an air fryer is most successful when your recipe is laid out in the basket in a single layer.
This recipe for salmon cakes yields in four patties, so you will have plenty of room in your air fryer basket to give them space and allow for adequate air circulation.
How Do I Store My Leftover Air Fryer Salmon Cakes?
If you have any leftover salmon cakes, be sure to store them in an airtight container and refrigerate for up to four days.
To enjoy leftovers, preheat your air fryer to 350°F, spray your basket, and bake for about 5-6 minutes.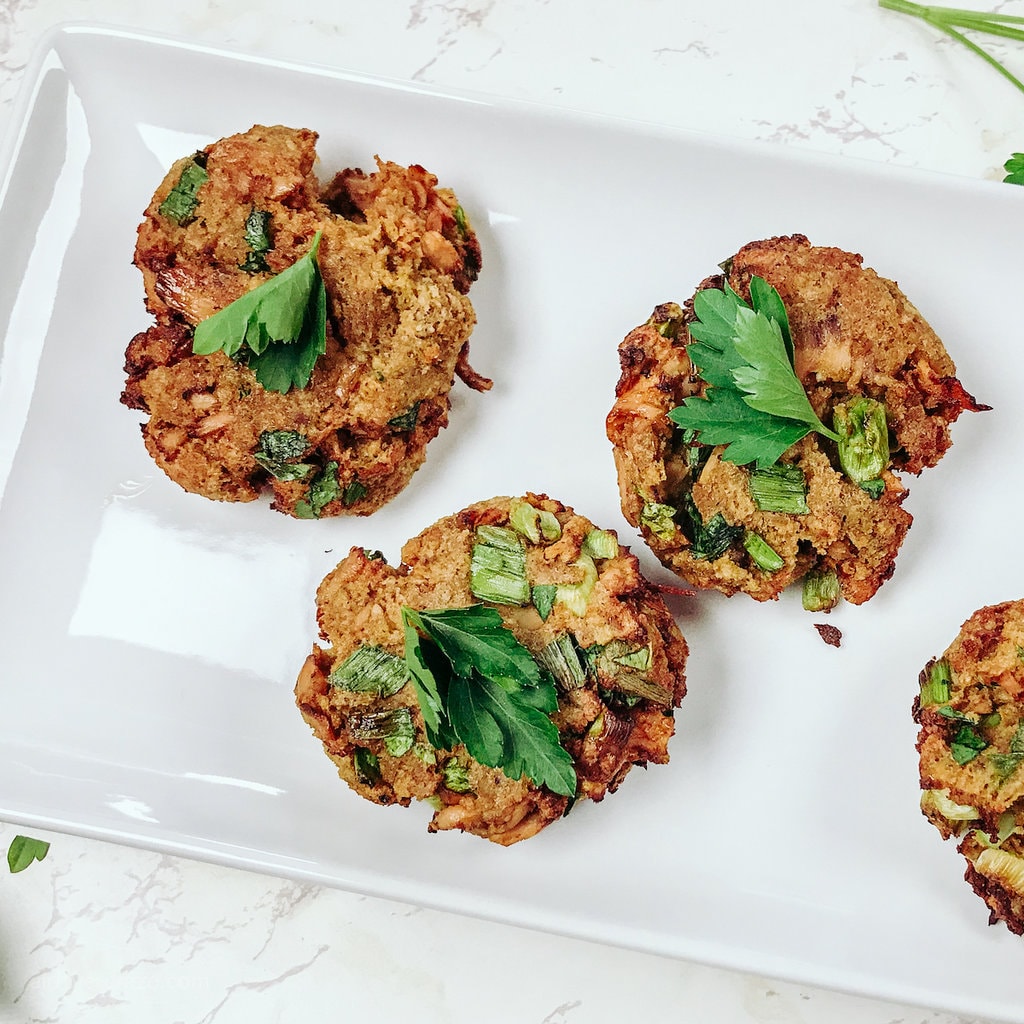 How to Make Air Fryer Salmon Cakes
Okay, folks: the moment you've been waiting for! If you're ready for some flavorful and crispy salmon cakes, then keep on reading for my full recipe card! Enjoy!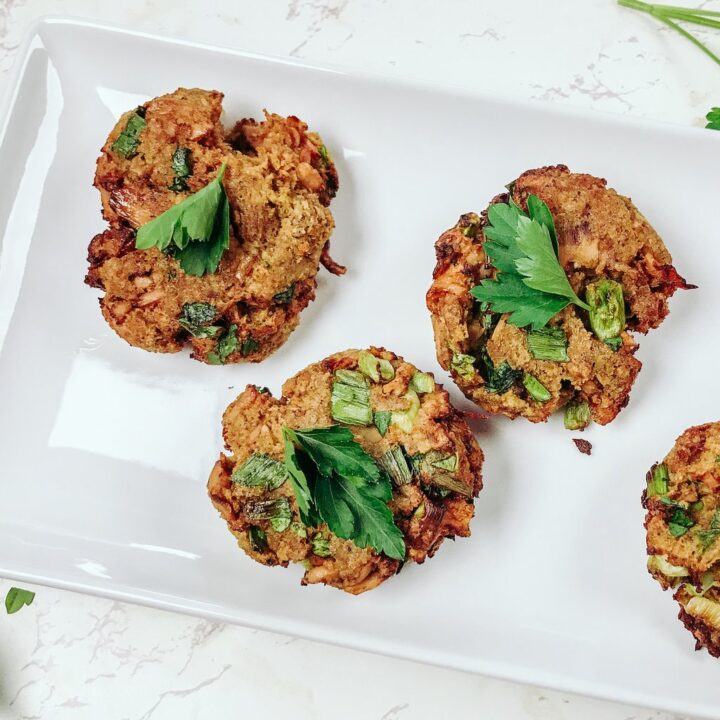 Air Fryer Salmon Cakes Recipe
Looking for your next best air fryer recipe? Then you just HAVE to give these Air Fryer Salmon Cakes. Jam packed with flavor and crisped to perfection, your family will be begging for seconds once they take their first bite!
Ingredients
1/2 pound cooked salmon, shredded
2 large eggs, lightly beaten
1 cup Panko breadcrumbs
2 medium green onions, finely sliced
2 tablespoons flat leaf parsley, chopped
2 tablespoons low-sodium soy sauce
1 tablespoons Worcestershire
1 teaspoon salt
1/2 teaspoon garlic powder
1/2 teaspoon cayenne pepper
1/4 teaspoon celery seed
Instructions
Preheat air fryer to 370ºF.
In a large bowl, combine salmon, eggs, breadcrumbs, green onions, parsley, soy sauce, Worcestershire, salt, garlic powder, cayenne, and celery seed. Mix well.
Form into 4 equal balls and flatten into 1-inch thick patties.
Spray inside air fryer with olive oil.
Arrange salmon cakes inside air fryer in a single layer.
Spray tops of salmon cakes with olive oil.
Air fry for 7 minutes, flipping half-way through.
Nutrition Information
Yield

4
Serving Size

1 Salmon Cake
Amount Per Serving
Calories

272
Total Fat

11g
Saturated Fat

2g
Trans Fat

0g
Unsaturated Fat

7g
Cholesterol

129mg
Sodium

1103mg
Carbohydrates

22g
Fiber

2g
Sugar

2g
Protein

20g
Nutrition information is an estimate.