Chocolate Chip Blender Waffles
If you've been following my blog for long, you'll know I love making my kids special breakfasts on Sunday. I'm trying to create traditions for our family and food is one of the easiest way for me to create memories. These chocolate chip blender waffles fit nicely into the Sunday breakfast rotation.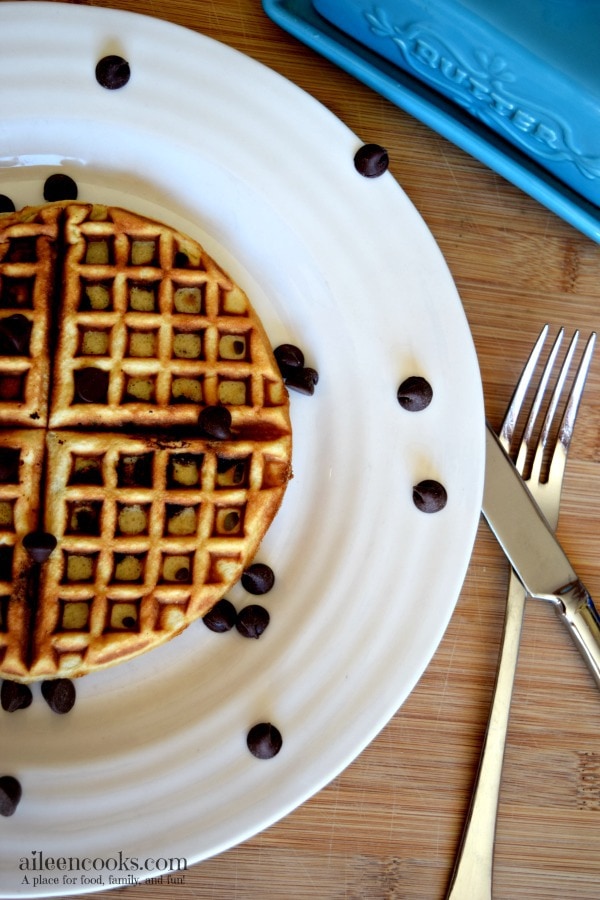 They are easy to make and delicious even without syrup, thanks to the chocolate chips. Of course, my son will not let me get away with serving him waffles (or french toast) without syrup. He knows a good thing when he tastes it. 🙂
I like these chocolate chip blender waffles because you just throw everything in your blender and don't have to dirty an extra bowl. The waffle batter goes directly from blender to waffle iron. It makes a great recipe to cook with your kids, too.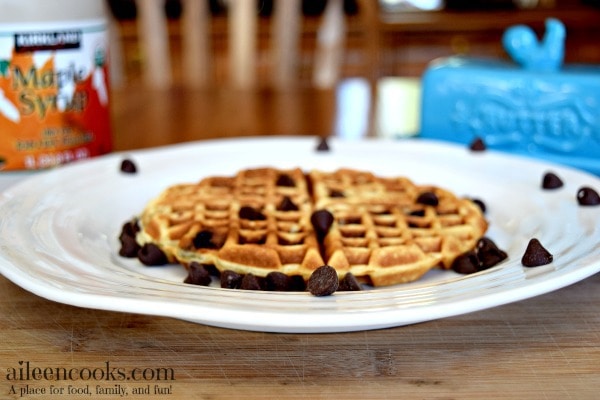 These chocolate chip blender waffles also make a great freezer meal. This is the recipe I used during the freezer cooking challenge and it made it easy to give my kids the Sunday breakfast they deserve when I'm short on time or energy.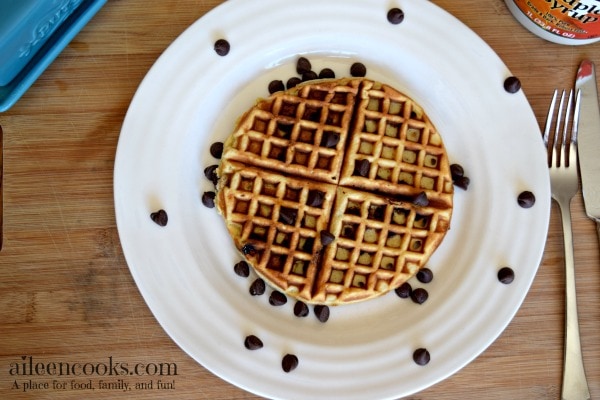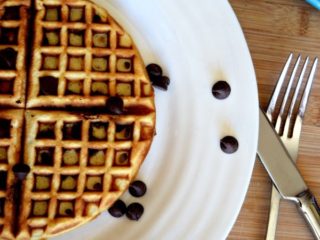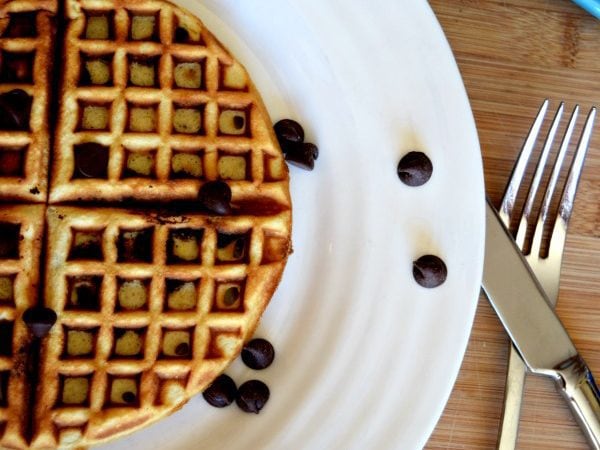 Yield:

4
Chocolate Chip Blender Waffles
These chocolate chip blender waffles are light and fluffy. They are freezer friendly, too!
Ingredients
1 cup milk
4 Tablespoons 1/2 stick butter, melted and cooled slightly
3 large eggs
1 teaspoon vanilla extract
1 1/4 cups all-purpose flour
1/3 cup sugar
2 teaspoons baking powder
1/2 teaspoon salt
1/2 cup chocolate chips
Cooking Spray
Special equipment: waffle iron, blender
Instructions
Preheat your waffle iron.
In the cup of your blender, combine the milk, butter, eggs, and vanilla extract. Blend until smooth.
Add the flour, sugar, baking powder, and salt. Blend again until combined.
Spray the preheated waffle iron with cooking spray and pour approximately 1/2 cup batter into the waffle iron. Sprinkle with chocolate chips. Close and cook until golden brown. Repeat until the remainder of the batter is used.
Enjoy immediately and top with powdered sugar, maple syrup, or butter.
To Freeze: Allow the chocolate chip blender waffles to fully cool. Place waffles in a gallon sized freezer bag, divided by a piece of wax or parchment paper. Freeze for up to 3 months. Reheat frozen chocolate chip blender waffles in the oven by wrapping in foil and reheating for 10-15 minutes at 200 degrees.
Nutrition Information
Amount Per Serving
Calories

462
Nutrition information is an estimate.
Did you try this recipe for chocolate chip blender waffles? Please leave a rating and comment.