Do you want to know how to freeze pancakes? Read this tutorial for all of the best tips and tricks for freezing the best pancakes every time.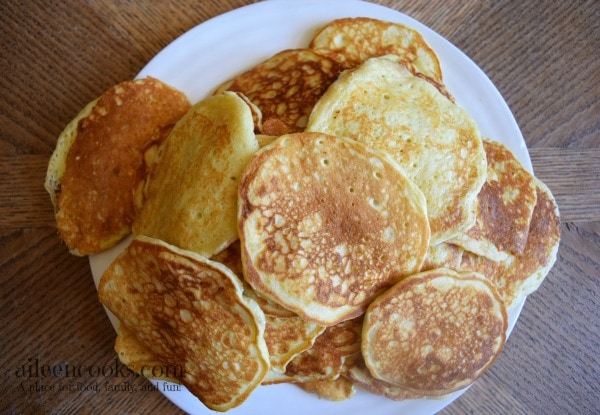 We love making a double or triple batch of pancakes and throwing them in the freezer for easy breakfasts on weekdays or to skip the work and still have special Sunday morning breakfasts.
Why do we freeze pancakes?
The main reason you freeze pancakes is to have an easy breakfast available that isn't cereal. My kids love pancakes. They would eat them every day if I allowed it.
So when I do take the time whip up a batch of fluffy pancakes from scratch, pumpkin pancakes, or whole grain pancakes, I always make sure there are extras for the freezer. As my kids get older, I look forward to teaching them how to reheat the pancakes themselves to make my life easier and give them some independence.
Whatever your reason for wanting to learn how to freeze pancakes we are going to teach you our no-fail method for freezing pancakes along with a few tips for defrosting and heating your pancakes. There are also many other things you can freeze like casseroles, cookie dough, and soups.
Make sure you check out our archives for other breakfast recipes. We have everything from egg muffins to breakfast sandwiches to blender waffles – and they are all freezer friendly! Also, check out our tips on planning a freezer cooking day and this crockpot freezer meal plan.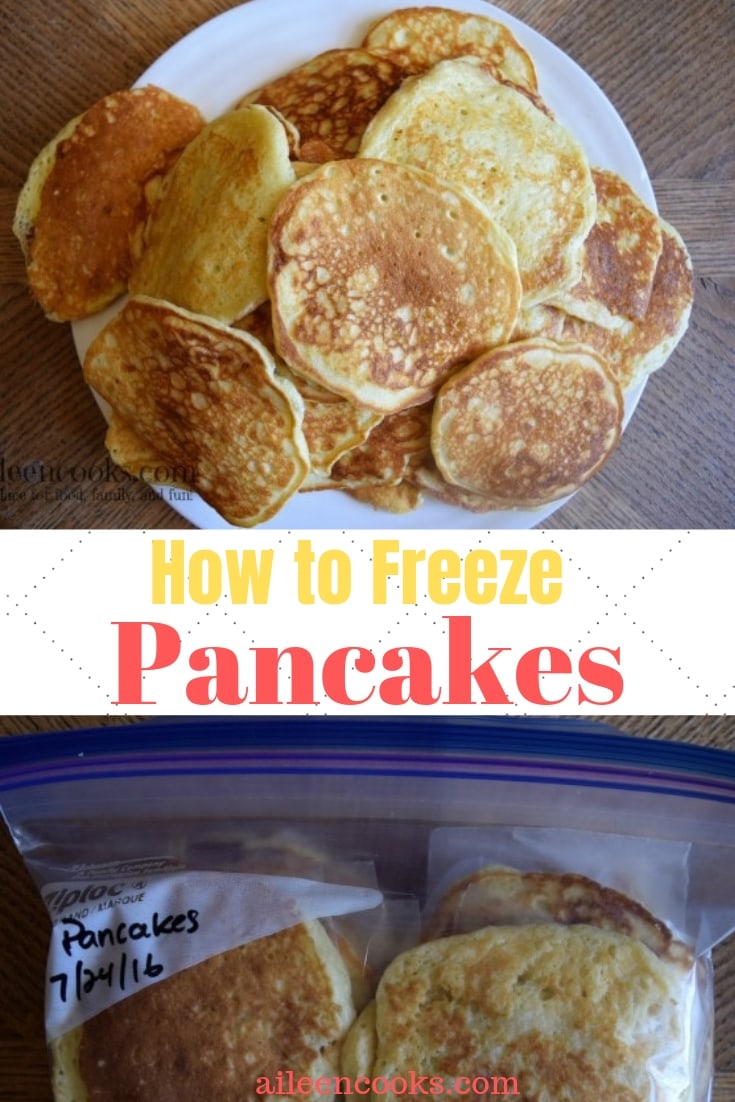 Will pancakes freeze well?
Yes. Pancakes freeze so well that it is difficult to tell the difference between fresh pancakes and frozen pancakes.
How to freeze pancakes
Start by making your pancakes.

Let them cool down to room temperature.

Place pancakes in a zip-top freezer bag with parchment squares in between each pancake.

Squeeze as much air as possible out of the bag (using a straw helps).

Place your bag of pancakes in the freezer and use within 2-3 months.
How to freeze pancakes without wax paper?
If you don't have wax or parchment paper on-hand, you can flash freeze your pancakes. Lay your cooled pancakes in an even layer on a cookie sheet and freeze for 2-3 hours. Once frozen, slide them into a zip-top freezer bag.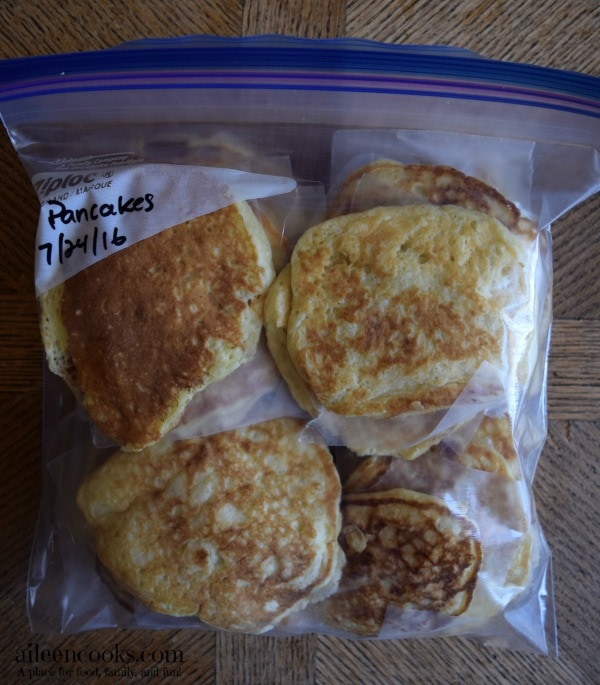 How to defrost and cook frozen pancakes
The great thing about frozen pancakes is they reheat really quickly. There are a few methods.
Reheat pancakes in the microwave
Place a single layer of pancakes on a microwave-safe plate and cook at 50% power for 60 seconds. (cooking times vary)
Reheat pancakes in the toaster
Put frozen pancakes directly in toaster and toast on medium heat.
Reahet pancakes in the toaster oven
Toast in a toaster oven for 2-3 minutes, until warm in the center
Reheat pancakes in the oven
Preheat oven to 350 degrees. Place pancakes in an even layer on a parchment-lined cookie sheet. Bake for 10 minutes, until reheated, flipping half-way through.
We hope this tutorial on how to freeze pancakes was helpful to you. Make sure you check back soon for more kitchen tips & tricks and new recipes!