A Trip to Mission Carmel | California History Through Field Trips
This post is sponsored by Hofsas house. All opinions are my own
Join us on our Carmel Mission field trip and overnight stay in Carmel-by-the-sea! Our family of six toured the mission, explored downtown Carmel-by-the-Sea, ate good food, and went to an awesome playground in Monterey!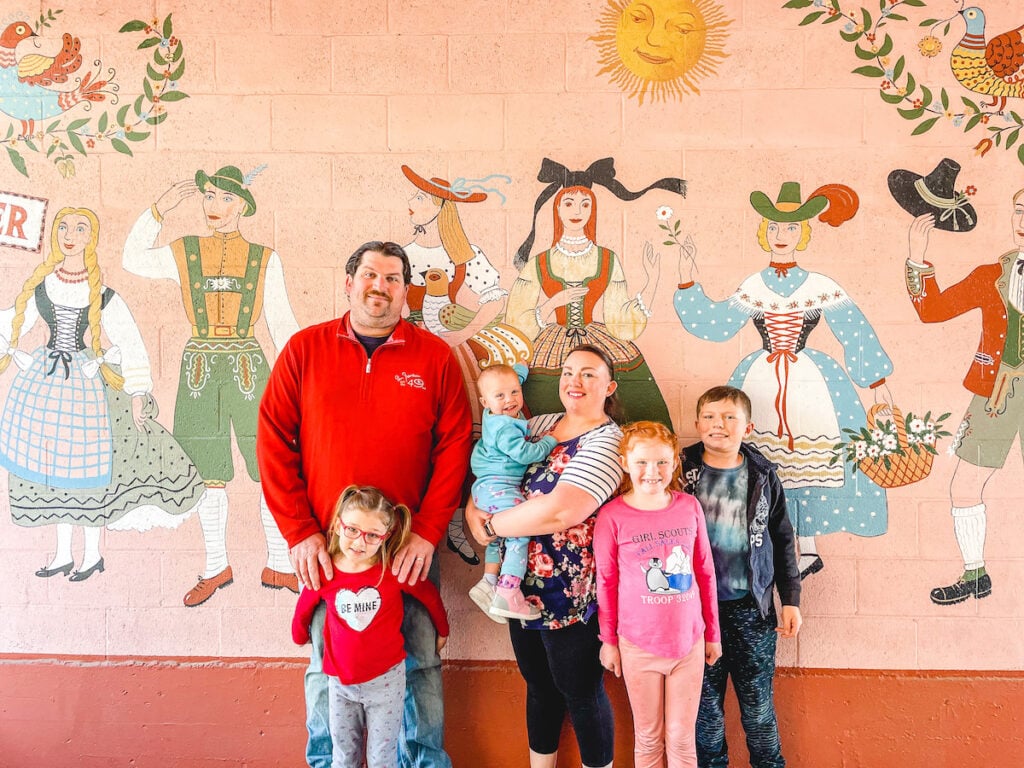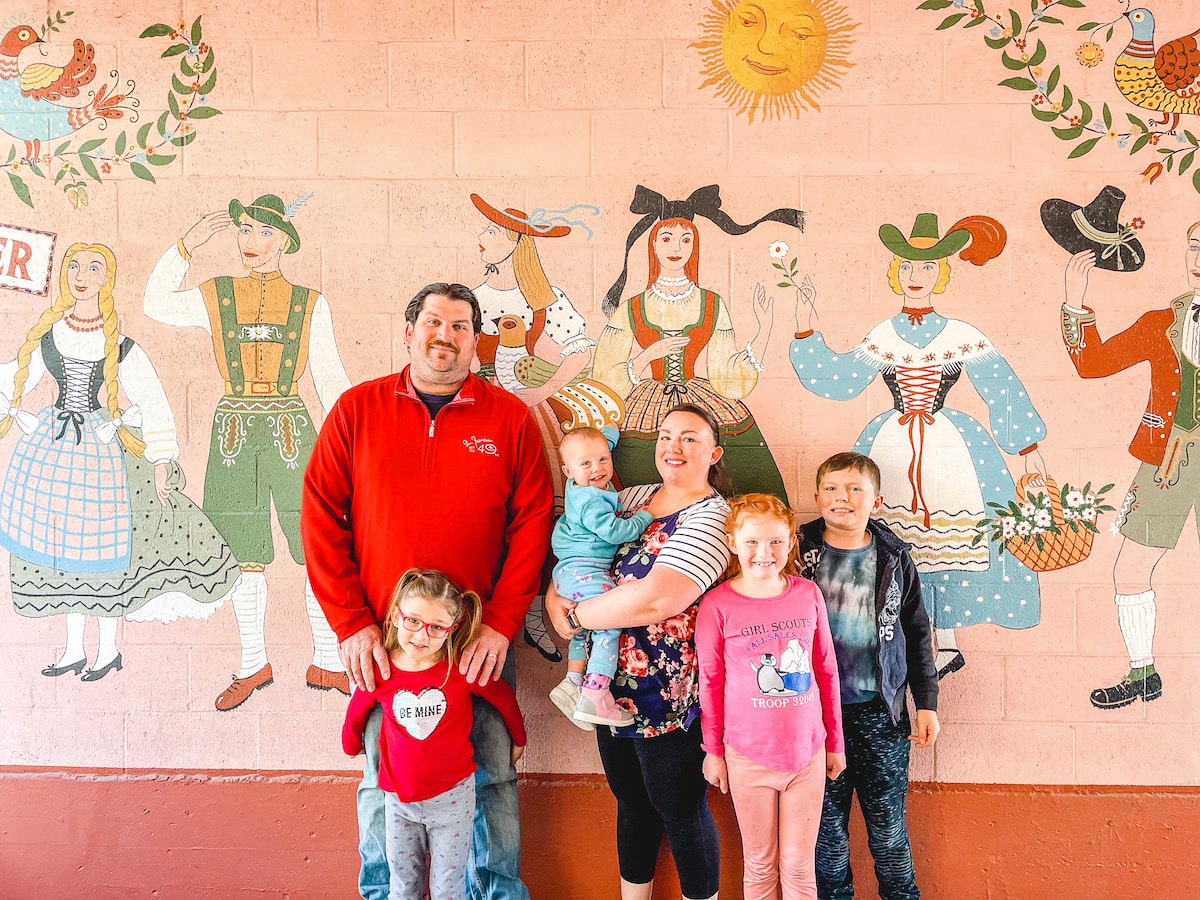 Learning About California History
We are studying California History this year in our homeschool. My kids are 9, 7, and 5 years old (plus a 1-year-old along for the ride). The curriculum we are using is Around California with Children's Books by Beautiful Feet Books. We are following this study while incorporating as many field trips as possible!
This is our second year using a Beautiful Feet Books Study. Last year we did Around the World with Picture Books and it was lovely. Beautiful Feet Books offer history and geography curriculum for grades K-12. I highly recommend them if you are looking for a Charlotte-Mason style of history curriculum.
In addition to the California History curriculum, we are using the History Timeline and History Notebooks from SchoolNest. I love, love, love these notebooks as they are excellent quality, thick enough to be used for multiple years, and can be color coded by child!
More Posts from California History Through Field Trips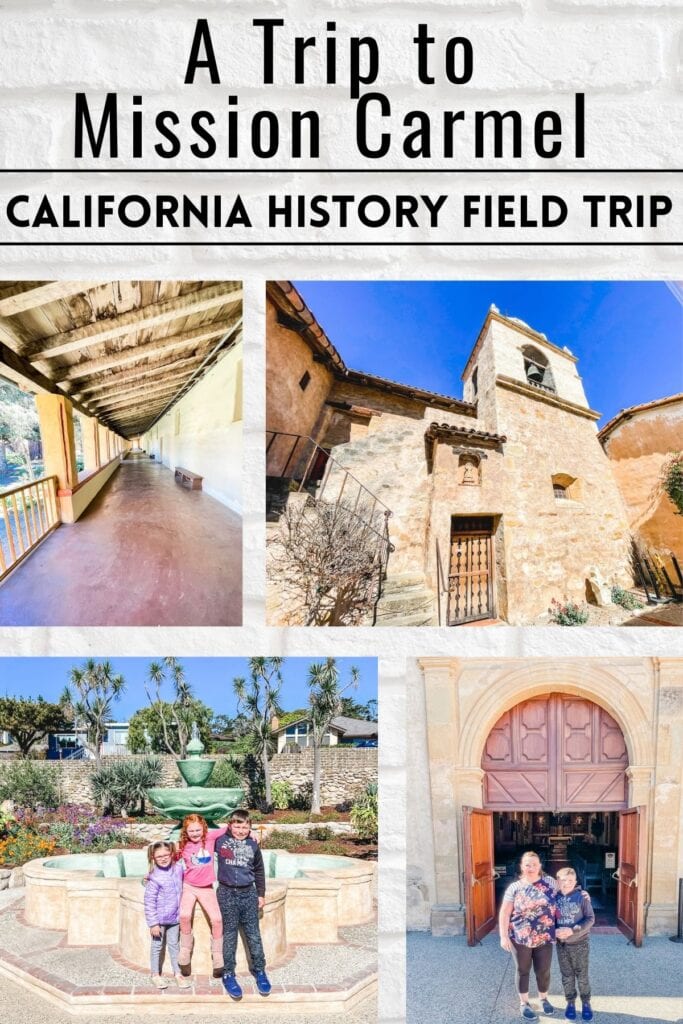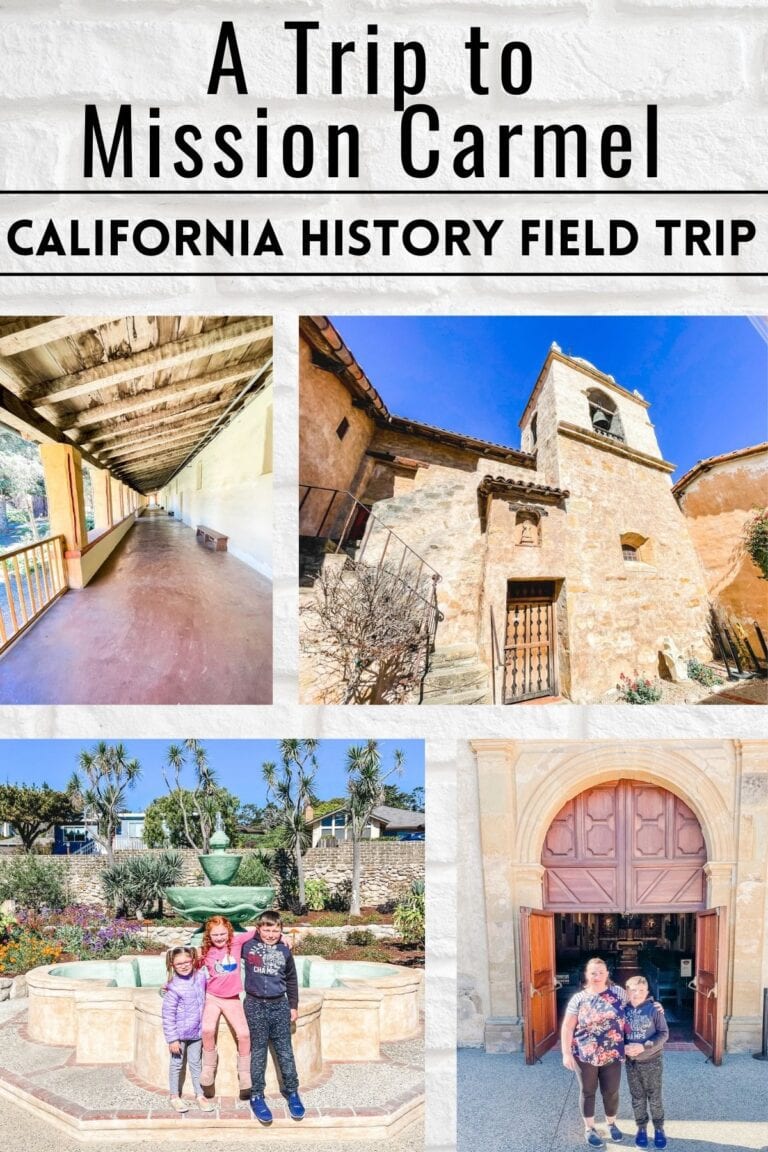 Deciding on Mission Carmel
I have fond memories of my California Mission field trip that I took in fourth grade with my mom. We visited Mission San Jose in Fremont. I was a bit of an overachiever in elementary school.
We were given the option to write a report, build a mission model, or visit a mission and make a video. Naturally, I chose all three. I loved school at that age, so it was all fun for me. I told you I was an overachiever. 😉
I have been looking forward to recreating these memories with my kids basically since they were born. Ha! The time had finally come and I had a 4th grader! It was time for California History!
Little did I know that a global pandemic would throw me into homeschooling and I would get to share the fun of California History with all of my kids at once. Yay me! (side note: I am WAY more excited about this than them.)
Since we love visiting Carmel, I figured the San Carlos Borromeo de Carmelo (aka Mission Carmel) would be a great excuse for us to go to Carmel by the Sea again. My kids love, love, love Carmel; so I knew they would at least be excited about that part.
You can read my other posts about our visits to Carmel here: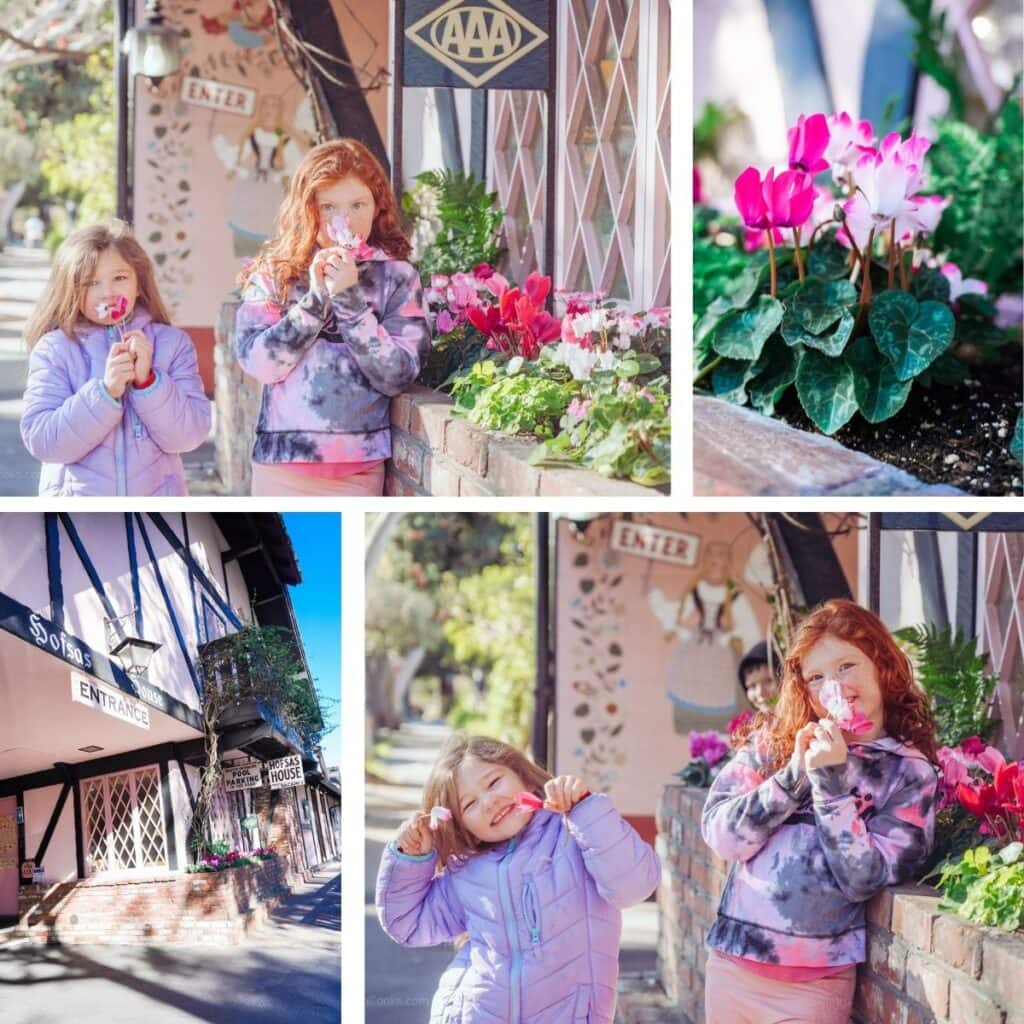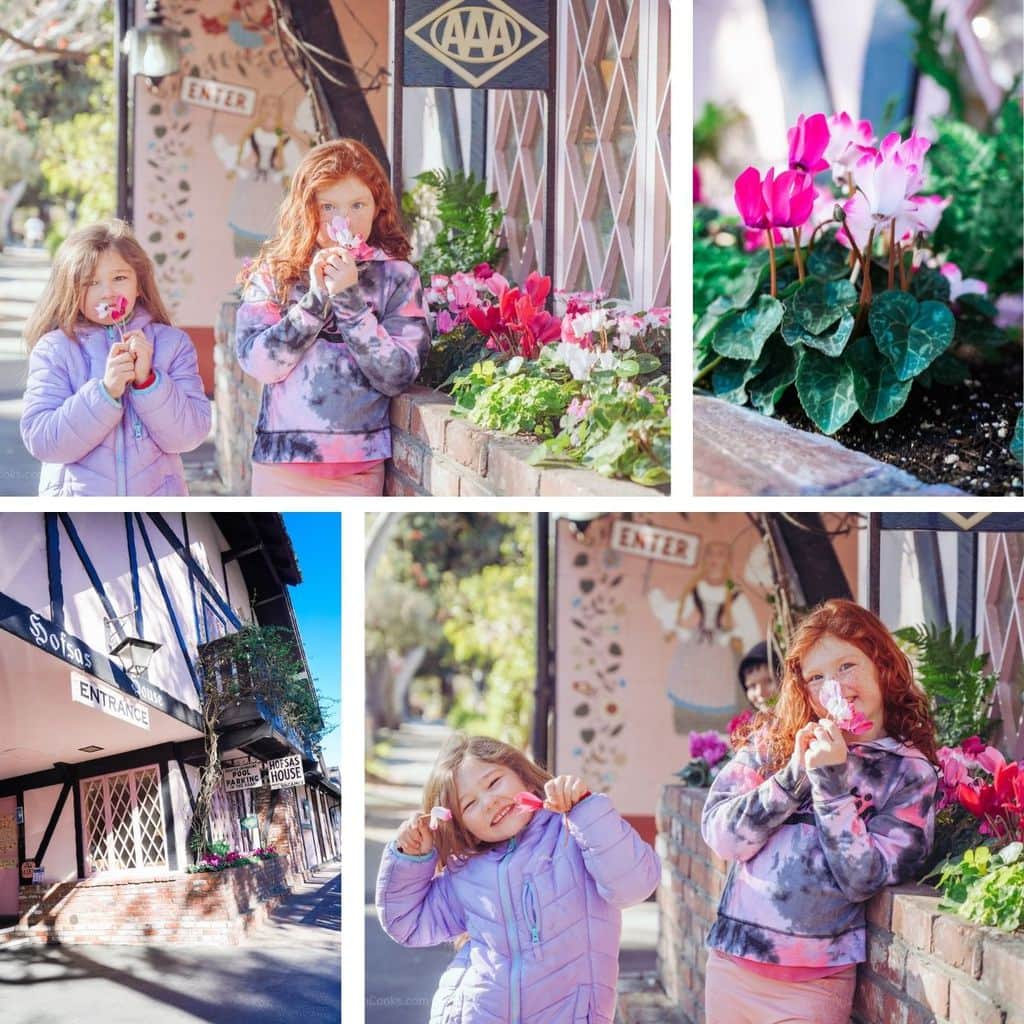 Hofsas House Hotel
We spent three days and two nights in Carmel and stayed in a two room suite. This hotel room fit our family of six perfectly. We love Hofsas House because they are walking distance to downtown and the beach, have a heated pool, and offer a continental breakfast.
Their large rooms accommodate our family of six wonderfully and can even fit a larger family (see my friend Justine's post about her stay with her family of eight). Our room had one room with a king sized bed and a second room with two queen sized beds, plus two full bathrooms. It also has a dining set, kitchen sink, small fridge, and microwave. Watch the room tour here.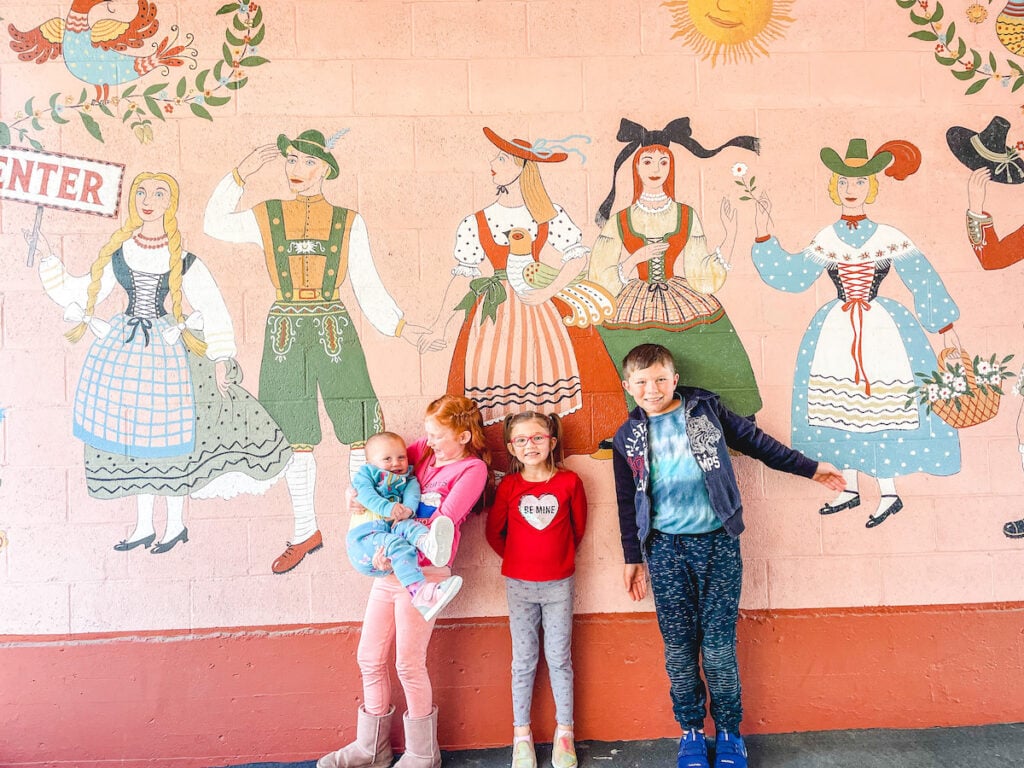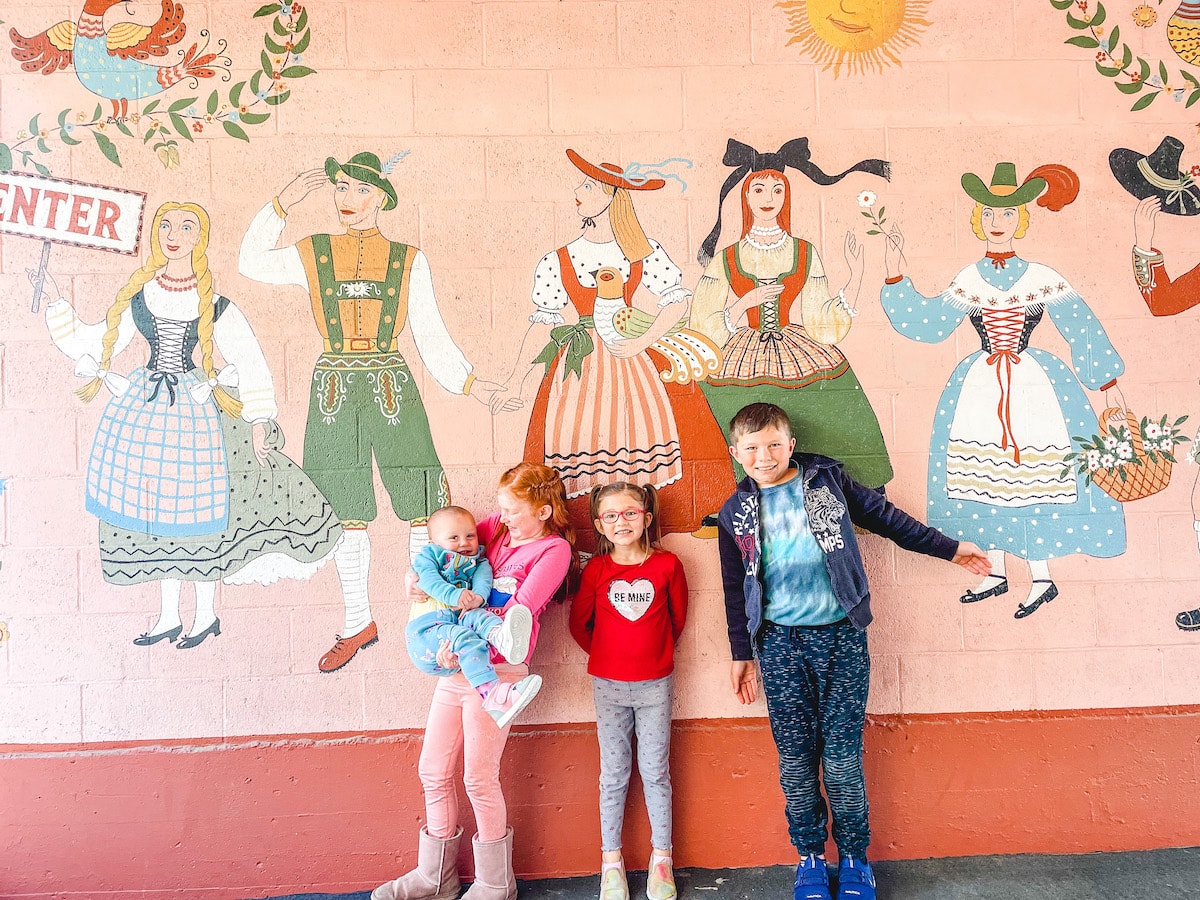 Our first day in Carmel
Our first day was really more of an evening. As per our typical Clark-Family-Travel fashion, we ran, well, fashionably late. We checked in to the hotel around dinner time, dropped off our bags, and went right back out to eat.
We ate our first meal at the Rio Grill. I had the French onion soup and skirt steak tacos (on special). Both were amazing. The restaurant staff were kind, fast, and patient with our crew of 4 kids ages 9 and under. Everyone enjoyed their food and left with full bellies.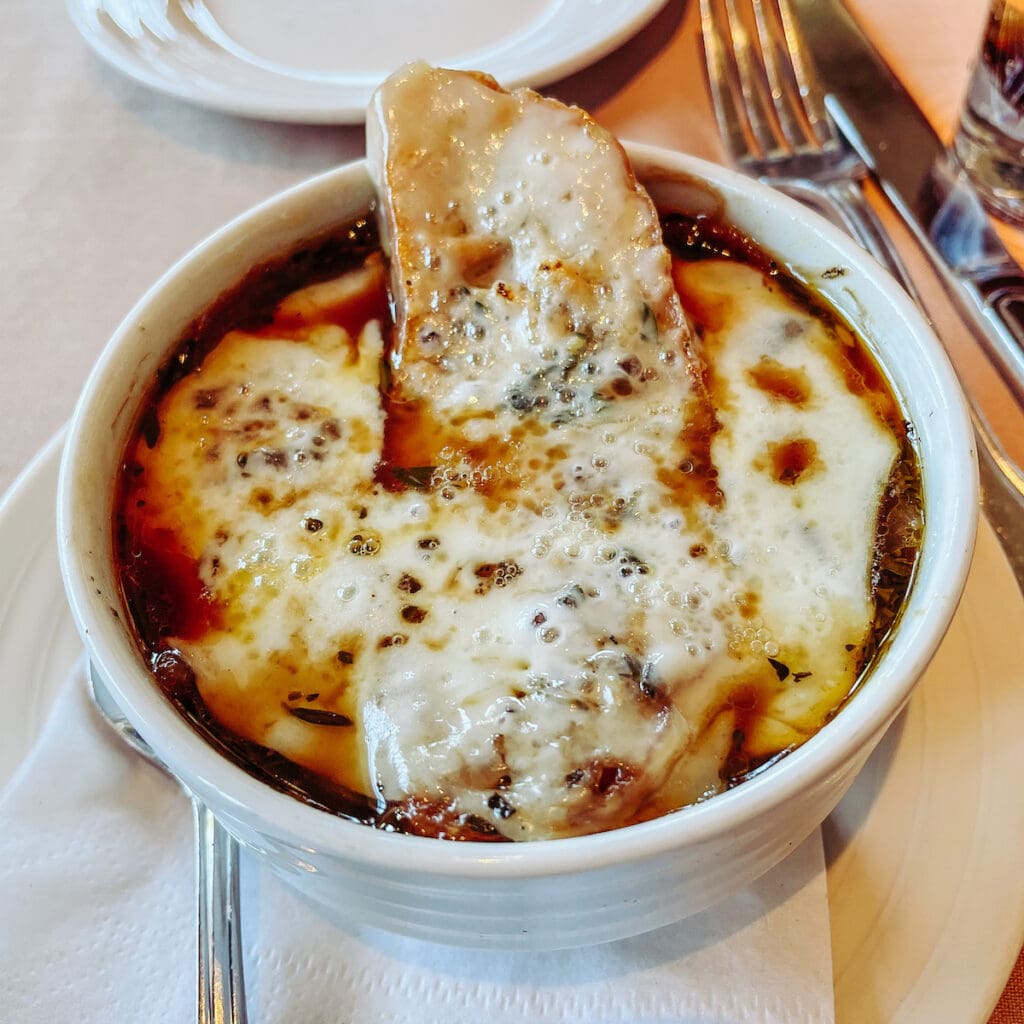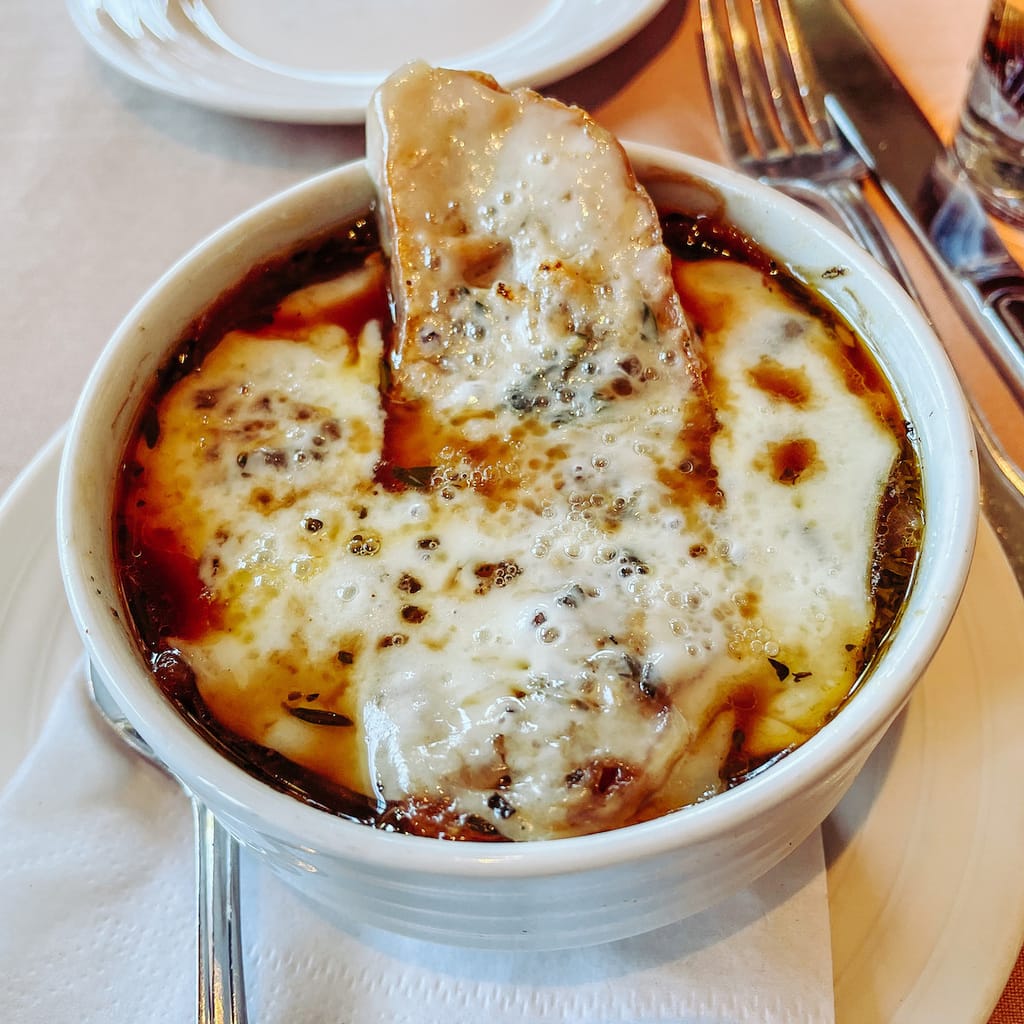 Day Two in Carmel
The next day, we started off with the continental breakfast from Hofsas House. My daughter talks about their continental breakfast often. It's not a particularly large spread, but it is very cozy, and full of kind people.
When you walk into the office for breakfast, the fire is always going. There are couches to be sat on and newspapers to be read. There is always a smiling face from behind the desk offering coffee, orange juice, or hot chocolate. That's what keeps us coming back again and again.
After everyone had eaten, we packed up and headed over to the mission. It is not walking distance, but doesn't take long in the car. Just a few minutes.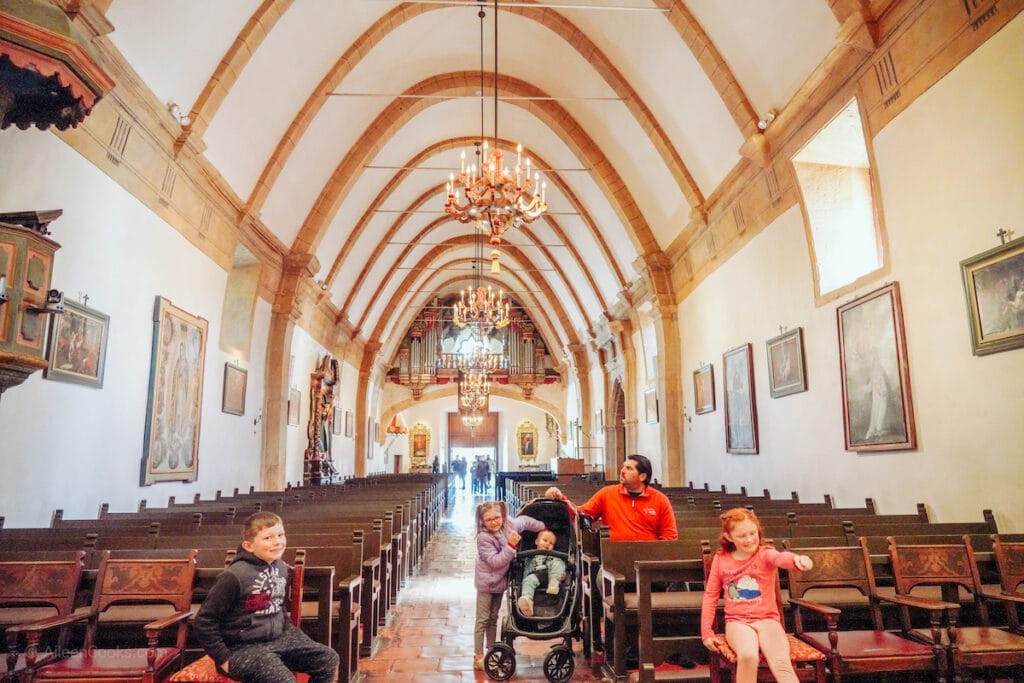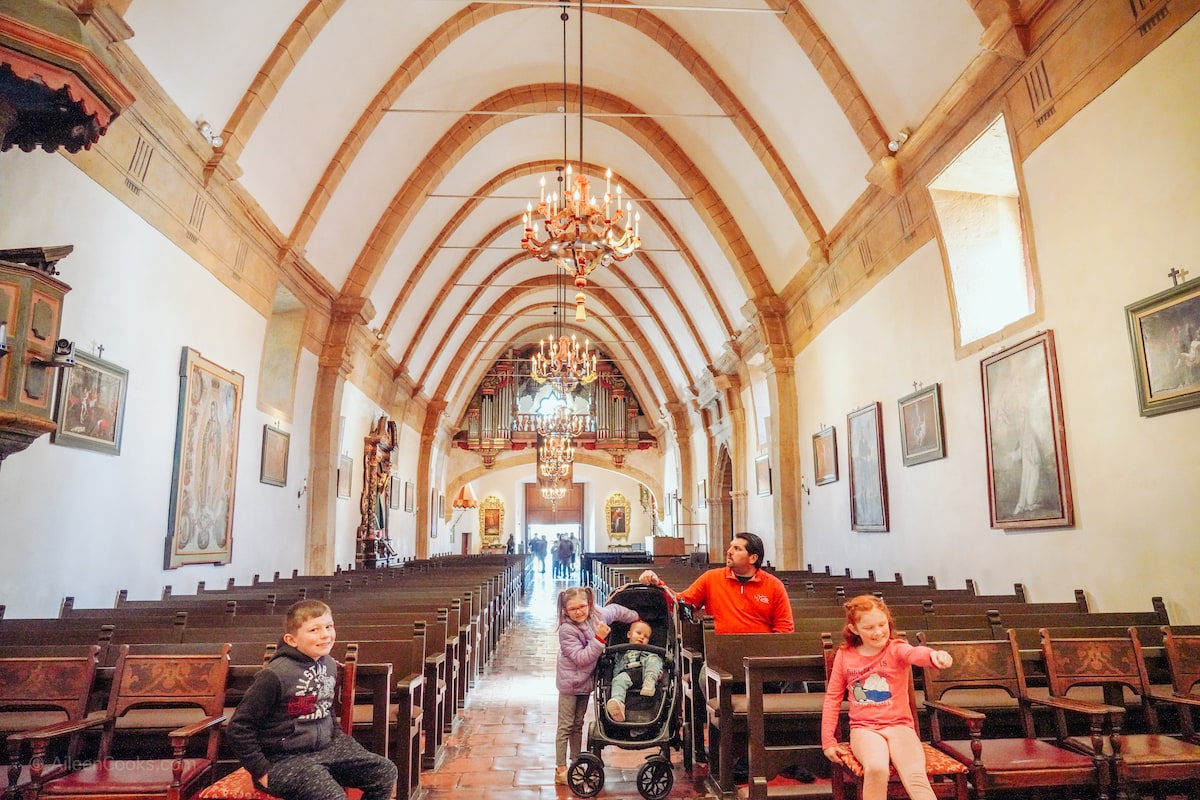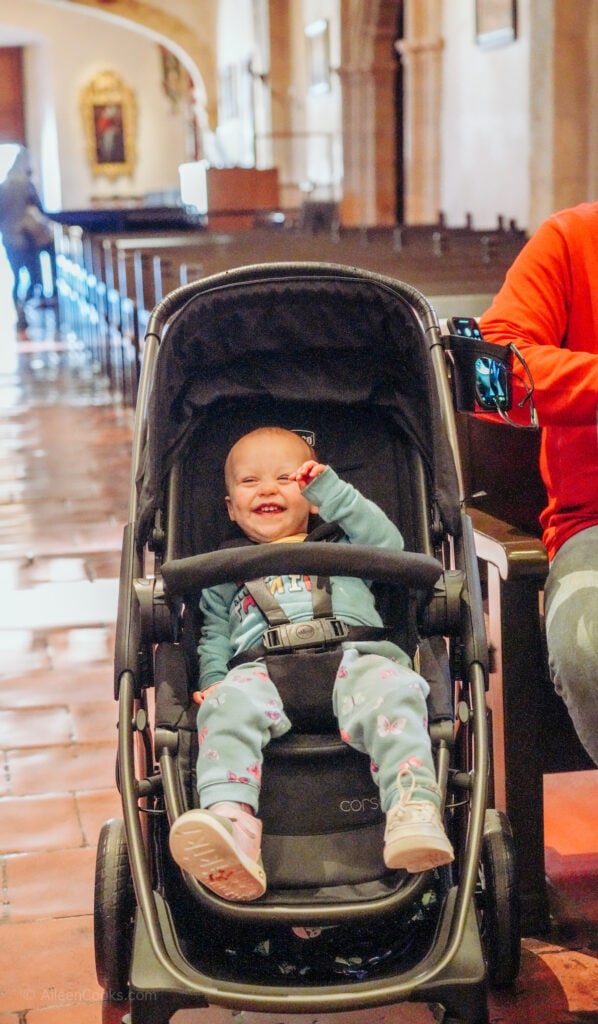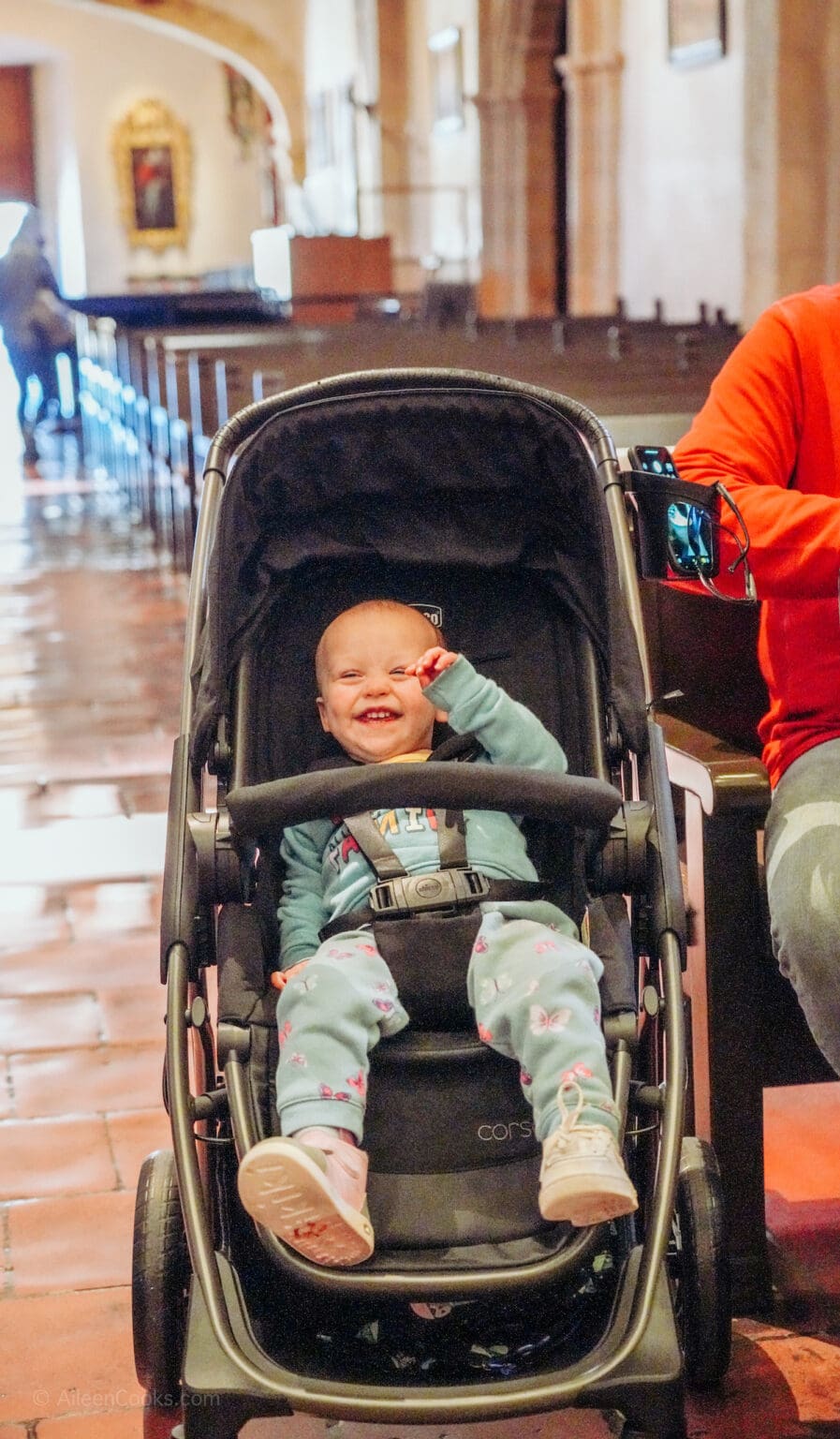 Visiting Mission Carmel
When we arrived at the Carmel Mission, we entered through the store and paid admission of $10 for adults and $5 for kids ages 6 and up.
The mission was absolutely stunning. It has two courtyards full of beautiful flowers and statues. The first courtyard also has a fountain.
My favorite part of the mission was the interior of the church. It has been restored and actually brought tears to my eyes. Partially from the beauty but also from the memories that flooded in of doing the same thing with my mother when I was young.
Mission Carmel is so full of history and things to see that it's hard to see it all. With kids in tow, we definitely missed some stuff. But that's okay. They experienced the history first-hand – outside of a book and in-person. That's what I wanted and I accomplished my mission (no pun intended).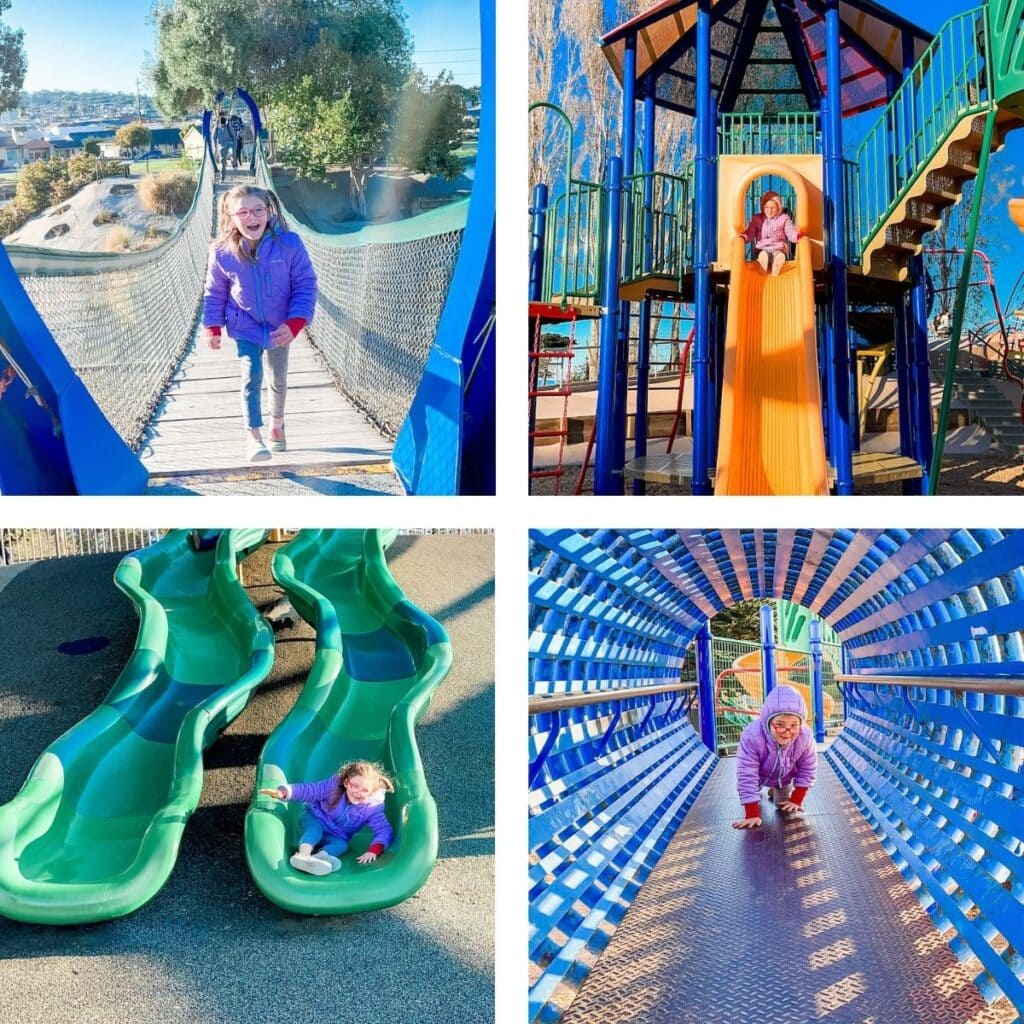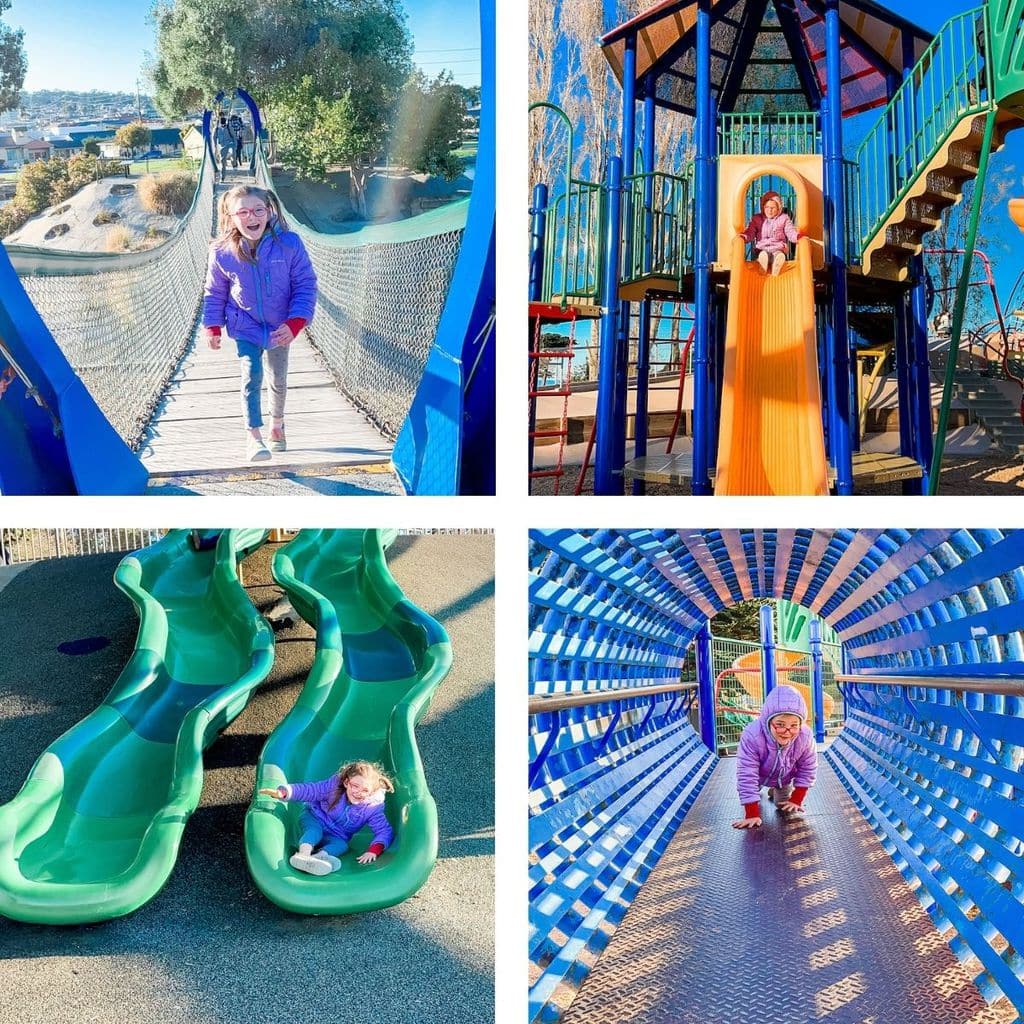 Dennis the Menace Park in Monterey
After a morning of quiet voices and learning, our kids needed to stretch their legs and be free. So, we took a drive to Monterey to find Dennis the Menace Park. We have been to Carmel and Monterey many times in the last 7+ years and I never knew this park existed.
Luckily, my friend Emily is a Monterey aficionado! She went to Monterey with her family the week before and shared this park on Instagram. I am so glad that she did, because it is epic!
You wouldn't know it from staring at the entrance, but Dennis the Menace park is huge! It has so many slides and bridges, plus a merry-go-round at the far end of park overlooking the duck pond. Our kids played until we lost the sunlight and we still had to drag them out of there. It was so fun!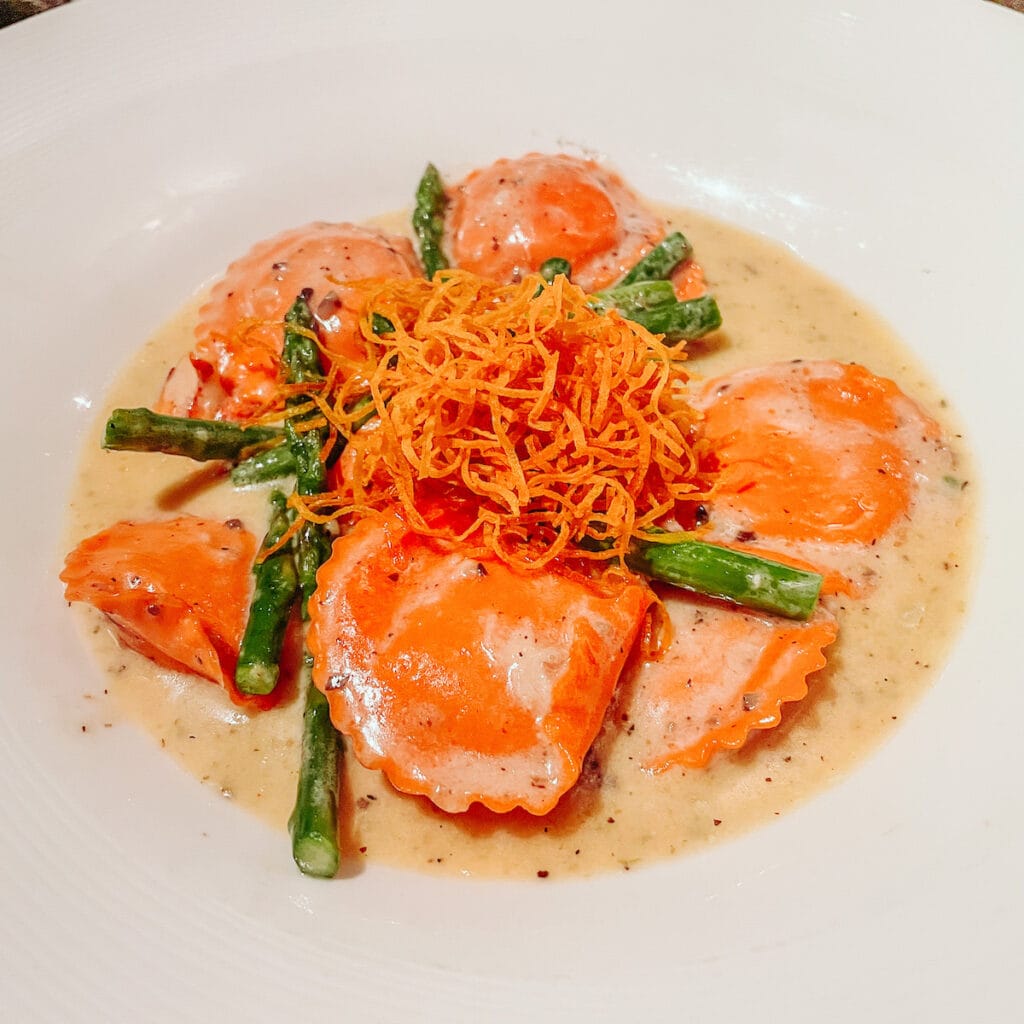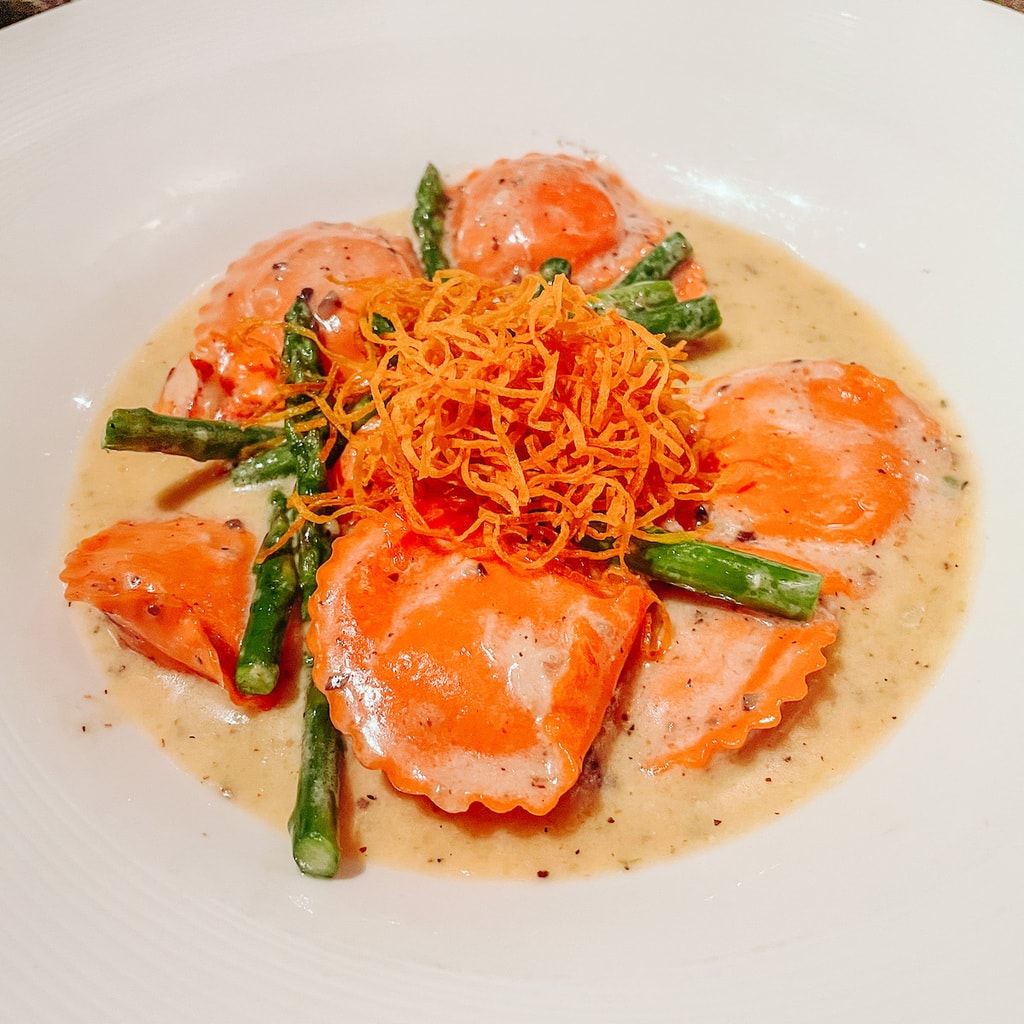 Dinner at The Sardine Factory
After our fun-filled day, we all needed a recharge with a good dinner. We decided to eat in Monterey at The Sardine Factory. The Sardine Factory is just a couple of blocks from the Monterey Bay Aquarium. They are definitely a fancier restaurant but didn't bat an eye at our kiddos coming in, slightly disheveled from the park.
I was happy to see another family with young kids dining there as well. We were seated immediately and our waiter was extremely patient with my precocious 7-year-old who just loves to chat with grown-ups.
Our food was delicious. I had the lobster ravioli and it was the best lobster ravioli I have ever eaten. Not only was the ravioli filled with lobster but there was a generous amount of lobster in the sauce. I'm getting hungry just thinking about it!
After dinner, we drove back to our hotel and enjoyed our separate bedrooms and TVs. Everyone fell asleep tuckered out and happy.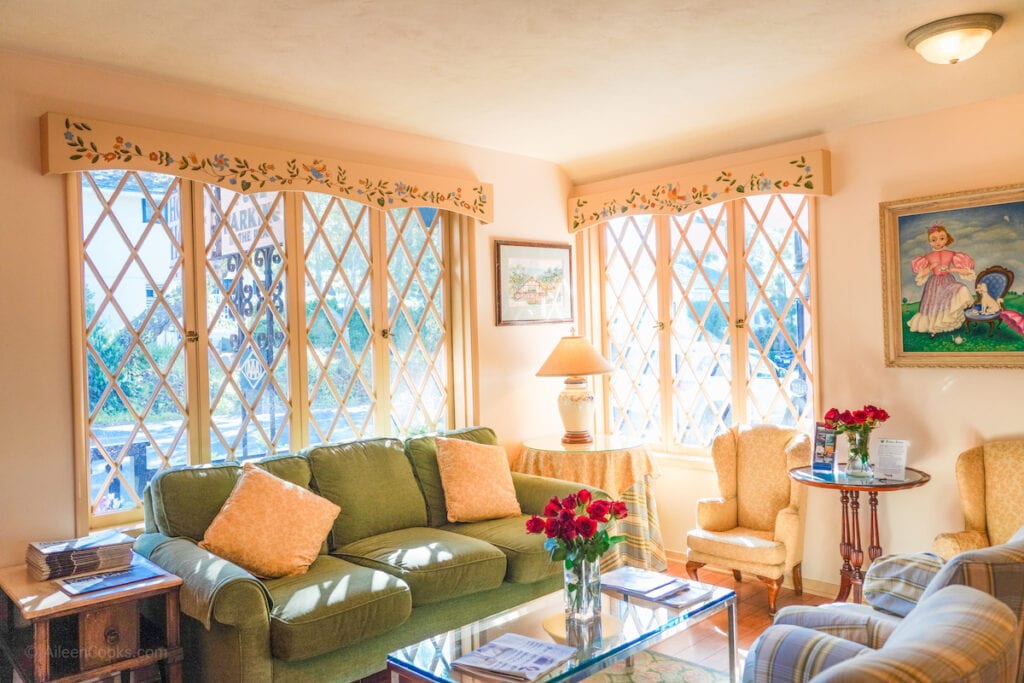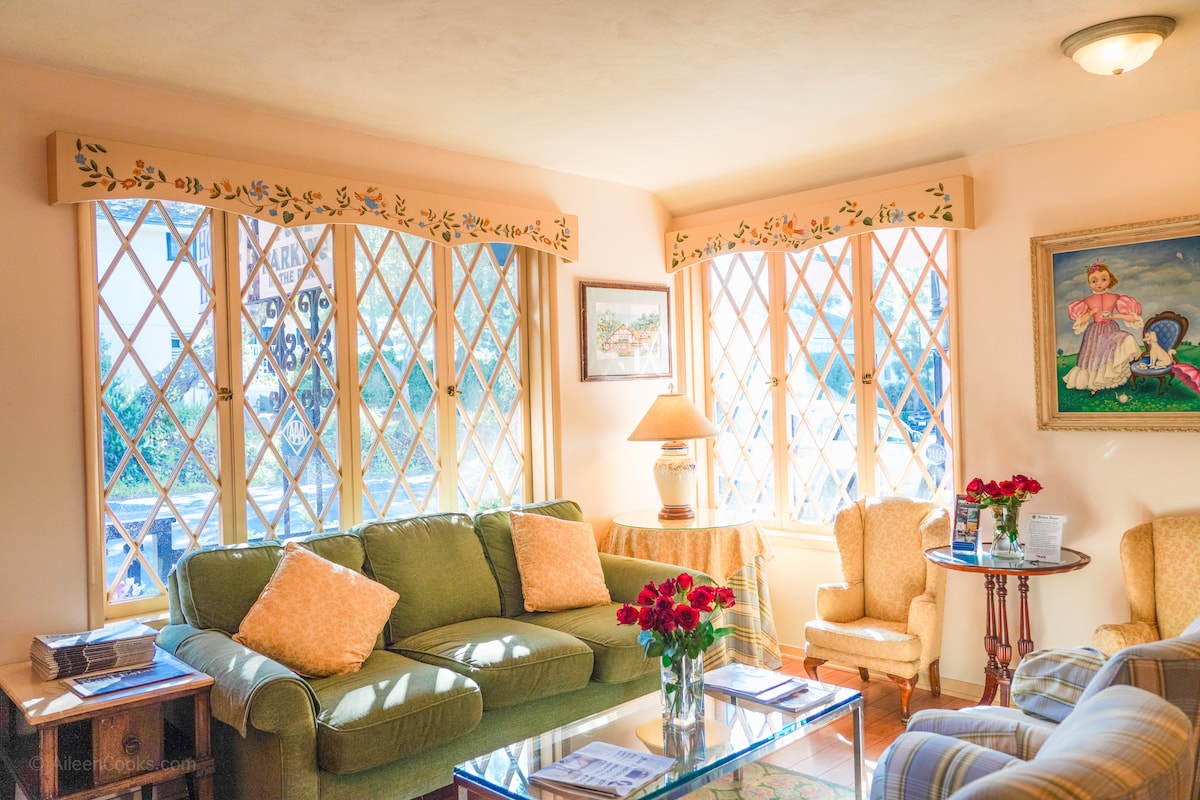 Our Last Day in Carmel
Our second morning in Carmel started the same as the first. Yummy food and drinks thanks to the continental breakfast. After breakfast, my daughters took a dip in the heated pool (in February, brr). The cold didn't bother them because the water was nice and warm.
It was time to check out, so we packed up our stuff and loaded up the car. Of course, we couldn't take a trip to Carmel without walking around downtown. So, off we went!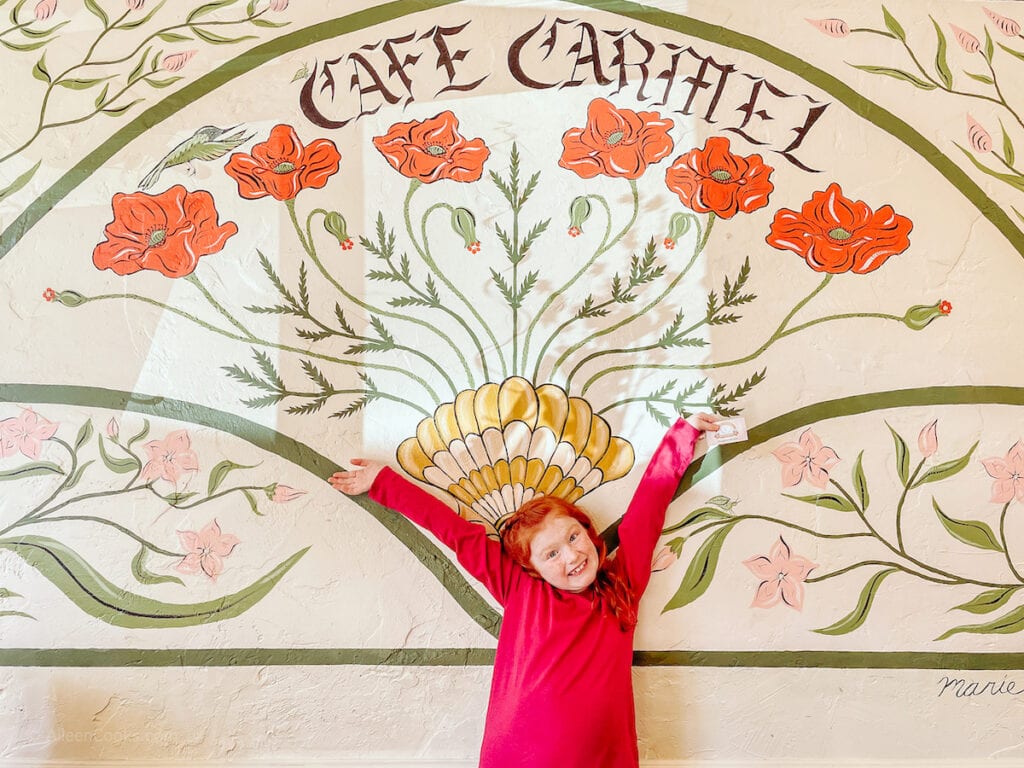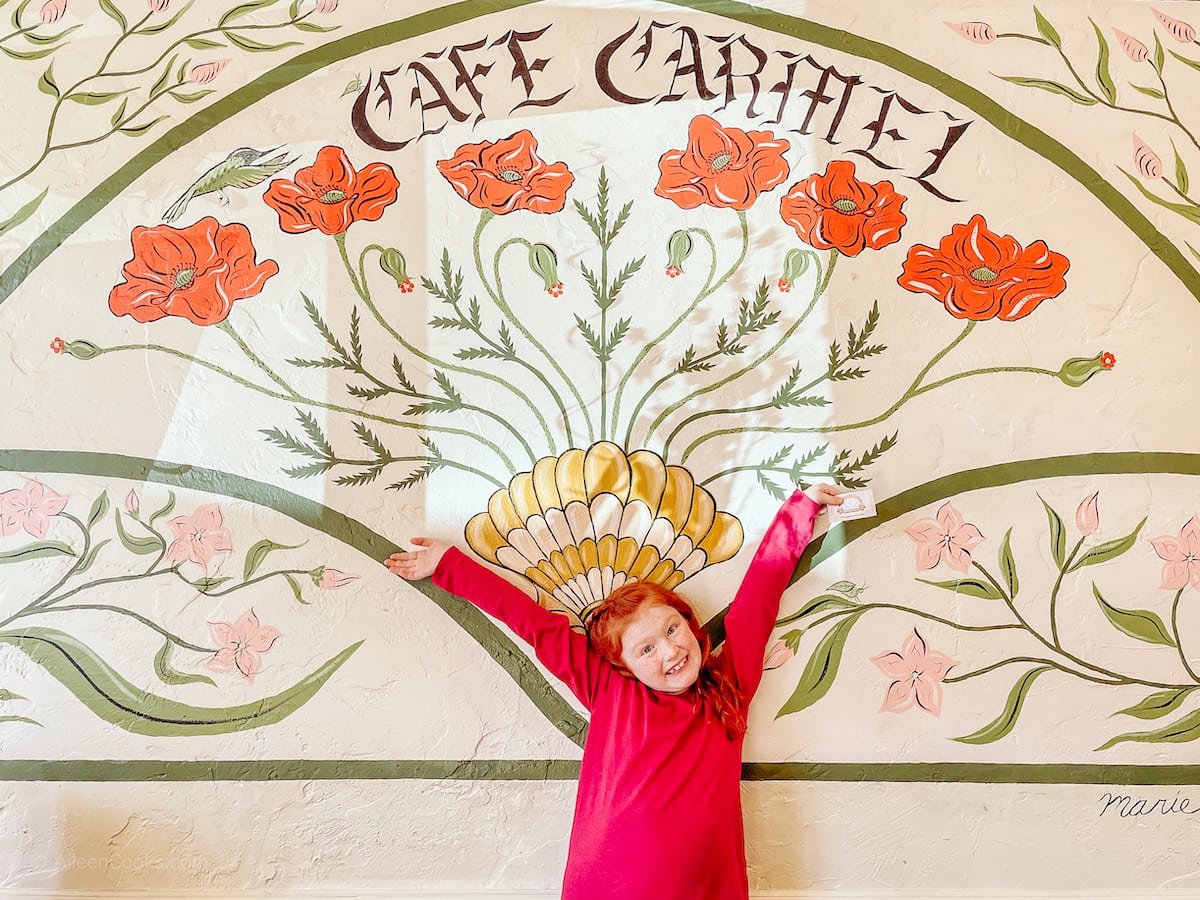 An Early Lunch at Cafe Carmel
After all of the swimming and packing, it was time for lunch. It was still a bit early, so we managed to grab breakfast burritos from Cafe Carmel before they started offering their lunch menu. So good!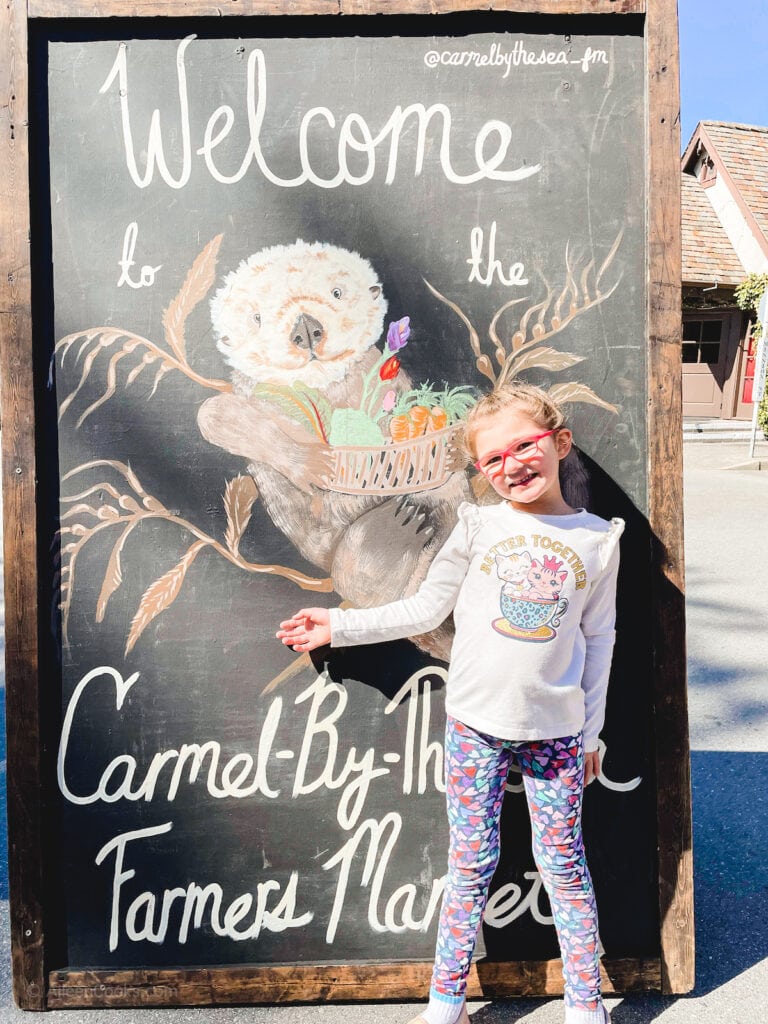 Fairytale House Walking Tour
The next thing on our agenda was the Fairy Tale House Walking Tour. This was supposed to be a walking tour throughout downtown Carmel that showed you 11 different houses, including Birthday House, Hansel and Gretel, and Honeymoon Cottage. Honestly, this was kind of a bust.
The directions were super confusing. It seemed like it would be fun and interesting for kids, but in hindsight, I think it's a much better activity for adults who will appreciate the architecture of the buildings. We ended up aborting the mission and exploring the farmer's market instead.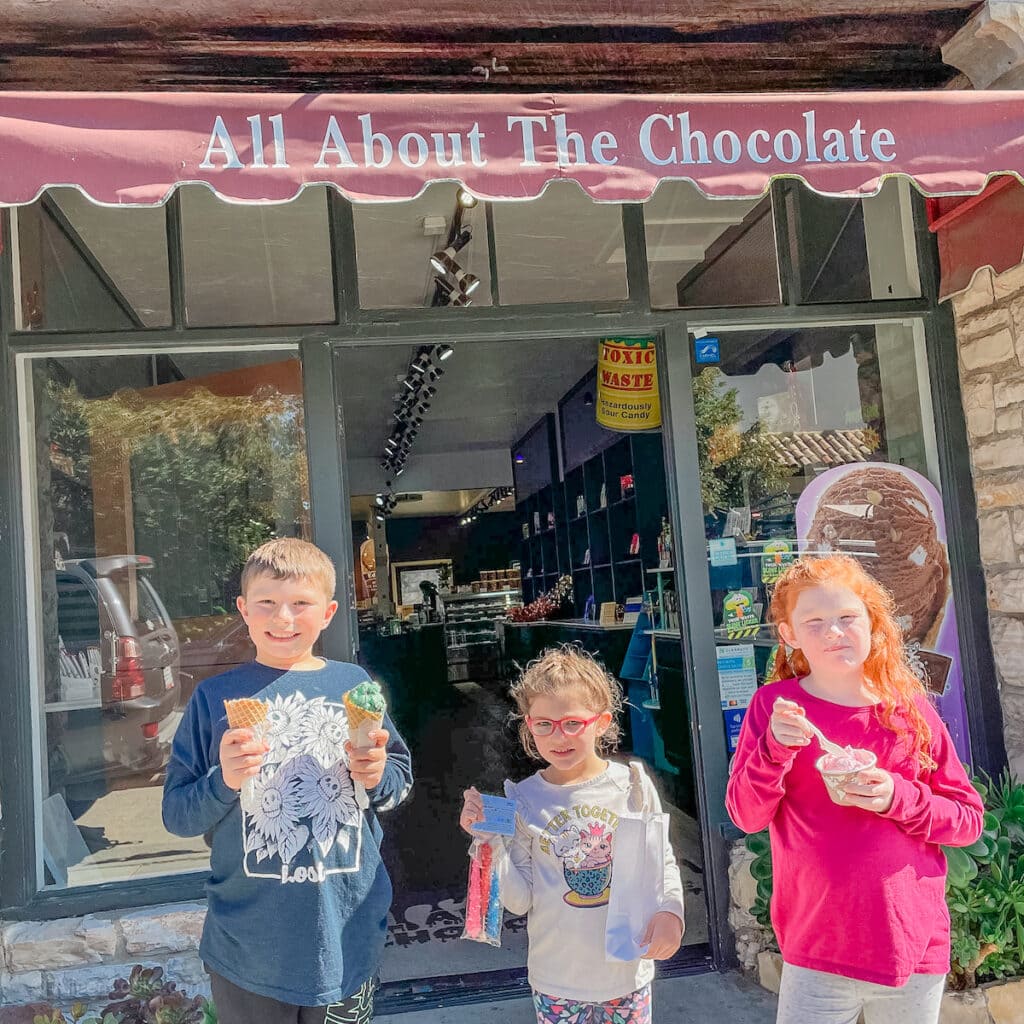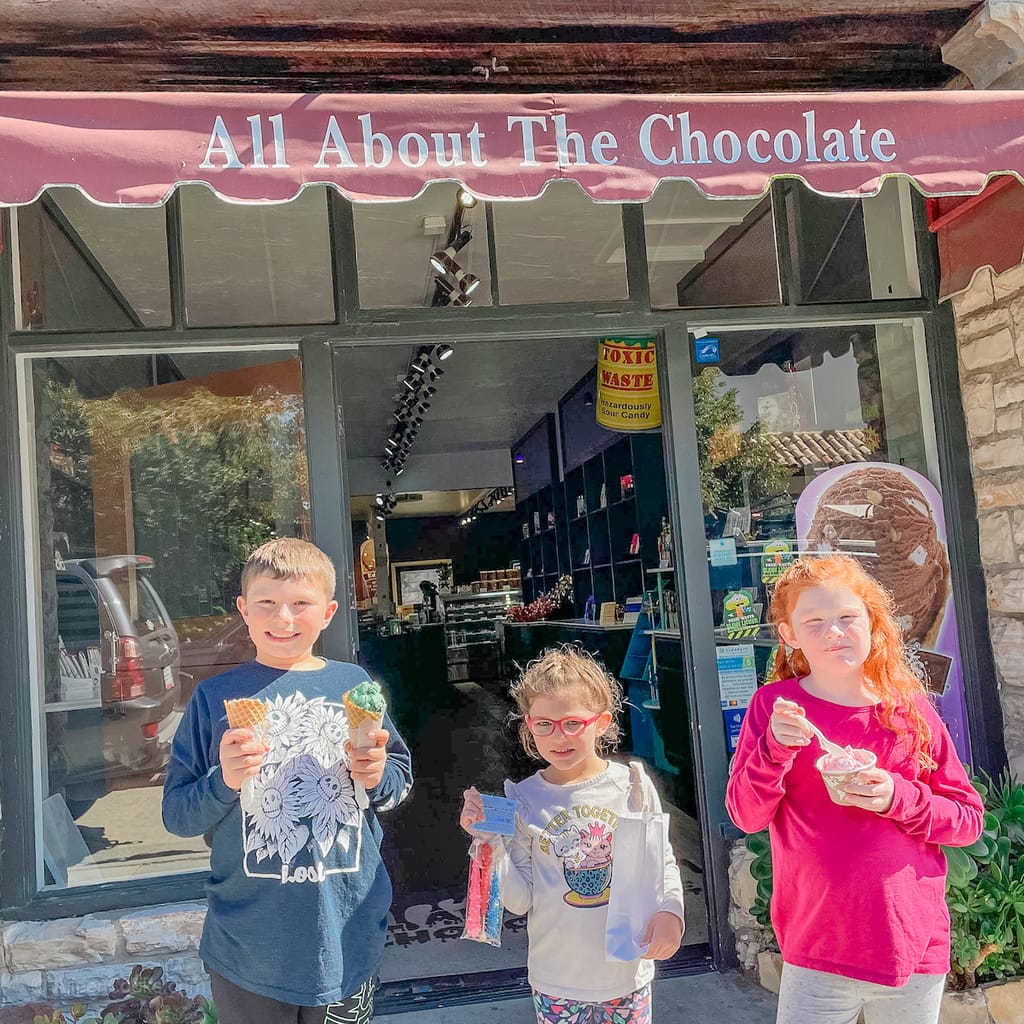 Our Official Last Stop
Our last stop in Carmel is always for a sweet treat. So, off we went to All About The Chocolate. The kids spent a good 30 minutes looking at all of the sweets they had to offer, from fresh made chocolates, to ice cream, to fun candy treats that come with little toys.
After lots of debate, 2 kids decided on ice cream and one decided on rock candy. It made me giggle a bit because the ice cream served at All About The Chocolate is not locally made ice cream. It's Dryer's Ice Cream. Which is still super yummy, but can be found just about anywhere. It's our go-to ice cream at home, so it makes sense that they stuck with what they knew they liked. Sean and I also opted for the ice cream. When you know, you know.
We all enjoyed our treats in the courtyard across the street and people watched for a while. The baby screeched at all of us until we shared our treats with her. She has learned how to make her point these days! She is such a doll.
Finally, we said goodbye to Carmel and headed home. It was a good trip and I'm already thinking about when we can return.