Easy and mess free sloppy joe pockets made with a simple sloppy joe recipe and wrapped in our favorite biscuit dough.
I love Sloppy Joes because they are kid-friendly and frugal. With just a few ingredients, you can throw together a filling and delicious meal that satisfies the whole family. They are also versatile as you can throw in whatever veggies you have on hand and it will still taste great thanks to the sauce.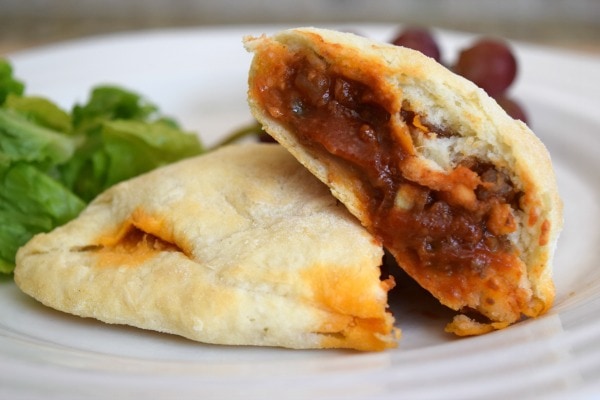 This sloppy joe pocket recipe is different than this sloppy joe recipe I have shared in the past. Both are delicious, this is just a different take on the same dish.
2 great reasons to make a batch of sloppy joe pockets
The nice thing about sloppy joe pockets is they are convenient. They are perfect for those busy nights where you have to be out in the evening but don't want to spend the money on eating out. They are also freezer friendly, so you can make a big batch and pull them out individually for a quick lunch or dinner (much like this beef and cheese burrito recipe and this Turkey Cream Cheese Roll-Ups).
How to make sloppy joe pockets
Start by sauteing your veggies and meat.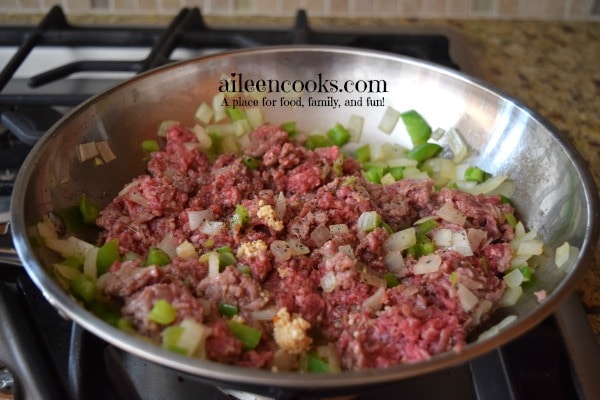 Whisk together your sloppy joe sauce and pour it over the meat.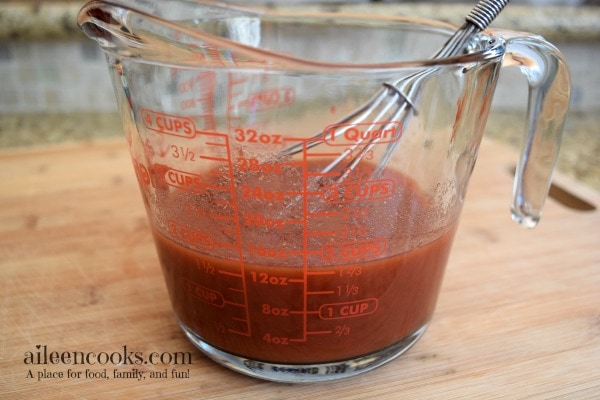 Let it simmer until most of the sauce is soaked up in the meat.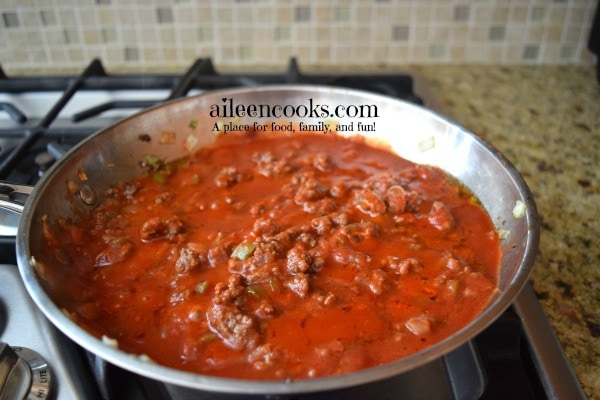 Whip up your biscuit dough and roll it into a log.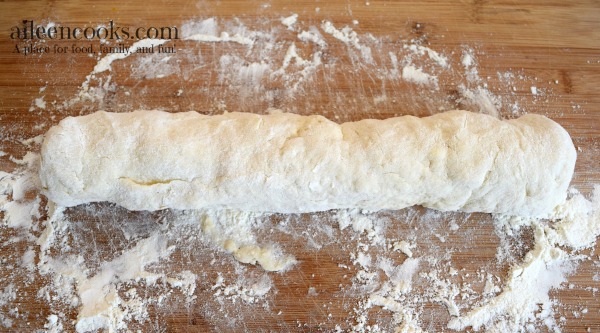 Break the log into pieces and fill each with the sloppy joe filling.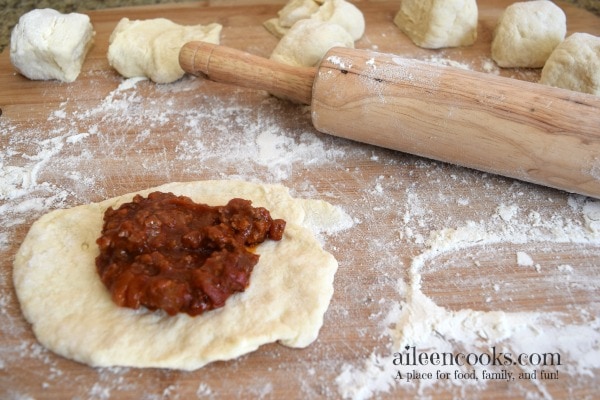 Fold over the dough to create a pocket and crimp the seams with your fingers.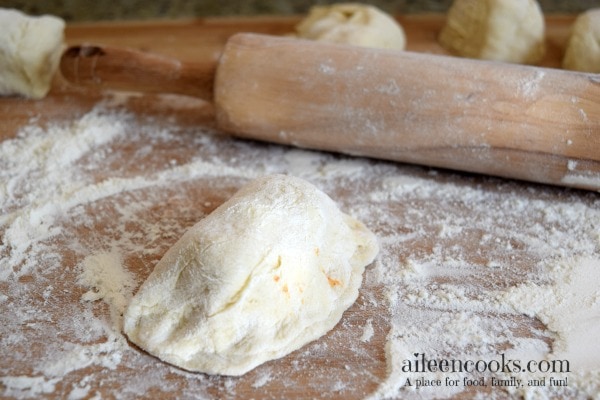 Bake in the oven and enjoy a hot and delicious sloppy joe pocket.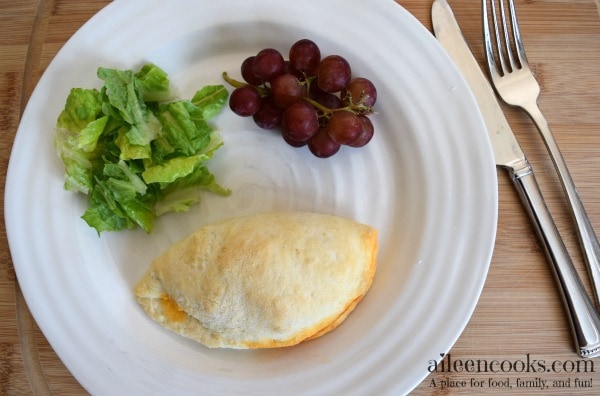 How to freeze sloppy joe pockets?
There are two ways to freeze sloppy joe pockets.
Flash freeze them on a cookie sheet (not touching) for 1-2 hours, then place in a freezer bag back in the freezer.
Wrap individual pockets in foil and place in a freezer bag or other freezer-friendly container.
To reheat: cook in the microwave on medium power for 2-3 minutes, until hot.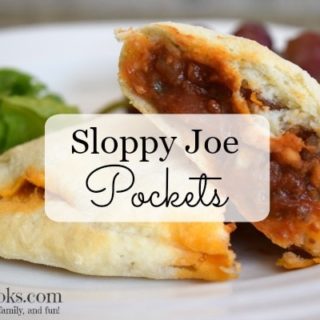 Sloppy Joe Pockets
Easy and mess free sloppy joe pockets made with a simple sloppy joe recipe and wrapped in our favorite biscuit dough. 
Ingredients
2 Tablespoons olive oil
1/2 cup diced onion, from 1/2 medium onion
1/2 cup diced green bell pepper, from 1/2 bell pepper
1 pound ground beef
1 garlic clove, minced
1/4 teaspoon salt
1/8 teaspoon black pepper
1 cup water
1 8 oz. can tomato paste
1/4 cup sweet BBQ sauce
1 tablespoon ketchup
1 tablespoon Worcestershire sauce
2 1/2 cups all-purpose flour
4 teaspoons baking powder
1/2 teaspoon salt
4 tablespoons butter, chilled and cut into pieces
1 cup milk
Instructions
Preheat your oven to 450 degrees. Line a large cookie sheet with foil and set aside.
In a large skillet, heat the olive oil over medium-high heat.
Add the diced onion and bell pepper. Cook until soft, about 3 minutes.
Mix in the ground beef, minced garlic, salt, and black pepper.
Continue to cook until the ground beef is browned.
Whisk together the water, tomato paste, BBQ sauce, ketchup, and Worcestershire.
Pour it over the meat and simmer on low for 10 minutes, until most of the sauce is absorbed. Remove from heat.
Meanwhile, whisk together the flour, baking powder, and salt in a large bowl.
Mix the butter pieces into the flour mixture and break it up with a fork or your hands until the mixture resembles peas.
Pour the milk into the flour/butter mixture and mix until a dough forms. If too sticky, add a bit more flour. If too dry, add a bit more milk.
Once the biscuit dough is prepared, roll it out flat on a floured surface and then roll the dough lengthwise into a log.
Cut the log into 8 equal pieces
Roll each piece into a ball with the palms of your hands, squeezing the dough together, if necessary
Use a rolling pin to roll each piece into 6-8 inch circles.
Scoop the sloppy joe filling into the center of each round.
Gently fold over the dough and press the seams together with your fingers.
Using a spatula, scoop each pocket up and place on the lined cookie sheet.
Bake 12-15 minutes, or until golden brown around the edges.
To freeze, allow the pockets to fully cool and freeze in a zip-top freezer bag. Microwave on high for 3-4 minutes from frozen to reheat.
Nutrition Information
Amount Per Serving
Calories

412
Note: this recipe was originally published in May 2016.
Did you try this recipe for sloppy joe pockets? Let us know what you thought below with a rating and comment or tag us in your pictures on social media using @aileencooks.