Instant Pot Funfetti Cake
As an Amazon Associate I earn from qualifying purchases.
Make a deliciously moist instant pot cake with just a handful of ingredients in under an hour! Our recipe for instant pot funfetti cake is the perfect birthday cake or just because cake that you can make in your pressure cooker! This is one of those instant pot dessert recipes you will make again and again.
This is a super simple method for making a cake in an instant pot using a boxed cake mix. If you have a favorite from-scratch white cake recipe, you can still use this method to make a cake in your instant pot.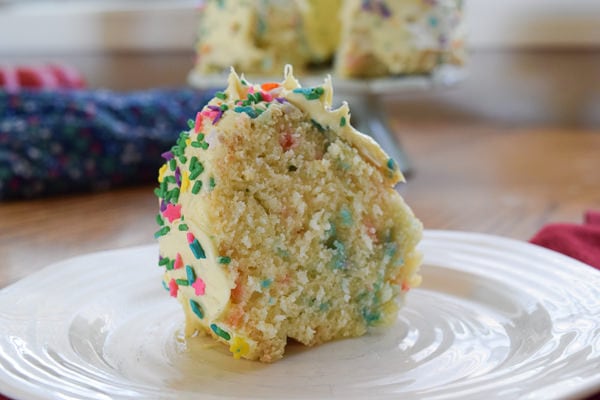 This instant pot dessert calls for a box of Funfetti cake mix (you should not pay that price for a box of cake mix, I'm just linking so you have a visual). It's a super simple way to change up your cake-baking routine.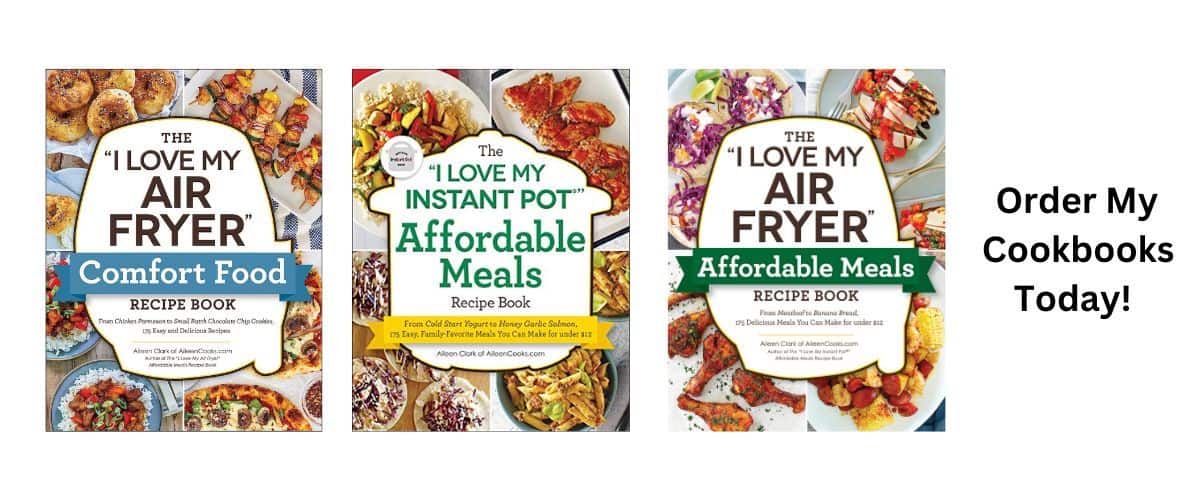 With the help of a bunt pan and the moisture from your instant pot, you will have a perfectly dense and moist cake. If you haven't tried it, you may want to check out these recipes for Instant Pot Pumpkin Cheesecake, instant pot cinnamon rolls, instant pot oreo cheesecake, and instant pot brownies with frosting!
Also, make sure you check out our newest instant pot cake recipe, instant pot pineapple upside down cake!
New to the instant pot? Check out our instant pot guide here.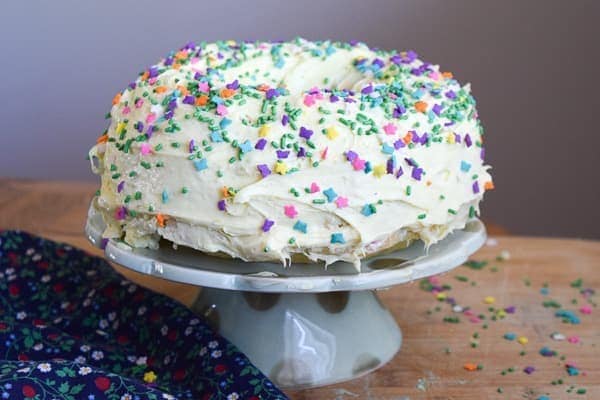 Why make a boxed cake in the instant pot?
You may be wondering why you wouldn't just bake your cake in the oven. the reason? Instant pot cake mix cakes come out so much different. It is like a completely different cake. You need to try this at least once in your life!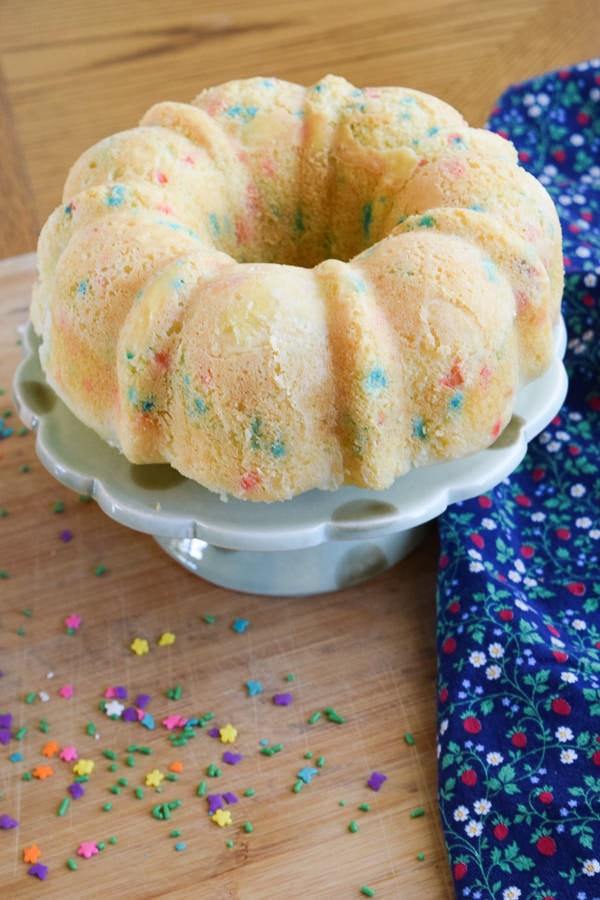 How to make cake in the instant pot?
Making a cake mix in your instant pot is not much different than baking it in your oven. You will mix up the ingredients according to the package directions. Grease and flour a bundt pan and pour in the cake batter.
Add a cup of water and place your bundt pan on top of a trivet inside the instant pot. Cook on high pressure for 35 minutes and quick pressure release. Let it cool and then frost it as you would a normal cake. But this is not a normal cake. This is an instant pot cake. It is such a treat!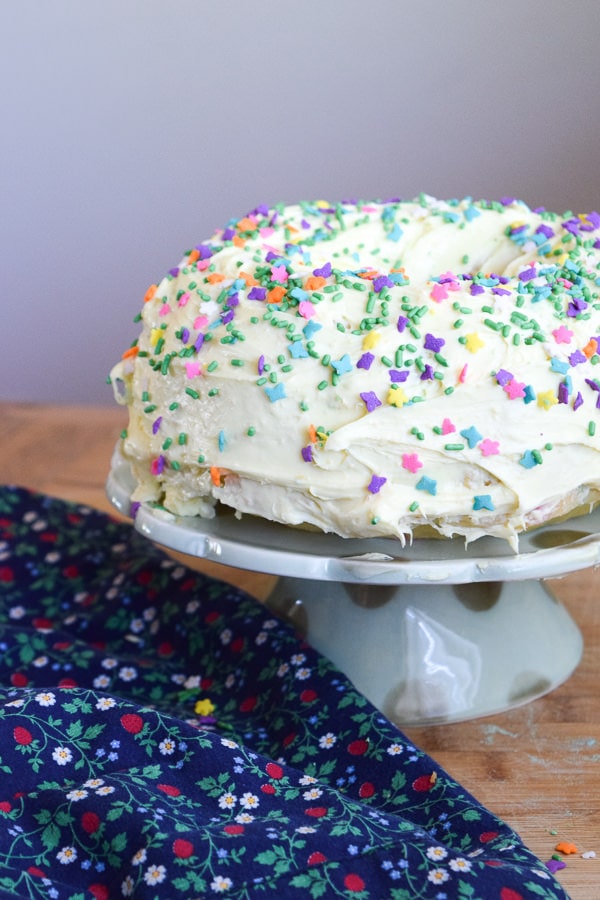 What pan to use when making instant pot cake?
I use this 6-inch bundt pan by Nordic Ware. It has held up so far in my Instant Pot and is relatively easy to clean.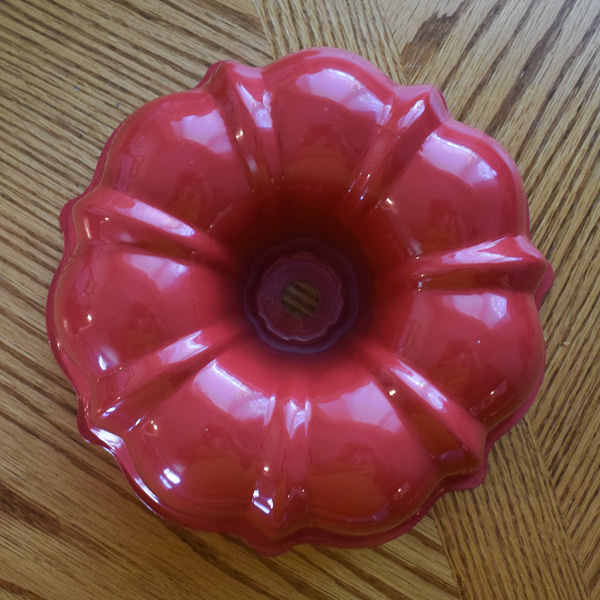 You may also like: Banana Chocolate Chip Cake, Instant Pot Banana Bread & Instant Pot Double Chocolate Zucchini Bread
Did you try this recipe for instant pot cake? Let us know what you thought below with a rating and comment. You can also tag us on social media using @aileencooks.