Mini Chicken Pot Pies (Freezer Friendly)
Enjoy all of the satisfying comfort of chicken pot pie with these fun and tasty mini chicken pot pies. This recipe is great for using up leftover chicken and bakes in just 12 minutes.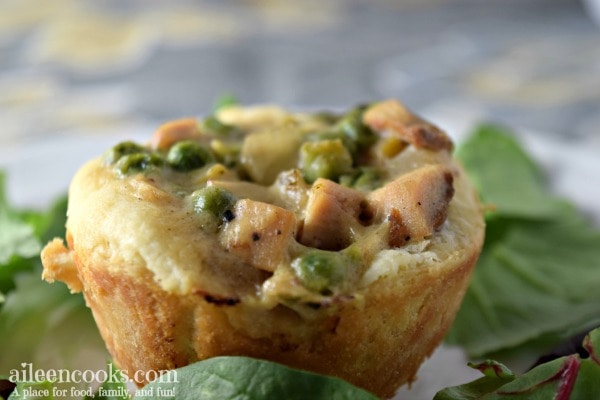 I made these mini chicken pot pies with my kids last week. They loved helping me cut out the biscuit dough and pour pot pie filling into the muffin tin. They also devoured all of them in record time. I'm sure it had something to do with them helping in the kitchen, but also that they were delicious.
You may also like our recipes for Slow Cooker Creamy Chicken Pot Pie Soup with Biscuits, Instant Pot Chicken Pot Pie, and Instant Pot Chicken Pot Pie Soup.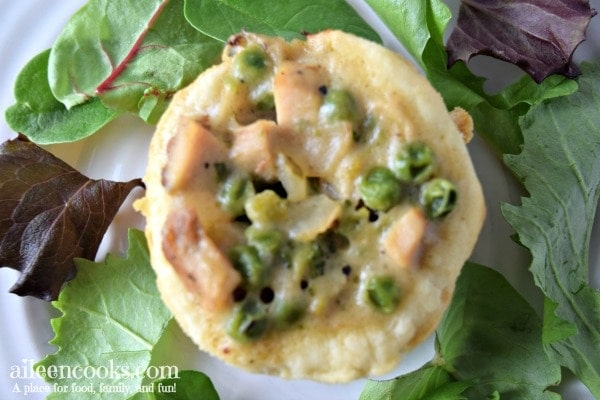 I had to steal the last one away so I could snap a few pictures to share for you. They were so good and filling. Plus, who doesn't like handheld food?
I have shared other handheld recipes in the past: Meatloaf Muffins with Potato Frosting, Sloppy Joe Pockets, and (one of the most popular recipes on my blog), Make Ahead Scrambled Eggs. And then there is the mini desserts like S'mores Brownie Cups and Mini Pumpkin Cheesecakes. Yeah, we like our "mini" foods around here. 🙂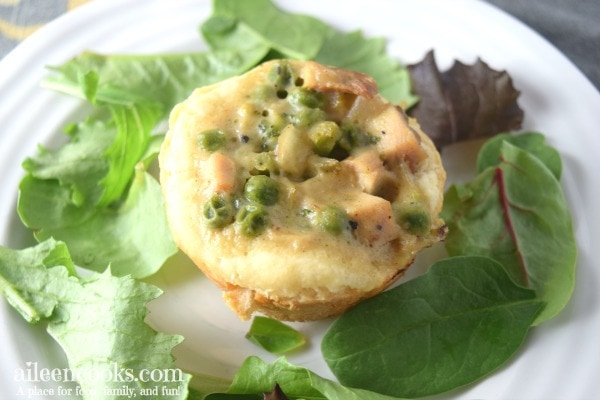 Tried this recipe? Please consider leaving a rating and comment!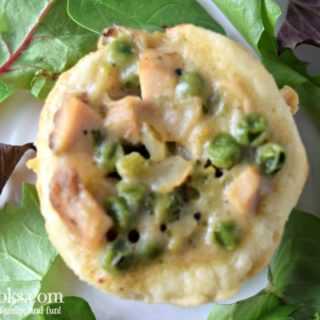 Mini Chicken Pot Pies
Fun and yummy mini chicken pot pies. These are freezer friendly, too!
Ingredients
Biscuit dough:
2 1/2 cups flour
4 teaspoons baking powder
1/2 teaspoon salt
8 tablespoons cold butter, cubed
1 cup cold milk
Pot Pie Filling:
2 tablespoons melted butter
1 small yellow onion, chopped
2 garlic cloves, minced
1 cup frozen veggies, chopped if large
1 cup frozen peas
1 1/2 cups cooked chicken, cubed
1/2 teaspoon salt
1/2 teaspoon parsley flakes
1/2 teaspoon dried oregano
1/4 teaspoon pepper
1/4 cup flour
1 cup milk
1/2 cup chicken broth
Instructions
Preheat your oven to 400 degrees. Grease a muffin tin and set aside.
In a large bowl, whisk together the 2 1/2 cups flour, baking powder, and salt.
Add in the 8 tablespoons cold butter and mix together with a fork until the mixture becomes crumbly - the size of peas.
Slowly mix in the 1 cup cold milk until a dough forms.
Roll the biscuit dough out on a floured surface to 1/4 inch thick.
Using a water glass or biscuit cutter, cut out 12 rounds of dough and gently press into the bottom of your greased muffin tin.
Heat 2 tablespoons butter in a large pan over high heat.
Saute the onion until soft, about 5 minutes.
Mix in the garlic and cook until fragrant, about 30 seconds.
Add in the frozen veggies, frozen peas, cooked chicken, seasonings, and mix.
Sprinkle the 1/4 cup flour over top and turn to coat.
Whisk in the milk and chicken broth.
Bring to a boil and reduce heat to a simmer. Let cook until the sauce begins to thicken, about 5 minutes.
Remove from heat and ladle pot pie filling into the muffin tin over the biscuit dough. Fill each slot all the way full.
Bake 12 minutes.
Nutrition Information
Amount Per Serving
Calories

392