Whip up a batch of zucchini fritters tonight! These cheesy bites of goodness are so delicious, you might just forget you are eating vegetables. This recipe is part of our list of 80 best zucchini recipes.
Zucchini is so versatile, isn't it?
Not only can it be served as a regular old vegetable, but it can be made into Zucchini Baked Ziti, zucchini noodles, cornbread zucchini muffins, instant pot double chocolate zucchini bread, parmesan zucchini rounds, parmesan zucchini fries, and so much more! Today, I am going to teach you how to make zucchini fritters.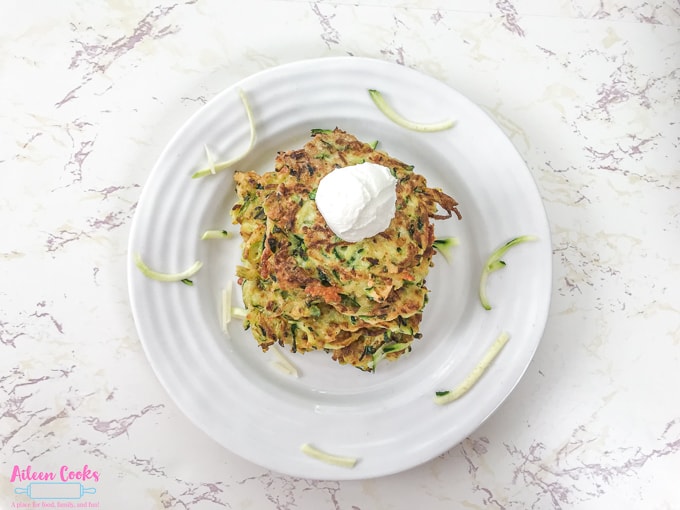 I have had a few failed attempts at making zucchini fritters and finally found a winner of a recipe. If you've never had zucchini fritters before then you are in for a real treat.
What is in zucchini fritters?
They are made with a few simple ingredients: zucchini, flour, garlic, parmesan cheese, salt, and pepper. You start by draining the zucchini (don't worry, we teach you how) mixing them with a few other ingredients, and frying them in some olive oil. This recipe is so simple and delicious – my favorite kind of recipe.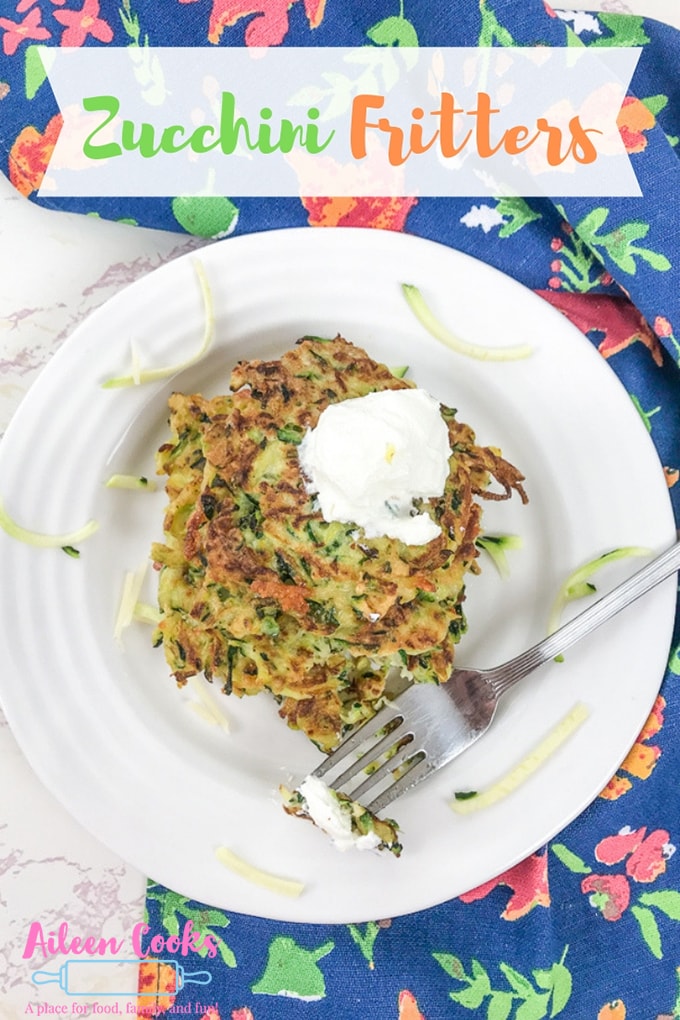 Zucchini fritters are similar to fish cakes in the way they are prepared. They are a great way to use up leftover zucchini (especially if you have loads growing in your garden). These tasty fritters are also a great way to encourage picky eaters to eat something green.
I know there are many kids out there who are hesitant around vegetables – especially new ones. These can be eaten with ketchup, making them especially kid-friendly.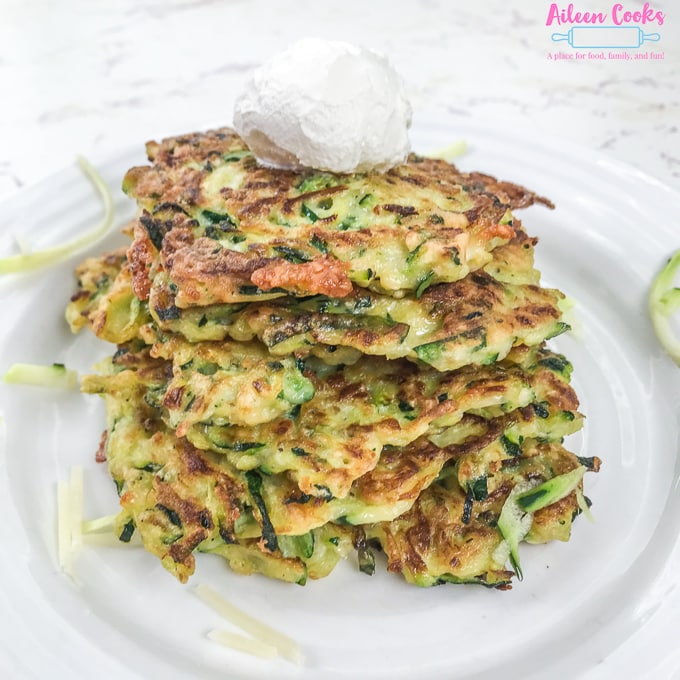 How to drain zucchini?
When you hear that the zucchini needs to be drained, it is referring to the excess water found in the vegetable. We do this by placing the strips of zucchini in a colander and sprinkling it with salt.
The salt pulls the water out and it will drain through the holes in your colander. I recommend letting it sit in your sink while draining. After about 10 minutes, wrap it in a thin dish towel or paper towel and squeeze the water out of it. You will need to do it several times until the zucchini is relatively dry.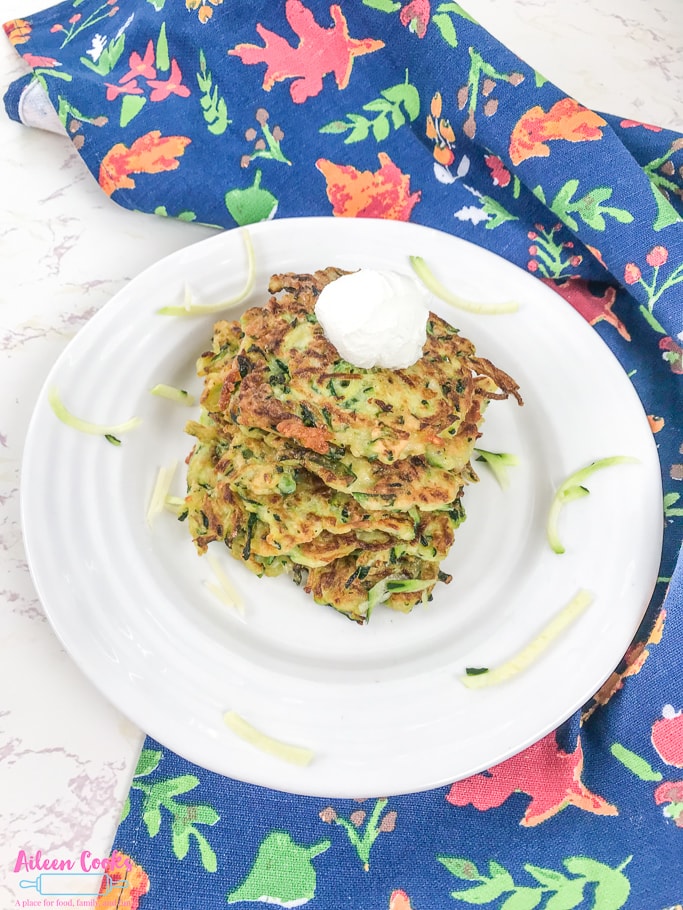 Should I drain my zucchini for every recipe?
No, only drain your zucchini when it is specified in the recipe. Many recipes count on the added water content for added moisture in the finished dish.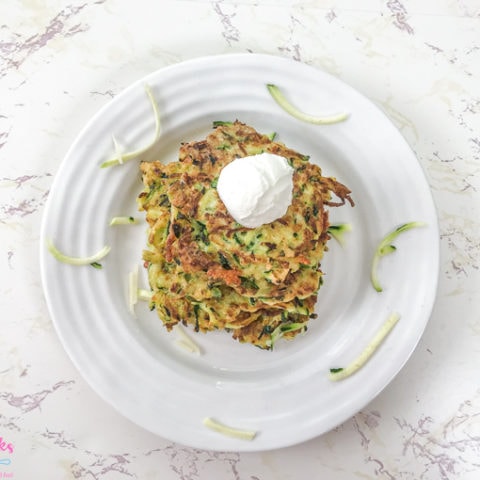 Zucchini Fritters
Enjoy the flavors of the season with this tasty zucchini recipe. Mixed with cheese and flour and fried these zucchini pancakes are a side dish with loads of flavor.
Ingredients
4 cups shredded zucchini
1 teaspoon salt
1 large egg, beaten
1/3 cup all-purpose flour
1/3 cup shredded parmesan cheese
2 garlic cloves, minced
1/2 teaspoon black pepper
6 tablespoons olive oil
Instructions
Place zucchini in a colander and sprinkle with salt. Let sit 10 minutes.
Remove zucchini from colander and wrap in a clean dish towel. Squeeze and wring water out of zucchini.
Place zucchini in a bowl with egg, flour, parmesan, garlic, and black pepper. Mix.
Heat a large frying pan over medium-high heat and add oil.
Take heaping tablespoons of zucchini and place in pan. Flatten out with back of spoon into a 2.5 inch round. Work in batches, making 3-4 at a time, depending on the size of your pan.
Let cook 4 minutes and flip. Cook an additional 4 minutes.
Remove zucchini fritters using a slotted spatula.
Continue cooking until all zucchini is used up.
Store zucchini fritters under a piece of foil until ready to serve.
Recommended Products
As an Amazon Associate and member of other affiliate programs, I earn from qualifying purchases.
Nutrition Information
Yield

4
Serving Size

3 fritters
Amount Per Serving
Calories

296
Total Fat

24g
Saturated Fat

5g
Trans Fat

0g
Unsaturated Fat

19g
Cholesterol

51mg
Sodium

666mg
Carbohydrates

15g
Fiber

2g
Sugar

4g
Protein

8g
Nutrition information is an estimate.
Did you try this recipe for zucchini fritters? Please let us know what you thought below with a comment, with a rating the recipe card, or tag us on Instagram using @aileencooks.