Whip up a batch of these tasty and low carb parmesan zucchini fries tonight! They are one of our very favorite zucchini recipes!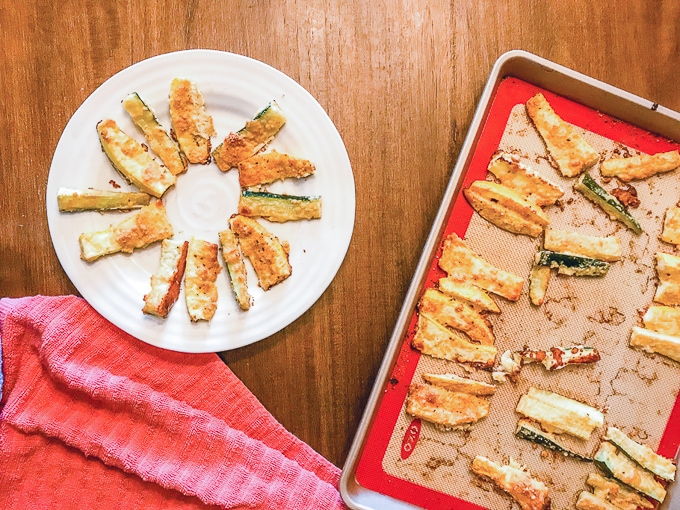 Are you looking for an easy and delicious way to cook zucchini tonight? Are you looking for a recipe that's easy but isn't boring? Well, you have come to the right place!
Because the parmesan zucchini fries are anything but boring. They are perfectly tender in the middle and crusted with an amazing combination of grated parmesan cheese, garlic, and paprika!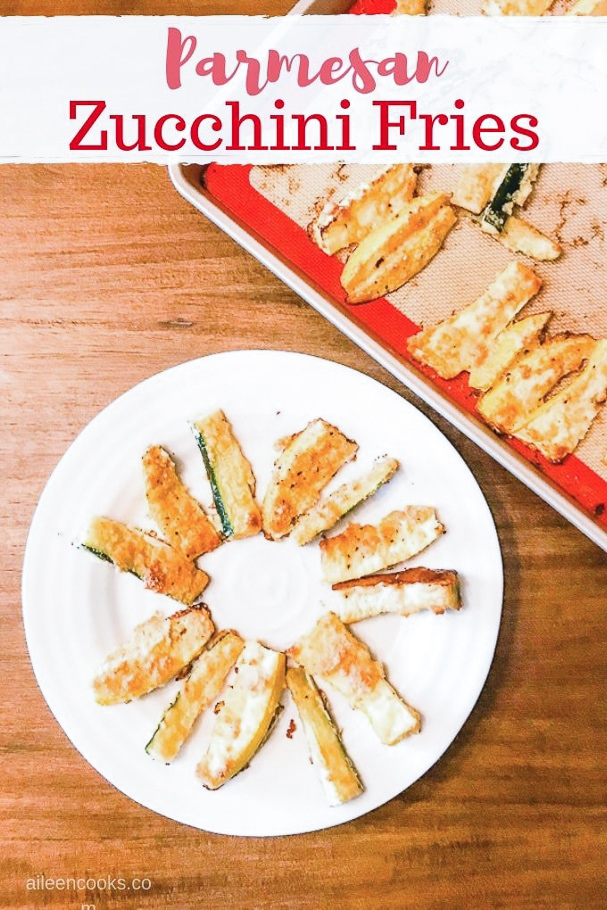 We love cooking and experimenting with zucchini around here. We have shared Zucchini Baked Ziti, Parmesan Zucchini Rounds, Zucchini Fritters, Cheesy Cornbread Zucchini Muffins, Whole Wheat Chocolate Chip Zucchini Bread, and Instant Pot Double Chocolate Zucchini Bread. You may also like Instant Pot Butternut Squash.
The parmesan zucchini rounds used to be my favorite zucchini recipe, but now parmesan zucchini fries have taken the number one spot! I think it's because of the way the cheese crisps around the edges of the zucchini fries that really does it.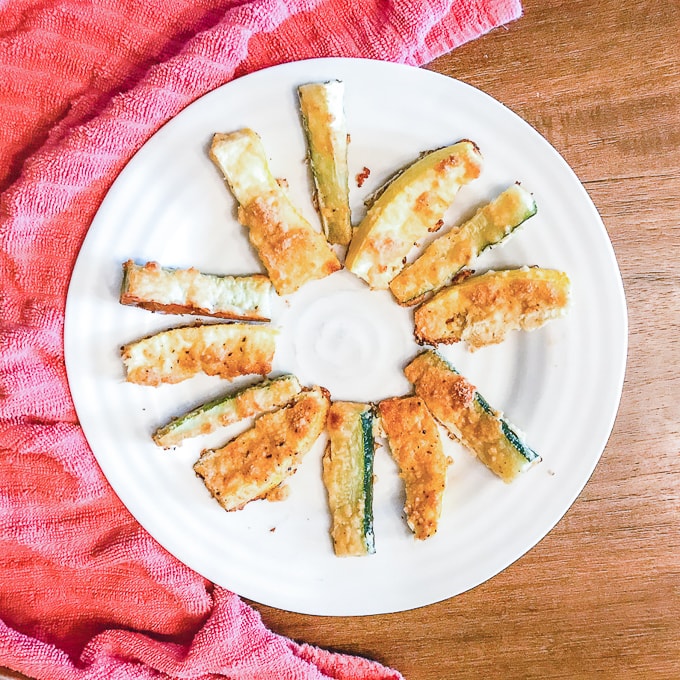 Parmesan Zucchini Fries with both zucchini and squash
We made our parmesan zucchini fries with both zucchini and summer squash. I bought the big bag from Costco that had both, so I used both. You can use only zucchini in this recipe if you prefer. Everything else in this recipe still stays the same.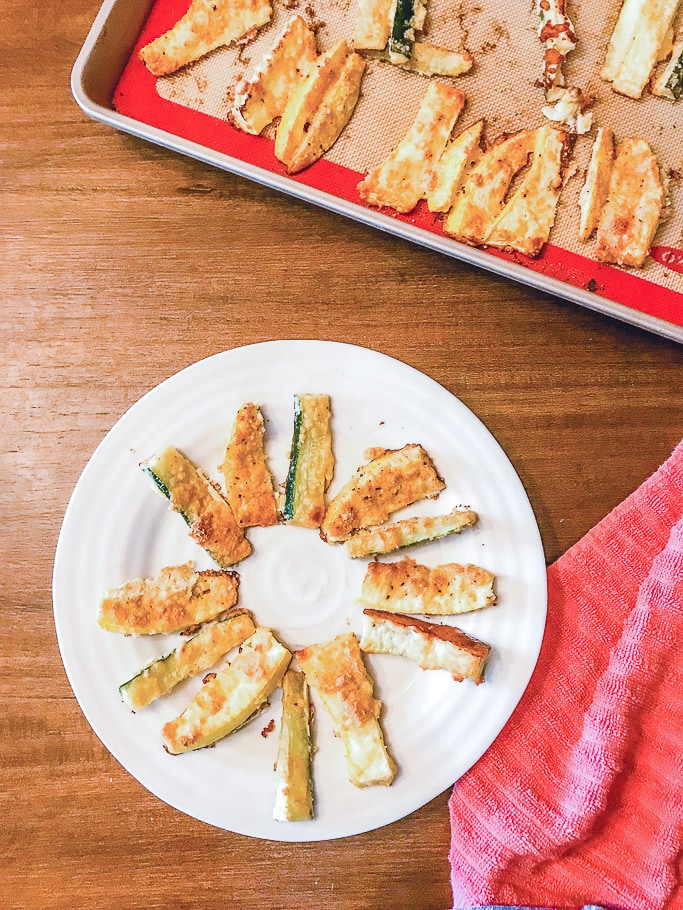 How to make parmesan zucchini fries
This recipe is super simple. Just cut your zucchini into wedges, dip it into an egg, and then dip it into a parmesan mixture. It bakes in the oven for 25 minutes or so and comes out crispy, tender, and golden brown.
This baked parmesan zucchini fries recipe is made without breadcrumbs. My husband is currently doing Keto, so I was trying to make a keto-friendly parmesan zucchini fry recipe. And it turned out magnificently.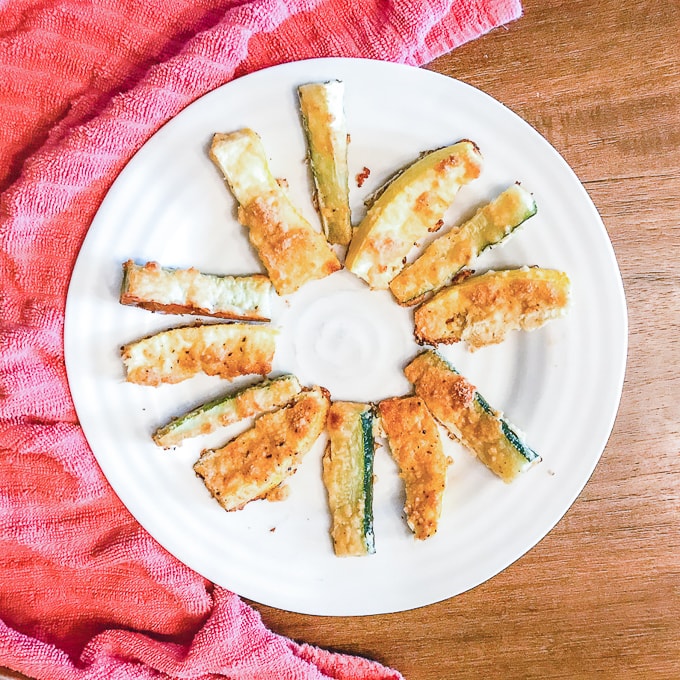 Parmesan Zucchini Fries
Whip up a batch of these tasty and low carb parmesan zucchini fries tonight! They are one of our very favorite zucchini recipes!
Ingredients
1 large zucchini
1 large summer squash
2 large eggs, beaten
1 cup grated parmesan cheese
2 teaspoons garlic powder
1 teaspoon paprika
1/2 teaspoon black pepper
Instructions
Preheat oven to 425 degrees. Line a cookie sheet with foil and set aside.
Cut zucchini and squash into skinny, fry-sized wedges. Aproximately 2.5 inches long and 1/2 inch thick. It does not have to be exact.
Set up a bowl with the egg and another bowl with the parmesan, garlic, paprika, and pepper stirred together.
Dip zucchini into egg and shake off any excess egg.
Dip egg dredged zucchini into parmesan mixture and place on cookie sheet.
Repeat with remaining zucchini and squash.
Bake for 25-30 minutes, until golden brown.
Nutrition Information
Yield

6
Serving Size

8 pieces
Amount Per Serving
Calories

119
Total Fat

7g
Saturated Fat

3g
Trans Fat

0g
Unsaturated Fat

3g
Cholesterol

76mg
Sodium

327mg
Carbohydrates

8g
Fiber

2g
Sugar

3g
Protein

8g
Nutrition information is an estimate.
These baked parmesan zucchini fries are a tasty way to enjoy summer vegetables.