Skip the oven with this delicious recipe for instant pot double chocolate zucchini bread. That's right – we said double chocolate! This recipe is so good, it's on our list of best zucchini recipes!
Summer is synonymous with zucchini season. And when it's zucchini season, odds are you are up to your ears in zucchini. I have a few new recipes up my sleeve this summer.
I already shared the cheesy cornbread zucchini muffin recipe with you, but needed to get this instant pot double chocolate zucchini bread recipe in front of you, too! The best part about this recipe is you can skip heating up your house by using your instant pot electric pressure cooker!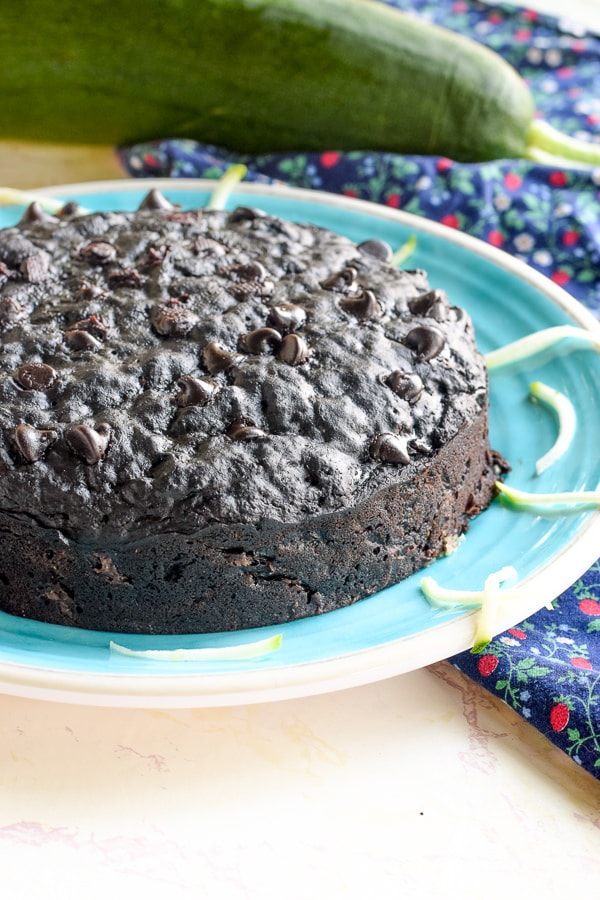 Why should you cook your double chocolate zucchini bread in the instant pot?
If you are skeptical, believe me when I say you won't regret it. Quick bread cooked in the instant pot come out moist and flavorful. Sure, it takes the same amount of time as your oven. But you don't have to use your oven. This is great not only if you don't want to heat up your house, but if your oven is otherwise occupied by some other dish.
I have experimented with instant pot banana bread and instant pot funfetti cake (both success), so I was fairly certain this recipe for instant pot double chocolate zucchini bread would work. Boy, did it work!
It came out so pretty – it looks more like a chocolate cake than a loaf of zucchini bread. My kids inhaled almost half of it before I cut them off.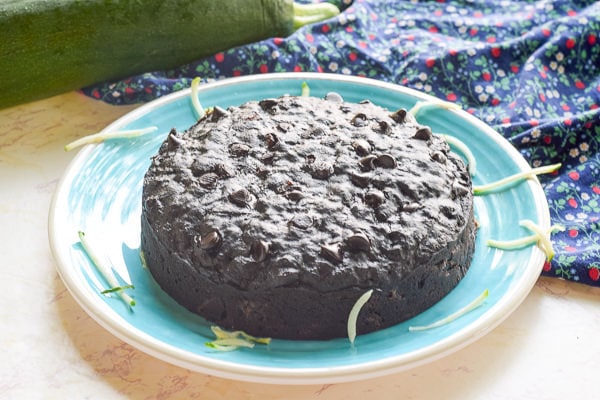 Ingredients for instant pot zucchini bread
shredded zucchini
all-purpose flour
white whole wheat flour
sugar
cocoa powder
vegetable oil
chocolate chips
cinnamon
baking powder
baking soda
salt

A note on whole wheat flour
You may have noticed that I include a bit of whole wheat flour in this recipe. The majority is all-purpose flour, but you can customize it to your tastes. We have made zucchini bread using all whole wheat flour and all white flour.
It just depends on your personal preference and individual tastes. I will say that if your family is not used to the whole wheat flour, but you want to start incorporating more whole grains, stick to the amounts in this recipe. It adds a touch of whole grains without the flavor being overpowering.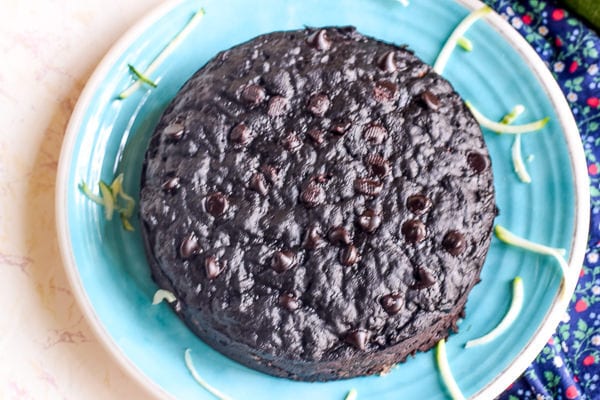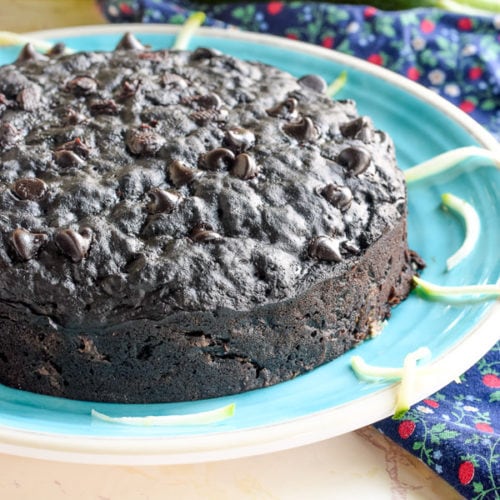 Instant Pot Double Chocolate Zucchini Bread
Cook Time:
1 hour
5 minutes
Total Time:
1 hour
20 minutes
Skip the oven with this recipe for moist instant pot double chocolate zucchini bread. 
Ingredients
1 cup all-purpose flour
1 cup granulated sugar
1/2 cup white whole wheat flour
1/2 cup cocoa powder
1/2 tsp cinnamon
1/2 tsp baking powder
1/2 tsp baking soda
1/2 tsp salt
2 eggs, large
1/2 cup vegetable oil
1 tsp vanilla extract
1 cup shredded zucchini, do not drain
1/2 cup semi-sweet chocolate chips
Instructions
Grease and flour an 8-inch push pan. Fill your pressure cooker with 1 cup water and place trivet inside.
In a large bowl, whisk together the all-purpose flour, whole wheat flour, sugar, cocoa powder, cinnamon, baking soda, baking powder, and salt.
In a medium bowl, whisk together the eggs, vegetable oil, and vanilla.
Make a well in the center of the dry ingredients and pour in the wet ingredients
Mix until combined.
Fold in the zucchini and chocolate chips.
Pour the batter into the prepared push pan.
Create a foil sling and lower the filled pan into the instant pot so it sits on top of the trivet.
Loosely cover the top with a paper towel and fold the foil sling over the top.
Close the lid and set to sealing.
Cook on high pressure for 65 minutes.
Natural Pressure Release (NPR).
Carefully remove the instant pot double chocolate zucchini bread using the foil sling.
Let cool on a cooling rack then carefully remove the double chocolate zucchini bread using the push feature in the pan
Store any leftovers in an air-tight container, up to 3 days.
Nutrition Information
Amount Per Serving
Calories

278
Did you try this recipe for instant pot double chocolate zucchini bread? Let us know what you thought below with a rating and comment. Or tag us in your food photos on social media using @aileencooks.