Instant Pot Artichokes are the easiest and fastest way to steam artichokes. Learn how to make them along with a delicious creamy chili dipping sauce in this instant pot recipe post!
I love a good artichoke. I hadn't even tried them until I was an adult and my husband (then boyfriend) introduced them to me. I fell instantly in love.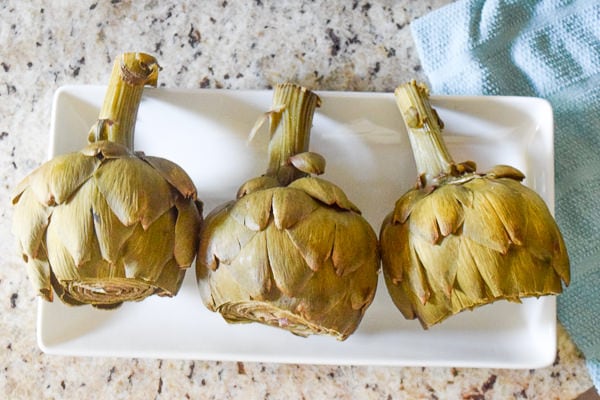 He grew up eating them on the regular because his parents loved them and made them often.
How to make Instant Pot artichokes
Making pressure cooker artichokes is really very simple. It's very similar to what you're used to – you're just cutting down on the cook time.
I like to make my steamed artichokes with a few slices of lemon, salt, and garlic cloves. I add those right into the water used for steaming at the bottom of my instant pot.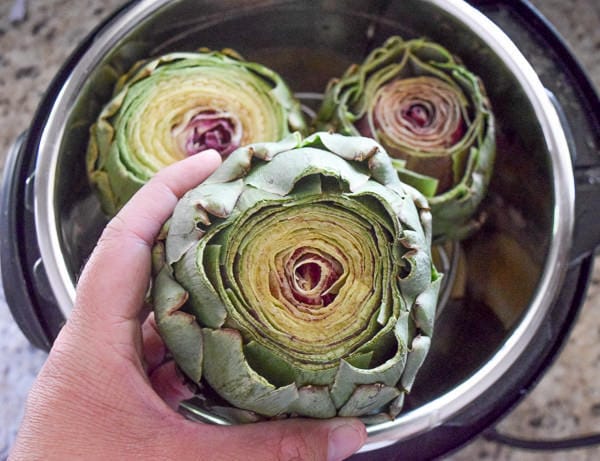 I add my artichokes on top and cook them on high pressure for 5-15 minutes, depending on the size. Many recipes advise to cut off the outer leaves of the artichokes, but I haven't found a significant difference in the end result, so I skip that step.
My Complaint with Stove-Top Steamed Artichokes
My only complaint with making steamed artichokes was the amount of time it took to steam on the stove top. 45 minutes was the average time it took me to steam a large artichoke fork-tender. That is just too long for this mom of 3.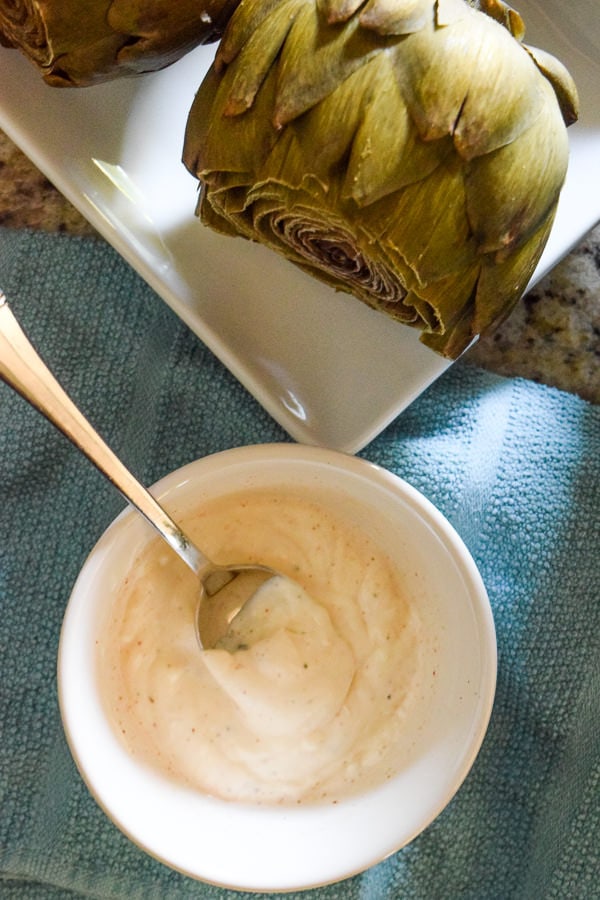 These days, I prefer to use my instant pot to make my meals because it allows for little hands-on time and cuts the cook time down significantly on most recipes.
Enter this recipe for instant pot artichokes. It's quick, it's easy, and the artichokes come out flavorful after steaming in a pressure cooker with garlic and lemon.
And the dipping sauce? It's easy enough to make but takes your traditional mayonnaise dipping sauce up a few notches.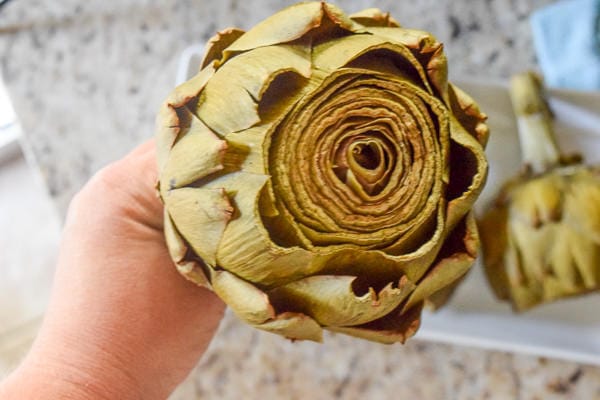 Other delicious recipes:
Equipment Used for Steaming Artichokes in the Instant Pot
I have found that a lot of recipes call for placing your artichokes in a steam basket. I don't know what kind of steamer baskets other people have, but mine doesn't have any holes that allow for the stem to poke through.
I use my trivet to hold my artichokes. (affiliate link) They fit perfectly inside the holes and stay standing up.
Artichoke Dipping Sauce
The creamy chili dipping sauce is a mixture of simple ingredients you probably already have on hand: mayonnaise, chili powder, lemon juice, salt, and pepper. Adding the additional ingredients to the artichokes adds extra layers of flavor that compliment the instant pot steamed artichokes really well.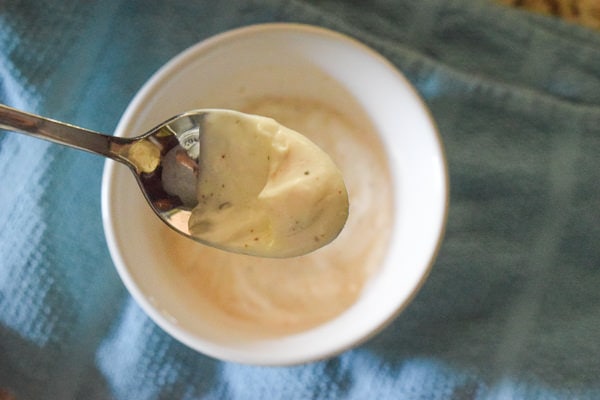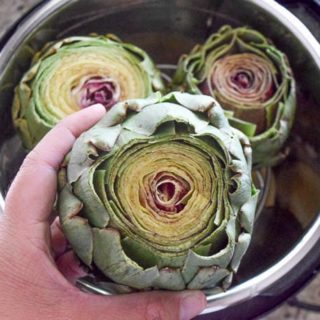 Instant Pot Artichokes with Creamy Chili Dipping Sauce
Instant Pot Artichokes are the easiest and fastest way to steam artichokes. Learn how to make them along with a delicious creamy chili dipping sauce in this post!
Ingredients
Instant Pot Steamed Artichokes
1-4 Artichokes
1 cup water
3 garlic cloves, crushed
1/2 lemon, cut into wedges
1/2 tsp salt
Creamy Chili Dipping Sauce
3 tbsp mayonnaise
1/2 lemon, juiced
1/4 tsp chili powder
pinch salt
dash pepper
Instructions
Rinse your artichokes and slice the top 1/2 inch off of the top of them.
Fill your pressure cooker with water, crushed garlic, 1/2 lemon, and salt.
Place trivet into the instant pot and arrange artichokes on top. If stems are too long to allow them to fit - trim down the stems.
Close lid and set to sealing.
Cook on high pressure. For small artichokes, 5 minutes. For medium artichokes, 10 minutes. For large artichokes, 15 minutes.
Notes
Calorie count is for 2 artichokes and dipping sauce, accounting for four servings.
Nutrition Information
Amount Per Serving
Calories

76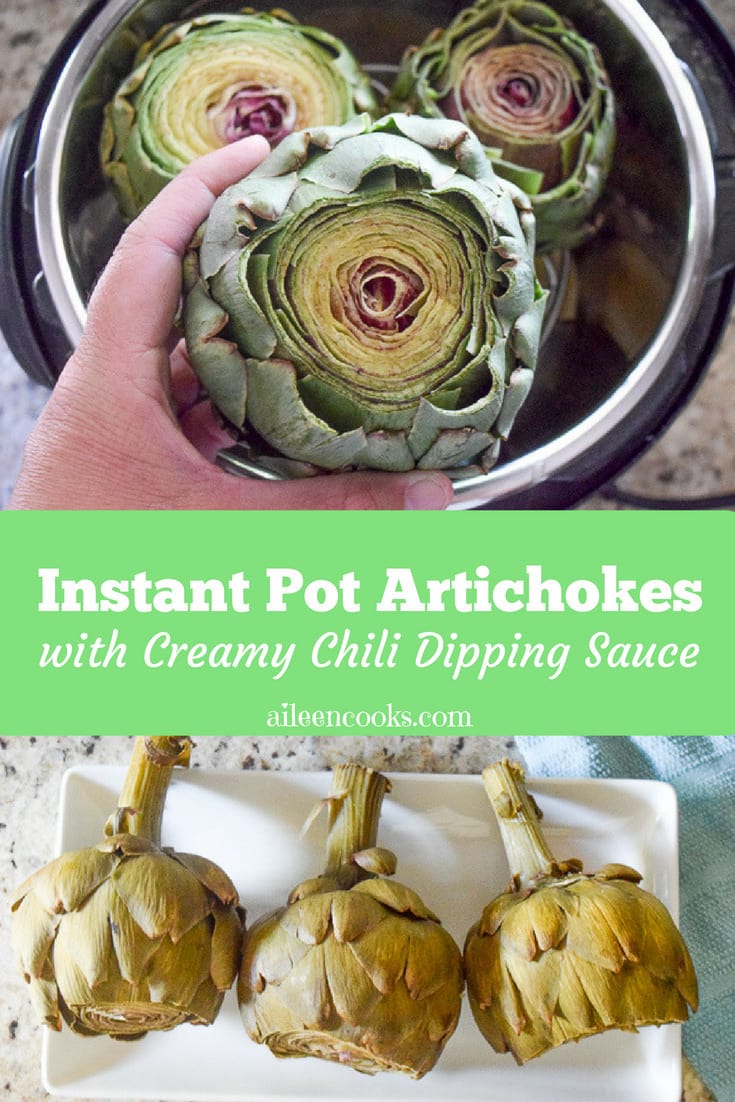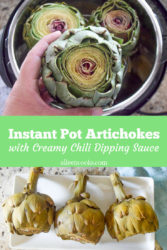 I love making artichokes as a simple side or appetizer. Making instant pot artichokes saves me so much time and still gives me those tender and flavorful steamed artichokes I love.