Preserve one of the summer's best fruits by making a batch of this instant pot apricot jam! This instant pot recipe makes 6 delicious half-pint jars, ready for the fridge or freezer.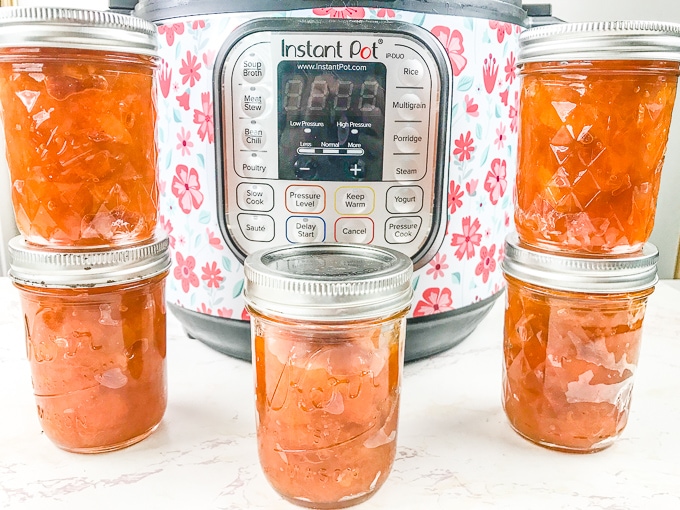 Apricot jam is my most favorite jam in the history of jams. I have always loved it, but it became my hands-down favorite after receiving a jar of homemade apricot jam from my husband's aunt as a wedding gift.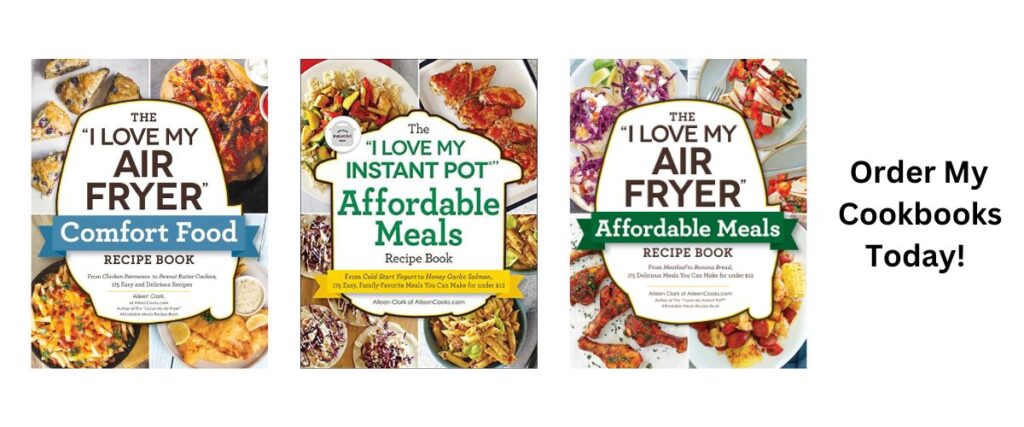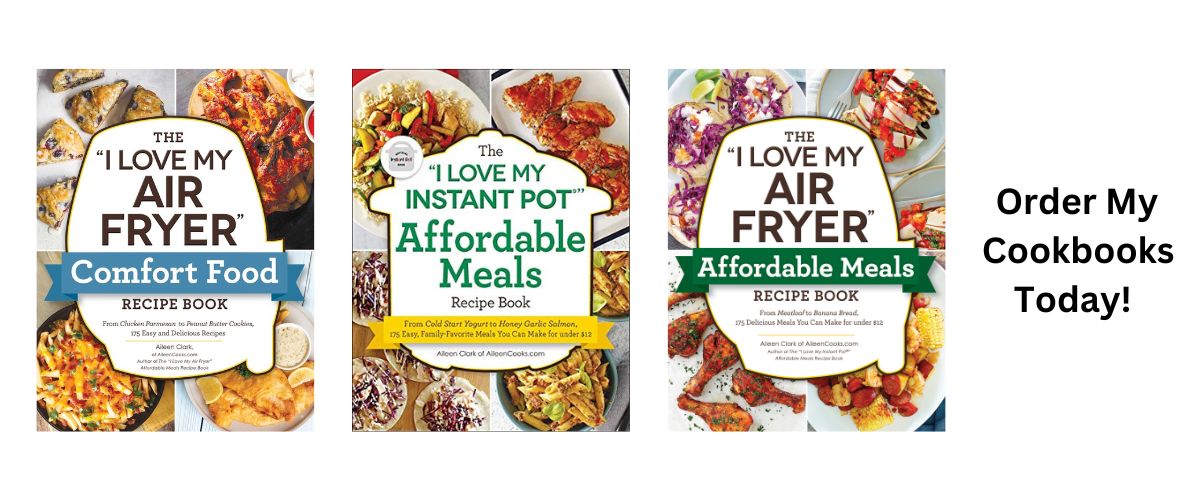 She also made us a beautiful apron and oven mitts that we still use 8 years later. It was one of my favorite gifts and made me determined to figure out how to make my own jam.
There was a time when I was making jam on my stove and canning it in a water bath canner. But then we moved to Fairfield and ended up with an electric stove.
This is our third summer here (with several fruit trees) and I have had so many jam-making fails on that darn stove that I have given up.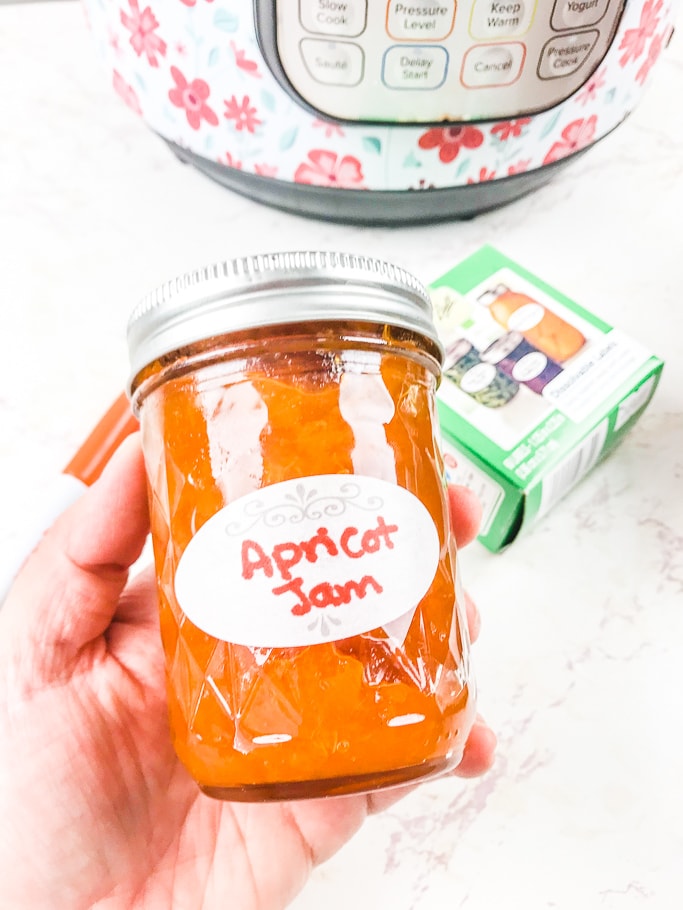 Lucky for me, I discovered that I can in-fact make jam in my instant pot. I don't have to stand over a hot stove sweating and I don't have to worry about jam boiling over on me.
There has still been some trial and error with jam making in the instant pot, but my jam is perfectly jelled and it tastes amazing! Make sure you check out my recipe for instant pot peach jam, too.
I have also experimented with other recipes using summer fruits, including plum crisp, instant pot peach cobbler, nectarine infused sun tea, classic peach cobbler, and Amish-style nectarine baked oatmeal.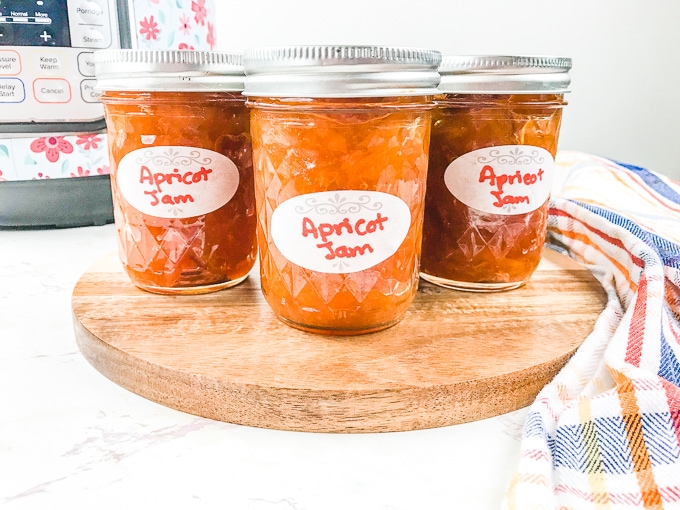 How do I know if my instant pot apricot jam is ready?
Use the spoon trick! Before you start prepping your instant pot apricot jam, place a couple of spoons in the freezer. Once you finish cooking the jam, pull one of the spoons out and scoop up some jam.
Turn it sideways and if the jam starts to thicken and jell (as opposed to staying completely liquidy and immediately falling off the spoon), then you know it's ready!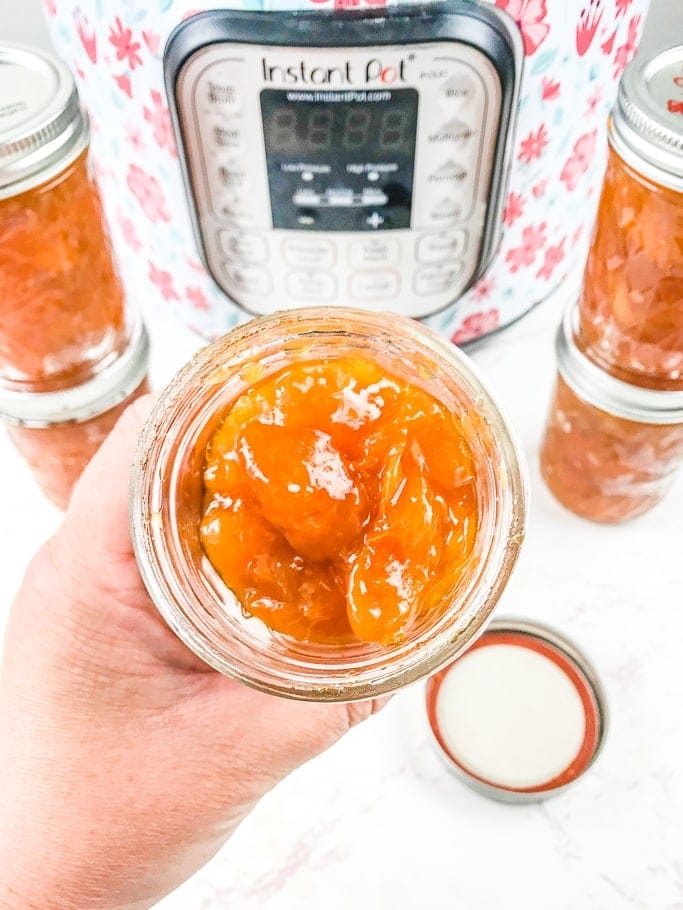 What if my instant pot jam isn't ready?
If for some reason your finish cooking your apricot jam in the instant pot and it's not ready, turn it on saute. Let it boil for 1 minute and then test it using the spoon trick again.
What if I get the burn notice?
As I mentioned in my video, I did actually get the burn notice while making this apricot jam. But it still turned out amazing! I do have a theory that it partially has something to do with the model of instant pot you have.
I made peach jam in my older instant pot last year and didn't have any problems. This has been the case for a few recipes, and I read discussions in several instant pot groups saying the same thing.
Here is what to do if you get the burn notice:
Turn your instant pot off and let the pressure naturally release. Do not Quick Release! You will end up with a huge mess!
Join our Instant Pot Facebook Group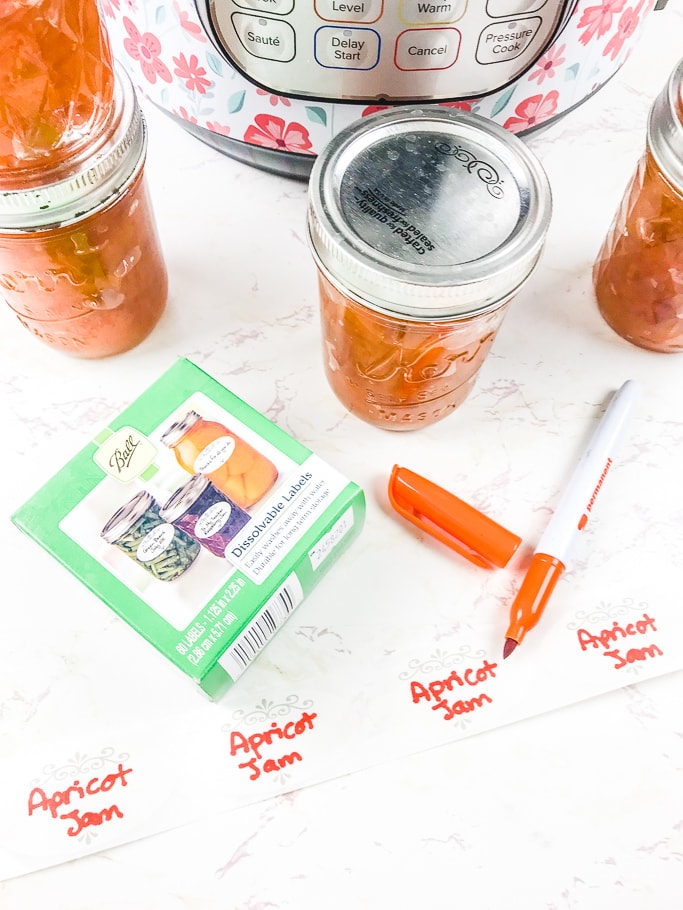 Once the pressure has released, remove your instant pot lid and do the spoon trick (discussed above). If your apricot jam gels, than you are good to go. If it doesn't, press the saute button. Bring it to a full rolling boil. Let it boil for 1 minute and then try the spoon trick again. Your jam should start to gel at this point. Let it cool and spoon it into jars.
The good thing is, that the burn notice is not going to make or break this recipe. If it happens, your jam has probably already cooked enough to be ready.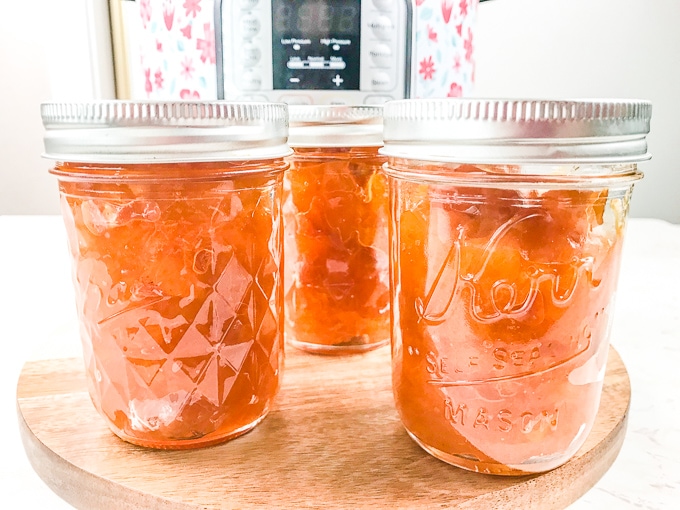 Can this instant pot apricot jam recipe be canned?
No. This is a freezer jam recipe. If you want to make jam in the instant pot and then can it, I recommend you find a reputable source for a safe recipe (like this cookbook from Ball). You can still follow the same cooking directions listed below.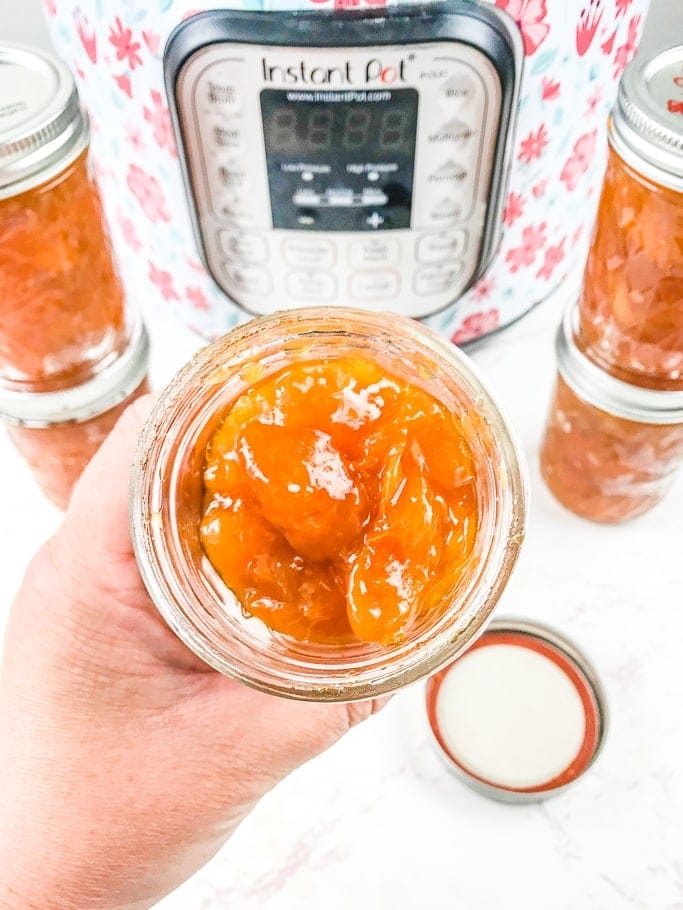 Instant Pot Apricot Jam
Preserve one of summer's best fruits by making a batch of this instant pot apricot jam! This instant pot recipe makes 6 delicious half pint jars, ready for the fridge or freezer.
Additional Time
20
minutes
Ingredients
6

cups

apricots

halved and pitted

4

cups

sugar

1

packet pectin

1

tablespoon

lemon juice
Instructions
Mash the apricots with a potato masher.

Measure out 6 cups smashed apricots and put them in the inner pot of your instant pot.

Pour the sugar over the apricots and let sit 2-3 minutes, until the juices have been released.

Mix in the pectin and lemon juice.

Close the lid on your instant pot and set the pressure release valve to sealing.

Press the manual or pressure cook button and set to 1 minute.

Natural Pressure Release.

Spoon into half pint canning jars, leaving 1 inch of space between the top of the jam and the lid.

Let cool and then refrigerate or freeze.
Recipe Notes
Check if your jam is ready by diping a frozen spoon into the jam. If the jam on the spoon gels, then it is done. If it stays thin and liquidy, then it needs to be cooked for additional time.
Set your Instant Pot to Saute, bring the jam to a boil and let it cook 1 minute. Test again with a frozen spoon.
Nutrition Facts
Instant Pot Apricot Jam
Amount Per Serving (1 tablespoon)
Calories 44
% Daily Value*
Sodium 1mg0%
Carbohydrates 11g4%
* Percent Daily Values are based on a 2000 calorie diet.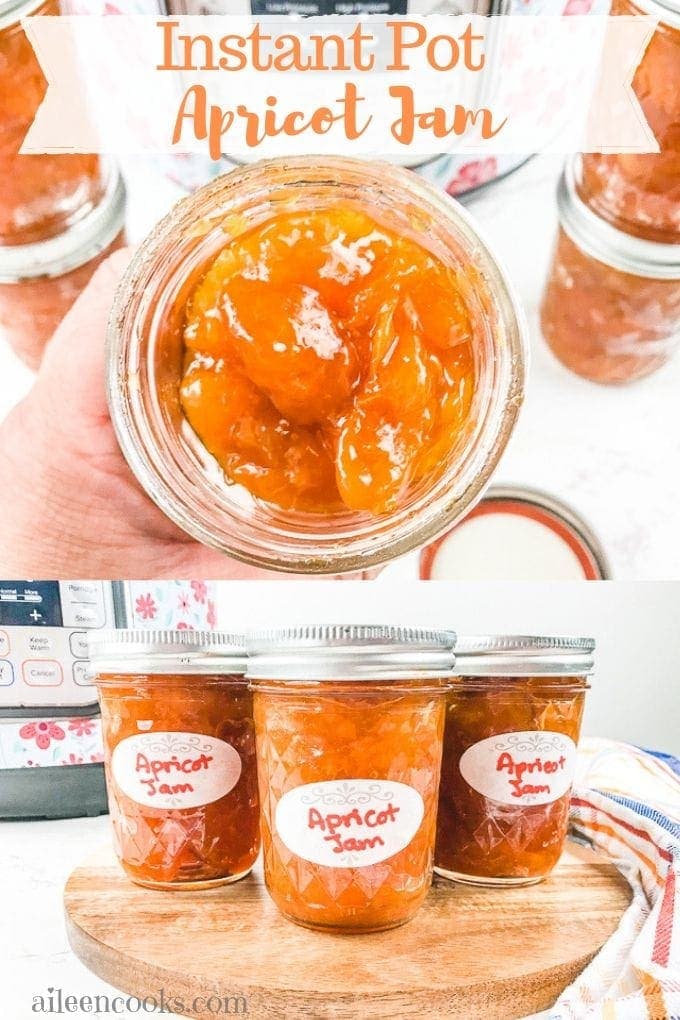 This recipe for instant pot apricot jam preserves the best flavors of summer so you can enjoy them year-round!