I had so much fun making these rice krispie treat reindeer with my kids. There is something about baking around the holidays that makes it feel like Christmas. Of course, while we were decorating our rice krispie treat reindeer, my son asked when we were making rice krispie treat snowmen. So I guess those are on the list, too.
Having them remember activities we did in past years makes me realize these little moments do matter. Making time to spend time with my kids while they are little makes a difference. It doesn't have to be a lavish trip to Disneyland (although, we do love our Disney), just spending time together in the kitchen is enough.
After we finished making our rice krispie treat reindeer, my son said we should save the extra for when we have friends over to play. Since we didn't have any play dates scheduled in the next few days, I decided we could wrap some up and bring them to our neighbors. Especially since we aren't doing Kindness Elves this year, it was nice to know my son was thinking of others and to find an opportunity to perform an act of kindness with my kids. (We also love these Kids' Christmas Crafts ideas, too!)
There are two different methods for making the rice krispie treats. The method I share in my recipe is the microwave version (swapping out cocoa krispies for rice krispies). If you would prefer to make them on the stove, you totally can. There is a great tutorial on YouTube from Joy Of Baking on making rice krispie treats on the stove top. Just make sure you are using a 9×13 pan for this particular recipe for rice krispie treat reindeer.
I also put together a video on the decorating portion of this recipe for rice krispie treat reindeer. You can watch it on YouTube or just hit play below. Don't forget to subscribe to my channel. 🙂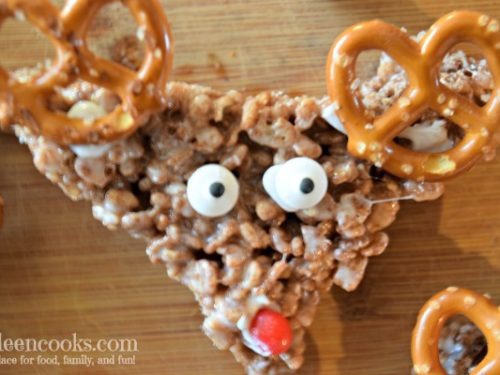 Yield:

12
Rice Krispie Treat Reindeer
Make a special sweet treat this holiday season with these rice krispie treat reindeer. 
Ingredients
3 tbsp butter
5 1/2 cup mini marshmallows
6 cups cocoa krispies
1 tube white icing, with decorating tip
24 mini pretzels
24 candy eyes
12 red hots
Instructions
Grease a 9x13 inch pan and set aside
Place 3 tablespoons butter in a microwave safe bowl and microwave on high for 45 seconds. Butter should be fully melted. Do not cool.
Add mini marshmallows to bowl and toss to coat with melted butter. 
Place bowl of butter and mini marshmallows back in microwave for 90 seconds, stopping to stir it once. 
Working quickly, add in the cocoa krispies and mix until they are fully coated with the melted butter and marshmallows. 
Spread the rice krispie treats into the greased 9x13 inch pan. Smooth out the top of the rice krispie treats with a rubber spatula. 
Let cool 10 minutes. 
Now it's time to make your rice krispie treat reindeer. Cut your rice krispie treats into 12 triangles. 
Remove each triangle from the pan.
Using your white icing with a decorating tip, place icing at the top two corners of the triangle and gently press once mini pretzel into each corner. These will be your rice krispie treat reindeer's antlers. 
Next, add glue on your eyes with the white icing. 
Lastly, use the white icing to attach the red hot "reindeer nose" to the bottom corner of the triangle. 
Try not to eat all of your rice krispie treat reindeer in one sitting!
Nutrition Information
Amount Per Serving
Calories

258
Nutrition information is an estimate.
Did you try this recipe for Rice Krispie Treat Reindeer? Please consider leaving a rating and comment.