You are going to love this comforting classic chicken pot pie recipe! With just a few shortcuts, we save you time without sacrificing flavor.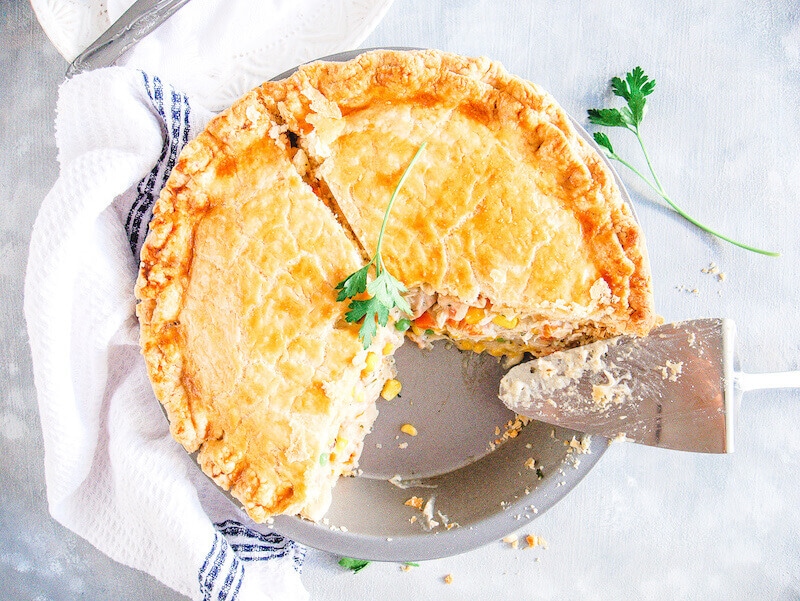 Easy chicken pot pie recipe
I love a good chicken pot pie. I grew up eating the mini frozen ones with my grandmother and learned how to make my own from scratch in my 20s. I love this classic comfort food because it's kid friendly, freezer friendly, and makes great leftovers!
Other pot pie recipes I have shared over the years are Mini Chicken Pot Pies (Freezer Friendly), Instant Pot Chicken Pot Pie, Slow Cooker Creamy Chicken Pot Pie Soup with Biscuits, and Instant Pot Chicken Pot Pie Soup.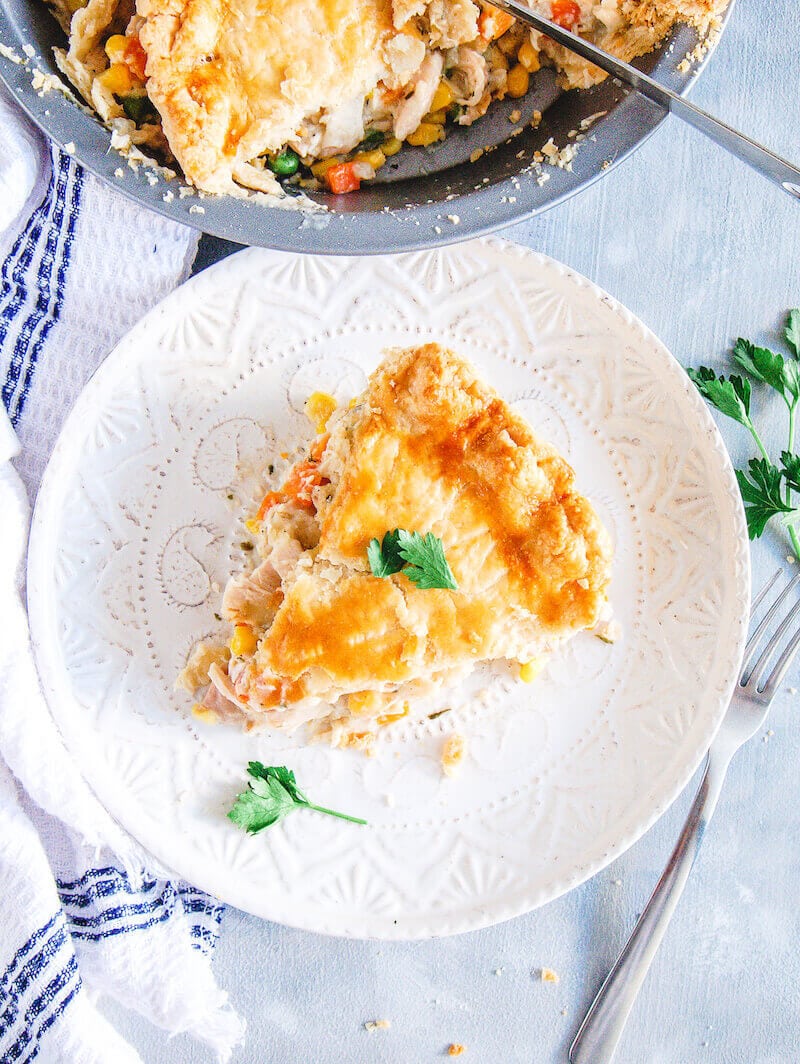 Shortcuts to making homemade chicken pot pie
We use a few shortcuts in this pot pie recipe. Although this recipe is still not a 30 minute meal, it cuts your prep time down from an hour to 30 minutes. And then it bakes in the oven for 30 minutes. Here are the shortcuts we used that save time, without sacrificing flavor!
These three items really do save a lot of time while still giving you that home cooked meal you are craving. It's a little bit like that old Food Network show, Semi-Homemade Cooking with Sandra Lee.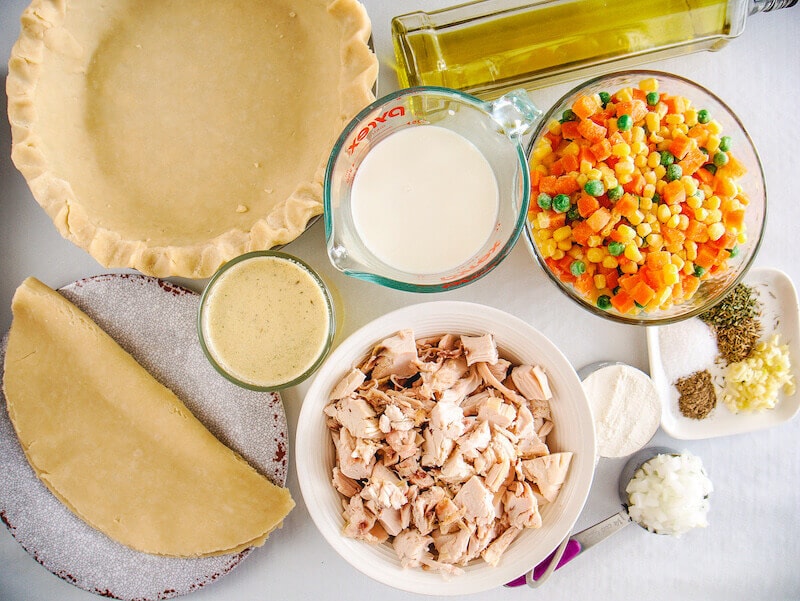 What to serve with chicken pot pie?
Chicken pot pie is one of those casserole-type recipes that has all of the food groups baked into one dish. If you want to stretch it further, you can serve it with a green salad, side of green beans, and a dinner roll.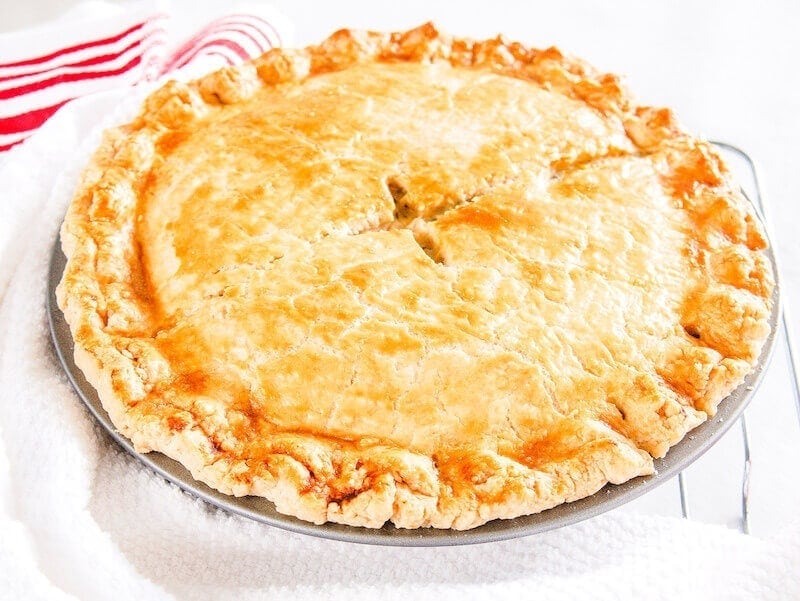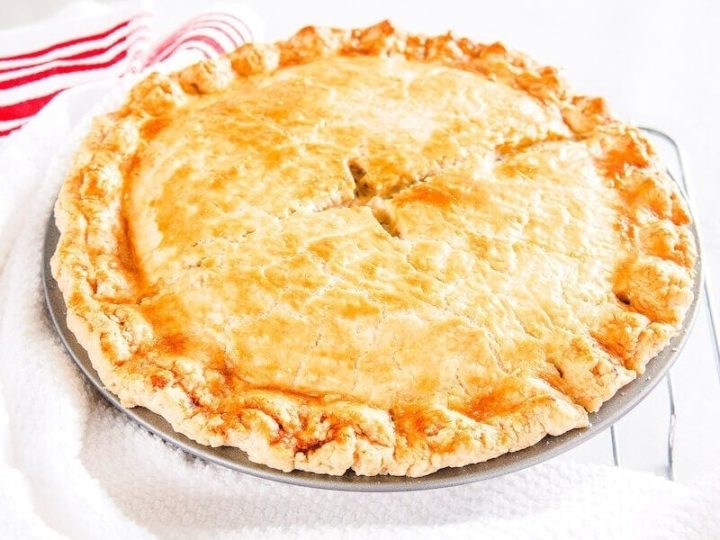 Yield: Serves 8
Classic Chicken Pot Pie Recipe
Prep Time: 30 minutes

Cook Time: 30 minutes

Additional Time: 10 minutes

Total Time: 1 hour 10 minutes

You are going to love this comforting classic chicken pot pie recipe! With just a few shortcuts, we save you time without sacraficing flavor.
Ingredients
2 tablespoons olive oil
1/4 cup chopped yellow onion
2 garlic cloves, minced
1 teaspoon salt
1 teaspoon dried parsley
1/2 teaspoon black pepper
1/2 teaspoon dried thyme
1/3 cup all-purpose flour
1 cup chicken broth
1 cup whole milk
2 1/2 cups diced cooked chicken (leftover rotisserie chicken works well)
1 (12-ounce) bag frozen vegetable mix
2 sheets pre-made pie crust
1 large egg, lightly beaten
Instructions
Preheat the oven to 420°F.
Heat oil in a large skillet over medium heat.
Add the chopped onion and saute until soft, about 4 minutes.
Add in the garlic, salt, parsley, pepper, and thyme. Saute for 2 more minutes.
Next add the flour and cook, stirring constantly, for 2 minutes.
Whisk in the broth until fully combined with the flour and no lumps of flour are present.
Pour in the milk and stir until well mixed.
Mix in the frozen vegetables and stir to break up in frozen clumps.
Mix in the chicken and bring to a simmer.
Reduce heat to medium low heat and simmer until the sauce has thickened, about 8 minutes.
Remove the pot pie filling from the stove and let it cool slightly.
Lay out one of the pie crust sheets and place the pie dish upside down over the dough.
Trace a circle around with a sharp knife to make the crust the circumfrence of the pie. Set the pie crust aside.
Spray your pie dish with non-stick cooking spray.
Lay the remaining sheet of pie crust inside the prepared pie dish. Gently press the crust into the dish and trim the edges around the outside of the dish.
Pour the filling into the prepared crust.
Carefully lay the circular pie crust over the filling.
Working around the edges, pinch the two layers of pie crust together to seal and create a decorative edge.
Use a pastry bruth to brush the beaten egg over the top of the pie crust.
Use a sharp knife to cut an X in the center of the pie to release steam while baking.
Place the pot pie on a cookie sheet and bake in the center of oven for 30 minutes or until the pie is golden brown.
Remove from oven and allow the pot pie to cool on a cooling rack for 10 minutes.
Cut into 8 pieces. Serve and enjoy!
Recommended Products
As an Amazon Associate and member of other affiliate programs, I earn from qualifying purchases.
Nutrition Information
Yield
8
Serving Size
1
Amount Per Serving Calories 279Total Fat 16gSaturated Fat 5gTrans Fat 0gUnsaturated Fat 10gCholesterol 67mgSodium 528mgCarbohydrates 19gFiber 2gSugar 3gProtein 14g

Nutrition information is an estimate.

Save this recipe for later on Pinterest.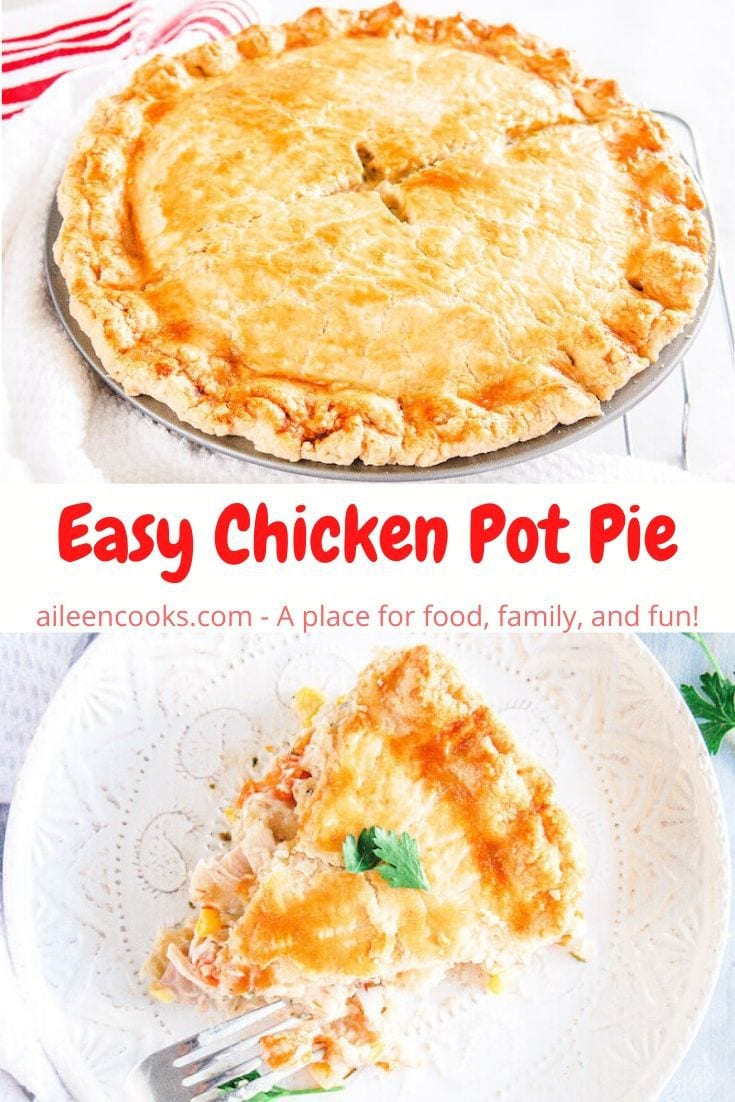 Did you try this recipe for classic chicken pot pie? Let us know what you thought with a rating and comment. You can also tag us in your recipe creations on social media using @aileencooks and #aileencooks.