Easy Crockpot Goulash (Classic Comfort Food!)
As an Amazon Associate I earn from qualifying purchases.
This comfort food classic, crockpot goulash is a mix of hamburger and macaroni cooked with tomatoes, spices, and cheese – making it the perfect satisfying weeknight dish with minimal work!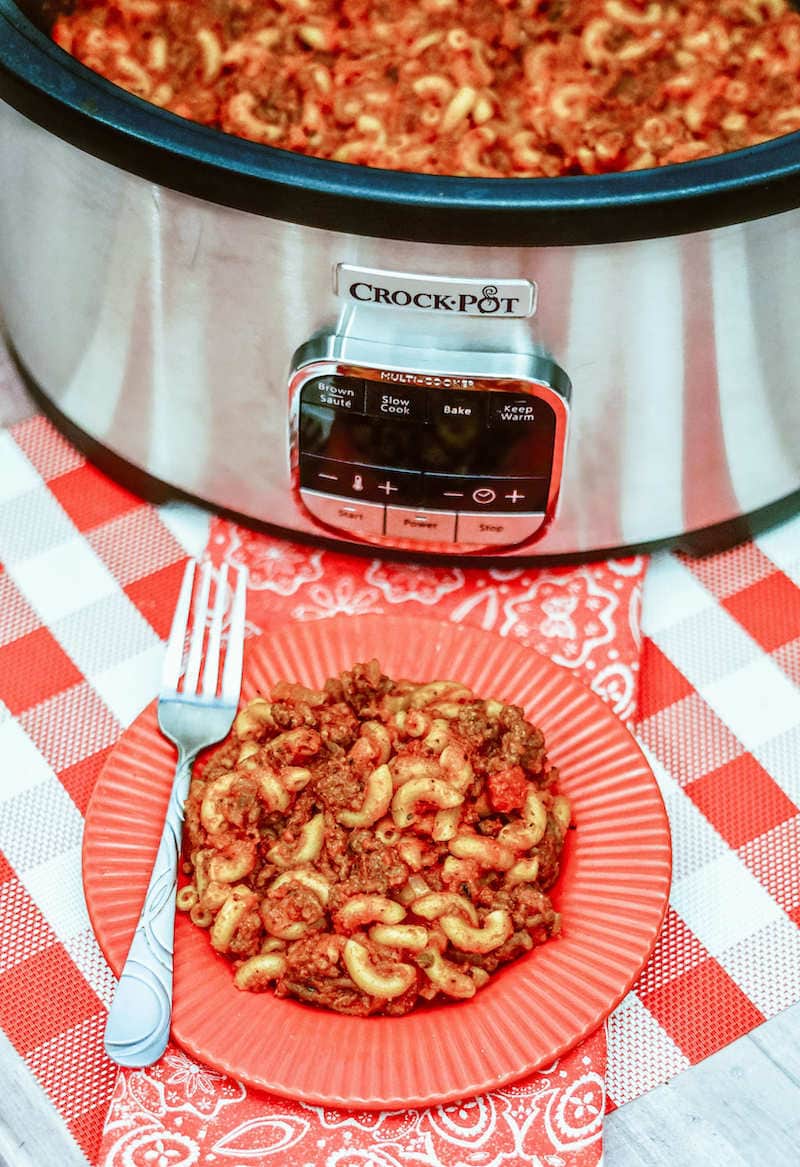 I love, love, love slow cooker days. I am a total morning person, so prepping dinner in the morning is my ideal situation. I can throw it together while I'm making coffee – or right after I drop the kids off at school – and not have to worry about cooking dinner while managing sports schedules, homework, and dealing with the dreaded witching hour (that my youngest still very much celebrates every evening).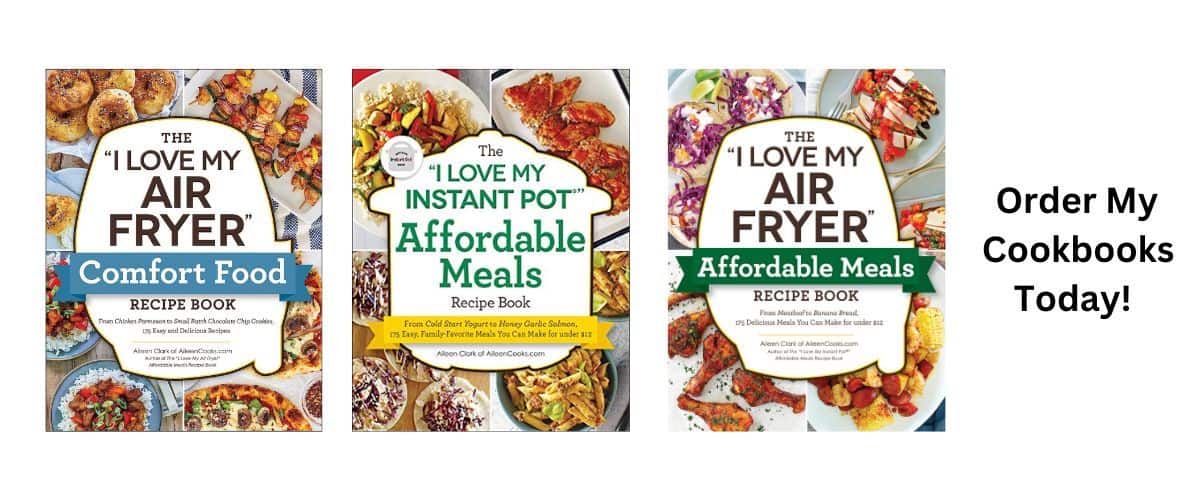 In the case of this recipe – since it only takes 4 hours to slow cook – I can start it while making lunch and have it ready for dinner. If you want to start it in the morning, you can. See the directions under the "crockpot FAQ" section for extending the cooking time.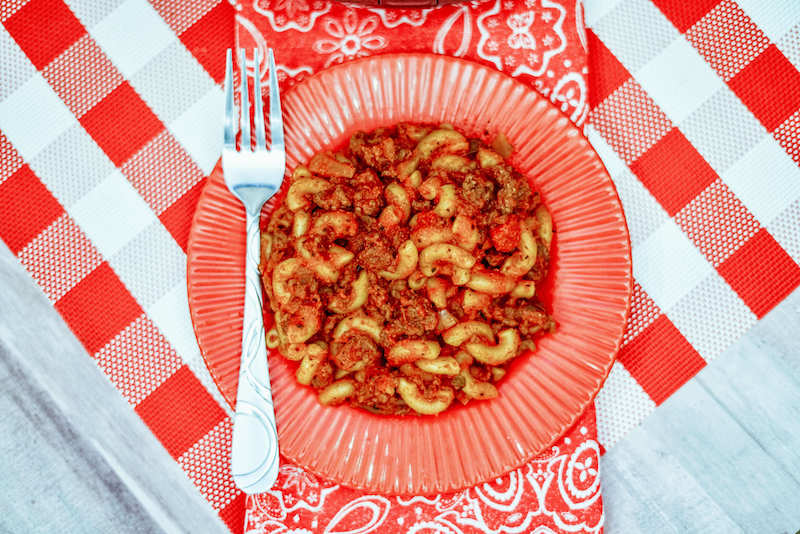 I like making goulash because:
It's inexpensive to make – pasta and ground beef don't cost a lot and this recipe makes enough for leftovers.
It's filling!
It tastes great AND it's kid friendly.
Some of my other favorite dinners to make in the crockpot are Crockpot Cajun Sausage and Potatoes, Crockpot Broccoli Cheese Soup, Slow Cooker Creamy Chicken Pot Pie Soup with Biscuits, and Crockpot Buffalo Chicken.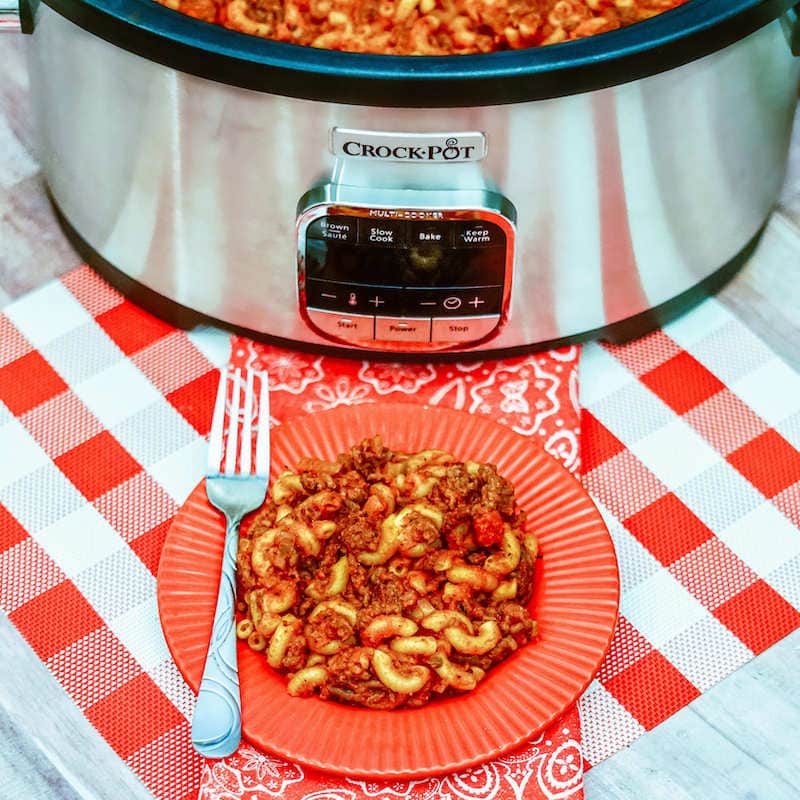 Crockpot Goulash FAQs
What makes goulash goulash?
Goulash takes on many different forms, depending on the country. Essentially goulash originated as a dish of seasoned beef. The recipe we're sharing today is an American Goulash, consisting of ground beef, tomato sauce, and macaroni noodles. If you want to know more about the origins of Goulash (I love that stuff but don't want to bore you), Wikipedia has a lot of great info.
Can I make this a freezer meal?
Yes. If you want to prep this recipe as a freezer meal, combine all ingredients except the noodles and cheese in a freezer bag. Label and freeze up to 3 months. Write a note on the bag with instructions and to add the noodles and shredded cheese at the end. You can also freeze the shredded cheese in a separate bag (since it's added in after an hour, you don't want it in the same bag).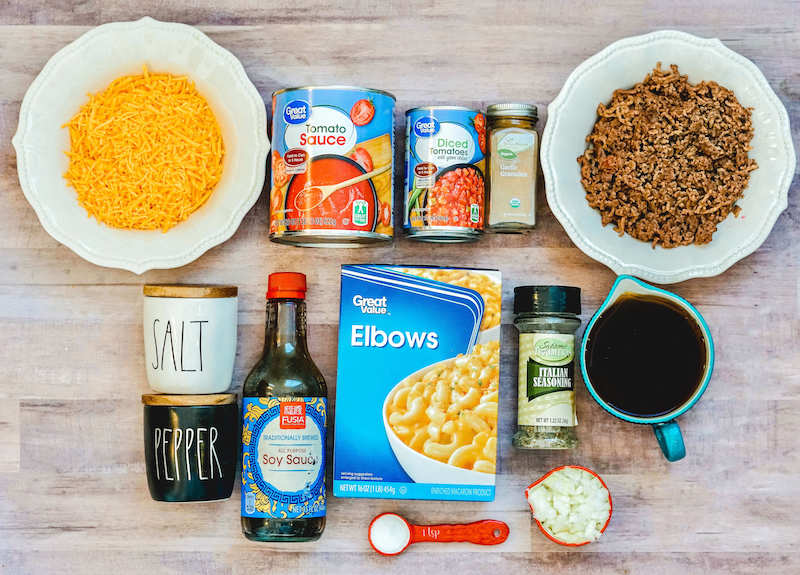 Can I freeze cooked crockpot goulash?
If you have leftovers of this meal, you can absolutely freeze them. The most important step is to make sure the goulash is fully cooled before putting it in the container. Let it cool down at room temperature and then transfer it to your freezer container or bag.
You can freeze cooked goulash in individual containers, or if you have enough, freeze it all together for another meal. It can be frozen up to 3 months. When ready to eat, defrost overnight in the refrigerator and reheat in the microwave, instant pot, or stove top.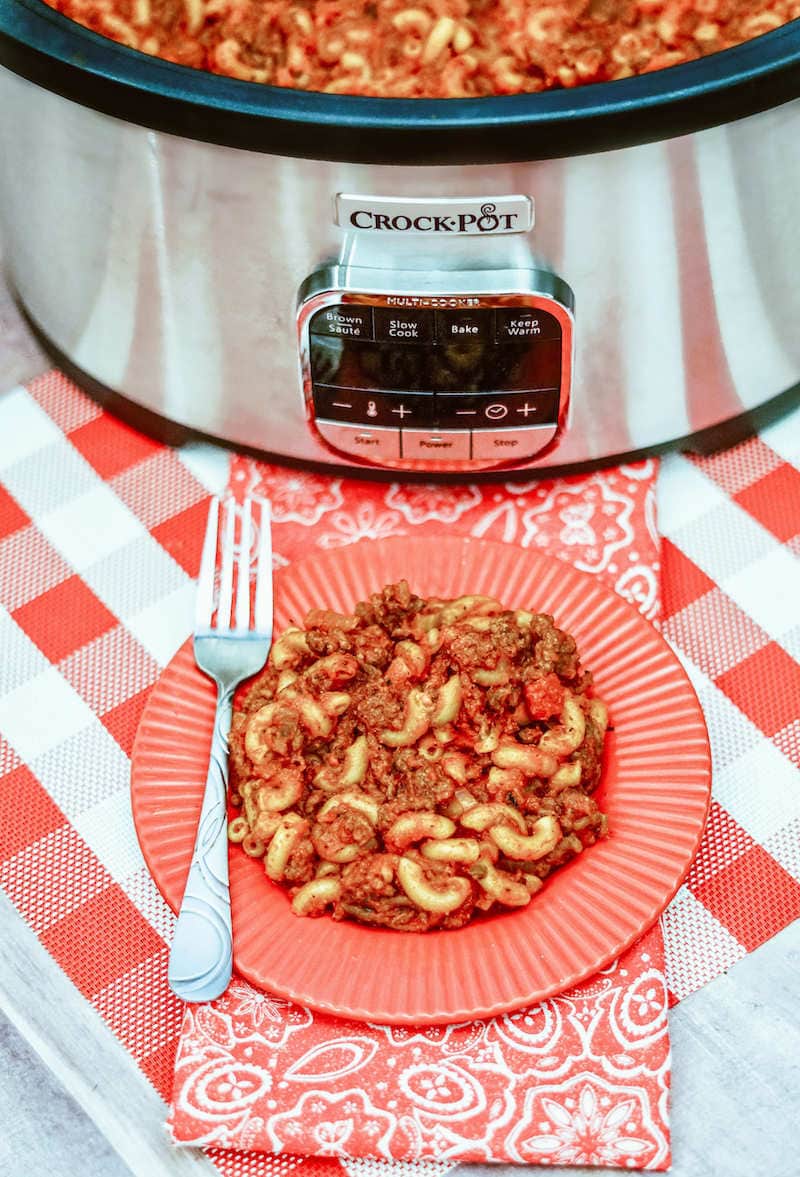 Can I start this recipe in the morning and let it cook all day?
Yes, with a little bit of changes. This recipe calls for the initial ingredients to cook on high for 1 hour before adding in the pasta and cheese. If you want to make this before work, start it right when you wake up (assuming you have an hour) and do the initial slow cooking on high for 1 hour.
Then, mix in the pasta and cheese and cook on low for 6 hours instead of high for 3 hours. Assuming you have a digital slow cooker with a "keep warm" setting, it will switch to keep warm until you get home.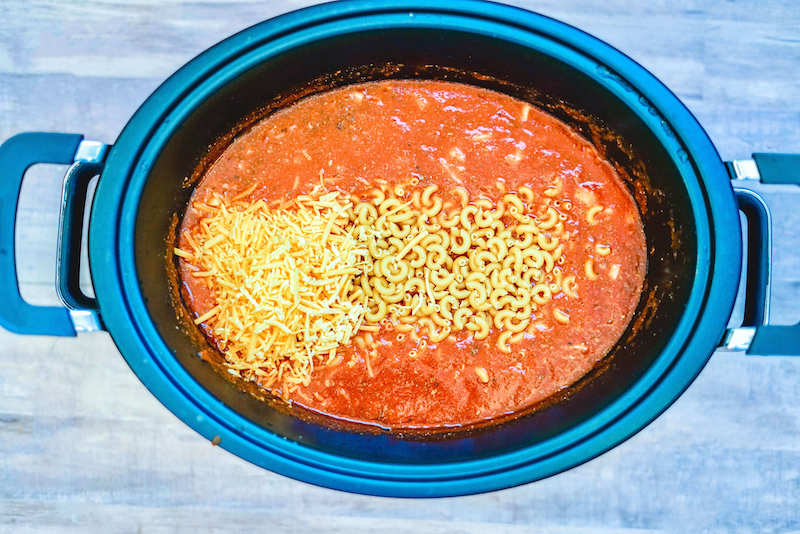 What food goes well with goulash?
I love serving goulash with a hunk of homemade bread or a green salad.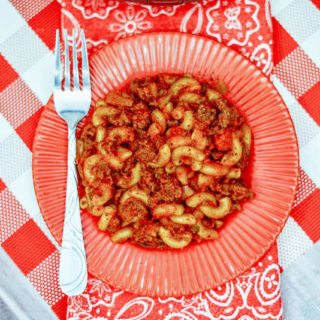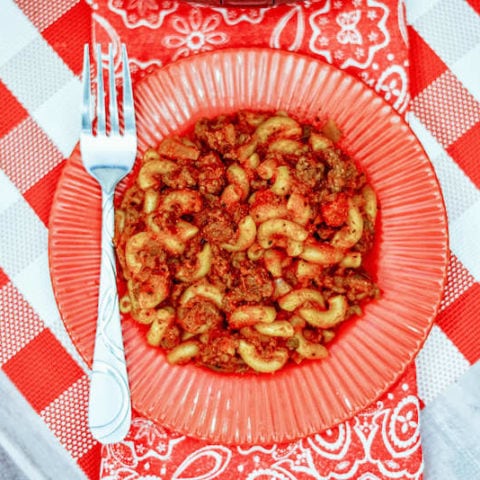 Crockpot Goulash Recipe
This comfort food classic, crockpot goulash is a mix of hamburger and macaroni cooked with tomatoes, spices, and cheese - making it the perfect satisfying weeknight dish with minimal work!
Ingredients
1

pound

ground beef

browned

1

large yellow onion

chopped

1

29-ounce can tomato sauce

1

14-ounce can diced tomatoes

1

cup

beef broth

1

tablespoon

minced garlic

1

tablespoon

soy sauce

1

tablespoon

Italian seasoning

2

teaspoons

salt

1

teaspoon

black pepper

1

teaspoon

sugar

1

cup

elbow macaroni

uncooked

1

cup

shredded cheddar cheese
Instructions
Combine ground beef, onion, tomato sauce, diced tomatoes, beef broth, garlic, soy sauce, Italian seasoning, salt, black pepper, and sugar inside crock pot.

Mix well and cook oh high for 1 hour.

After one hour, add the uncooked pasta and shredded chese. Stir.

Cook on high for an additional 3 hours.

Serve & enjoy!
Nutrition
Serving:
1
1/2 cups
Calories:
345
kcal
Carbohydrates:
13
g
Protein:
28
g
Fat:
20
g
Saturated Fat:
9
g
Polyunsaturated Fat:
8
g
Trans Fat:
1
g
Cholesterol:
86
mg
Sodium:
1326
mg
Fiber:
2
g
Sugar:
3
g
Save this recipe for later on Pinterest.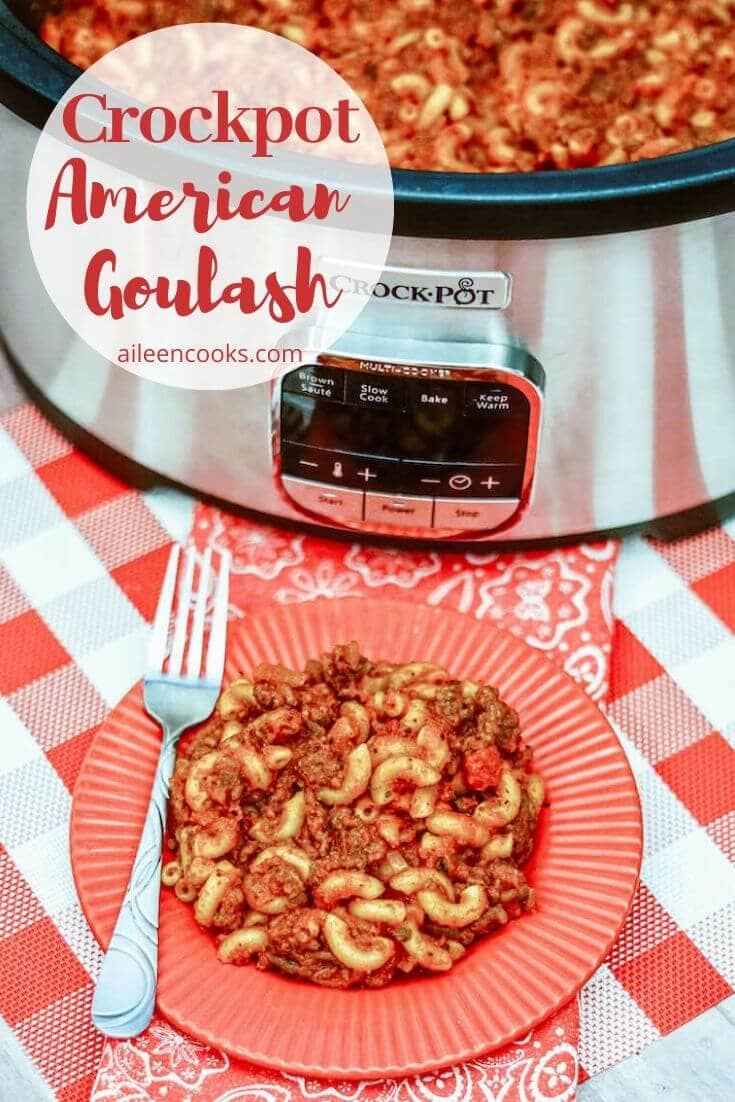 Did you try this recipe for crockpot goulash? Let us know what you thought with a rating and comment (the star ratings, above). You can also tag us in your recipe creations on social media using @aileencooks and #aileencooks.