Instant pot salsa chicken tacos make a healthy and filling meal that will please the entire family. I love that you can spend just 5 minutes of prep work on this meal and come back to perfectly cooked salsa chicken.
Throw together your favorite taco toppings and you are all set to enjoy these instant pot salsa chicken tacos for taco night! (This post contains affiliate links.)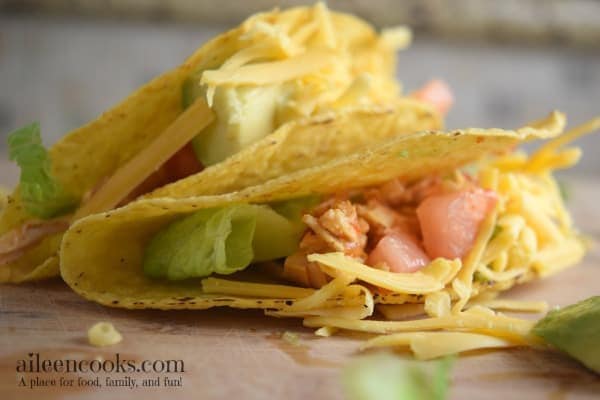 New to the instant pot? Check out our instant pot guide here.
How to make Instant Pot chicken tacos
Start by whisking together a mixture of salsa, chicken broth, and taco seasoning. Pour it over frozen chicken breasts in the instant pot electric pressure cooker.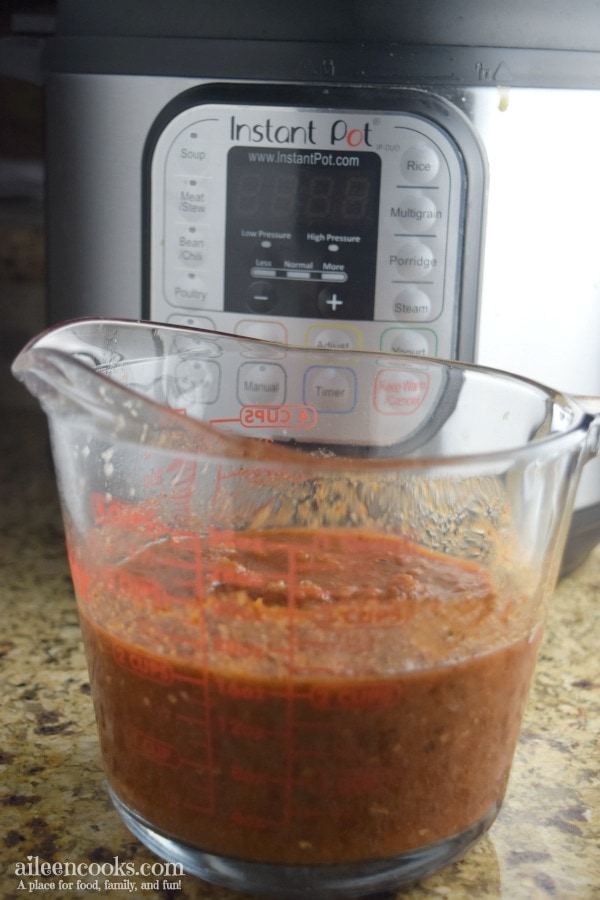 Cook the chicken breasts on "poultry" for 25 minutes.
Allow the pressure to release naturally for 10 minutes.
Remove the salsa chicken from the instant pot and shred.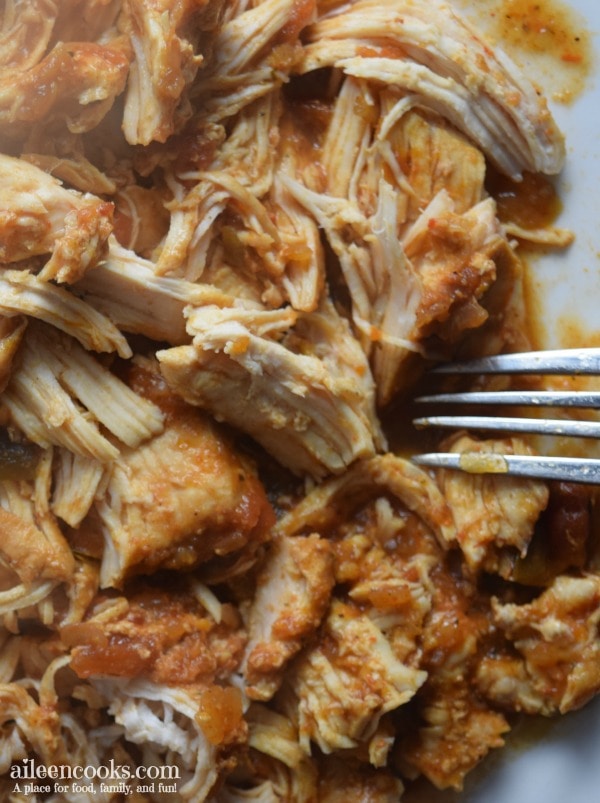 Serve in warmed crispy taco shells and top with shredded lettuce, cheese, tomato, and avocado.
Instant Pot Salsa Chicken Tacos are a family favorite
I love making this instant pot chicken breast recipe for several reasons. One of the reasons is because it uses my favorite seasoning mix, ever.
McCormick's taco seasoning It's such a simple blend, but I love it so much! I actually buy it in bulk from Costco and keep it on my counter next to the salt and pepper.
There are many recipes out there for homemade taco seasoning (and that will totally work for instant pot salsa chicken tacos, too), but I just love the consistent flavor and ease of using this taco seasoning blend.
The other reason why this recipe continues to be a family favorite is that the leftovers can be re-purposed in so many different ways. This recipe is great for busy weeknights because you don't have to plan ahead with defrosted chicken.
If you're like me and consistently forget to defrost the chicken, then you might like this huge list of instant pot frozen chicken recipes.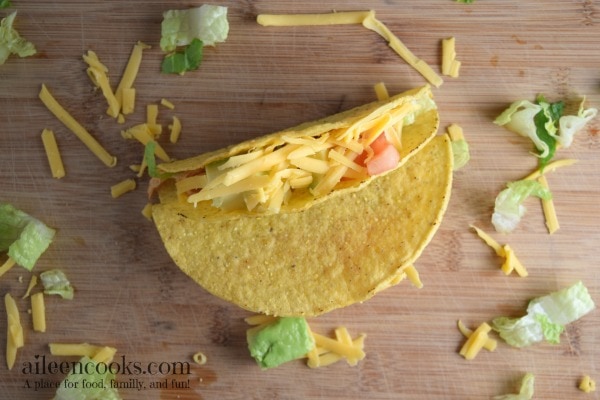 Uses for leftover instant pot salsa chicken tacos
Chicken quesadillas: Mix leftover chicken with a Mexican blend of grated cheese. Heat up on the stove in a tortilla. Easy peazy lunch.
Chicken tostadas: Heat oven to 450 degrees. Place large tortillas on a cookie sheet. Top with refried beans, leftover chicken, and cheese. Bake for 8 minutes, until hot and bubbly. Top with sour cream and scallions.
Mexican scramble: combine whisked eggs and leftover chicken in a skillet over medium heat. Cook until eggs are cooked, but still soft. Sprinkle with cheese and stir to melt.
Chicken freezer burritos: Combine leftover chicken, refried beans, and cheese in the center of a large tortilla. Roll into a burrito and wrap in foil. Freeze. Reheat in the microwave for 2 minutes. (additional freezer instructions can be found in this post)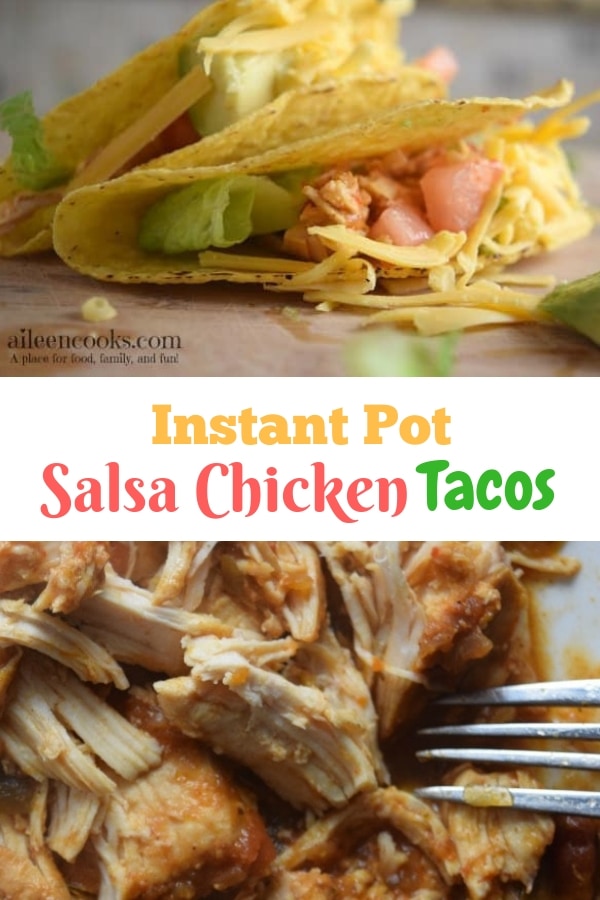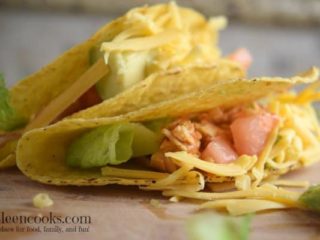 Yield:

4
Instant Pot Salsa Chicken Tacos
Healthy and flavorful instant pot salsa chicken tacos made in your electric pressure cooker.
Ingredients
2 chicken breasts, frozen, boneless, skinless
16 ounce jar chunky salsa
1/2 cup chicken broth
1/4 cup taco seasoning, 1 packet
For serving: 8 crispy taco shells, shredded lettuce, shredded cheese, chopped tomato and avocado.
Instructions
Place frozen chicken breasts in the bowl of the instant pot.
Whisk the chunky salsa, chicken broth, and taco seasoning together.
Pour the salsa mixture over the chicken breasts.
Set Instant pot electric pressure cooker to poultry - 25 minutes.
Natural pressure release for 10 minutes.
Remove chicken and shred.
Serve instant pot salsa chicken tacos in taco shells; topped with cheese, lettuce, tomato, and avocado.
Nutrition Information
Amount Per Serving
Calories

210


Other delicious recipes:
Did you try this recipe for Instant Pot Salsa Chicken Tacos? Please consider leaving a rating and comment.