Pressure Cooker vegetable beef soup is a hearty and flavorful instant pot soup recipe. It's filled with chunky beef stew meat, garbanzo beans, and healthy vegetables.
This instant pot vegetable beef soup makes for tender chunks of meat and perfectly cooked vegetables.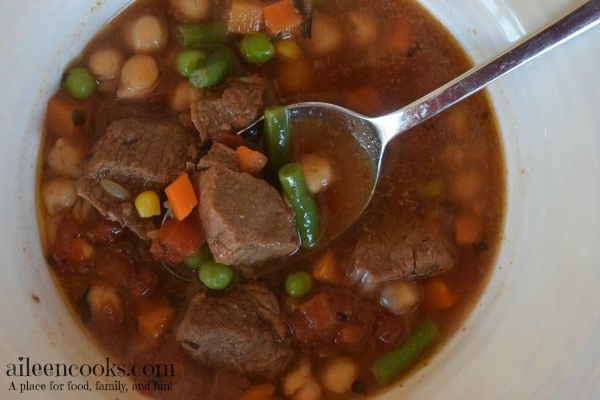 New to the instant pot? Check out our instant pot guide here.
I finally made the leap during Black Friday and bought an instant pot electric pressure cooker. Since then, I have been experimenting with all different kinds of instant pot recipes, including meats, pasta, and instant pot soup recipes. Update: My second favorite appliance is my air fryer! Try our recipes for air fryer bacon and air fryer chicken wings.
I've tried my hand at making cheesecake and banana bread! When I landed on this pressure cooker vegetable beef soup recipe, I knew I needed to share it with you.
Tips for making pressure cooker vegetable beef soup
This recipe calls for a bag of frozen vegetables. You can also use fresh vegetables if that's what you have on hand.
I like to stock up on beef when the prices are low and store the extras in my freezer (If you've been reading my blog for long, you know I love stocking my freezer). You can purchase a whole roast for this pressure cooker vegetable beef soup recipe and cut it into chunks or purchase the pre-cut stew beef. I like to buy whichever is more affordable at the time.
For best quality, thaw your roasts in the refrigerator. If you are running short on time, try one of these other safe methods for defrosting meat.

For a creamier soup, mix in leftover mashed potatoes (like I do in this recipe for hamburger soup) along with the beef broth and vegetables. It ads another delicious layer of flavor while using up something you may otherwise waste.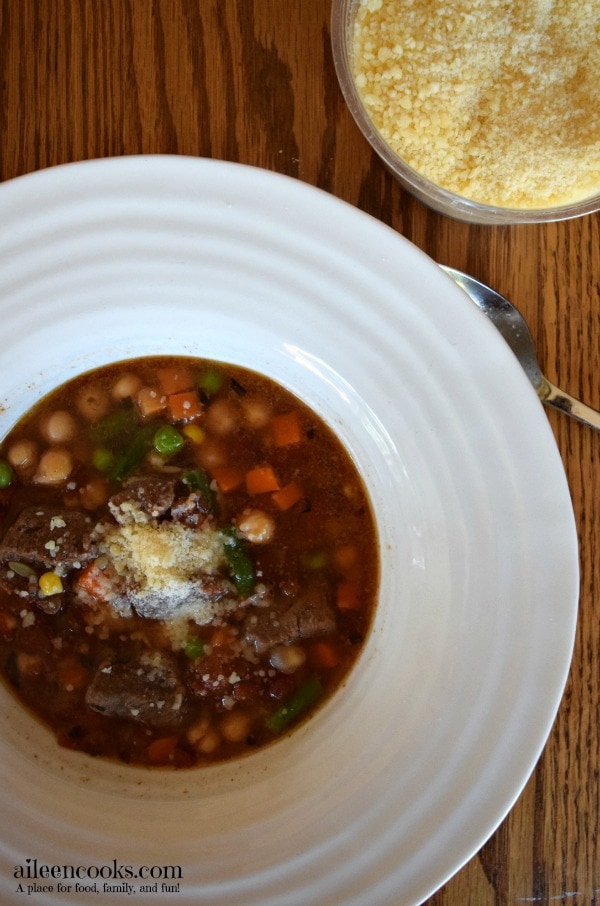 Why I love making pressure cooker vegetable beef soup
One of the things I love about making this vegetable beef soup in my instant pot electric pressure cooker is I can brown the meat in the same pot. Not only does this save me from cleaning up more than one pan, but it saves me time, too.
I just brown my beef chunks, add in my other ingredients, push a button, and walk away! As a busy mom of three kids, I need all of the time I can get away from my kitchen doing other things – like spending time with my family or working on my blog.
I also love that my instant pot electric pressure cooker does most of the work for me. Once all of the ingredients are put together, I don't have to come back to stir my vegetable beef soup.
I don't need to taste test it to make sure it's done. Cooking under pressure means my soup is going to be ready lightning fast.
If you do find yourself with extra time and don't mind being in the kitchen, then you may want to try your hand at making 30-minute dinner rolls or fast and easy biscuits to pair with your soup.
If you can plan ahead then you could even serve it in bread bowls.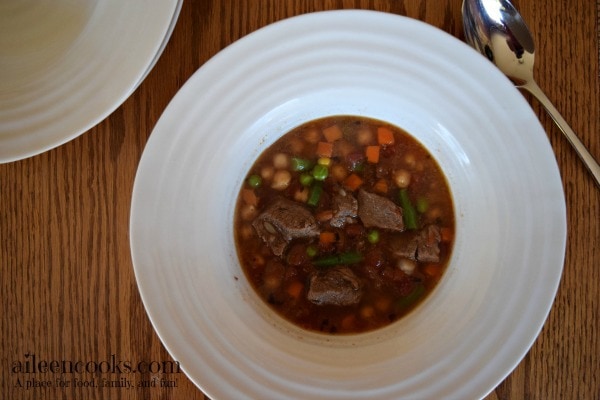 One last note on making soup in your pressure cooker
Soup making, in general, is extremely versatile.
If you don't have the main ingredients on hand to make this pressure cooker vegetable beef soup, then make up your own recipe.
I know that might sound daunting, but soup is a forgiving art.
You can even use water in place of broth in a pinch (or quickly make your own broth before making soup).
I even put together a tutorial for making soup from scratch because I love soup that much.
This tutorial was originally written for preparing soup on the stove, but the premise remains the same for cooking soup in your pressure cooker.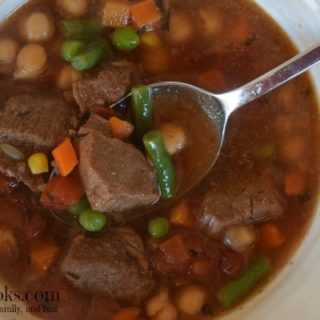 Pressure Cooker Vegetable Beef Soup
Total Time:
1 hour
5 minutes
Make this delicious vegetable beef soup in your pressure cooker in under an hour.
Ingredients
1 tablespoon olive oil
2 pounds stew beef
32 ounce container beef broth
1 cup water
14.5 ounce can diced tomatoes
15.5 ounce can garbanzo beans, drained and rinsed
1/2 teaspoon salt
1/2 teaspoon garlic powder
1/2 teaspoon basil
1/4 teaspoon parsley
1/4 teaspoon oregano
1/4 teaspoon black pepper
12 ounce bag frozen mixed vegetables
1 cup orzo pasta
1/2 cup grated Parmesan cheese
Instructions
Set your electric pressure cooker (I used an Instant Pot) to saute. Heat olive oil and add stew beef.
Brown beef on each side.
Mix in beef broth, water, tomatoes, garbanzo beans, and seasonings.
Cover and lock lid.
Set pressure cooker to manual or soup function for 30 minutes.
Natural Pressure Release.
Set electric pressure cooker back to saute and bring soup to a boil.
Mix in frozen mixed vegetables and orzo pasta.
Let boil 5 minutes and serve with Parmesan cheese.
Nutrition Information
Amount Per Serving
Calories

393
Other great pressure cooker recipes:
Did you try this recipe for Pressure Cooker Vegetable Beef Soup? Please consider leaving a comment and rating.