Ivy Kids Kits are a monthly educational subscription box with a picture book and ten or more activities to go along with the book. It's created for children ages 3 to 8 years old. Thank you to Ivy Kids Kits for sending us a sample box to facilitate this review.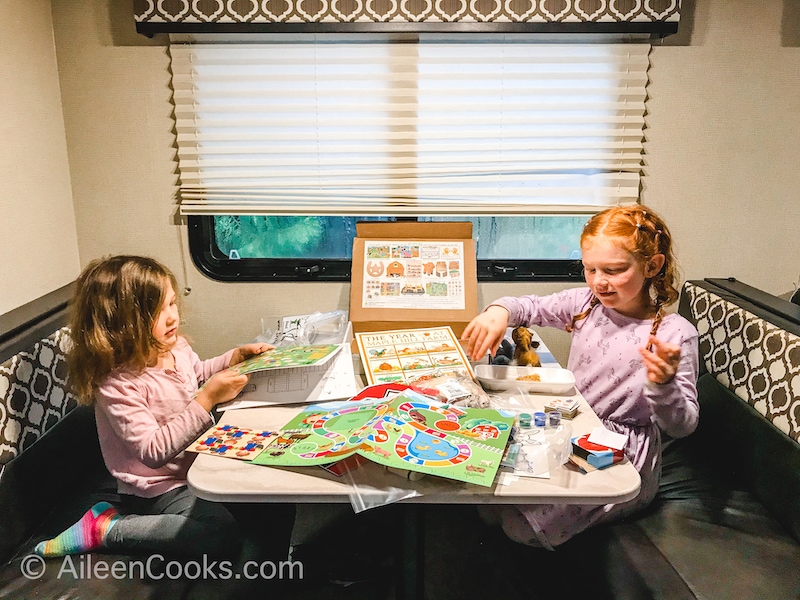 Welcome back to another week of Subscription Box Sunday! Every week, we review a different subscription box for you to help you decide which box will be best for your family! Make sure to follow us on Instagram and subscribe to our newsletter so you never miss a week of Subscription Box Sunday.
PAST SUBSCRIPTION BOX SUNDAY POSTS:

About Ivy Kids Kits
Ivy Kids Kits are a monthly educational subscription box for preschool and early elementary aged kids. It is a subscription box that includes one picture book and 10+ activities based on the included picture book.
The games and projects included are designed to promote fine and gross motor skills, teach math and literacy kills, encourage reading comprehension, and promote scientific thinking. The kits are geared for kids ages 3-8.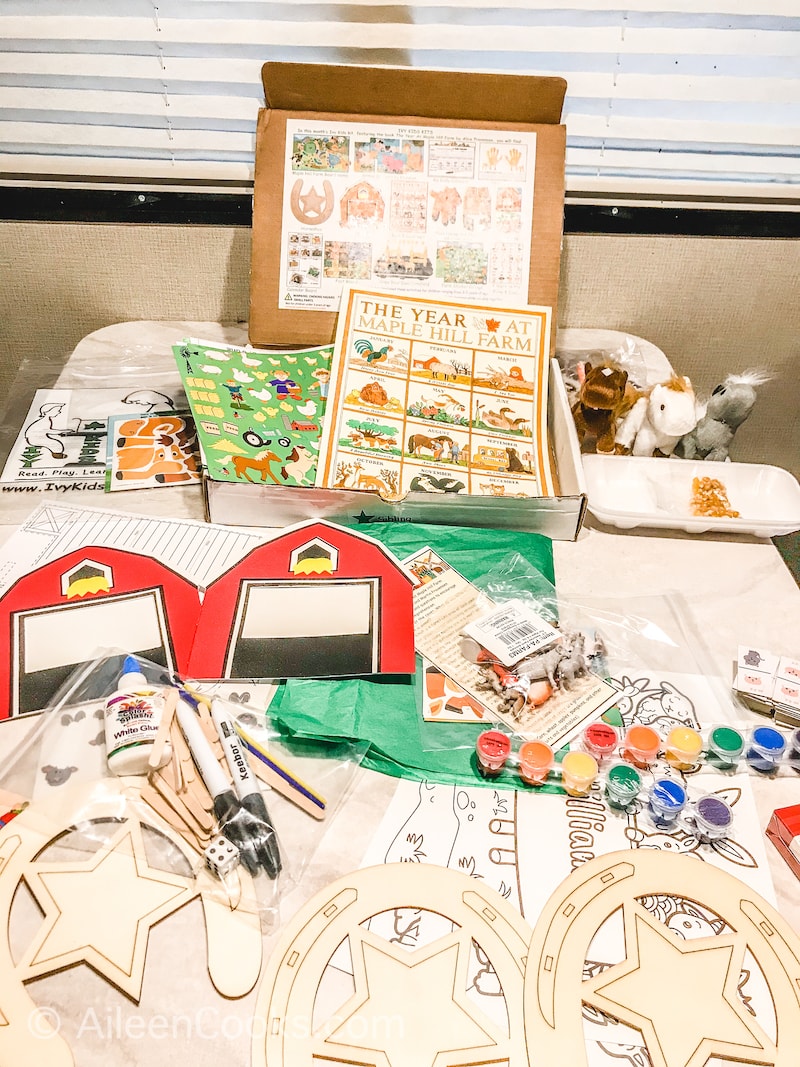 Ivy Kids Kits Review
My initial reaction to the Ivy Box Subscription was holy-moly, there are a lot of activities in here!
We brought the box with us on our camping trip in Winter and it was perfect timing. Although the forecast called for cloudy whether, we ended up with hale and snow. We did not pack the appropriate clothing for snow, so we spent a good amount of the first day inside our trailer.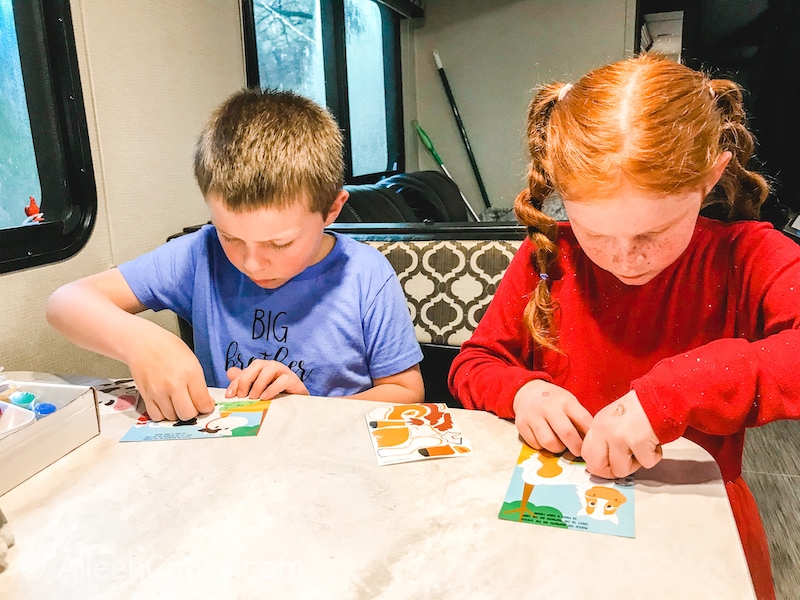 The kids who explored the box with me are 4 (pre-k), 6 (1st grade), and 8 (3rd grade).
We dug into the Ivy Kids Kit pretty early in the day and went back to it on and off all day to complete the activities. We didn't get to all of them that day because there were so many to choose from!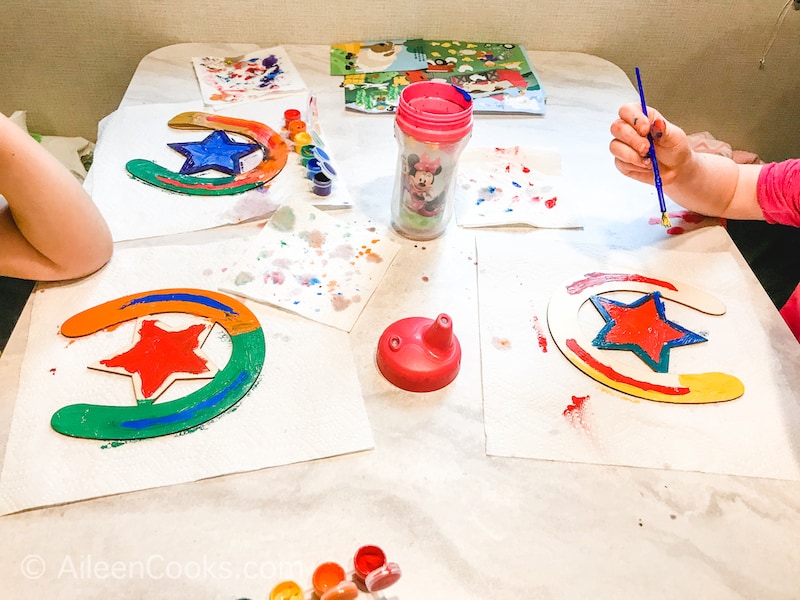 Monthly Themes
The box was farm themed. It included a project to retell the story after reading it – which promotes reading comprehension in a non-pressured way. It's perfect for preschool, kindergarten, and early elementary.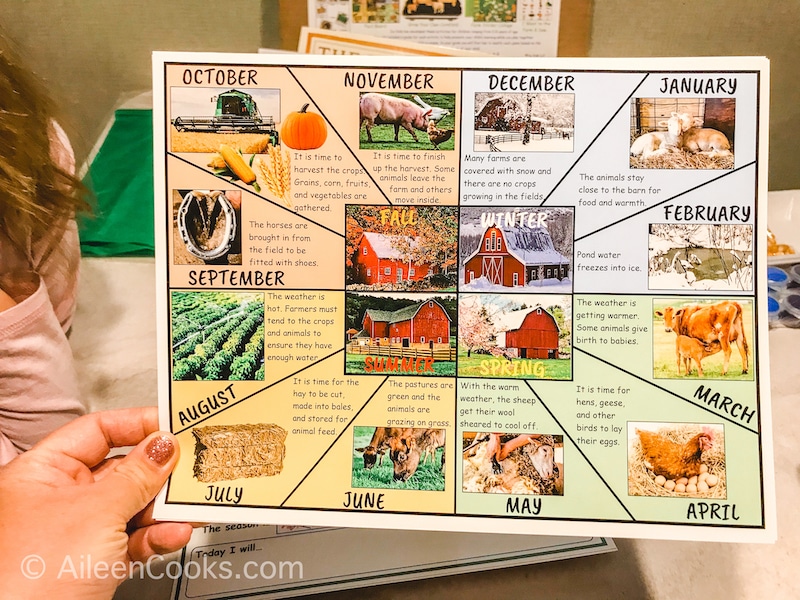 The projects in this box included several crafts – which my kids absolutely loved! It also tied in the projects with some small stuffed animals so they could act out the story in the book and also just immerse themselves in pretend play. Which they totally did! Between the stuffed animals and small toy animals, all three kiddos were entertained for a good couple of hours.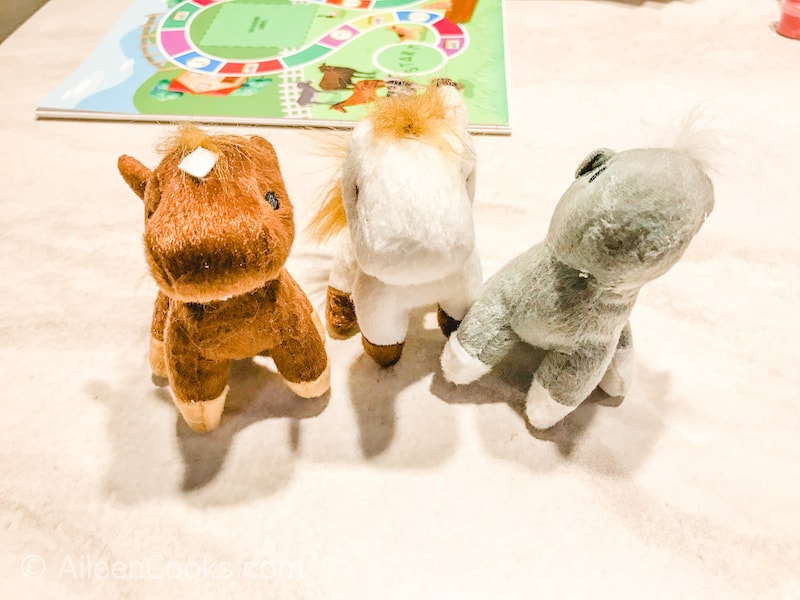 We were so very grateful for this because we were in such a small space and we are not accustomed to snow since we live in California.
The Ivy Kids box is probably one of my all-time favorite boxes that I have reviewed this past year. I love the shear amount of activities and that the kids can do many of them independently.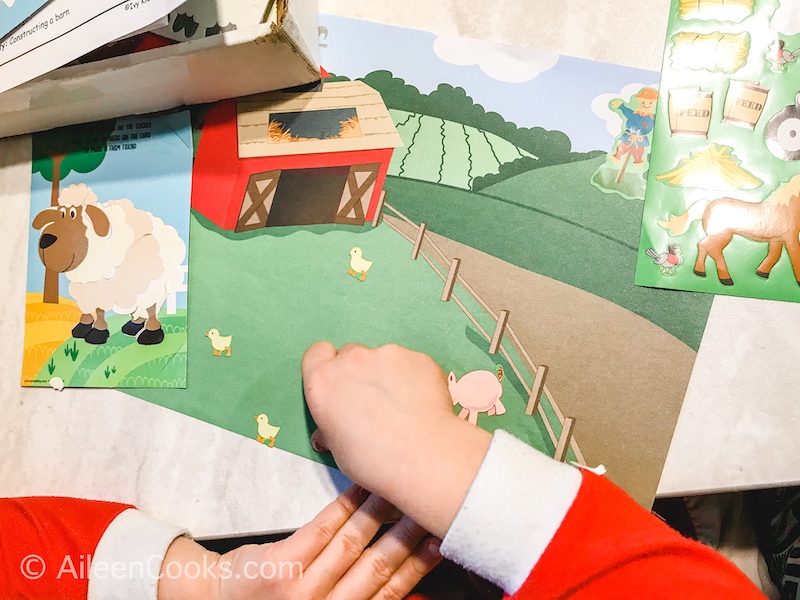 I love, love, love reading to my kids and have spent a lot of time in my first homeschooling year developing unit studies around read-a-louds for my kids that can be enjoyed by their various ages.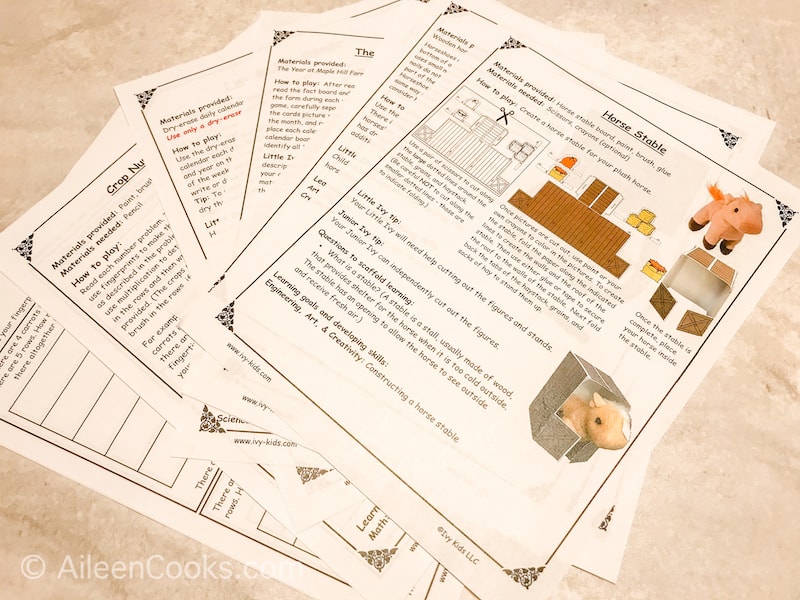 Ivy Kids does this work for you! I would even say its a great way to do preschool at home – if you are looking to homeschool preschool. Every box includes print-outs with full instructions for each activity. It gives you the option to delve in deeper for each activity – or you can just leave it high level. It's up to you!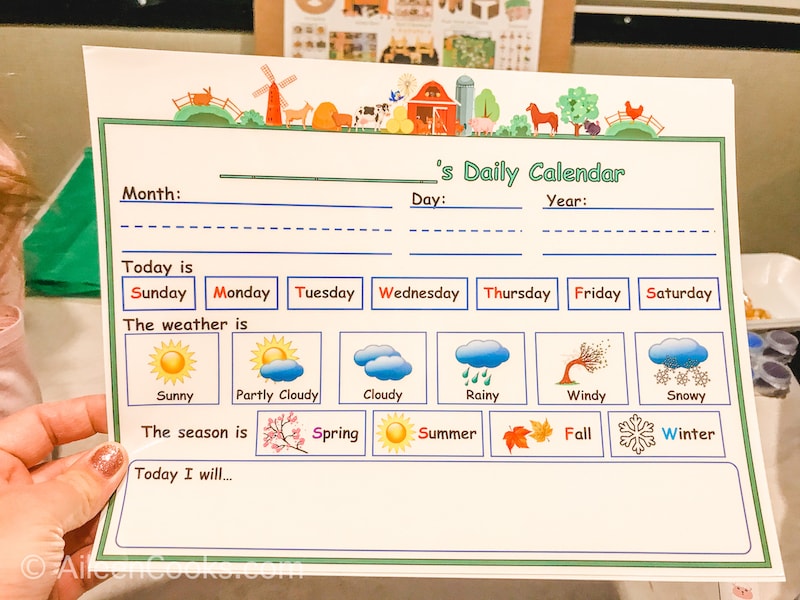 Even if you aren't trying to do school at home, it's a really fun box for kids that promotes literacy while also keeping them engaged in a screen free activity. We decided to subscribe to Ivy Kids and I have been very happy with the boxes we have received since this initial box.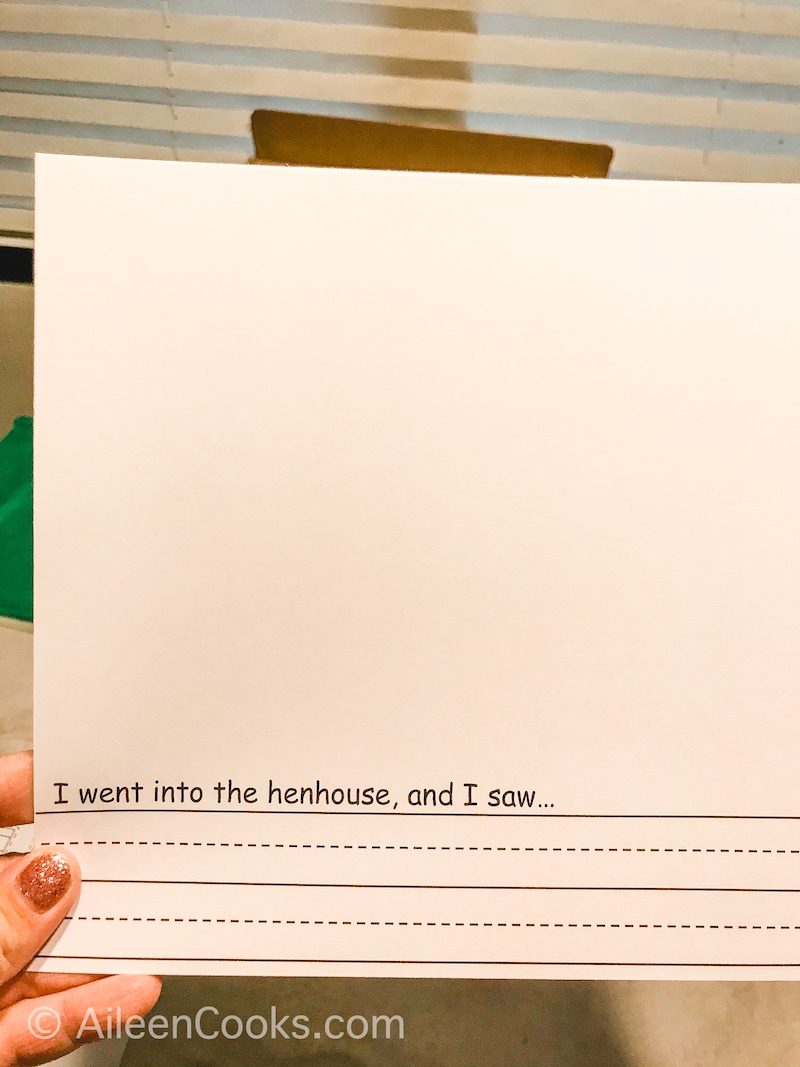 All of the activities continue to be well thought out and the books are good quality. Many of the activities can also be saved and reused again and again.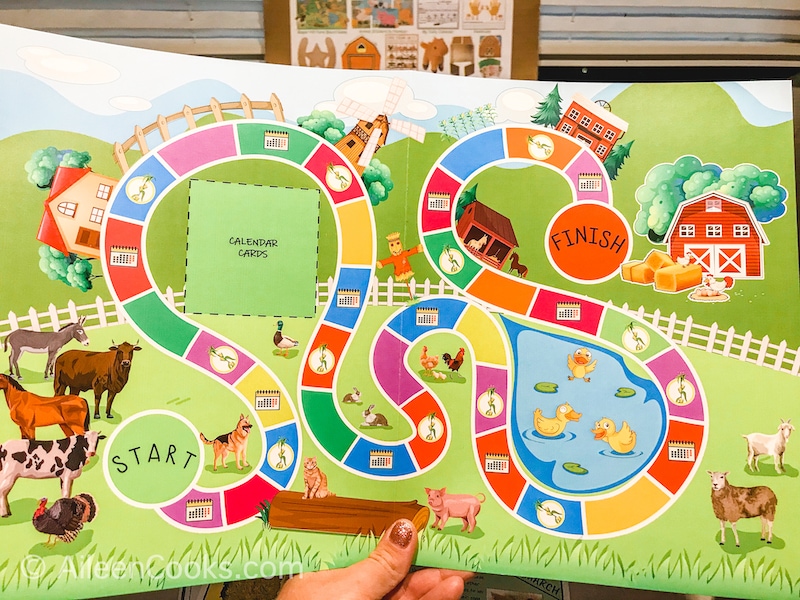 In addition, each box includes one personalized item for your child – which is really fun. I don't know about your kids, but mine absolutely love seeing their names on items. Of course, I forgot to take a picture of the personalized item. It was a coloring page with their name on it.
Can siblings share the Ivy Kids Kit?
Yes, but I do recommend that you order the sibling add-on. Each box comes with some kind of toy-type item that's used for the activities. When I subscribed, I only signed up my daughters (as they were most interested in the box) and I'm now wishing I had paid for a 2nd sibling add-on as my son feels a bit left out.
h for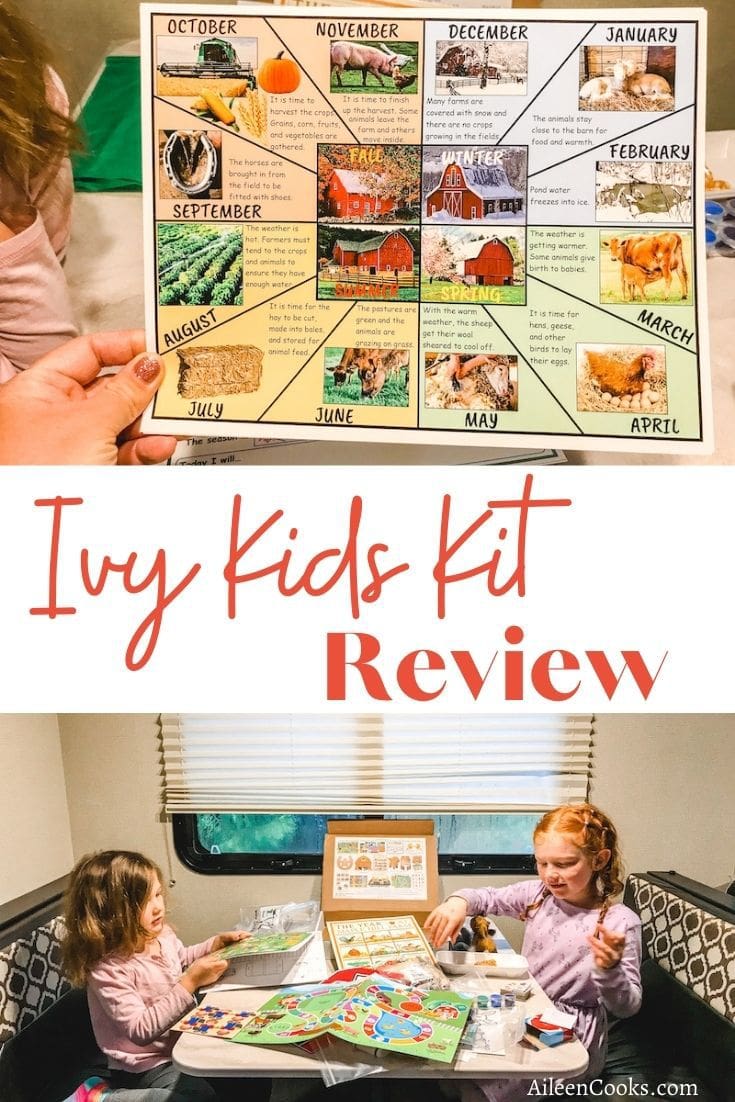 How much does Ivy Kids cost?
At the time of publication, Ivy Kids costs $39.95 per month for a month-to-month subscripting and $35.95/month if a 6 month subscription is purchased. You can add up to 4 sibling add-ons at $4.95 each per month.