Instant Pot Strawberry Cheesecake
You are going to want to make this silky creamy instant pot strawberry cheesecake! It's a New York style cheesecake with a scratch-made strawberry sauce swirled inside.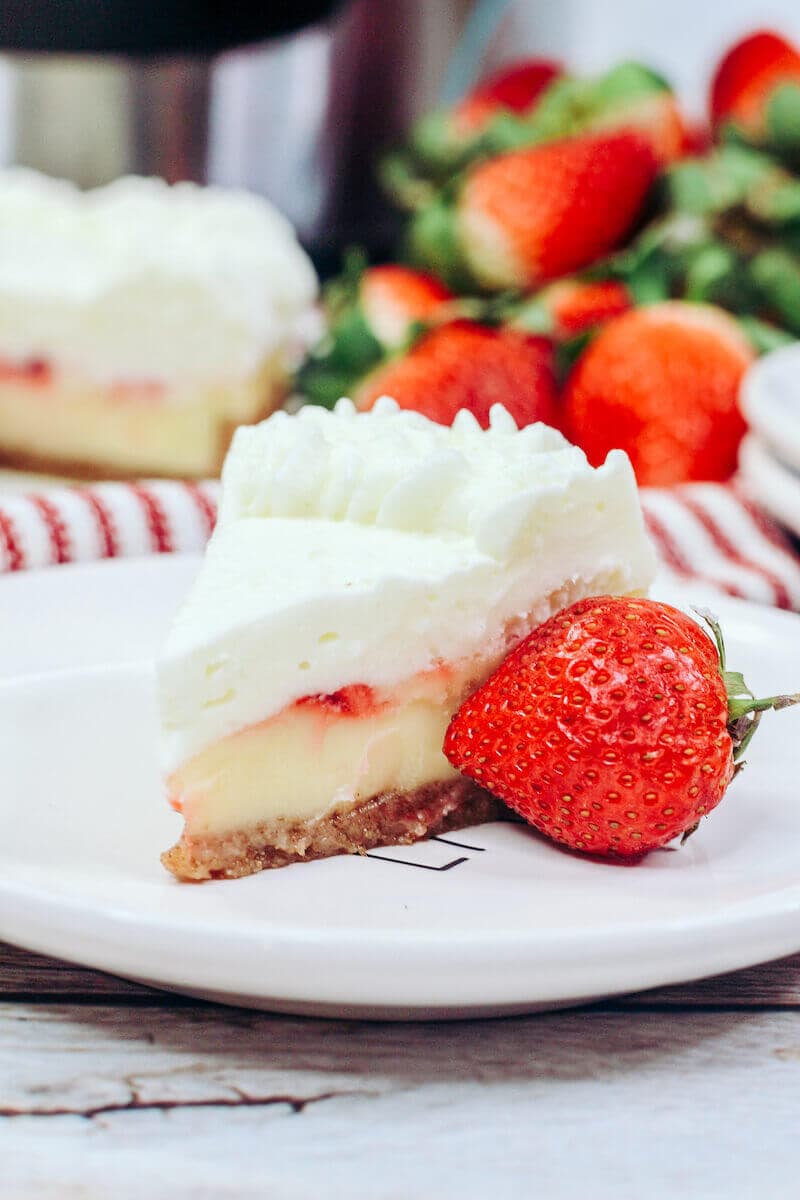 You guys, this cheesecake is so good! As soon as you can get your hands on some fresh strawberries (or even frozen ones will work), you are going to want to make this instant pot strawberry cheesecake!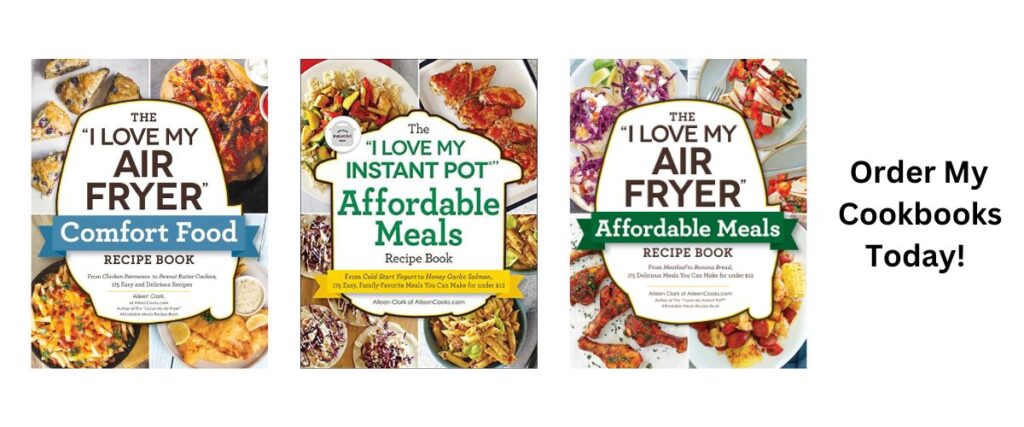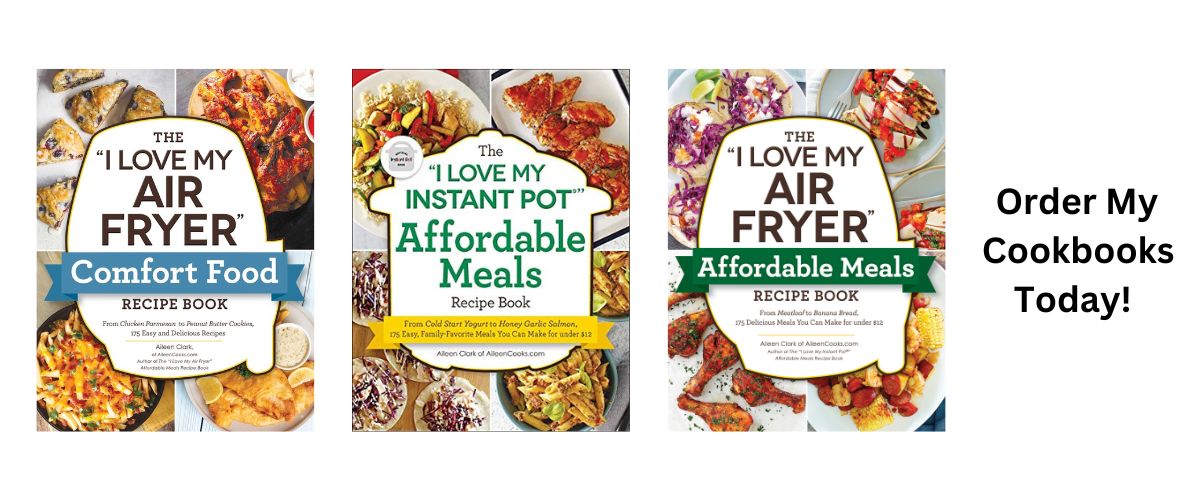 Instant pot strawberry swirl cheesecake
This cheesecake starts with a classic graham cracker crust with a New York cheesecake fill and strawberry swirl, and then topped with whipped cream and fresh strawberries.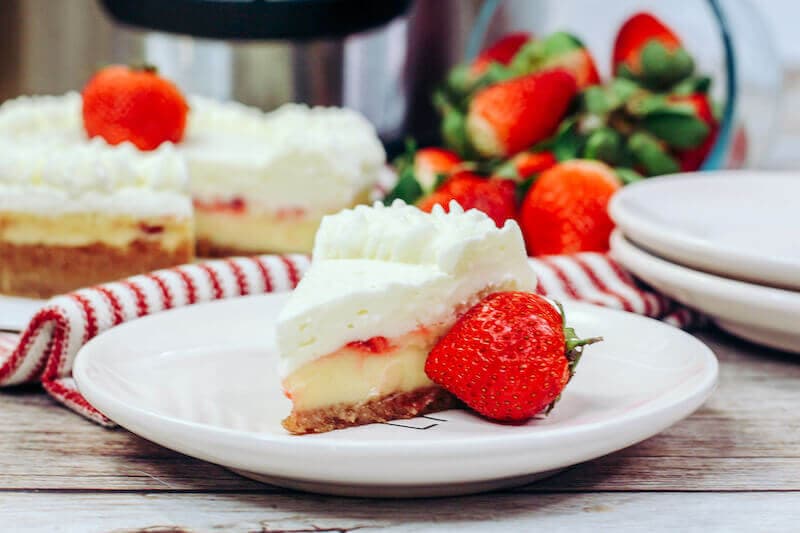 If you've never made cheesecake in the instant pot before, you are in for a real treat. Instant pot cheesecake comes out perfectly moist and dense. There is no need for a water bath with this recipe because the water from the instant pot keeps it moist the entire time.
What pan to use when making strawberry cheesecake in the instant pot?
The pan I recommend for making pressure cooker cheese is the 7-inch cheesecake pan from Fat Daddio. It used to be called a push pan but it has been since been renamed on Amazon. I prefer them better than spring form pans, but a 7-inch spring form pan will also work.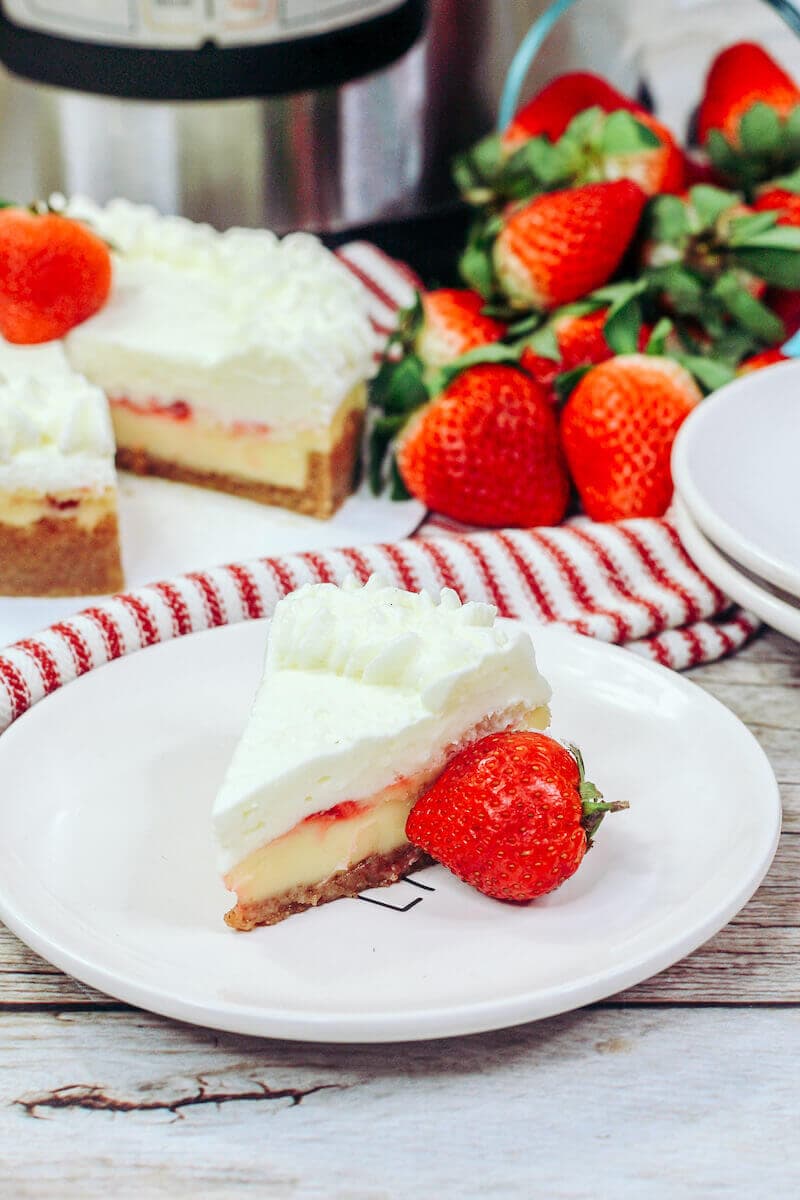 I tested this in a 6 quart instant pot, but you can also make it in an 8 quart instant pot or other brand of pressure cooker, so long as it is big enough to fit the cheesecake pan. Unfortunately, a 3 quart instant pot will not fit the cheesecake.
Other cheesecake recipes we have shared are Instant Pot Brownie Cheesecake, Instant Pot Nutella Cheesecake, No Bake Strawberry Cheesecake, Instant Pot Pumpkin Cheesecake, and Chocolate Chip Cookie Cheesecake Bars.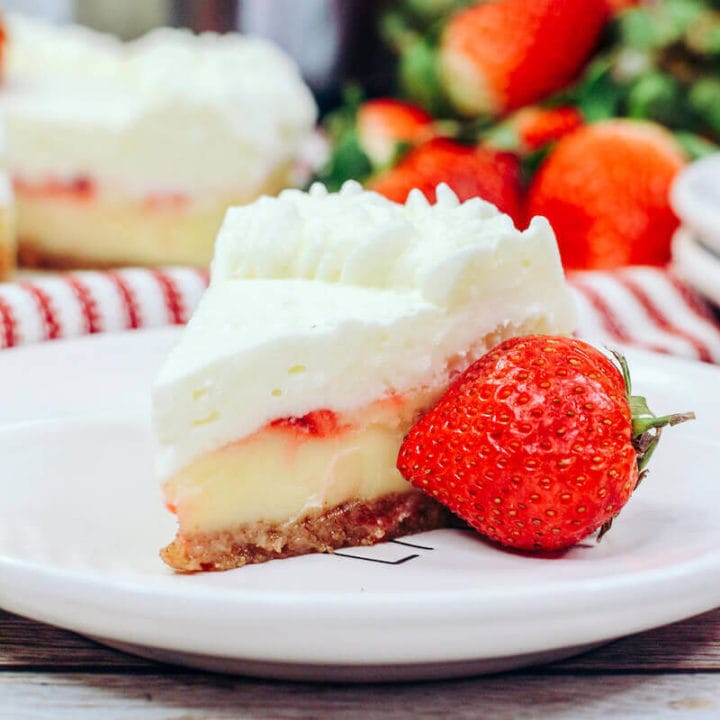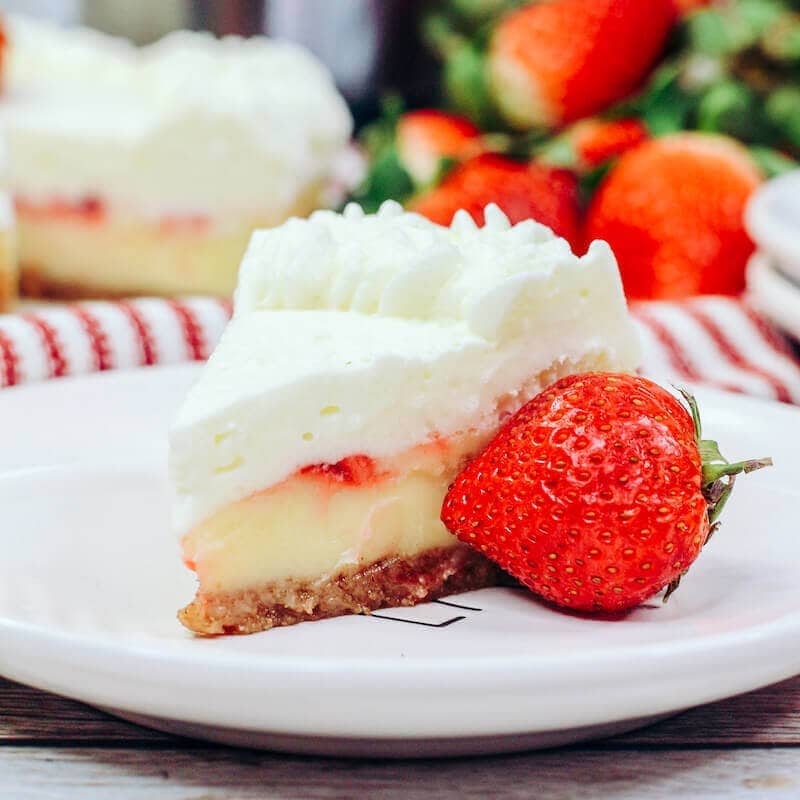 Instant Pot Strawberry Cheesecake
Total Time:
9 hours
34 minutes
You are going to want to make this silky creamy instant pot strawberry cheesecake! It's a New York style cheesecake with a scratch-made strawberry sauce swirled inside.
Ingredients
Crust Ingredients
1 1/4 cups crushed graham cracker crumbs
2 tablespoons granulated sugar
6 tablespoons unsalted butter, melted
Strawberry Sauce
6 ounces fresh or frozen strawberries, plus more for garnish
1/4 cup granulated sugar
New York Cheesecake
1/3 cup granulated sugar
1 tablespoon cornstarch
1/2 teaspoon salt
16 ounces cream cheese
1/3 cup sour cream
2 teaspoons pure vanilla extract
Whipped Cream
1 cup heavy whipping cream
1/2 cup powdered sugar
1 teaspoon vanilla extract
Instructions
For the crust:
Line a 7-inch cheesecake pan with parchment paper and spray the sides with cooking spray.
Combine the graham cracker crumbs, 2 tablespoons sugar, and melted butter in a medium bowl. Mix together until evenly combined.
Press the crust into the bottom and sides of the prepared cheesecake pan.
Place the crust in the freezer while you make the strawberry sauce and cheesecake mixture.
For the strawberry sauce:
Combine the strawberries and 1/4 cup sugar in a blender. Puree until smooth.
Pour the strawberry sauce into a strainer to remove the seed.
Set aside.
For the cheesecake:
Using a small bowl, whisk together 1/3 cup sugar, cornstarch and salt.
Using a large mixing bowl and hand mixer, beat the cream cheese until smooth and fluffy.
Add the sugar mixture to the cream cheese and beat until combined.
Beat in the sour cream and vanilla until combined.
Mix in the eggs 1 at a time, until incorporated. Do not overmix.
Pour the half of the cheesecake mixture into the crust.
Pour half of the strawberry sauce into the cheesecake mixture and pull a knife through to make a swirl.
Top with remaining cheesecake mixture.
Top with remaining strawberry sauce and pull a knife through to make a swirl.
Cover with foil.
Place trivet into the pot of the instant pot.
Pour 1 ½ C of water into the pot.
Place the cheesecake onto the trivet.
Close the lid and set the pressure release valve to sealing.
Press the manual or pressure cooker button and set to 34 minutes on high pressure.
Natural pressure release.
Carefully remove cheesecake from the pot and place on the counter to cool completely.
Place into the fridge for 8 hours or overnight.
For the whipped cream:
Chill a metal mixing bowl in the freezer for 30 minutes.
Once chilled, place whipping cream, powdered sugar, and 1 teaspoon vanilla extract inside bowl.
Beat with an electric mixer, until stiff peaks form, about 5 minutes.
Spread half of the whipped cream over the chilled cheesecake.
Add the remaining half of the whipped cream inside of a piping back and pipe around the edge of the cheeseake.
Top the cheesecake with strawberries.
Serve and enjoy!


Recommended Products
As an Amazon Associate and member of other affiliate programs, I earn from qualifying purchases.
Nutrition Information
Yield

8
Serving Size

1 slice
Amount Per Serving
Calories

438
Total Fat

32g
Saturated Fat

18g
Trans Fat

0g
Unsaturated Fat

10g
Cholesterol

86mg
Sodium

376mg
Carbohydrates

35g
Net Carbohydrates

0g
Fiber

1g
Sugar

25g
Sugar Alcohols

0g
Protein

5g
Nutrition information is an estimate.
Save this recipe for later on Pinterest.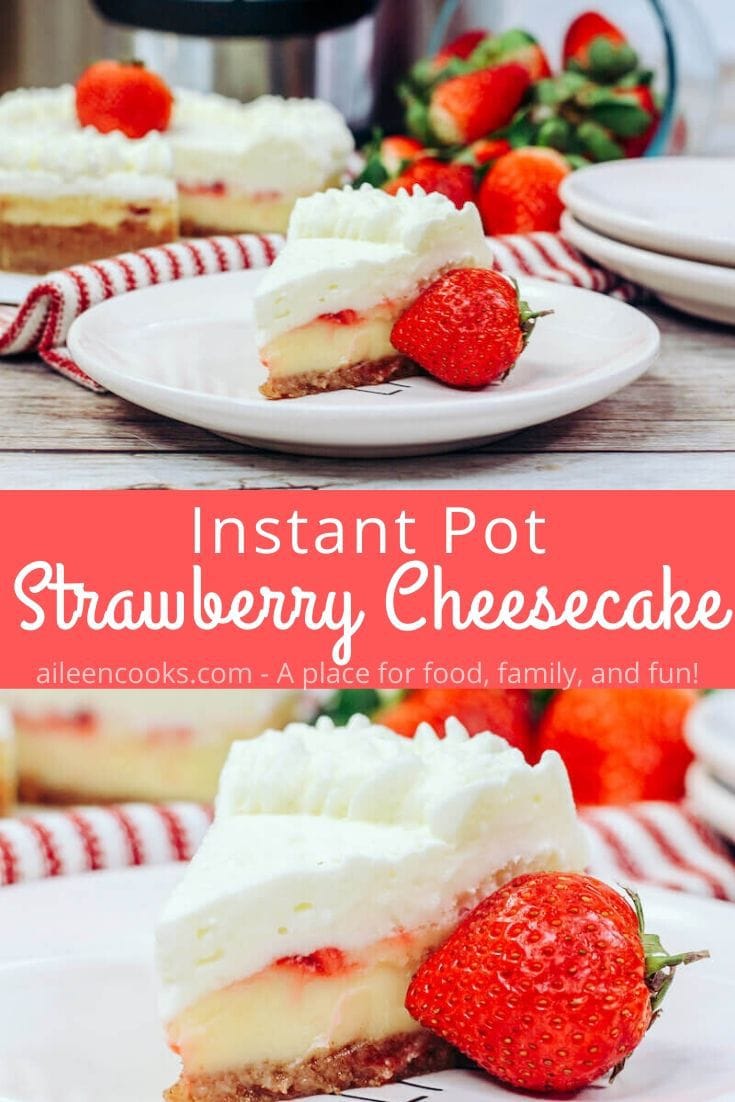 Did you try this recipe for instant pot strawberry cheesecake? Let us know what you thought with a rating (above) or comment (below). You can also tag us in your recipe creations on social media using @aileencooks and #aileencooks.