These molten flourless chocolate cupcakes with a white chocolate center are light and airy. They are perfectly sweet and just slightly chewy on the edges. The outer part of the cupcakes almost reminds me of the edges of a sheet of brownies.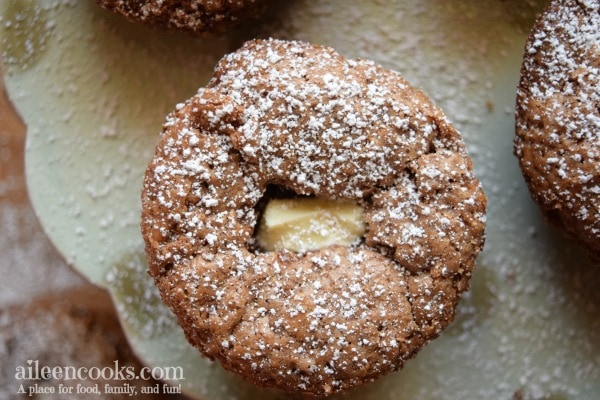 The bit of molten white chocolate in the middle gives your taste buds an extra pop that completely makes up for the lack of frosting on these cupcakes. My kids could not wait to try these cupcakes and followed me around begging to taste test them until I gave in and let them dig in.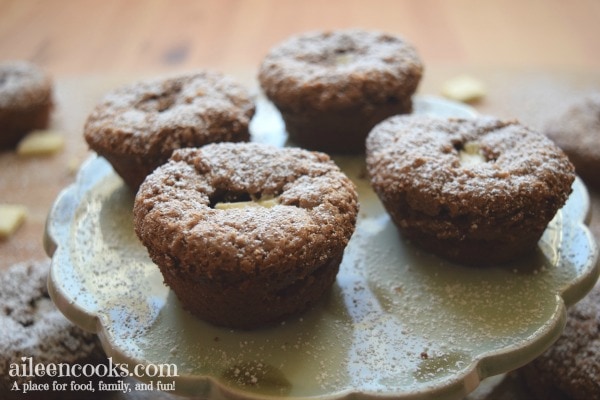 This recipe for molten flourless chocolate cupcakes originated from Sarah at Cook At Home. If you haven't visited her site before, I highly recommend it! She has lots of great gluten free recipes and a great section on cooking with kids.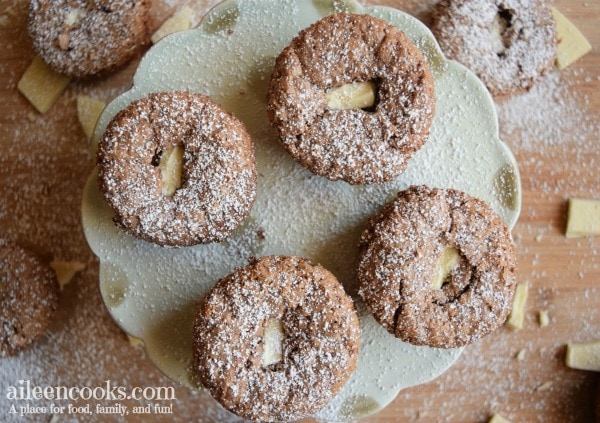 You may also like Christmas puppy chow, another gluten free treat.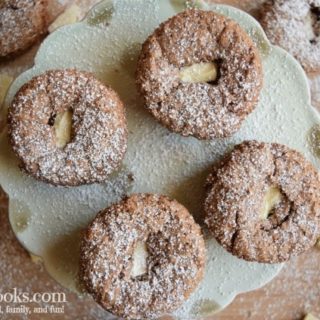 Molten Flourless Chocolate Cupcakes
Note: This recipe yields 16-18 molten flourless chocolate cupcakes. Baking in two batches is recommended.
Ingredients
6 ounces milk chocolate
1 cup heavy cream
1/2 cup butter, 1 stick
4 large eggs
1 1/3 cups sugar
1/2 cup mayonnaise
1/2 cup cornstarch
1/2 teaspoon ground cinnamon
1/2 teaspoon salt
4 ounces white chocolate
Powdered sugar for dusting, optional
Instructions
Preheat your oven to 320 degrees. Grease or line a muffin tin with cupcake liners and set aside.
Roughly chop up the milk chocolate.
In a medium sauce pan, combine the butter and heavy cream over medium high heat, stirring regularly.
Once the butter and cream are fully combined and just starting to simmer, mix in the milk chocolate and turn off the heat.
Stir the chocolate into the cream mixture until it is fully melted.
In a medium bowl, whisk together the sugar, mayonnaise, cornstarch, cinnamon, and salt.
Fold in the melted chocolate until just combined.
Scoop up the batter and fill each muffin mold 3/4 full.
Bake for 40-45 minutes, until a toothpick inserted in the center comes out clean.
While the cupcakes are baking, chop up the white chocolate into 1/2 inch squares.
While still hot, push a piece of white chocolate into the center of each cupcake.
Allow the cupcakes to cool for 10 minutes. Gently remove the cupcakes (using a butter knife around the edge, if needed) and dust with powdered sugar.
Enjoy immediately.
Nutrition Information
Amount Per Serving
Calories

193
Related posts:
Recipe Source: Very slightly adapted from Cook At Home.