Blueberry Kale Protein Smoothie
As an Amazon Associate I earn from qualifying purchases.
Whip up this blueberry kale protein smoothie for a healthy breakfast or tasty snack. The blueberries make it purple instead of green, making it kid-friendly, too. Also, be sure to check out our list of cooking recipes for kids.
This blueberry kale smoothie is filled with creamy frozen blueberries, baby kale, and sweet banana. Filled with protein from creamy Greek yogurt and vanilla protein powder, making it the perfect breakfast smoothie to start your day off right.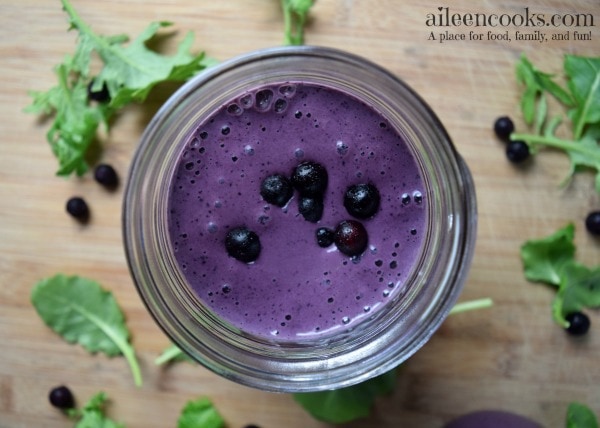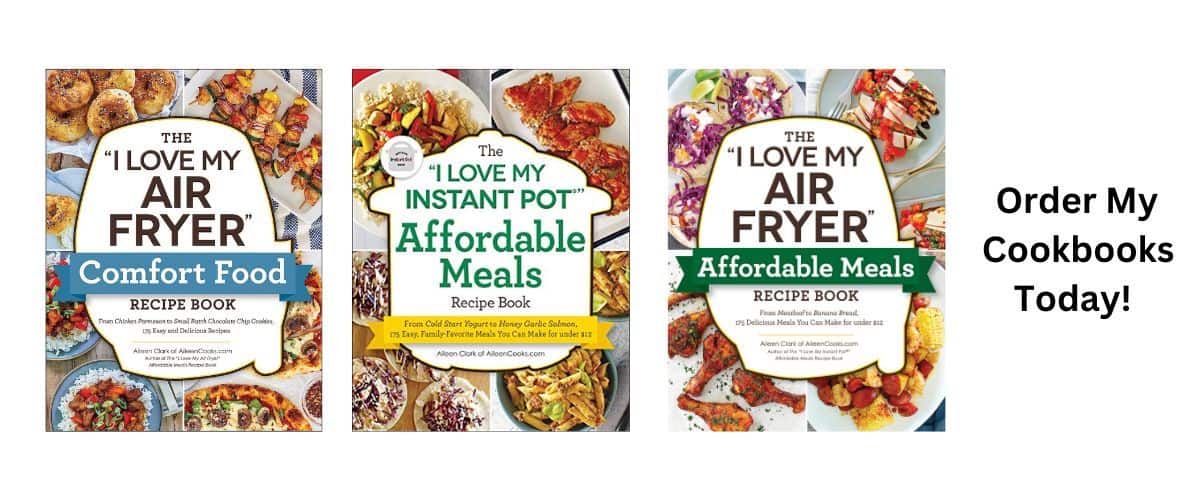 I have been back on the exercise and healthy eating bandwagon now that I've come out of the newborn haze and this smoothie has helped me more like myself. It's an easy and healthy breakfast I can whip up for myself quickly. Which is important because I have been guilty of not feeding myself lately.
The protein powder used in the blueberry kale protein smoothie
I hadn't done much with protein powder in the past, but a friend mentioned she had been adding protein powder in her smoothies and then Trader Joe's came out with a line of pea protein powders, so I decided it was time to try it out.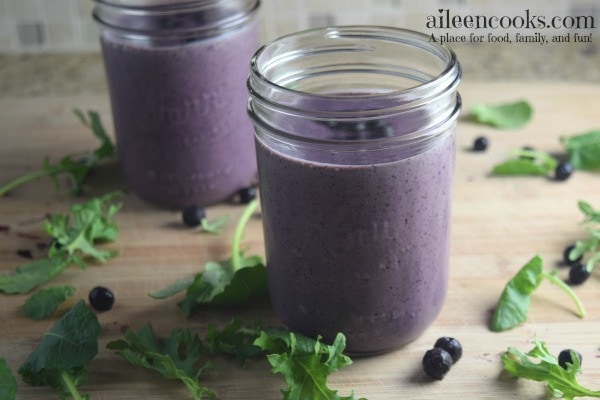 The protein powder I use in this blueberry kale protein smoothie is the vanilla protein powder from Trader Joe's. The vanilla protein powder and vanilla almond milk pair really nicely with the blueberries. I almost considered naming it a blueberry vanilla smoothie, but decided on blueberry kale smoothie since kale is a vital ingredient for a "green smoothie".
Is it OK to put raw kale in a smoothie?
Yes. Kale is a common ingredient in many green smoothie recipes and is a great source of vitamins K, A, and C.
If you haven't had a green smoothie with kale before, this is the perfect kale smoothie for you (and your kids). You can't taste the kale and it stays purple – thanks to the blueberries. My kids follow me around like I haven't fed them in a week each morning until I share this blueberry kale protein smoothie with them. It's that good.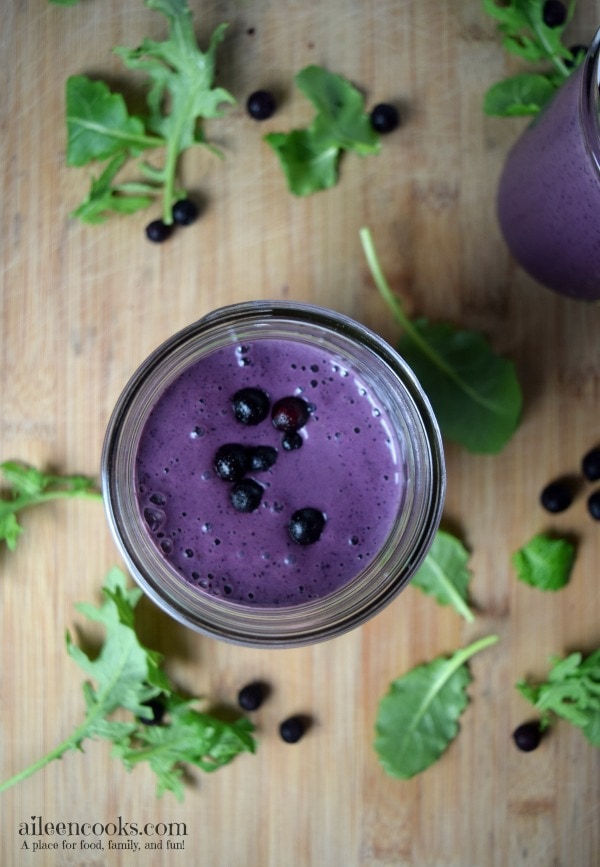 Can you blend kale?
Yes, but you may need to blend it twice. Kale is relatively sturdy and does take some time to break down. Even with a lower-end blender, you can blend kale. Just blend it twice, if needed.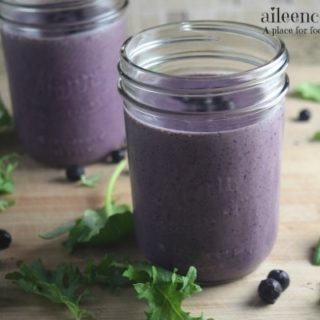 Protein Packed Blueberry Kale Smoothie
This blueberry kale smoothie recipe makes one large smoothie. It is perfect for one person as a meal replacement or for two as a snack.
Ingredients
2

cups

baby kale

1

cup

vanilla almond milk

1

scoop vanilla protein powder

1/2

cup

plain Greek yogurt

1

banana

1

cup

frozen blueberries
Instructions
Place all ingredients into the cup of a blender and blend until smooth.

If using a less-powerful blender, blend the kale, almond milk, and protein powder first.

Then, add the Greek yogurt, banana, and frozen blueberries. Blend until smooth.
Nutrition
Related Smoothie Posts: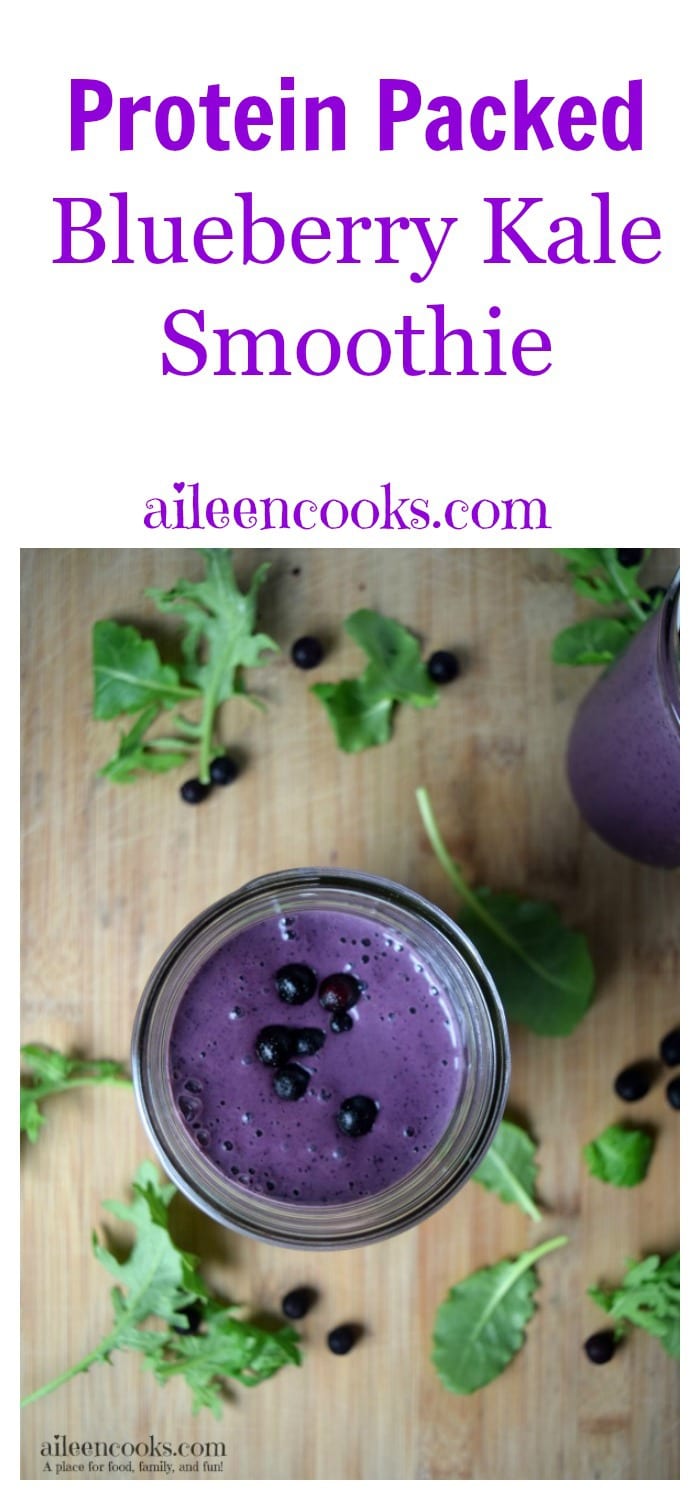 Our whole family loves this blueberry kale protein smoothie. It's healthy, filling, and tastes great!