You are going to love this instant pot potato corn chowder recipe! It is a hearty instant pot soup recipe for a cool night and is packed full of flavorful ingredients. Thank you to Better Than Bouillon for sponsoring this post.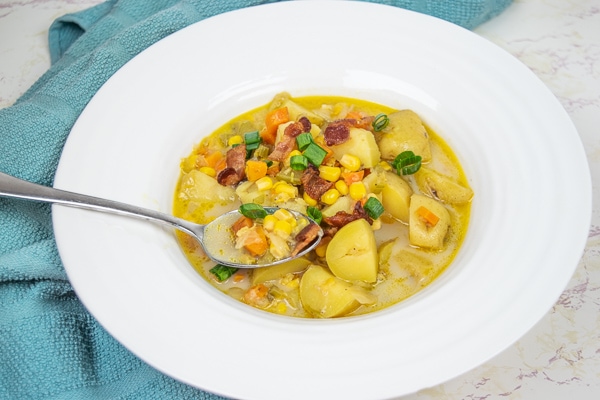 I am a total soup person. I didn't grow up as a soup person, but I morphed into a soup person when I learned how easy it was to make soup from scratch in my mid-2os. This was before the Instant Pot. This was when I made it on the stove or in my slow cooker. That's when I became a soup person.
Homemade soup is just so good and easy to make. It warms you up unlike any other meal and it's just so versatile. Now that I can make soup in 15 minutes or less with my instant pot, I'm really in love with soup. Especially this potato corn chowder and also Instant Pot Butternut Squash Soup. I also love making baked potatoes in my instant pot.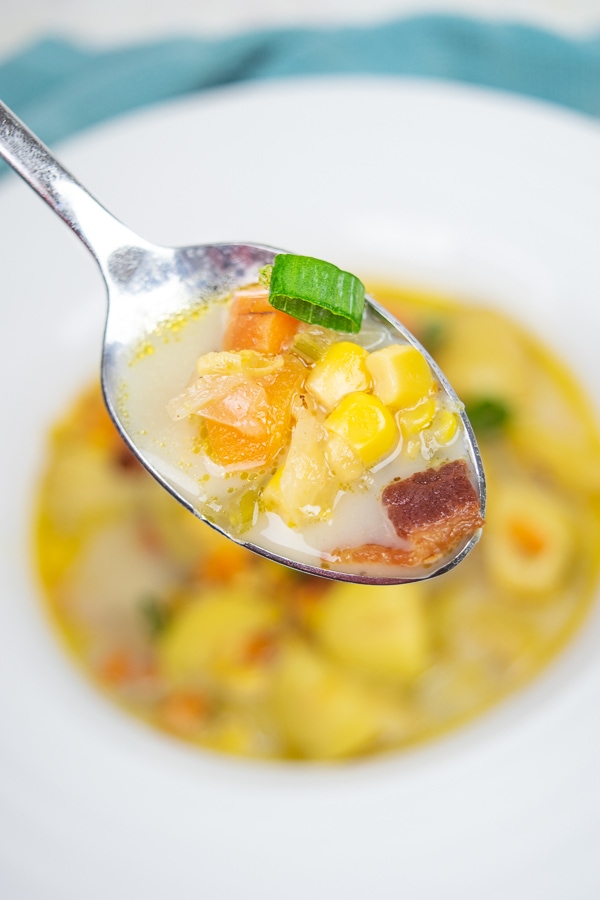 This instant pot potato corn chowder is packed full of so many good things, but there is one secret ingredient that makes this instant pot soup recipe better than the others.
The secret ingredient in the instant pot corn chowder
My secret ingredient is Better Than Bouillon Seasoned Vegetable Base. It takes an ordinary soup and makes it extraordinary. This concentrated soup base packs so much flavor into just 1 1/2 teaspoons, you will be amazed. Jeffrey over at Pressure Luck swears by it, so I knew I needed to try it in my recipes.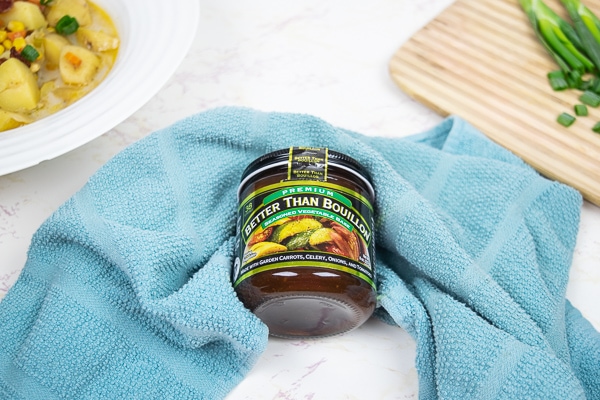 Here is a little more about this great product:
Better Than Bouillon is a concentrated paste that works in place of a bouillon cube or broth.

You can use it to make a stock (as we do in this recipe) or use it as a marinade.

Better than Bouillon doesn't expire quickly. Once opened, it stays fresh in your fridge for a long time. The expiration date on my jar is 2020. That's a long shelf life compared to a container of broth that goes bad within a few days after opening. It's also not gritty like traditional bouillon cubes.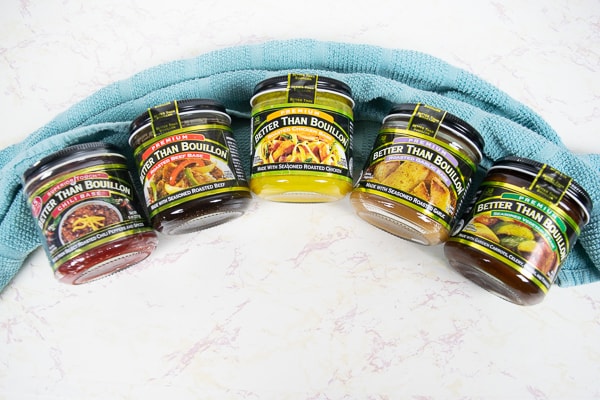 You might also want to try making air fryer bacon. It is so good!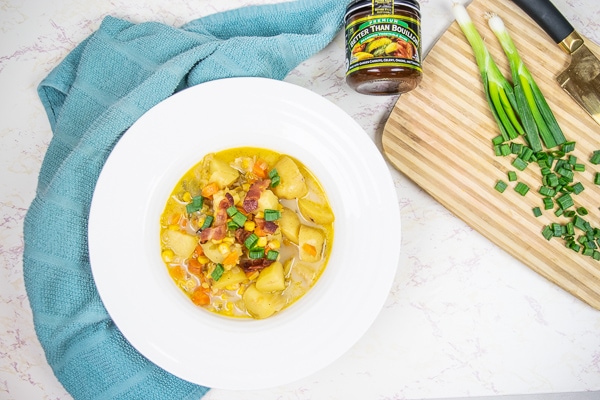 Ingredients in potato corn chowder
Creamed Corn
Bacon
Yellow Onion
Carrot
Celery
Baby Yellow Potatoes
Better than Bouillon Seasoned Vegetable Base
Water
Salt
Black Pepper
Cayenne Pepper
Milk
Green Onions
Special Equipment: Instant Pot Duo 6 Quart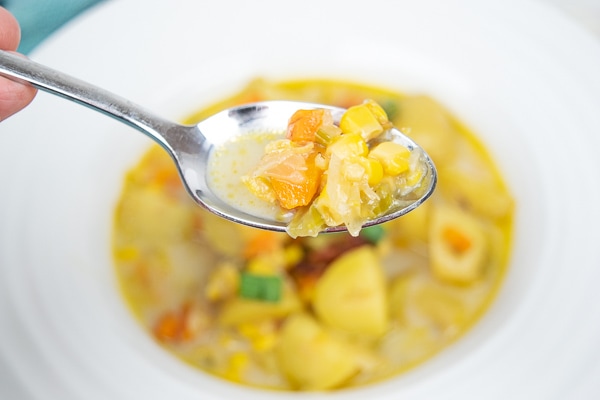 Other great instant pot soup recipes: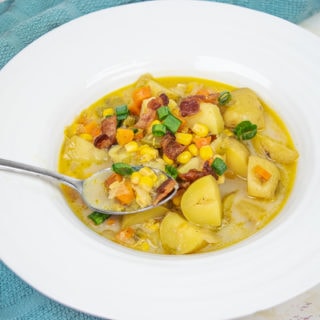 Instant Pot Potato Corn Chowder
You are going to love this instant pot potato corn chowder recipe! It makes a hearty meal on a cool night and is packed full of flavorful ingredients.
Ingredients
1 pound bacon, cut into 1/2 inch strips
1 yellow onion, chopped
1 carrot, diced
2 stalks cellery, diced
1.5 pounds baby yellow potatoes, quartered
15 ounce corn, canned
14.75 ounce creamed style corn, canned
1 1/2 tsp Better Than Bouillon Seasoned Vegetable Base
4 cups water
2 tsp salt
1/4 tsp black pepper
1/4 tsp cayenne pepper
1 cup milk
4 stalks green onion, sliced
Instructions
Set instant pot to saute and add sliced bacon. Cook until browned, about 7 minutes
Remove the bacon and fat, reserving 2 tablespoons bacon grease in the instant pot.
Pour in the onion, carrots, celery, and potatoes.
Let cook, stirring occasionally, until soft. About 7 more minutes.
In a small bowl, whisk together the Better Than Bouillon Seasoned Vegetable Base and water.
Pour into the instant pot and deglaze the bottom of the pot.
Mix in the corn, creamed style corn, salt, black pepper, and cayenne pepper.
Close lid and set to sealing.
Cook on high pressure for 5 minutes.
Quick Pressure Release (QPR) and remove the lid.
Slowly whisk in the milk.
Serve topped with bacon and green onions.
Nutrition Information
Amount Per Serving
Calories

465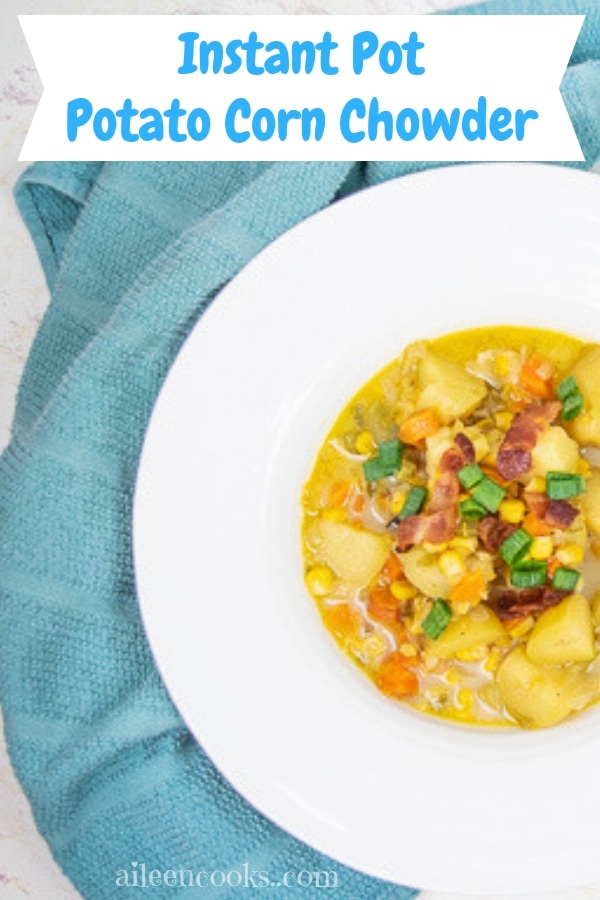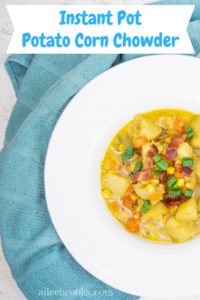 My entire family loved this recipe for instant pot potato corn chowder. I hope yours does, too!