Monterey Bay Aquarium Review
Are you planning a trip to Monterey? Read our Monterey Bay Aquarium review first to see if you should add it to your list of things to do in Monterey. Thank you to to the Monterey Bay Aquarium for offering complimentary media passes to facilitate this review.
We visited the Monterey Bay Aquarium with our three kids, ages 6, 4, and 2 during our trip to Carmel by the Sea in January. All three kids loved it!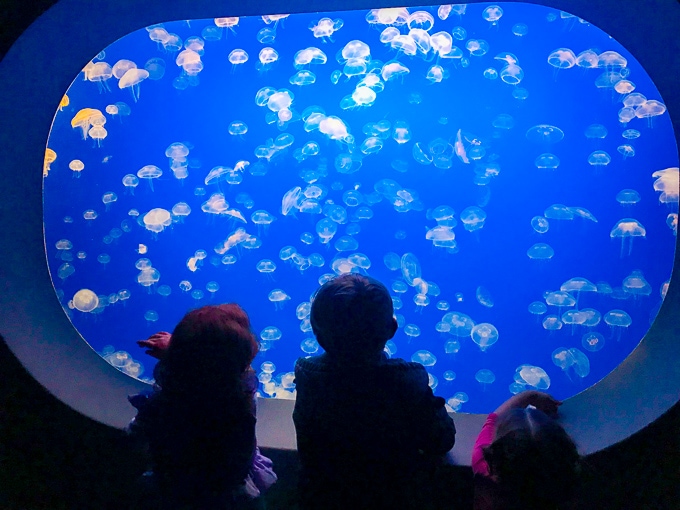 There are so many things to see at this Aquarium, it really is great for all ages.
Planning your visit to Monterey Bay Aquarium
Hours
The Monterey Bay Aquarium is open daily from 10 AM – 5 PM. If you want to double-check there hours, you can do so here. The Aquarium is open every day except for Christmas (December 25), so it really is easy to plan a day to visit this beautiful aquarium.
Location
They are located on Cannery Row in Monterey. Cannery Row is right along the water and is home to many restaurants and shops. The aquarium also has its own show, cafe, and restaurant. I highly recommend planning your day to allow time to explore Cannery Row and walk along the beach.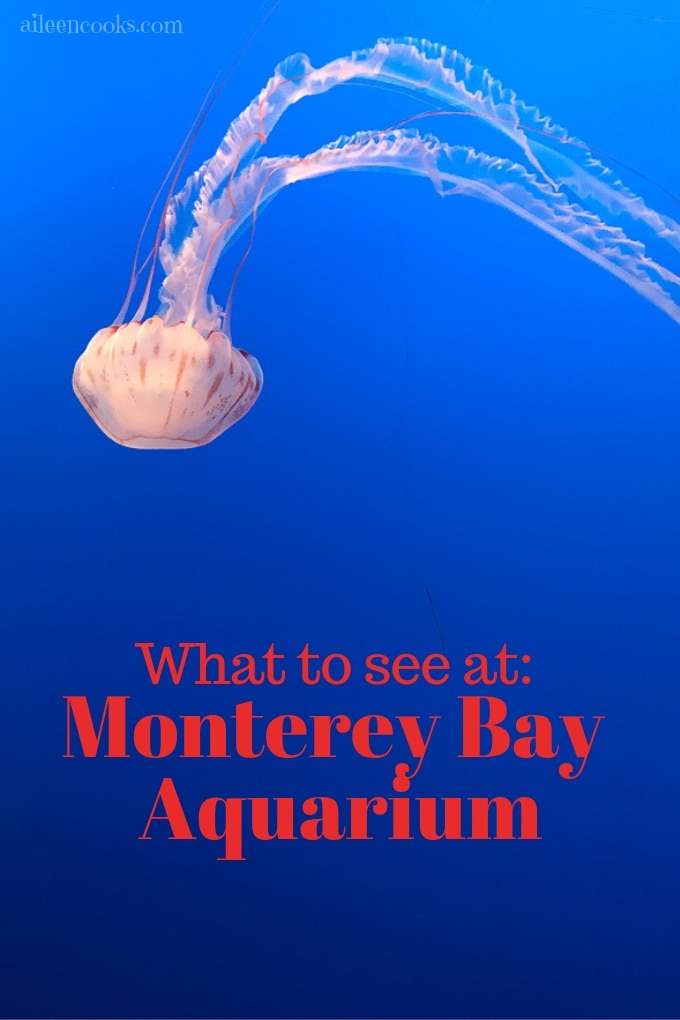 Parking
Although there is not an on-site parking garage at the aquarium, there are several parking lots and metered parking. Keep in mind that Monterey is a tourist destination and parking can be a bit pricey.
Ticket Prices
At the time that this post was published (Febuary 2019), ticket prices were $29.95/child $39.95/students and seniors, and $49.95/adults. There are several neighboring hotels who offer discounts to hotel guests. You can see the current ticket prices here.
Now, let's move on to our Monterey Bay Aquarium review.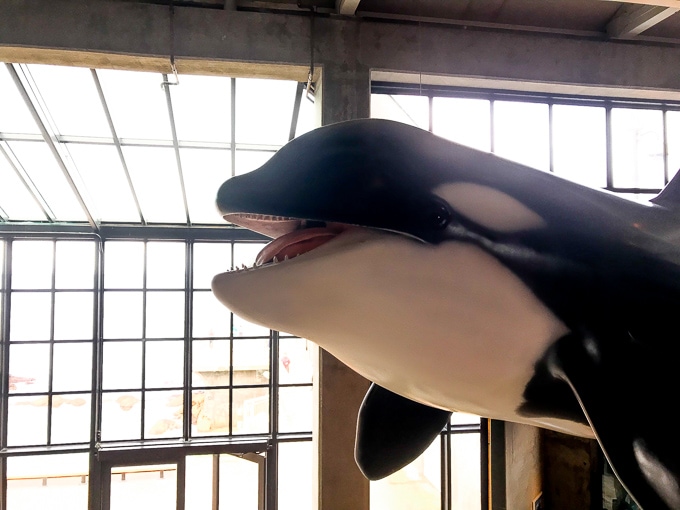 Monterey Bay Aquarium Review
There are so many things to see at the Monterey Bay Aquarium. It can totally be done in a day, but plan on staying for several hours.
Giant Pacific Octopus
This octopus was really cool to see, but we had to search a bit to find him. He certainly is good at blending in! My kids were very excited to find him. We reference Finding Dory a lot during our trip to the aquarium. If you can swing it, it would be really fun to watch the movie before you come. The movie was inspired by this aquarium and Monterey itself. There are a lot of similarities and is a fun way to get the family excited about all of the sea life they will see.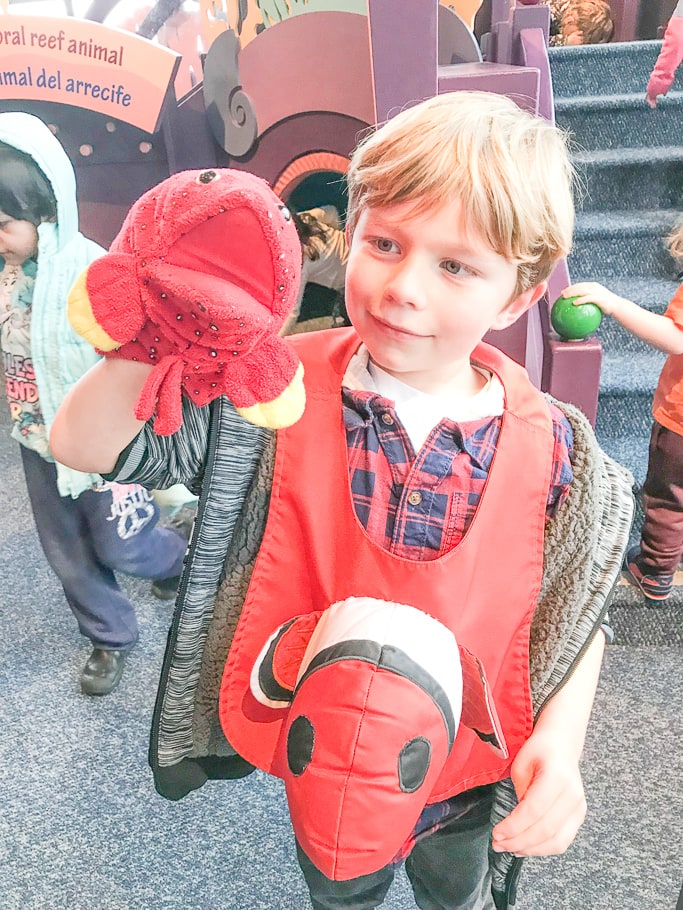 Kelp Forest
The Kelp Forest was our first glimpse at sharks – which my son was most excited to see. We got to see Leopard Sharks, which are not the traditional sharks you may normally think of when picturing sharks. We also saw a lot of rockfish. We spent a good amount of time here just gazing into the water. The kelp is really cool to see in this exhibit. It gives you a really good visual on just how tall kelp is.
Open Sea
Like the Kelp Forest, we spent a lot of time staring into the Open Sea. There were so many more shark sightings and lots of really big fish. This exhibit has floor to ceiling windows making it a great viewing experience from any vantage point. We saw sting rays and giant sea turtles along with really cool hammerhead sharks. These were my son's favorite. He was SO excited. We all were. You get to see these amazing sea creatures up close and personal in a way that you may never see again (unless you come back to the Monterey Bay Aquarium).
The Open Sea is also home to the Tufted Puffin. They are adorable and much smaller than I imagined. The exhibit can seem a bit hidden, but make sure you don't pass it by.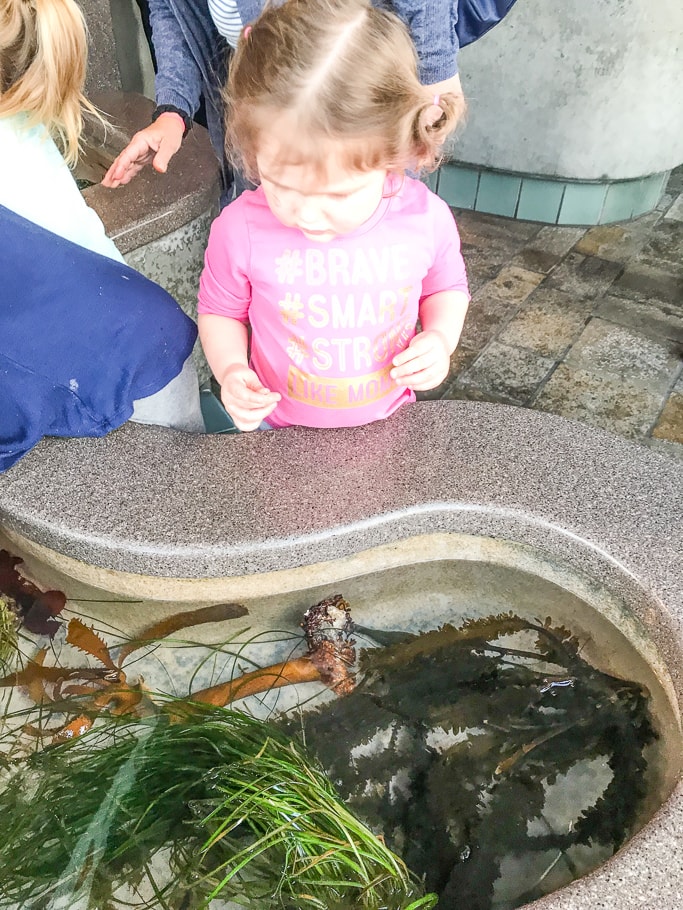 Rocky Shore
If you are visiting the Monterey Bay Aquarium with kids than you do not want to miss this exhibit! It was, by far, the place we spent the most time in. My girls' favorite part of our trip to the aquarium was the Wave Crash Gallery. It's a glass tunnel you stand under while a wave crashes over you. It pumps 600 gallons of water to create a single wave and they crash every 30 seconds. It is so cool to see and here for the adults and kids.
The Rocky Shore is also home to several touch pools where kids and adults can reach into the water and touch small creatures like Hermit Crabs. There are educated volunteers at the center to offer information and help you actually hold these small creatures. There are areas with steps so little ones can see and reach in the water, too. My two year old had no problem reaching into the water when on a step. They also have hand washing stations set up so you can clean up when you're done.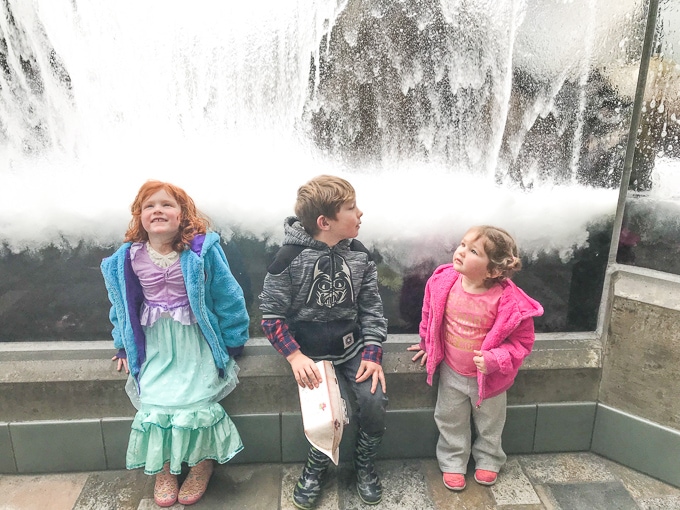 Splash Zone
The Splash Zone is specifically designated for families visiting with kids. As a parent, you know there is a time when you just need to let your kids get their wiggles out. The Splash Zone is perfect for that. They have an area specifically designated for babies and toddlers called the Coral Reef Kingdom with waterbeds they can jump and play on and a block area. It's nice because older kids aren't allowed and your little ones won't get run over by energetic kids.
If your kids are a little older, than you will want to check out Enchanted Kelp Forest. There are many things for kids to do in this area, from tunnels to climb through and check out fish, to a water play area, to a dress-up area with slide.
Keep in mind that this area is very busy – all the time. I am not a helicopter mom by any means but I keep very close to my kids in this area. Mainly because it is easy for them to accidentally wander off (again, there is a lot to do) and get lost.
We had this happen when our son was 4 and I ran around like a crazy person screaming his name until I finally found him clear on the other side of the Enchanted Kelp Forest. It's so much fun for the kids and a lot of learning opportunities, it just tends to get busy.
Splash zone is also where you go to see the penguins. You can't visit the Monterey Bay Aquarium without seeing the adorable waddling penguins.
Sea Otters
This was my favorite exhibit. Sea Otters have such huge personalities and you can see it shining through them in the way they swim, play and eat. Make sure you plan on spending at least 15 minutes watching them as they may make trips around the water and you can get a close up of them. They swim fast though, so you will want to wait and watch them a couple of times and really take it in.
There is also a feeding schedule available at the aquarium. It gets busy around feeding times, so I would plan on arriving early if you want to watch.
We had so much fun visiting the Monterey Bay Aquarium. We got to see so many cool things and make memories with our kids. I hope our Monterey Bay Aquarium review was helpful to you.