DIY Command Center Wall for Busy Moms
As an Amazon Associate I earn from qualifying purchases.
Do you want to simplify and organize your house? Learn how to make a command center wall to keep everything organized and in one place!
We love getting organized and have also created a fun (and effective) clipboard chore chart, preschooler chore chart, printable meal planner, and crockpot freezer meal plan (with printable recipes and shopping list).
I've been wanting to put together a family command center since we moved to our new house over the summer. While we gained an additional bedroom (and much larger back yard), we lost a good amount of kitchen counter space.
Get a better look in our video tour!
Please give us a thumbs up and subscribe, too!
What is a kitchen command center?
A kitchen command center is a centralized place to put mail, keys, grocery lists, meal plans, and a family calendar.
Our kitchen has been feeling really cluttered thanks to mail, meal plans, shopping lists, school fliers, keys, and everything else dropped on it throughout the day. The problem was, we didn't have a designated spot for these items. I knew I needed to set up some type of wall organizer.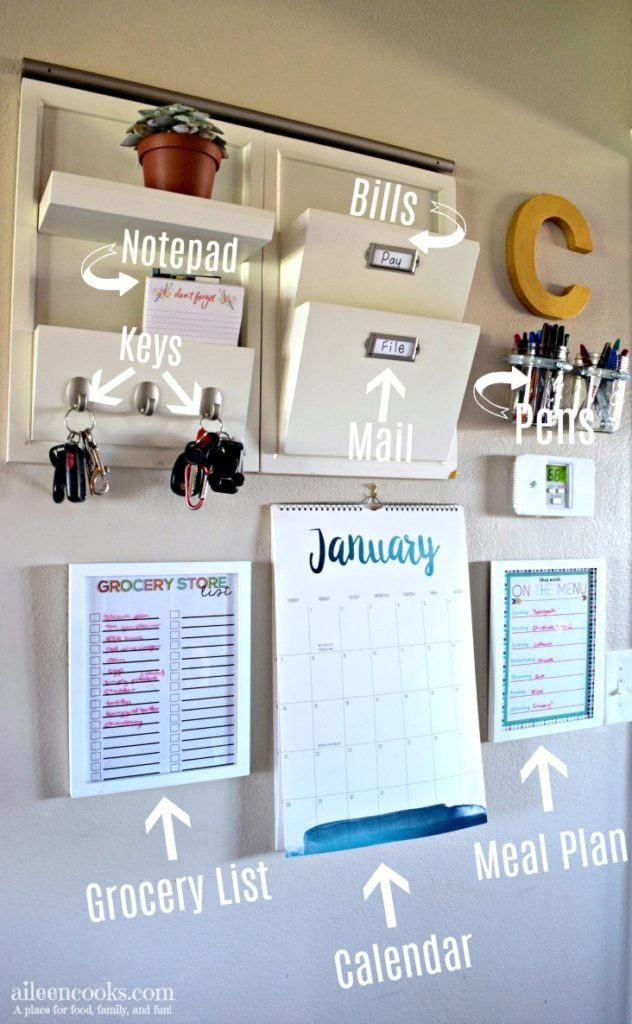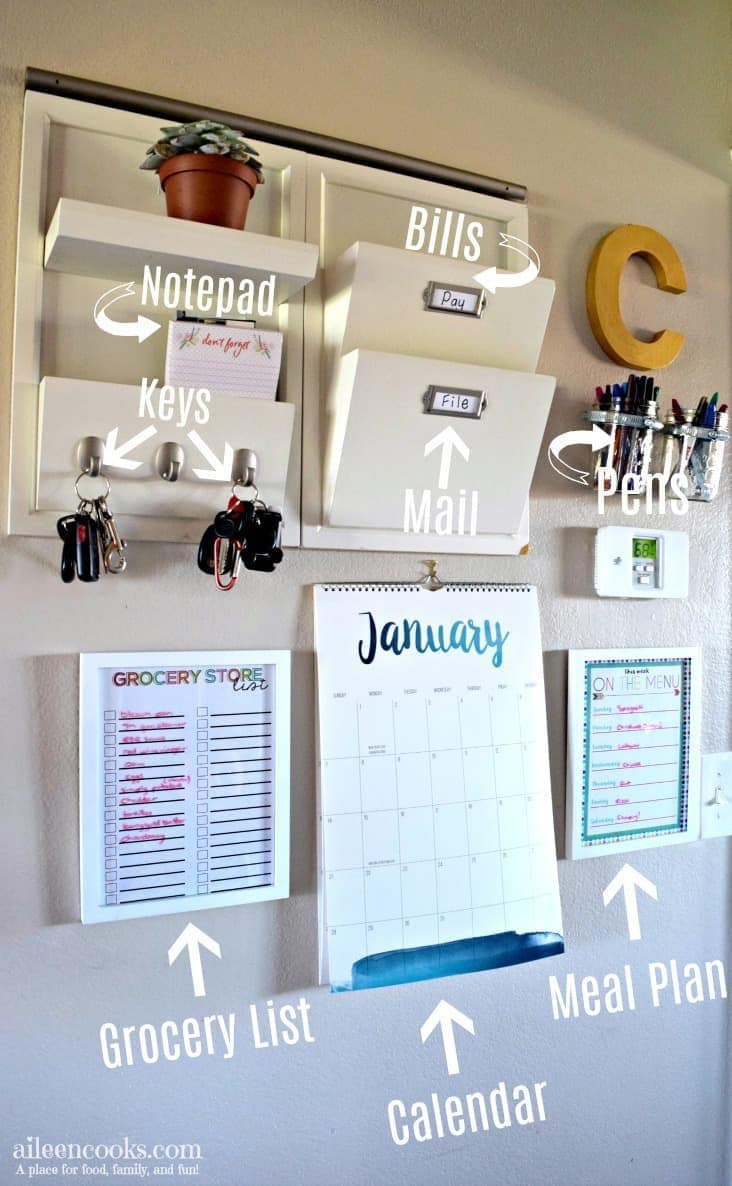 With the start of a new year (and the need for a new calendar), I decided it was the perfect time to create a functional family command center and eliminate some of our kitchen counter clutter. The first thing I did was hit Pinterest for inspiration.
There are so many great ideas out there for family command centers. Browsing Pinterest really helped me put together a list of everything I wanted in a command center that would help me manage my family's schedule and clutter. I took my main inspiration from At Charlotte's House and The Caldwell Project.
What do you need in a command center?
Calendar
Mail Slots
Key Holder
Shopping List
Meal Plan
Pen and Marker Storage
Letter C (for our last name)
The Calendar on our Command Center Wall
The center of our parent command center is the calendar. Although I do keep a schedule on my phone, I do not share an eCalendar with my husband. Our wall calendar is where we all get on the same page with our schedules.
And believe me – between school, work, overtime, PTA meetings, dance, and gymnastics – we need an organized calendar! A lot of command centers showed whiteboard style calendars with just one month displayed at a time.
Update: Although I love my paper calendar, we now use the Cozi app to manage our calendar and shopping list electronically. This makes it easy to stay on the same page with my husband. He can quickly check the calendar while at work, which makes this life easier!
That style of the calendar doesn't work well for me because I like to jump ahead a month or two and make notes pretty often. I also like to write down all of our extended family's birthdays on the calendar and copy it over from one year to the next.
I opted for a larger calendar (similar to this) so I would have space for more than one entry on each day.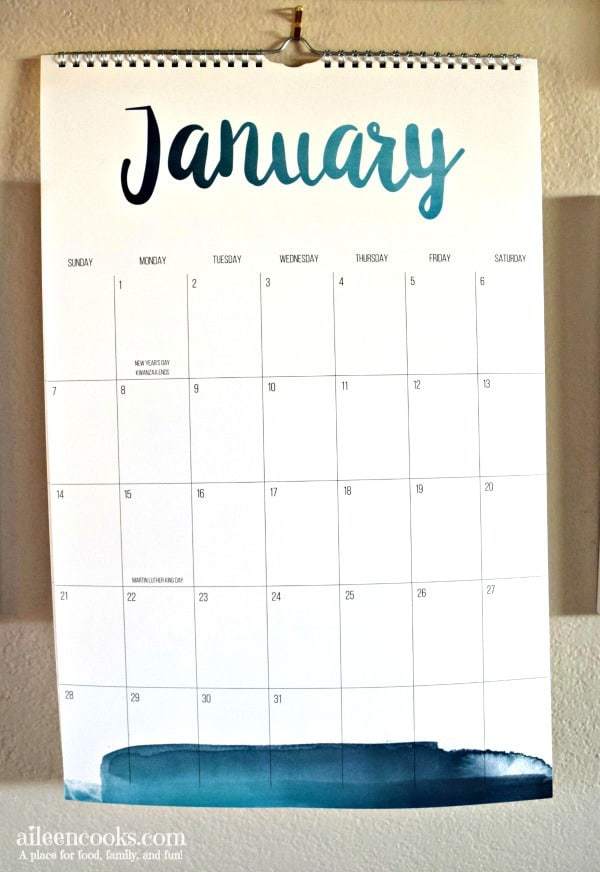 Mail Slots + Key Holder for our Family Command Center Wall
The mail slots and key holder set we used is the Daily System from Pottery Barn. They were one of the first things I bought when we purchased our first home almost a decade ago.
Our Daily System mail slots are well-loved, but still in great condition. I set our mail slot to "file" and "pay". The idea is I will sort the mail every day and dispose of/shred anything we don't need. We will see how that goes. 😉
I love the Daily System, but if that is not in your budget, there is a similar (and more affordable) wall organizer on Amazon that is very cute. It even comes with decorate chalkboard labels.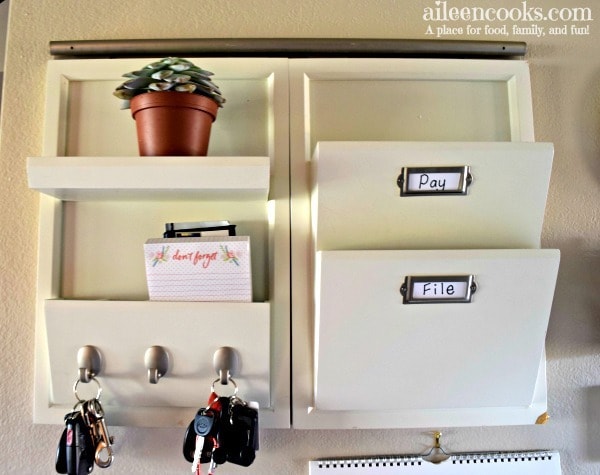 A Shopping List is so important for a kitchen command center
In the past, I have used a small whiteboard for our shopping list, but wanted something a little more decorating for our command center. I decided to use a printable in a simple white frame.
I just write my list with wet-erase marker and clean it off after I grocery shop. The grocery list printable is from Thirty Handmade Days. I do keep a running shopping list in my Cozi app on my phone, but like to have a written list at home, too.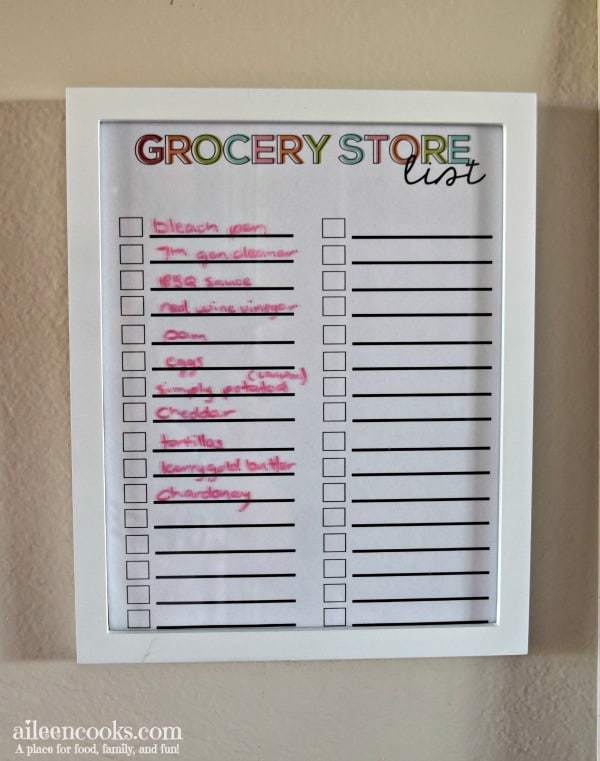 The Meal Plan for our command center wall
Taking the same tactic with our meal plan, I found a cute meal planning printable from I Should Be Mopping the Floor and put it in the same white frame. In the past, I used this meal planning printable, but I was itching for a change.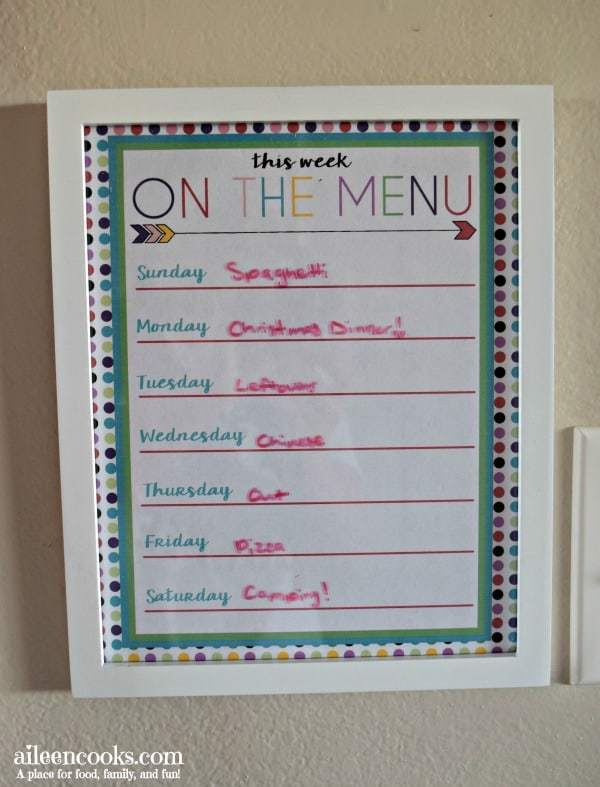 We also needed Pen & Marker Storage in your parent command center
In order to have everything readily accessible in the same spot, I knew we needed some way to store our pens and wet-erase markers. I saw this tutorial for hanging jars from Jenna Burger Design and instantly knew it was right for our pen storage. It was also a super cheap solution since I already had the jars on hand and the hardware only cost me $2.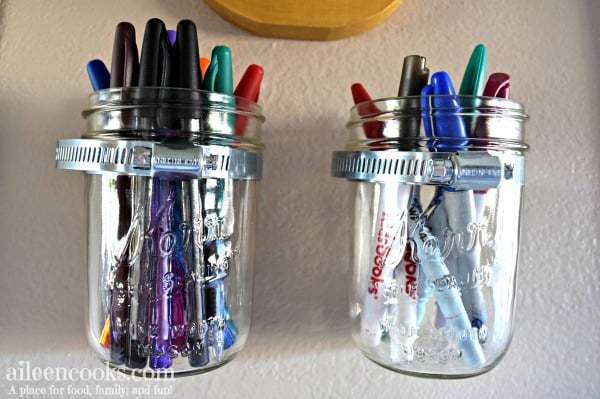 Personalizing our Command Center Wall Organizer
The last thing I added to our command center wasn't a functional part of our organization station, but I felt it pulled it all together and made it more personal. I took an unfinished wooden letter C and painted it with 2 coats of gold acrylic paint.
It was a super easy project. I could even change the color down the road if I felt like it. I might just change it to teal because I'm not feeling 100% committed to the gold. Either way, I was glad to personalize our command center in that way.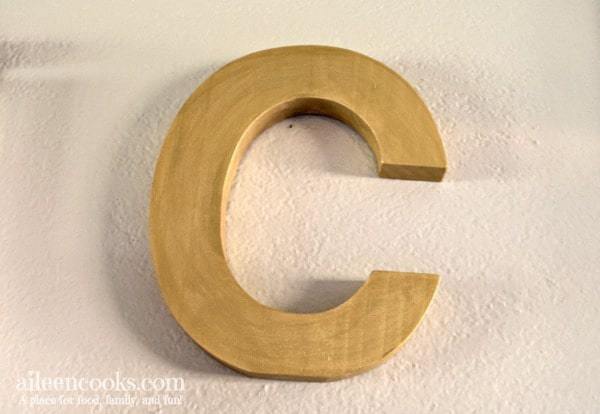 Plan your command center wall organizer
Before

you Hang

When it was time to hang all of the things for my family command center, it felt a little overwhelming and I wasn't sure it would all fit. I decided to start with paper taped on the wall as place holders for all of the items in our command center. It really helped me get a visual before putting any holes in the wall.

I'm so happy with how our DIY command center wall turned out. It makes me smile when I walk by and our kitchen counters are so clear. It feels so freeing!