Are you looking for a delicious Instant Pot Peach Cobbler recipe? You've come to the right place! We teach you how easy it is to make this classic instant pot dessert recipe without cake mix.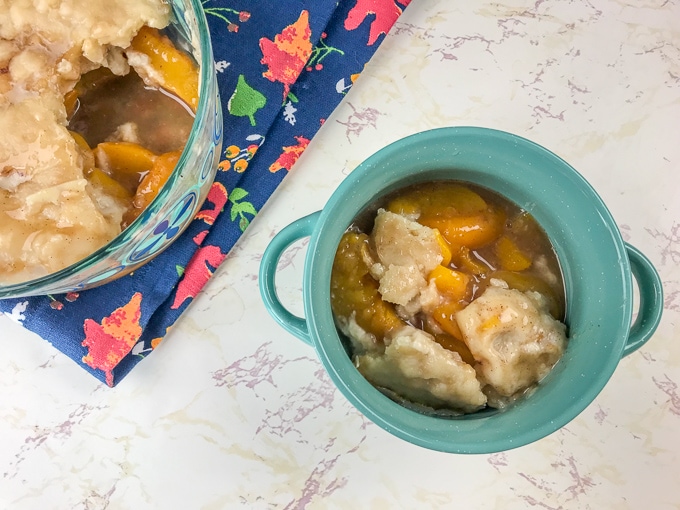 Making peach cobbler in the instant pot doesn't take a lot of hands-on time and it is such a delicious summer dessert. This recipe shows you how to make it using canned peaches so you can enjoy it even when there aren't fresh peaches available.
If you've never had peach cobbler before, you definitely want to try this recipe. The peaches cook into a delicious pie filling type texture and sweetness and the cobbler topping is a cross between a pie crust and a cookie.
Instant Pot peach cobbler without cake mix
You will see many peach cobbler recipes or "dump cakes" using a cake mix. This recipe does not use a cake mix. Instead, we show you a simple way to make your own Instant Pot peach cobbler topping from scratch. Cobbler can be made easily with just a handful of ingredients you probably already have on hand.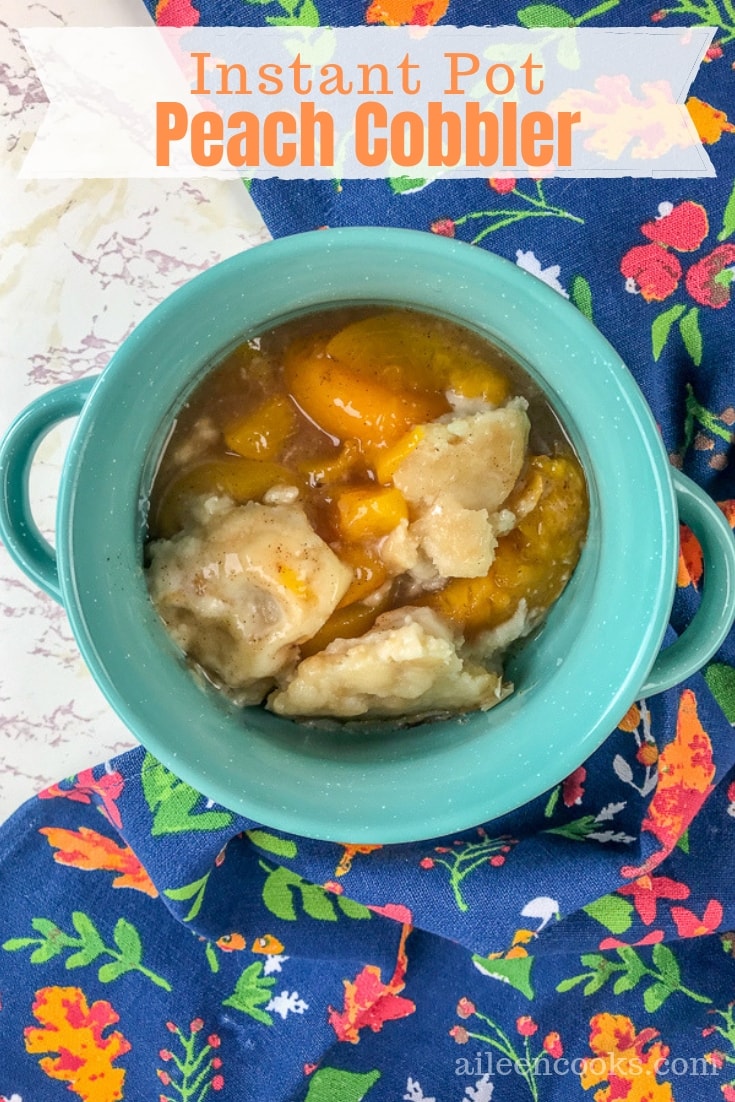 Instant Pot Peach Cobbler with Canned Peaches
This recipe uses canned peaches. If you would prefer to make this cobbler recipe with fresh peaches or frozen peaches, follow the directions in my classic peach cobbler recipe to prepare the peaches and then come back to this recipe for cooking directions in the Instant Pot.
Also, if you have lots of fresh peaches on hand, check out this recipe for Instant Pot peach jam. It is so good!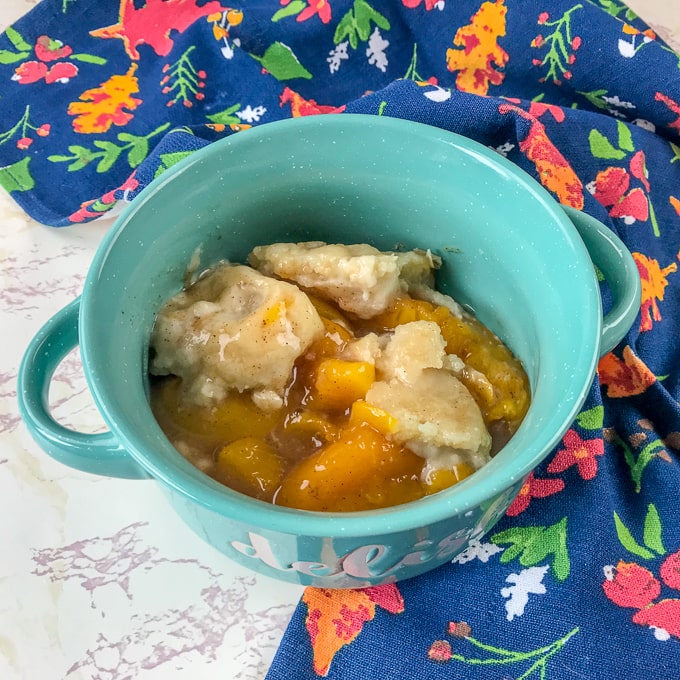 Help! My peach cobbler came out looking undercooked!
When you take your peach cobbler out of the Instant Pot, the cobbler topping may still look a bit gooey. This is completely normal. As your cobbler cools, it will continue to harden into a chewy and delicious cobbler topping.
If you're looking for other yummy fruit desserts made in the instant pot, check out our instant pot apple crisp recipe and instant pot cherry cobbler recipe.

Do I eat it warm or cold?
Peach cobbler can be eaten either warm or cold. Just make sure you let it sit for at least an hour (or longer) before serving. After that, you can serve it at room temperature, chilled, or reheated.
Serve it with whipped cream or vanilla ice cream for an extra special treat.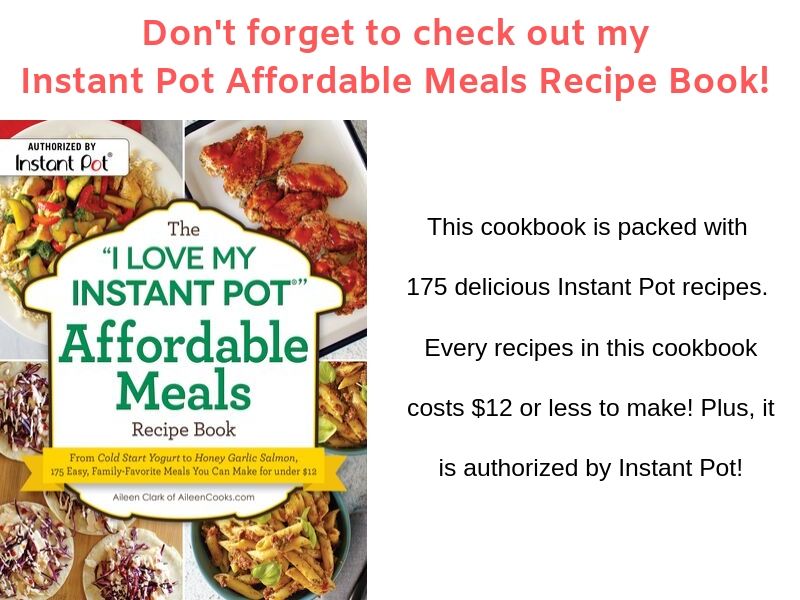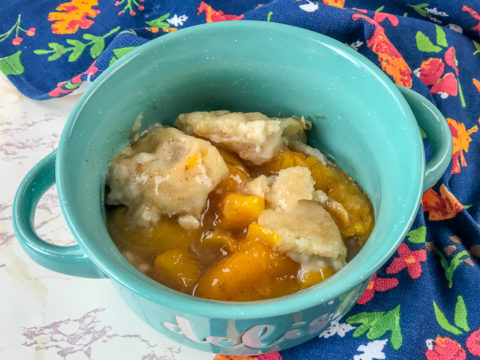 Yield: Serves 6
Instant Pot Peach Cobbler
Prep Time: 15 minutes

Cook Time: 35 minutes

Additional Time: 20 minutes

Total Time: 1 hour 10 minutes

Are you looking for a delicious Instant Pot Peach Cobbler recipe? You've come to the right place! We teach you how easy it is to make this classic instant pot dessert recipe without cake mix.
Ingredients
1 cup water
2 (14.5-ounce) cans cling peaches, drained
3/4 cup + 3 tablespoons granulated sugar, divided
3 tablespoons packed light brown sugar
1/2 tablespoon corn starch
1/2 teaspoon cinnamon
1 1/2 teaspoons vanilla extract, divided
3/4 cup all-purpose flour
1/8 teaspoon salt
6 tablespoons unsalted butter, melted
Instructions
1.Place water and trivet inside Instant Pot.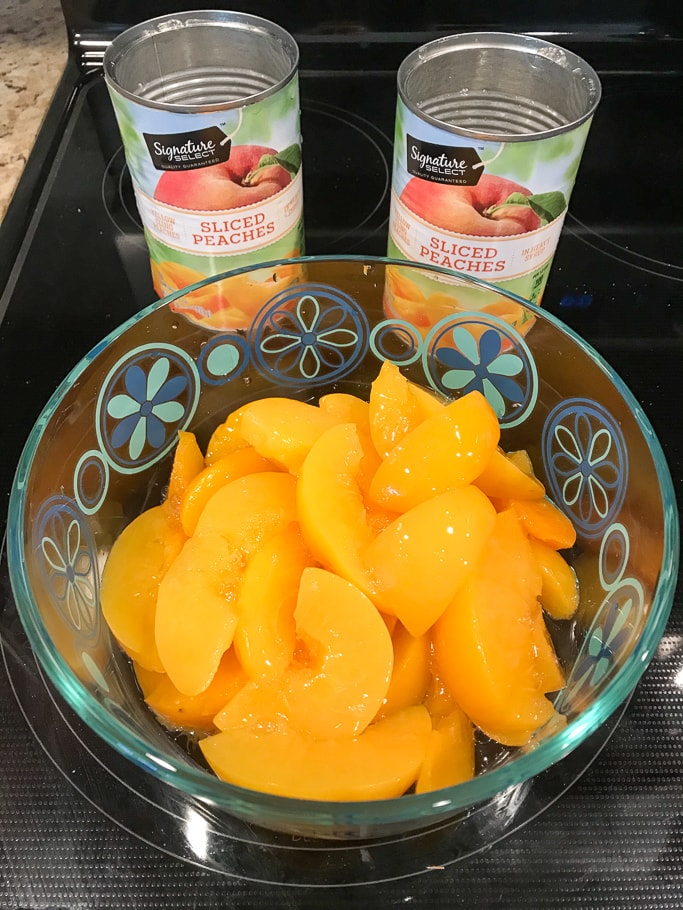 2.Combine peaches, 3 tablespoons granulated sugar, brown sugar, corn starch, cinnamon, and 1/2 teaspoon vanilla inside a (7-inch) cake pan. Mix until combined.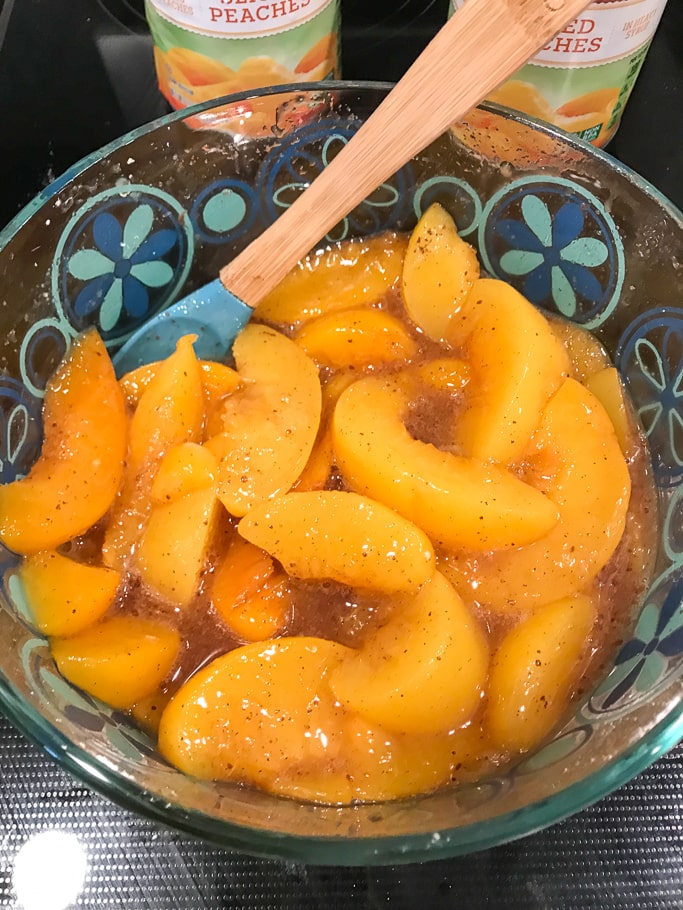 3. In a medium bowl, mix together remaining 3/4 cup sugar, flour, and salt.

4.Slowly drizzle melted butter and remaining 1 teaspoon vanilla extract into bowl.

5.Mix together with a fork until mixture is wet.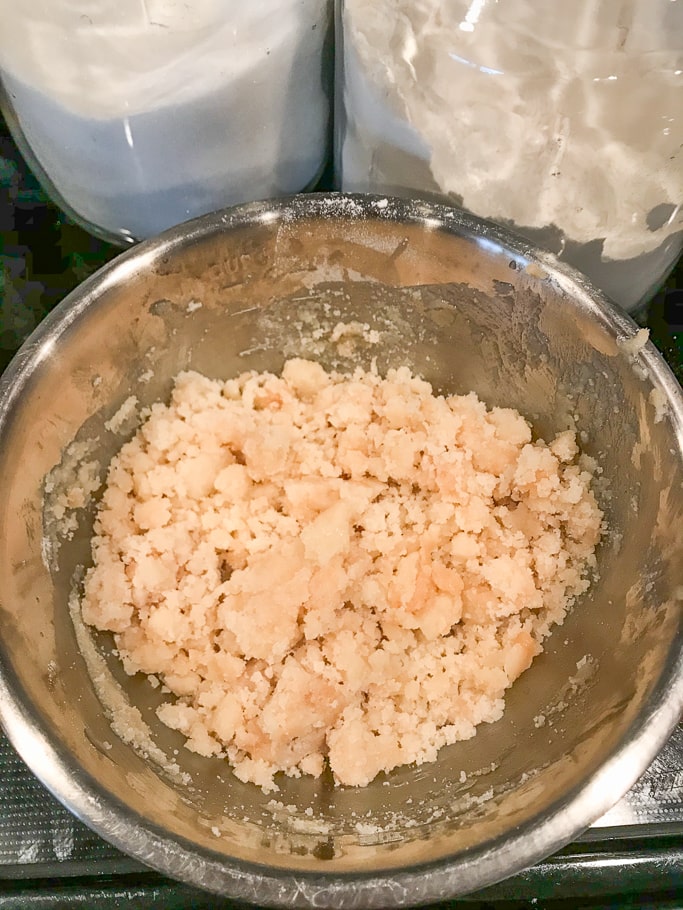 6.With clean hands, grab clumps of the cobbler dough and squeeze into a ball. Then flatten into a round.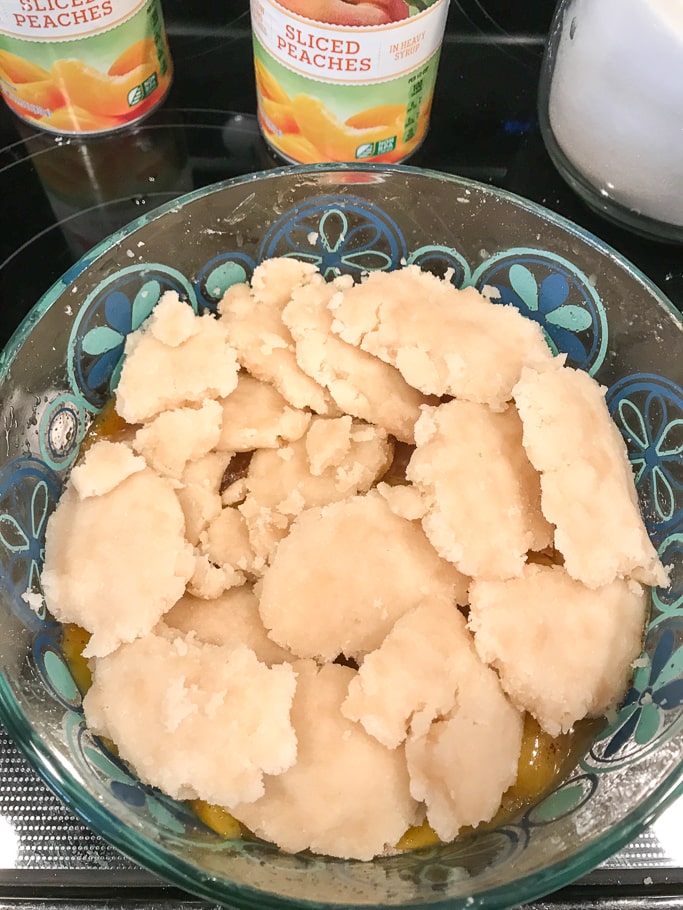 7.Place on top of peaches. Continue making rounds with the cobbler dough and arrange slightly overlapped on top of peaches.

8.Tightly cover cake pan with foil.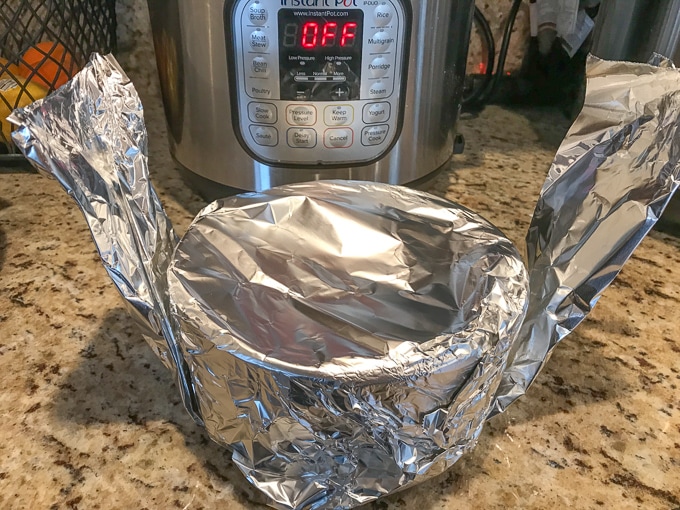 9.Create a foil sling and slowly lower pan into Instant Pot.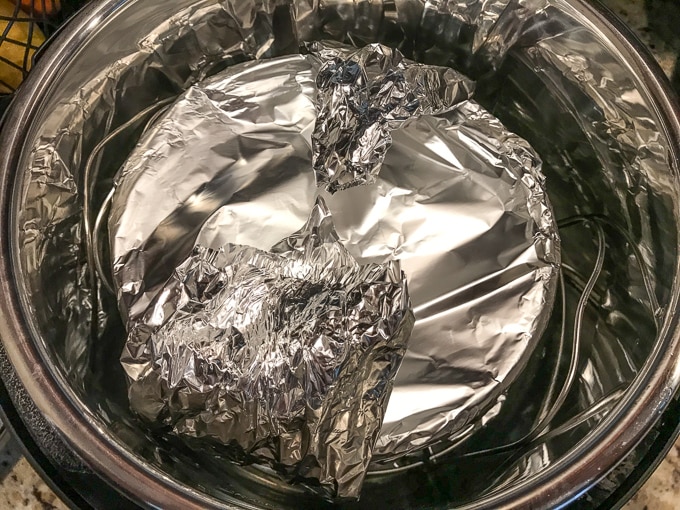 10.Close lid and set pressure release to sealing.

11.Press manual or pressure cook button and set to 35 minutes.

12.Quick release pressure and remove cake pan using foil sling. Remove foil from top of cake pan.

13.Let cool completely to room temperature before serving.
Notes
Freezing instructions: Let cool completely. Wrap in two layers of aluminum foil. Label and date foil using a permanent marker. Freeze up to 3 months. Defrost in refrigerator and serve cold or reheat in oven.
Nutrition Information
Yield
6
Serving Size
1
Amount Per Serving Calories 221Total Fat 12gSaturated Fat 7gTrans Fat 0gUnsaturated Fat 4gCholesterol 31mgSodium 48mgCarbohydrates 27gFiber 1gSugar 14gProtein 2g

Nutrition information is an estimate.

We loved this instant pot peach cobbler recipe and hope you did, too! Please consider leaving us a rating or comment review.