Van Gogh: The Immersive Experience Review
As an Amazon Associate I earn from qualifying purchases.
Considering a field trip to Van Gogh: The Immersive Experience? Keep reading for ways to learn about Van Gogh before your visit and decide if the cost is worth the exhibit.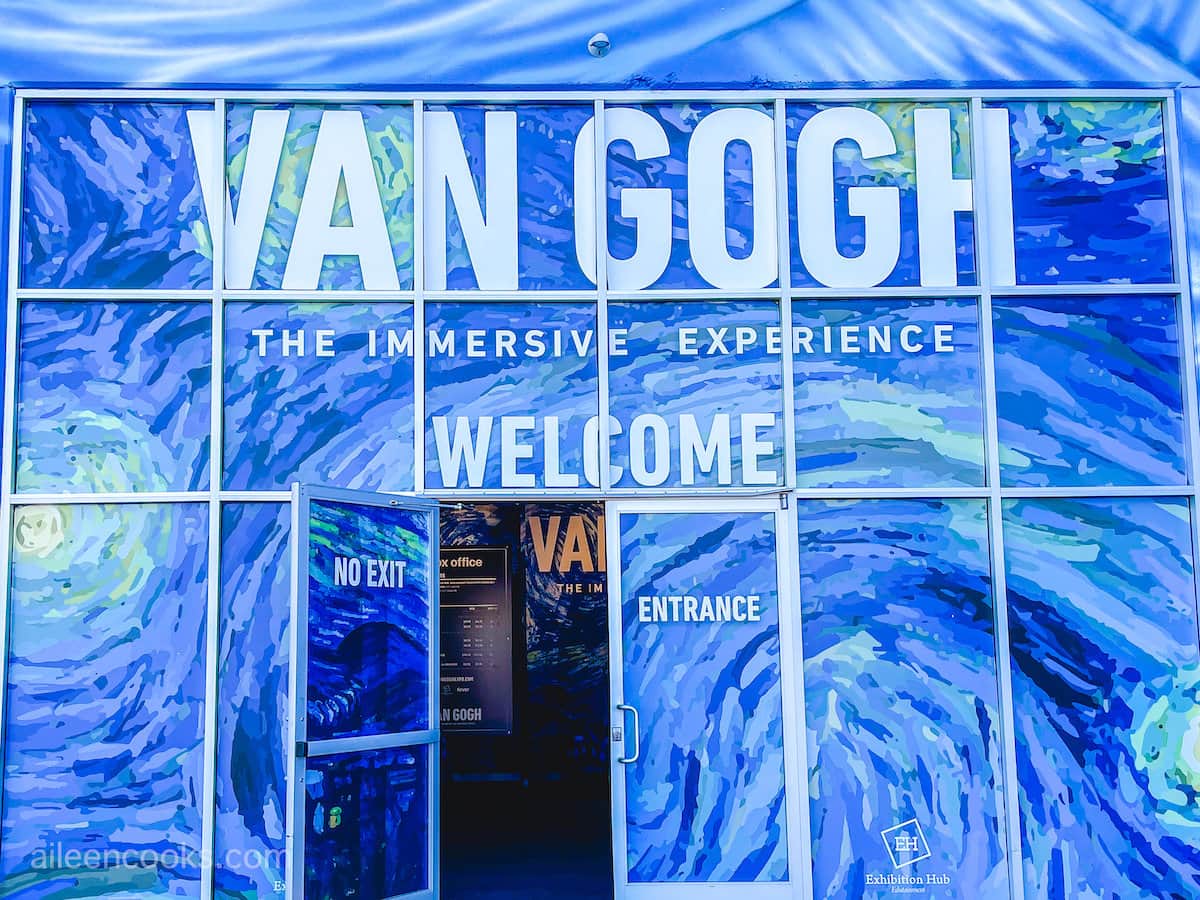 About Van Gogh: The Immersive Experience
Van Gogh: The Immersive Exhibit is a traveling art exhibit like no other! It uses a combination of still and moving art that puts you inside the art work while helping you learn more about the artist and his life.
The Van Gogh Immersive Exhibit is currently in Sacramento and will be there into 2023. They even offer a yoga option to the immersive art show. Get your tickets at VanGoghExpo.com.
What ages can visit Van Gogh: The Immersive Experience?
I took my four kids to this exhibit. Their ages range from 10 to 1.5. It is an all ages exhibit and they all got something out of the experience. However, I would recommend kids ages 5 and older as it could be difficult to keep a toddler busy long enough to get the full experience from the exhibit. Luckily, I had my aunt with me to help keep her occupied and she was in an exceptionally good mood and was happy to stay in her stroller.
The moving art kept my younger children interested enough for the adults and my oldest to sit and experience the art. I'm really happy with our decision to include it on our Van Gogh study.
They also had a room dedicated to coloring in famous works of art from Van Gogh and then projecting them on the screen. My daughters all really enjoyed this room – as did I!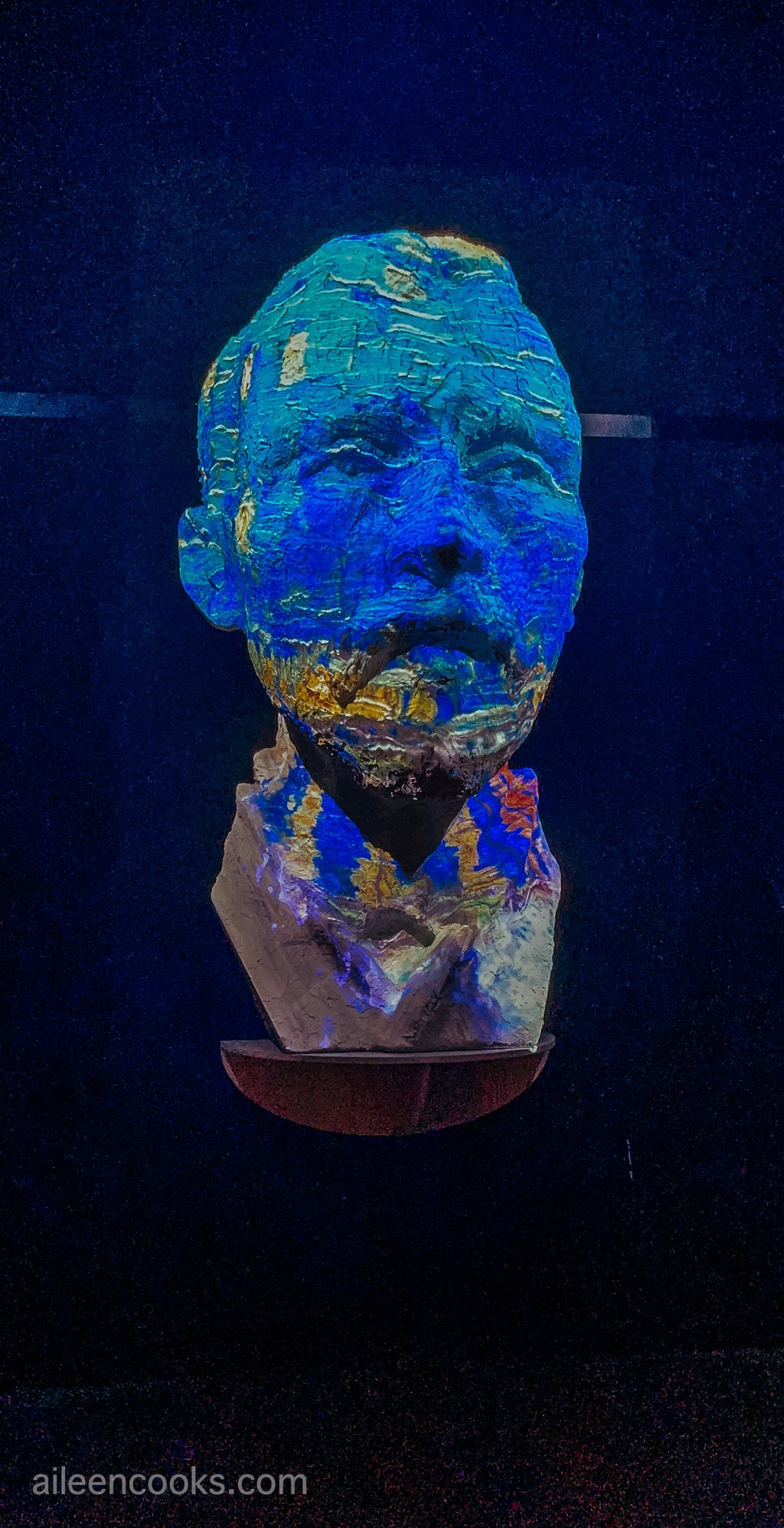 Homeschool Lessons on Van Gogh
In preparation for the field trip to Van Gogh: The Immersive Experience, we started an artist study on Van Gogh. I used this study on Van Gogh from Simply Charlotte Mason. It includes a biography of the artist's life, a picture study guide, along with 8 prints to study.
We also watched several YouTube videos about Van Gogh. I do recommend you prewatch any videos about how he lost his ear as they can be graphic or upsetting. I made the mistake of putting an animated video about his ear, thinking it would be mild. Don't be like me!
To conclude our study (in a few weeks), we plan to do this watercolor project from Let's Make Art. You can purchase their Starry Night Watercolor Kit or use your own supplies and follow along to the YouTube video.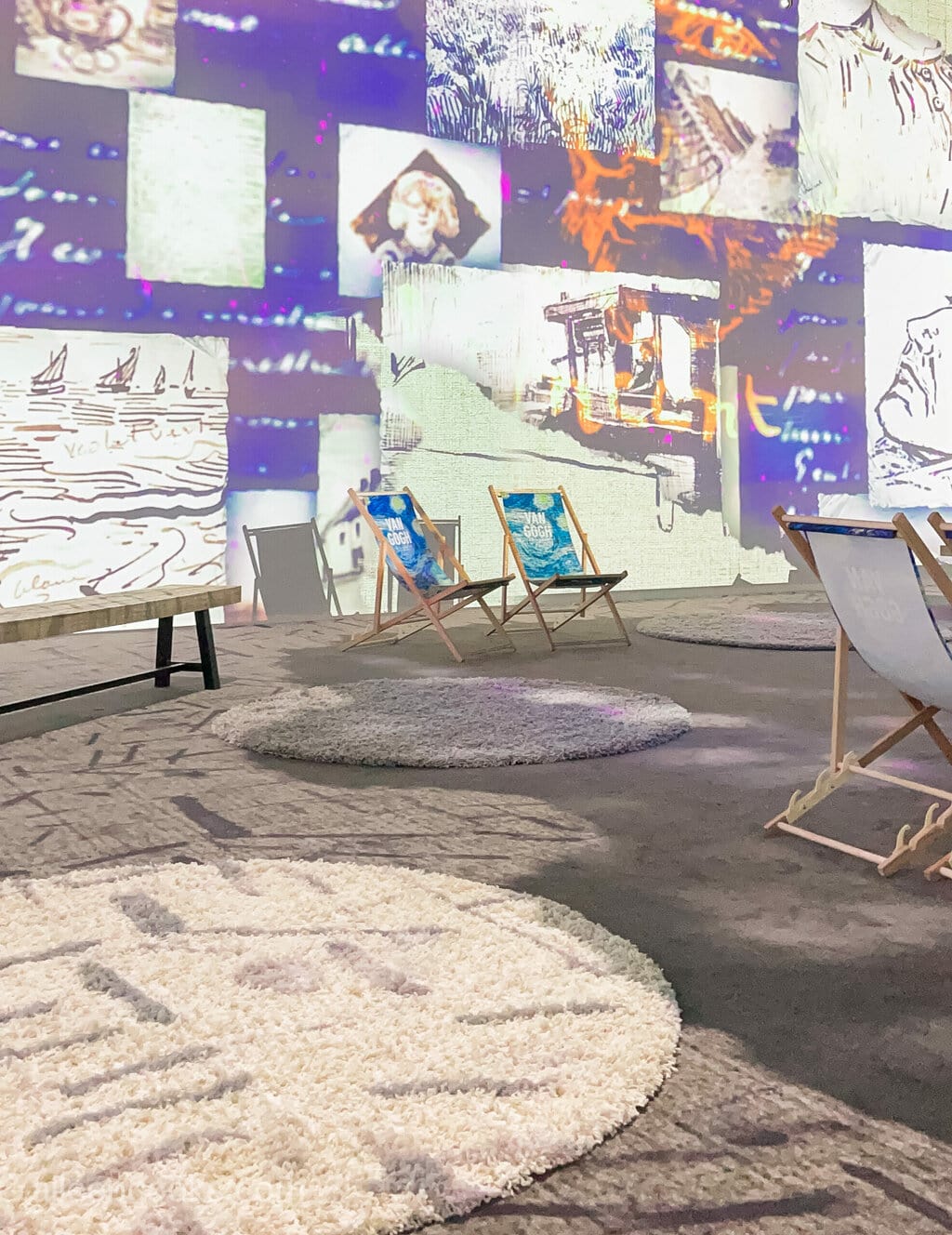 More about Van Gogh: The Immersive Experience
The exhibit consisted of several different rooms of art – all set up differently. The first room was a traditional art exhibit showcasing several of Van Gogh's more popular paintings on canvas. It also included a really interesting sculpture of his head that projected his different works on it.
Another room was full of mirrors with a projection of one of his sunflower paintings projected on the ceiling and floor. When you looked in the mirror, it was like you were in the painting. This was really cool. However, it did make us a bit dizzy, so we didn't stay long.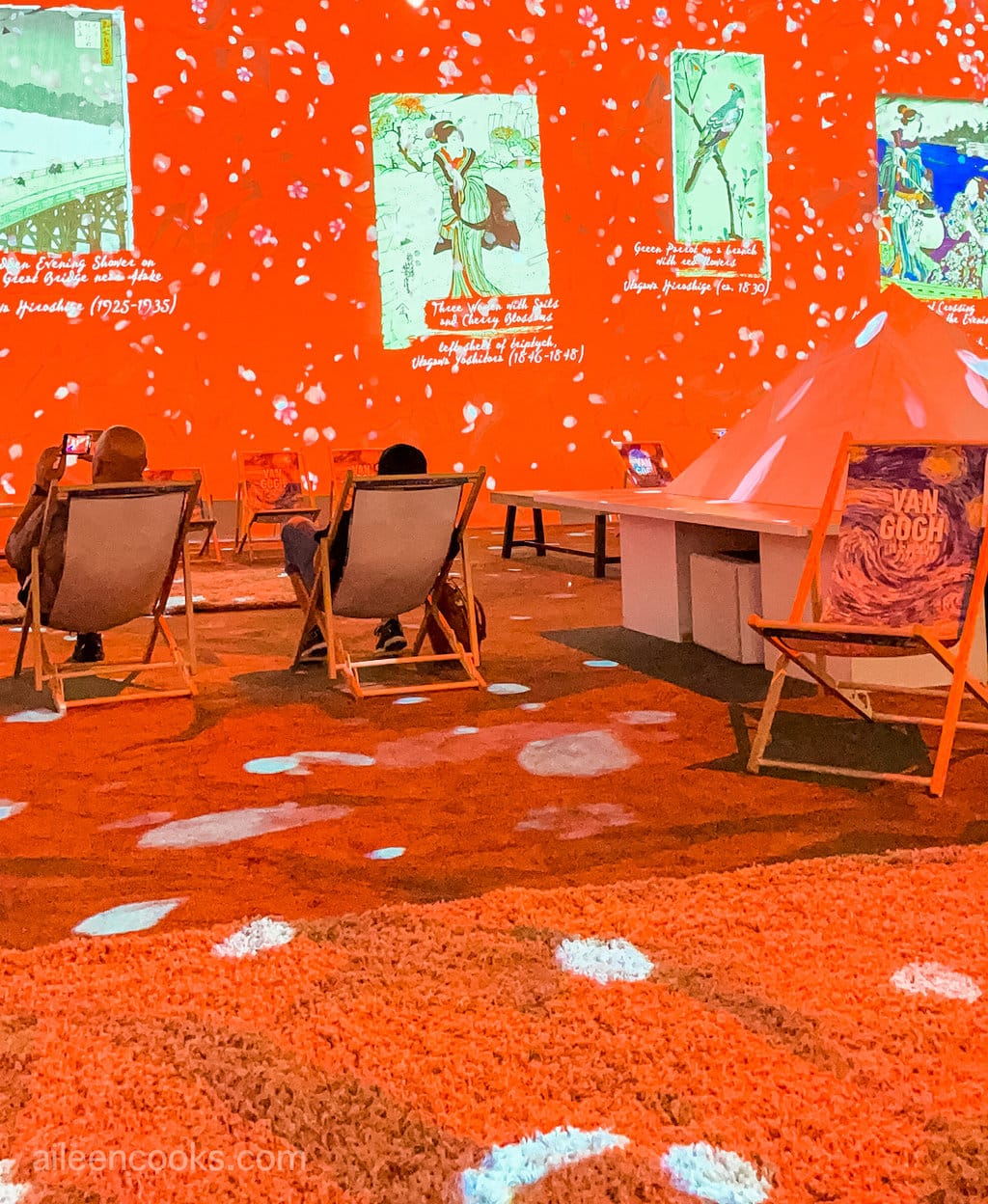 Our favorite room was the largest. It was filled with different types of seating and comfy rugs to sit on. The walls were all projected with moving art and changed every few minutes.
My 10 year old especially loved this room and even stayed in there on his own while we moved on to watch the rest of the exhibit.
Several people spent a lot of time in this space. It seemed to a be a favorite too many of the visitors. I could have easily spent an hour in that room meditating and appreciating all of Van Gogh's works.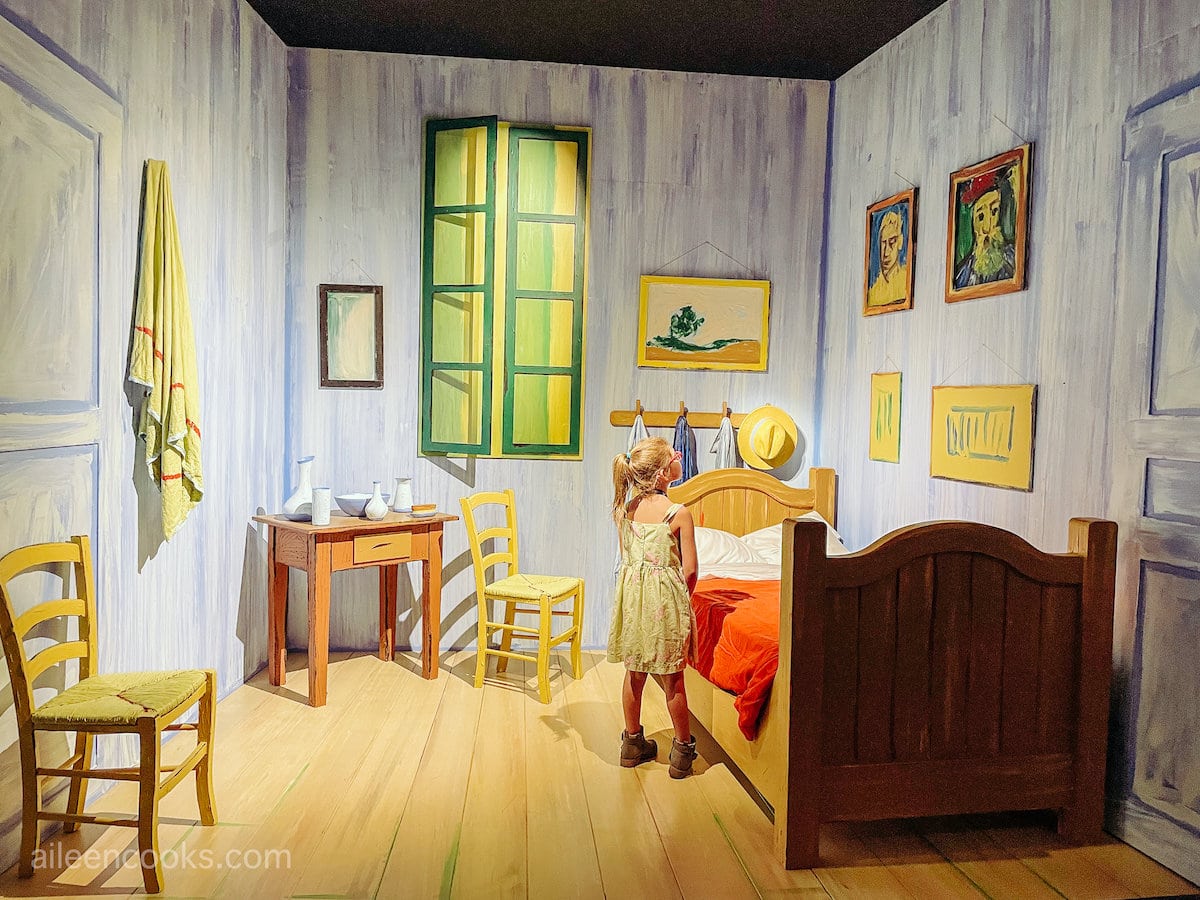 Another room had exhibits you could stand with for an immersive photo. Included in this space was a replica of Van Gogh's childhood bedroom.
About the VR Option
Finally, the last room includes the VR experience. There are two ways to get the VR experience. You can purchase VIP tickets that include the virtual reality experience and a free poster. Or you can purchase the VR experience for $5 on-site.
I highly recommend trying the virtual reality experience at Van Gogh: The Immersive Experience.
It is 100% worth the extra $5. It shares more about Van Gogh's life while also showcasing many of his paintings in a way that shows his inspiration as well. I had never done any type of VR and loved it.
Overall, we really loved the Van Gogh Immersive Experience. It was such a great way to introduce my kids to an art exhibit in a fun and interesting way.