Overnight crockpot chicken stock is a great way to use up the leftover bones and skin from a chicken cooked in the crockpot or a rotisserie chicken. Often times, I will cook a whole chicken in my crock pot during the day, eat it for dinner, and make stock with the leftovers that night. It's really simple and makes a rich and delicious stock. Homemade chicken broth is way better than store bought and is significantly cheaper, too.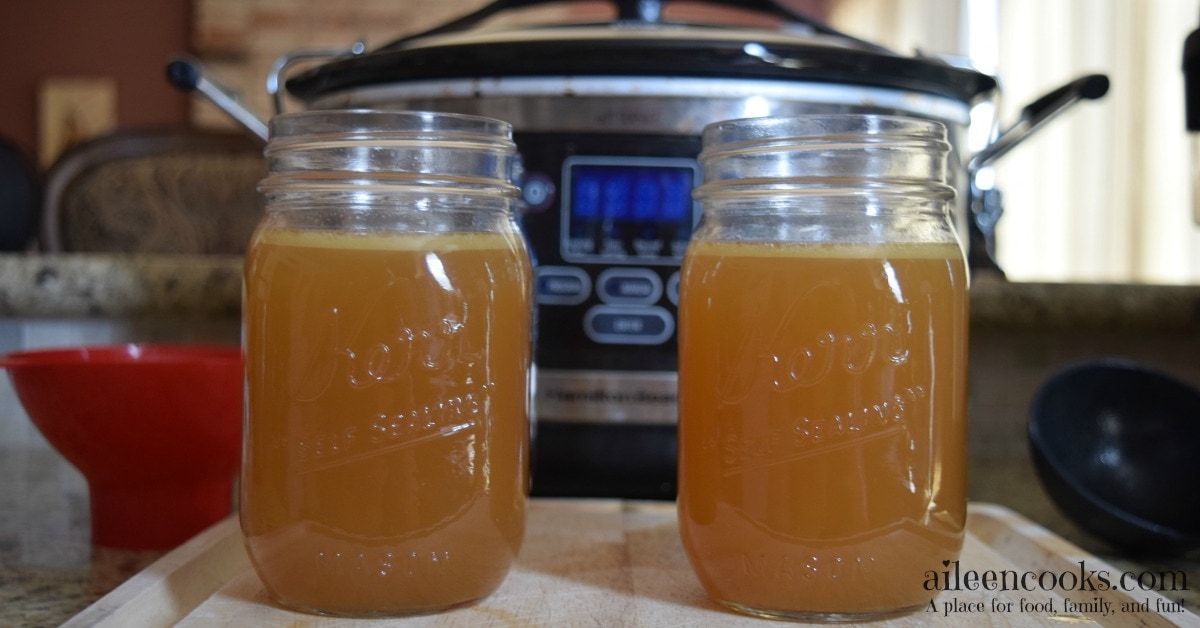 Special equipment used to make crockpot chicken stock:
The first thing you do is roughly chop up an onion. Very roughly – just a little more than quartered. Put the onion in the bottom of the crockpot and place the chicken bones on top – along with any meat and skin you have leftover.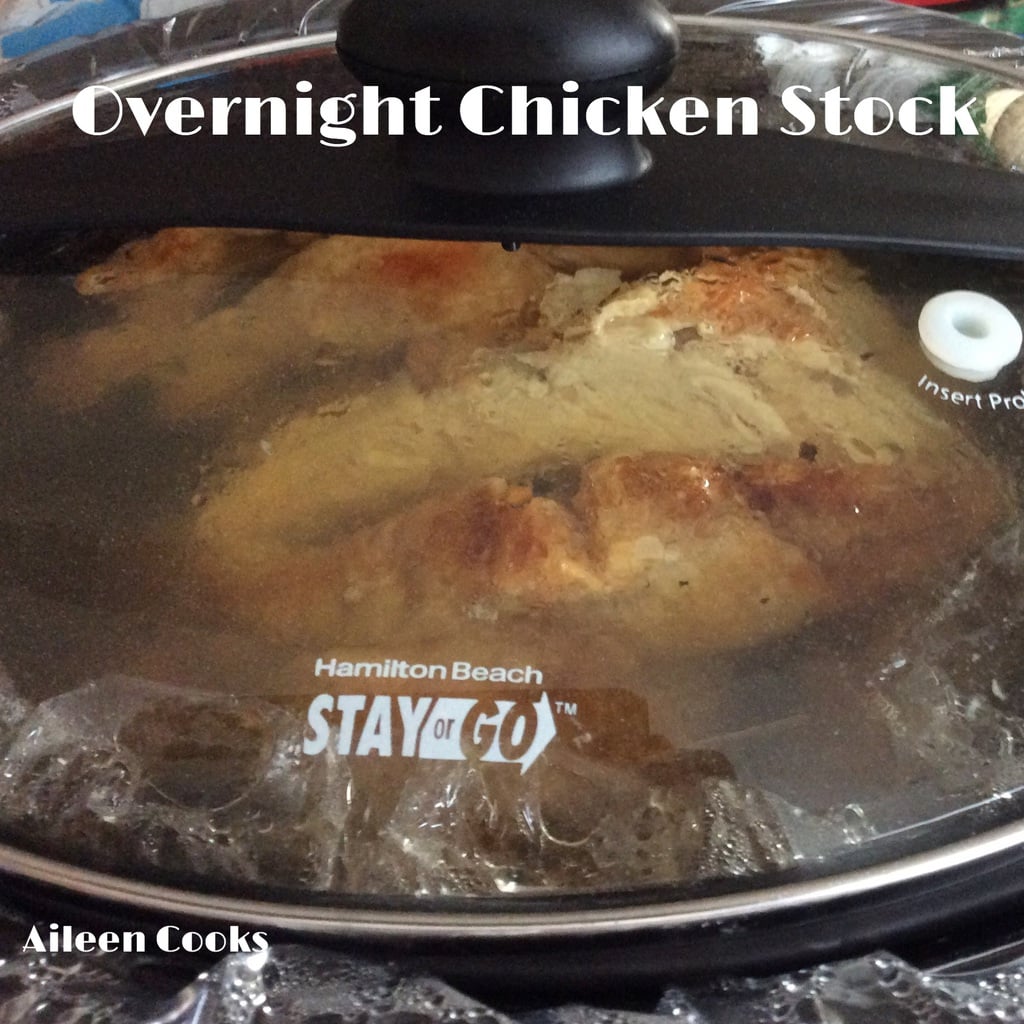 Next, add in any other vegetables you have on hand. I usually freeze my carrot and celery ends and throw them in there frozen. Cover the meat and vegetables with water – leaving 1 inch at the top of your slow cooker. Sprinkle some spices on top and put the cover. Set it on low. Now, go to bed and wake up to rich and healthy homemade chicken stock.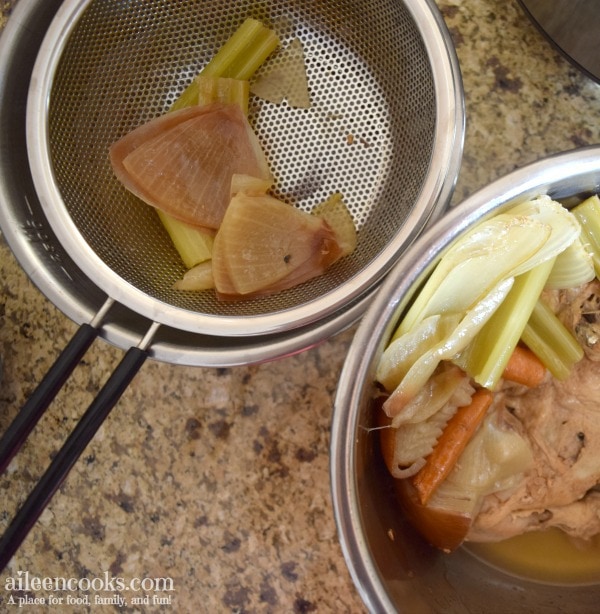 When you wake up, your slow cooker will smell like chicken noodle soup. Turn your crockpot off and take the lid off so It can cool. Skim off any fat from the top with a spoon – the fat will show itself as the chicken stock cools.
Once the crockpot chicken stock is cool enough to work with, ladle it into a mesh sieve over a large mixing bowl. You may need to work in batches. Once all of your stock is strained, pour it into jars using a wide mouthed funnel.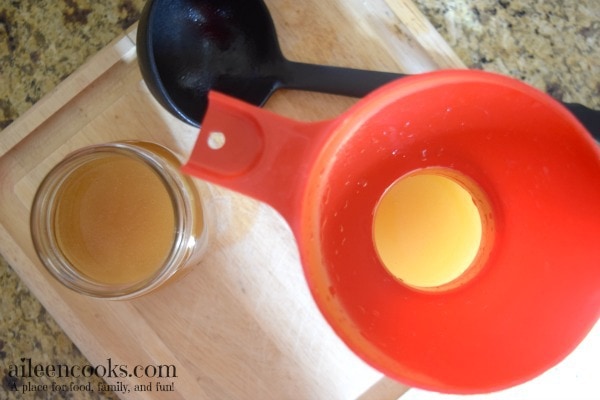 If you plan to freeze the chicken broth, leave 1 inch of head space so the glass doesn't break when the liquid expands in the freezer. You can also use gallon sized freezer bags. Just fill each bag with 4 cups of water and freeze it laying down. Once they are frozen, stand them up and they take up minimal space.
If you don't have time to strain your stock in the morning, just pop your slow cooker (with lid) in the refrigerator. It can stay in your fridge for up to 3 days.
You may also like: Crockpot Buffalo Chicken and Crockpot Hawaiian Chicken.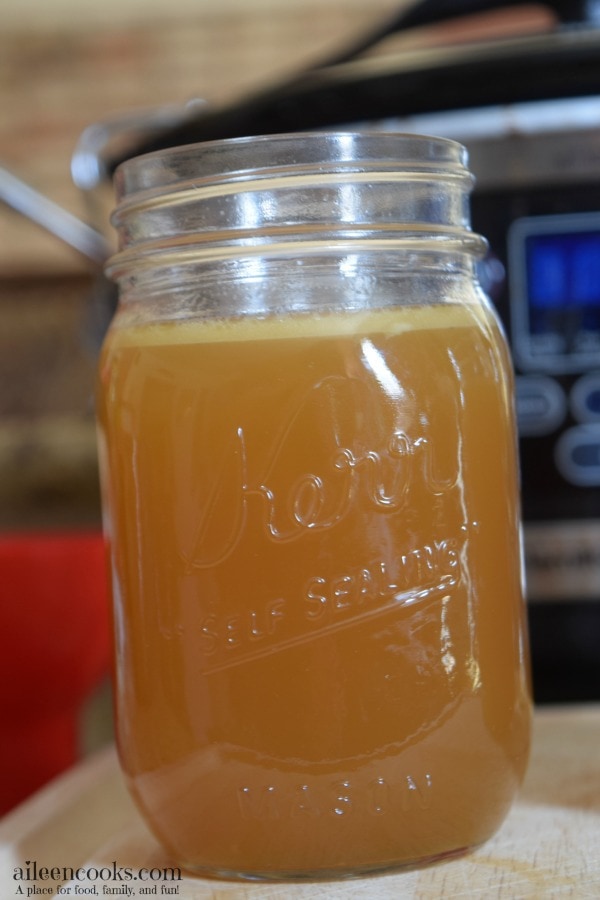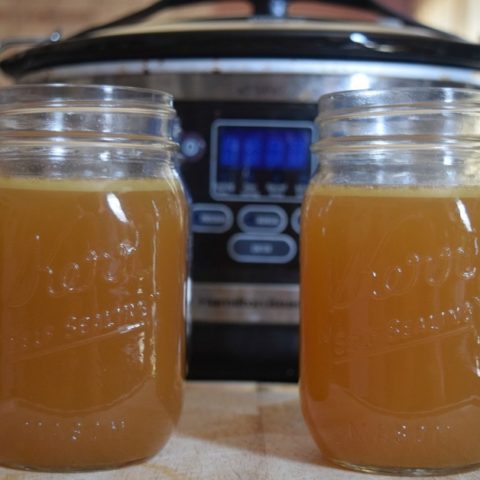 Overnight Crockpot Chicken Stock
Total Time:
8 hours
20 minutes
The easiest way to make your own homemade chicken stock - while you are sleeping!
Ingredients
Chicken bones and any leftover skin and meat
1 large onion, roughly chopped
2 celery stalks, cut in half
2 carrots, cut in half
1 tsp salt
1 tsp Italian seasoning
Pinch red pepper flakes
1 bay leaf
Instructions
Place onion in crock pot. Top with chicken bones (and skin and meat, if using), celery, and carrot. Pour water over the contents, leaving 1 inch of head space. Sprinkle the salt, Italian seasoning, red pepper flakes, and bay leaf over the water. Cover and cook on low overnight.
In the morning, turn off the heat and remove the lid. Allow to cool slightly and skim off the fat. Strain through a mesh sieve and ladle into freezer safe containers or bags. Label and freeze for up to 6 months.
Nutrition Information
Amount Per Serving
Calories

90
Related Posts:

Note: This post contains affiliate links. Read our disclosure policy here.