How to Roast a Whole Chicken in Your Crockpot
Cooking a whole roasted chicken in the crockpot is one of my favorite ways to make chicken. Not only is it budget friendly, it's insanely easy and can provide more than one meal for my family.
Normally, I start the roasted chicken in the morning and it's ready for dinner that night. We will eat what we want from the chicken along with a couple of easy sides like a simple side salad, honey roasted carrots, or zesty potatoes.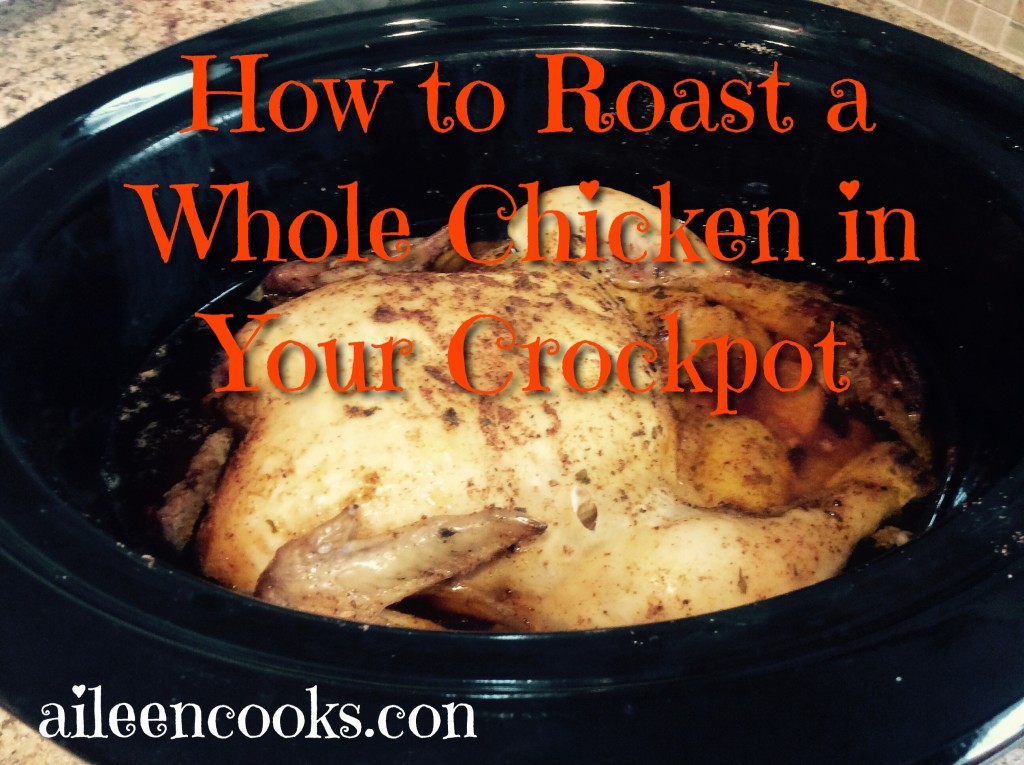 Then, I pick off the leftover meat. This usually leaves me with 2-3 cups of chicken (depending on  the side of the bird and how hungry we are that night). I either shred or chop up the chicken and put it directly in my freezer – divided up into two containers. Enough for two more meals! Yay!
Lastly, I put the remainder of the meat and chicken bones back into my crockpot for overnight chicken stock. With that, I usually end up with 8-9 cups of broth. Definitely enough for at least one batch of soup.
So, let's recap. I cook one whole chicken in my crock pot and end up with dinner that night, enough chicken for two casseroles, and enough broth for a 2 batches of soup. Cooking a whole chicken is seriously the way to go to stretch your budget and avoid excess cooking.
Preparing the chicken is fairly easy. I roughly chop up an onion and arrange it on the bottom of my slow cooker. Then, I remove any giblets from my chicken and place it on top of the onion. I rub the chicken down with an easy homemade spice mixture. I cover the crockpot and cook my bird breast side up for 6-8 hours on low. I start it in the morning and it's all ready for me by dinner time.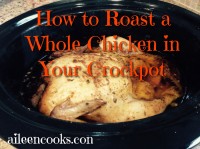 Yield:

6 people
Whole Roasted Chicken in the Crockpot
Total Time:
6 hours
10 minutes
Make this fall-off-the-bone whole chicken recipe in your crockpot or slow cooker!
Ingredients
4 pound whole chicken
1 onion
1 tsp salt
1 tsp garlic powder
1/2 tsp onion powder
1/2 tsp chili powder
1/2 tsp paprika
1/2 tsp dried parsley
Instructions
Mix together the salt, garlic powder, onion powder, chili powder, paprika, and dried parsley. Set aside.
Roughly chop the onion and arrange it on the bottom of your crockpot.
Remove giblets from bird.
Place bird breast side up in crockpot, on top of chopped onion.
Rub entire bird with spice mixture.
Cover crockpot and cook on low for 6-8 hours.
Nutrition Information
Amount Per Serving
Calories

225
Nutrition information is an estimate.
Let's Connect! Facebook // Instagram // Pinterest