Strawberry Banana Muffins
Strawberry Banana Muffins
I have been making these muffins for quite some time – adding different variations as I see fit. Using strawberries is my favorite way to make these banana muffins. They add a nice sweetness and texture that you don't get with traditional banana muffins.
This recipe calls for all purpose flour, but I almost always use white whole wheat flour. It is a really nice way to add some whole grains into your day and the white whole wheat variety is so light, it doesn't sacrifice taste. If I'm feeling really healthy, I will throw in some ground flax, too.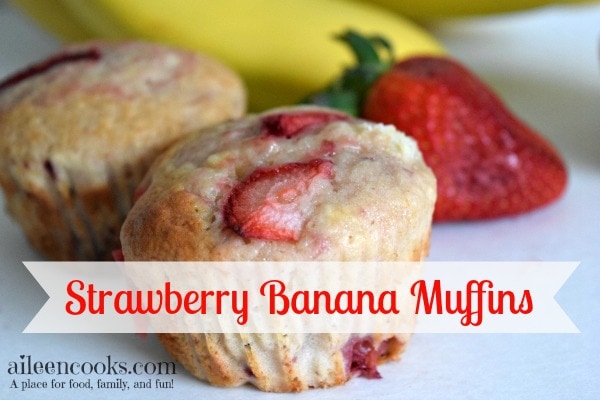 Feel free to use whatever flour you like or have on hand. Either way, the muffins will taste great.
These strawberry banana muffins are perfectly sweet and moist. It is a great recipe to make with your kids. My 3 year old loves mashing bananas and folding in the strawberries (it turns the batter pink)! Another fun recipe to make with kids is Strawberry Nutella Turnovers. It's a yummy 3 ingredient dessert recipe.
This recipe makes about 2 dozen muffins and they freeze well. Just pop them into a freezer bag and defrost them individually, as needed.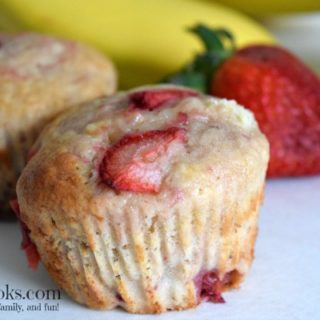 Strawberry Banana Muffins
Our favorite banana muffin recipe. This recipe can be made with either fresh or frozen strawberries. Either will be a delight to your taste-buds.
Ingredients
2 cups all purpose flour
1 cup sugar
1 tsp baking powder
1/2 tsp baking soda
1/2 tsp salt
1 1/2 cups mashed bananas, about 3
1/3 cup strawberry yogurt
2 large eggs
6 TBSP melted butter, cooled slightly
1 tsp vanilla extract
1 1/2 cups chopped strawberries
Instructions
Pre heat your oven to 375.
In in a large bowl combine the flour, sugar, baking powder, baking soda, and salt. Set aside. In a medium bowl, mix together the bananas, yogurt, eggs, butter, and vanilla. With a wooden spoon, mix the banana mixture into the flour mixture until moist. Do not over mix. Fold in the strawberries.
Spoon the muffin batter into a well greased muffin tin. Fill 2/3 full and bake 20-23 minutes, until a toothpick inserted in the center of a muffin comes out clean. Cool completely.
Nutrition Information
Amount Per Serving
Calories

165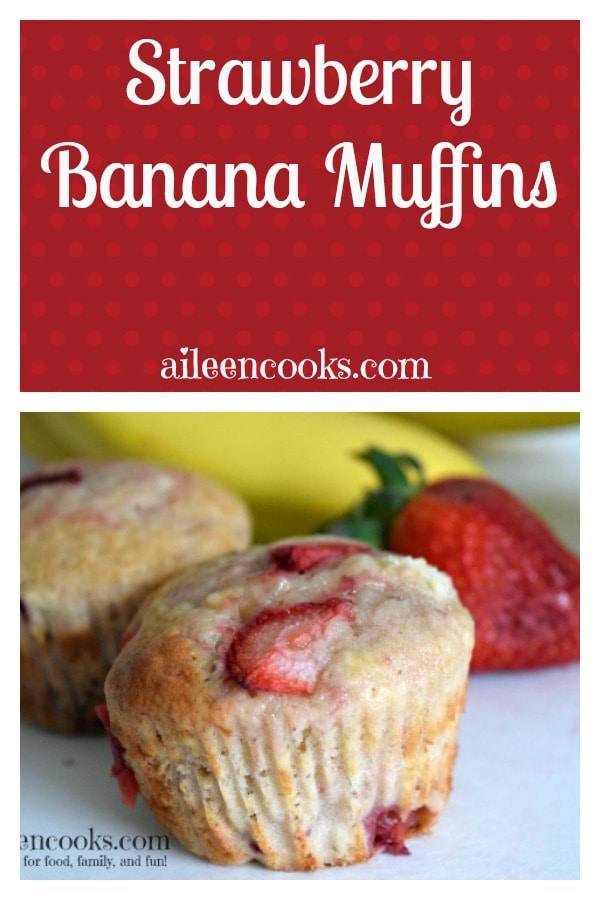 Source: Adapted from The Quick Recipe