This simple and delicious moist banana bread recipe comes out of the oven with a crisp and chewy crust and moist crumb. The mix of white and brown sugars adds a depth of flavor not found in traditional banana bread recipes. Make sure to check out our whole list of banana bread recipes, too!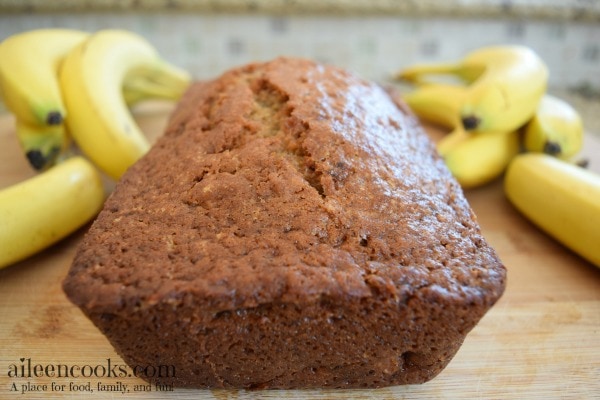 This is our very favorite banana bread recipe, because it comes out perfectly moist every time. The combination of sugars add an amazing flavor combination and the sugar on the crust, adds a nice crispy crust, too.
We have shared many banana bread recipes over the years, including instant pot banana bread in jars, strawberry banana muffins, instant pot banana bread, whole wheat double chocolate banana bread, and banana blueberry muffins with vanilla glaze.
How long does banana bread last?
It will stay fresh on the counter tightly wrapped in foil or plastic wrap for a few days. Although, it may not last that long. I made a double batch of this bread and my kids and I ate an entire loaf that first morning.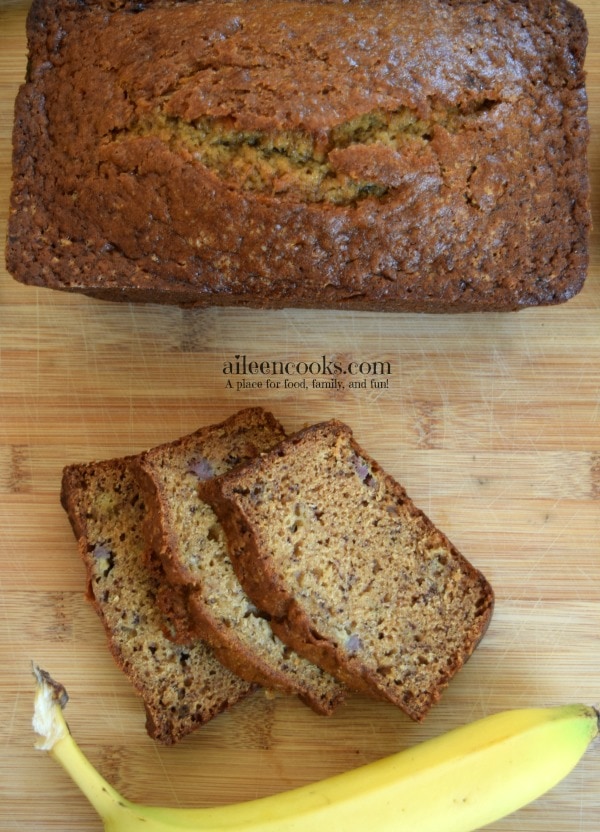 Can you freeze banana bread?
You can also freeze the banana bread whole or in slices for up to 3 months. Just pull the slices out individually and pop them in your toaster for a few minutes.
When freezing banana bread, make sure it is fully cooled before freezing. Wrap it in two layers of foil and freeze. Make sure to label and date the foil so you don't forget what is in there.
If you want your banana bread to last in the freezer for longer than 3 months, you can freeze it using a vacuum sealer. It will remove all of the air, preventing freezer burn, and keeping it fresh longer.
Why does my banana bread stick to the bottom of the pan?
If your banana bread sticks to the bottom of the pan, it's because it has not been greased properly. Make sure to grease your pan well with butter or oil. You can also sprinkle the oil with flour to give it an extra layer between the banana bread and pan, preventing it from sticking.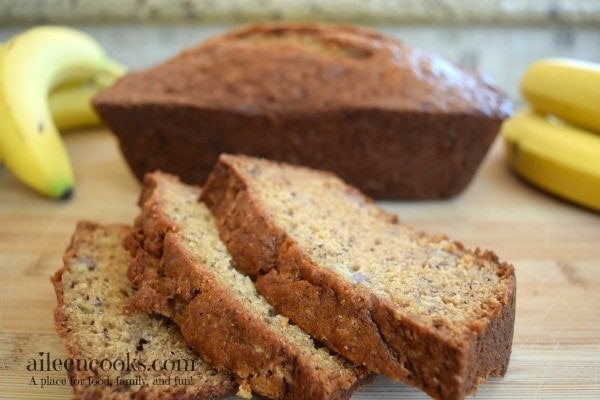 Can you bake 2 loaves of banana bread at once?
Yes. You double this recipe and divide the batter equally into two loaf pans. They can both be baked in the oven at the same time. Just rotate the pans half-way through the cook time and check to make sure they are fully cooked. If they are still a bit raw in the middle, add 5 more minutes of baking time.
How do you know when the banana bread is done?
The easiest way to check if your banana bread is done, is by inserting a toothpick in the center of the bread. If it comes out clean, it is done. If the toothpick comes out with batter stuck to it, add a few more minutes of cook time and check again in a different spot. If you don't have toothpicks on hand, you can also use the tines of a fork.
Can I substitute oil for butter in banana bread?
Yes, you can substitute equal parts melted butter (cooled slightly) for oil in banana bread.
What to serve with banana bread?
We love serving banana bread as an easy breakfast. It's great when paired with homemade yogurt and fruit salad. You can also just eat the banana bread on it's own, slathered in butter. We love it topped with Kerrygold butter.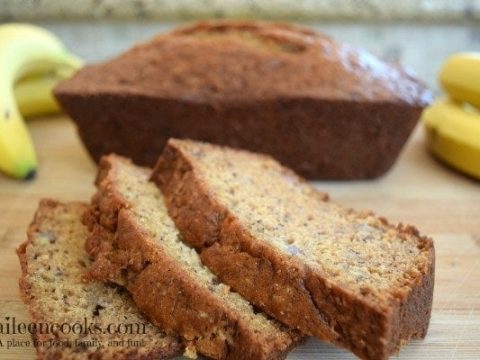 Yield: Serves 8
Moist Banana Bread Recipe
Prep Time: 10 minutes

Cook Time: 1 hour 20 minutes

Total Time: 1 hour 30 minutes

This simple and delicious moist banana bread recipe comes out of the oven with a crisp and chewy crust and moist crumb. The mix of white and brown sugars adds a depth of flavor not found in traditional banana bread recipes.
Ingredients
1 3/4 cup all-purpose flour
1/2 cup plus 1 teaspoon white sugar
1/2 cup packed brown sugar
1 teaspoon baking soda
1/2 teaspoon salt
1/2 teaspoon cinnamon
1 1/2 cup smashed banana, about three bananas
2 eggs lightly beaten
1/2 cup melted butter, cooled slightly
1/3 cup buttermilk or soured milk
1 teaspoon vanilla extract
Instructions
Preheat your oven to 325 degrees. Spray a loaf pan with non-stick spray and dust with 1 teaspoon white sugar.
In a large bowl, mix the flour, 1/2 cup white sugar, 1/2 cup brown sugar, baking soda, salt, and cinnamon.
In a medium bowl, combine the banana, eggs, melted butter, buttermilk, and vanilla. MIx well.
Make a well in the center of the dry ingredients and pour in the banana mixture.
Fold together until everything is wet, but still lumpy.
Pour into the prepared loaf pan and bake for 1 hour, 20 minutes.
Notes
If you don't have buttermilk on hand, make soured milk by combining 1/3 cup milk and 1 teaspoon distilled white vinegar. Allow the milk to sit for 5 minutes prior to using.
Recommended Products
As an Amazon Associate and member of other affiliate programs, I earn from qualifying purchases.
Nutrition Information
Yield
8
Serving Size
1
Amount Per Serving Calories 357Total Fat 14gSaturated Fat 8gTrans Fat 0gUnsaturated Fat 5gCholesterol 80mgSodium 438mgCarbohydrates 53gFiber 3gSugar 22gProtein 7g

Nutrition information is an estimate.

Save this recipe for later on Pinterest.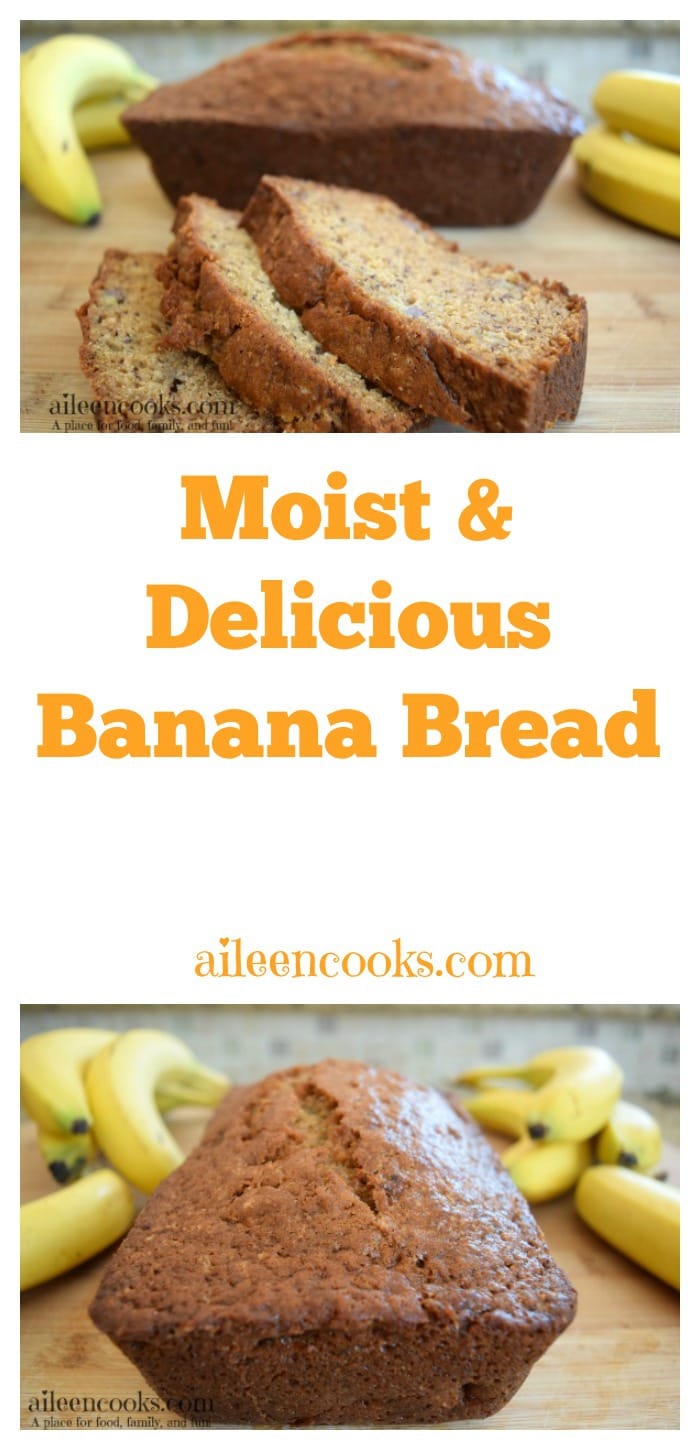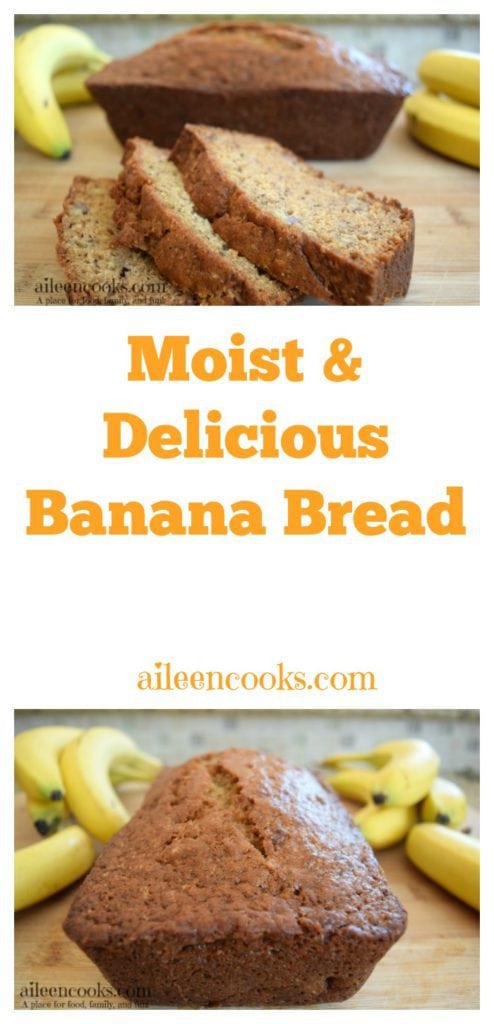 Did you try this recipe for moist banana bread? Let us know what you thought with a rating (above) or comment (below). You can also tag us in your recipe creations on social media using @aileencooks or #aileencooks.