Do you need to know how to freeze bananas? You have to come to the right place! We share the three best methods for freezing bananas – both whole and sliced!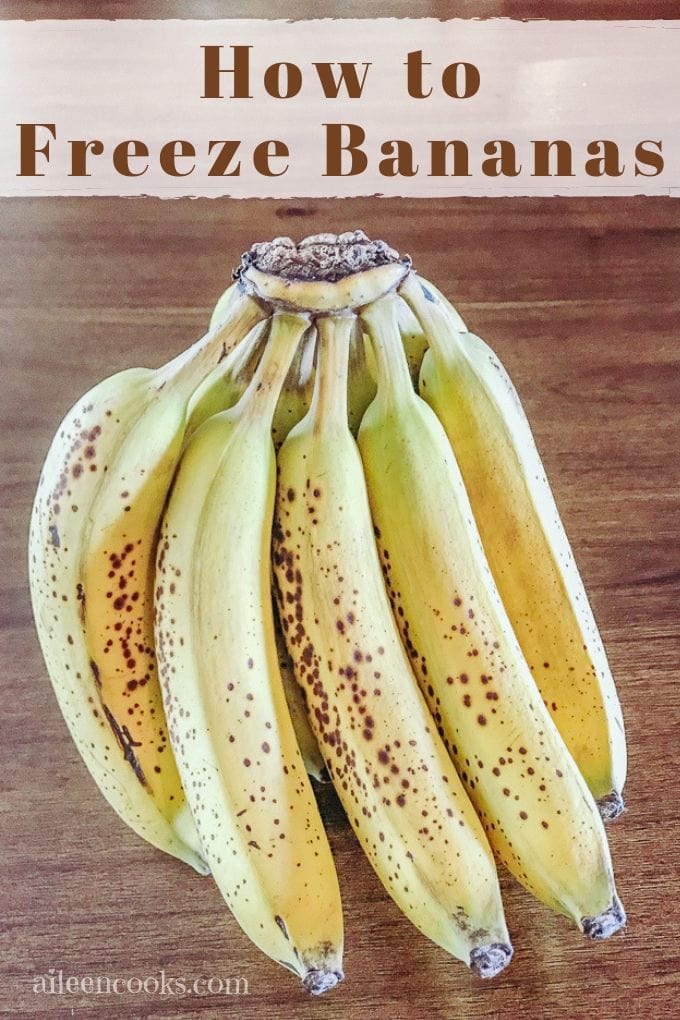 I love freezing bananas and always have them on hand – both fresh and frozen. We use frozen bananas in some of our favorite smoothies, including Protein-Packed Tropical Smoothie, Strawberry Banana Green Smoothie, and Creamy Orange Smoothie.
We also love using frozen bananas in baked goods like Banana Chocolate Chip Snack Cake, Banana Blueberry Muffins with Vanilla Muffin Glaze, Strawberry Banana Muffins, and these Instant Pot Banana Desserts.
How to Freeze Bananas?
The best way to freeze bananas is to cut them into 1-inch slices. Then you arrange them on a cookie sheet lined with parchment or freezer paper. Arrange the bananas in an even layer.
You want them close together, but not touching. Place the cookie sheet of banans slices in the freezer for 2 hours. (This method is known as flash freezing) Once the bananas are frozen, slide them into a zip-top freezer-safe bag. Suck the air out with a straw and close tightly.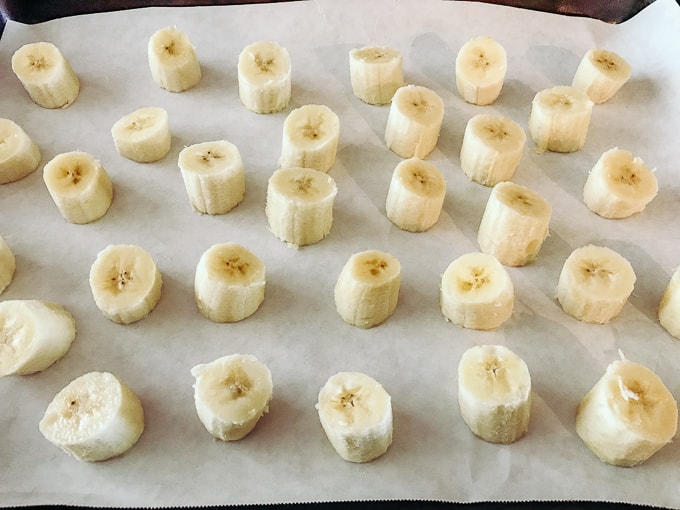 You can also take the frozen banana slices to make homemade smoothie packs. Simply place 1/2 cup frozen bananas in a freezer bag with your choice of greens (we like kale and spinach) and another type of frozen fruit like strawberries or mango. Suck the air out of the bag with a straw and close tightly.
When you are ready to make the smoothies, just empty the entire smoothie pack into a blender with water or juice and blend. Right after freezing the banans is the best time to make them into smoothie packs because you are more likely to make smoothies if it's already prepped and ready to go!
Can you freeze whole bananas?
Yes. You can freeze whole bananas. Simply peel the banana and place in a zip-top freezer bag in the freezer. Make sure to suck out as much air with a straw (or squeeze it out with your hands if you don't have a straw). You can add multiple peeled bananas in the freezer bag but keep in mind that they may stick together if you put them all in at once.
If you plan to freeze multiple bananas at once, I suggest flash freezing the whole bananas (as explained above) before placing them in the freezer bag. When ready to use, just pull them out and throw them in the blender for a smoothie or let them defrost at room temperature and add to a baked good.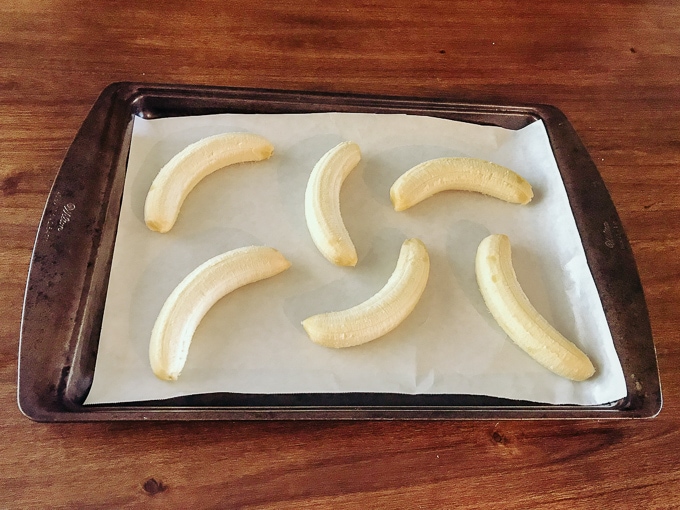 Can you freeze bananas with the peel on it?
Yes, you can freeze bananas with the peel on it. This is the method I use most often because it's quick to do! I like this method better than freezing whole banans without the peel because they don't stick together in the freezer and don't need to be flash frozen. They are also less likely to get freezer burn because the banana is protected by the peel.
Here is how to freeze bananas with the peel on it. Take your over-riped bananas from the counter and place in a zip-top freezer bag. Close the bag and freeze. That's it, easy peasy.
Here is the challenge with freezing bananas with the peel on. They are a little more complicated to prep once you take them out of the freezer. You will need to let them defrost on the counter until the peel is soft enough to cut. Then I slice into the peel and peel it off one piece at a time. The banans come out of the peel very soft, so they are best used for baked goods. They take very little work to mash because they come out so soft.
If you are looking to freeze bananas for smoothies, then I recommend using the peel-off method or the sliced method (both explained above).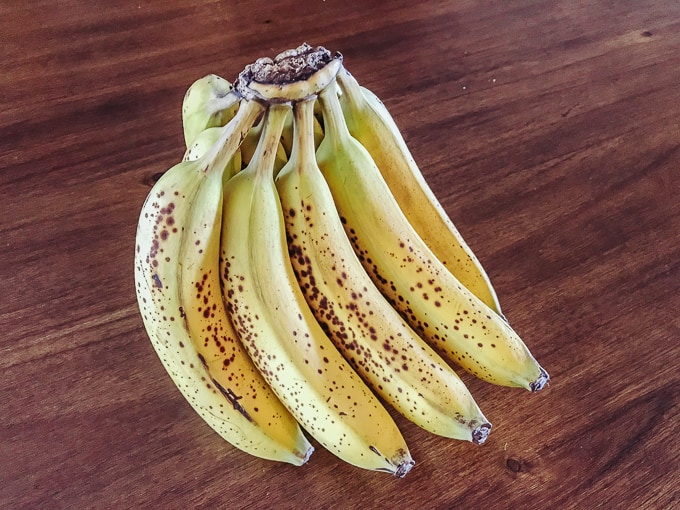 Do bananas go bad in the freezer?
No. Bananas do not go bad in the freezer. As long as your freezer stays on and cold. If your power goes out for longer than a few hours, than your banans may go bad.
Do frozen bananas turn brown?
The peels on frozen bananas do turn brown. More like black. The insides of the bananas stay a creamy white color.
What can I do with a lot of frozen bananas?
You can do so many things with a lot of frozen bananas!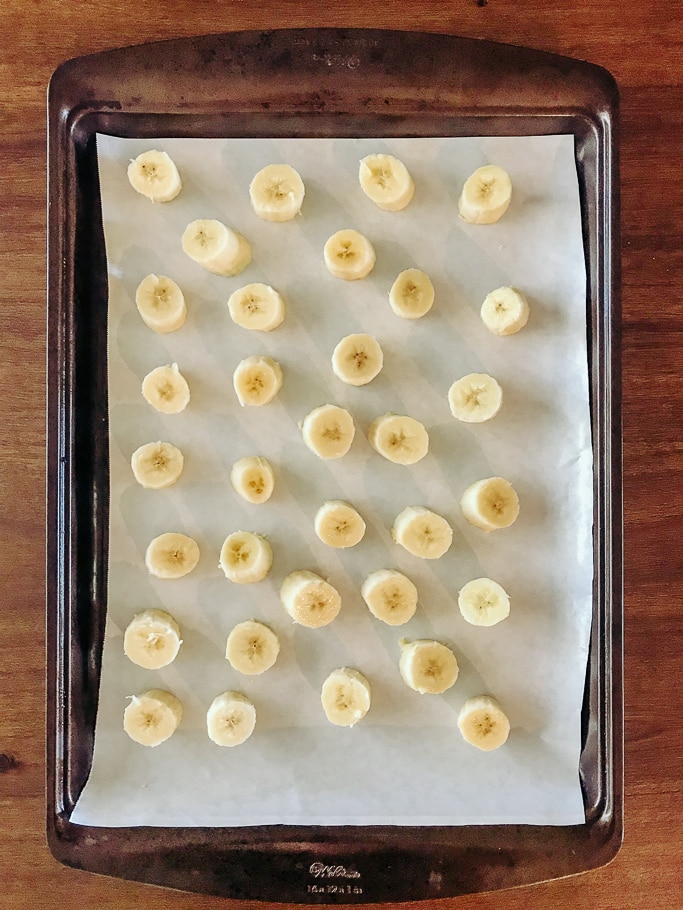 Do bananas have to be frozen for smoothies?
No. You can use fresh bananas in smoothies. Keep in mind that the riper the bananas are, the sweeter your smoothie will be. If you aren't using any frozen fruit in your smoothie then add a cup of ice to make it cold and refreshing.
Can I freeze overripe bananas?
Yes. Overripe bananas are the best bananas to freeze because they have the most sweetness. Since we tend to use frozen bananas for baked goods and smoothies as a natural sweetener, the riper they can be when they are frozen, then better.
How do you ripen green bananas?
We recommend the oven trick! Simply place bananas on a cookie sheet in a hot oven until the skins turn brown. Read our full tutorial on how to oven-ripen bananas here.
We hope this post on how to freeze bananas answered all of your questions about freezing bananas! If you have more questions, please leave a comment below and we will do our best to get it answered quickly!