Camping at Jellystone Park Tower Park Resort in Lodi, CA
Keep reading for a peak inside our visit to the Jellystone Park Tower Park Resort in Lodi, CA! This is a family-oriented camp-resort in Northern California. Thank you to Camp Jellystone for sponsoring this post!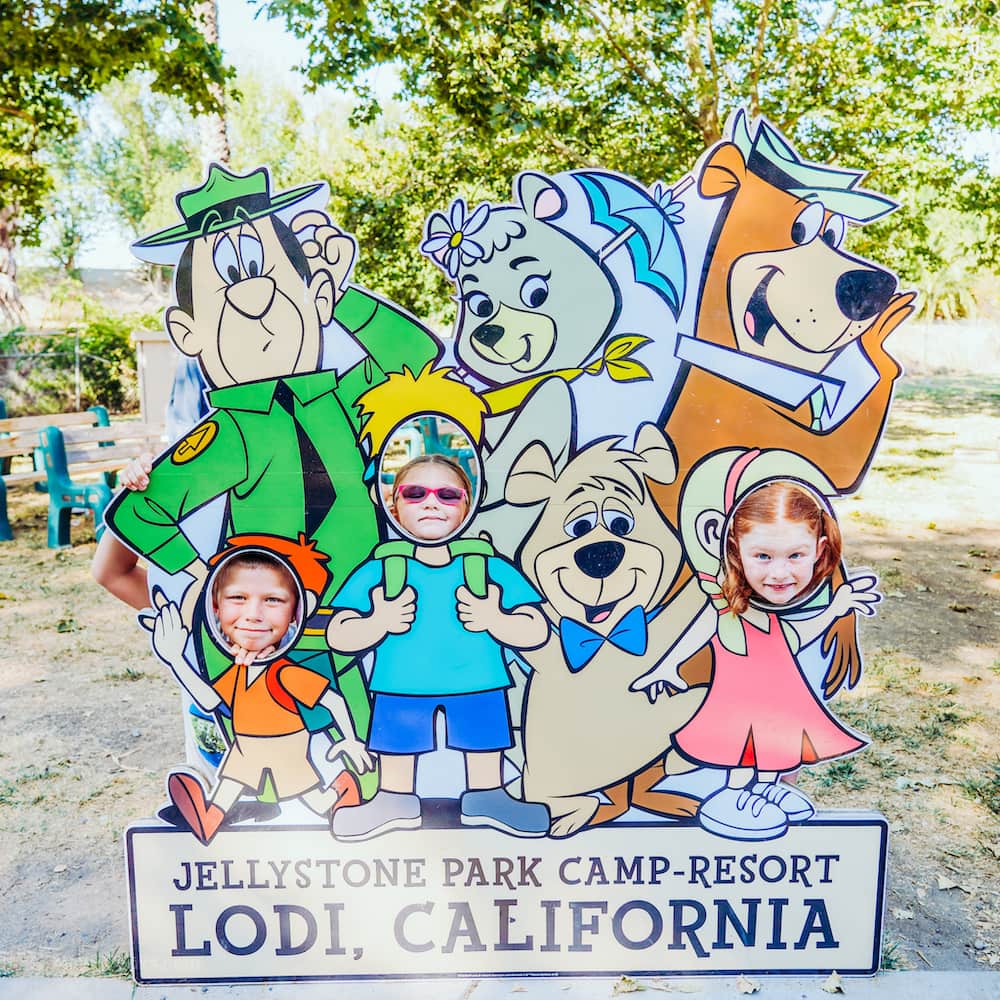 Camping at Jellystone Park / Tower Park in Lodi, CA
We spent 4 days and 3 nights at Jellystone Park (also known as Tower Park) and stayed in our travel trailer. We did a lot during our stay: jumping pillow, playground, gem mining, dance party with the Jellystone characters, swimming, lazy river, and water playground. There were many more things to do that we didn't get to try and look forward to experiencing during our next visit!
Note: While editing photos for this post, I realized that I did not take a single picture of baby Samantha on this trip. What a total mommy fail! I swear, she was with us on this trip and had a great time splashing in the water and playing with her siblings. I just either left her with Sean or waited until nap time to take pictures.
Water Playground
The first thing we did when we arrived at Jellystone was visit the water playground! Jellystone has several water areas. The one we tried on our first day was the water playground with water slides! They have two larger slides and a set of smaller sides on the other side of the structure. My kids had a blast!
Inside this water area are also lots of fun ways to play with water, including built-in water cannons, water blasters, and a 750 gallon hydrostorm that dumps water every few minutes!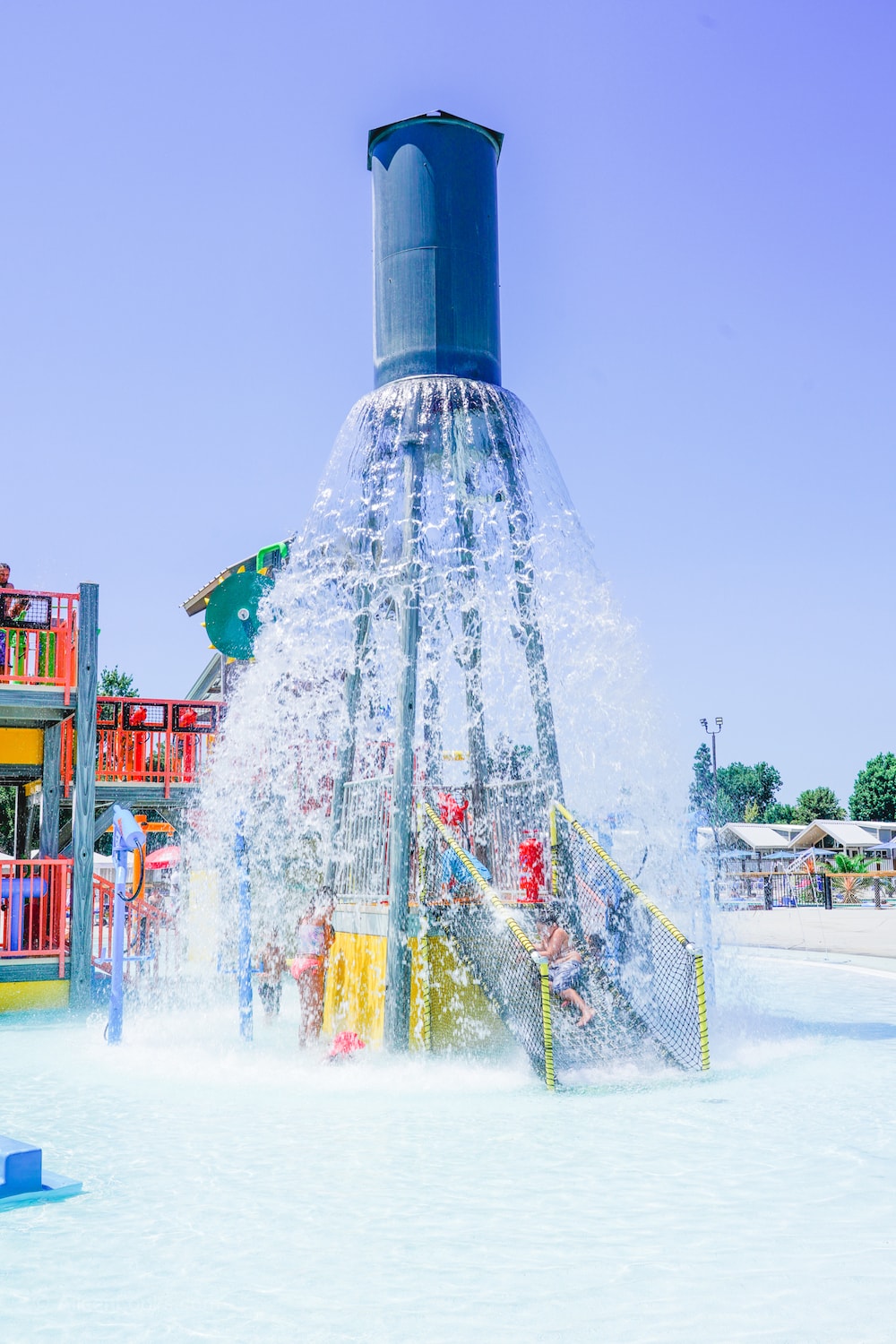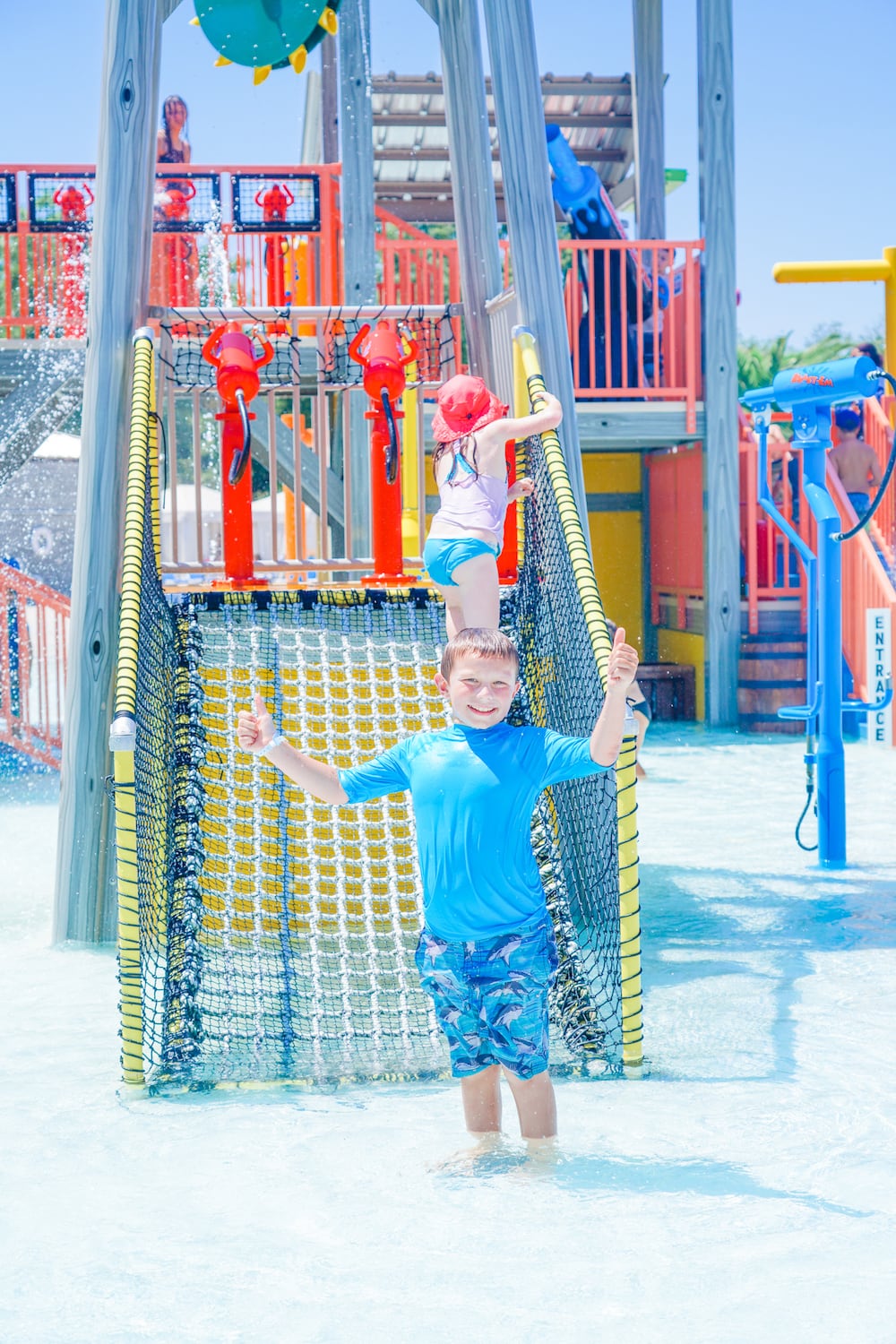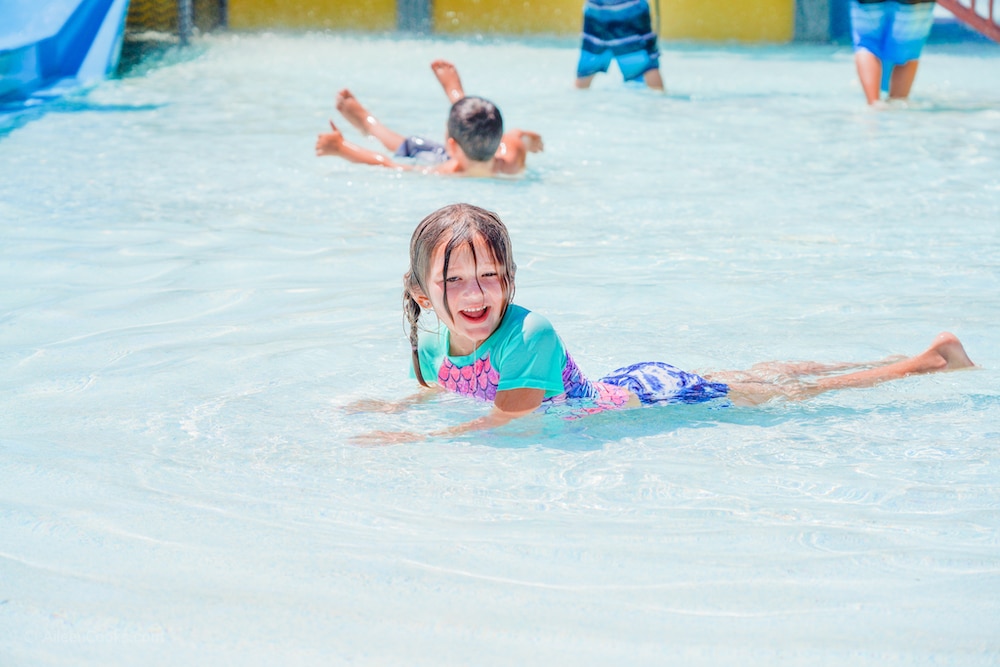 Lazy River
We also visited the Lazy River every day during our stay at Jellystone Park. They offer double tubes for parents with little kids and single tubes for bigger kids and adults.
My two older kids were able to ride in tubes on their own, while my two little kids needed a parent. Tower Park also offers life jackets by request. We didn't use them (since Allison is already a strong swimmer), but I saw many families who did.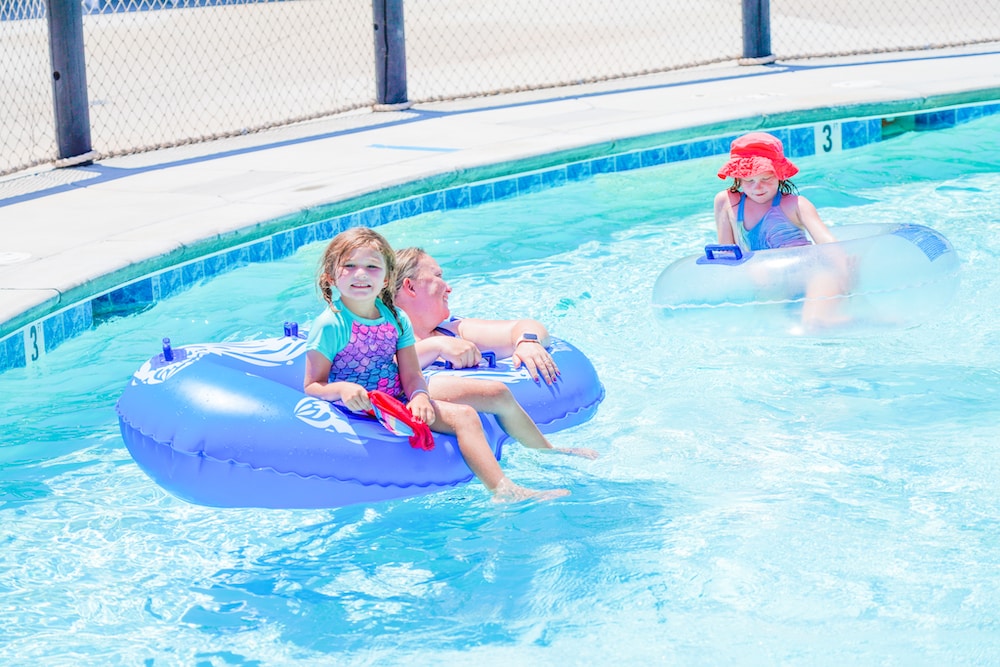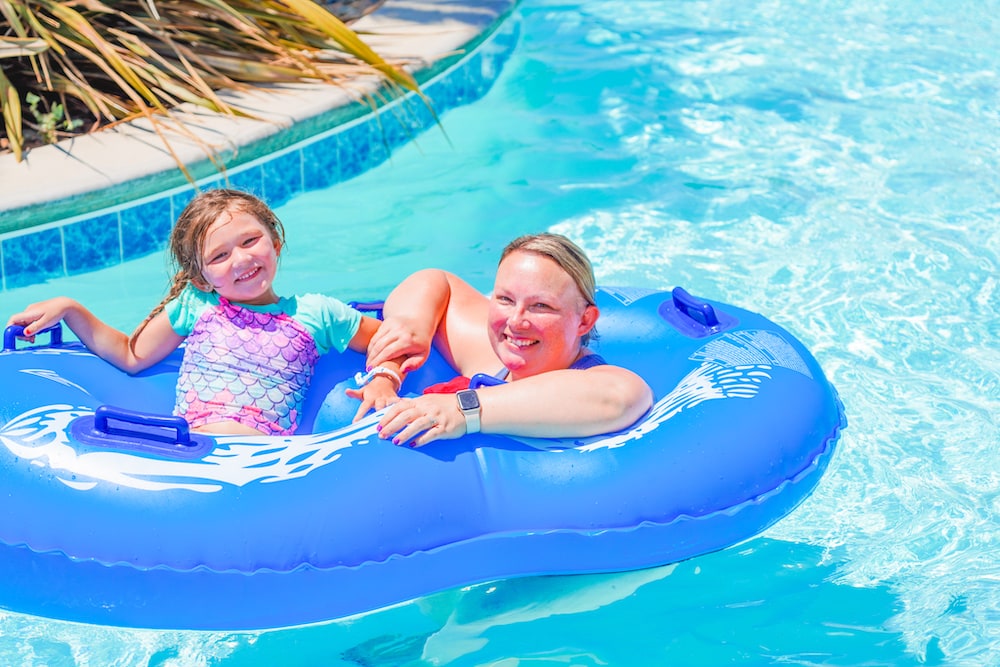 Pools
Tower Park Jellystone Park also has two additional swimming pools. One pool has a fun water feature for kids to play in and the other is a heated pool. There is something for everyone in their water zone.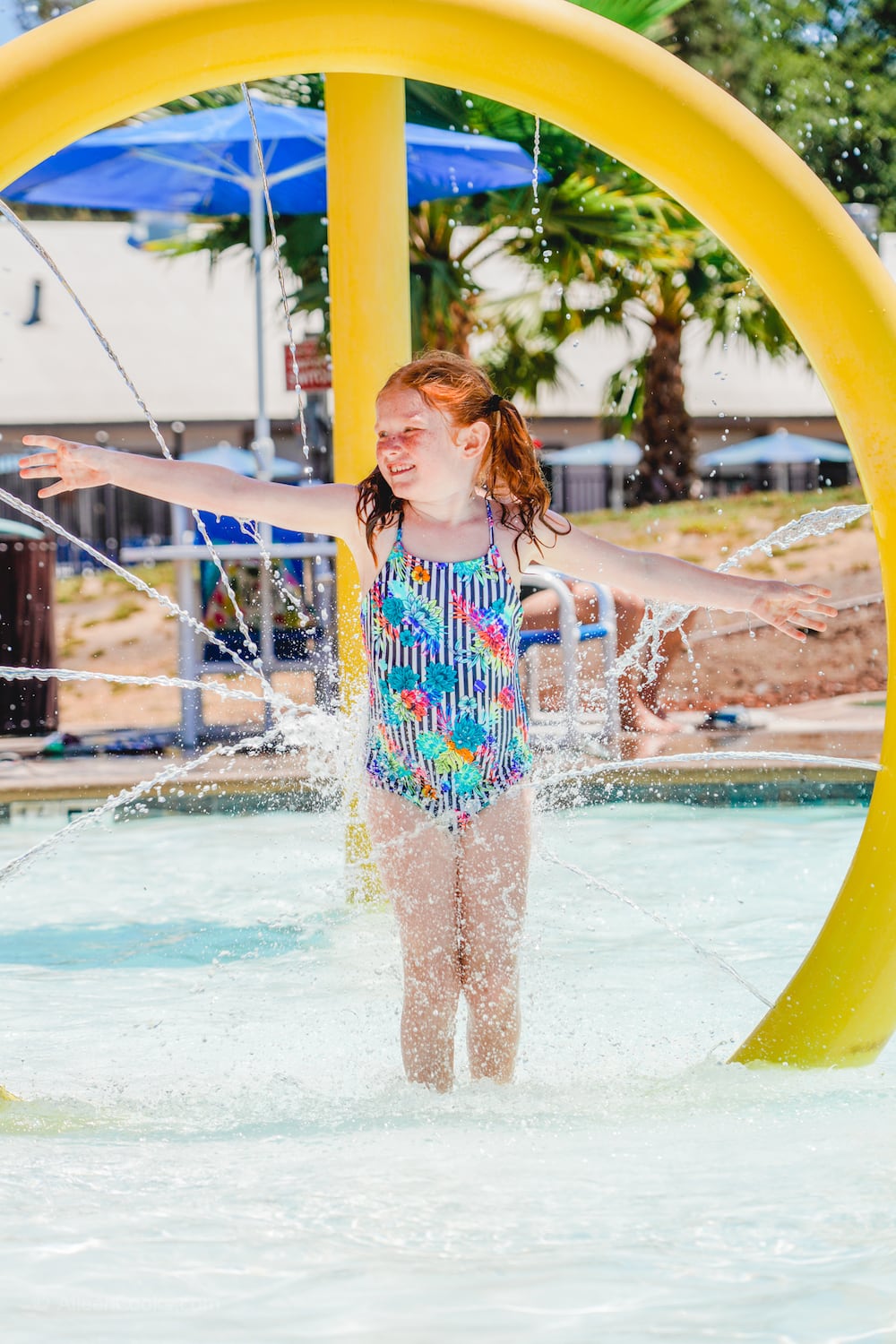 Playground and jumping pillow
The morning of day two was spent at the jumping pillow and playground. The kids spent a lot of time on the jumping pillow before moving on to the playground. There are three playgrounds, basketball court, and a gaga ball pit.
My kids really enjoyed both the jumping pillow and playgrounds. I appreciated that we didn't have to pay extra for the jumping pillow or water playground. Not having to say "no" while on vacation is a big plus for me!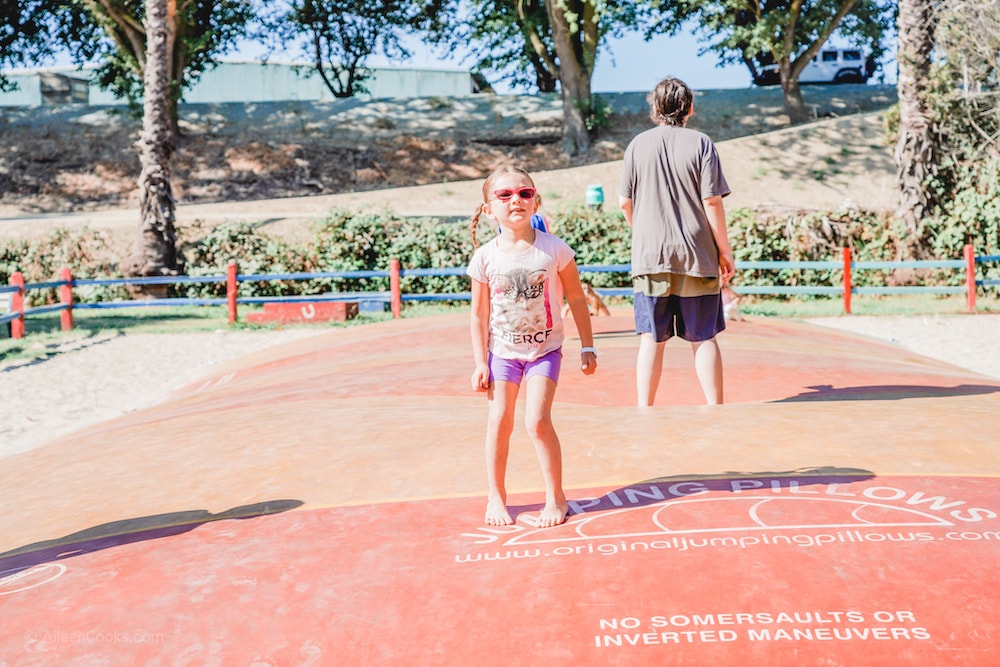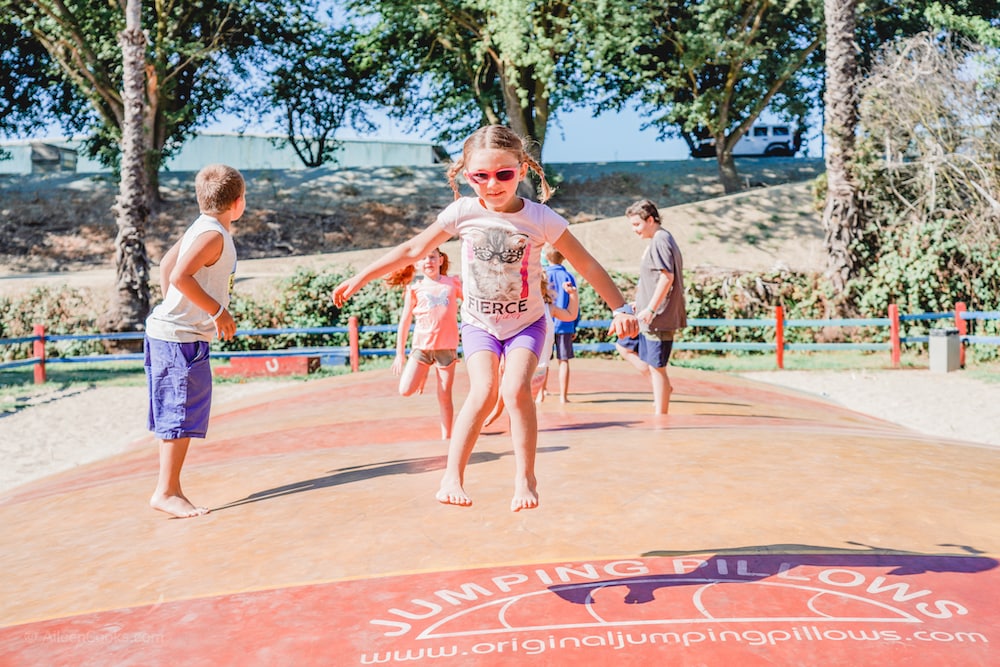 Jellystone Character Meet and Great
While at the playground, we were able to meet Cindy Bear at the pavilion and take some pictures. The bears come out multiple times per day for photo opportunities, along with leading bike parades, and participating in other extra activities. There is even an app you can download that notifies you as activities start and the characters are out and about.
We didn't have to wait long to meet Cindy Bear and were able to take our time taking pictures. Which is good because I was switching back and forth between video and pictures so I could capture pictures for this post and video for our VLOG on Youtube. Plus, Instagram Stories. It was a lot, but my kids are used to it at this point. 🙂
If you aren't already, I would love for you to follow along on our adventures on YouTube and Instagram.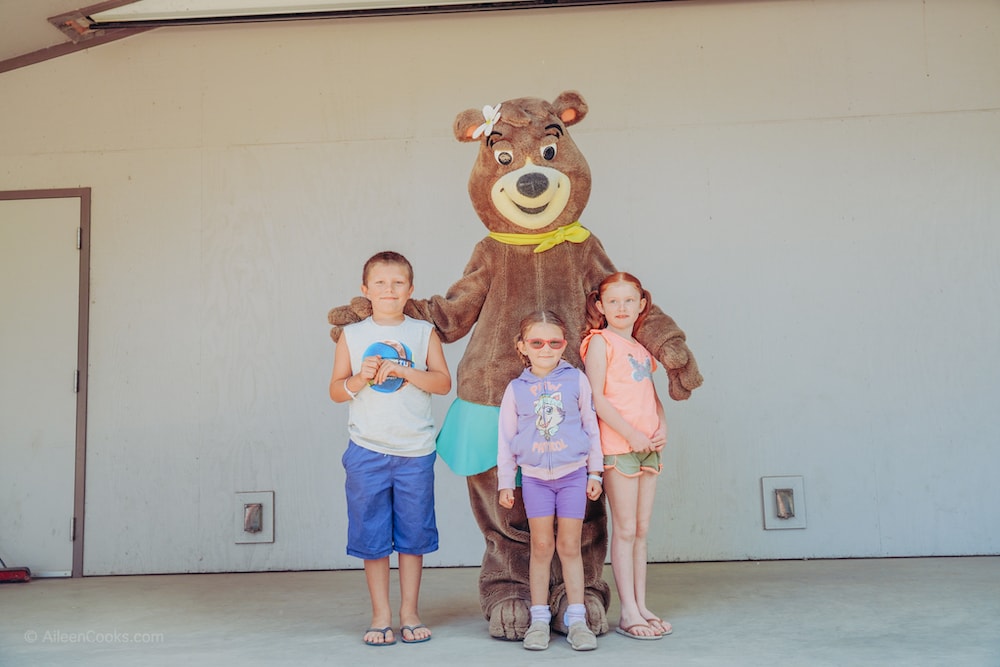 Gem Mining
After meeting Cindy Bear, we decided to try gem mining. This was an extra fee, but wasn't too pricey. Each kid got their own bag of gems, but we could have made it work to share, too.
My kids really enjoyed digging through the sand and water to find their gems and spent a good 45 minutes on this activity. It was in the shade, so hanging out while they experienced it was no big deal.
The rest of day two was spent at the water playground. My kids really loved it there, so we spent the majority of our time cooling off in the water.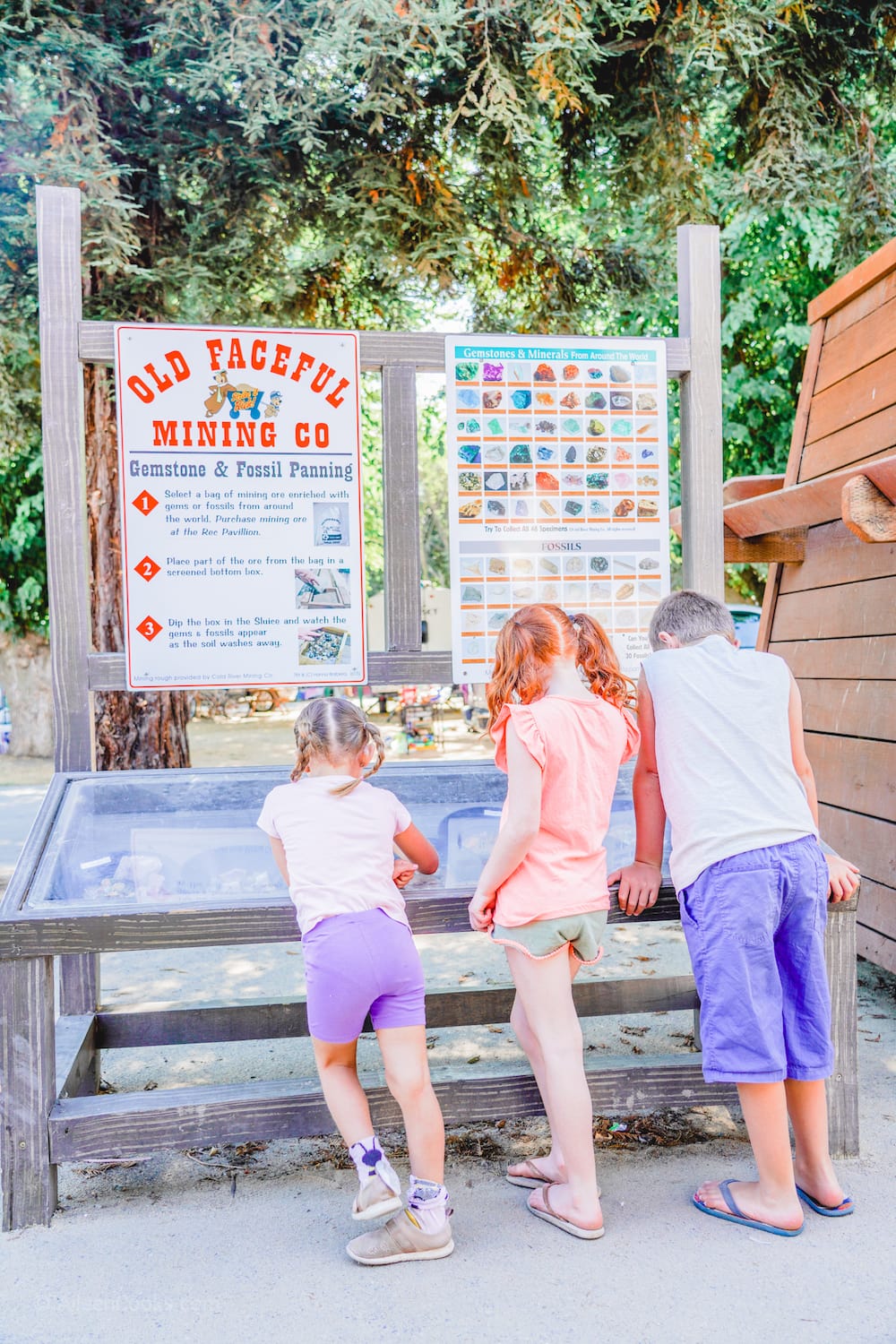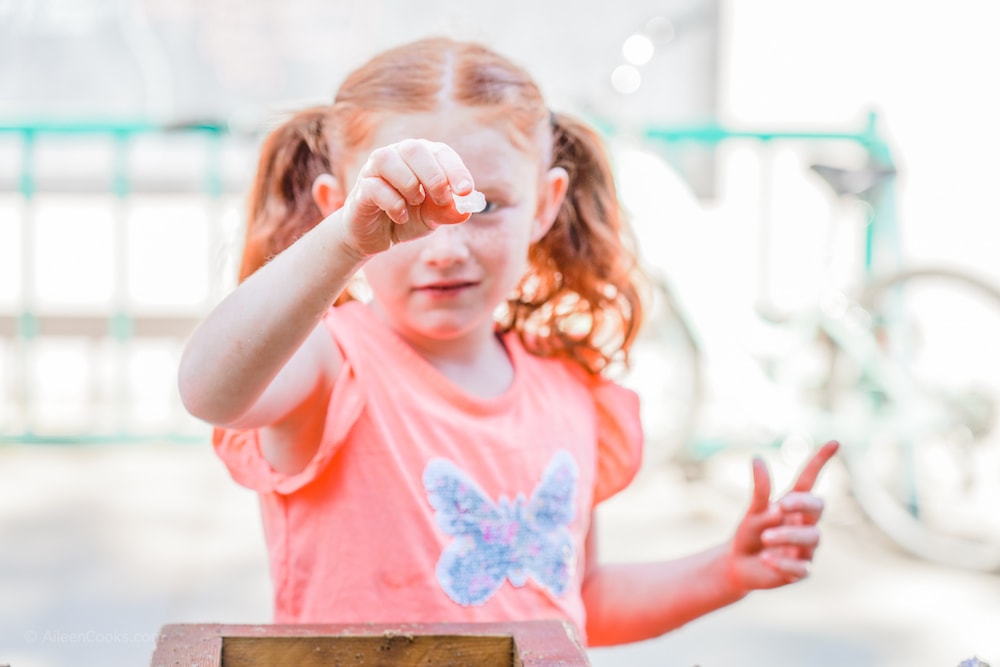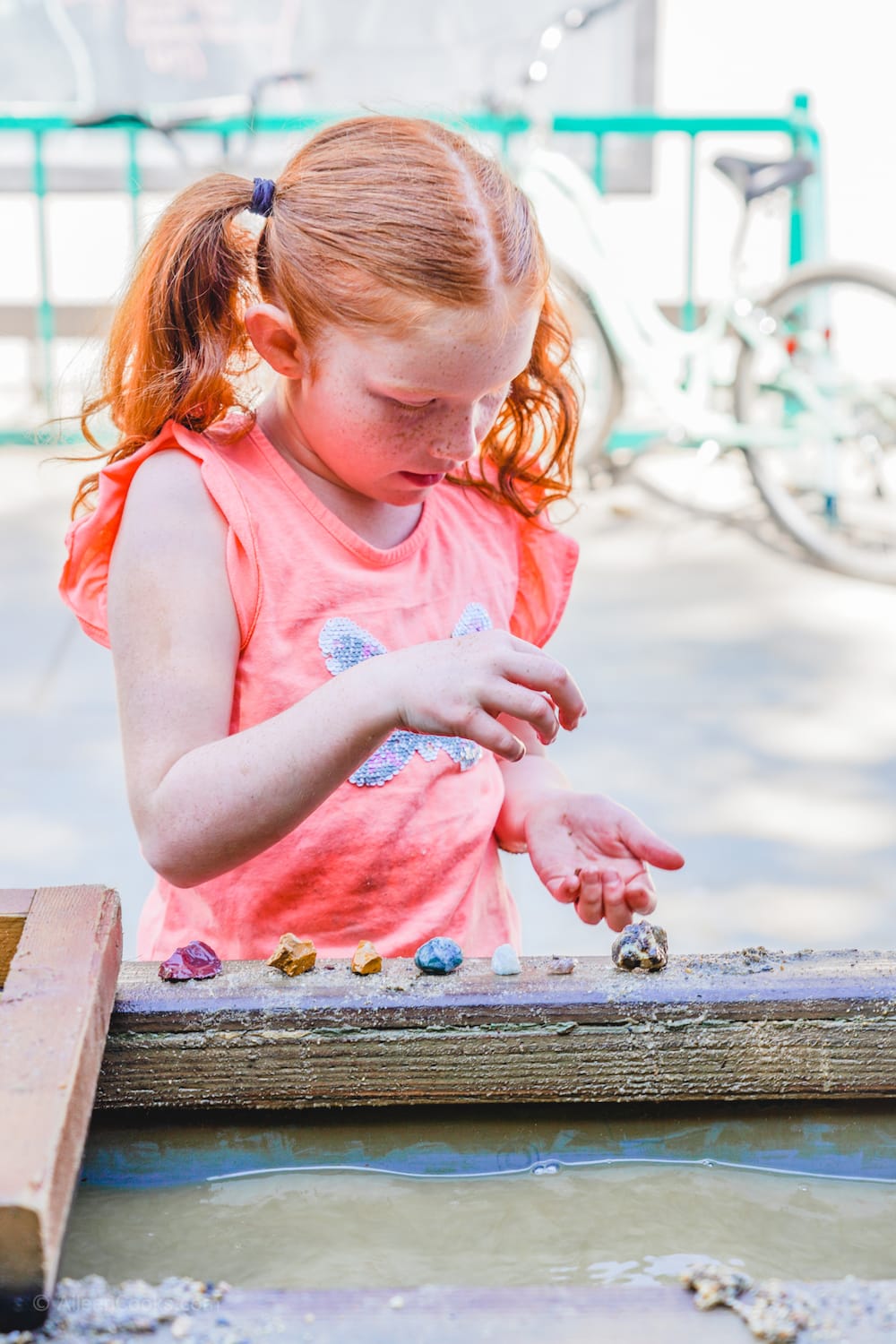 Arts and Crafts
On day three, we went to the pavilion for the free arts and crafts activity. Every day, there is a small craft offered to the kids. You can also purchase larger crafts at any time during the day. The arts and crafts time was another great opportunity to meet a character as they tend to be walking around the area at that time.
More activities
During our stay, my kids also went on a bike parade with the Yogi Bear characters. The characters drive through the park in a golf cart and the kids in the camp-resort hop on their bikes and scooters and follow along on a parade through the park. This was a HUGE hit with my kids! There are lots and lots of kids who participate, so it is really fun for them.
The resort also hosts alternating movie nights and dance parties. We didn't make it to any of the move nights, but we did go to the dance party. My four-year-old spent a lot of time dancing with Boo Boo Bear, which was really special. I caught it on video, and shared on TikTok, if you want to take a peak.
Other things the resort hosts that we just didn't have time to get do are: laser tag, mini golf, bumper boats, Hey Hey rides, and a scavenger hunt. We look forward to visiting again and having more fun!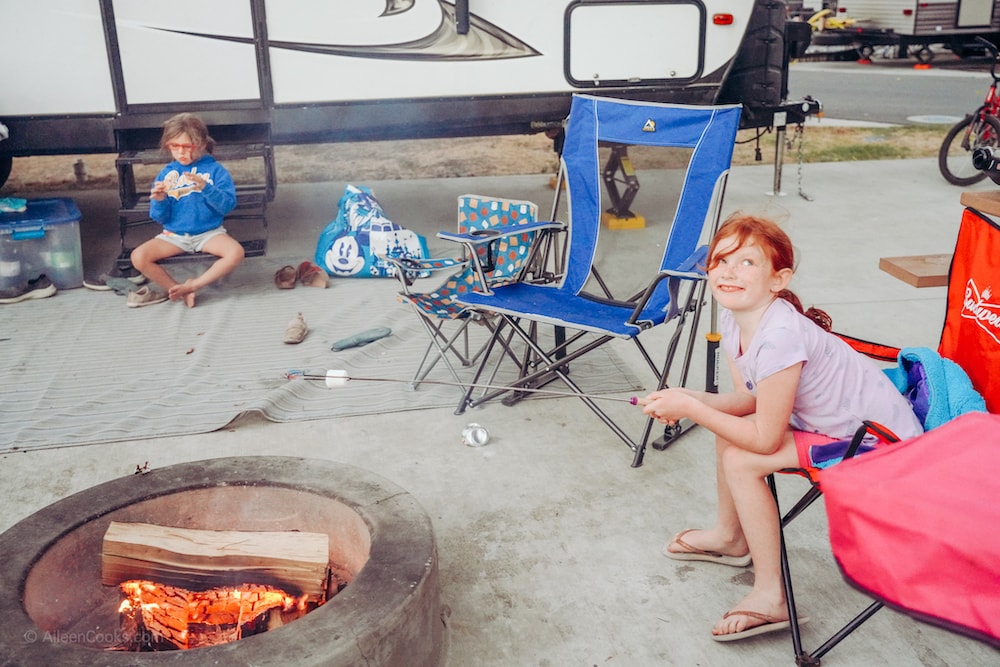 More about the water parks
Shade and Seating
We were able to find a shady spot each time we visited – which was nice. Sean and I hid out in the shade at our table with the baby for most of the day, while the kids played. They have a lot of seating with many umbrellas. However, we were visiting during the week. I imagine it is busier on the weekends and may be a bit more challenging to find a shady spot.
Cabanas
Inside the water playground, there are cabanas available for rent. They are full shaded tens with a TV and lots of seating. We tried to book one while we were there, but they were fully booked. You can reserve them at the time of your lodging reservation, which we plan on doing next time.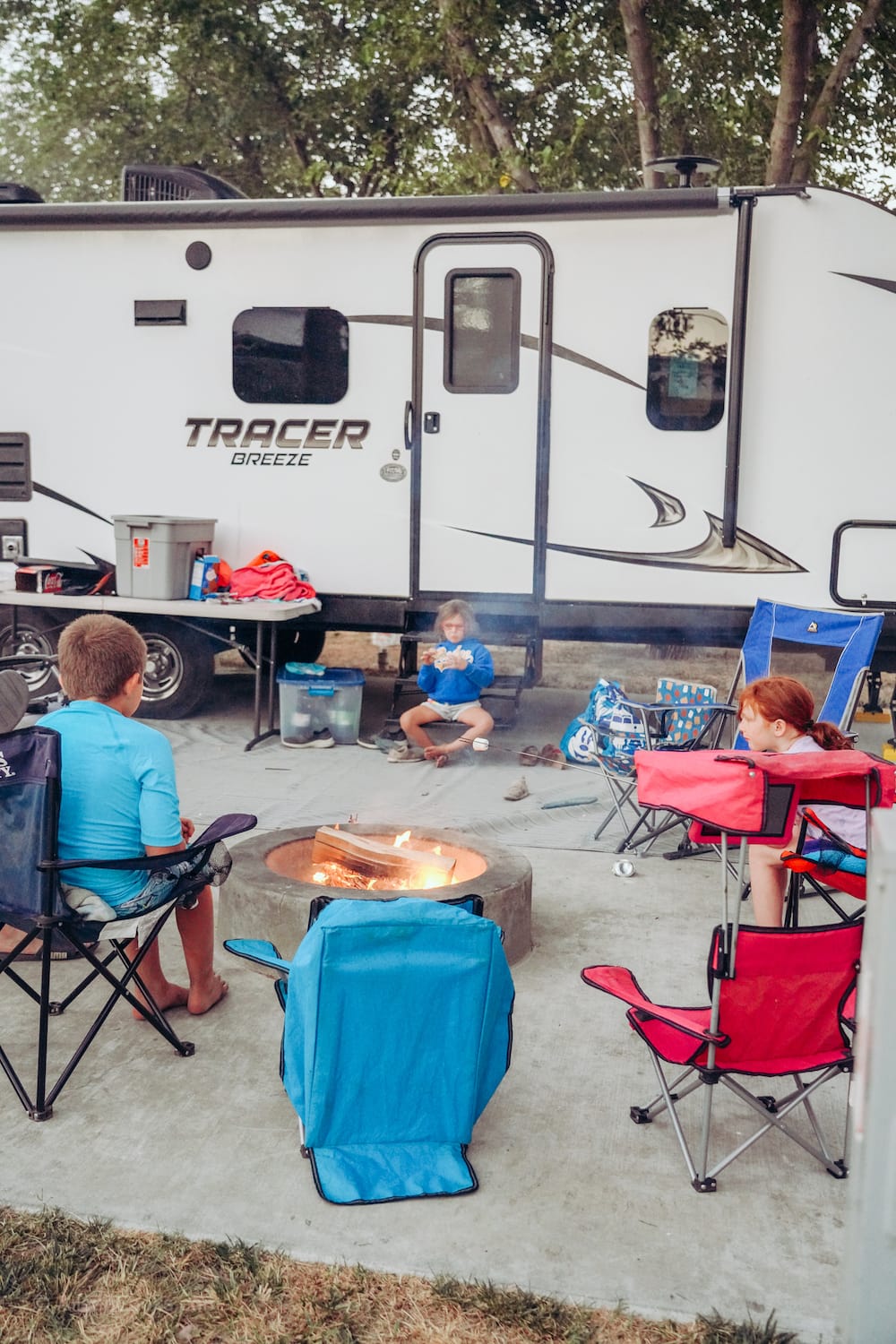 Cleaning Schedule
Tower Park does close the water areas every few hours to clean, so you have to leave for a little while. So you do have to leave and come back (and find another spot), but it wasn't an issue for us. It was a good opportunity for us to go back to our trailer for lunch or a nap.
Line for the lazy river
At times, there was a line for the lazy river. It didn't take long but the cement was hot and there wasn't much shade. I recommend wearing your sandals in the line and then just leaving them on the side until you finish in the lazy river.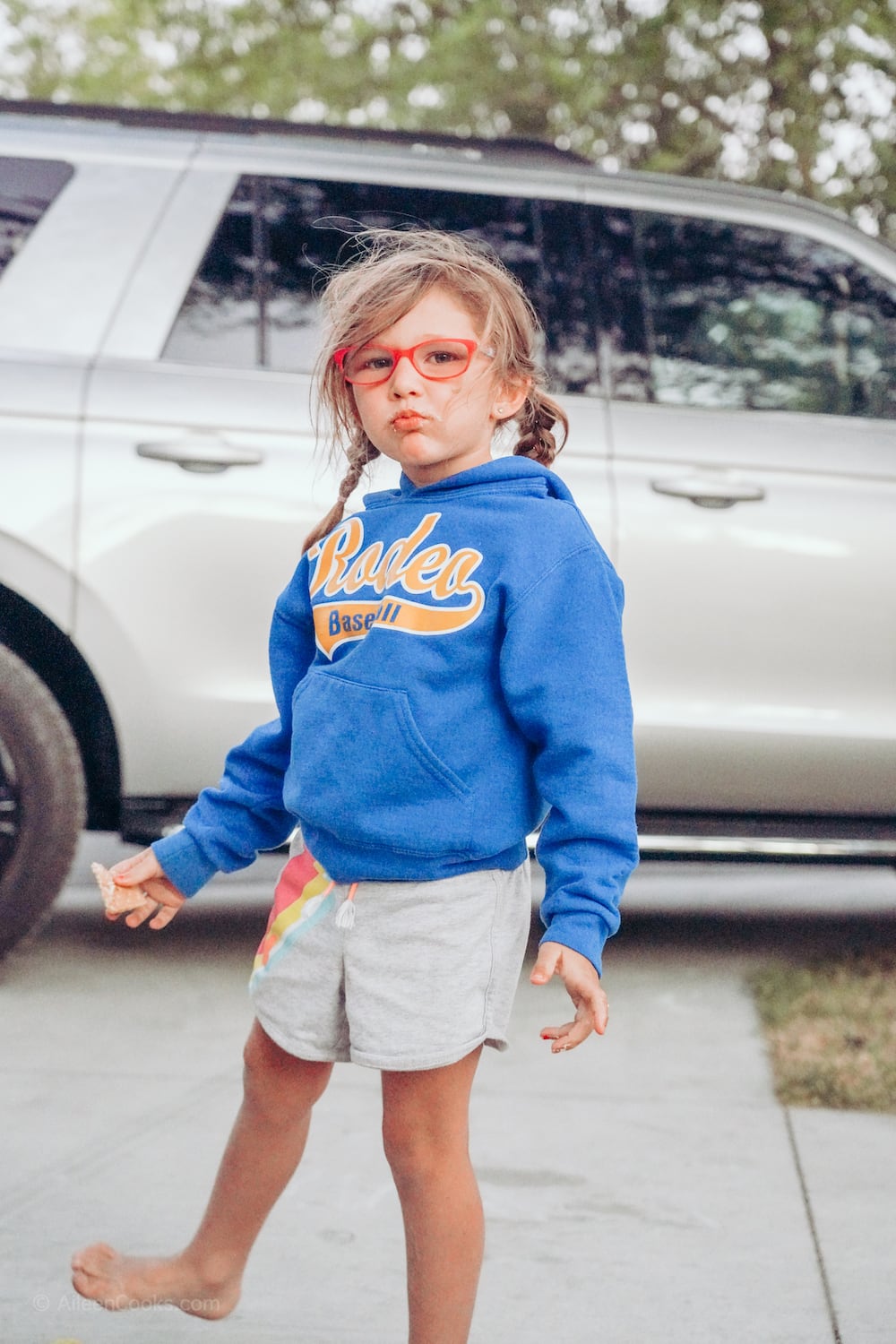 Food options
Tower Park has two food trucks outside the water area. One is cash only and sells frozen treats. The other sells food and accepts credit/debit cards.
In addition to the food trucks, Tower Park has a sit-down restaurant called the Waterfront Grille. It's not near the water park but instead near the delta access. You can view the menu here. As it is on the water, there may be visitors who arrive via boat for a bite along with people staying at Jellystone Park.
Camp Store
The camp store is a great place to go if you forget something, like milk or graham crackers. They have a small grocery section along with a refrigerated drink section and some pre-made food offerings.
They also have a large area with lots of Yogi Bear branded toys and decor. It was really fun to walk through and window shop. My kids brought their allowance and each bought themselves a little something to remember the trip. They have everything from sweatshirts, to stuffed animals, to toys, to magnets. It's a fun place to shop if you like to buy souvenirs.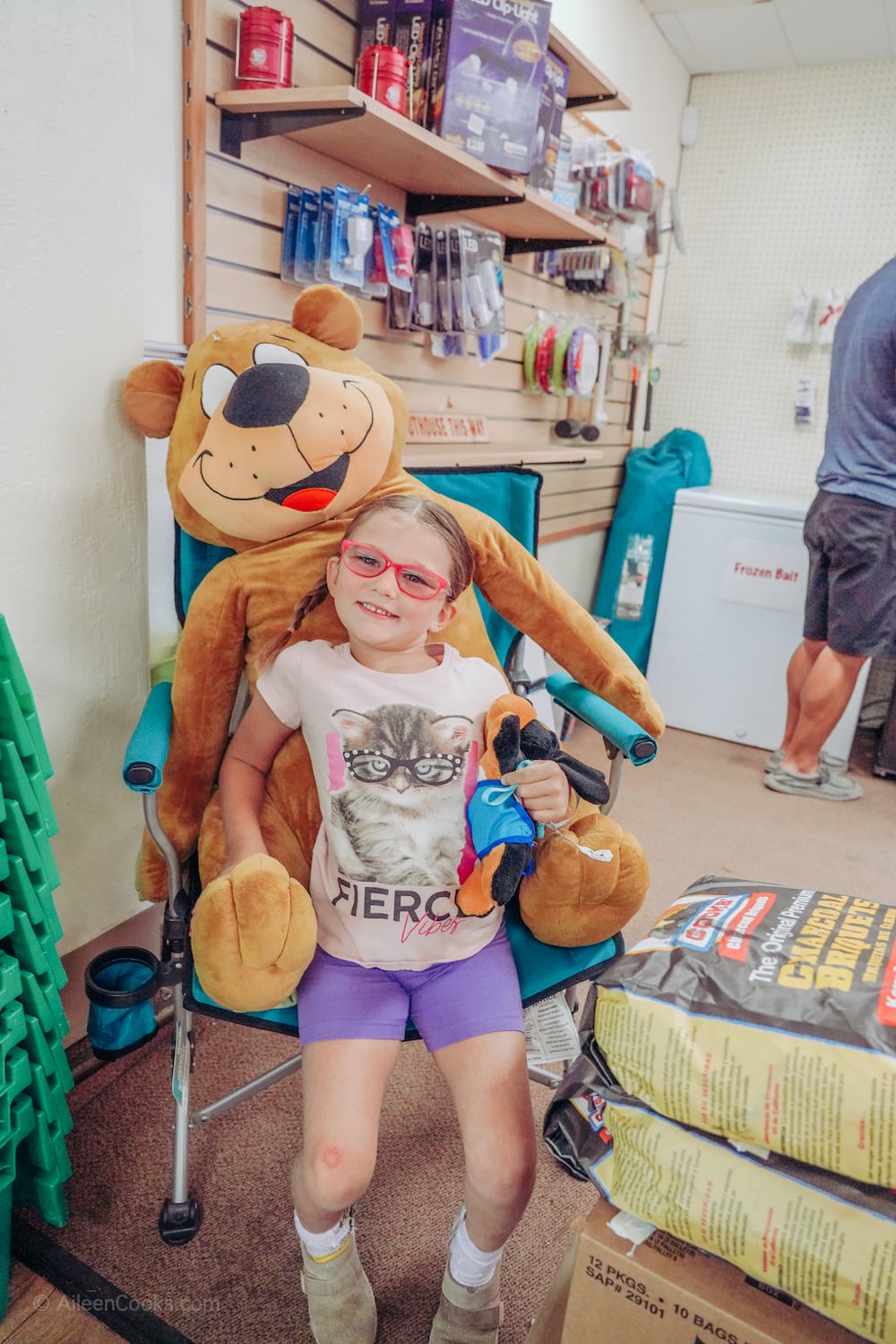 Golf Carts
One of the unique things about Yogi Bear's Jellystone Park at Tower Park are the golf carts. They are not included in your stay but are available for rent, either at the time of arrival, or at the time of reservation. I recommend you reserve them when you reserve you stay, because they get booked pretty quickly.
We rented the limo golf cart – which seats 6. In hind-sight, we really didn't need that large of a golf cart. Our kids are all small, so we would have been fine with the regular golf cart.
Our camp site was a little far from the actives, so it was nice to be able to zip around on the golf cart (and have it cary all of our stuff). It's definitely something I would enjoy renting in the future, but isn't a must-have. Everywhere in the camp-resort is walk-friendly.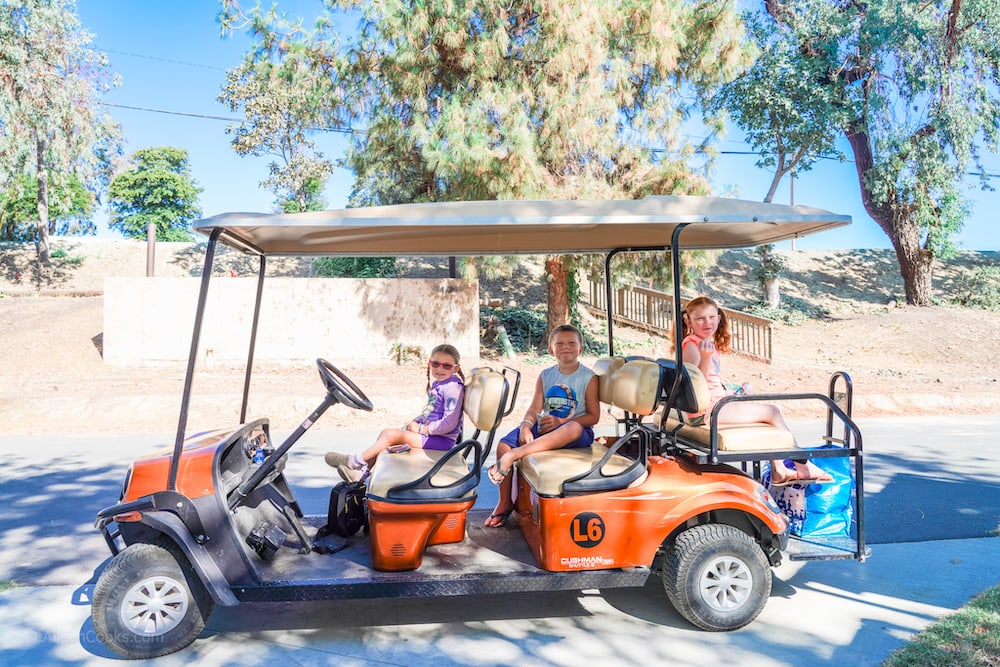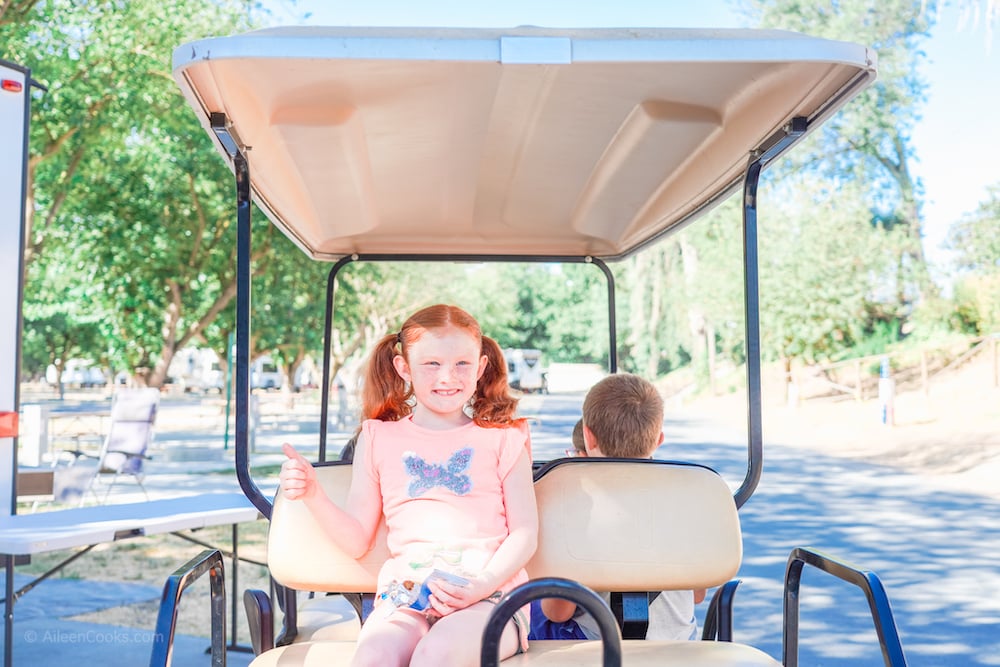 Ways to stay
As mentioned, we camped at Tower Park in our travel trailer. We were in one of their deluxe pull-through sites. It was all paved and had a built-in cement fire pit. I was very impressed with the trailer sites! They were really nice and I would highly recommend them!
However, I know not everyone has a travel trailer or RV – that's okay! You can still say at Jellysone park. They have both tent sites available and cabins. The park is very clean and you really can't go wrong – no matter how you choose to stay.
More travel posts: