A Winter Weekend in Lake Tahoe with Kids
As an Amazon Associate I earn from qualifying purchases.
This post on Lake Tahoe with Kids is sponsored by Hotel Azure. All opinions are my own.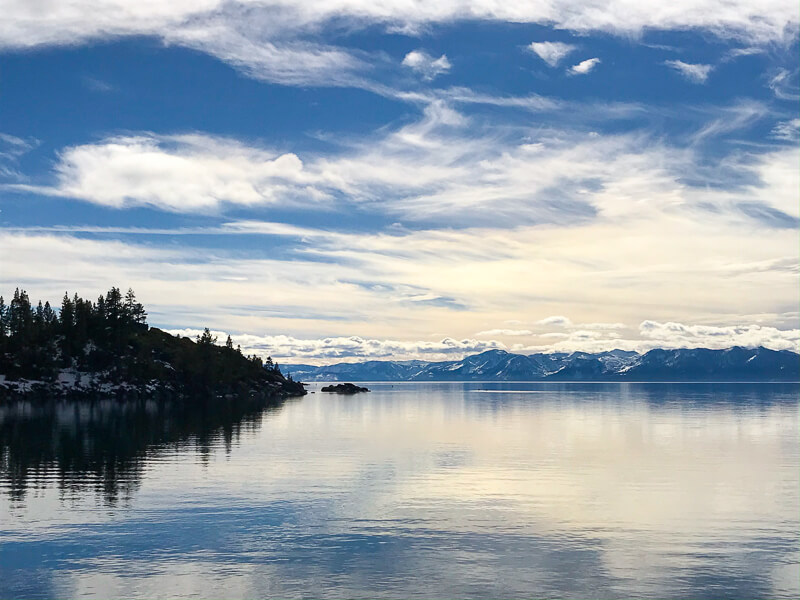 One of favorite things about living in Northern California is how close we are to Lake Tahoe. We love that we don't live where it snows, but we can drive a few hours north and spend the week in a winter wonderland with beautiful and blue Lake Tahoe at the center of it all.
Lake Tahoe is beautiful, no matter the time of year you visit, but South Lake Tahoe in Winter is absolutely gorgeous with lots of things to do. It's also a great place to go with kids. We were so excited to take our kids to Tahoe for the weekend, to spend time together, and play in the snow!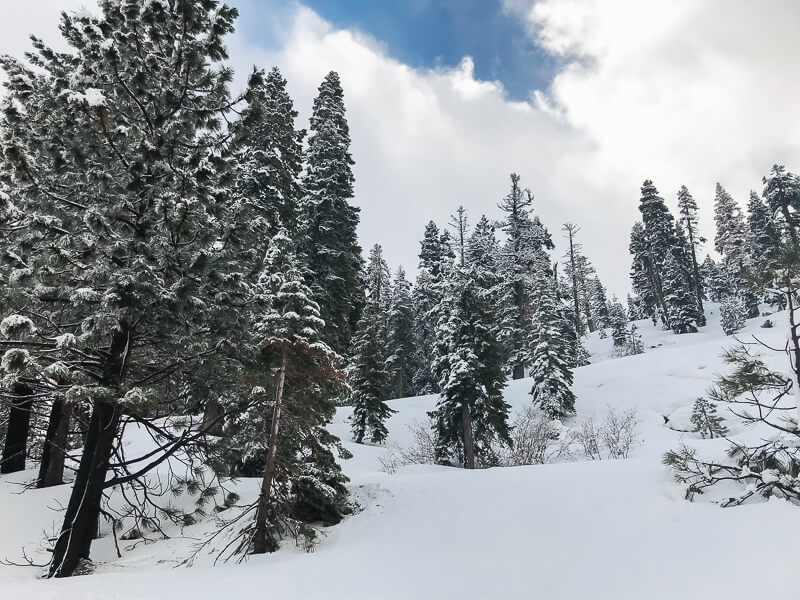 Hotel Azure – A family friendly hotel in South Lake Tahoe
We stayed in a 2-room suite at Hotel Azure. It was a family friendly suite with separate bedrooms, two bathrooms, and the best part – a full kitchen! It was a modern hotel with a great view of the lake and amazing customer service. I loved that it was off the beaten path of the ski resorts in south lake and felt more relaxed and hidden away.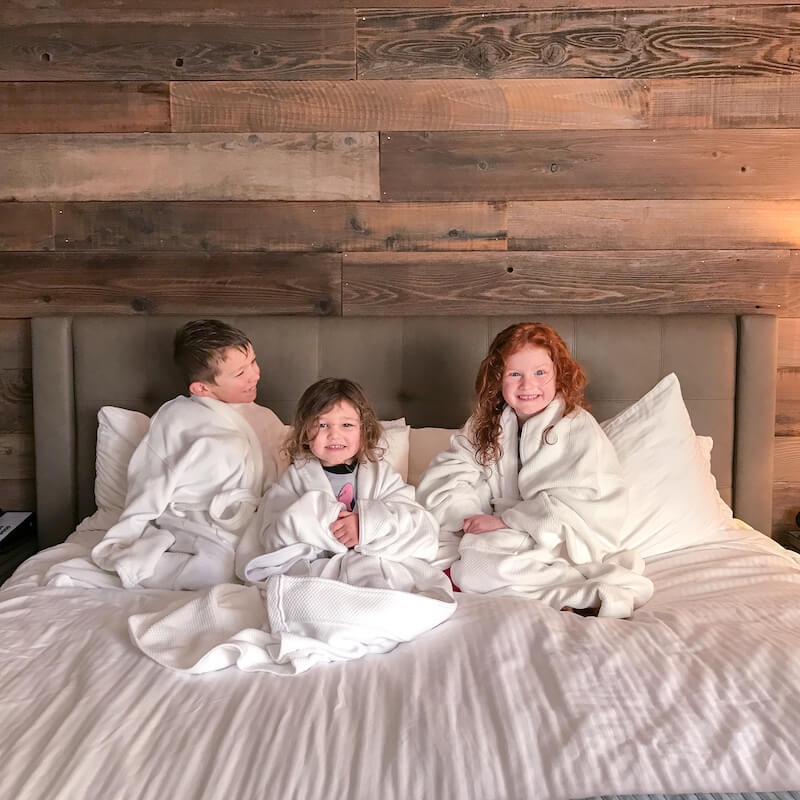 Master Bedroom
The master bedroom was very large with a separate sitting area with view of the trees and snow. Attached to the master bedroom was a closet, bathroom with huge shower, and extra sink outside the bathroom. This was a full bedroom with door – it was glorious!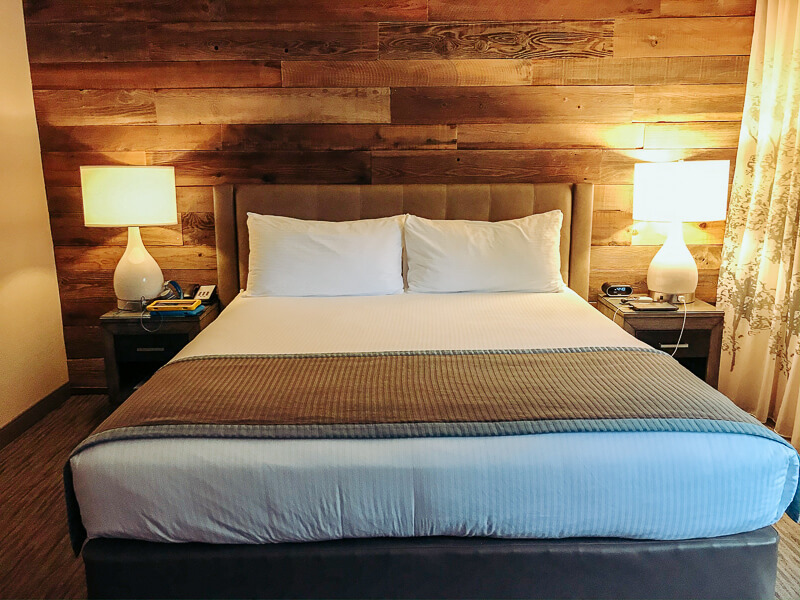 The kids also loved our master bedroom (and the robes that came with it). They walked around in them all morning and snuggled up together in our bed for a few photos and some cartoons.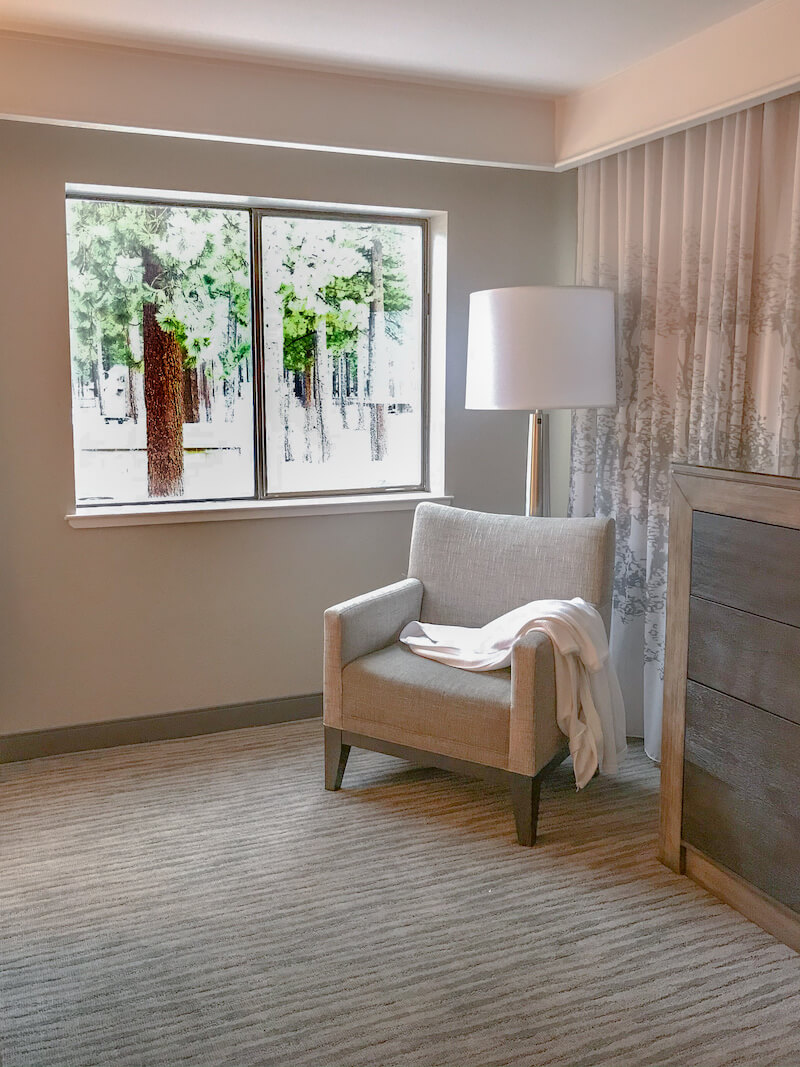 My favorite spot was this chair next to the window. It had such a beautiful view and just begged me to sit and read my book.
Spare Bedroom
The 2nd bedroom was also a full bedroom with queen sized bed, full closet, and TV. My girls shared this room and they were very excited about the TV and having their very own room inside the hotel.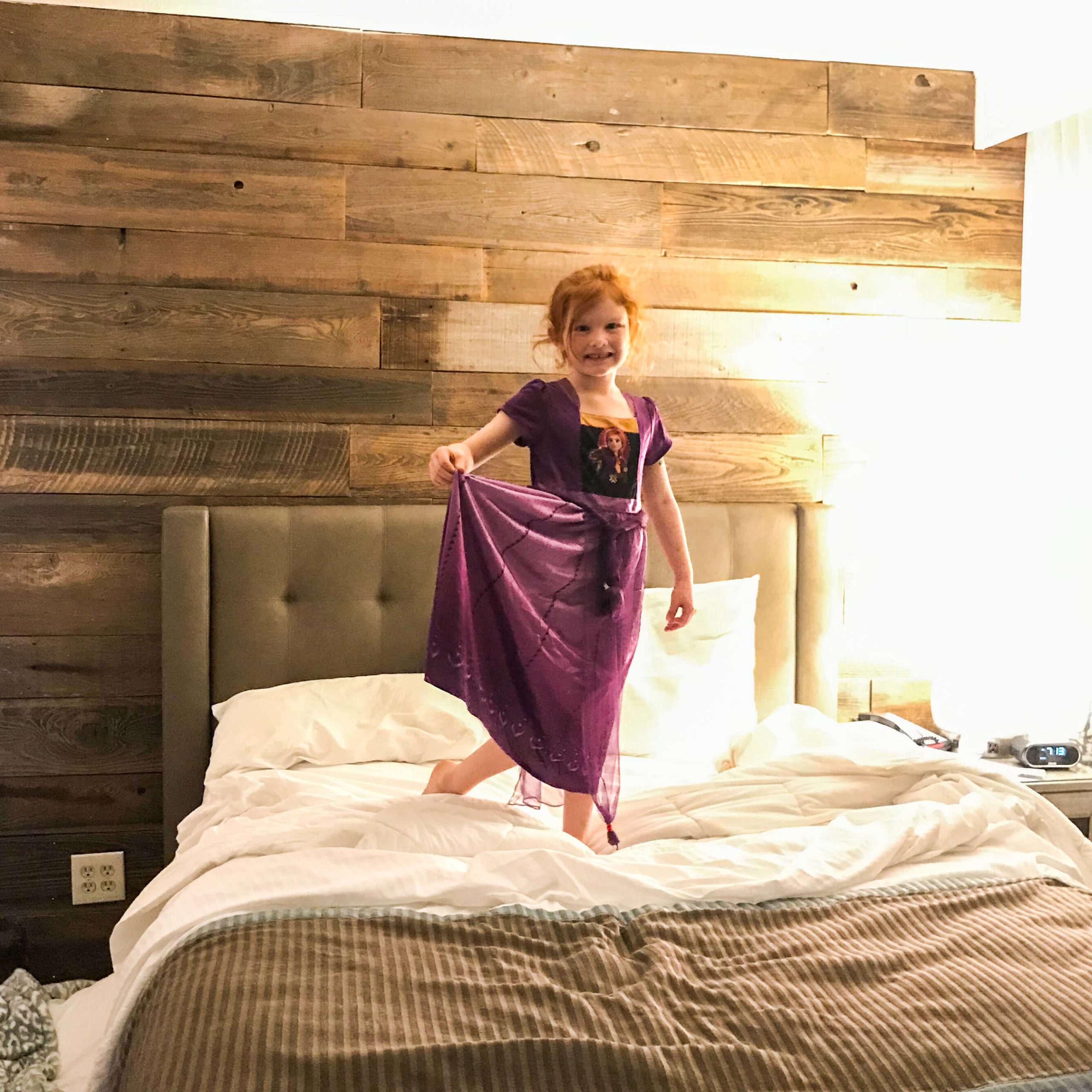 Bathrooms
There was also a 2nd bathroom with bathtub. It was perfect for our kiddos. It's a great spot to warm up after a day out skiing or sledding. I loved having the two separate bathrooms. It felt like home and we could have easily spent a whole week in this suite!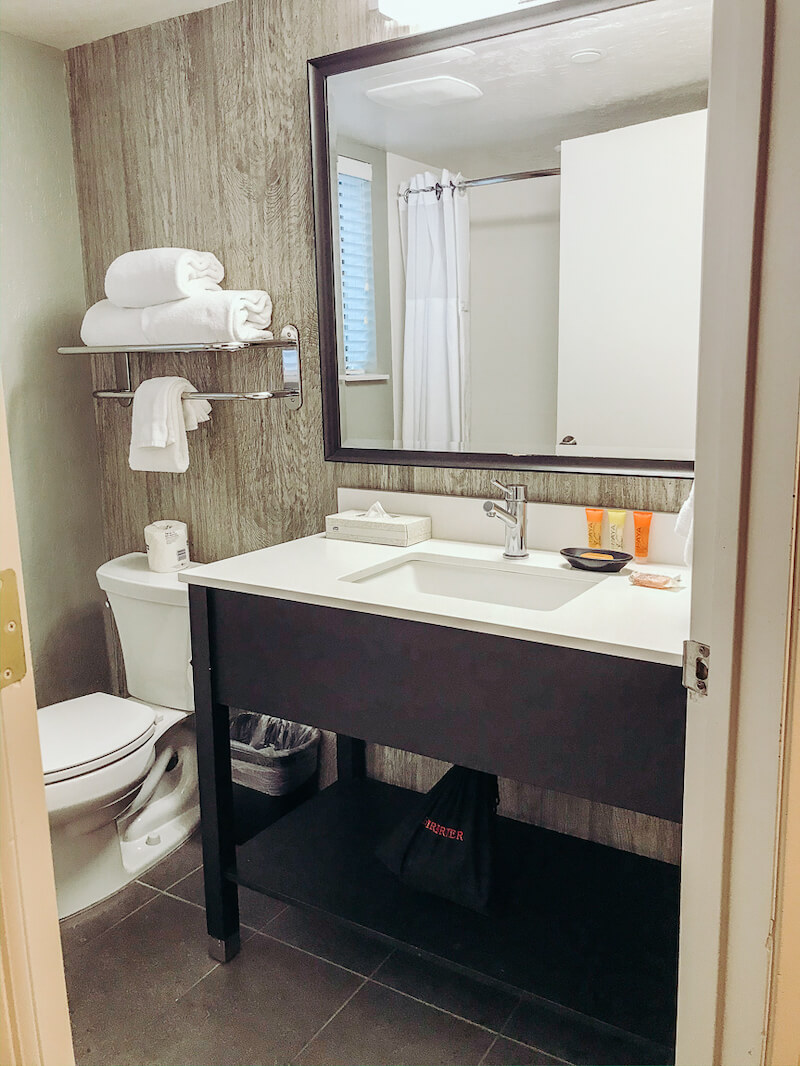 I loved the modern details of the bathrooms. Plus, the shampoo smelled so good! It was perfect for freshening up after a long day.
Family Room
The family room was perfect with a pull-out sofa, large deck, kitchen table, and enough seating to fit our family of five. Our son slept on the sofa each night and loved having his own space.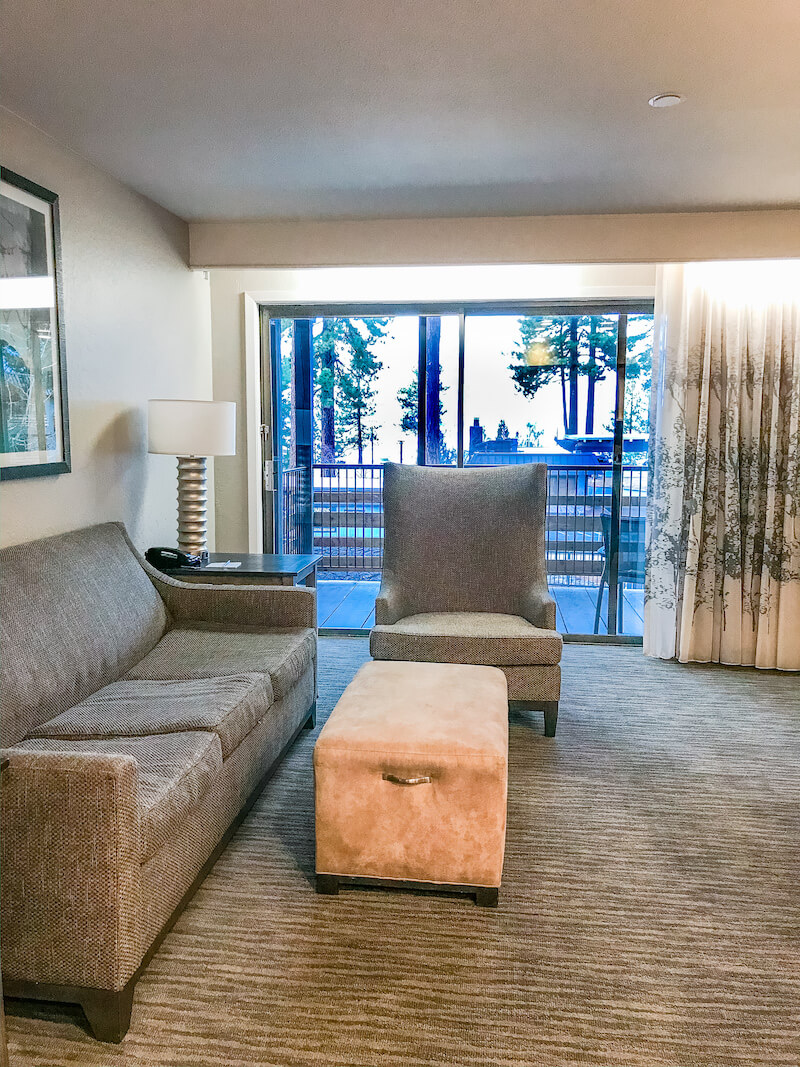 I loved the view from the family room. We really lucked out with our suite because we had great – yet different – views from both the mater bedroom and the family room.
Kitchen
The full kitchen was a huge hit for our whole family. It came stocked with all of the pots and pans, appliances, and cooking utensils we needed. Plus, it had a full sized fridge and dishwasher. A total win!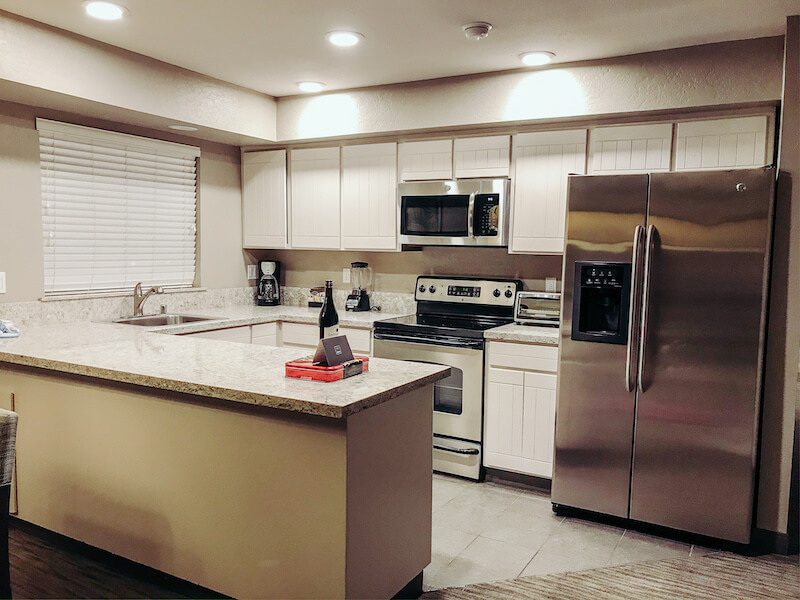 I loved, loved, loved staying at Hotel Azure. My only regret was not staying longer. It has the feel of renting a house with the added bonus of the hotel amenities – like having your suite cleaned while you are out and about enjoying all that Lake Tahoe has to offer.
Laundry
No family-friendly hotel is complete without laundry. Hotel Azure has you covered with washer/dryer available when you suddenly realize you need to do a load. It is a must for families with potty training toddlers!
Game Room
The hotel also has a nice game room on the first floor. It was a nice spot to let the kids burn some energy while we could sit and unwind for a little bit before heading up to our room.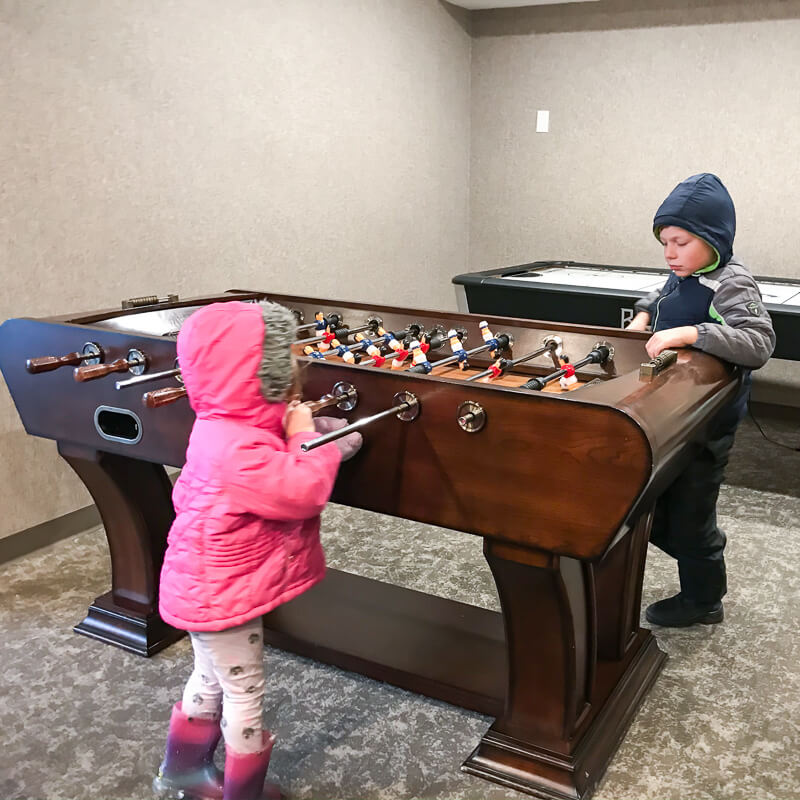 Pool & Hot Tub
Sadly, we did not find time to check out the pool, but we definitely will next time. There was a family in it each day and you could see the steam coming off the water – so we know the hot tub was nice and warm! The pool and spa were both very clean and looked like a lot of fun – no matter the time of year.
Our weekend in South Lake Tahoe with Kids
We spent the weekend in Lake Tahoe, arriving Friday night and leaving Sunday afternoon. It was just enough time to enjoy some much-needed family time, disconnect, and play in the snow!
Breakfast at Heidi's Pancake House
We had breakfast at Heidi's Pancake House on Saturday morning and will definitely be back! It was such a cute restaurant with really good food. The service was amazing. We ordered a stack of pancakes with a side of eggs for the kids to share.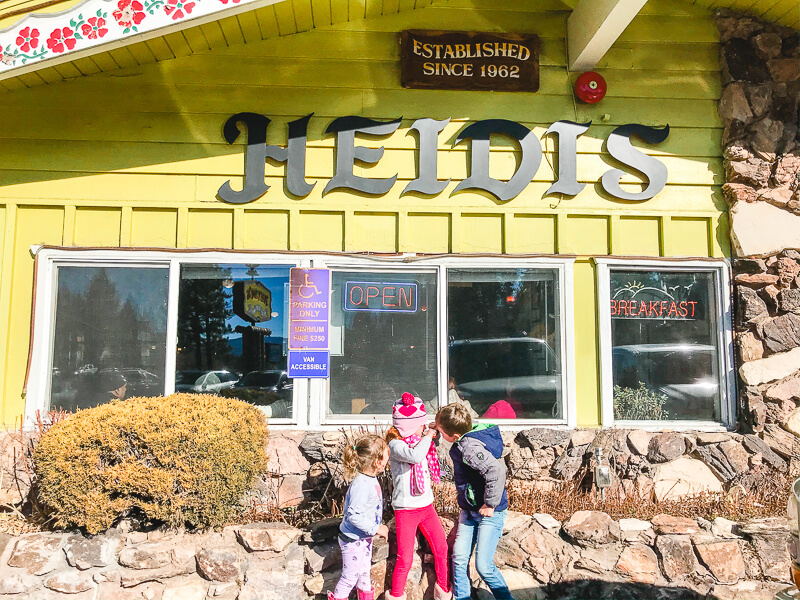 Our waitress brought us extra plates to split up the food before our food came. If you are a parent of multiple kids, you can understand what a difference that makes. Make sure you add Heidi's Pancake House to your list of restaurants if you are visiting South Lake Tahoe.
Snow Play, Sledding, and Snowman Building
We spent Saturday morning sledding and building a snowman. Our Zipfy sleds were awesome! They were fast but easy to control and stop. All there kids: ages 7, 5, and 3 used them easily. I even rode it and loved it. It was so much fun! (Please note: the sleds are rated for ages 5 and up, they also have a Zipfy Jr. for kids ages 3-6).
You may also like: Must-Have Snow Gear for Kids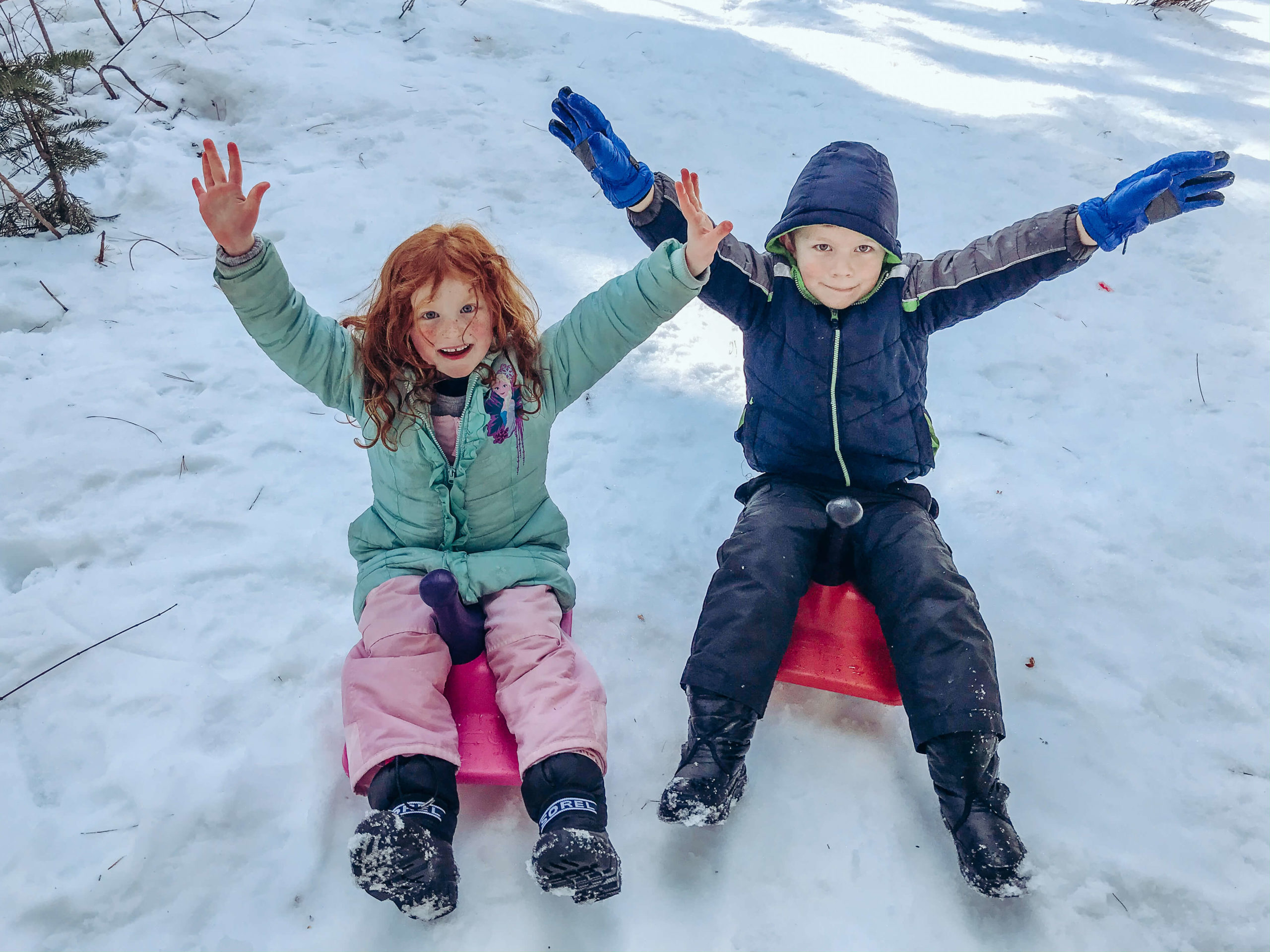 We did not go to a paid snow park to play in the snow, instead we drove around the lake until we found a good hill that other families were already utilizing.
It was perfect for our first sledding experience. We brought two Zipfy sleds to share between the three kids, but next time will make sure we invest in a third so all three kids can go down the hill at the same time.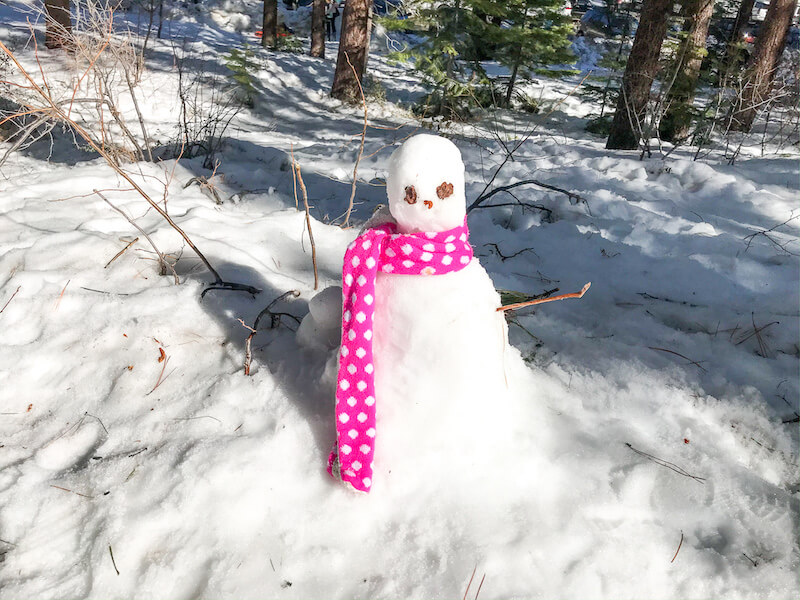 A drive around Lake Tahoe
After spending the morning playing in the snow, we drove around the lake and made a stop to play along the water. It was a beautiful day and we managed to get some great photos! The kids loved climbing on the rocks and walking along the Tahoe Rim Trail.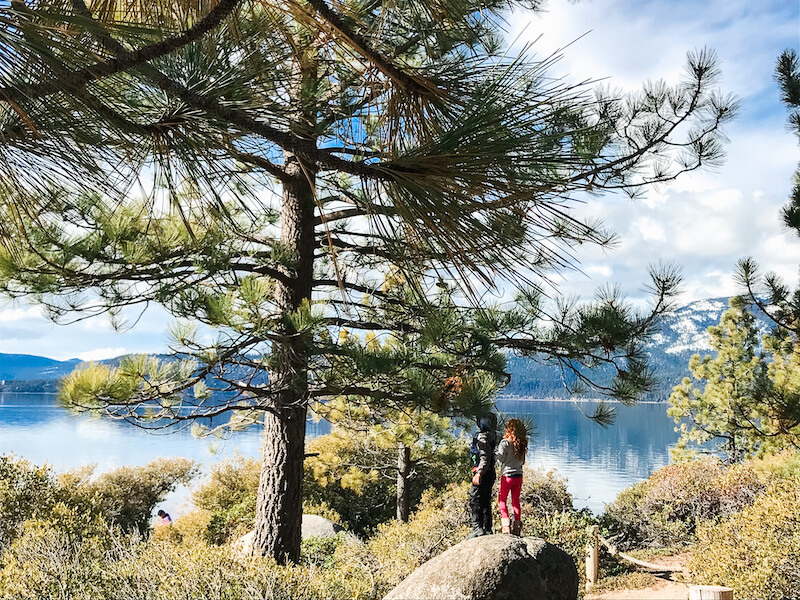 I loved that there are points around Lake Tahoe that were covered in snow and other parts that had no snow on the ground. It was even warm enough that we were able to enjoy some sunshine and got out of the car in a place where there wasn't any snow.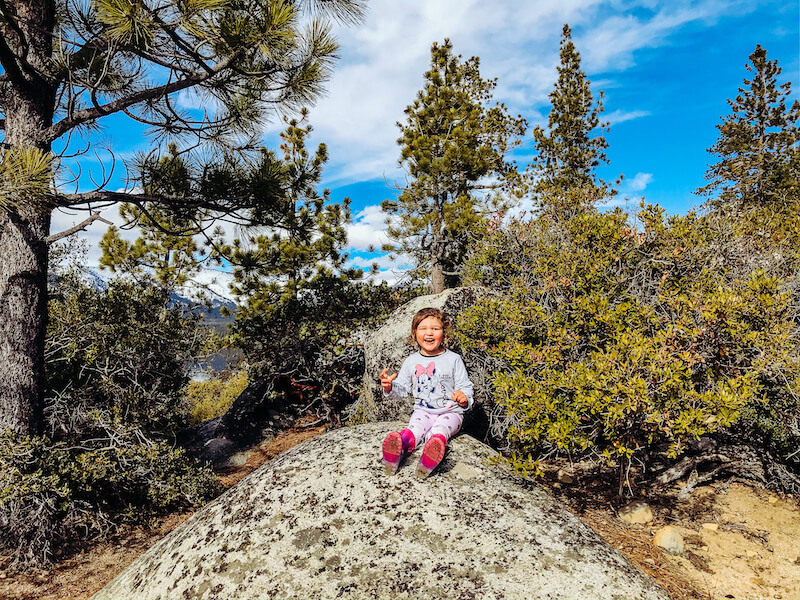 The drive around the lake takes a couple of hours but it is well worth it. Lake Tahoe is so beautiful and you get the full experience if you see it from all angles.
We noticed different things about the beautiful area every time we drive around the lake. Plus, part of the lake is actually in Nevada, so it was a fun "we got to go to a different state" experience for the kids.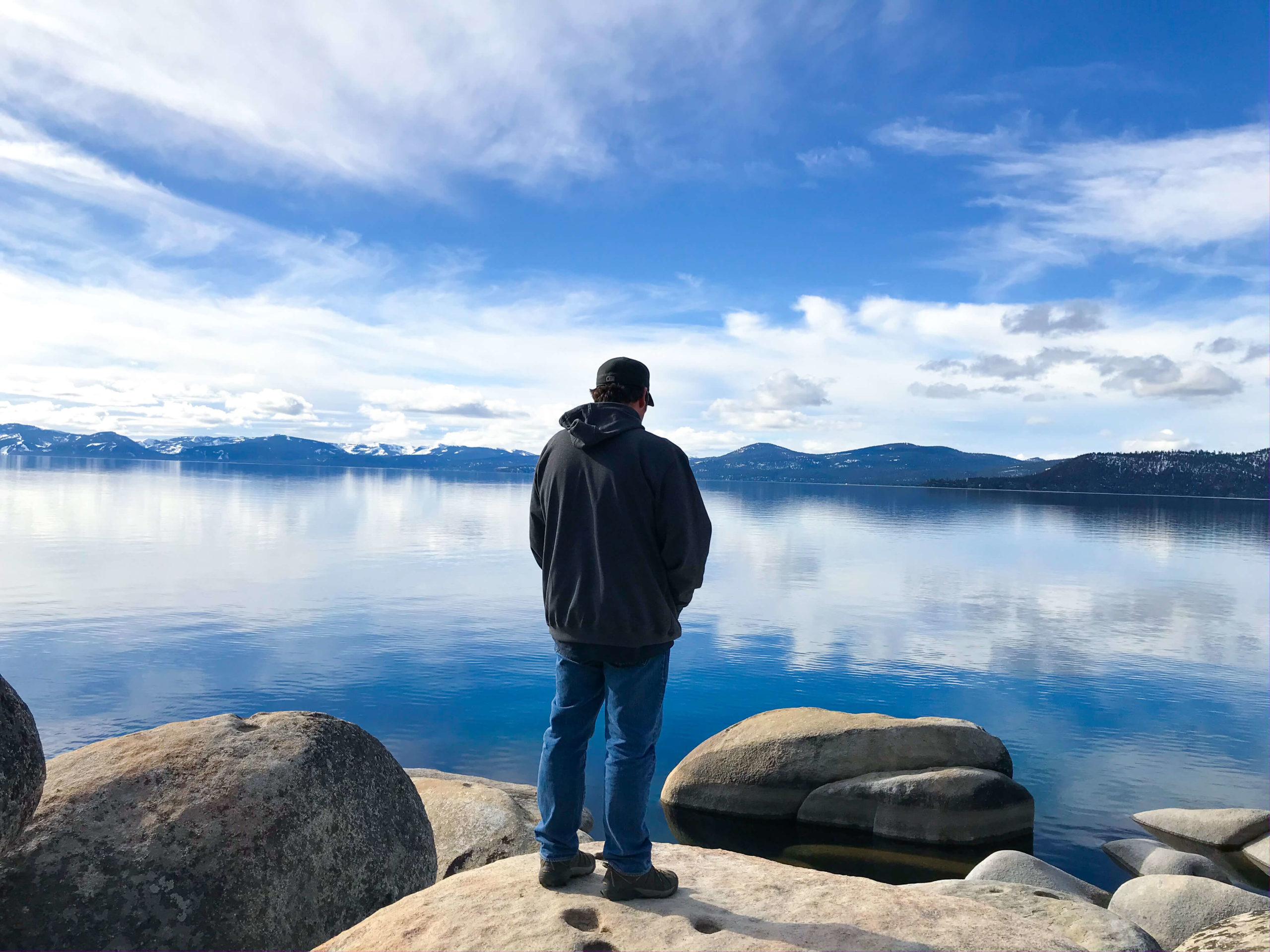 If you are planning to do the drive around the lake, I recommend doing it at a time where your kids are usually napping (if they still nap) or after a busy activity – like sledding or skiing – so they are tired out and willing to relax and enjoy the ride.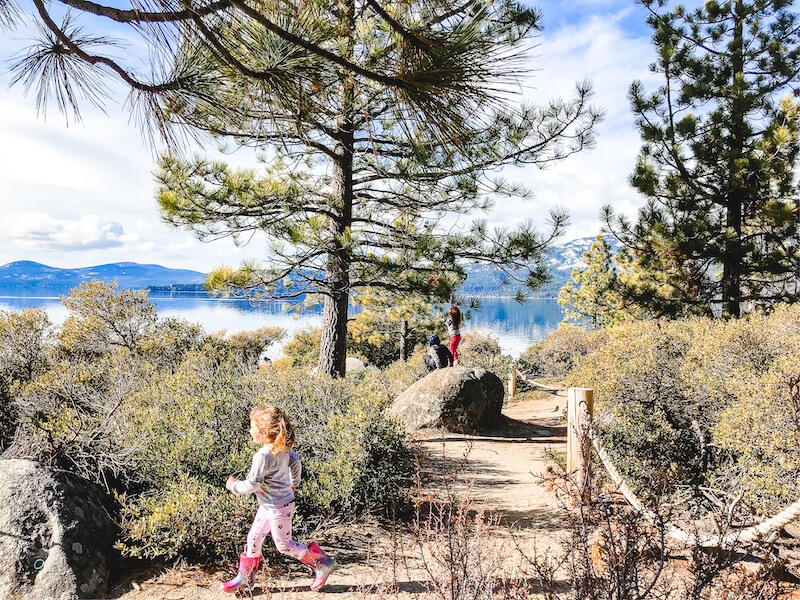 Lunch at Rosie's Cafe in Tahoe City
After driving half-way around the lake, we stopped for lunch at Rosie's Cafe in North Lake Tahoe. We stop at this restaurant every time we are in Lake Tahoe, starting with our first trip in 2009 when Sean proposed to me. We love this restaurant for their good food and cozy atmosphere. The kids love it for their hot chocolate!
After our late lunch at Rosie's we finished our drive around the lake and headed back to Hotel Azure to relax, watch a move, and cook some dinner. We were all tired after our busy day and it was nice to feel at home in our hotel room and not feel obligated to eat out.
Cooking Breakfast in our Hotel Room
We used the kitchen again the morning and made breakfast for the whole crew before heading out. We made a simple breakfast of bacon, eggs, and fruit. Plus coffee for the grown-ups.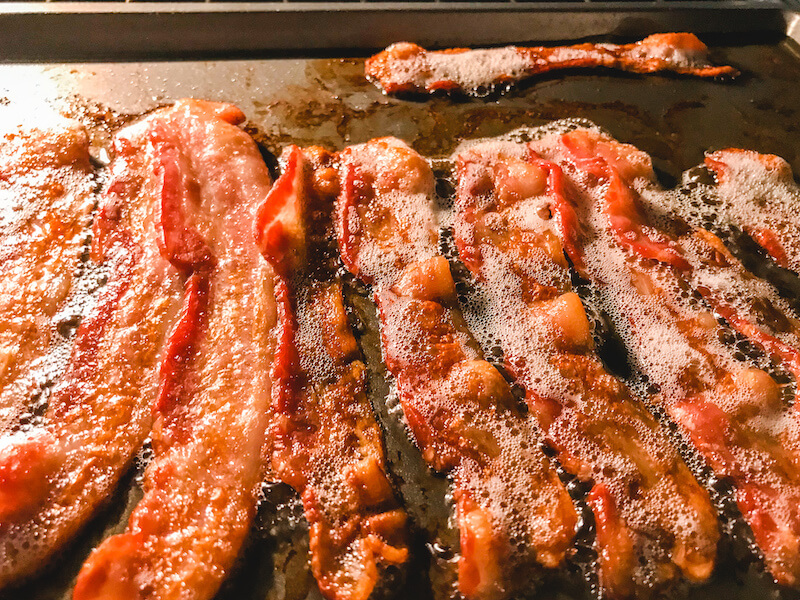 Our favorite trick for making a big batch of bacon is cooking it in the oven. Luckily, our room had a full sized oven, so we went ahead cooked up some bacon in there, while we made scrambled eggs on the stove.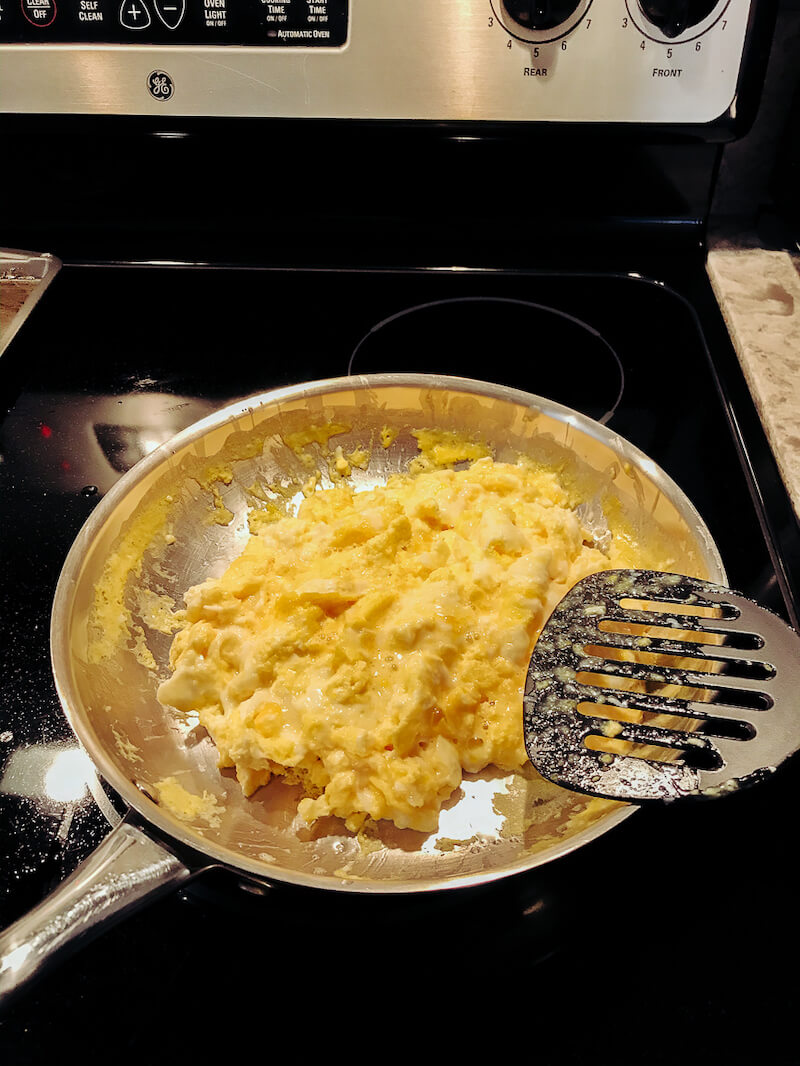 Having a kitchen in your room really makes a difference. It allowed to us to just hang out in our pajamas and spend time together instead of having to get dressed and find somewhere to eat.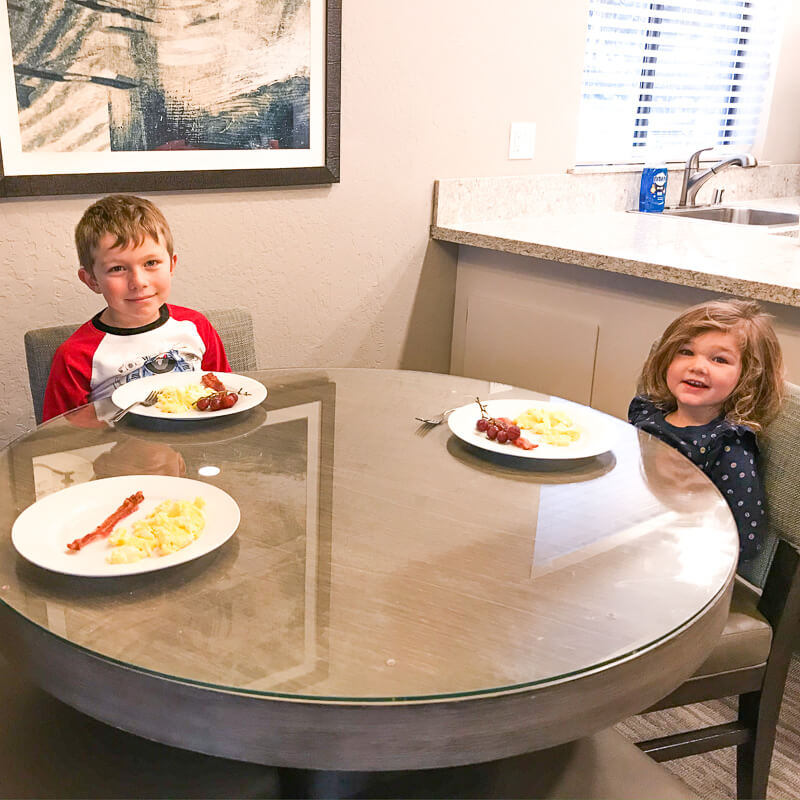 You may also like:
How to get Free Museum Tickets in Northern California
We loved our visit to south Lake Tahoe with kids this winter and look forward to exploring again, soon! If you are planning a trip to South Lake Tahoe, make sure to check out Hotel Azure, for their family friendly rooms and great location!