How to Visit the Muir Woods National Monument with Kids
As an Amazon Associate I earn from qualifying purchases.
Do you want to visit the Muir Woods National Monument but aren't sure how to pull it off with your kids in tow? This post is for you! We tell you everything you need to know about visiting Muir Woods with kids.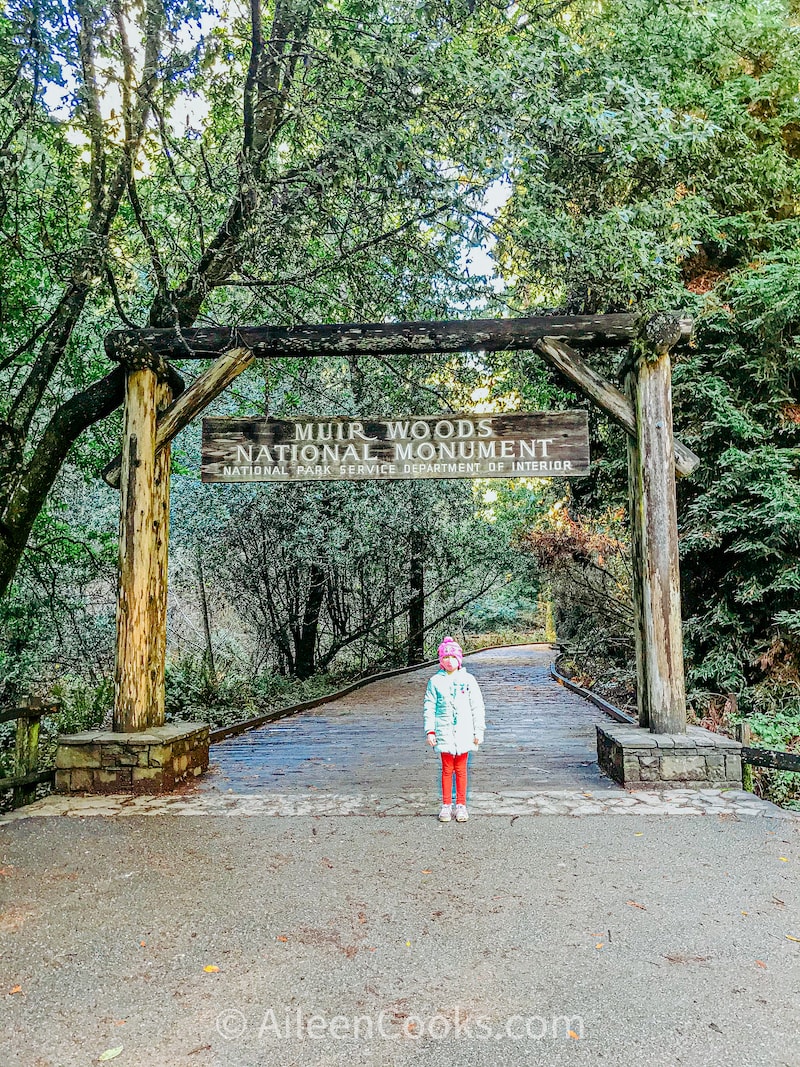 If you're visiting the San Francisco Bay Area, you won't want to miss a visit to the Muir Woods National Monument. Muir Woods boasts amazing views of enormous redwood trees among many beautiful and well-maintained trails.
There is an ADA accessible trail on the main floor of the redwood grove along with many, many additional hiking trails along the outer edges of the redwood grove.
More places to visit:
About Muir Woods
Muir Woods National Monument is a big and beautiful redwood grove located just north of San Francisco in Mill Valley, CA. Muir Woods became a national monument in 1908 by President Theodore Roosevelt. Muir Woods has over 6 miles of hiking trails and is filled with redwoods as high as 250 feet and as old as 800 years!
This national monument is a favorite for outdoor enthusiasts who live in the Bay Area but is also a memorable place to visit if you are a travel to Northern California. It showcases some of the most wonderful parts of our natural beauty here in California.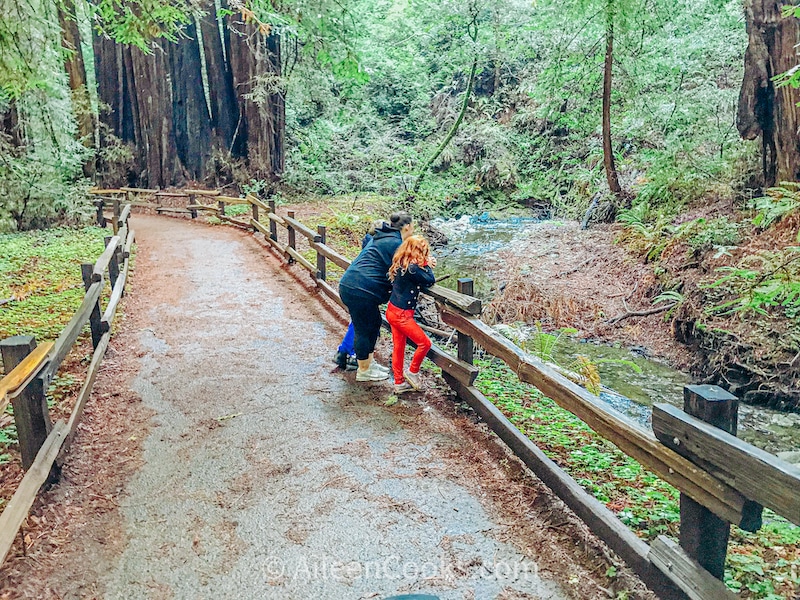 Visiting the Muir Woods National Monument with Kids
If you are planning on visiting Muir Woods with kids, we can help! Make sure to pack backpacks with water bottles and snacks. There are not many garbage cans, so plan to pack your garbage out with you.
Muir Woods is absolutely gorgeous and is a wonderful experience for all ages. It features huge redwood trees and a beautiful creek that runs down the center of the main trail.
The main trail also has several brides over the creek which are a great spot to get a better view of the creek. Plus, kids tend to love crossing all of the bridges! If you plan on taking one of the upper trails, you may even get a glimpse of the beach and Pacific Ocean!
Are there bathrooms available at Muir Woods National Monument?
Yes, there are restrooms available, but they are not plentiful. You will want to hit the restroom at the entrance of the trails as there aren't any bathrooms inside the park. This can be problematic with little kids, so bringing a travel potty may also be helpful. We like this one from Amazon.
Another option some families utilize is brining pull-ups for kids who are technically potty trained, but may need to go more often than ideal while on a hike.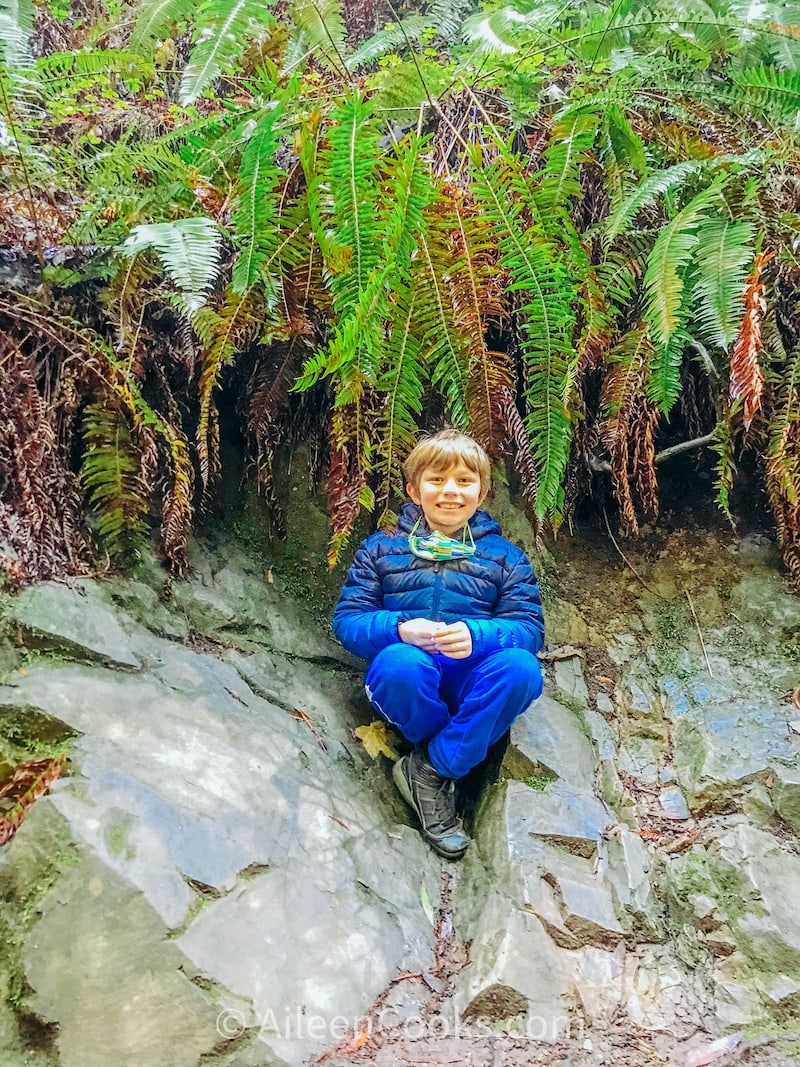 What to wear to Muir Woods?
Dress in layers. They heavy tree coverage makes Muir Woods cooler. That combined with the common foggy weather in Marin County and you may get chilly if you aren't dressed appropriately.
I would liken the weather to the weather of San Francisco. It tends to be at least 10 degrees cooler (or more) than its surrounding areas. Even on hot summer days, Muir Woods can be quite chilly.
However, if you are planning on a strenuous hike, than you may warm up rather quickly. So, layers is the way to go.
I would also recommend wearing a good pair of hiking boots for the more strenuous trails. If you plan to just stay on the main, flat trail, than sneakers should be fine. However, you don't want anyone in sandals or slip-on shoes.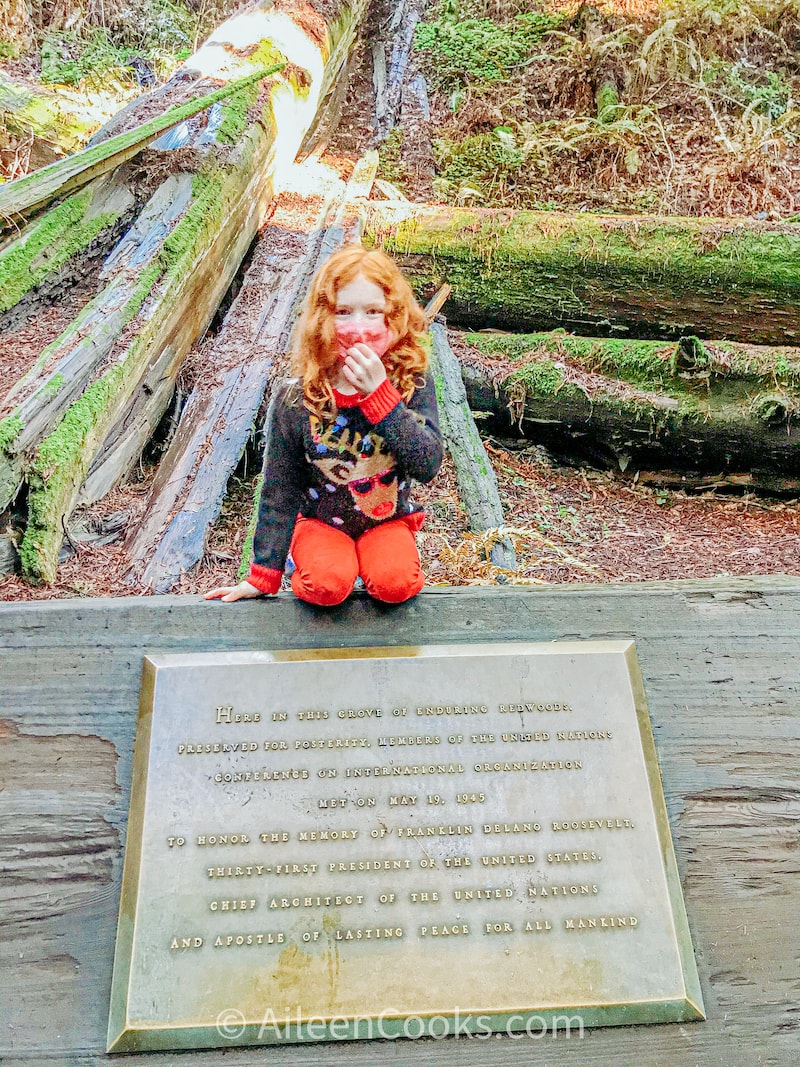 Is Muir Woods stroller friendly?
The main boardwalk trail is stroller friendly. It takes about an hour to walk the whole thing at a slower pace. It is wide enough to accommodate a double stroller but there are some spots with roots raised up through the trail.
An umbrella stroller isn't going to cut it in Muir Woods National Monument, but if you have a stroller with heartier trails, then you should be just fine.
There are other longer and more scenic trails that are not stroller friendly. If you want to really explore, we highly recommend wearing your baby in either a wrap, structured carrier, or backpack carrier.
During our last visit, we came with our four children and two of them rode in a double stroller. One was an infant and one had a broken foot. Even still, we enjoyed 2 hours of exploration and exercise among the Redwood Groves. Brining a stroller to Muir Woods is absolutely doable.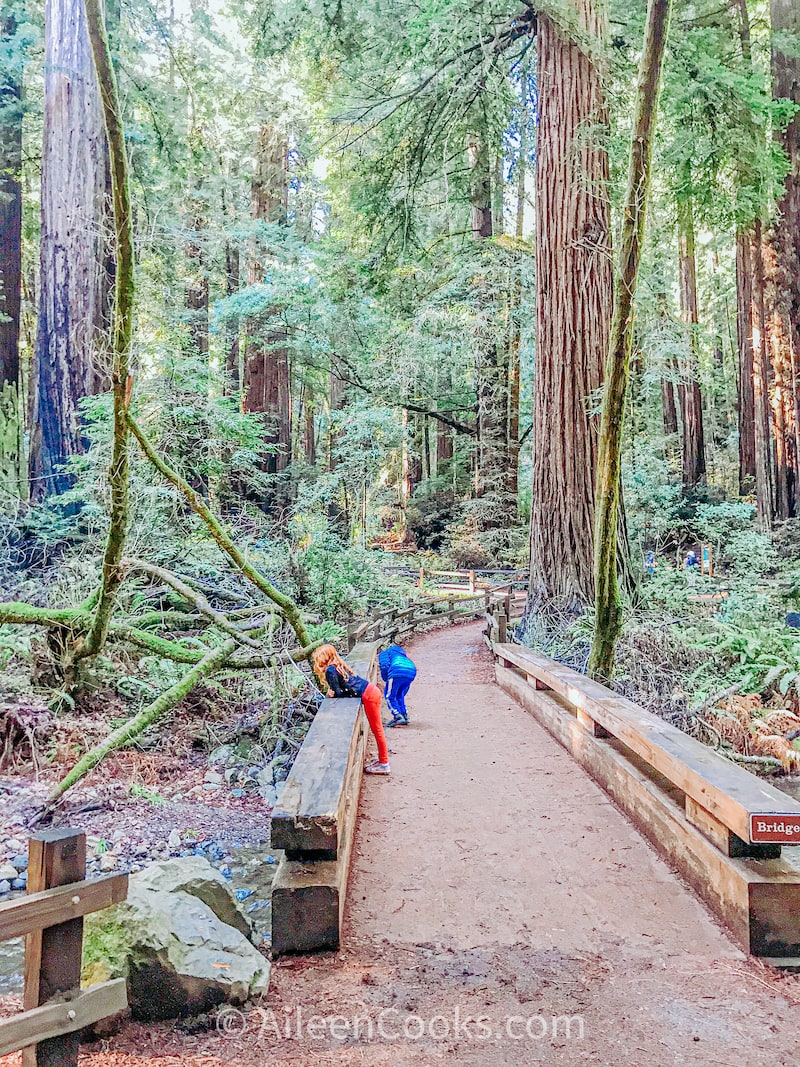 Junior Ranger Program
If you have kids ages 5-11, make sure to check out the junior ranger program! I grew up participating in the Junior Ranger program and am so excited to share this same fun (and educational) activity with may own kiddos.
Make sure to ask one of the rangers for a Junior Rangers booklet and pencil as you enter the park. Your kids can fill it out during your trip and then be sworn in as official Junior Rangers as they leave for the day. It is a really fun experience and a great way to teach your kids about caring for the earth in a fun and memorable way.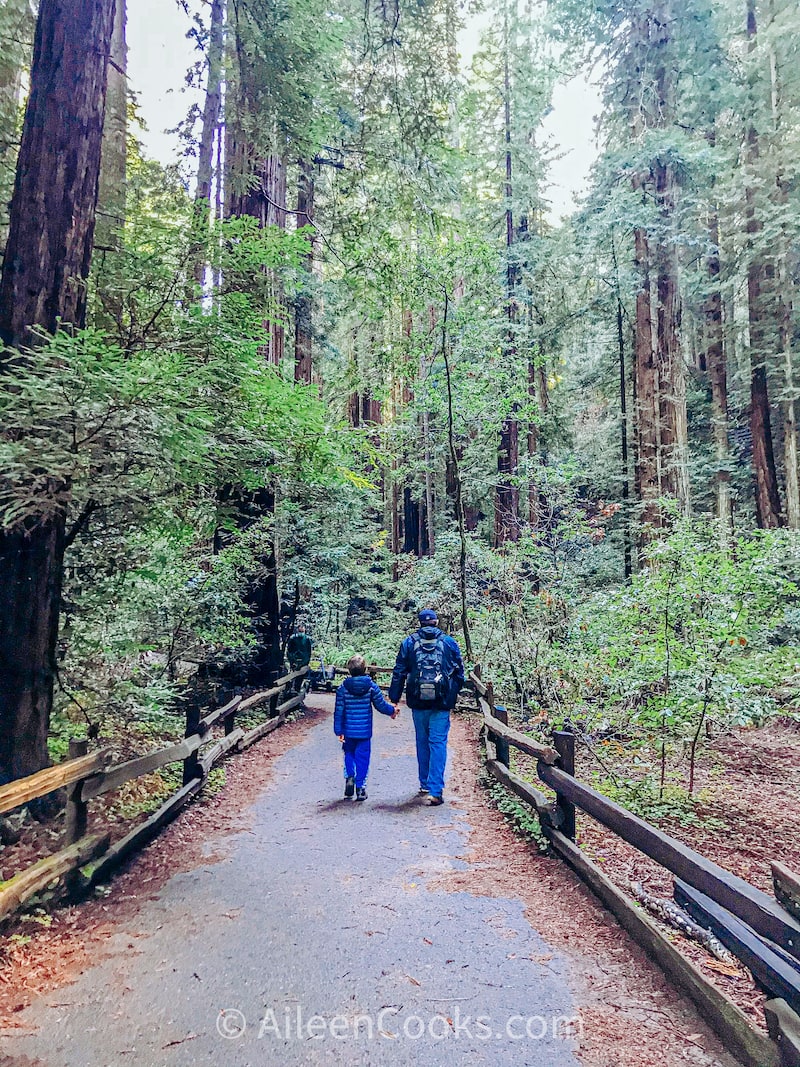 Muir Woods Parking
Parking needs to be reserved ahead of time and you will be required to reserve a time slot of arrival. Parking is $8.50 for a standard vehicle. Larger SUVs and trucks (over 17 feet) require a medium sized vehicle parking pass, which costs $30.00. Make sure to check the length of your vehicle as I was surprised to see so many SUVs and Trucks fall under the higher price point.
There are multiple parking lots, so I would plan on walking up to 1/2 mile to get into the national monument. There is a trail on the inside edge of the parking lot, so you won't have to walk in traffic. However, if you are brining a stroller, some of it is bumpy, as is the park itself.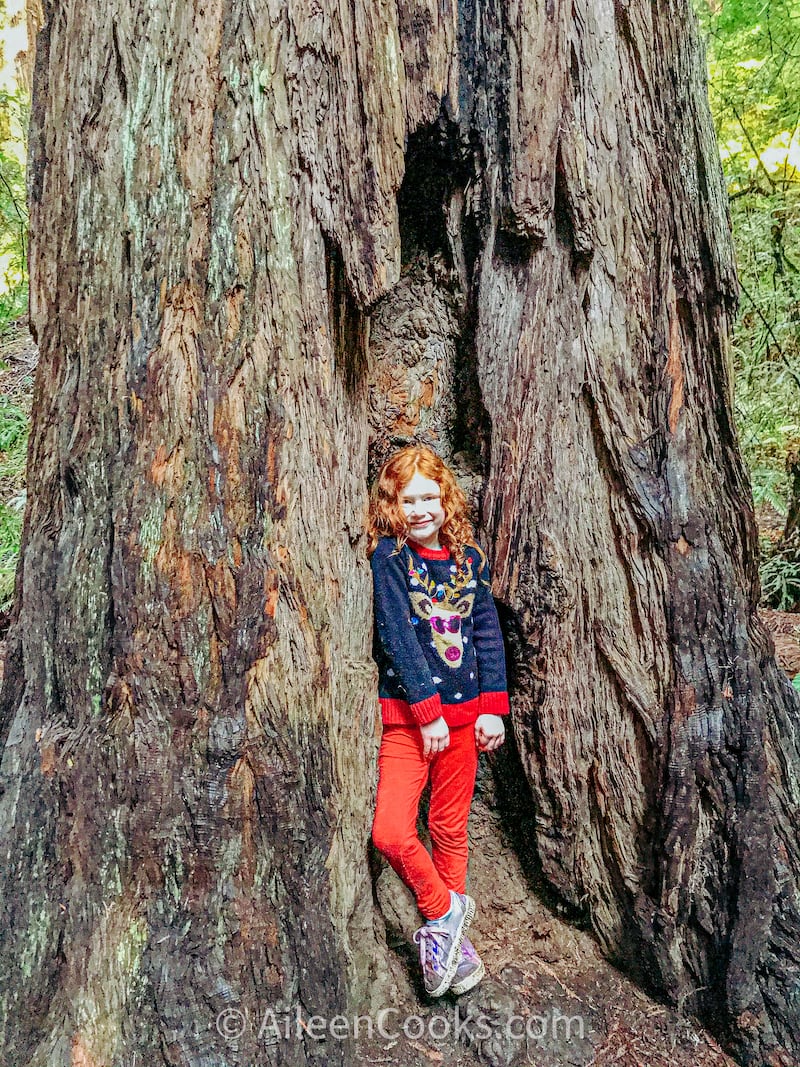 Muir Woods entrance fee
Tickets to Muir Woods is $15.00 for anyone over the of 15. Children ages 15 and younger are free. Families with a chid in 4th grade can also gain entrance for free through the Every Kid Outdoors Program. These prices were accurate at the time of publication.
Entrance fees can be purchased online while purchasing parking or from the rangers at Muir Woods National Monument at the day of arrival. Reservations for entrance to the park are not required.
You can reserve parking passes at GoMuirWoods.com.