This triple berry fruit salad with poppy seed dressing recipe is sponsored by Thyme & Table. All opinions are my own.
I love a good fruit salad and this triple berry fruit salad with poppy seed dressing just might be my new favorite. It's bursting with flavor thanks to the delicious berries and lime with just the smallest bit of crunch from the poppy seed. This fruit salad is so good. You need it in your life!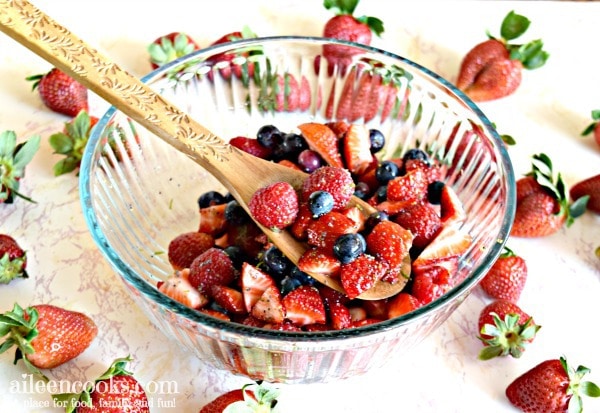 I had the opportunity to try out the new Core Home kitchen line Thyme & Table from Walmart to make this fruit salad. They sent me so many amazing items – it would be hard to pick a favorite. Just check out all of those gorgeous spoons (swoon). The measuring spoons are especially cool because they are dual sided and have four different measurements on each spoon: tablespoon, teaspoon, 1/2 teaspoon, and quarter teaspoon.
It was so nice to replace my hodgepodge of kitchen utensils with this fun and functional set. It was perfect timing, too, because we recently purchased a travel trailer and need to stock the kitchen. All of our old stuff is going in the trailer and all of the new stuff from Thyme & Table is moving into my house kitchen.
I also love the smaller utensils in their collection as they are the perfect size for making some recipes with my kids. Katie was so excited when she saw the little pink whisk. It was perfect for making the poppy seed dressing and is also the perfect size for her little hands to whisk up some eggs for me. Make sure you check out their full line next time you are at Walmart, or you can visit their website ThymeAndTableKitchen.com.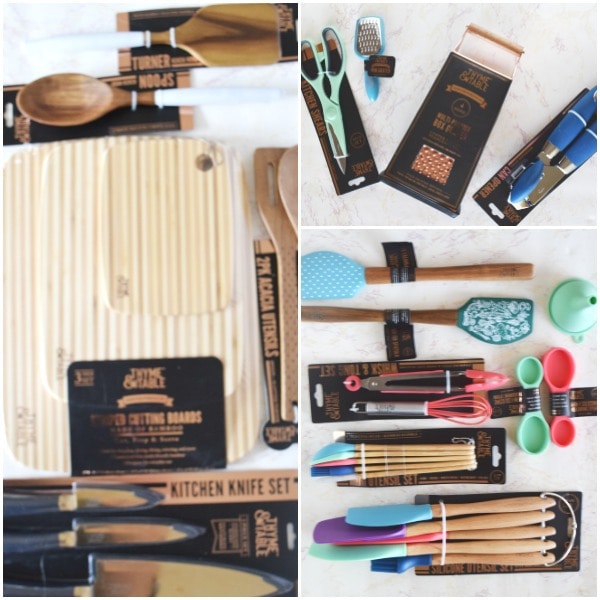 How to make triple berry fruit salad with poppy seed dressing
Start by collecting your ingredients. You will need strawberries, raspberries, blueberries (hence the triple berry), lime, poppy seeds, and honey.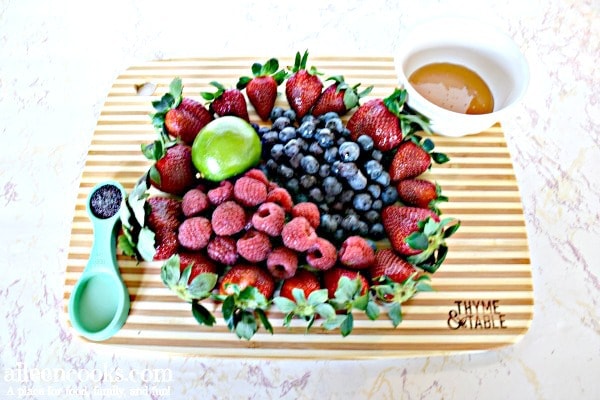 Wash all of your fruit. Hull and slice the strawberries. I used my new paring knife and cutting board on the strawberries. It sliced through them like a dream.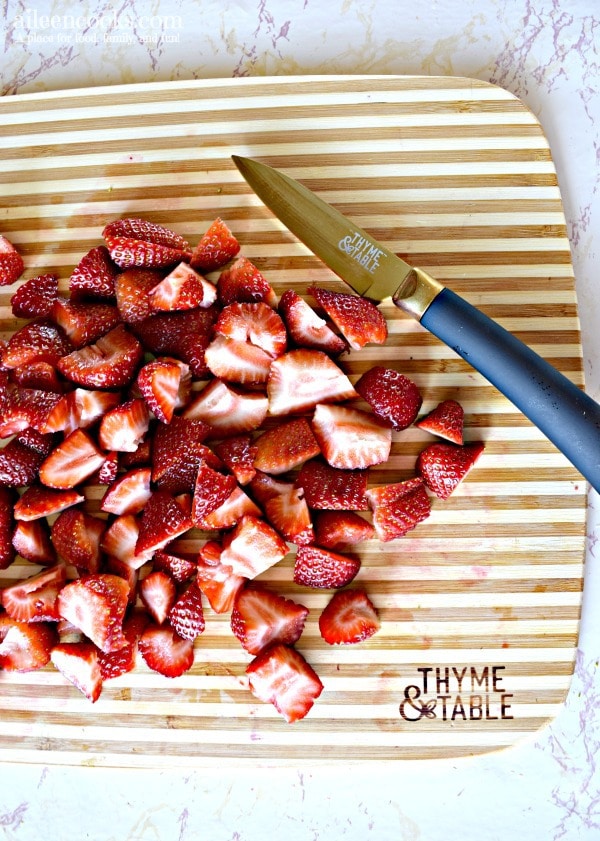 Zest your lime with a mini grater and then juice the lime.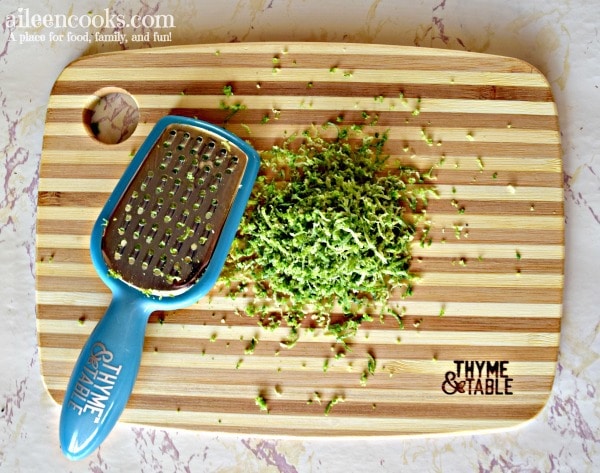 Whisk together the lime zest, lime juice, poppy seeds, and honey.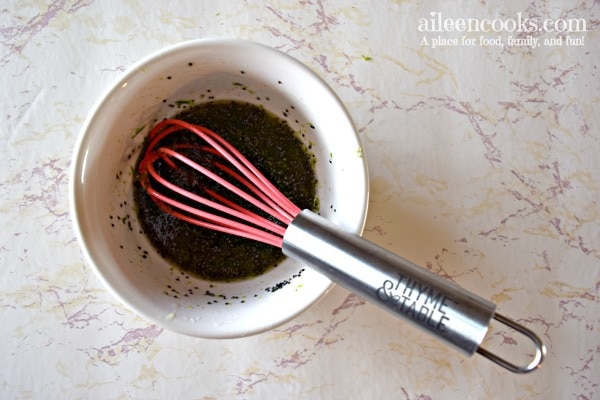 Toss the poppy seed dressing on your triple berry fruit salad.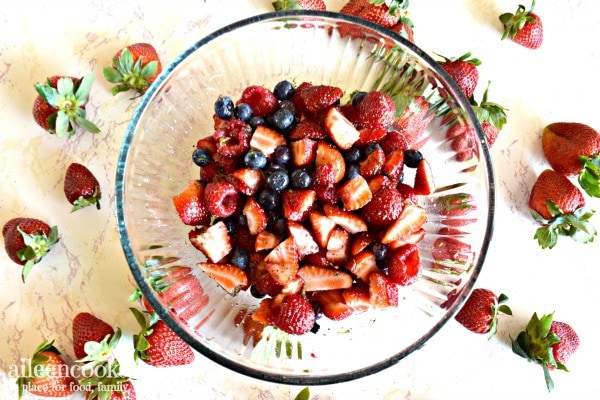 Serve immediately.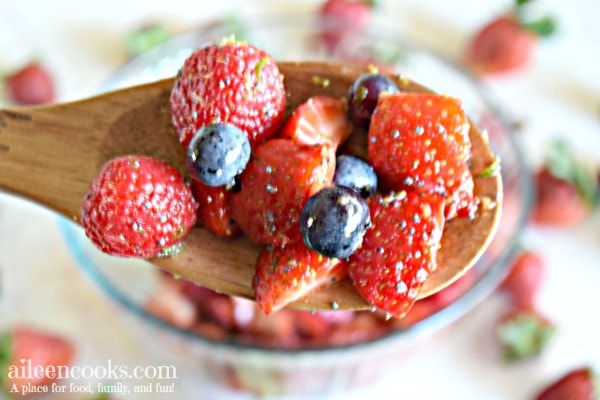 If making the triple berry fruit salad ahead of time, leave the poppy seed dressing separate and refrigerate. Mix it up right before it's served.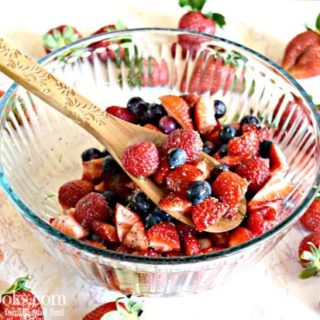 Triple Berry Fruit Salad with Poppy Seed Dressing
A delicious fruit salad made with fresh berries and sweet poppy seed dressing.
Ingredients
Triple Berry Fruit Salad
3 cups strawberries, hulled and chopped
1 cup blueberries
1 cup raspberries
Poppy Seed Dressing
1 lime, zested and juiced
3 tbsp honey
1 tsp poppy seeds
Instructions
Combine strawberries, blueberries, and raspberries in a large bowl.
Whisk together the lime zest, lime juice, honey, and poppy seeds.
Toss berries with poppy seed dressing.
Serve immediately. Refrigerate any leftovers.
Nutrition Information
Amount Per Serving
Calories

136
Did you try this recipe for Triple Berry Fruit Salad? Let us know what you thought in the comments or tag us on social media using @aileencooks.