These tasty and healthy morning glory muffins are made with whole wheat flour, carrots, raisins and applesauce. Yet, they still taste like the morning glory muffins you love!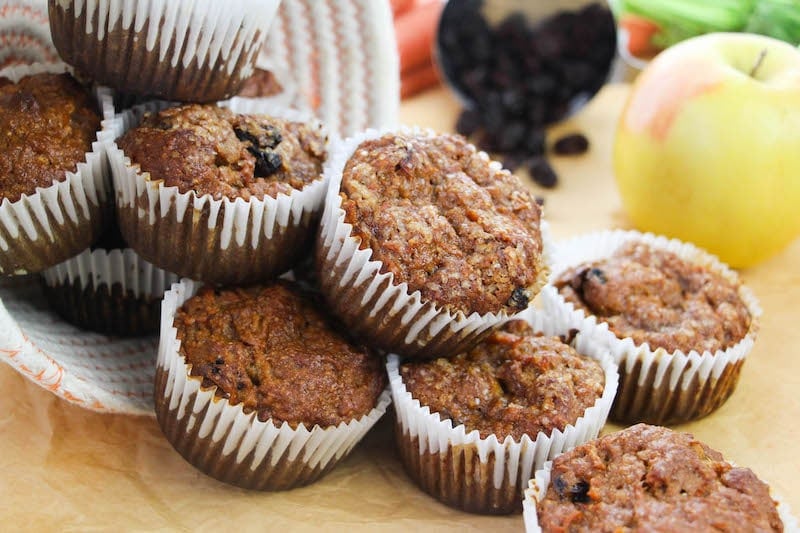 I love morning glory muffins because they truly are a muffin made for mornings. They are packed with so much goodness like fresh carrots and raisons that add nutrition to the muffin but add sweetness, too.
If you love muffins as much as we do, you are going to want to try some of our other favorites: Banana Blueberry Muffins with Vanilla Muffin Glaze, Strawberry Banana Muffins, Pumpkin Cornbread Muffins, and Chocolate Chip Zucchini Muffins with Streusel Topping.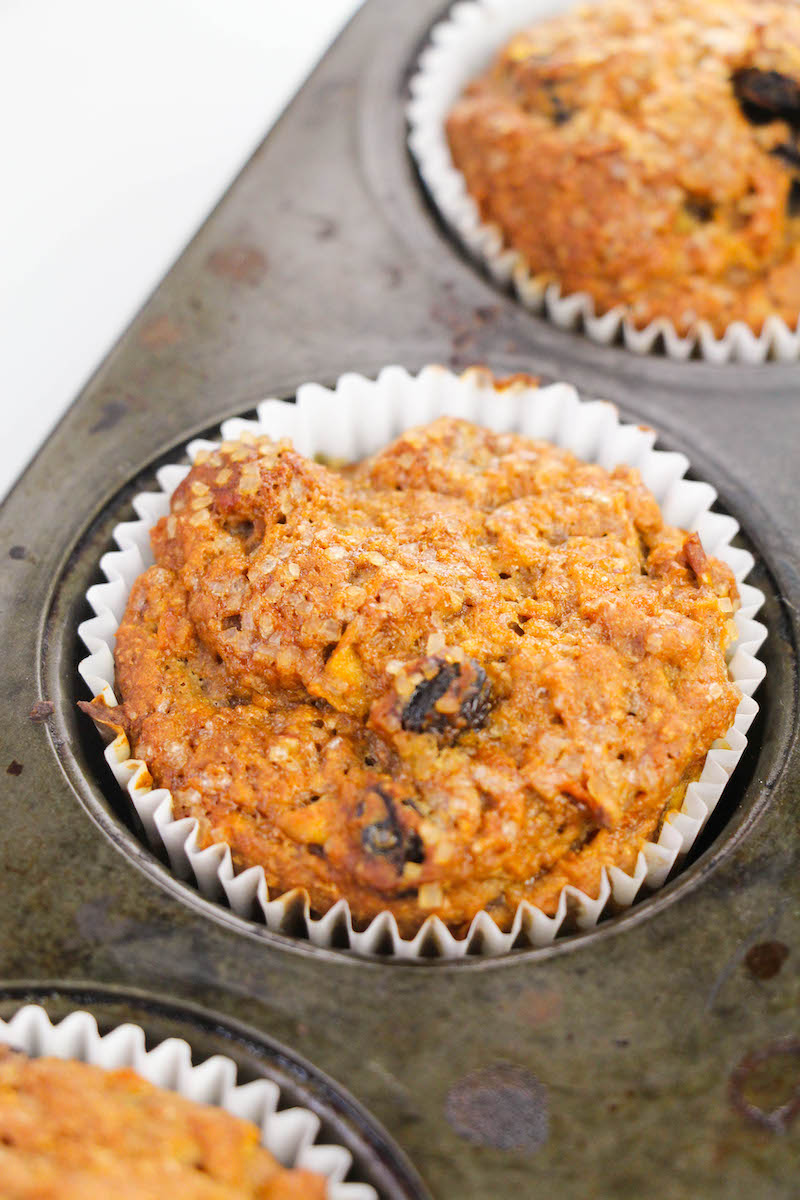 Healthy Morning Glory Muffins
This is a great muffin to bake on a Sunday and eat for breakfast all week long. They are also great as a side for lunches. My kids absolutely love when I pack muffins in their lunchbox!
What type of whole wheat flour?
If you have not baked with whole wheat flour before, you may not be sure which type to purchase. We recommend buying the white whole wheat flour. This flour is just as healthy as the other types of whole wheat flour, it is just made with the hard white wheat berry, which has a milder flavor than the red wheat berry. If you can find it, King Arthur Flour makes a great white whole wheat flour.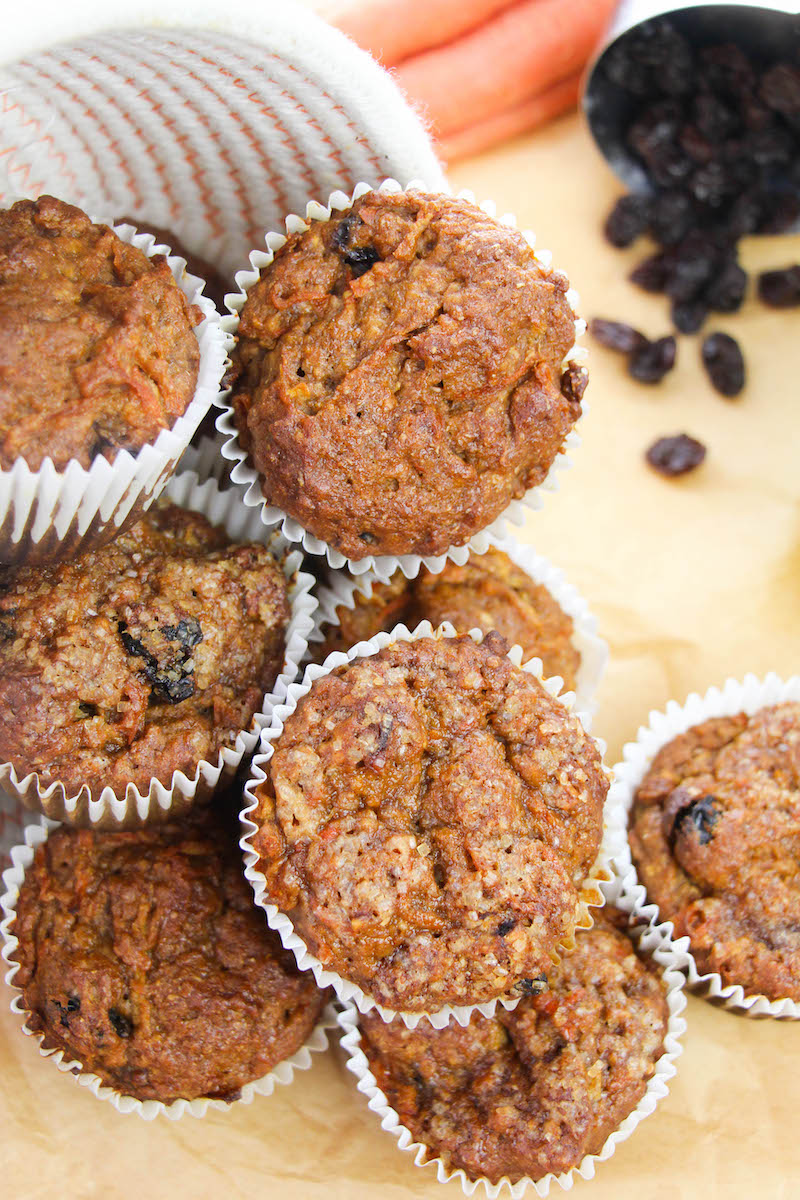 Why do we have to soak the raisons?
Soaking the raisons plumps them up for baking. Raisons are naturally dry but they will absorb moisture from a baked good. So, it is important to soak them ahead of time to prevent them from soaking the moisture out the muffins and drying them out.
You simply place them in a bowl and cover them with water for 10 minutes while preparing the muffin batter. Drain them in a mesh sieve and bake with them as directed. If you want to add some extra flavor, you can soak them in orange juice.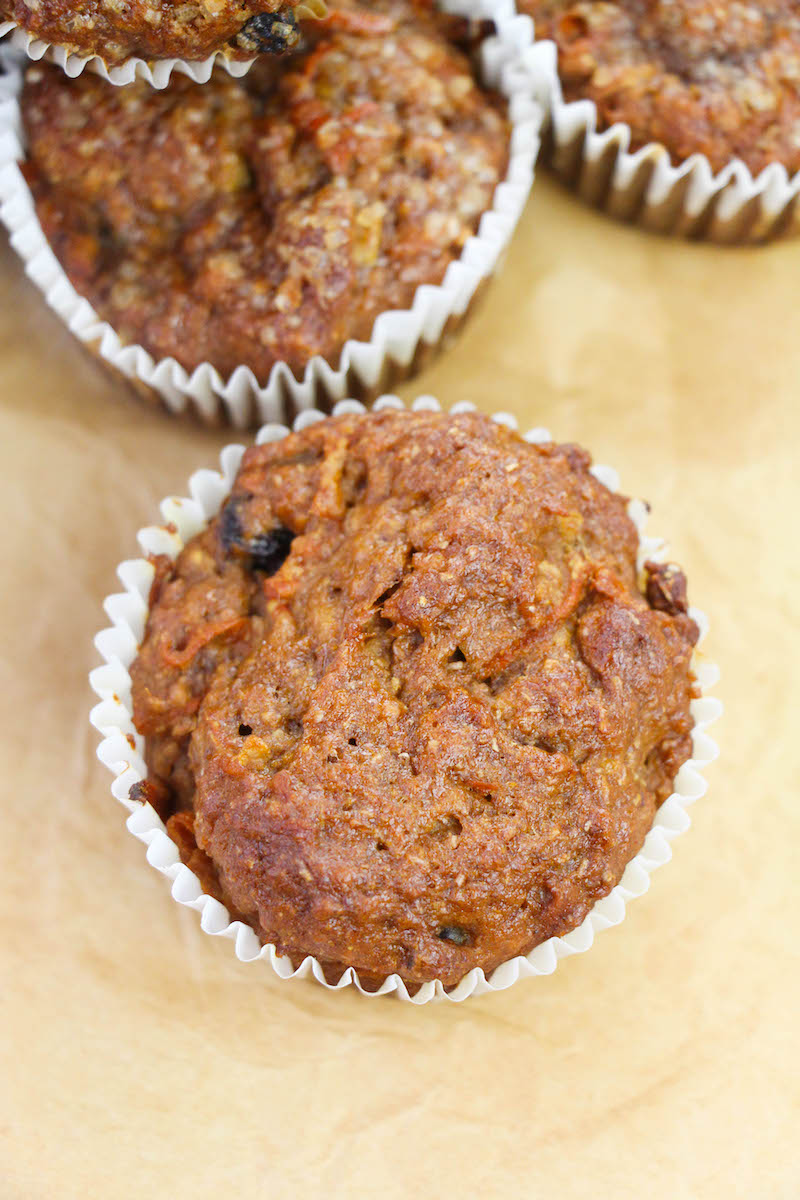 Can you freeze morning glory muffins?
Yes, you can freeze these muffins. If you want to double or even triple the recipe, you can freeze the extras for another day in the future. I love making a big batch of muffins for the freezer because they freeze so well. Meaning, they taste the same when they are defrosted. The texture and flavor do not change after being frozen.
Here is how to freeze healthy morning glory muffins:
Arrange cooled muffins on a cookie sheet – spaced apart enough to not touch.
Freeze for 1 hour.
Place frozen muffins in a zip-top freezer bag.
Squeeze as much air out as possible and suck out any remaining air with a straw.
Close the bag well. Label and date the bag.
Freeze up to 3 months.
Defrost at room temperature when ready to eat.

What to serve with healthy morning glory muffins?
We love serving these healthy breakfast muffins with yogurt and granola or an egg dish like make-ahead scrambled eggs or even baked oatmeal.
–>Sign up for our Newsletter<–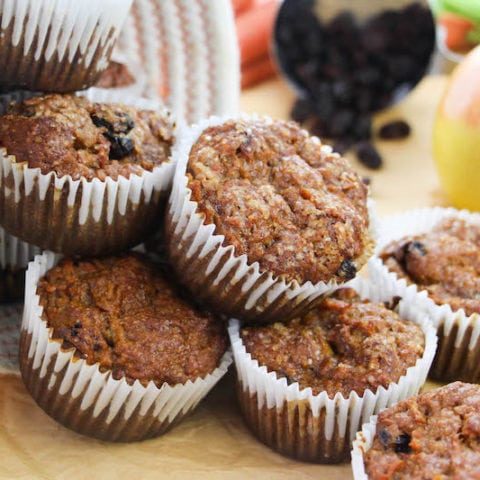 Healthy Morning Glory Muffins Recipe
These tasty and healthy morning glory muffins are made with whole wheat flour, carrots, raisins and applesauce. Yet, they still taste like the morning glory muffins you love!
Ingredients
1 cup applesauce
1 egg
1/2 cup honey
1/4 cup unsalted butter, melted
1 teaspoon vanilla extract
2 cups whole wheat flour
1 teaspoon baking soda
1/2 teaspoon salt
1 tablespoon cinnamon
3 medium carrots, grated
Zest of one orange
1/2 cup pecans, chopped
1/4 cup raisins, soaked in water for 10 minutes
1 medium apple, grated
1/4 cup orange juice
Instructions
Preheat the oven to 350ºF. Line a muffin tin with paper muffin cups and set aside.
In a large bowl, combine the applesauce, egg, honey, melted butter, and vanilla extract. Stir until fully combined.
In a small bowl, mix together the whole wheat flour, baking soda, salt, and cinnamon.
Add the flour mixture to the wet ingredients and stir until just blended. Do not overmix.
Fold in the grated carrots, orange zest, chopped pecans, drained raisins, and grated apple.
Pour in the orange juice and stir to incorporate fully.
Scoop 1/4 cup of batter into each muffin cup.
Spray a large sheet of foil with cooking spray and gently place the foil over the muffin tin.
Remove the foil for the last 5 minutes of baking time.
Bake for 22-25 minutes, until a toothpick inserted in the center of a muffin comes out clean.
Let morning glory muffins cool in the muffin tin for 2 minutes.
Transfer muffins to a cooling rack to continue cooling and enjoy.

Recommended Products
As an Amazon Associate and member of other affiliate programs, I earn from qualifying purchases.
Nutrition Information
Yield

12
Serving Size

1 muffin
Amount Per Serving
Calories

227
Total Fat

8g
Saturated Fat

3g
Trans Fat

0g
Unsaturated Fat

4g
Cholesterol

26mg
Sodium

239mg
Carbohydrates

38g
Net Carbohydrates

0g
Fiber

4g
Sugar

20g
Sugar Alcohols

0g
Protein

4g
Nutrition information is an estimate.
Save this recipe for later on Pinterest.
Did you try this recipe for healthy morning glory muffins? Let us know what you thought with a rating and comment. You can also tag us in your recipe creations on social media using @aileencooks.