Air Fryer Donuts (Glazed and Chocolate)
As an Amazon Associate I earn from qualifying purchases.
These air fryer donuts are so easy to make with canned biscuits and your own easy homemade vanilla and chocolate glaze!
I love a good donut but sometimes I have that craving and I don't want to get dressed and drive across town to the donut shop. Luckily, I don't have to anymore and neither do you! Thanks to the amazing air fryer, you can have your own homemade glazed or chocolate donuts (or both) plus donut holes ready in just 20 minutes!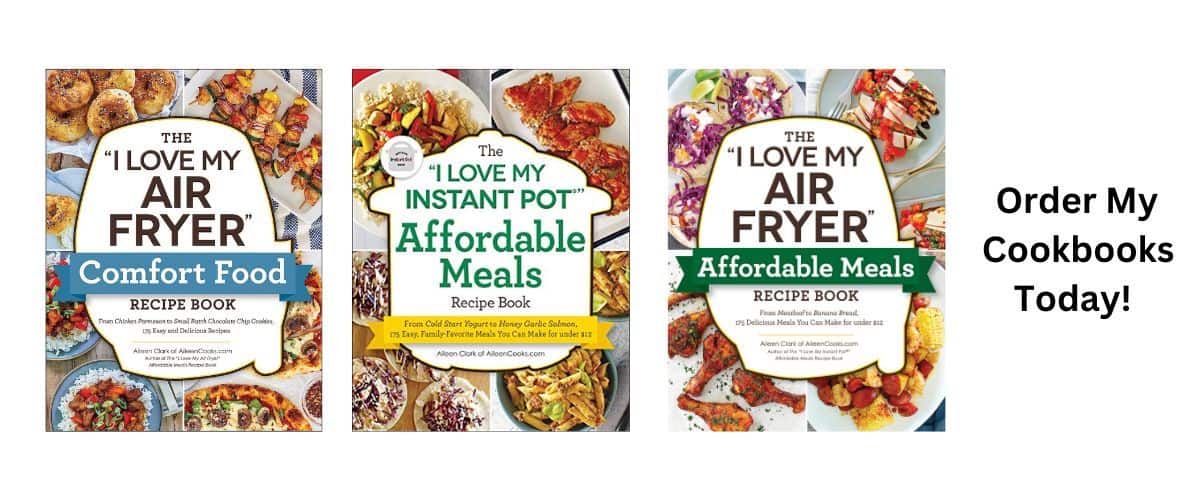 We love experimenting with our air fryer. We have shared recipes for all kinds of frozen food like: Air Fryer Cinnamon Rolls, chicken nuggets, pizza rolls, pot stickers, and hash browns. Plus, we have created some amazing from-scratch air fryer recipes like Air Fryer Brussels sprouts, rotisserie chicken, and air fried cauliflower.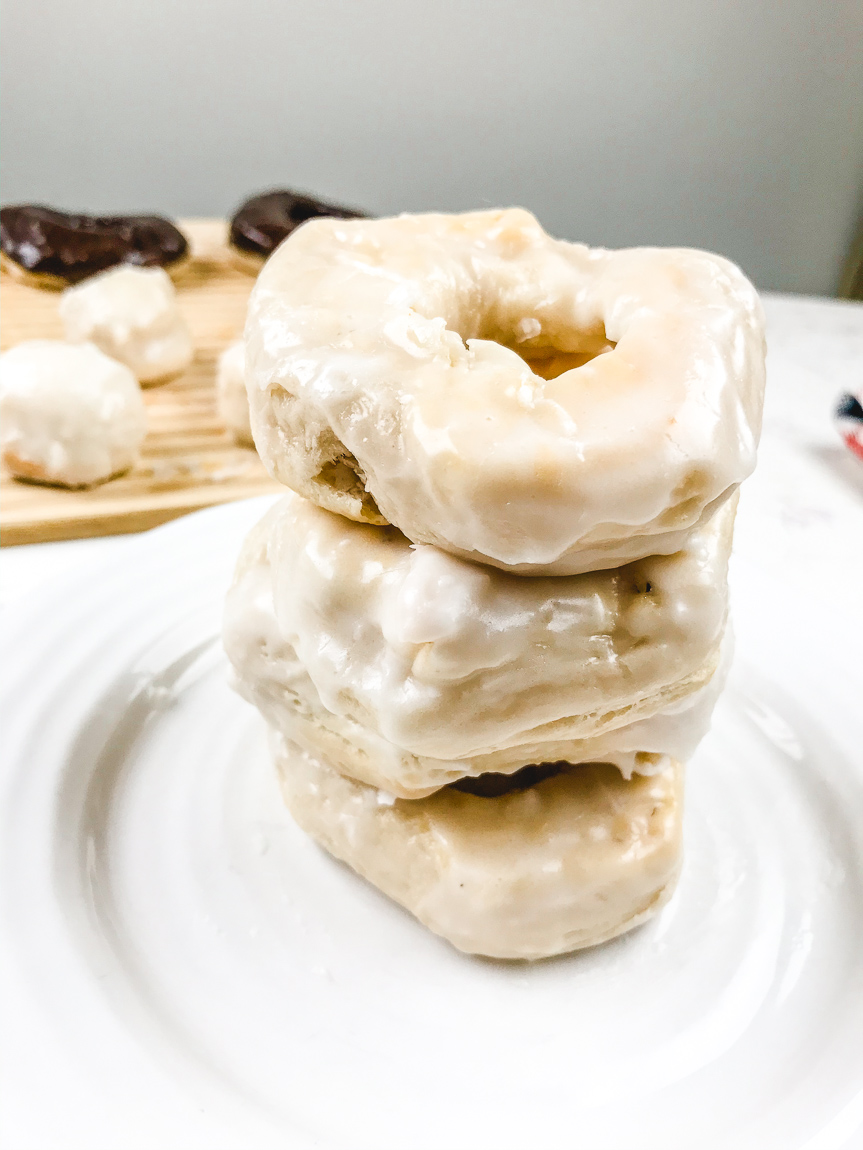 How to make air fryer donuts?
Homemade air fryer donuts are incredibly easy to make! Below are step-by-step directions with extra notes. If you want the condensed, printable version, just scroll to the bottom of this post.
Start with a can of flaky biscuit dough. If you don't have a can on hand (and again, don't want to schlep across town), whip up a batch of homemade biscuit dough with our homemade biscuit dough recipe. It's made with just a handful of ingredients you probably already have on hand. Like flour, milk, and butter.
Open up the can of dough and separate the rounds. Cut out the centers using a biscuit cutter or a shot glass. Set the centers aside to make air fried donut holes after making your air fryer donuts.
Grease your air fryer tray or basket with olive oil. You can use a can of olive oil spray (or make your own with a misto spay can) or brush a little bit on using a pastry brush. Just don't use PAM directly on your air fryer (on food is okay) because it can eat away at the non-stick coating.
Place the donuts in your preheated air fryer at 360 degrees. You can use either an air fryer oven or basket style air fryer. I used my COSORI Air Fryer Toaster Oven to make these. Whatever you use, just make sure they are not touching or on top of each other. Work in batches, if needed.
Air fry the donuts for 6 minutes, flipping half way through. Flipping can be tricky. I originally tried it with a spatula and the donuts lost a bit of their shape. I recommend carefully flipping with your fingers, just make sure not to touch the inside of the air fryer or you will burn yourself. The donuts are done when they are puffy and slightly browned around the edges (not all over).
While the donuts are cooking, make your vanilla glaze by whisking together melted butter, vanilla extract, powdered sugar, and milk.
Remove the donuts from the oven and immediately dip them in the glaze, turning over so they are completely coated. Place them on a rack to cool.
If you want to add chocolate glaze, melt together some heavy cream, chocolate chips, and butter in the microwave in 30 second increments. It took about 1 minute for the chocolate to melt for me, but it depends on your microwave.
Mix well until the chocolate is smooth and shiny.
Dip the top of the glazed donuts into the chocolate and place back on the rack.
Now to make the air fryer donut holes. Make sure your air fryer is still hot. Air fry the donut holes at 360 for 3 minutes, flipping once.
Immediately coat in the vanilla glaze. I found that a spoon worked best for this so I could drizzle the glaze over the top of them. The glaze will melt into them as they cool.
Enjoy your delicious homemade donuts!
Can I save some of the biscuit dough for another day?
If you don't want to make all 8 donuts in one day, you can absolutely save some of the dough for another day. Biscuit dough will stay fresh in the refrigerator for 1 week. Just make sure it is stored in an air-tight container.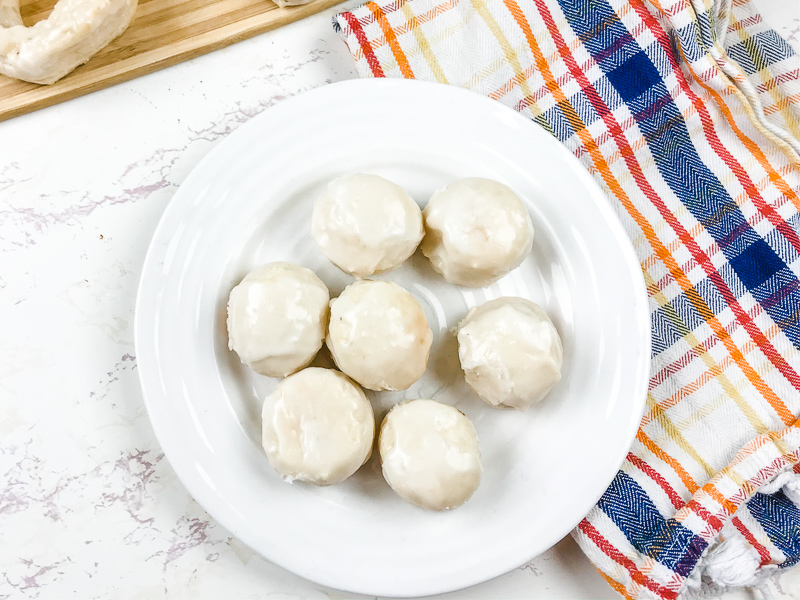 How long do air fried donuts stay fresh?
Air fried donuts will stay fresh at room temperate for 1-2 days. You can also store them in the refrigerator for up to 1 week.
Can I freeze donuts?
You sure can! Make sure they are fully cooled down and then wrap in a layer of plastic wrap. Place the wrapped donuts in a freezer bag. Squeeze as much air out of the bag and seal. Label and date the bag and freeze up to 3 months.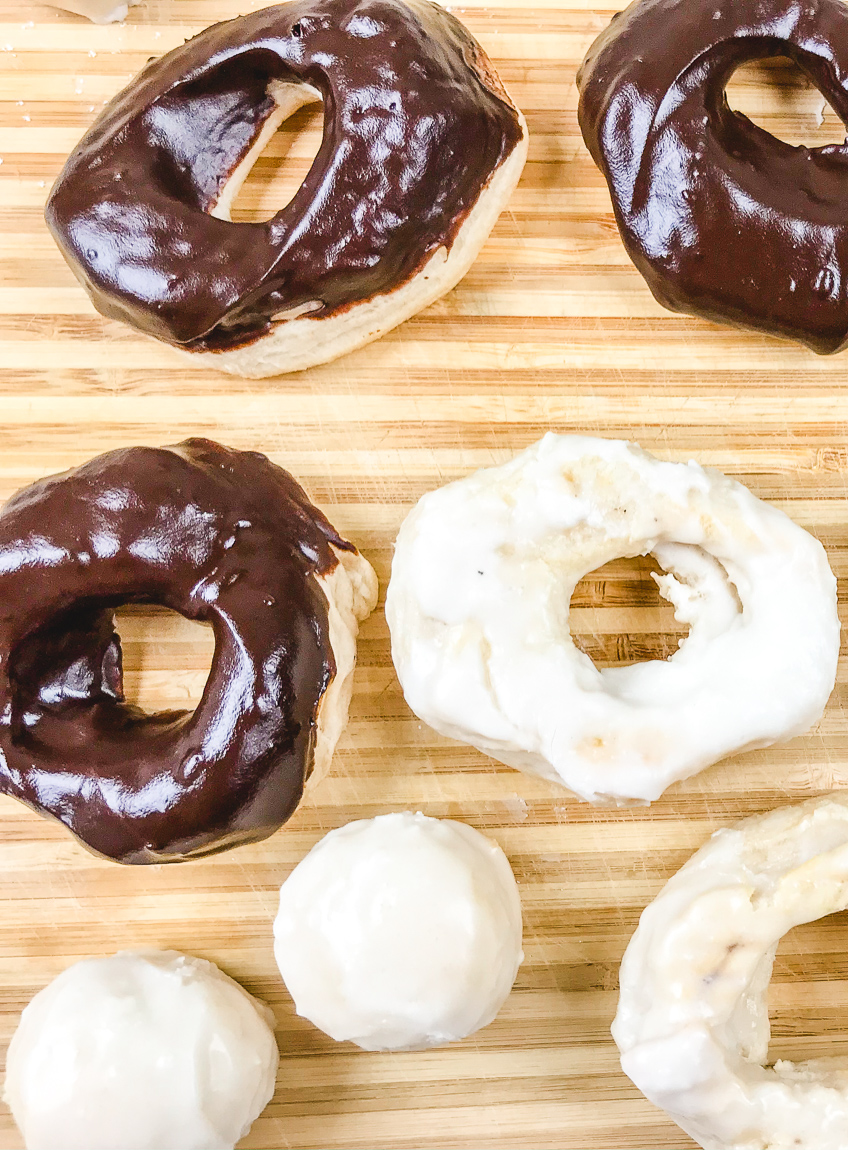 To defrost, let them sit at room temperature and then reheat in the air fryer until warmed, if desired.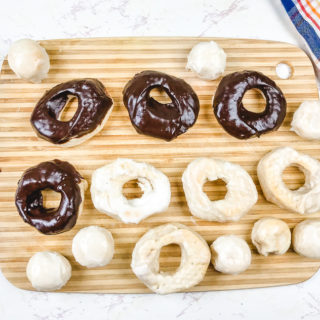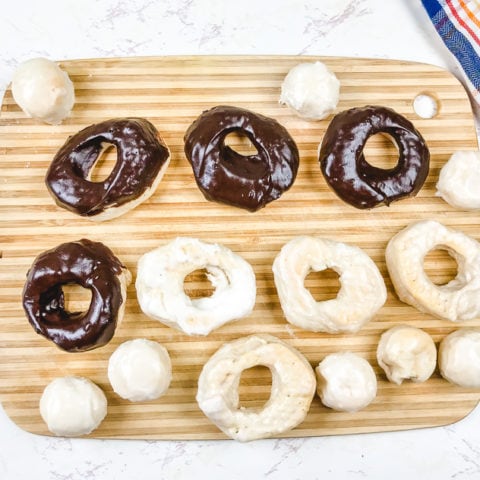 Air Fryer Donuts Recipe
These air fryer donuts are so easy to make with canned biscuits and your own easy homemade vanilla and chocolate glaze!
Ingredients
Vanilla Glaze
3

cups

powdered sugar

1/4

cup

milk

4

tablespoons

unsalted butter

melted

1

teaspoon

vanilla
Chocolate Frosting
1/2

cup

semi-sweet chocolate chips

3

tablespoons

heavy cream

2

tablespoons

unsalted butter
Instructions
Preheat air fryer to 360°F. Lightly grease the rack or basket with olive oil.

Remove biscuits from can and seperate. Use a small cookie cutter or shot glass to cut a hole out in the center of each biscuit to make a donut shape. Set holes aside.

Air fry donuts for 6 minutes, flipping half way through.

While donuts are cooking, make the vanilla glaze: Whisk together powdered sugar, milk, melted butter, and vanilla until creamy.

Remove donuts from air fryer and dip in glaze. Flip to fully coat the donuts in glaze.

Place donuts on cooling rack to cool and set.

Put the donut holes in the air fryer and cook for 3 minutes, flipping half-way through.

Coat donut holes in vanilla glaze while still hot and place on rack to cool.

Make the chocolate frosting: Combine chocolkate chips, cream, and butter in a microwave safe bowl. Microwave in 30 second increments, stirring each time, until melted. Stir until smooth and shiny.

Dip the top of glazed donuts into chocolate frosting and place back on the rack.

Let cool 5 minutes and enjoy.
Nutrition
Serving:
1
donut
Calories:
340
kcal
Carbohydrates:
52
g
Protein:
2
g
Fat:
15
g
Saturated Fat:
9
g
Polyunsaturated Fat:
5
g
Cholesterol:
30
mg
Sodium:
52
mg
Fiber:
1
g
Sugar:
47
g
Save this recipe for later on Pinterest.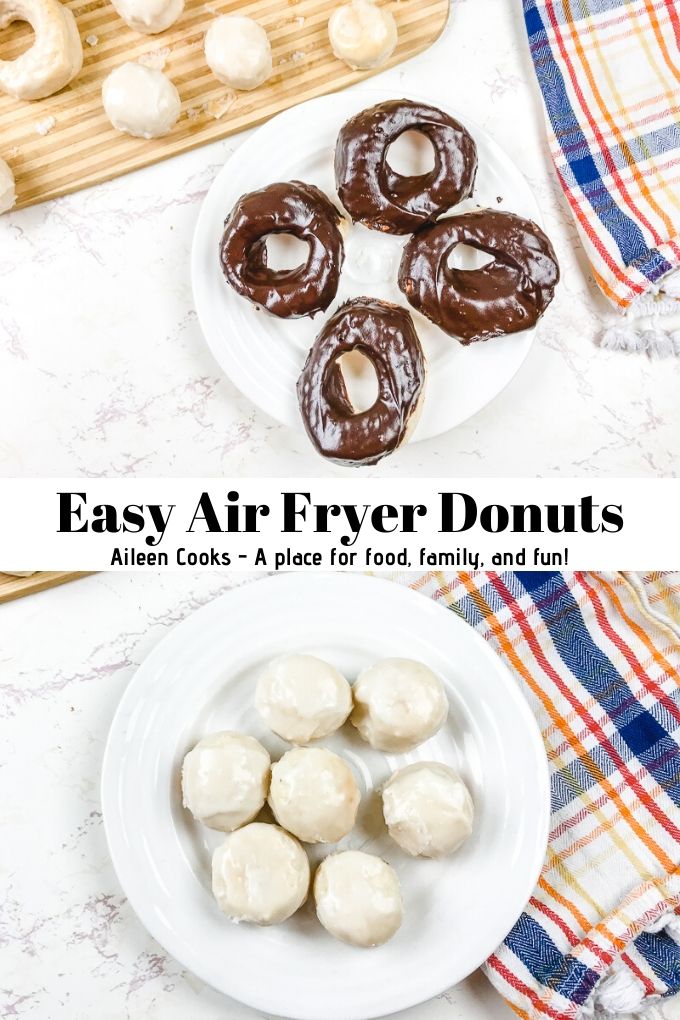 Did you try this recipe for air fryer donuts? Let us know what you thought with a rating and comment. You can also tag us in your recipe creations on social media using @aileencooks.