See how easy it is to make perfectly crisp air fryer frozen chicken nuggets! We love this easy method for making our kids' favorite lunch!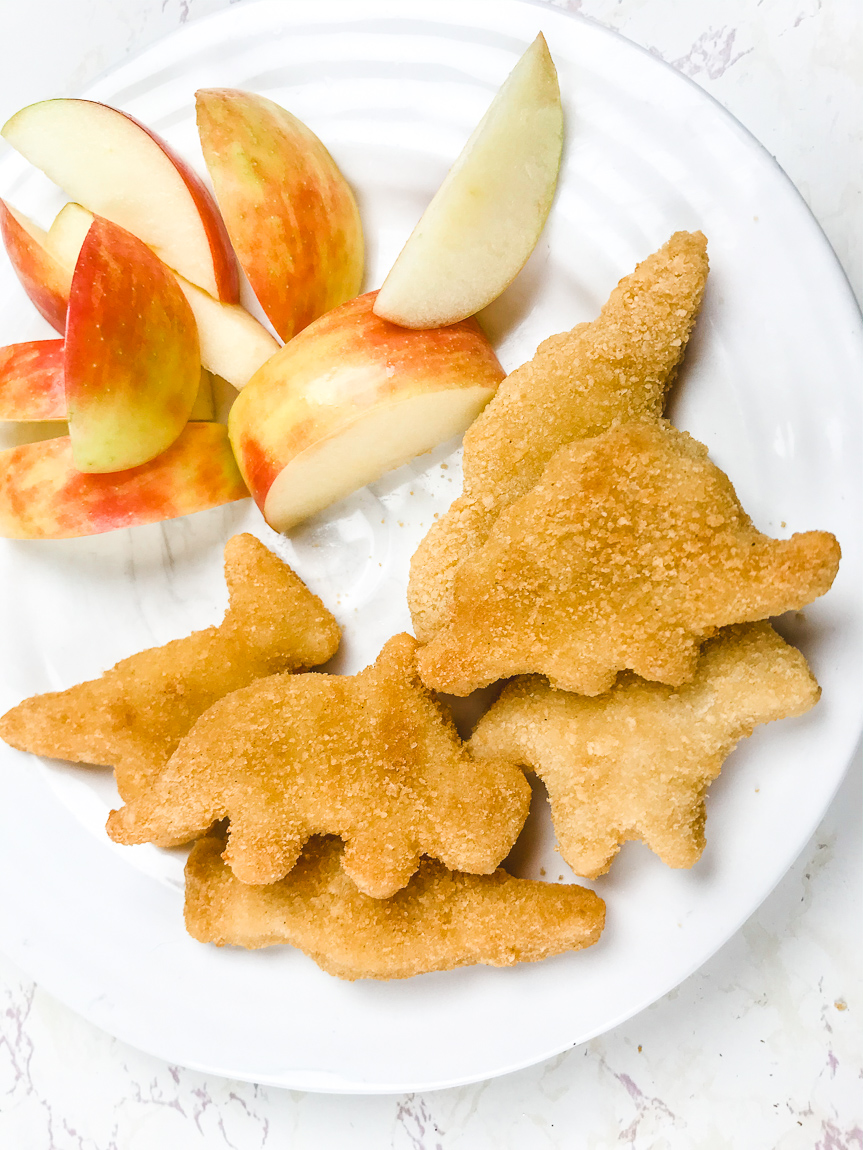 Other easy recipes in the air fryer we have made are air fryer bacon, air fryer sausage, air fryer grilled cheese, air fryer frozen hash browns, and air fryer frozen pot stickers.
Why make air fryer frozen chicken nuggets?
My kids love their chicken nuggets, yes they do! Sometimes, I like to eat a few, too. It is protein, isn't it? But I'm not a fan of how they turn out in the microwave. Which is, honestly, my usual go-to because it's fast.
They taste much better in the oven but I don't always want to turn on my oven (especially in the heat of summer). Also, my oven takes a lot longer to preheat than my air fryer. So, that is what brought me to experimenting with cooking frozen chicken nuggets in my air fryer.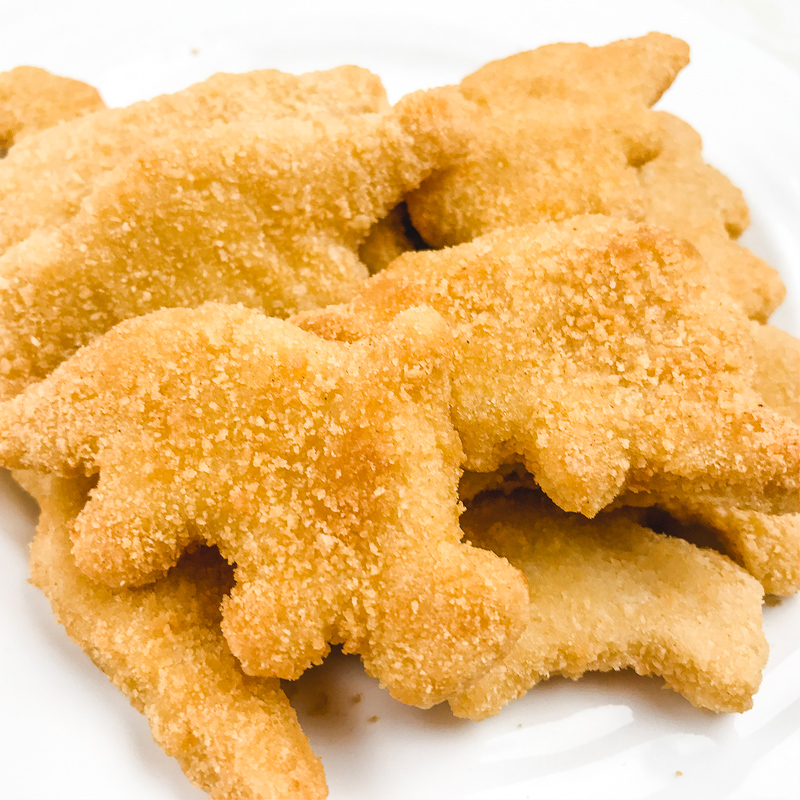 Crunchy Air fried frozen chicken nuggets
I have to admit, I had low expectations, but was impressed! Air fryer frozen chicken nuggets really do come out much more crunchy. They taste more like fried chicken nuggets. My kids only get those when their Pop Pop (grandpa) makes them, which is not very often!
Air fryer chicken nuggets are just as crispy and still come out with that "fried" texture that we all love. Yet, they are healthier and less messy to make!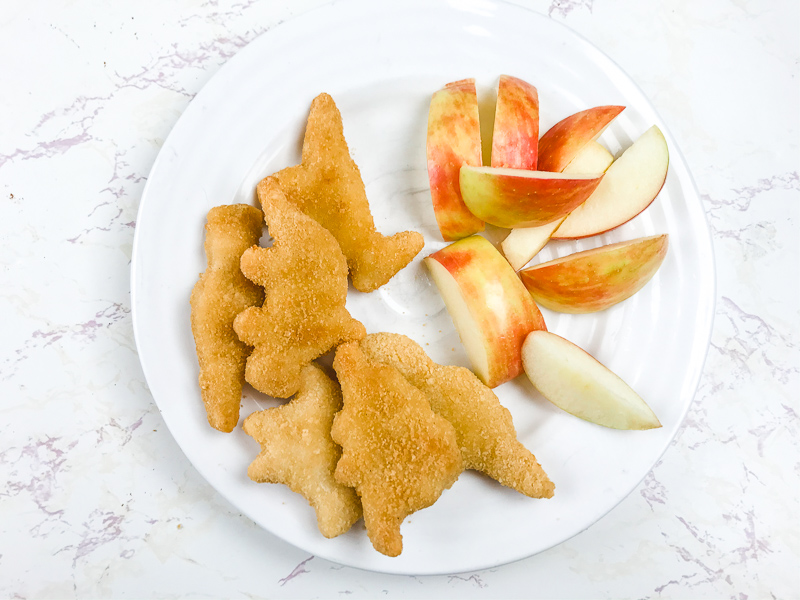 Which frozen chicken nuggets can I use?
As you can see, my kids are partial to the dinosaur shaped chicken nuggets. We buy then in bulk at Costco but we also like the Tyson chicken nuggets. You can use whatever chicken nuggets you have on hand for this recipe. They are all roughly the same size, so they will cook at the same rate.
MORE AIR FRYER RECIPES: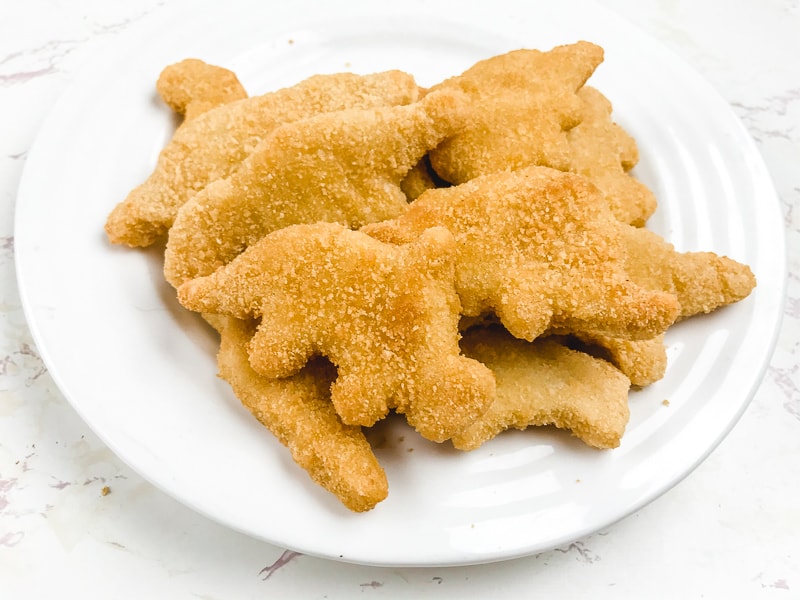 Yield: Serves 1-2
Air Fryer Frozen Chicken Nuggets Recipe
Prep Time: 5 minutes

Cook Time: 10 minutes

Total Time: 15 minutes

See how easy it is to make perfectly crisp air fryer frozen chicken nuggets! We love this easy method for making our kids' favorite lunch!
Ingredients
6 frozen chicken nuggets
cooking spray
Instructions
Preheat air fryer to 400°F.
Once air fryer is preheated, place chicken nuggets inside air fryer. Arrange them so they are not touching.
Air fry for 5 minutes.
Flip chicken nuggets and spray both sides with cooking spray.
Air fry frozen chicken nuggets for an additional 5 minutes.
Remove from air fryer and serve with ketchup or other favorite dipping sauce.

Notes
More chicken nuggets may be cooked (depending on the size of your air fryer) but don't overlap them or they won't get as crispy.
Recommended Products
As an Amazon Associate and member of other affiliate programs, I earn from qualifying purchases.
Nutrition Information
Yield
1
Serving Size
6 nuggets
Amount Per Serving Calories 297Total Fat 20gSaturated Fat 3gTrans Fat 0gUnsaturated Fat 14gCholesterol 53mgSodium 570mgCarbohydrates 14gFiber 1gSugar 0gProtein 15g

Nutrition information is an estimate.

Save this recipe for later on Pinterest.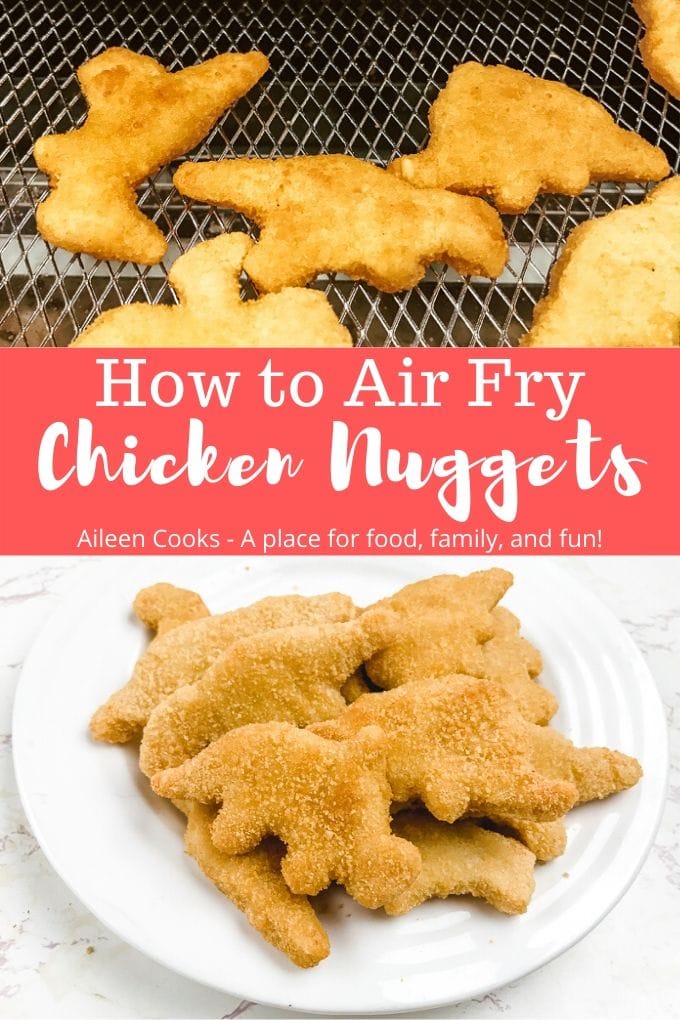 Did you try this recipe for air fryer frozen chicken nuggets? Let us know what you thought with a rating and comment.