Add these Grinch Christmas Cookies to your list this year! These sparkly green cookies have a kiss "Santa hat" in the middle making them look just like The Grinch Who Stole Christmas! This recipe is part of our list of 25+ Cooking Recipes for Kids.
We had a little Grinch viewing party at our house the other night and I made these fun Grinch-themed blossom cookies for my kids.
I love Christmas movies.
They bring me so much joy that I decided to embrace it early this year and started watching them on November 1st.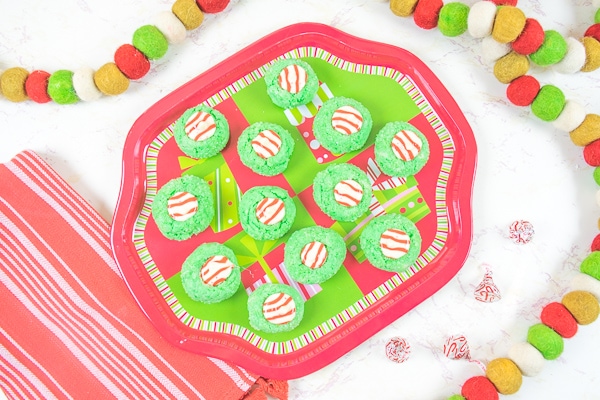 Since I was already in the holiday spirit and because I blog about food around here on the regular, I decided it was time to test out some new Christmas cookie recipes for the year.
I started with these Grinch Christmas Cookies and I am so glad I did.
Not only are they a lot of fun but they taste great. The outside is a chewy sugar cookie and the center is a candy cane kiss.
The combination tastes great. It's hard to just eat one.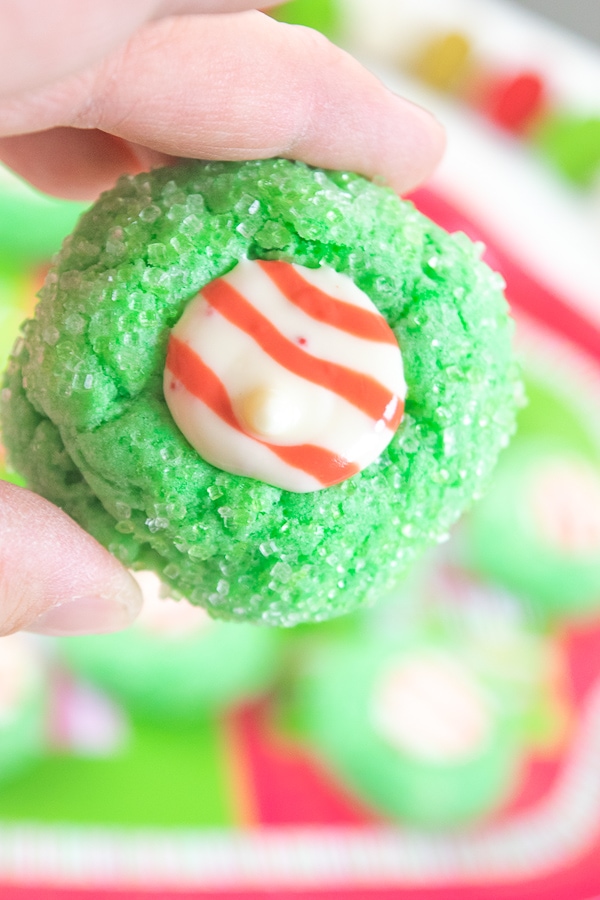 Ingredients in Grinch Christmas Cookies
Butter
Granulated Sugar
Egg
Vanilla Extract
All-Purpose Flour
Baking Soda
Salt
Milk
Green Food Color
Green Sugar

The #1 Rule of Making Blossom Cookies
If you haven't made blossom cookies, there is one thing you have to do in order for them to work out.
You need to press the kisses into the cookies while they are still hot.
That means all of your kisses must be unwrapped before the cookies come out of the oven.
Wait just 2 minutes and then quickly press the kisses into the tops of the cookies.
The kisses will melt slightly into the green grinch sugar cookies.
Let them cool and (as long as you don't move them around a lot) they will regain their "Santa hat" shape.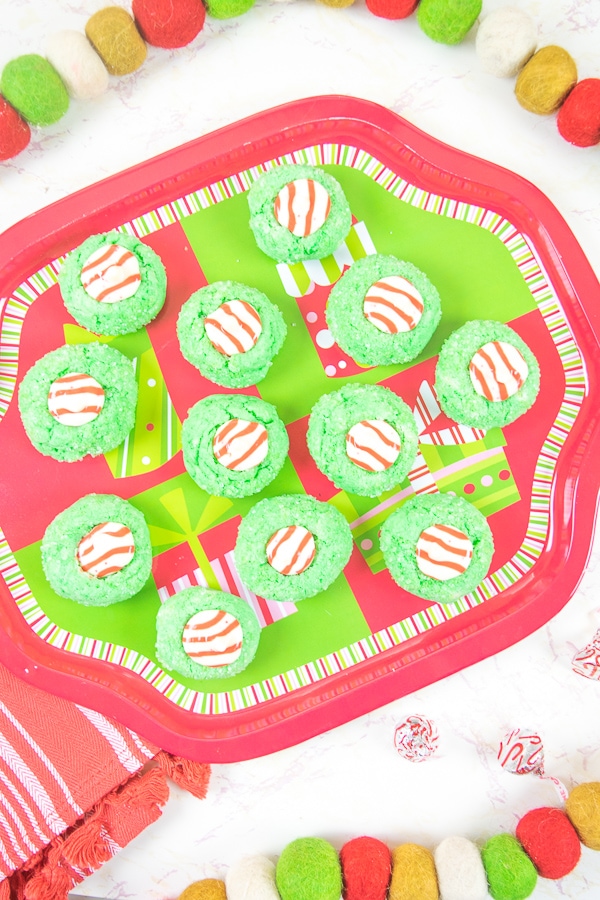 Other yummy Christmas cookie recipes:
Where to find green sugar for Grinch Christmas cookies
If you haven't purchased colorful sugar before, it's carried in most grocery stores. You will find it with the sprinkles.
It will have a sparkly look and should be labeled as sugar. The texture is thicker than granulated sugar, it's more like a coarse sea salt in texture.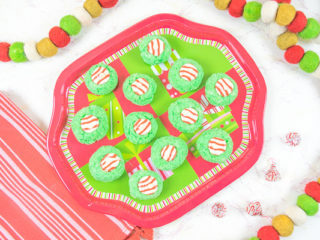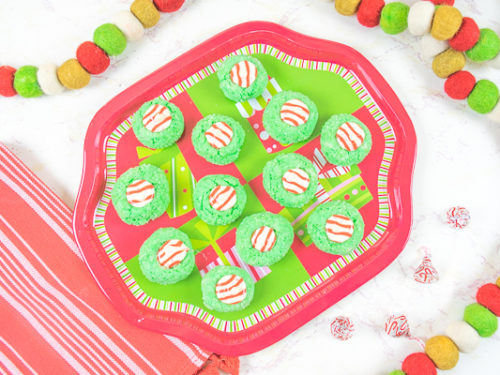 Yield: 24 cookies
Grinch Christmas Cookies
Prep Time: 10 minutes

Cook Time: 13 minutes

Total Time: 23 minutes

Add these Grinch Christmas Cookies to your list this year! These sparkly green cookies have a kiss "Santa hat" in the middle making them look just like The Grinch Who Stole Christmas!
Ingredients
1 cup granulated sugar
1/2 cup butter, softened
1 large egg
1 1/2 tsp vanilla extract
2 cups all-purpose flour
1/4 tsp baking soda
1/4 tsp salt
2 tbsp milk
1 tsp green food color
2 tbsp green sugar
24 candy cane kiss candies, unwrapped
Instructions
Preheat oven to 350 degrees. Grease a cookie sheet and set aside.
In a large bowl, cream together the butter and sugar.
Add in the egg and vanilla extract. 
Continue to mix until light and fluffy.
In a separate bowl, whisk together the all-purpose flour, baking soda, and salt. 
Add half of the dry mixture to the wet mixture. Mix.
Add 1 tbsp of milk and continue to mix. 
Mix in the remaining dry mixture. 
Finally, mix in the last of the milk.
Add in the green food color and continue to mix until your batter is no longer crumbly and completely green.
Take golf-ball sized balls of dough and roll them in the palms of your hands until smooth. 
Place the green sugar in a small bowl. 
Roll the Grinch Christmas cookie dough balls into the green sugar and arrange them on a cookie sheet, 1 inch apart. 
Bake in the oven for 12-13 minutes, until they are just lightly brown around the edges. 
Remove from the oven and let cool 2 minutes. 
Working quickly, press a candy cane kiss cookie into the center of each Grinch sugar cookie.
Let the cookies cool for 10 minutes and then carefully transfer them to a cooling rack to finish cooling.
Store in an air-tight container.
Nutrition Information
Amount Per Serving

Calories 97

Nutrition information is an estimate.

Making grinch Christmas cookies was so fun! They would be a great cookie to bring to a cookie exchange.