Whip up a batch of these delicious salted chocolate chip cookies with two different types of chocolate. The best part? You only have to dirty one bowl to make these cookies!
I just love baking up a big batch of cookies. It feels relaxing to be in the kitchen baking for the people I love. I love the way a big batch of cookies makes my house smell and I love that I always have enough to enjoy, share, and freeze any leftover cookie dough. I also love making a batch of frosted chocolate chunk brownies. Then you can have one of each. Yum. We also recommend our recipe for Christmas Puppy Chow and Christmas Cake Mix Cookies.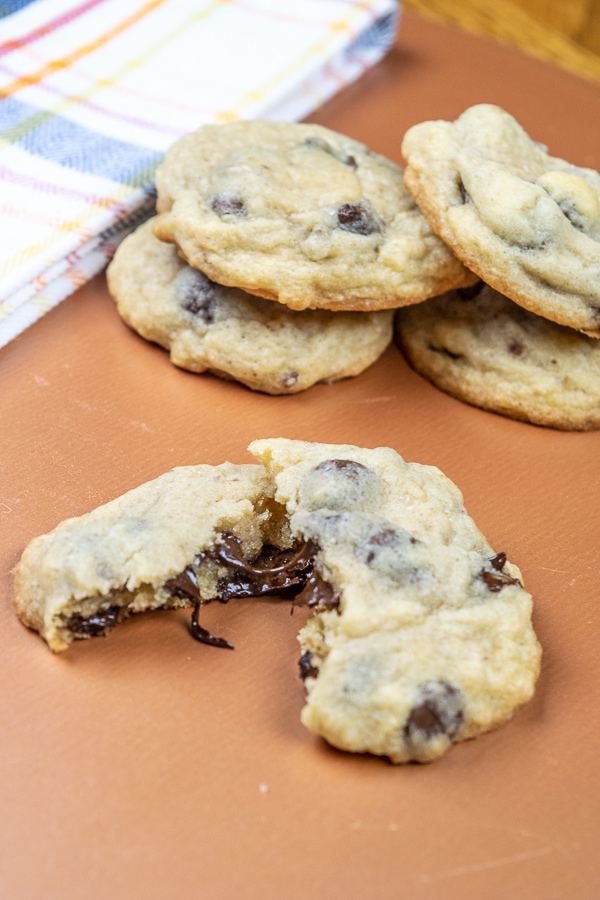 Salted Chocolate Chip Cookies Recipe
I love a good batch of chocolate chip cookies. It's one of the first thing I learned how to bake on my own as a child and it continues to be my favorite. But, sometimes, you just need to switch it up an add in a little something extra.
Not only is this a salted chocolate chip cookie recipe, but it uses 2 different kinds of chocolate, which makes it even better! There are so many layers of flavor in these cookies that you are going to love!
Why do you put salt on cookies?
Adding salt to the top of cookies, like in this one bowl chocolate chip cookie recipe, enhances the flavor of the cookie and creates a sweet and salty effect that so many people love!
Can you freeze chocolate chip cookies?
Yes. Simply place the cooled cookies on a cool cookie sheet in the freezer. Freeze for 2 hours and then place in an air-tight container or zip-top freezer bag. Freeze up to 3 months. You can take them all out at once or one by one. They defrost on the counter in under an hour.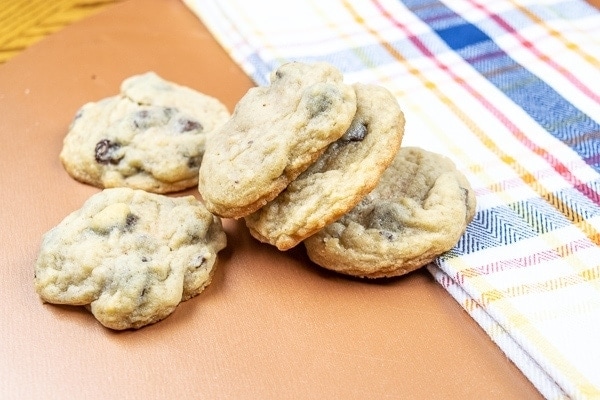 Can you use salted butter to make cookies?
You can use salted butter to make cookies, but I don't reccomend it. I always bake with unsalted butter and then add salt into the batter. The reason being that salted butter doesn't have a set guideline, so the amount of salt added varries from brand to brand.
You will have a better quality cookie if you bake with unsalted butter and add in your own salt. If all you have is salted butter, than cut the salt out of the batterof this recipe and only add the coarse salt on top after taste testinng the cookie to ensure it is not overly salty.
How do you keep chocolate chip cookies from spreading?
Chillinng your cookie dough before bakinng helps prevent spreading. It's also important to start with a cool cookie sheet. We have about 3 that we rotate through while baking cookies. That way, the cookie sheet has time to cool down before baking a new batch of cookies.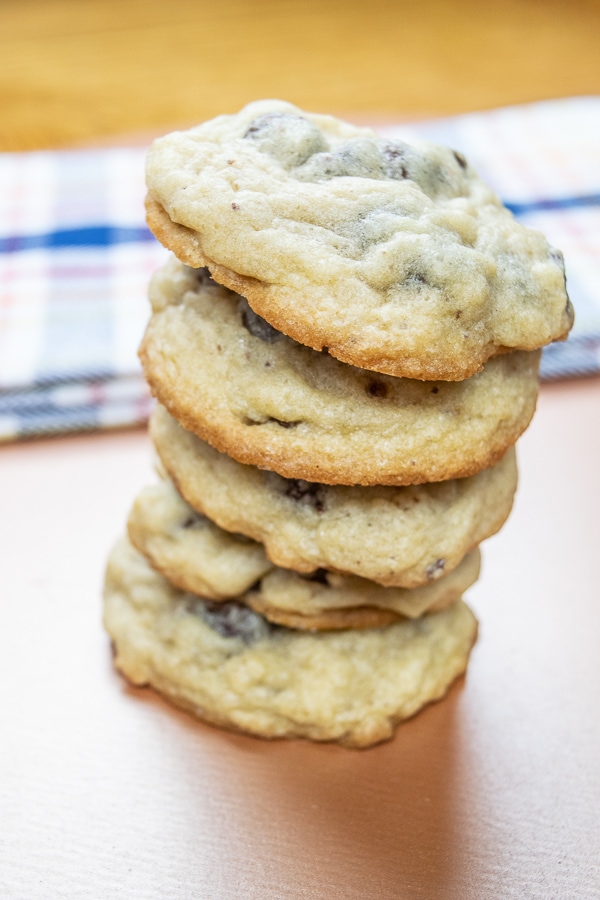 Should I use parchment paper when baking cookies?
Parchment paper is a great way to keep your cookie sheet clean and help your cookies not stick to the pan. Parchment paper also slows down the browning process on the bottom of the cookie. If you like your cookie bottoms extra crispy, than using parchment paper may not be the right choice for you.
What are some different types of chocolate chip cookies?
Which salt to use for salted chocolate chip cookies?
It is important to use coarse salt for topping these salted chocolate chip cookies. The coarse salt adds the extra layer of flavor and what turns these regular chocolate chip cookies into salted chocolate chip cookies. Otherwise, they will just taste like chocolate chip cookies. Which is okay, too. 🙂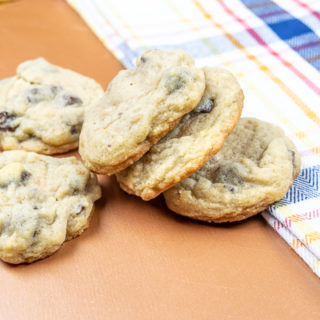 Salted Chocolate Chip Cookies
Whip up a batch of these salted chocolate chip cookies for your next family dinner or party! They are chewy and perfectly sweet with a nice salty accent.
Ingredients
1 cup unsalted butter, room temperature
3/4 cup granulated sugar
3/4 cup light brown sugar, packed
2 large eggs
1 tsp vanilla extract
1/2 tsp baking soda
1 1/4 tsp salt
2 1/4 cup all-purpose flour
1/2 cup dark chocolate chips
1/2 cup semi-sweet chocolate chips
coarse sea salt, for sprinkling​
Instructions
Preheat your oven to 350 degrees. Line your pan with a silicone baking mat or parchment paper for easy clean-up.
In a large bowl, cream together the butter and sugar.
Whisk in the eggs, one at a time until fully combined.
Add the vanilla extract, baking soda, and 1 1/4 tsp salt.
Slowly mix in the flour.
Fold in the dark and semi-sweet chocolate chips.
Scoop 1-inch balls of cookie dough onto your cookie sheet.
Bake for 7-8 minutes, until golden brown just at the edges.
Remove cookie sheet and sprinkle top of cookies with a little bit of coarse sea salt.
Let cool on the cookie sheet for 10 minutes and then transfer to a cooling rack to cool completely.
Repeat with remaining cookie dough until it is all used up.
Recommended Products
As an Amazon Associate and member of other affiliate programs, I earn from qualifying purchases.
Nutrition Information
Yield

36
Serving Size

1 cookie
Amount Per Serving
Calories

133
Total Fat

7g
Saturated Fat

4g
Trans Fat

0g
Unsaturated Fat

2g
Cholesterol

24mg
Sodium

121mg
Carbohydrates

17g
Net Carbohydrates

0g
Fiber

1g
Sugar

10g
Sugar Alcohols

0g
Protein

1g
Nutrition information is an estimate.
PIN THIS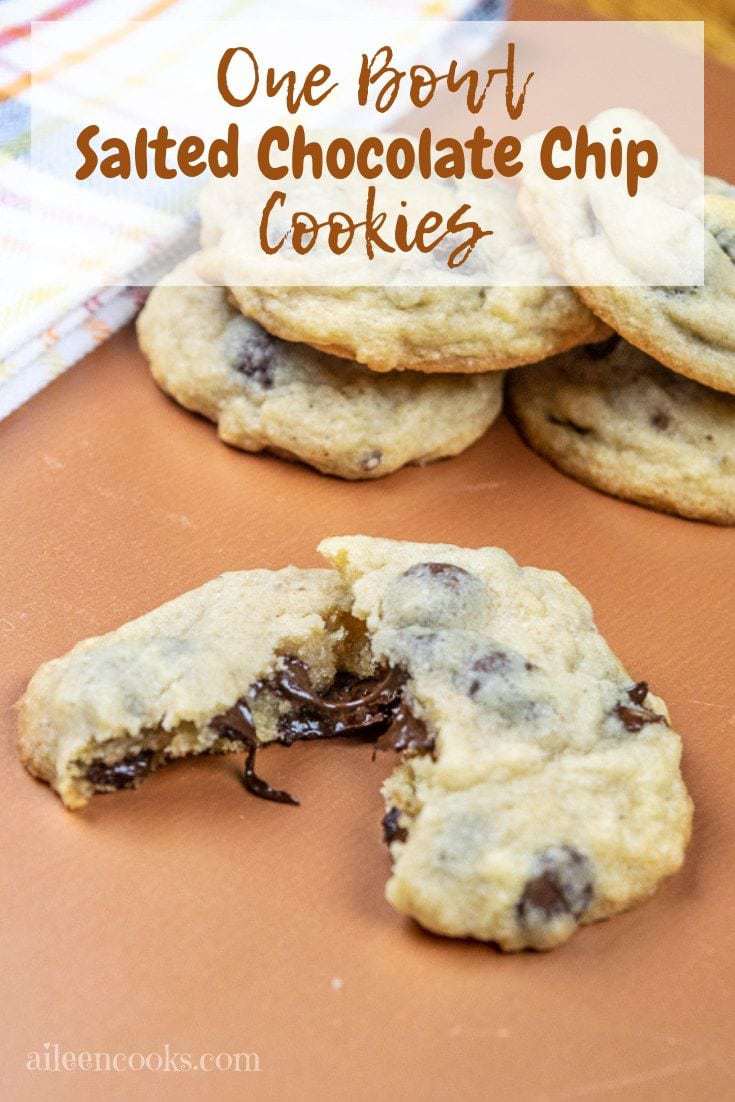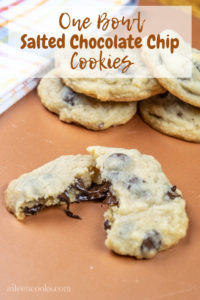 Salted chocolate chip cookies are such a tasty treat and even better when you only dirty one bowl! Let us know that you thought of this recipe with a rating and/or comment. You can also tag us on social media using @aileencooks.