Make this pressure cooker spaghetti sauce tonight! You will have the taste of homemade spaghetti sauce that has been simmering on the stove all day without spending your day in the kitchen. Simply pair it with one of these yummy instant pot pasta recipes.
My husband is the king of spaghetti night around here. He is not really into cooking – which means I am usually the one making dinner.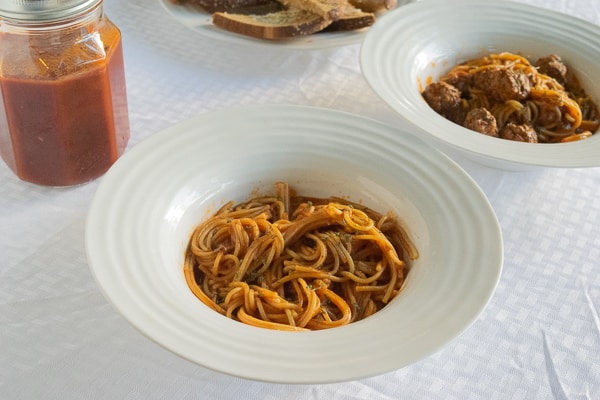 If he is in charge of our family meal, he will often opt for take-out over cooking dinner (not that I'm complaining, I love take-out Chinese). Unless we have the ingredients for homemade spaghetti. Then he is game to make dinner and I know we are going to have a hearty and flavorful meal.
But we live in the real world and it's not always realistic to spend a couple of hours in the kitchen making homemade spaghetti sauce.
I wanted something that could be ready quickly with little hands-on time. I also wanted a big batch so I could toss half of it in the freezer for another night.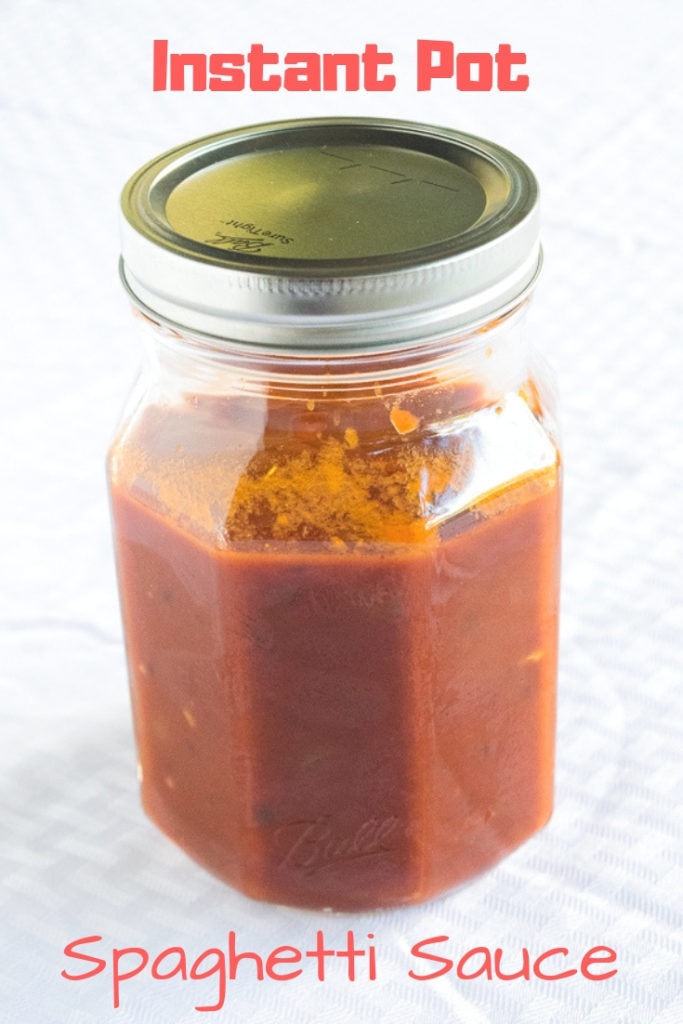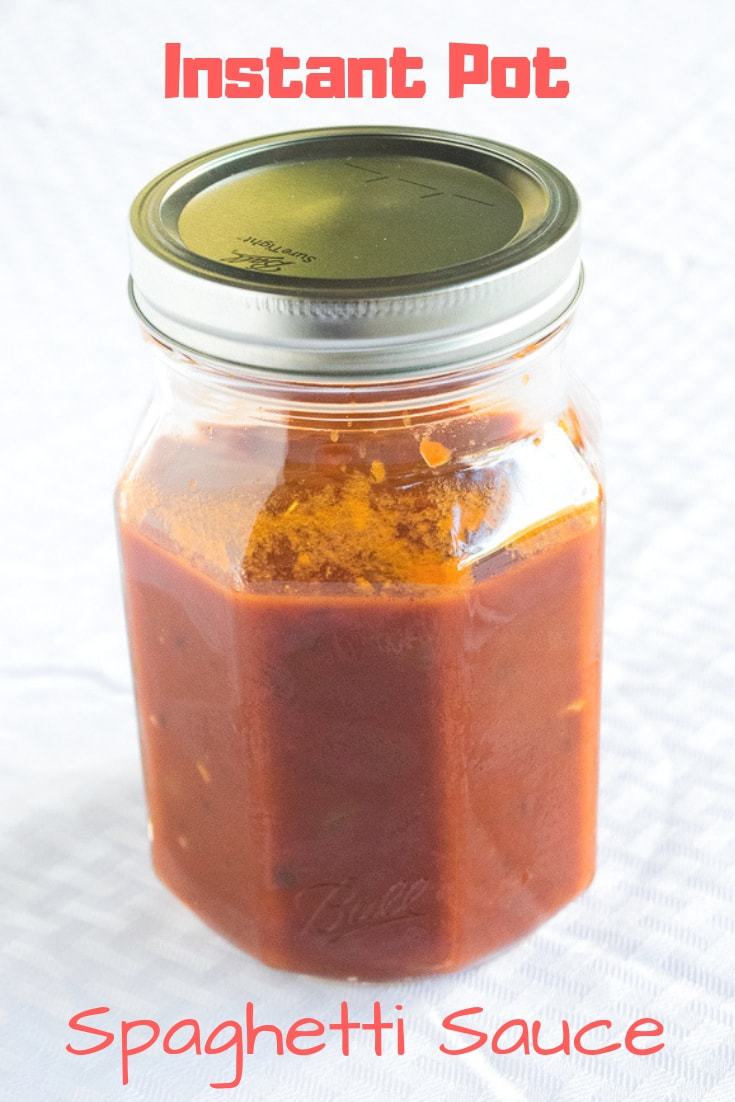 Enter the Recipe for Pressure Cooker Spaghetti Sauce
This spaghetti sauce is so good. It uses a handful of ingredients I usually have on hand in my pantry. It can be made with or without meat. The best part? It's ready after pressure cooking for just 10 minutes. If that doesn't sell you on the Instant Pot, I don't know what will!
This recipe is a total game changer. You can set up a pound of pasta to boil on the stove at the same time, or use it to make one of our favorite instant pot pasta meals.
Favorite Recipes using Homemade Spaghetti Sauce
Customizing this Recipe for Pressure Cooker Spaghetti Sauce
What's great about making spaghetti sauce in your electric pressure cooker is that you can customize it to use your favorite recipe and add meat.
Start by heating up some oil using the saute function of your pot. Mix in chopped yellow onion and meat (if you're using it). We love using Italian sausage in our spaghetti sauce.
Once your onions are soft and your meat is browned, you can add in your tomatoes and spices. I have included all of my favorite spices in the recipe below, but you can customize the spices to fit your tastes.
Cook it on high pressure for 10 minutes. Natural pressure release (NPR) and you're done. Use your pressure cooker spaghetti sauce within a few days or freeze it for longer term storage.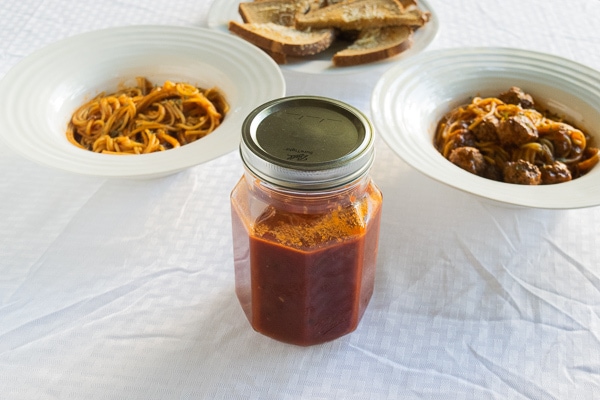 How to Freeze Spaghetti Sauce?
If you want to freeze part or all of this recipe, there are a few different methods. I used these Ball mason jars. (affiliate link) If using glass jars, make sure you leave a good amount of headspace for expansion. If the jar is too full, it can crack in your freezer.
You can also freeze spaghetti sauce in any freezer safe plastic or glass containers.
If you are limited on space, pour your pressure cooker spaghetti sauce into a gallon sized zip top bag. Get as much air out as you can and flatten it. Once frozen, you can stand the bags of frozen spaghetti sauce standing up.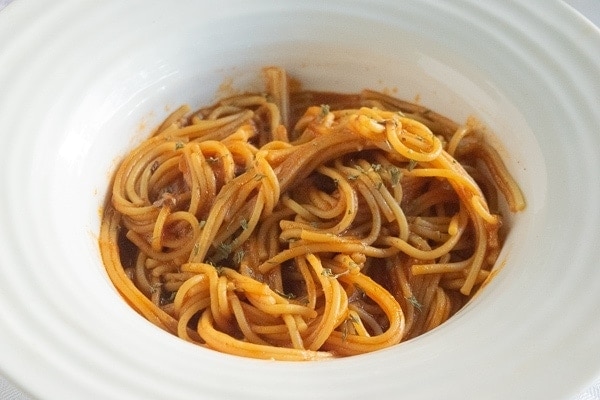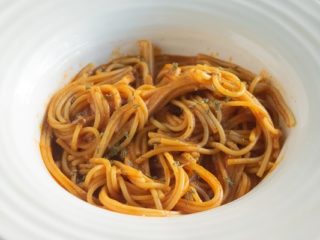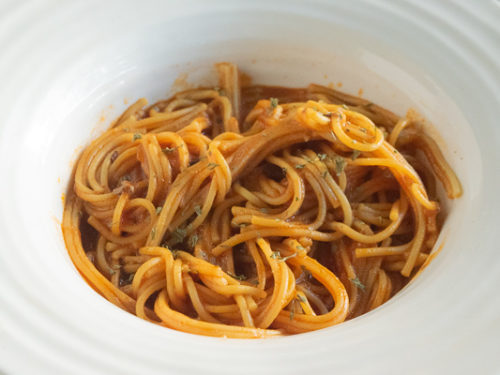 Yield: 8 servings
Pressure Cooker Spaghetti Sauce
Prep Time: 10 minutes

Cook Time: 10 minutes

Total Time: 20 minutes

Do you want the taste of homemade spaghetti sauce that has been simmering on the stove all day, but don't want to spend your day camped out in the kitchen? You need this pressure cooker spaghetti sauce in your life!
Ingredients
2 tbsp olive oil
1 medium yellow onion, chopped
1 pound ground meat, optional
3 cloves garlic, minced
1 15 ounce can tomato sauce
2 6 ounce cans tomato paste
2 1/4 cups water
4 tsp sugar
1 3/4 tsp salt
2 tsp dried basil
1 tsp dried oregano
1/4 tsp crushed red pepper flakes
1/8 tsp cayenne pepper
1 bay leaf
Instructions
Set your instant pot to saute and heat olive oil.
Add in chopped onion and ground meat (if using).
Mix and cook until onion is soft.
Mix in minced garlic and cook another 30 seconds. 
Turn your pressure cooker off. 
Mix in the tomato sauce, tomato paste, water, sugar, and spices. 
Close lid and set to sealing.
Cook on high pressure for 10 minutes. 
Natural Pressure Release (NPR).
Notes
Calorie count is for pressure cooker spaghetti sauce with no meat.
Nutrition Information
Amount Per Serving

Calories 137

Nutrition information is an estimate.

I love how easy it is to make homemade pressure cooker spaghetti sauce. Have you tried it? I would love to hear what you think below.