Are you thinking about signing your kids up for the Bookroo Picture Book Club? Read our review first and get a sneak peek inside one of their kids book club boxes! Thank you to Bookroo for sending us a sample box to facilitate this review.
Welcome back to another week of Subscription Box Sunday! This week, we are reviewing the kids book club box: Bookroo! If you want to follow along on our weekly subscription box reviews, make sure to subscribe to our newsletter and follow us on Instagram. You can check out all of our subscription box reviews here.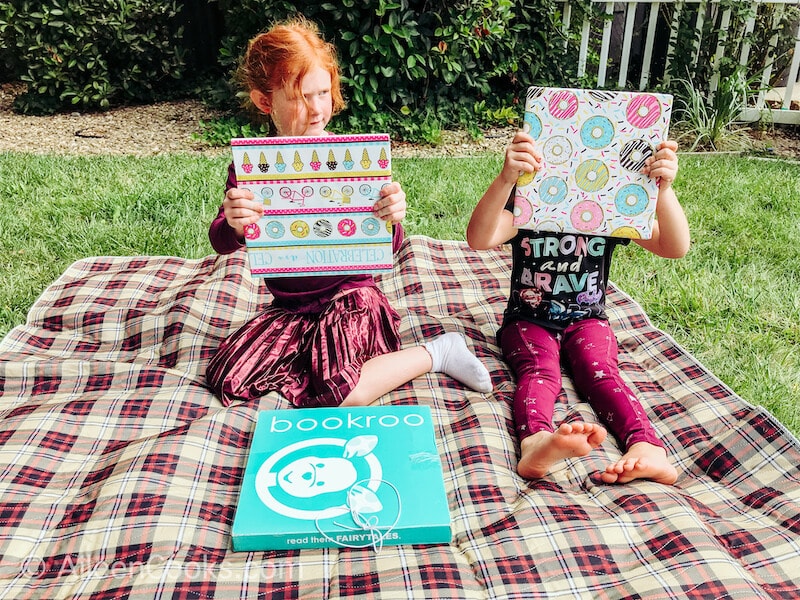 PAST SUBSCRIPTION BOX SUNDAY POSTS:
Bookroo Kids Book Club Options
Board Book Club
Geared for kids ages 0 to 3 years old. Each month, Bookroo sends three hand-picked board books for you to enjoy with your child. Each book is about 8-14 pages.
Picture Book Club
Geared for kids ages 3 to 6 years old. Each month, Bookroo sends two hardcover picture books, approximately 32-40 pages each.
Chapter Book Club
Focused on kids ages 7 to 10 years old. The Bookroo Chapter Book Club includes one chapter book each month that is typically 120-180 pages.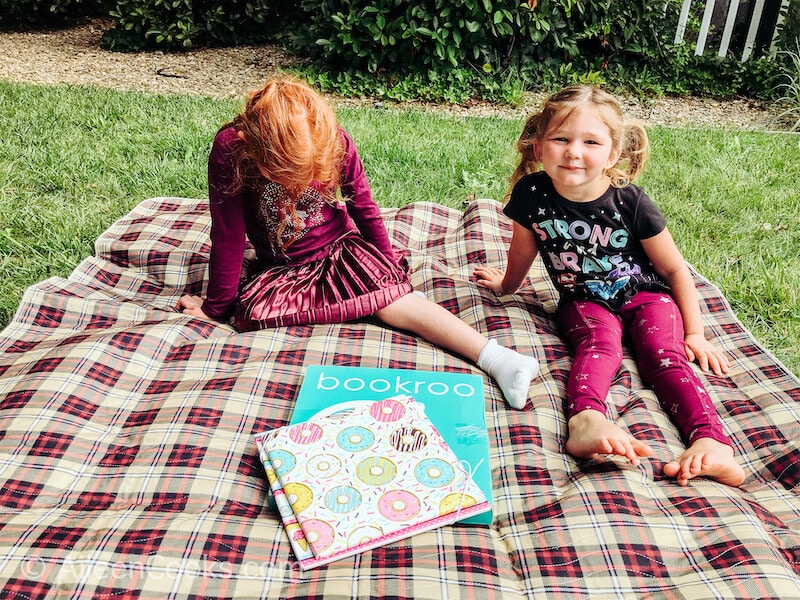 Bookroo Picture Book Club Review
We specifically are reviewing the picture book club from Bookroo, so that is what this review will focus on. My first impression of the Bookroo Picture Book club was that the books were each gift wrapped. This made it feel extra special for my girls and got them excited to open the box.
The two books included in their box were beautifully illustrated and stories we had not already read or owned. I like that it had two picture books, so I could split it up between my two girls. Although, two books for one child is wonderful, as well.
Signing up for Bookroo is a great way to grow your library of children's books. My kids love hearing the same stories over and over again, so it's almost guaranteed that you will get lots of use out of the books you receive from this kids book club.
We enjoyed both books that arrived in our Bookroo book box. What's unique about Bookroo is they are all about sending "hidden gems" to families. You won't find classics in their collections (although, those have their place). Bookroo is focused on sharing beautiful and unique books with families that they would otherwise miss.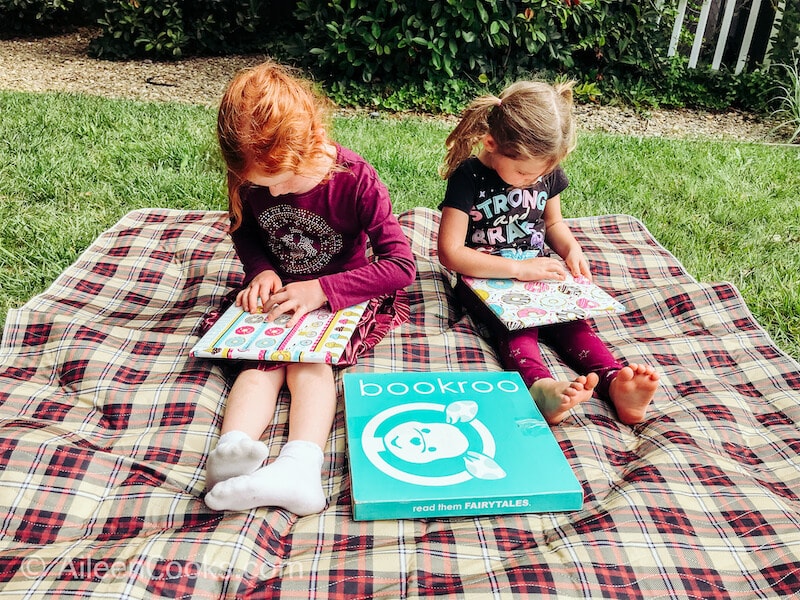 Picture Books from Bookroo
The books we received were:
Chicken Lily by Lori Mortensen and Nina Victor Crittenden
The Best Birthday Present Ever! by Ben Mantle
Age Guidelines
The Bookroo picture book club is advertised for kids ages 3 to 6 but I think that could really be expanded to kids 3 to 8. Better yet, choose what your child would enjoy the most. My 8 year old LOVES picture books. He is dabbling in reading chapter books but he still really enjoys reading picture books to himself and listening as I read them to him.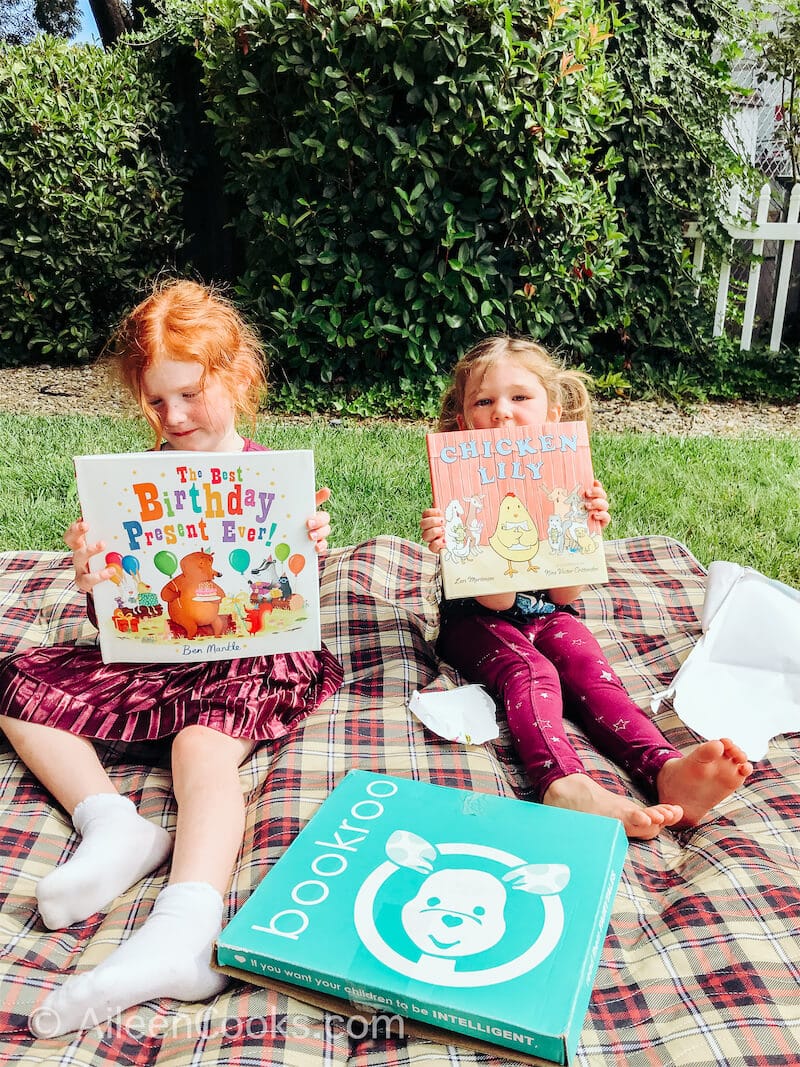 Once kids start reading chapter books, I feel that many of us (myself included) have a tendency to stop sharing picture books with our kids. I don't think that's necessary. The Bookroo Picture Book Club would be a wonderful subscription box to get for an older Elementary Aged Child who still loves picture books.
It's okay for kids at that age to still enjoy those stories – that's how you create lifelong readers.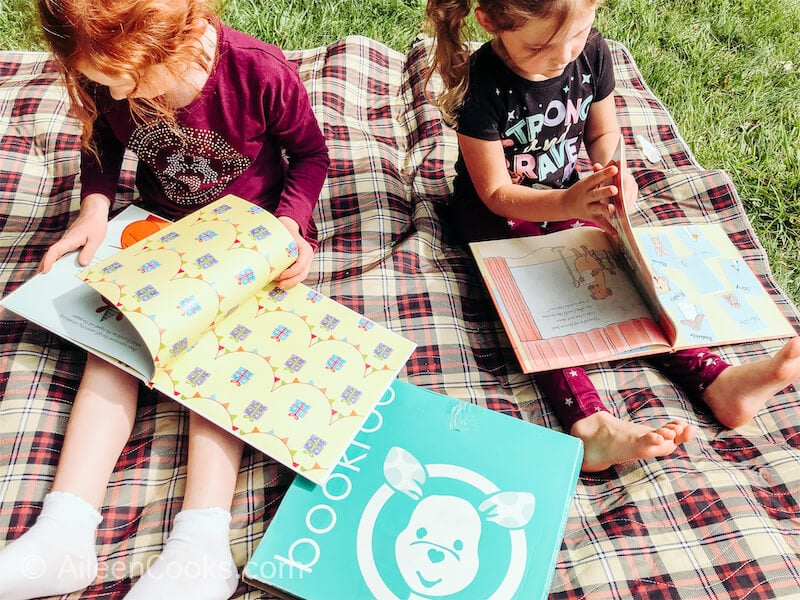 As far as the start age range for this book club – 3 years old – I agree with that assessment. As a mom of three, I can tell you that most two year olds tend to still rip pages in books quite often and are better off with board books that they can handle roughly. Many kids under three also don't have the attention span to sit through a longer picture book story.
Again, you know your child, and if your toddler loves listening to picture books and can be gentle with them, then this book club may be for you!
Pricing
Pricing varies depending on if you are signing up for just one month or a longer subscription. They have 3, 6, and 12 month choices. They longer you subscribe, the more of a discount you receive.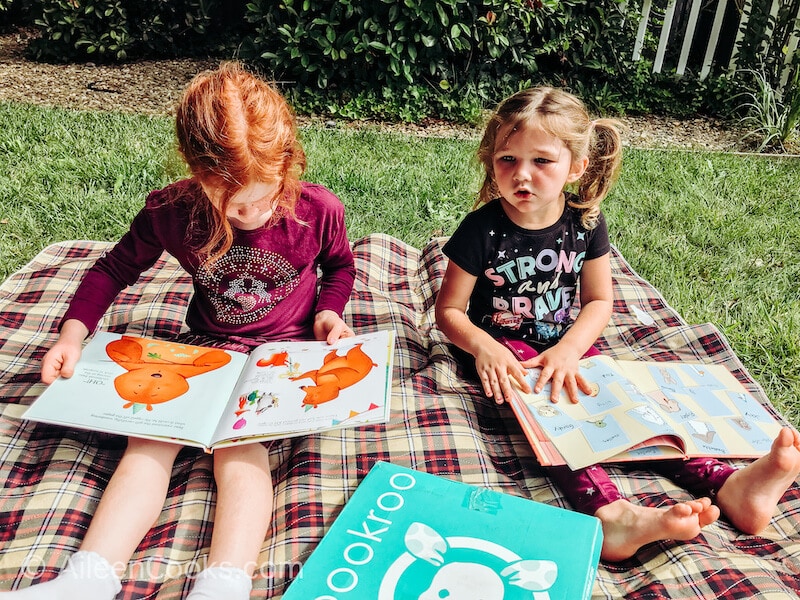 The one month subscription (at the time of publishing this article) is $24.94 including shipping and the 12 month prepay option is $21.94. Obviously, you get the best deal by signing up for a whole year, but that does require you to prepay the whole amount at once.
I compared prices for purchasing the books on their own at the one month price, and it isn't a huge cost savings BUT I wouldn't know to pick these gems on my own. If you want quality picture books hand-picked for your kids, then Bookroo is the way to go.
Overall, we loved Bookroo. I don't have any complaints. They books were great, the delivery was easy, and the gift wrap was that extra special touch that my girls absolutely loved.