If you are looking for quality hands-on activities for your toddler or preschooler (but don't have time to plan and track supplies down), Tinkering Toddler Crates is the subscription box for you! Keep reading for our full review! *Tinkering Toddler Crates sent us a sample box to facilitate this review. All opinions are my own.*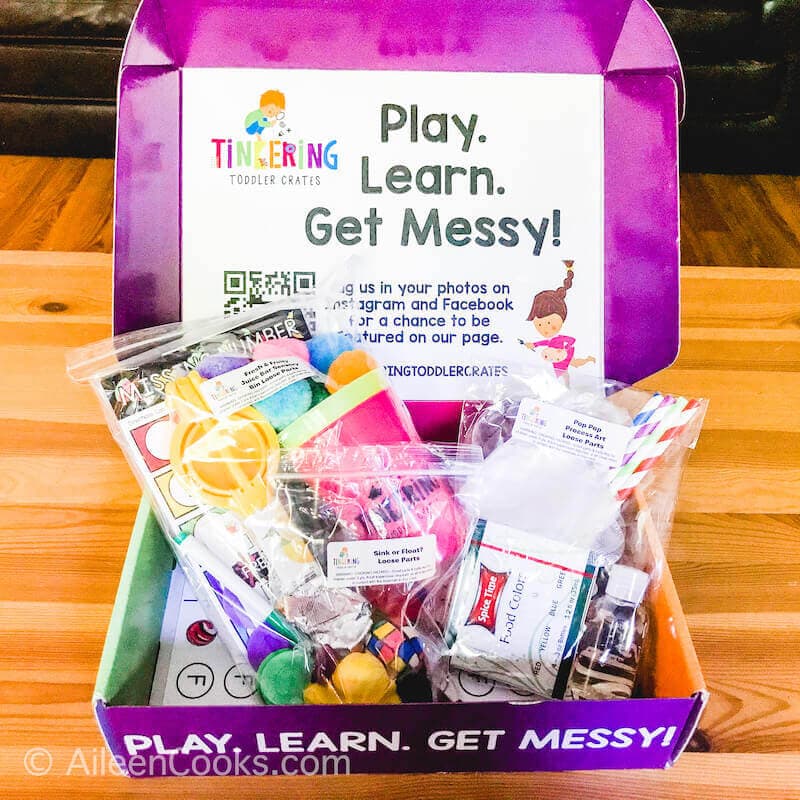 Tinkering Toddler Crates is all about creating educational, fun, and engaging activities on a monthly basis that include everything you need to do the activities.
Each box comes with 3 hands on activities and each one can occupy your child for 30-60 minutes. Which means, you can spread the crate out and make it last for a while. Also, make sure you scroll to the bottom of this post for an exclusive deal for aileencooks.com readers!
Subscription Box Sunday
Welcome to the first week of Subscription Box Sunday! Every Sunday, I will be sharing a review of a different subscription box. Most will focus on kid's educational boxes to start, since many of us will be distance learning or homeschooling this next year.
MORE SUBSCRIPTION BOX SUNDAY POSTS:
I figured we could all use more ideas to add hands-on activities to our kids routines without a lot of extra work! That's why I love subscription boxes! Other subscription boxes I have reviewed over the years are Little Passports, We Craft Box, Koala Crate, and Green Kid Crafts.
I have plans to share a new subscription box every Sunday for at least the next 3 months, so make sure you subscribe to my newsletter so you don't miss them!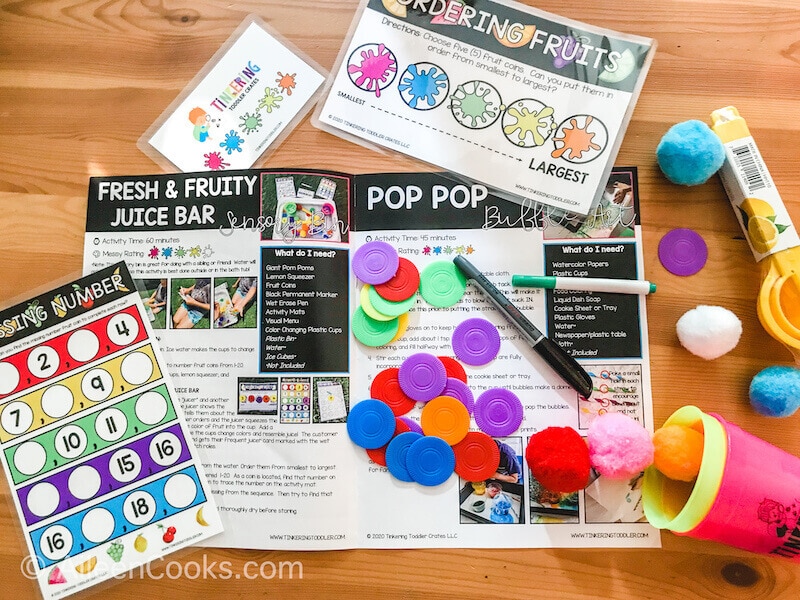 Tinkering Toddler Crates Review
Tinkering Toddler Crate included three separate activities. Which gave us the opportunity to split them up. It included a colorful multi-page pamphlet with detailed directions on how to set it up.
I did them all over the course of a few days for the purpose of this review, but if I were to subscribe to Tinkering Toddler Crate on a monthly basis, I would break it up and make the day I break out a new activity a "special" day. That way, I could make it last for 3+ weeks.
In our homeschooling this year, we plan to designate Fridays for enrichment activities and subscription boxes.
Everything was included accept for a plastic bin and water/ice. The crate itself was organized well and each activity was labeled and in it's own bag. The crate we were sent was the Splish Splash Crate.
Sink or Float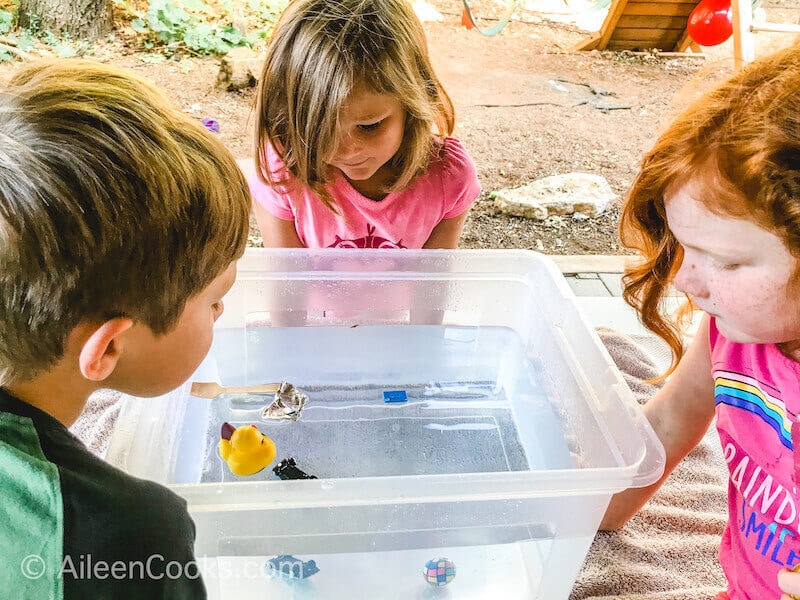 Our first activity was sink or float. Coincidentally, the kids were watching an episode of Blippi and he did a sink or float activity. I did not plan this but it was perfect! The kids were SO excited to test everything out.
I loved that it included a laminated form to make a prediction as to which items would sink or float and then make down what actually happened. They also included an entire section on the back end with items collected by the children around their home for them to test, too.
This activity kept my three kids (ages 3, 6, and 8) occupied for a good hour. They all had so much fun! They also couldn't wait to tell their dad which items sank, which items floated, and which items initially floated before eventually sinking to the bottom (like the tape dispenser).
Fresh & Fruity Juice Bar Sensory Bin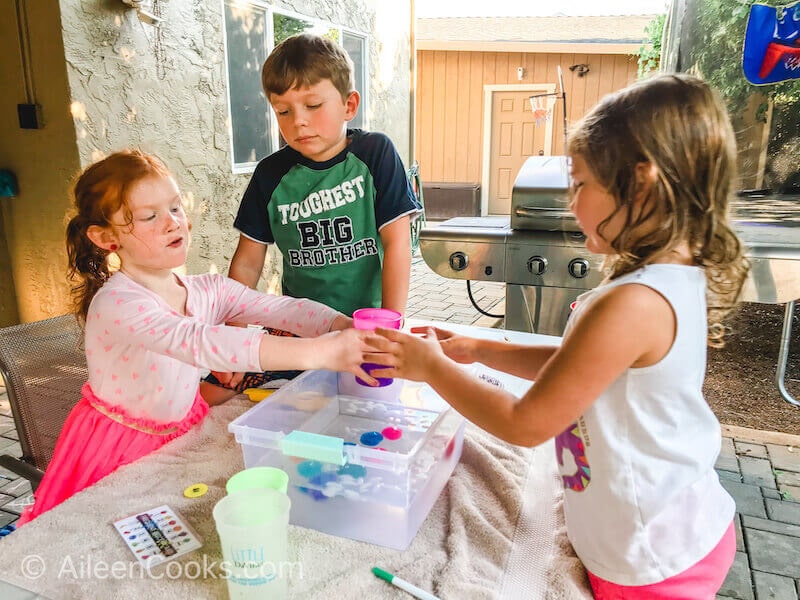 This activity was SO creative! Although the bins are geared toward toddlers and preschoolers, I love that the activities have the opportunity to entice older kids, too. The kit came with two color changing cups, a whole handful of colorful Pom Poms, a juice squeezer, plus several laminated items (menu, punch card, etc), and pretend coins they could use to pay for their drinks.
This was definitely more of a cooperative activity and worked best with multiple kids. However, if you have an only child, you could easily get in there and play juice bar with your kiddo. It's just less independent play that way. Which is totally okay!
Pop Pop Bubble Art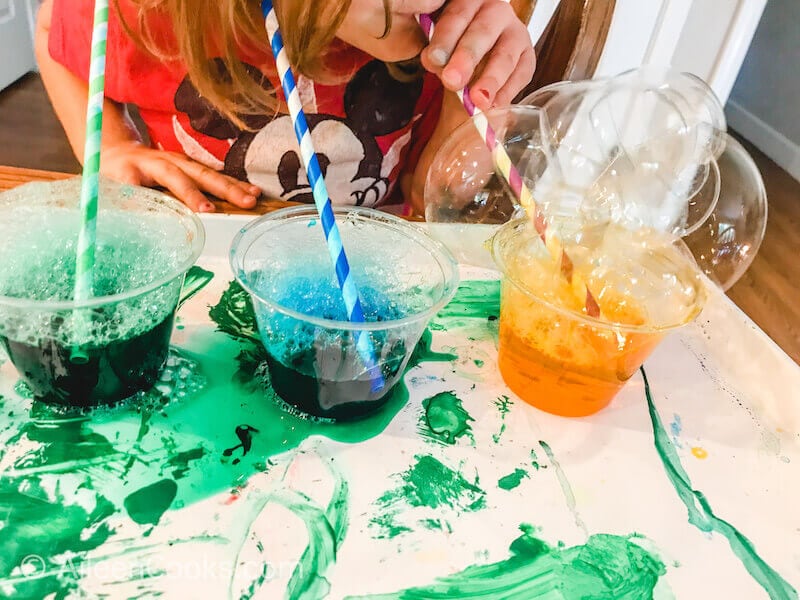 This was such a fun activity – but it sure was messy! I started by letting my youngest explore it first and then let her brother and sister join in on the fun.
I loved that this was such a simple activity – yet I wouldn't have necessarily set it up myself. It was nice to have it all set out for me. I spent less then 5 minutes setting it up and explaining it to my child.
Then, she was able to play independantly while I made dinner. She even thought her siblings how to do it!
The mess I mentioned was a lot. The water overflowed as they blew bubbles. Luckily, I had it set up on one of our art trays. The tray caught all of the water and I just carried it to the sink, dumped it out, and gave it a quick rinse.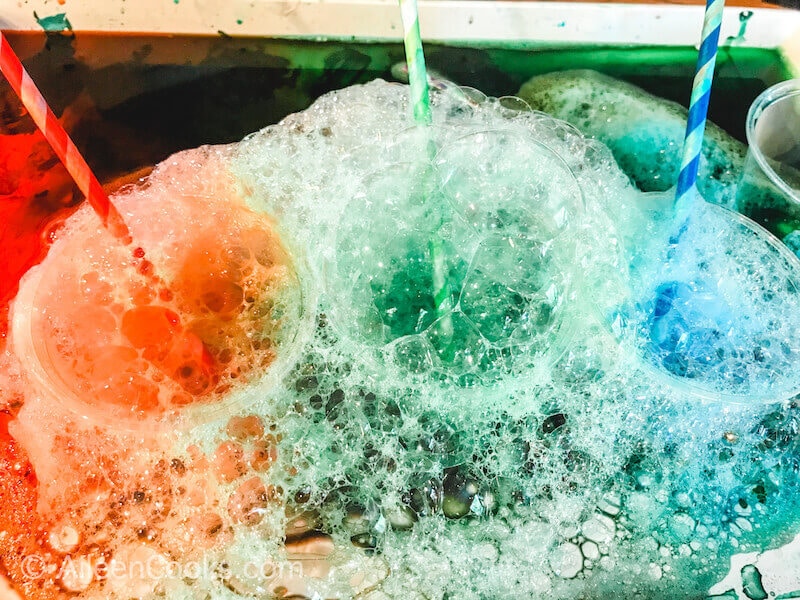 Can siblings share?
Yes! I am always looking to get the most bang for my buck and Toddler Tinker Crates did not disappoint. I tend to avoid subscription boxes where I need to buy multiples, just because it can really add up. I love that this toddler subscription box worked for all three of my kiddos.
What ages are best for Tinkering Toddler?
This box is primarily geared toward 3-5 year olds. However, the 6-8 year old range will still enjoy it. Especially if they enjoy sensory activities. Tinkering Toddler does not recommend purchasing this box for kids under 3 because it does include several items that can be choking hazards.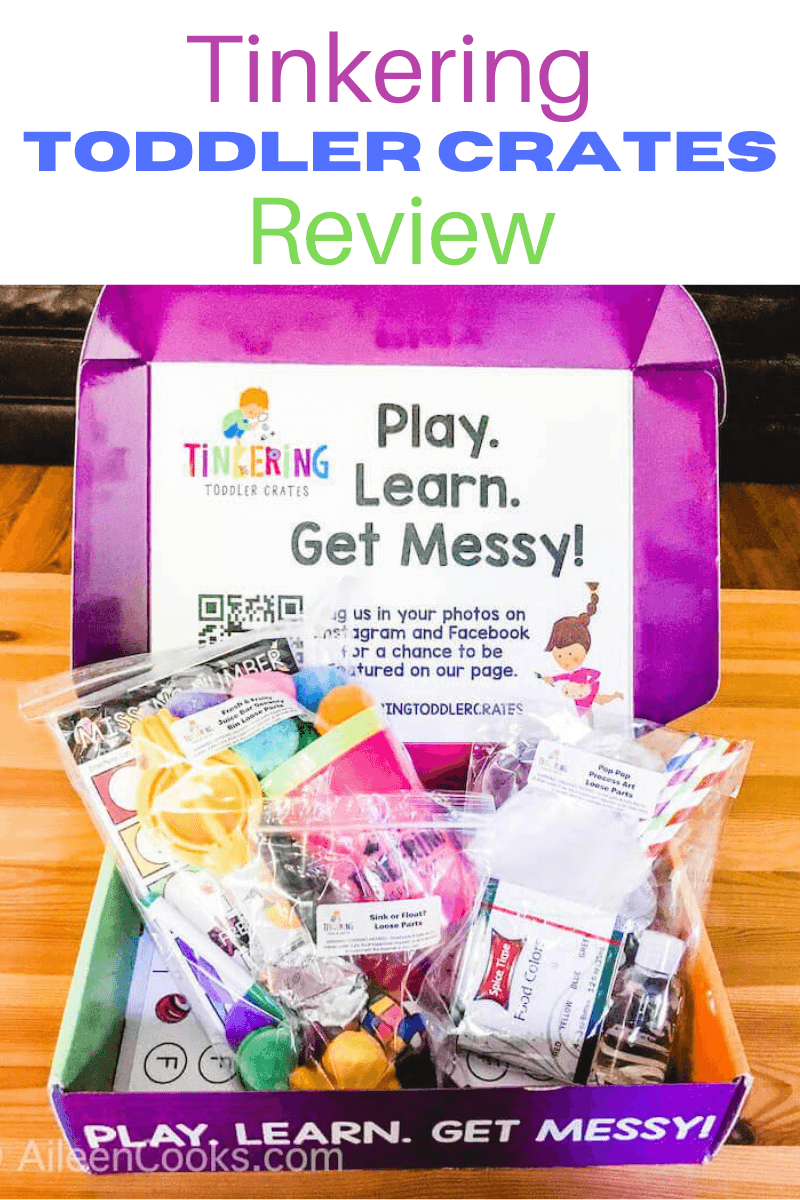 Special Offer for aileencooks.com Readers
When you check out on Crateioy, use the code AILEENCOOKS for 10% off your first order.
Can I order just one crate?
You sure can! Tinkering Toddler Crates offers one-time purchases along with 3, 6, and 12 month subscription options. You save the most money when you select the 12 month option. A one month order is $32.50 + tax (price subject to change).