Eat2Explore Cooking Subscription Box Review
Are you thinking about a cooking subscription box for your kids? Keep reading for our full Eat2Explore Review and decide if it is the right kids cooking club for your family. *We received a sample monthly cooking box from Eat2Explore to facilitate this review. All opinions are my own.*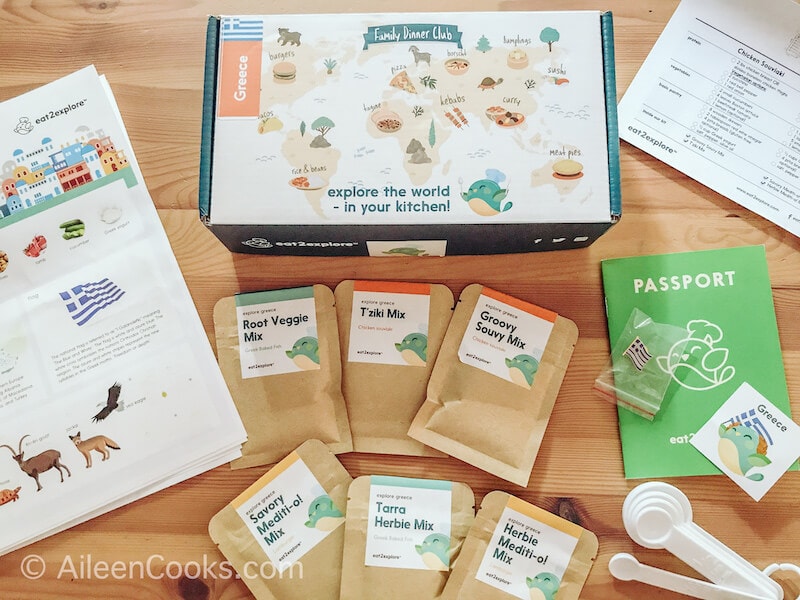 Eat2Explore is all about the three Cs: Country, Culture, and Cuisine. They take authentic recipes and turn them into an approachable program that gets kids into the kitchen learning new cooking techniques while learning about new cultures and trying new flavors!
This post is part of our ongoing series: Subscription Box Sunday. We share a new subscription box review every single Sunday. Make sure you subscribe to our newsletter and follow us on Instagram so you don't miss any future posts!
PAST SUBSCRIPTION BOX SUNDAY POSTS:
First Impressions of Eat2Explore Cooking Subscription Box
We had the opportunity to test out the Greece box from Eat2Explore. My first impression of the box was that I could smell the spices as soon as I started to open the box! Did I mention they include authentic spice mixes and sauces with their boxes?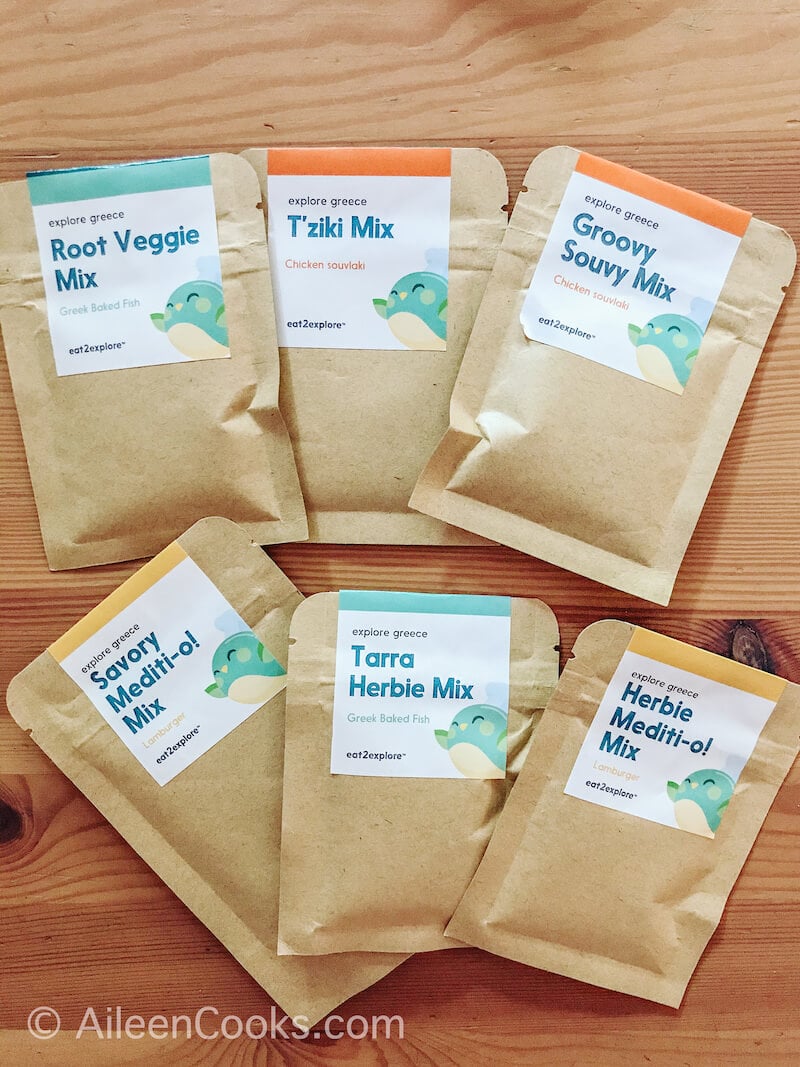 Yes, you do have to shop for ingredients, but you don't have to worry about either:
a. procuring spices you may only use once
b. skipping the authentic spices and skimping on quality of the food.
This is probably my favorite thing about Eat2Explore. I knew the food was going to be GOOD!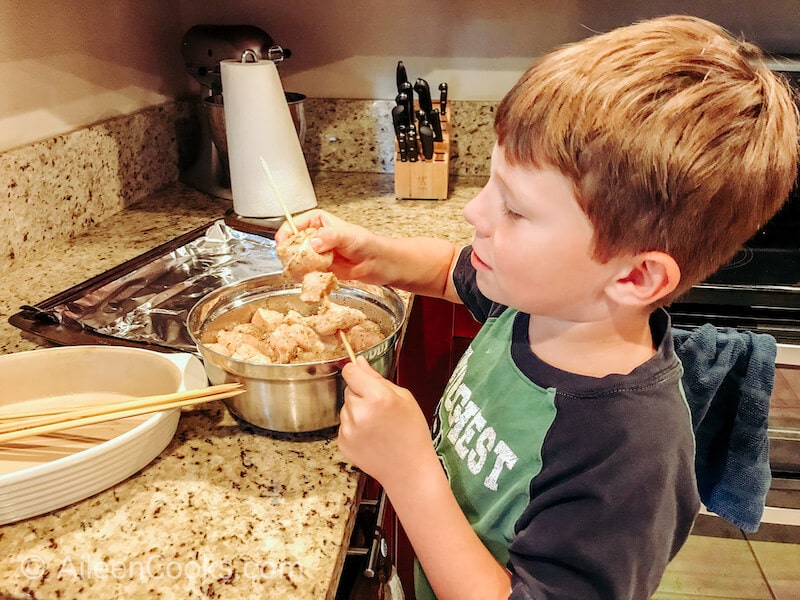 My son's first impressions were a little more hesitant. You wan't me to touch raw chicken?? We're putting vinegar in the sauce? No thank you!
We were both surprised by just how much he ended up loving the meal. When it came up that he made the skewers – using raw chicken – he proudly told his sisters it was "no big deal".
And the vinegar? We agreed that it made the chicken extra tender. This made my mama heart so happy.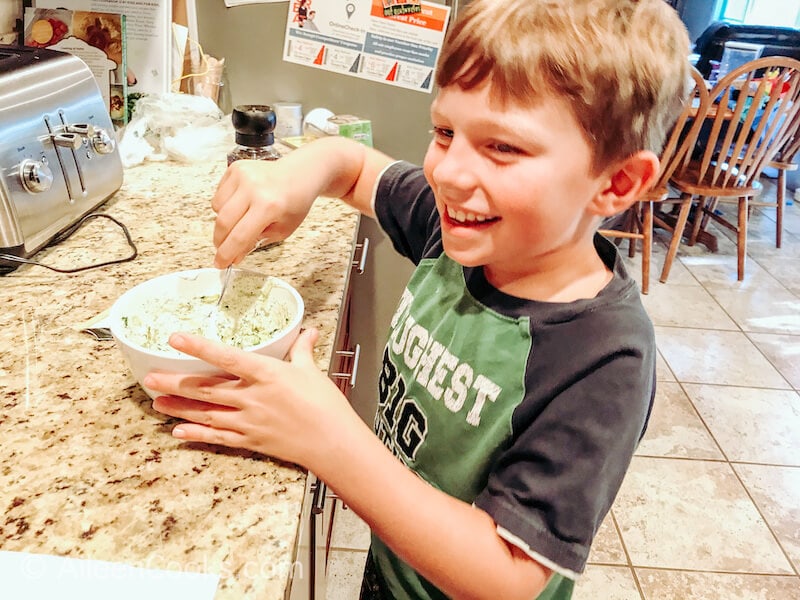 This just goes to show that they more we get our kids in the kitchen, the more confident they will be in both preparing food for themselves and trying new foods.
What didn't we like about Eat2Explore monthly cooking box?
The only thing I wasn't a huge fan of was the paper printouts. They did get a little dirty while we were cooking. If we were to subscribe to eat2explore, I would invest in thee eat2explore recipe binder or put it in a sheet protector.
My son was a little disappointed that they didn't include a dessert recipe. That's not a must-have for me, but he made a point of telling me he was sad that he didn't get to make dessert, so I thought I would mention it.
Update: eat2explore does offer a seasonal World Holiday Treat Box. It's their only dessert box – which is available starting mid October. It covers desserts from 3 countries: Croatia, Japan, and Austria. This is definitely on our list to try!!
How was the Greek food?
We made the Chicken Souvlaki. It was chicken cooked on a skewer and serve on pita bread. It was topped with homemade t'ziki sauce, lettuce, and sliced tomato.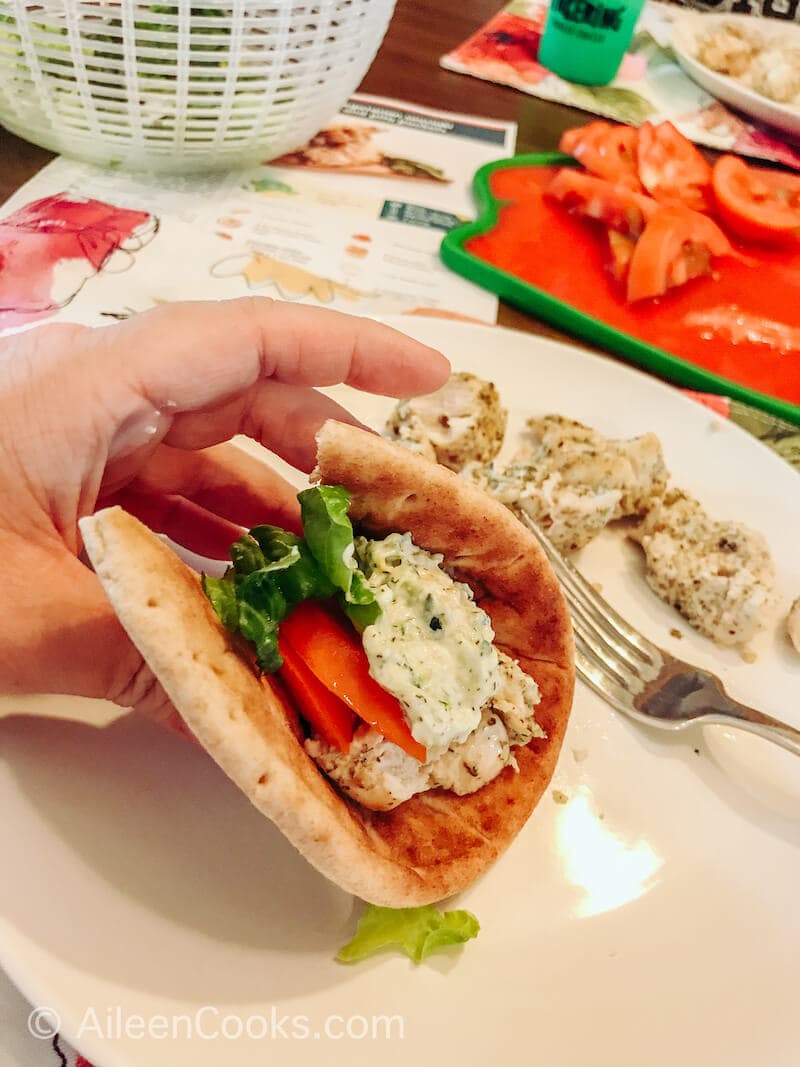 The entire family LOVED this dish! My son devoured his covered in the t'ziki. This is something he would never have done had he not made it himself and taste tested it along the way.
The cooking process was such a great learning experience. Not only did we make a from-scratch marinade and dip, but it offered the opportunity for him to work on his cutting skills and learn how to skewer meat. (These kids' nylon knives from Zulay are perfect for learning knife skills.)
You may also like: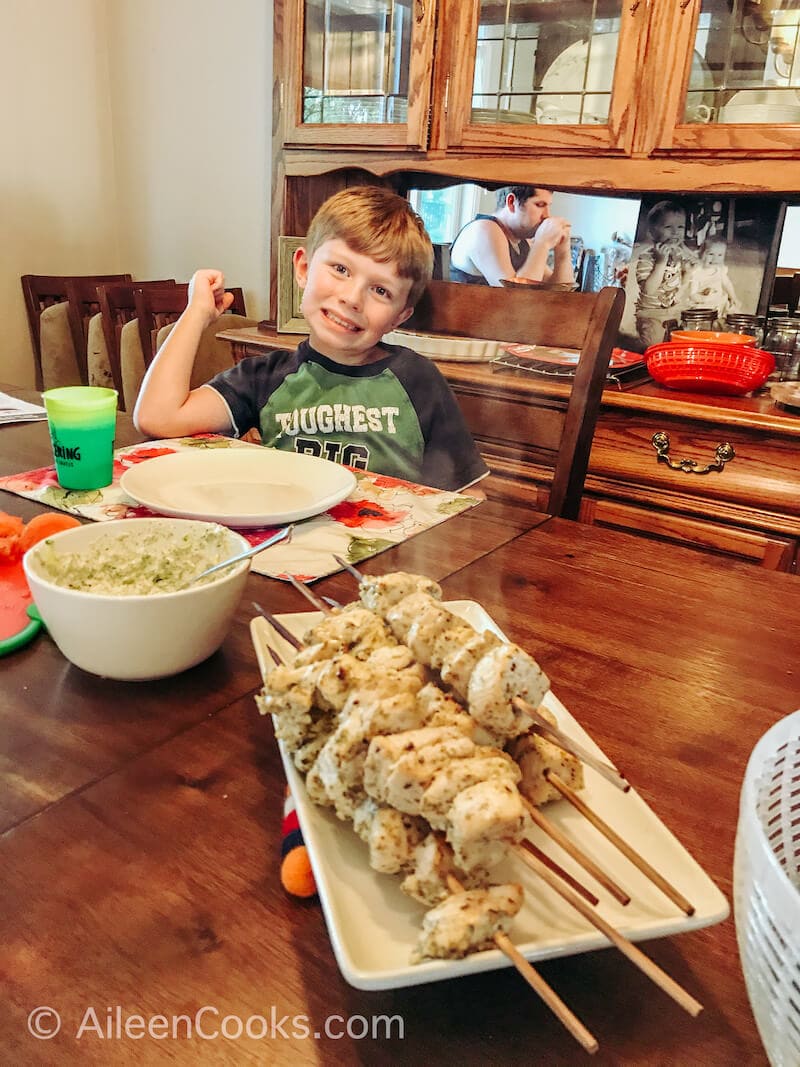 How is Eat2Explore different than other kids cooking clubs?
Eat2Explore is different because they are all about immersing yourself in the culture. They include a detailed pamphlet full of information about the country and culture. If we decided to subscribe to this kids cooking club, I would make a point to plan out a few fun books from the library about those countries, too.
Their pamphlet included information about each dish, the country's flag, animals that live there, and so much more!
The other biggest difference is the spices & sauces (as mentioned above). Including authentic spices in our box makes it a front runner for me. Included in each box is a handy shopping list and three separate recipes, so you can pick your favorite, or immerse yourself in the culture for three different meals.
What else comes in the box?
Every box includes a pin and sticker for the Eat2Explore passport. It also includes a real cooking tool so your kiddos can start building their collection. Our box came with a set of plastic measuring spoons that we used right away.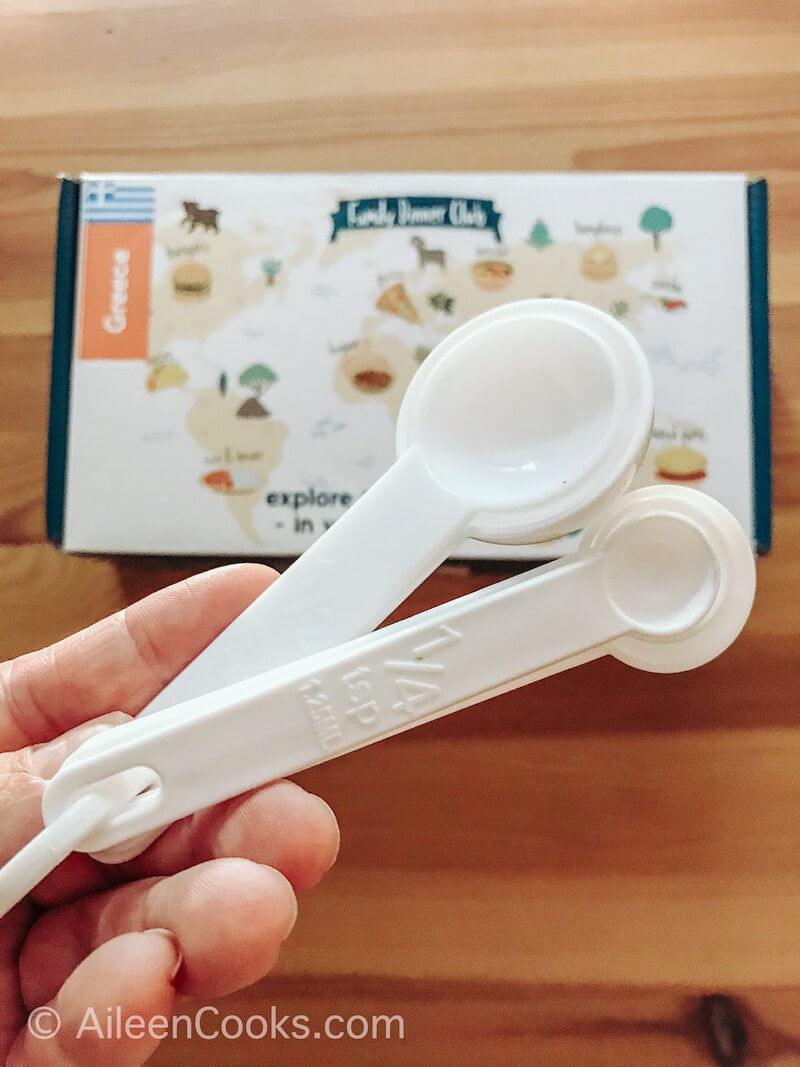 Can the Eat2Explore box be shared between siblings?
Yes, this box can absolutely be shared. You do not need to order multiple boxes. In fact, the recipe has every step rated with easy, intermediate, or advanced, so you can easily divvy up the steps to multiple children.
Alternately, you can let each child pick a recipe and take turns cooking on different nights. It all depends on the ages and temperaments of your kids.
I know I prefer separating out my cooking with my kids but they don't always let me get away with it. We can make it work, either way. It's much more about my going into the activity mentally prepared and full of patience. (You may want to also read my post on cooking with kids.)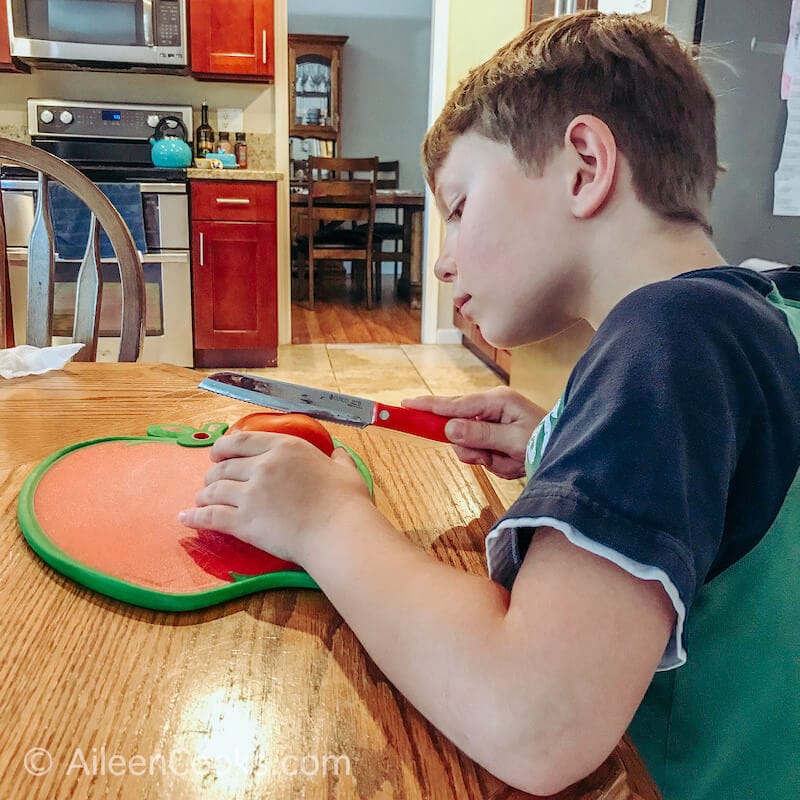 Where can I order Eat2Explore?
You can purchase the Eat2Explore boxes at Eat2Explore.com, Crate Joy, or Amazon.
Can I order just one box?
Yes you can order just one box. Here are some more choices (from the Eat2Explore website):
"There are 3 ways to participate: (1) explore a country (1 or 3 countries), (2) explore a continent (4 countries), or (3) explore the world (12 countries). With every package, you will receive a new country box each month. With one country box, you can try us without any obligations. The longer your package, the greater the discount!"