Witz & Marbles Mindfulness Box Review
Are you looking for a way to incorporate more mindfulness activities into your family's day? Do you want to help your kids grow their social emotional intelligence and help them cope with worries and anger? The Witz & Marbles Mindfulness Subscription Box may be for you! Thank you to Witz and Marbles for sending us a sample box to facilitate this review.
Welcome back to another week of Subscription Box Sunday! Every week, we review a different subscription box for you to help you decide which box will be best for your family! Make sure to follow us on Instagram and subscribe to our newsletter so you never miss a week of Subscription Box Sunday.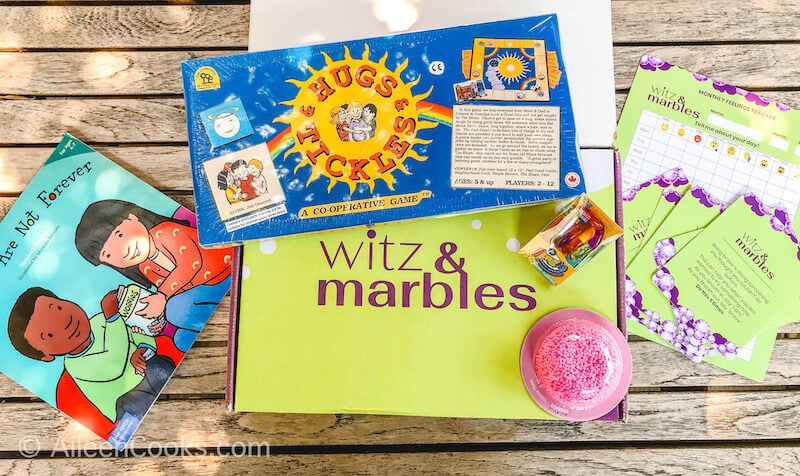 PAST SUBSCRIPTION BOX SUNDAY POSTS:
About Witz & Marbles
"Witz & Marbles raises awareness for children's emotional wellness and attempts to stimulate the conversation about their feelings. We know that getting a child to talk is difficult, but getting them to share is almost impossible. We believe that the conversation should be ongoing, families need a safe space to share and children need to feel secure enough to do so. Witz & Marbles have curated Mindful Activity Kits for Children filled with engaging games, thought provoking story books, sensory toys, activities and more. We all need a little insight into who we are and how we can live our most fulfilled life. Let Witz & Marbles help you to start your conversation or keep it moving forward." Source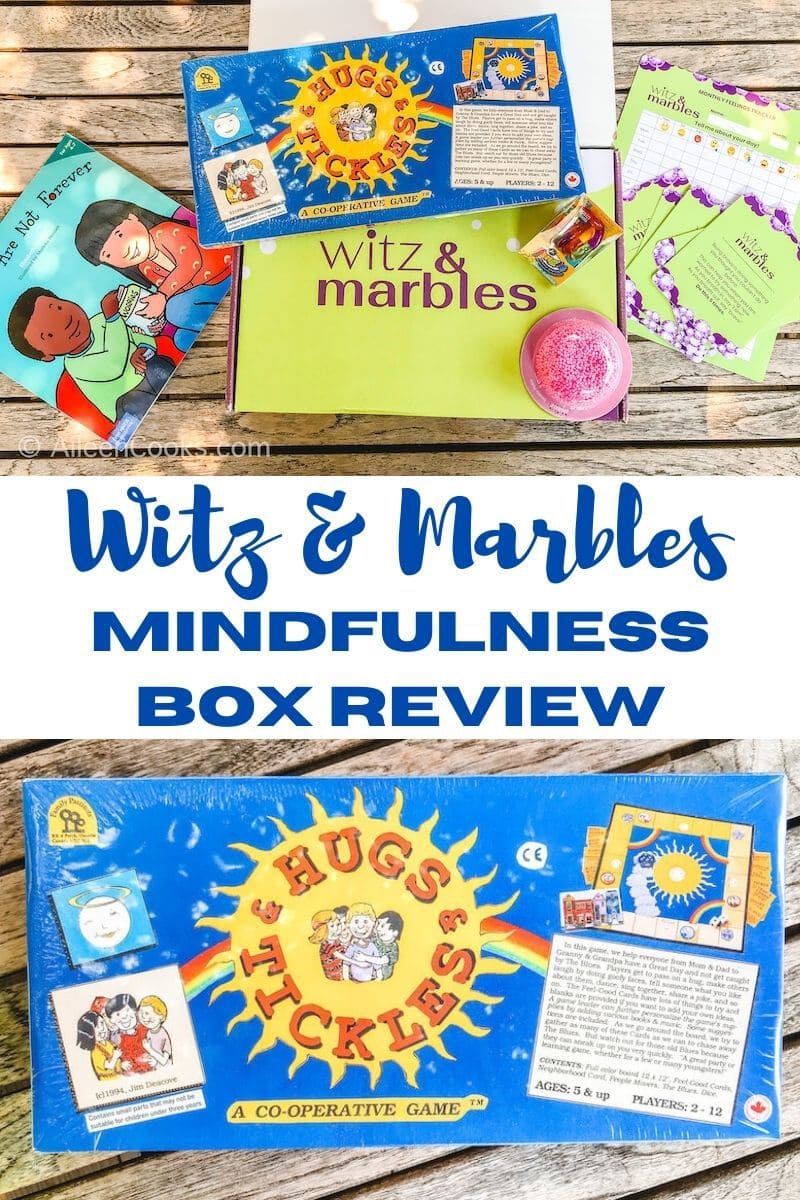 Types of Mindfulness Subscription Boxes
Witz and Marbles offers two different lines of boxes: One subscription geared toward kids ages 4 to 8 and one subscription geared toward tweens ages 9 to 12.
Ages 4 to 8 includes a themed story book, activity cards, co-operative game, sensory item, and monthly feelings tracker.
The younger child mindfulness box is focused on ensuring kids will have fun experiencing the various activities for kids in the kit. From games, to sensory toys, to activity cards, to books and more, this will help mindfulness around their feelings. The kits are designed in such a way to entice conversation and interactivity. There are engaging items for the family to enjoy.
Ages 9 to 12 includes a themed book geared toward older kids, activity cards, co-operative game, sensory item, and monthly wellness tracker.
The older child mindfulness box is focused on ensuring tweens will relate to common hot topic issues and will be provided with a tool kit/activities to help to manage their stress, understand their emotions and stay positive even through the darkest of days.
My children are currently ages 3, 6, and 8. So we will be reviewing the box geared toward that age group.
Inside the ages 4 to 8 Witz and Marbles Subscription Box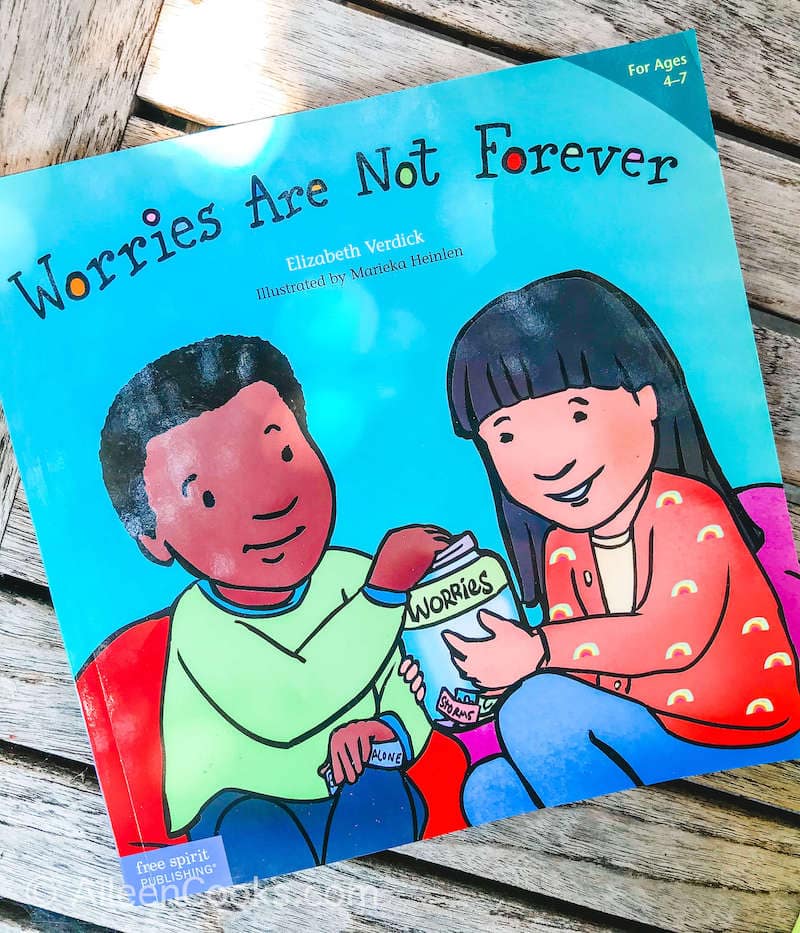 Story Book
The book that was included in our box was Worries are Not Forever by Elizabeth Verdick and Marieka Heinlen. This book was perfect for us because our kids are (understandably) experiencing a lot of worries in the current state of the world. Between worrying about leaving school (and starting homeschool), the pandemic, wildfire season in California (and having to temporarily evacuate), plus other worries they normally experience.
It was a great opportunity to address it with all three kids in an easy to understand way. I love the way this book gave real examples of worries kids may have and the different ways they may manifest (i.e. a tummy ache). The back of the book also includes many practical tips for helping a child dealing with anxiety.
Activity Cards
The Activity Cards included are different ways to practice mindfulness and geared directly toward worries. We have started incorporating these into our morning basket and practicing one a couple of times a week to offer another tool our kids can use when they feel worried. They are good quality cards that should last us a while.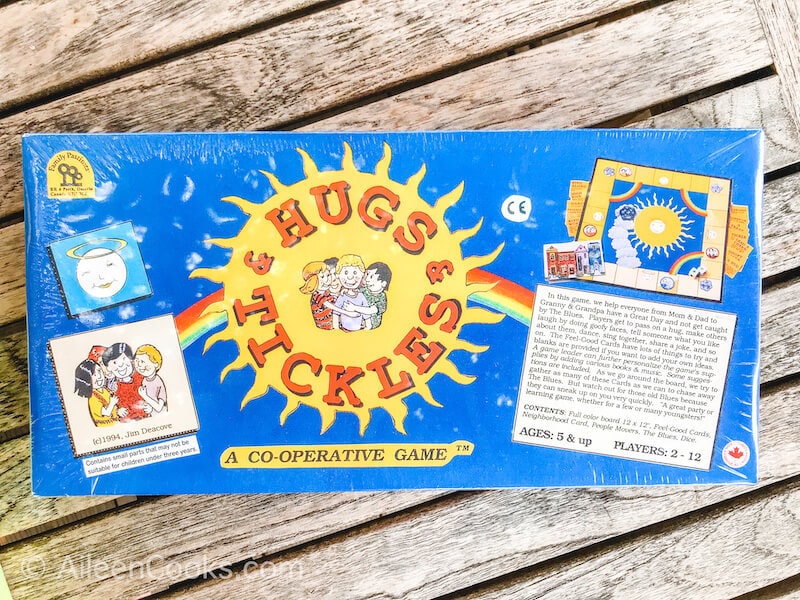 Cooperative Game
The cooperative game included was Hugs & Tickles. I had never heard of this game but love it as a way to connect together as a family while working on chasing the blues away! This game offers extra blank cards so you can add in your own rules and actives that would specifically fit for your family. I really like that it is customizable and colorful.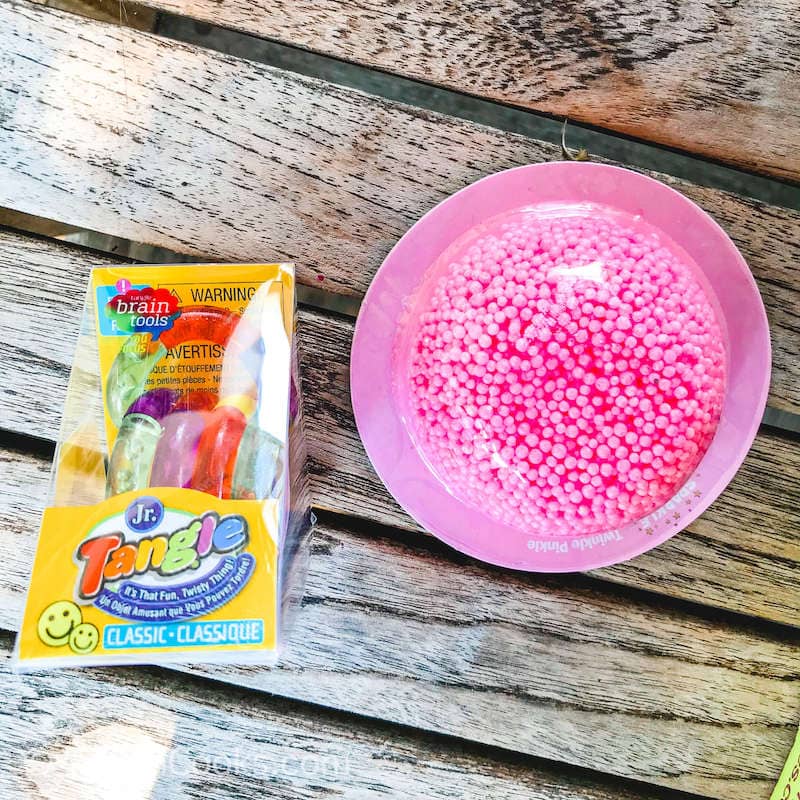 Sensory Item
Our box actually had two sensory items in it: a fidget toy and a package of floam. Both items have already been well-loved and have been another great inclusion in our morning basket time.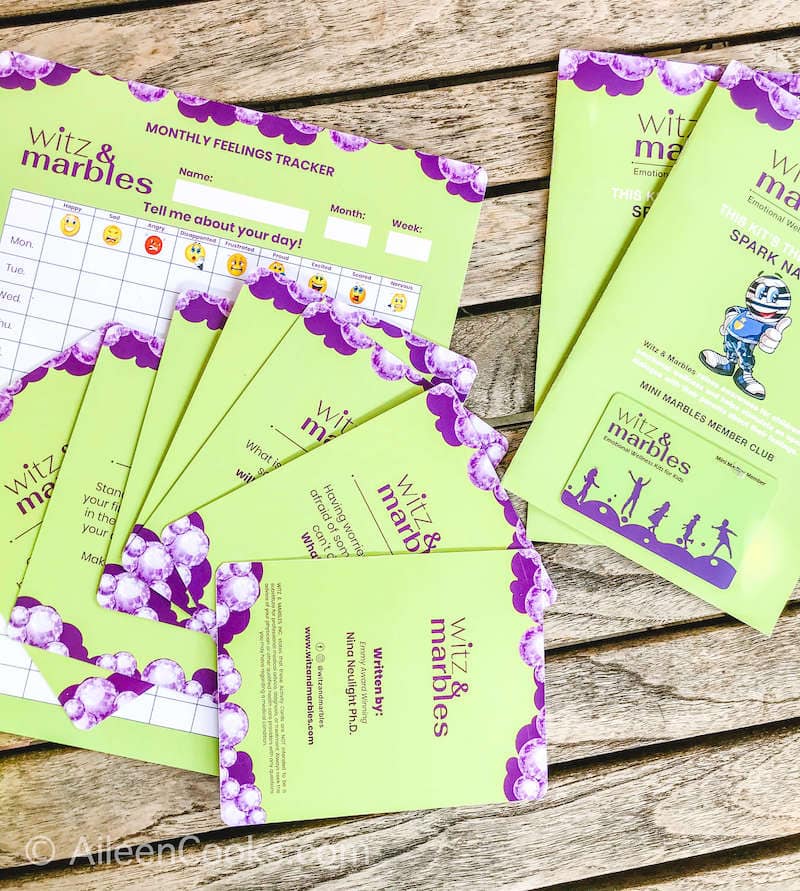 Monthly Feelings Tracker
This feeling tracker seems simple enough but its a GREAT way for kids to start to get in-tune with their feelings and identify them.
Will the Witz & Marbles box work for two or more kids?
Yes! This subscription box will work for a whole family. Everything can be shared and copies of the monthly feelings tracker can be made to accommodate extra kids.
How much does Witz & Marbles Cost?
At the time of publication, Witz & Marbles subscription boxes are $52.20/month on CrateJoy. This is higher than many other subscription boxes, but you get so much more with these boxes as they include items that are reusable and can be incorporated into family activities or homeschooling again and again. Keep that in mind when comparing prices to other subscription boxes that offer activities that can only be done once.
I LOVE that this mindfulness box from Witz & Marbles includes a game and book every single month. These are items we can use again and again, and makes it well worth the money! It also addresses an aspect of childhood learning and growth that isn't normally focused on in subscription boxes. I highly recommend it!